It's the 10 track commandments, whet?
I like to dig through SoundCloud. So here, I present the results of my excavations (in alphabetic order): Nine tracks released in the past month that you shouldn't miss, plus a tenth track that's kinda old but still knocks. Hopefully this'll help get you through the rest of your week, to the blessed lituation that we often call the weekend. #TYBG.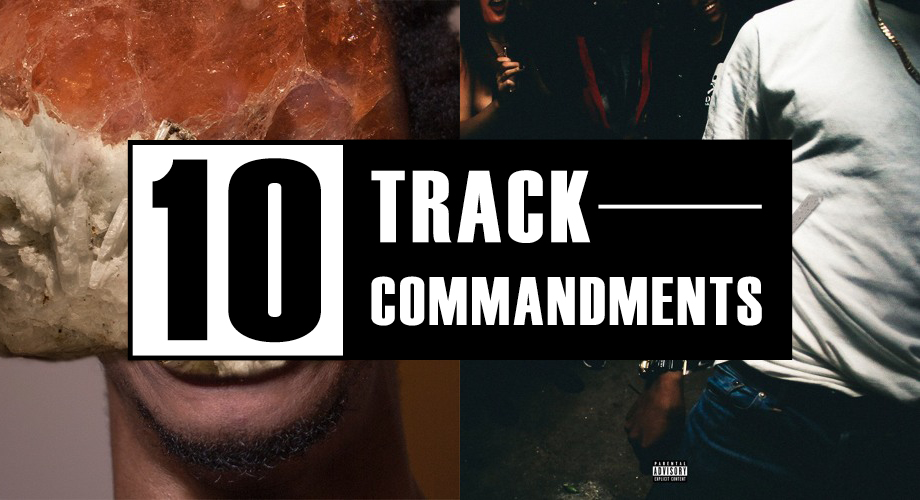 1. 808INK – "DSSY"
We're not well-versed enough in 808INK to make any real declarations about the duo's sound, but the opening 15 seconds—where producer 808Charmer scratches up a vocal sample—really did us in. On "DSSY," Charmer provides his rapping counterpart Mumblez Black Ink with a murky, sparse palette, his cadence flecked with yelps, and laid over a whirring, raspy bass line.
2. Izzy Bizu feat. Elf Kid – "Lolingo Refix"
The repetitive rhythm of Izzy Bizu's voice is initially mirrored in the beat, ethereal and light. But that airiness is almost dismantled as Elf Kid comes in, flooding the track with his rapid fire flow. Yet, Elf doesn't force Bizu out—it is a love song, after all—slowing down and ending his verse, "There's so many girls in the world right now, but I promise I choose you."
3. Haasan Barclay – "Remedy"
Boston rap has been on point lately, and with the emergence of emcees like Cousin Stizz, Michael Christmas, and Jefe Replay, among others, more talented musicians are materializing. Cue Haasan Barclay, who straddles the line between rapping and singing, simultaneously more singer than rapper, but also more rapper than singer. It's difficult to place him: He doesn't show a lot of range, but what he does with his voice—singing his verses in staccato melodies, weaving the lyrics in and out of a detached rhythm—somehow works.
4. Innanet James – "Summer (The Kount Remix)"
Innanet James' voice is unadorned and magnetic, almost as if he casually read his lyrics from a piece of paper and recorded it all in one go. That's the kind of straightforward approach we sometimes need: A voice free of effects, shining in its own flaws and perfections. Well mostly, though: If the last 40 seconds of the song are James, then they took his voice and pitched it down. But that doesn't take from anything.
5. Kaiydo – "Reflections"
The Internet is a potent tool, a space that really allows musicians like Kaiydo to evolve in their artistry. Hailing from Orlando, Florida, Kaiydo doesn't particularly fit any of the molds that other Floridians like Rick Ross, Pitbull, or T-Pain have created, instead gravitating towards something more animated. "Reflections" is playful and energetic, a song that prescribes to the bouncy rhythms and melodies that are sweeping across music.
6. Larry June – "How you doing love?"
A lot of rap from San Francisco and the Bay Area was heavily influenced by the rap duo Main Attrakionz, who pioneered cloud rap, a genre trademarked by breezy, atmospheric uptempo swings and slow 808s. San Francisco native Larry June usually does things a bit differently—bringing Atlanta trap to the Bay and flipping it—but, with "How you doing love?" he intuits cloud rap's leisurely rhythms, though his voice is still rough over the cut.
7. Noo$e feat. Loner Ave and Hutch – "Endless Top"
The subject matter of Noo$e's song might be a little *eye-roll emoji*, but "Endless Top" goes. The track's bouncy movement and minimal beat becomes crucial, as it propels you forward through all three rappers' perspectives, their braggadocio conspicuous, noticeable. We will happily note that the song's circumstances also apply in opposing situations—i.e. for the ladies too. Just sayin'.
8. Phoelix feat. Saba – "BUDDHA"
Phoelix co-produced Saba's latest track "Soap Box," so we definitely kept an eye out for him when he dropped "BUDDHA." Phoelix's appears over a stirring beat, his voice impassioned, subdued but intense—and then, Saba's flow, quick but not rushed, monotone. The two take turns rapping and singing, slow interludes appearing in between.
9. Xavier Wulf – "New Notification"
"New Notification" is the flip-side to some of our bubblier, more effervescent hip-hop. Xavier Wulf thrives in spooky down tempos and an equally spooky flow. His voice is eerily gripping, his lyrics (and play count) proving he doesn't need anyone else to help him level up.
10. Bankroll Fresh feat. Street Money Boochie and Travis Porter – "Walked In"
This is probably, unequivocally one of the best Bankroll Fresh songs, who unfortunately passed away after the last installment of #10trackcommandments. 217's production features essential elements only, allowing Bankroll, his Street Money Worldwide brethren Street Money Boochie, and his fellow Street Exec crew member Travis Porter to shine.
RIP Bankroll Fresh, f.k.a. Young Fresh. RIP Phife Dawg, a.k.a. the Five-Foot Assassin. Sad month y'all—love to you both.
***