Let's face it, the mixtape market is insanely saturated—especially in the realm of hip-hop. We were blessed with some gems this year from Young Thug, Future, Chief Keef, and more, but those are the obvious champions of 2015. While there was also a lot of garbage that came out this year, there were some unsung heroes of the mixtape underworld that stuck out. So I sifted through all the noise and picked out the lesser known gems—the litmus test being, "Can I bump this in the whip?" From newcomers with familiar flows, to the established guys showcasing a new side to their art, these are the most slept on hip-hop mixtapes of the year. Free Gucci.
1. Cousin Stizz – Suffolk County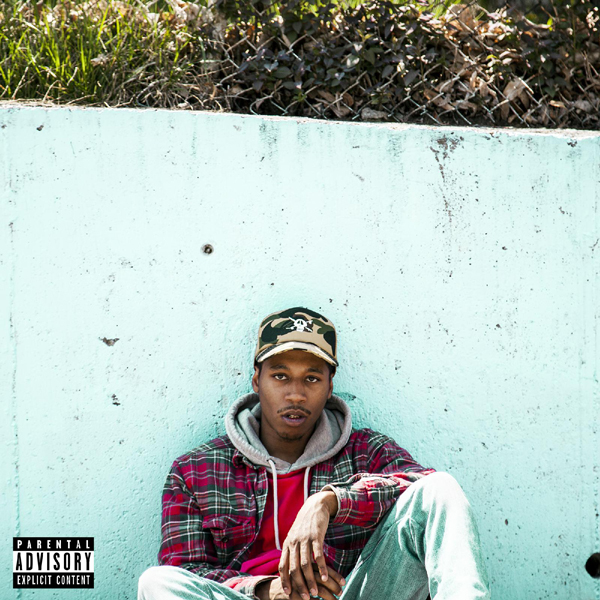 Suffolk County may not have been "slept on" in the blog circles, but it certainly didn't reach the mainstream—but that definitely wasn't a problem for Boston new-comer Cousin Stizz. No one comes out of Boston! No one good at least. We first heard from him on his infectious single, "Shoutout," which literally got him a shout out from Drake. Stizz's magic lies is in his delivery and hooks. He instantly reminds you of Dom Kennedy with his clear annunciation, relaxed flow, and spacey beats, but he keeps a clear East Coast under tone, representing for the city of Boston. The production is strong and stays conceptually on point throughout the 13-track tape. This is a very impressive first project from Stizz, leaving us guessing for what he has in store next.
Release Date: June 1
2. EarthGang – Torba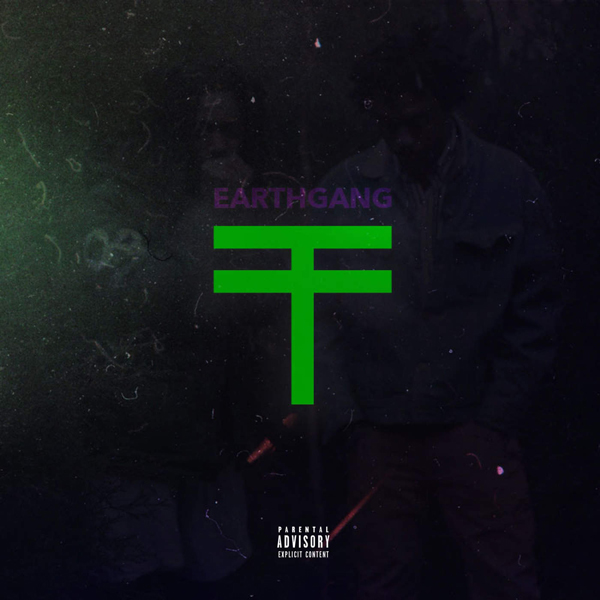 You might think to yourself, "Where did these guys come from?" The truth is, EarthGang has been in the game since 2008, but Torba definitely put them on the semi-mainstream map. The word "torba" means "seven" in Oromo—alluding to the 7 track EP, with each track named after each day of the week, respectively. Both emcees (yes, EMCEES, not rappers), Johnny Venus and Doctor Dot, serve up beautiful lyrics with razor sharp delivery, pondering life's big questions and lessons they've learned.  The tape only has 3 features, specifically Mac Miller, J.I.D., and fellow Atlanta native OG Maco, who is impressive both in his delivery and content on "Friday (F Bomb) Remix." It's conceptually strong and sonically stunning, with production from Childish Major and Zeon, as well as lyrically challenging—standing out from your typical underground hip-hop mixtape. Not to mention, they have some pretty mean visuals. You're not going to hear about chains and bitches, but you're definitely going to bump it in the whip regardless.
Release Date: Feb 26
3. Lil Uzi Vert – Luv Is Rage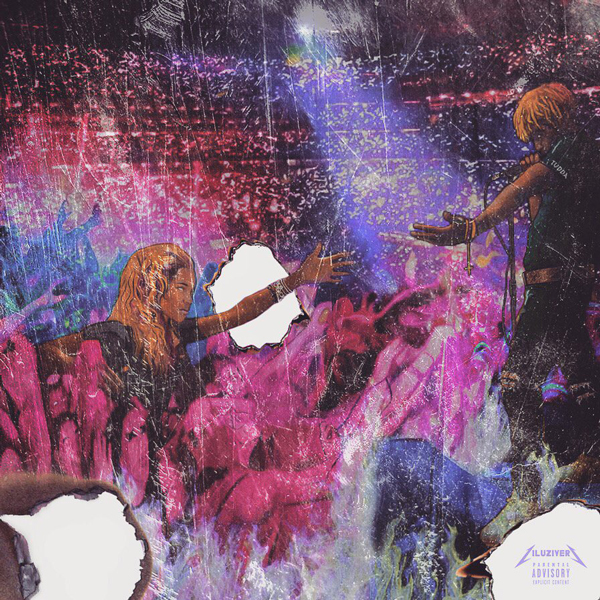 Rap has its fair share of weirdos—from the better known Young Thug and Travi$ Scott, to the lesser known North Philly new-comer, Lil Uzi Vert. He first came on the scene with his infectious hook on DJ Carnage's "WDYW", a staple in any DJ set. There are a lot of shining moments on the tape, but the stand out tracks come from the producers within FKI, who contributed 3 tracks—particularly "Wit My Crew x 1987." This is a perfect tape for an L ride with your girl if you want to serenade her with hazy hooks, and heartfelt, thuggish coos.
Release Date: October 30
4. Bankroll Fresh – Life of a Hot Boy 2 (Real Trapper)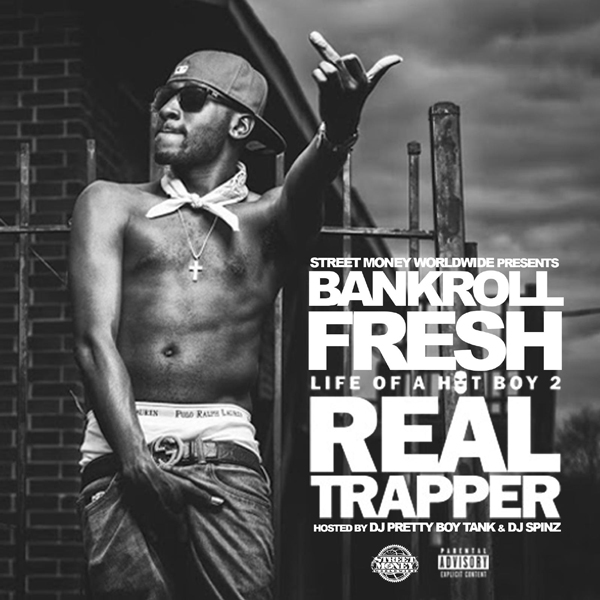 There's no shortage of talent from Atlanta, but Bankroll is definitely special. He's soulful and hard at the same time, and has a crazy way of writing hooks that sound familiar, yet you've never heard before. You can tell a lot of thought and time was put into this 20-track tape. Zaytoven, D. Rich, Cassius Jay, and more contributed production to the mostly solo-led affair. He paints a picture of his life as a "hot boy" in a Jeezy-esque way on "Everytime," but is able to give us bangers like "Walked In" and "We Doin It," (which has an insanely infectious hook that instantly makes you want to dance). He embodies the sound of Atlanta, but adds his own touch. He easily adapts to different styles and dominates any beat he's given. Definitely a bump-in-the-whip tape to put on heavy rotation.
Release Date: April 24
5. Key! – Screaming Dreams Prelude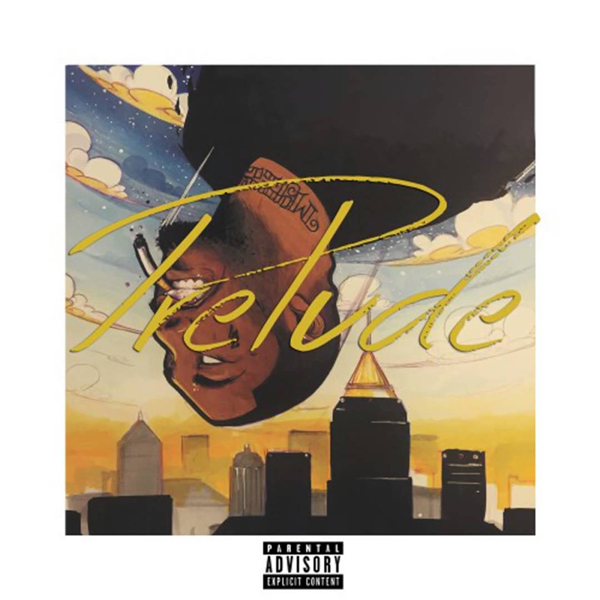 Key! is your favorite rapper's favorite rapper. What's impressive about Key! is not only his output, but his independence. He parted ways with the collective Two-9 in their early days and has since put out too many mixtapes to count, all impressive in their own right. Many will agree that Key! is the king of the ATLiens—the first to be somber and spacey on tracks, experimenting with the lean-heavy music that we hear everywhere these days. This is only a 5-track tape, but every song delivers. The hooks are catchy, melodic, and impressively produced. The stand out track is "Acetone," produced by Metro Boomin & Zaytoven. It's clear that Key! gives no fucks, and it's the best type of ignorant music to speed down the highway to. Don't sleep on this one!
Release Date: August 10
6. 21 Savage – Free Guwop EP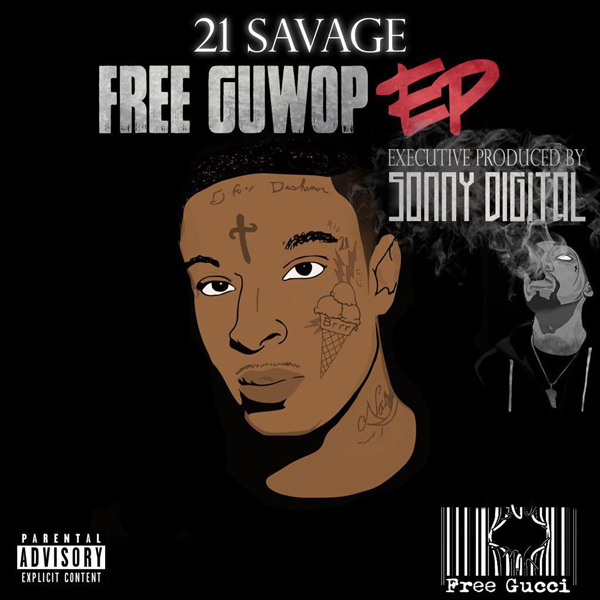 Short. Sweet. Effective. 21 Savage isn't everyone's cup of tea, but that's what makes him so likeable. He's in the new class of rap weirdos, lending his raspy voice to experimental beats. He's definitely got an impressive roster of producers lined up on this 7-track EP, including TM-88, Sonny Digital, Zaytoven, and Metro Boomin. Probably the most representative line of 21 Savage's persona is off of the memorable Sonny Digital produced track, "One Foot," where he raps, "I really wanna rap/but this trappin what I'm about". You can see that clearly throughout the mixtape; he's torn between his two hustles, but he is executing pretty damn well on the rapping side. There's no shortage of 21 Savage mixtapes, but this one is shorter and much stronger than his May release, Slaughter. You'll definitely want to dab to some of these in the whip, just make sure you don't swerve while you're doing it.
Release Date: July 2
7. French Montana – Casino life 2: Brown Bag Legend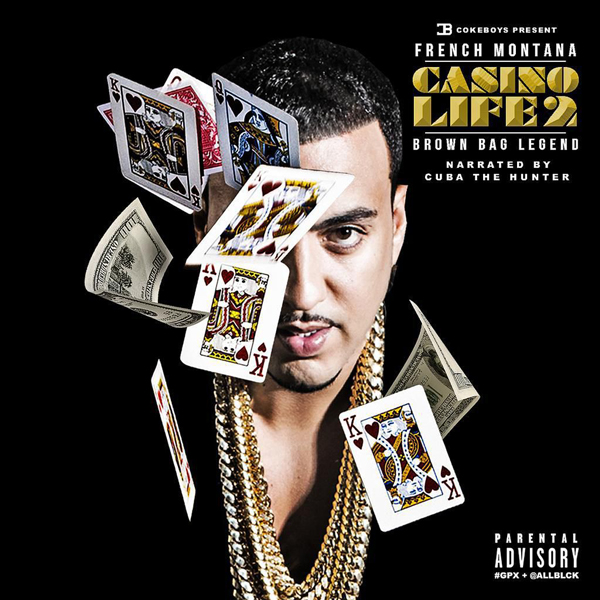 Oh, French. Although his Kardashian stint was strange—but kind of cute—he still makes great music! I was highly anticipating the Fetty Wap collaboration, but it failed to make the cut aside from the track, "Freaky." This mixtape was definitely on heavy rotation this summer, with some very slept-on bangers failing to get radio plays. But that's what this list is for. The 14-track project has features from the late Chinx, Lil Wayne, Chris Brown, and Curren$y (just to name a few). But the best track by far was "5 Mo," featuring Travi$ Scott and Lil Durk—who is impressive in his own right on the track. The beat is not your typical French song, but he's notorious for experimenting with new sounds, sometimes failing and sometimes completely nailing it. In this case, he completely nails it with Travi$, matching the hook with a perfect, drawly flow. The Lil Wayne feature is classic French; not necessarily the most lyrical, but he's fun and this tape is added to another list of French mixtapes worthy of bumping.
Release Date: May 8
8. Big K.R.I.T. – It's Better This Way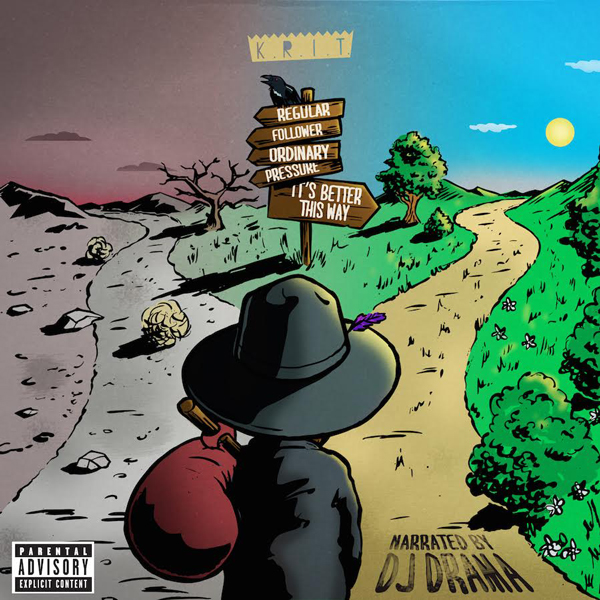 Not only is this mixtape slept on, but Big K.R.I.T. is slept on as an artist. Period. The guy can rap and produce a mean track. Let's not forget Sookie Now. He's consistent, lyrical and full of range—and that's exactly what this mixtape delivers. The impressive tape features verses from K. Camp, Young Dolph, and BJ The Chicago Kid—all bringing their own flavor. Dolph adds the classic dirty south sound and BJ adds a soulful touch. If you've never listened K.R.I.T. before, start with last year's Cadillactica LP, and follow it with It's Better This Way; you'll definitely give it more than a few listens.
Release Date: October 14
9. Boogie – The Reach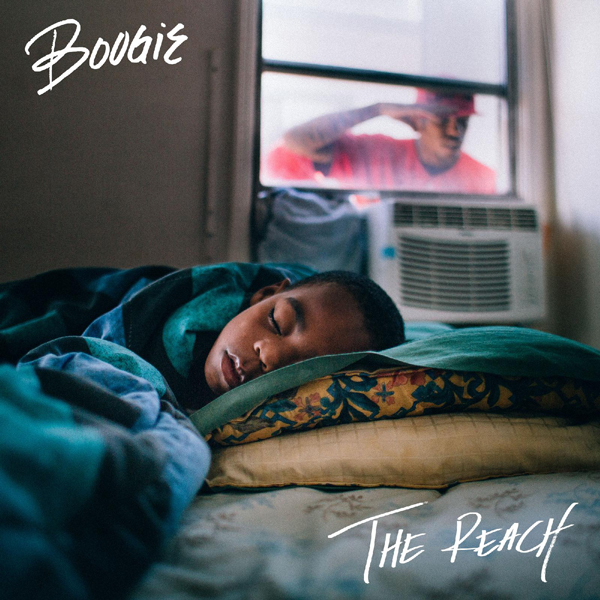 The West Coast, at this point, is all too familiar with Boogie, whose Jhalil Beats produced hit, "Oh My," was heard at parties and clubs all around the greater L.A. area. It slowly made its way to the East Coast, and eventually on a lot of end of year lists. While "Oh My" is clearly the banger of the tape, the rest of it is more of a listen by yourself while cruising vibe. This is the second offering from the Compton native, reminiscent of Devin the Dude with a touch of Black Hippie. He raps unapologetically with a lisp, talking about his city's most pressing issues, ranging from gang violence to drugs, while vividly weaving a narrative through the tape. He even samples Route 94's "My Love," showcasing a wider range sonically. It' a strong tape that keeps us excited about whatever he may offer up next.
Release Date: June 24
10. Two-9 – B4FRVR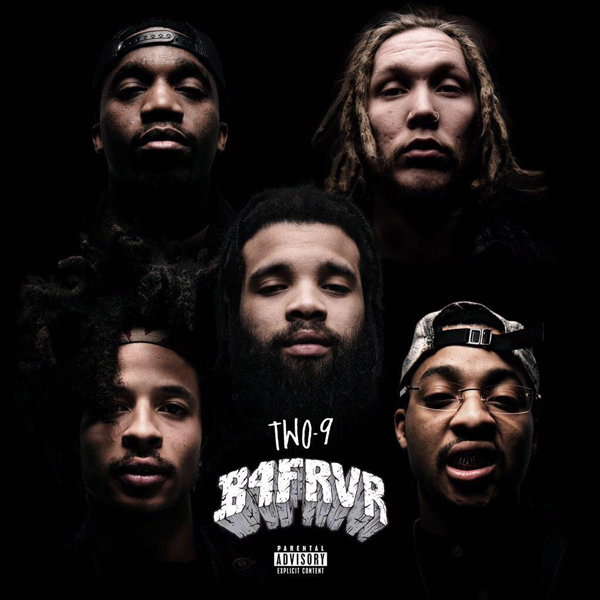 It's rare for a collective to be so precise and methodic in their delivery, but Two-9 does just that. The collective that includes duos FatKidsBrotha (Johnny and Dave), Retro Su$h! (CEEJ and Jace), and Curtis Williams are not concerned with the spotlight, which is unique for a group coming out of Atlanta. They signed with Mike WiLL Made It's Ear Drummer Records last year, which has definitely helped bring structure to their songs. But don't get it twisted, this isn't a fun Rae Sremmurd-esque tape; in fact, it's pretty dark. The two stand out tracks are "World Go Crazy" and "Money Counter," which are guaranteed whip and club bangers. This isn't light listening, but it stays on its course and lets each member of the group shine. It's a solid release from a group that has been in the scene for a minute, and sets a good tone for future releases.
Release Date: June 2
***