We've never been that great at the celebrity-seeding thing.  In Streetwear, the major labels either got the rappers covered or the skateboarders.  Our skate team isn't comprised of "celebrity"-status Hollywood players – instead, we take care of the local heroes and all-star homeys.  And signing rappers?  That's not our jam, either.  The random famous people you do see wearing our brand occasionally are either personal friends of ours or just fans. Sometimes it's as simple as them buying a The Hundreds T-shirt at a store because they needed something to wear, and we know the difference. They're not a brand ambassador, they just needed a cool tee.
The very first celebrity I can remember wearing The Hundreds and being photographed in it, was Bushwick Bill of the Geto Boys.  It was our "Hip-Hop is Dead" T-shirt – which was our Adam Bomb before Adam Bomb even existed – and somehow, somewhere, this photograph took place.  I have a feeling Bill picked this tee up while visiting his friend Dom Deluca's shop (Brooklyn Projects), which was our first true flagship store.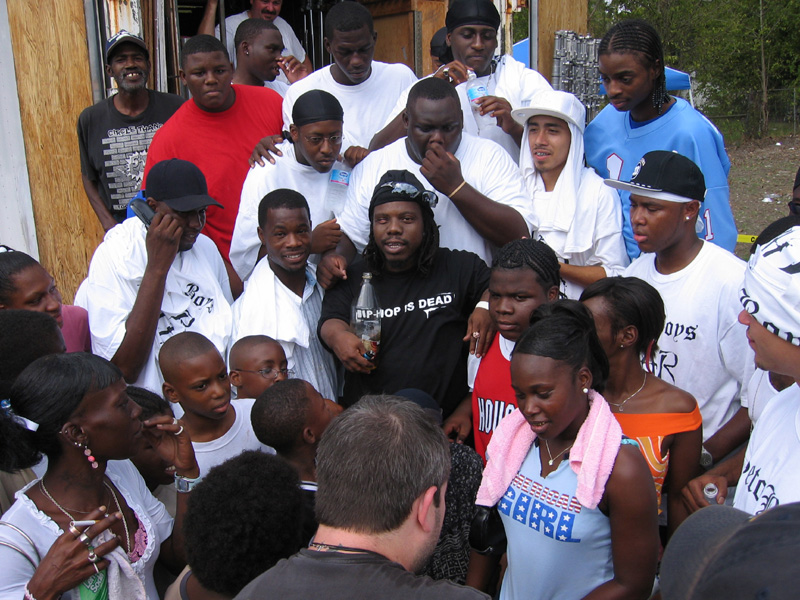 We've had a lot of rappers and celebrities wear our clothes via their savvy stylists, and I think that's how our "Pins" all-over print hoody ended up on the back of Jay-Z during his legendary Hangar tour in 2006.  It was Jay's out-of-retirement splash; in one day, he performed in 7 cities.  For at least two of those engagements, he was wearing different The Hundreds product of the season – this zip-up and our "Lost Angels" Led Zeppelin-inspired T-shirt.  Of course, "Pins" coincided with the all-over-print craze of the time and would end up going on to be knocked off by a slew of corporate pirates after these photos blanketed the mainstream media, from the frontpage of MTV to the cover of USA Today.
I always thought it was ironic because my inspiration for this piece came from the history of the safety pin within punk rock culture (but of course that was lost).  This was also the most excited Ben and I have ever been about a celebrity wearing our clothes (outside of being personally gifted by us), and so it meant a lot, especially for a 3-year-old independent brand at the time.  Thanks Hov!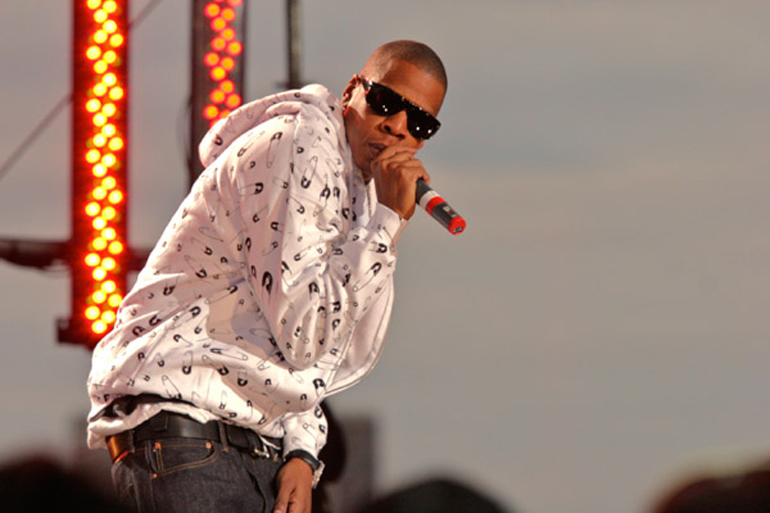 This is one you probably remember, but before he blew up (not fat-wise, he actually went in the reverse on that level), Jonah Hill used to live literally next door to The Hundreds Los Angeles on Rosewood.  He would kick it on the bench with Tony and Morgan, talking about bikes or whatever. I remember one morning we all sat around the computer to watch the trailer for his first big starring role in a smalltime comedy, "Superbad," and we all looked up at Jonah and said, "Wow. This is gonna be huge."
That was an interesting summer because Seth Rogen and all those other dudes used to cruise around Rosewood to visit the actor and work on stuff. I'm sure this is where those next 10 brat pack movies all started brewing.  Seth was always a dick, but that's why America loves him, right? Jonah ended up exploding into the A-list stratosphere and I remember catching him on his last day on the block. "I'm moving!" he smiled.  He was actually always more of a serious guy, so you could see that he was really happy to be elevating in his career.  I'm sure he's moved twenty times since then and lives on the moon now. About a year later, I bumped into him in the bar at Lawry's, where he was lounging with the SNL cast and a gaggle of babes.  He was like, "Oh hey man," but I could tell he had already left us far behind.  I still love his work in Superbad the most.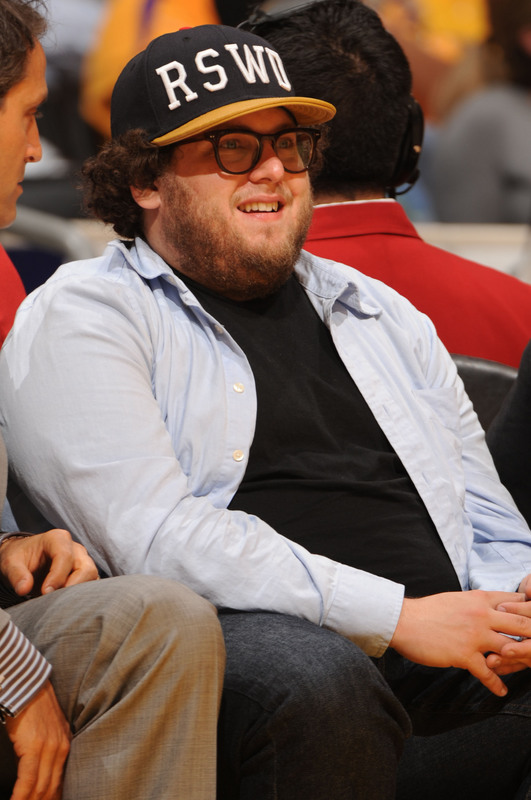 Julia-Louis Dreyfus is a regular at The Hundreds Santa Monica.  Otherwise known as Elaine Benes from Seinfeld, she once gave me daps on a Rosewood Collection T-shirt that everyone made fun of me for designing.  Did you know that she comes from a very wealthy lineage? Her family's net worth is estimated by Forbes around $3 billion.  But she's always unassuming and approachable, and super warm with the staff.  GET OUT!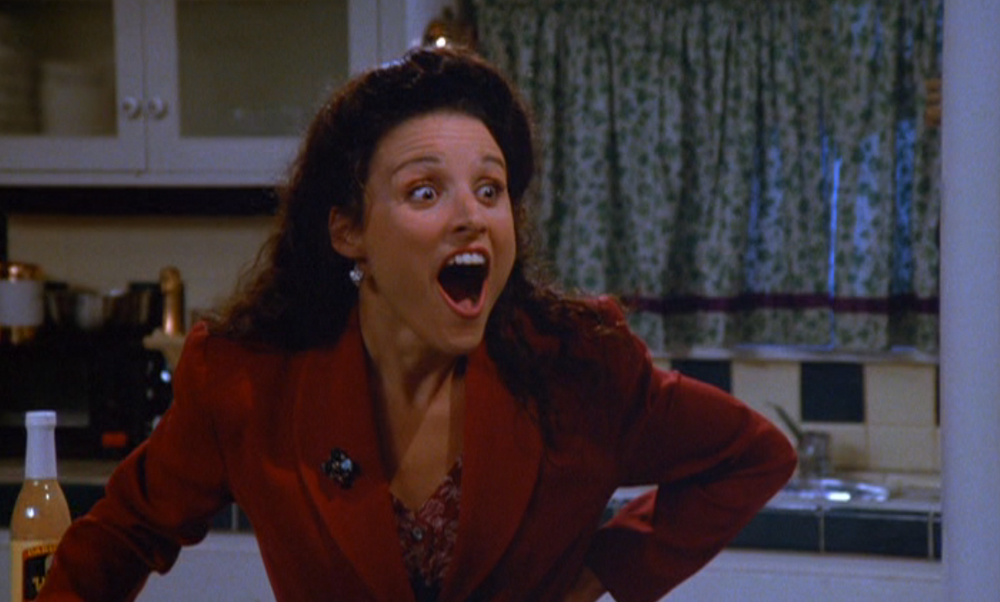 This is an older photograph but it made the Internet rounds again a couple weeks back due to Sole Collector's article about MJ's son designing a Jordan shoe for his 23rd birthday.  Marcus Jordan has been seen on plenty occasions wearing The Hundreds and maybe he's not a celebrity himself, but I think this is the closest I'll ever get to #23.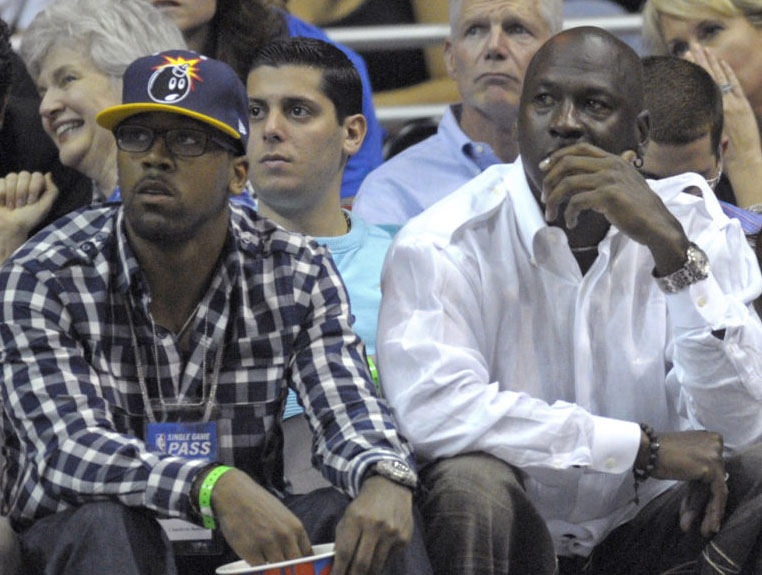 Speaking of courtside sons in The Hundreds…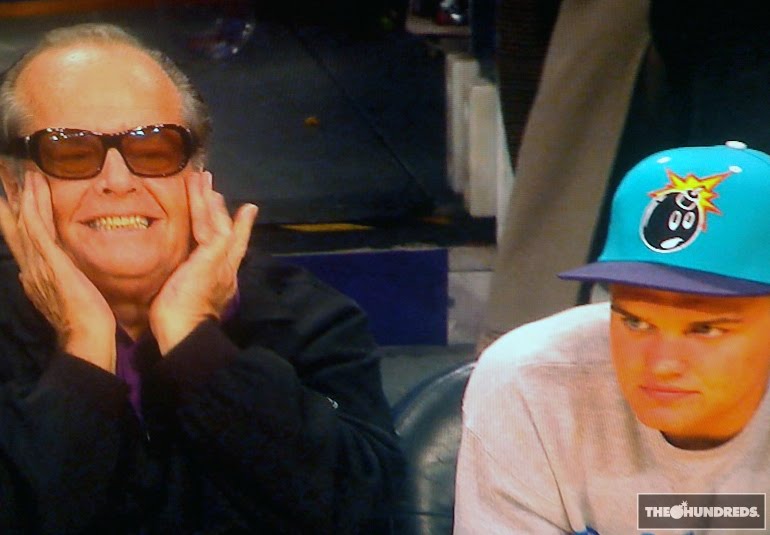 Remember what I was saying about stylists?  They'll dig through our shop or one of our authorized stockists and dress certain celebrities, who don't necessarily know up from down in the Streetwear sense.  I'm pretty sure Jamie Foxx himself didn't buy that "18" T-shirt from us, but see those buttons on his blazer?  When The Hundreds Los Angeles first opened, we kept a bowl of custom buttons by the register.
I would design these pins sorta irreverently.  Sometimes they'd have a pattern or a kooky design, but they'd also feature Ben's pug Wallace's face or Evan O'Dorney.  I just found it kinda funny that this A-lister was wearing our stupid lil' buttons out at a swanky movie premiere, without a clue as to what they were about.  But I ain't complainin'!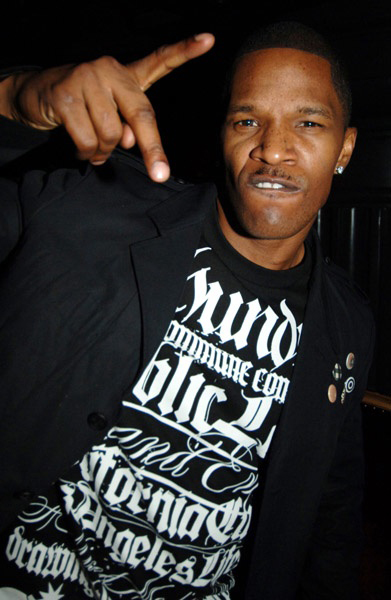 Yeah, Dustin Hoffman used to shop RSWD.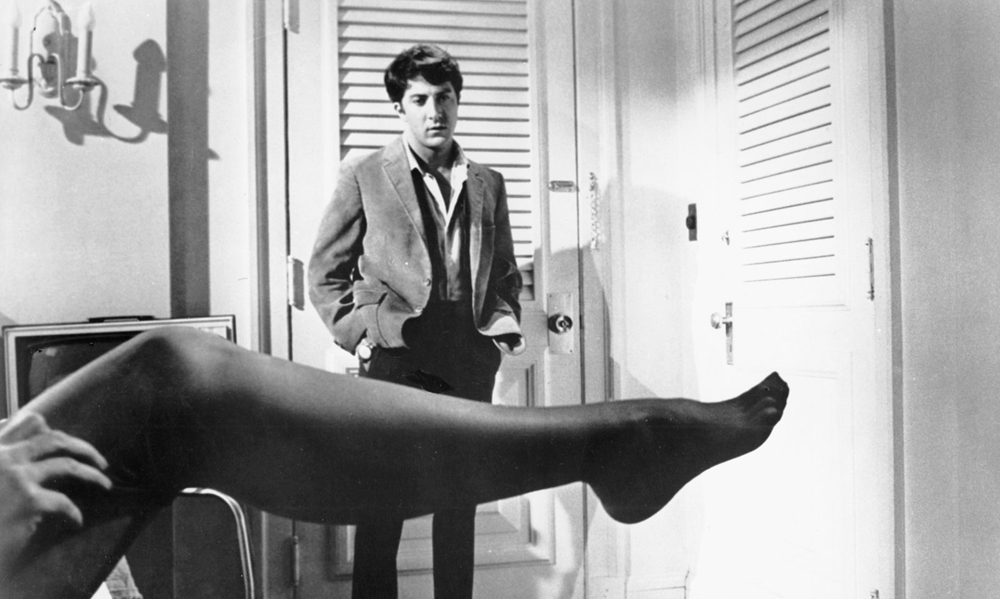 My knowledge of sports goes only so far as late-'80s baseball cards and Kevin Durant and Russ Westbrook (because they wear our brand), but this guy right here – Colin Kaepernick – has been proudly supporting The Hundreds for some time now, as evidenced by his social media and news coverage.  Too bad the 49ers' QB didn't make it to the Superbowl this year, but hopefully he can score enough baskets to win the Stanley Cup next summer!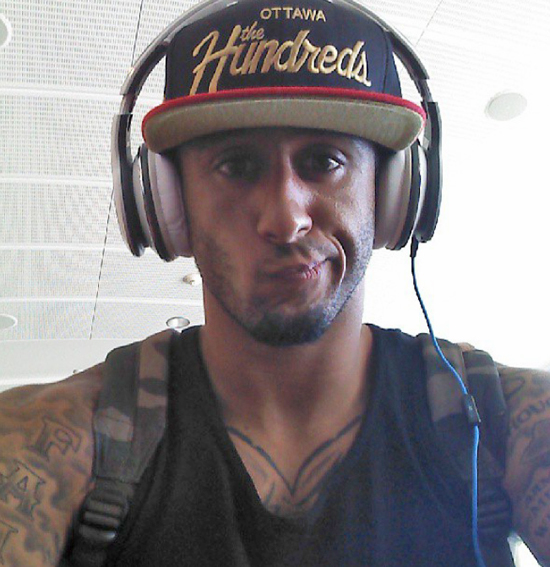 Another The Hundreds Santa Monica regular – Kim Basinger.  Vicki Vale.  Holli from Cool World.  In fact, that's how our collaboration with the film even came about.  Kim and her daughter Ireland Baldwin would come around and talk to our former shop manager Brick about working on something together.  That idea eventually evolved into reviving her character from the movie.  The original plan was for me to also photograph Kim for a The Hundreds Magazine cover shoot, but that never materialized.  In fact, I never even got to meet her in person throughout the entire collaborative process.  Even when she signed all the promotional posters for the project, my assistant had to drop them off and pick 'em up at the door.  Maybe she doesn't even exist and is but a figment from my teenage dreams.  Fine by me, I like to remember her like this: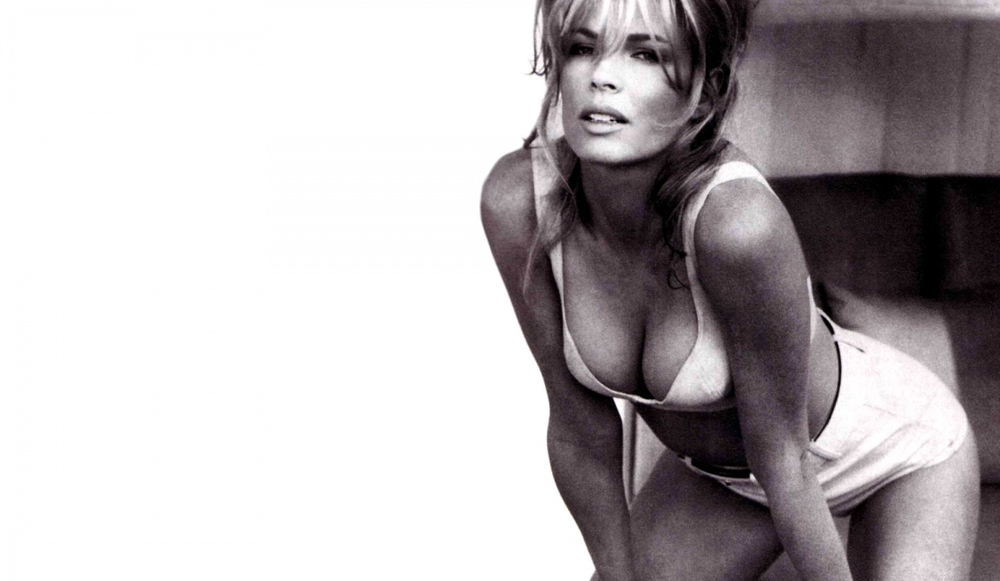 I'm pretty ashamed to say that I've never watched a full episode of NBC's Parenthood (hey, I don't watch TV), but the longtime television series has an unexpected relationship with The Hundreds.  Well, first, Erika Christensen is a friend of ours and proud supporter of the brand (She just texted me this photo of her in our Venture sweatshirt earlier this evening).  Joy Bryant was our second cover girl for The Hundreds Magazine.  And even Mae Whitman is a longtime fan of The Hundreds.  It's nice to be a part of this family.