Our femme fans always ask us about women's clothes. Why don't we venture into the girls' market?  One of the reasons is we just don't feel like playing in women's territory.  We're simply not passionate enough about girls' clothes to tackle competitors like H&M or Forever 21 or Roxy. Or even try to breathe in the same room as Alexander Wang or Isabel Marant.
But back in 2007, two LA girls did just that.  Lauren Alexander and April Leight founded LNA, rooted in the quest to make the perfect men's T-shirt, but for women.  That simple idea not only evolved and expanded their own company, but poured the foundation for an entire industry that shadowed the trend.  Nowadays, women's designers high and low have followed in Lauren and April's footsteps, constructing collections around soft, basic tees for the ladies.  Shows how much of a difference two individuals can make, how far they can take an idea, and change the landscape of fashion.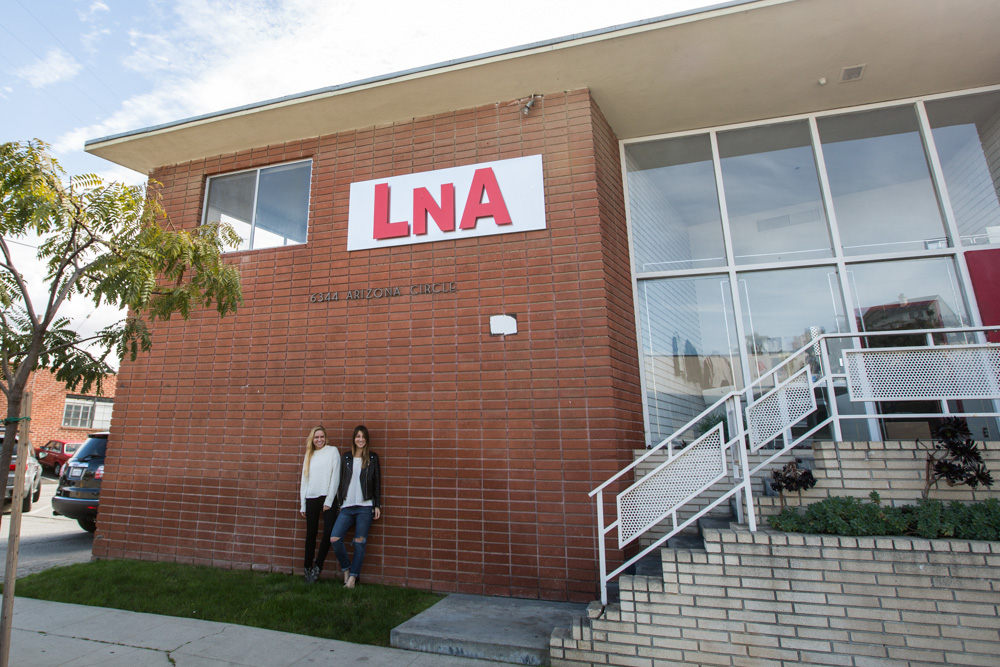 April lands more on the operational side of things, while Lauren is the head designer.  This morning, we're at their offices and warehouse in Culver City, California.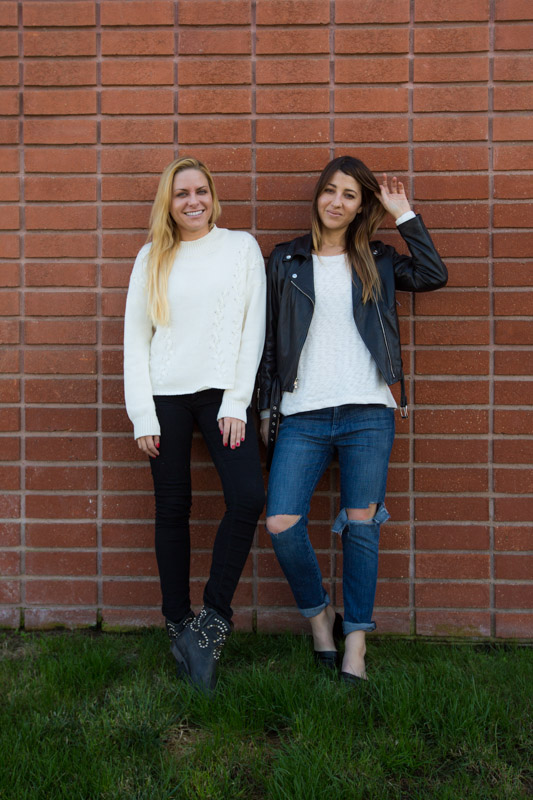 There are more than enough parallels between LNA and The Hundreds, but one overarching similarity is that we're both themed around California culture. And it shows in the casual stylings and sunny vibes of the garments.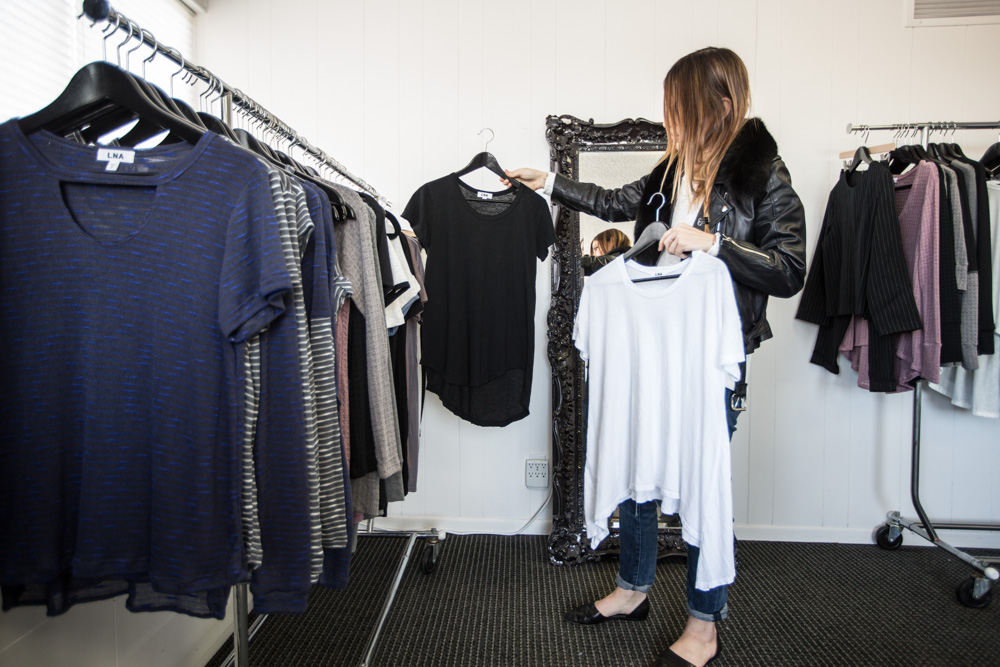 LNA isn't just relegated for the finer gender.  Their men's T-shirts are a hit, amongst the everyday dude to celebrities like Ryan Gosling and Ryan Philippe, who gravitate towards the LNA top because it's such a specific and unique design.  Brad Pitt is one of LNA's regulars; in fact, Lauren made all of his T-shirts he wears in World War Z.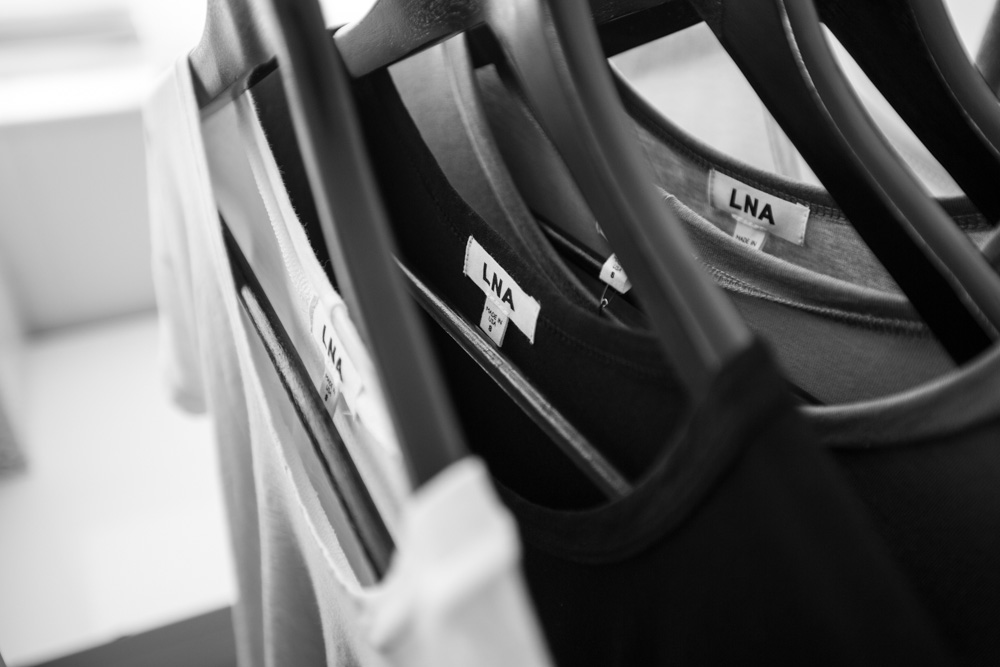 April's office is situated on the farther side of the headquarters.  Behind her is a collaged inspiration board that's been running for years.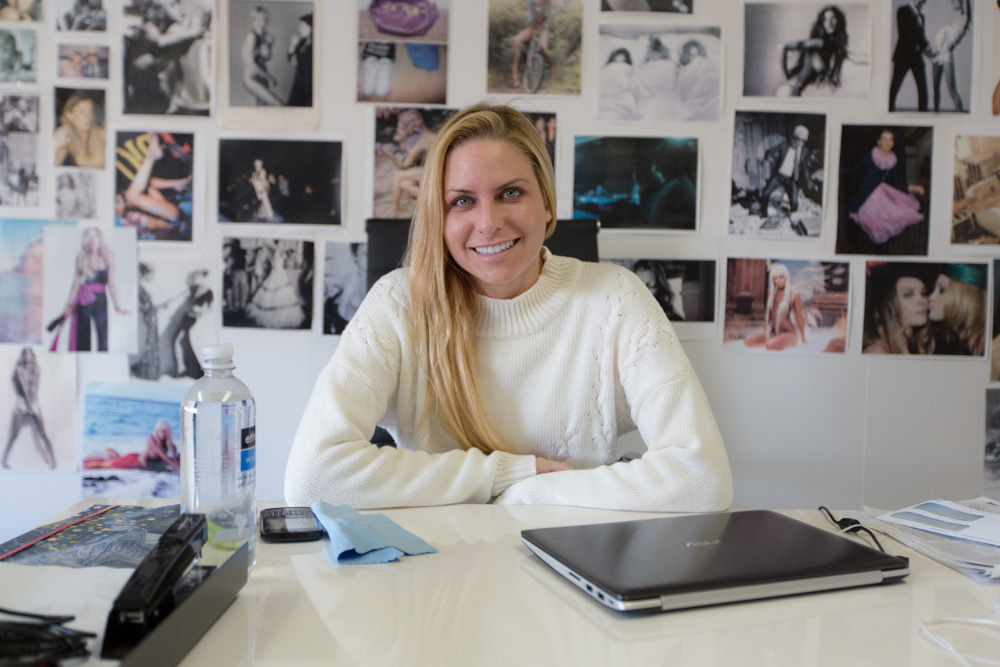 And this is Lauren's desk, on the opposite side.  I ask her what she's painting…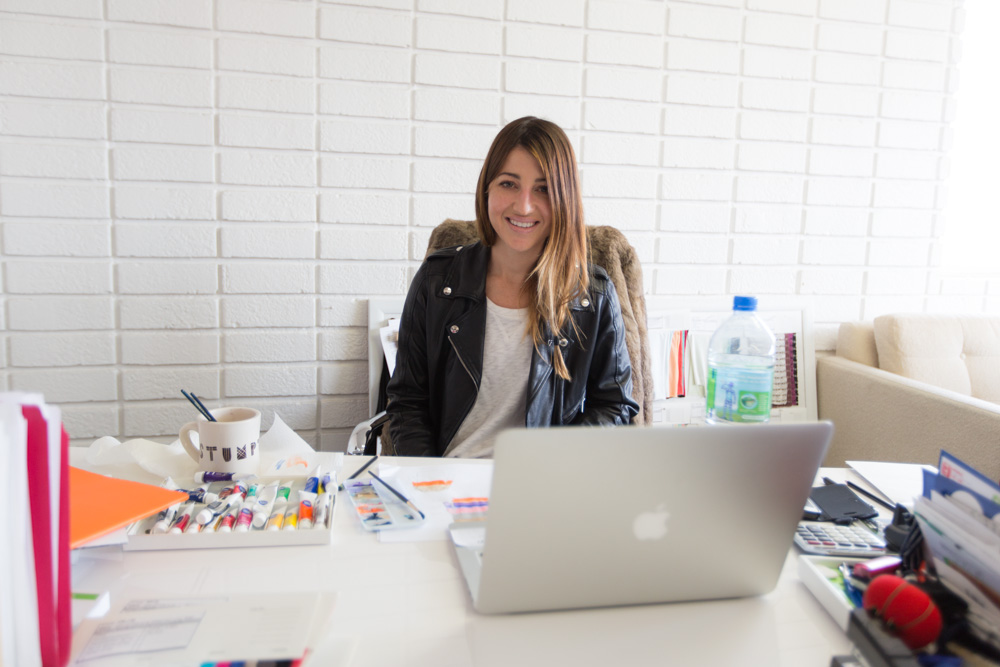 This is actually how she begins her mornings, and how her process foments around sweater designs.  She has to paint them first to get them quickly out of her head.  From here, she advances into more technical design.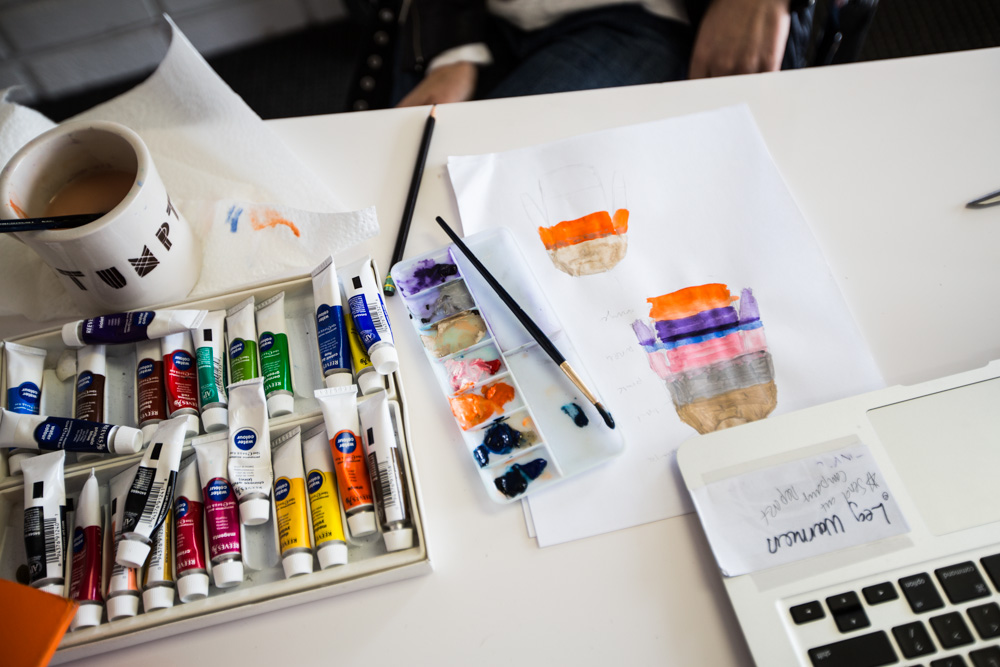 Some patterns by her desk…
Believe it or not, I'm looking at about 70 pieces in LNA's fall range, and Lauren designed it all. She's the only designer here, in fact. I feel just a bit inadequate…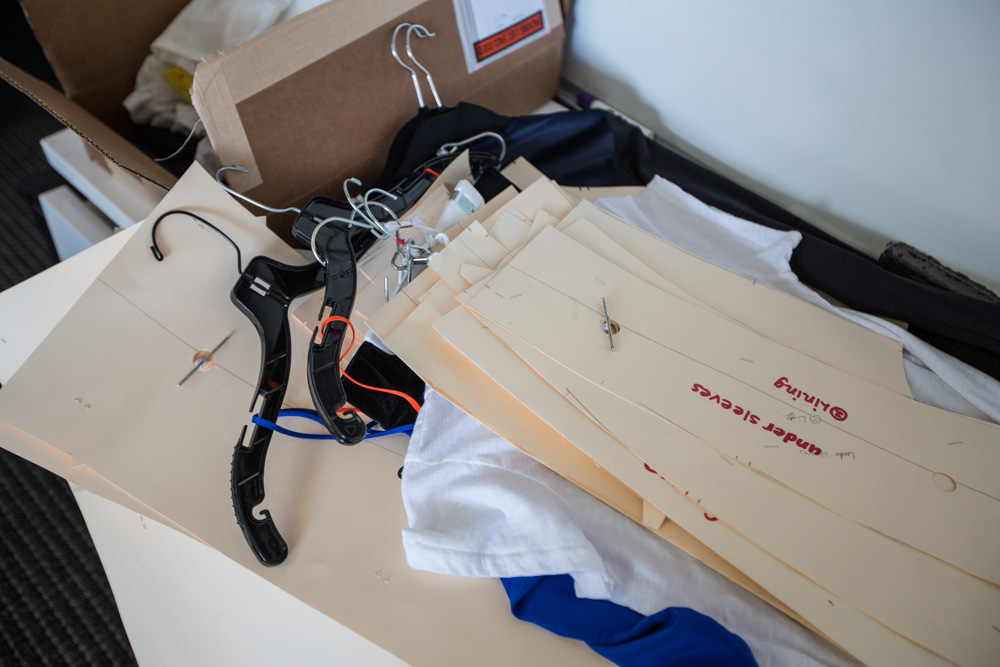 Cutouts.  It's all about these cutouts.  She started small, a tear here and there.  The demand escalated, Lauren's done them every which way, now she's running out of places to put 'em!  Cut. It. Out.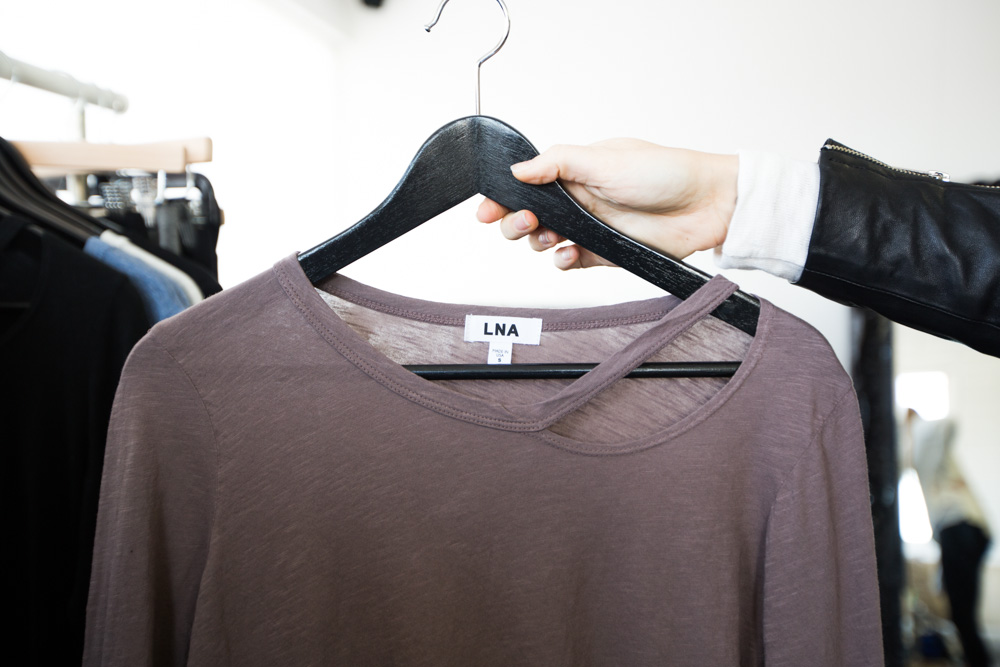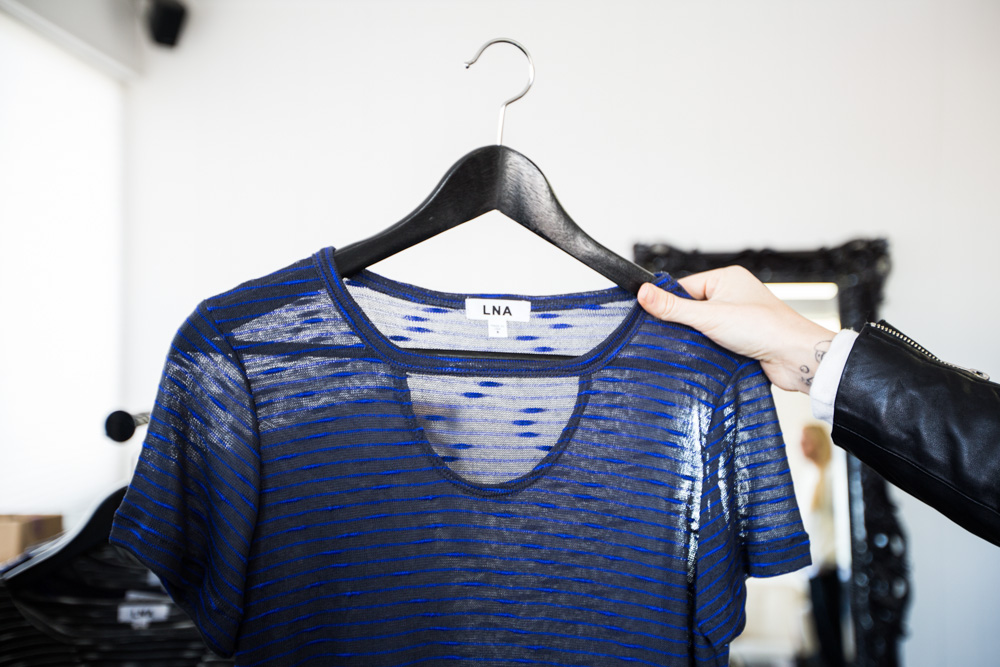 Oh, there's something I really love and respect about LNA.  All of their clothing is made right here in Los Angeles.  Even their sweaters, which is unheard of – how did they find anyone to make them here?  Sweaters are usually China or India.  Apparently, the girls found the only factory in LA to make sweaters like this…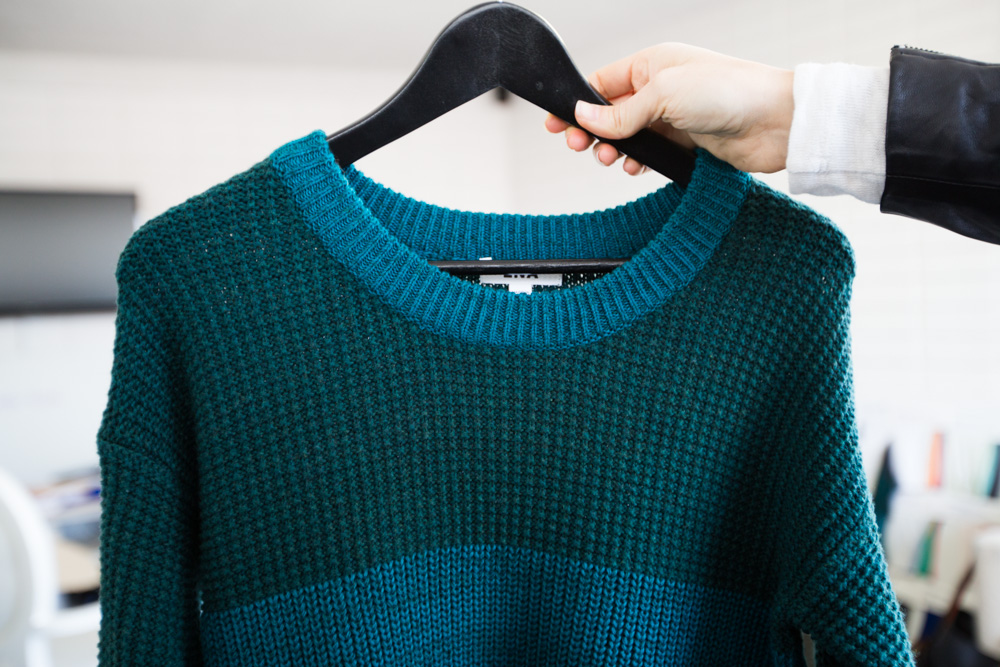 Another thing is the attention to detail and forethought.  Their pieces need to either have a distinct and quality hand-feel or a texture that snags the shopper.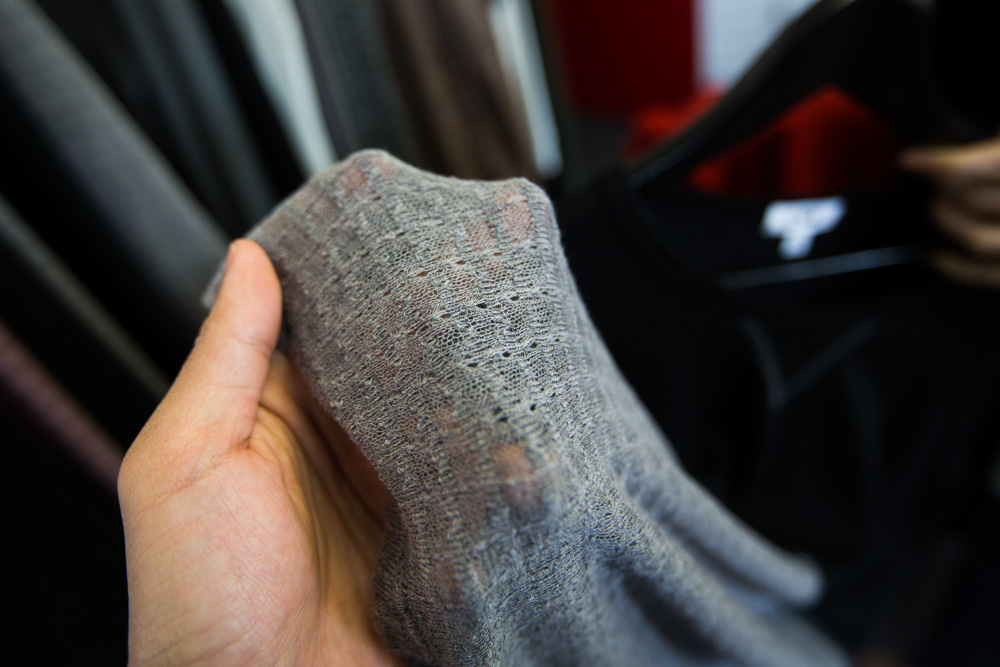 LNA doesn't just make T-shirts and tops either.  Sweatpants are big with the brand, as are other bottoms.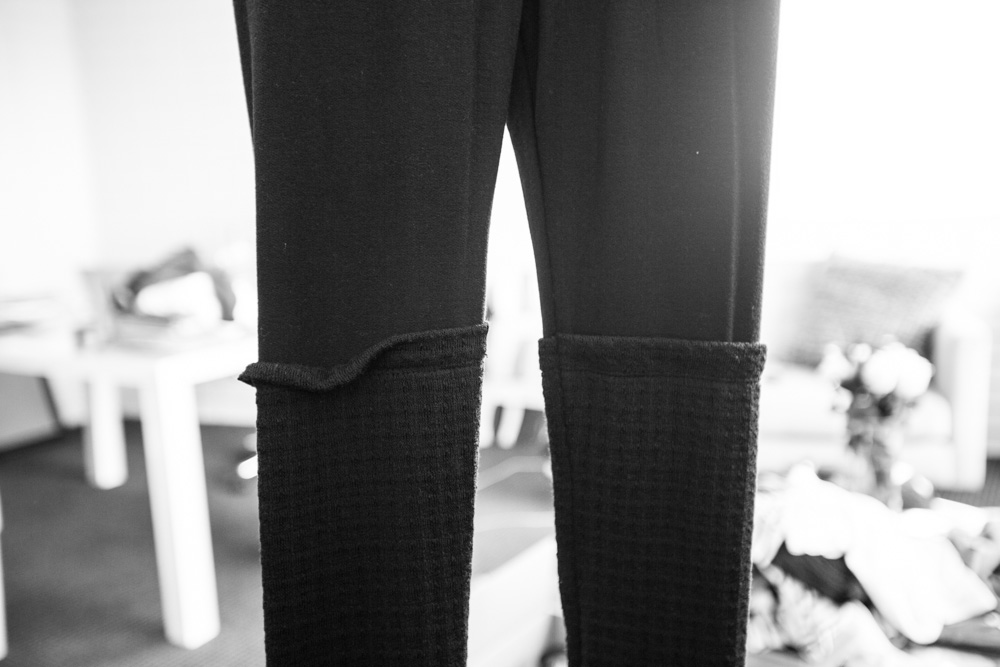 Bombers with the rose-gold Riri zips.  Lauren also does 1-off leather jackets, like the one she's wearing today.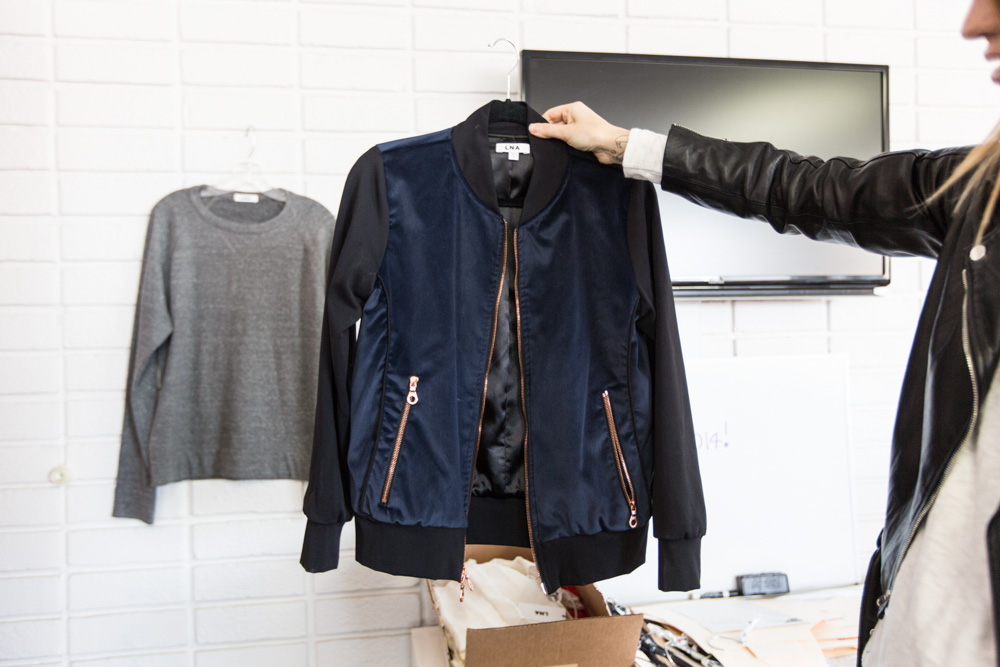 And of course there are the obligatory awesome collaborations.  These glasses are made in partnership with our mutual friend, Garrett Leight.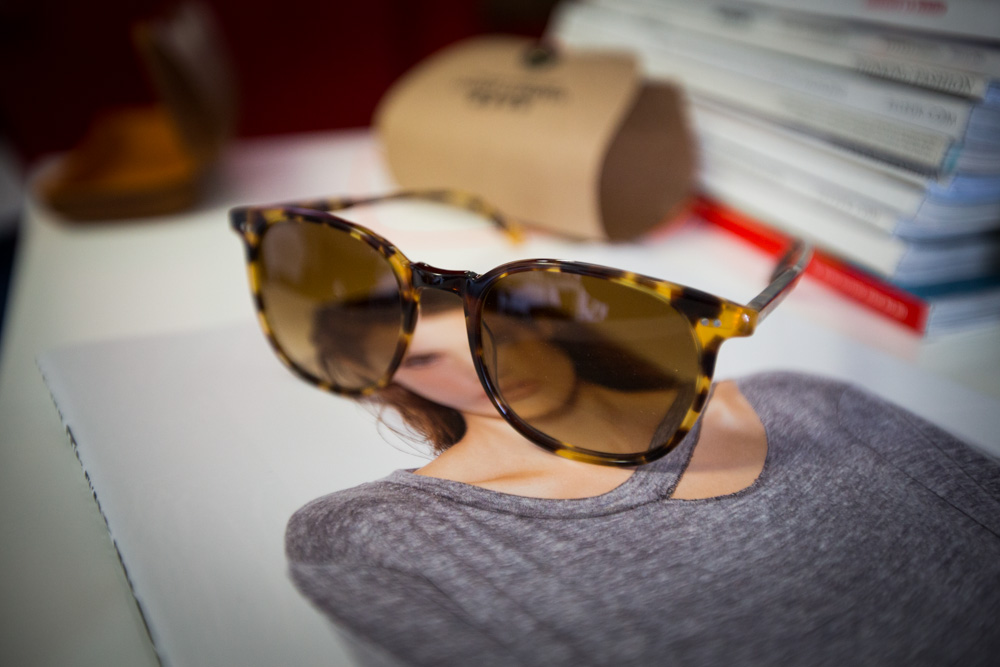 April and Lauren have come a long way since this early photograph of them for Nylon Magazine.  But they are sincere about what they're doing and are clearly passionate about LNA.  We all agree that this isn't the smartest business in the world.  There are far easier and faster ways to make money.  Fashion is an extremely demanding, tempestuous, irrational, and volatile industry.  Nothing is guaranteed, except that you can never let your guard down.  The work never relents, the stress never dissipates, the consumer never stays put.  As the girls stated, this job is all about problem solving.  There's always a fire to put out or an issue to resolve.  So why do we do it?
Because we can't not.  We're the square pegs, this is the only place we fit, this is the only way we know how.  The island of misfit toys.  It's not about money or glory. It's about love.  And that's why – if this is where your heart lies – this is the best job in the world.