The "Paisley" pullover hooded sweatshirt is available now in Black and Navy exclusively at The Hundreds Los Angeles (RSWD) and The Hundreds San Francisco (POST). For a limited time, the Navy colorway is also available in the Online Shop—SHOP NOW.
10 years ago.
Man, things were so different back then.
Especially Streetwear. Streetwear, a decade back, was more... hmmm... improvisational?
Rappers were still holding onto their urban labels and skateboarders were perfectly happy with mega ramps and MTV reality shows. Streetwear, at the other end of the spectrum, was a ball of clay passed between a small community of sneakerheads, aspiring designers, and forward-thinking entrepreneurs who questioned the status quo.
At the turn of the millennium, Nigo—who still helmed Japan's A Bathing Ape—introduced a rainbow of all-over-printed, full-zip hooded sweatshirts into the culture. His subsidiary Ice Cream/BBC soon followed. And then American upstarts within our category—the guys and girls who studied Japanese street designers—scribbled down notes and translated all-over-print into a global trend that, for years, rippled throughout fashion. In fact, the all-over-print ended up defining this chapter of mid-2000s Streetwear. From Red Clay to LRG, Peg Leg to Rogue Status, everyone boosted off all-over-print sales in their line.
We were no exception. Around 2004, I designed one of our first sweatshirt graphics, which you see here. I was doing a lot of monochromatic black-on-black at the time, and offsetting the print with a fill. Our initials are decorated with a white paisley print. The overall effect was that of a bandana look.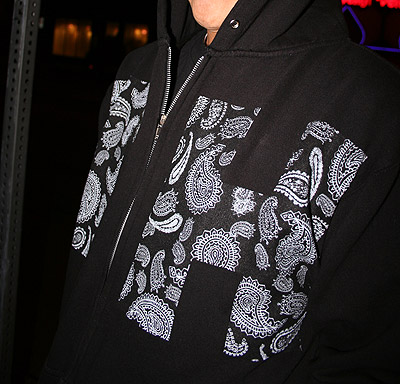 The following year, Ben (Yes, I believe it was Ben!) suggested exploding the pattern all over the hoody, and that's how our first all-over-print came to be. Because we were running late on production and because we wanted to be one of the first to market with this idea, we sourced out a local print shop that could handle belt-printing. Now, you gotta realize, belt-printing was a totally outdated concept executed with an archaic machine. This particular shop ended up taking on our entire industry's printables for the next year because they still had a belt-printer in the back.
We released two colorways. A black-on-black (of course) a discharged "white" on black. Later on, Nick Diamond suggested we promote the hoodies as customizable with colored supermarket dyes, and the Internet went Internuts.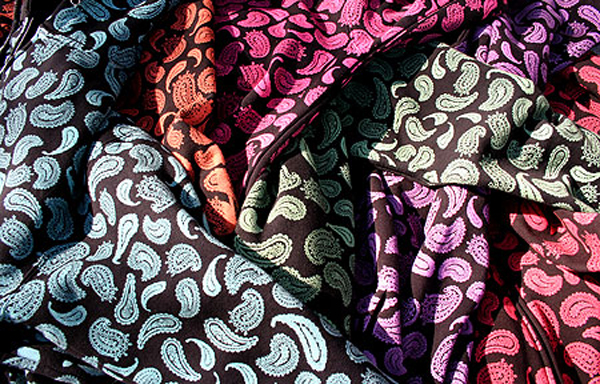 Another thing about life, ten years ago. Ben and I did everything for The Hundreds. EVERYTHING. So, while he was selling these hoodies, I was shooting the product shots, creating the marketing materials for our website, designing the site's layout, and building our rudimentary shopping cart to take orders. We received production late one afternoon, as Chad Shoes, Mega, Nick Diamond, and Aaron Pepper (RIP) were out front, chopping it up. Everyone dug into the boxes and tried on the sweatshirts. I took some photos and posted 'em on the blog within the hour.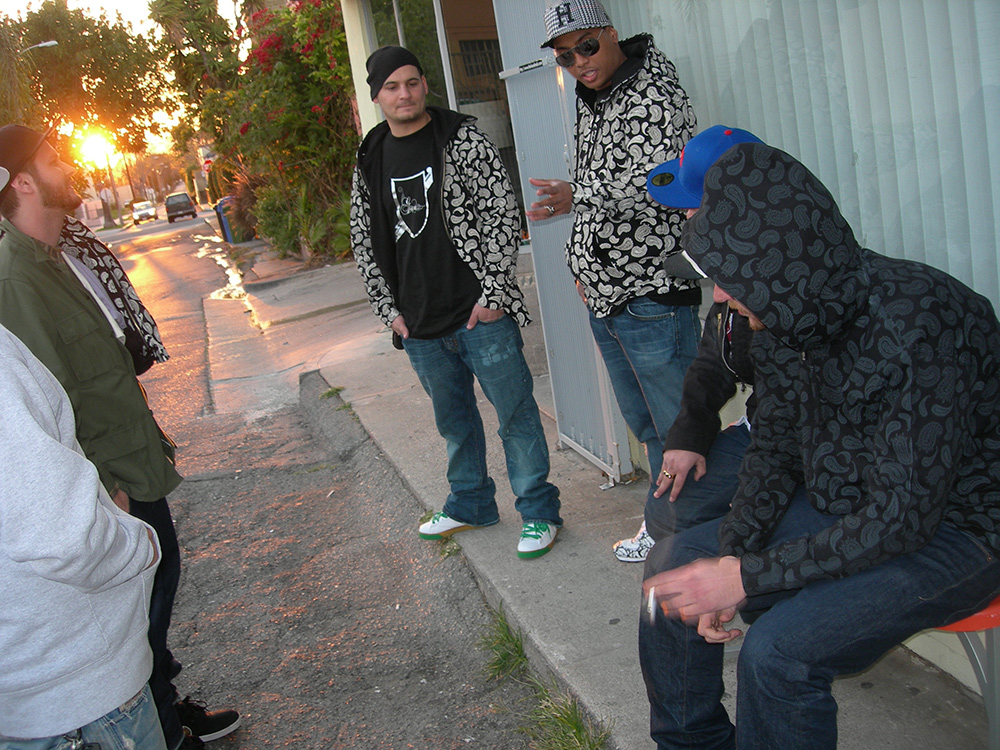 I was up until 3 in the morning, putting the finishing touches on our big release. This was before social media, so I blogged that the hoodies were now available in our Online Shop, turned off my phone so I could sleep in, and knocked out.
I awoke to the sound of somebody pounding on my front door. My girlfriend was standing there, frantic. "Your phone's off! Ben's been trying to get a hold of you!"
What? Why? Is everything okay?
"The hoodies blew out overnight. They're OVERsold. You have to take down the website right now!"
That's because we were so basic back then, that we didn't even have a legitimate e-commerce platform. I had jerry-rigged our online store out of HTML, Paypal code, and some other tricks I'd Googled. But, whatever. We had our first big hit. And it was a smash.
I drove to our office (which is where The Hundreds Los Angeles stands today) and Gary Bone of Livestock was waiting for us, as we had an appointment with our Canadian distributor that afternoon. Ben rolled up, swooped us all, and we celebrated our success over lunch down Melrose. We immediately decided to take all our profits off the hoody and dump it right back into building our first store on Rosewood Ave. 7909 was never the same after that.
The following summer, we re-introduced the Paisley success with T-shirts in a spectrum of colors.  This time, we were prepared. The hoody "debacle" finally pushed us to take on a professional web developer (instead of me tinkering around on Dreamweaver) who we are with to this day (530 Media Lab). History repeated itself, and the Paisley T-shirt was a phenomenon.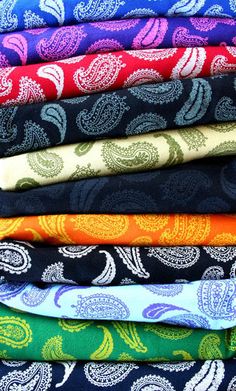 There were a couple more forays into all-over-print (Town, Cherries), but by then, every brand under the sun was coming up with their own and flooding the market. 12 months later, the all-over-print had become a caricature of itself, the hypebeast pajama punchline that eventually spun the industry's design aesthetic away from the colorful Skittle-bag look, to trad, minimal high-fashion, and "grown up" menswear.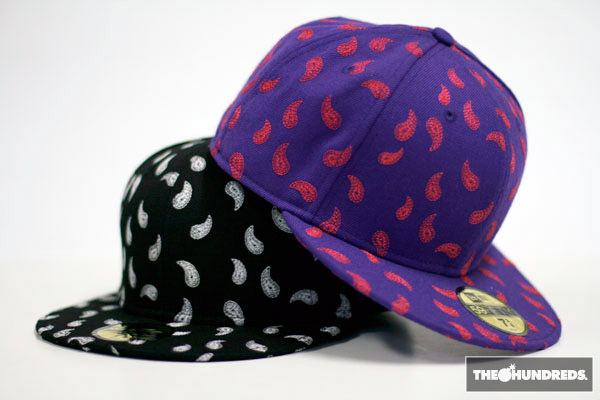 In his memoir, Fresh Off the Boat, Eddie Huang talks about the role our Paisley hoody played in this chapter of Streetwear:

10 years later, Streetwear is a high-octane business. It's calculated, trends are analyzed, design is orchestrated. It's a big industry now. Big bucks. Streetwear—whatever that means – is powered by celebrities, corporations, and dictated by big-box retailers.
So, here's a nice memory. We're bringing back the Paisley hoody. This time, we've done it right and taken the time to manufacture it from scratch. But, the print is the same, the purpose is the same. Whether you remember what this meant, or this is your first time hearing the story, we hope you enjoy wearing this piece of history.
***