In 1949, prolific Modernist designers Charles and Ray Eames introduced their signature fiberglass Case Study chairs, propelling the idea of accessible, mass designed furniture for everyone.  This was the first consumer fiberglass, before the material was incorporated in products ranging from Corvettes to surfboards.  The husband-and-wife team worked with Sol Fingerhut and Irv Green on the manufacturing process, who then went on to lay the foundation of Modernica in 1989.  The Los Angeles-based furniture factory has the distinction of being the only manufacturer capable of producing the Case Study Fiberglass Shell Chairs under the Eames' intended process.  Modernica utilizes the original presses that were used by Zenith Plastics for Charles Eames production of Herman Miller chairs.  Furthermore, the preform machine is the only one in existence, designed by Fingerhut in 1960.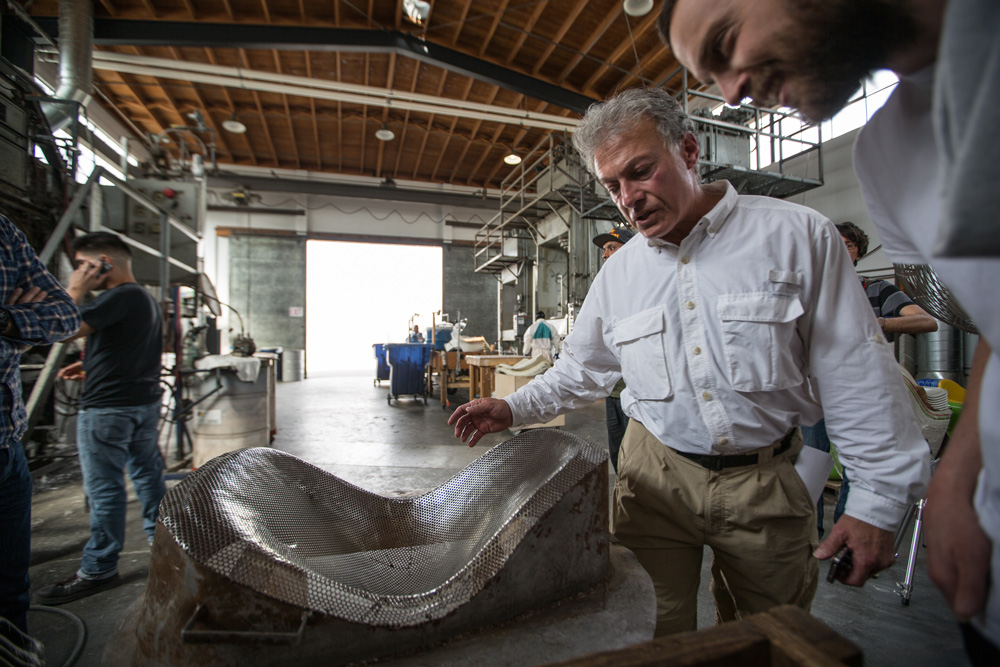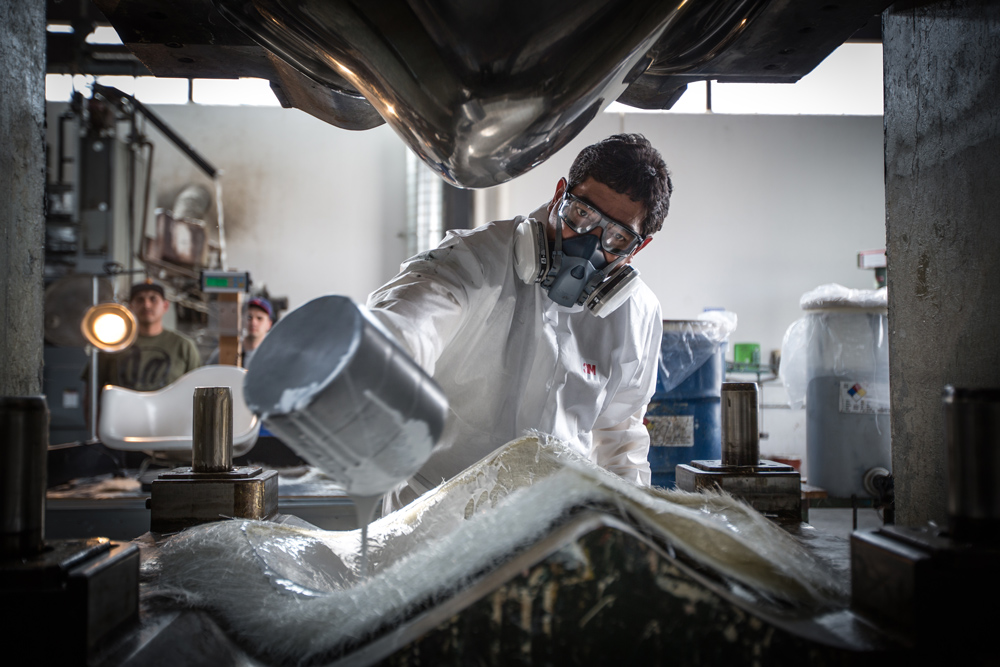 Down at the plant, Modernica owner Jay Novak expounds upon the importance of the Case Study chairs, "It's pretty historical as far as industrial history goes. The design is so perfect that it looks contemporary. There's no improving it, really. Any change you make to it–which we've seen–doesn't work. It goes negative."  He continues, "Millions of (the chairs) have been made and they seem to last indefinitely. The fiberglass, if anything, it gets better looking over time. I have one at my house; it's about 64 years old. It's from the first few months of production. It looks new."
"There's been a revival (in the chairs) as people are now infatuated with this design. It's more relevant today than it was back then.  In 1950, it was a little bit cutting edge. Not for everybody. Now, people understand it. It's taken a lot of time to acclimate people to this pure, simple design. There's nothing more there than what's needed to function. There's nothing superfluous. There's nothing there for decoration."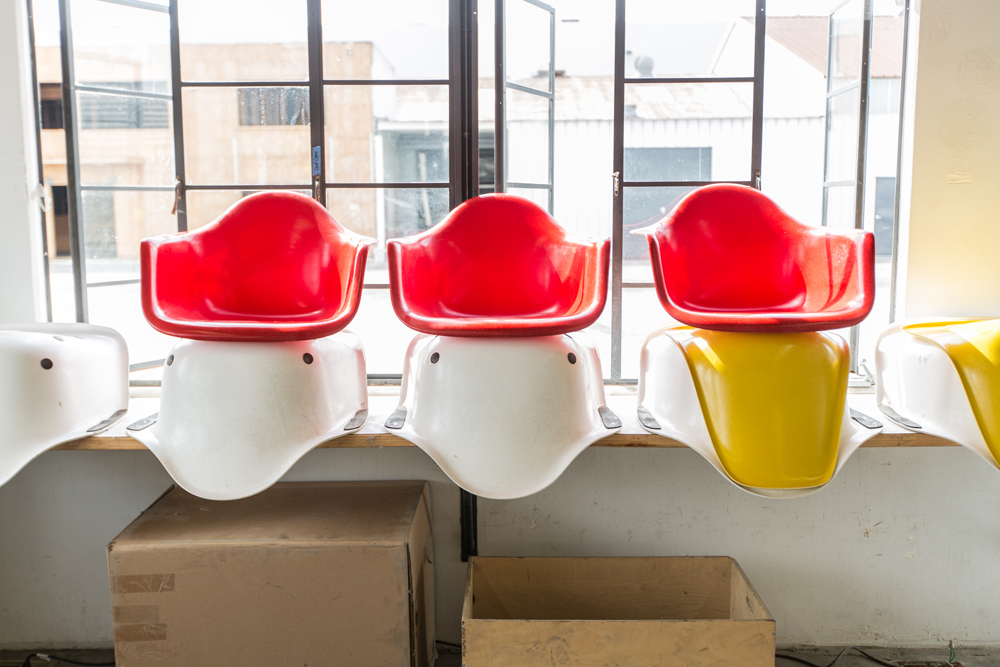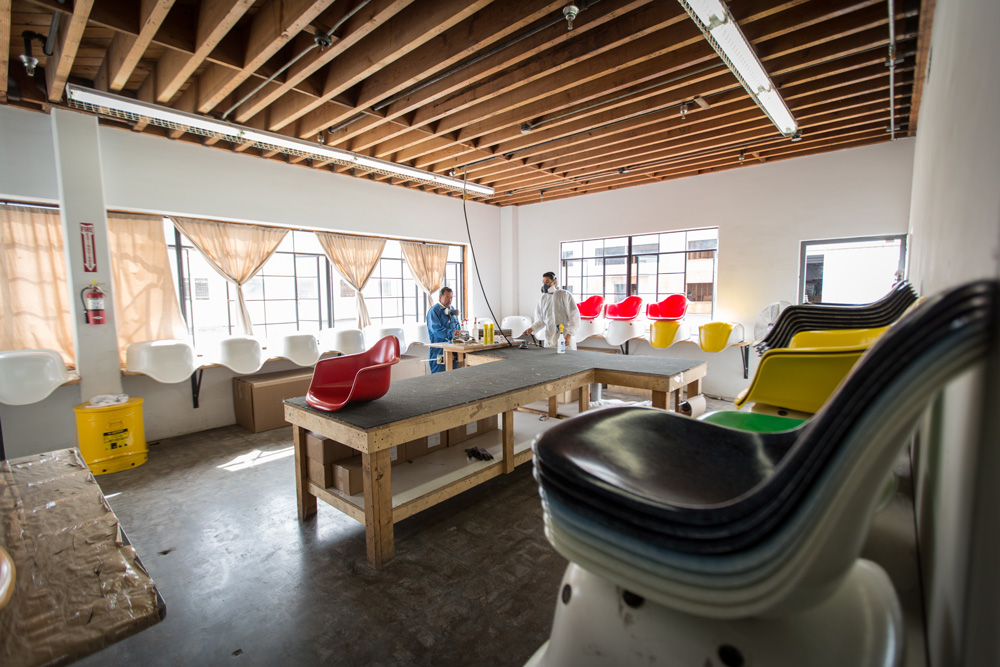 And that's why The Hundreds has collaborated with Modernica on our own Rocker Arm Shell, implementing our familiar CMYK color combination via Modernica's first crack at a true black paint job.  As much as we are interested in timely product, The Hundreds is more oriented towards timeless design.  To embark on our first furniture piece in the history of our brand, Modernica seemed like the obvious partner because of their authenticity and history.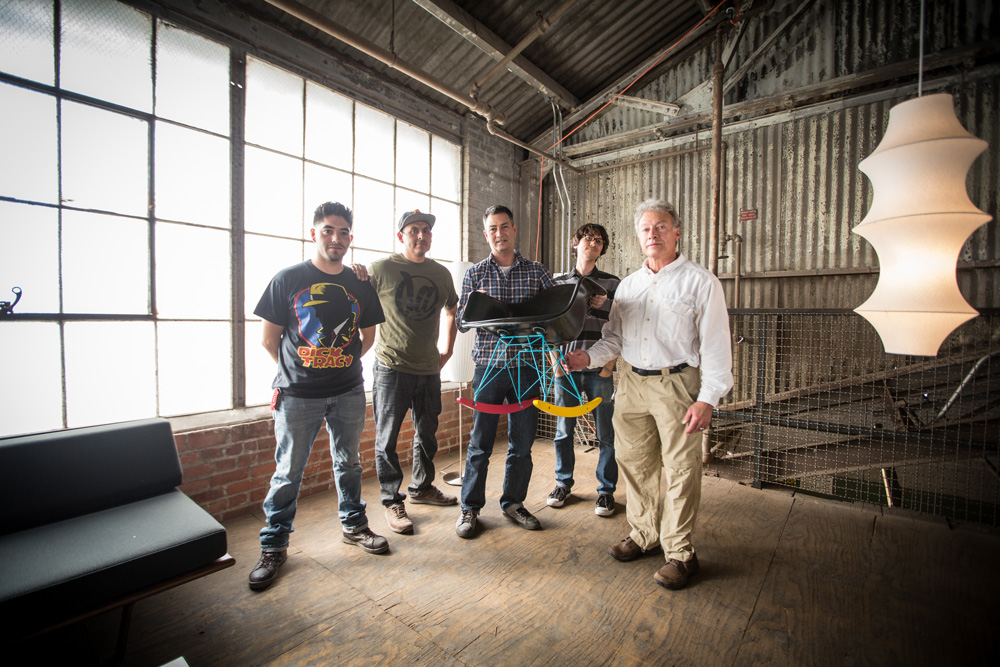 Plus, to have our say in such a classic piece, that marries form and function:
"This was Eames," Novak says, "It's strictly there for its function. And as it turns out, it's also beautiful. But that's the way it goes. You make something that functions perfectly? Usually, it comes out very, very attractive."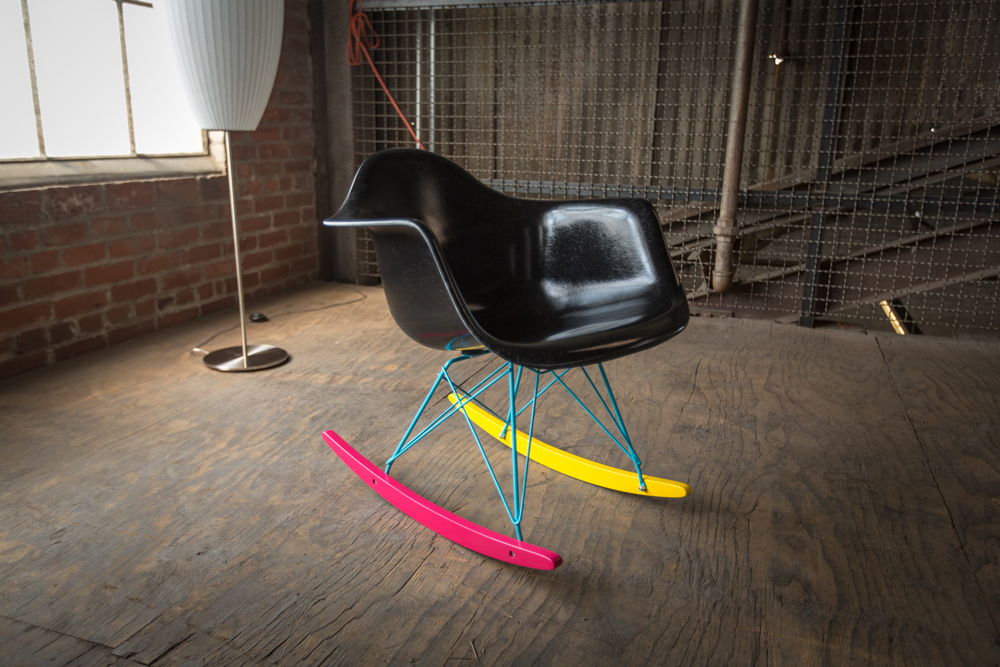 The Hundreds X Modernica "CMYK" Fiberglass Arm Shell Rocker features a Black shell, Cyan wire, and Magenta and Yellow rockers, available in ultra-limited quantities at $499 through the Online Shop at midnight tonight.