Tomorrow morning, you will have the opportunity to pick up a very special collection of t-shirts from both The Hundreds Los Angeles and The Hundreds San Francisco. Entitled "The Hundreds: A TRIBUTE TO HARDCORE," the limited-edition project is comprised of collaborations with designers and musicians who are all paying respects to hardcore music, the scene, and culture.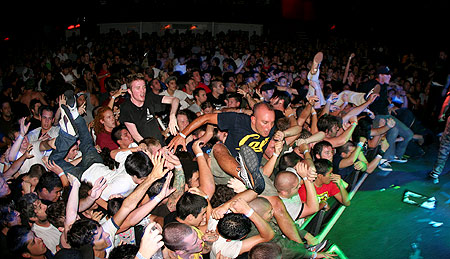 I grew up in the hardcore scene, and have always considered that background as one of the strongest impetuses for my DIY work ethic, motivation, and involvement in active subculture. It's hard to explain for those who were never into it, but the hardcore music scene is one of the greatest, passionate subcultures to engage driven youth. I don't know exactly what it is, but the same kids who were running around printing homemade 'zines, silkscreening band tees, organizing shows in basements and living rooms, fighting for animal rights and vegetarian awareness, delving into activism and political causes, and touring the country in vans and sleeping on newfound friends' floors… well, these are the same kids who grew up to run prominent brands, stores, and record labels, the same kids who've moved onto worthy causes, government, social work, and are committed to changing the world through politics, music, media, and other creative enterprises.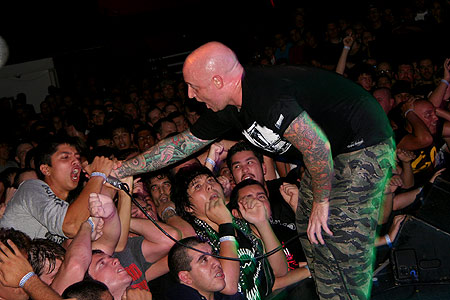 I wanted to not only pay homage to hardcore, but educate you, our reader/customer on the culture. And to do that, I thought I'd ask a few other streetwear brands and designers who also hold the same interests in hardcore to participate in the project. Not to mention, bringing some of the founding fathers of hardcore music to the table.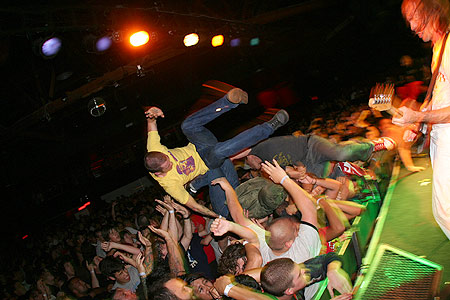 Like Jason, the man behind Seattle-based streetwear brand Flying Coffin. Jason and I have shared our interests in hardcore for years, most recently he was the one who blessed me with the tickets to the Undertow show. This project was also the perfect excuse to work with one of the most underestimated designers in our market…
And you can see why. The The Hundreds x Flying Coffin t-shirt is all about that appreciation for vinyl. Especially with the resurgence in record collecting, this one is a reflection of hardcore's roots in 7″s, 45s, what-have-you. Back in the day, it was all about that square cover artwork, sought-after picture discs, and that exclusive color vinyl to smell, play, and listen to as it crackled. To keep that collector's mentality going, Jason's shirt is offered with 2 different color vinyl, both lime green (pictured) and orange. Both on black t-shirts. I hear there's also a rare purple vinyl out there…??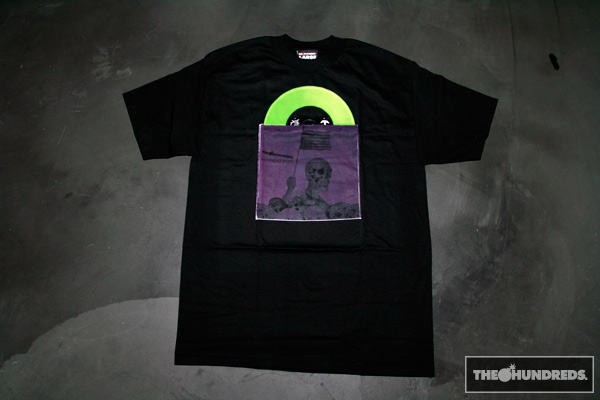 The Hundreds x Johnny Cupcakes is sure to be a hit. This is our first time teaming up with the Boston brand, and it's long overdue. Johnny used to be involved in the hardcore scene through his band On Broken Wings, in fact, it was one of the springboards that launched him into making his infamous cupcake-themed t-shirts. Considering we have a crossover audience who have been anxiously awaiting a joint work from both our brands, I thought it'd be interesting if we gave 'em something unpredictable (as opposed to a bomb blowing up a cupcake). Johnny was more than happy to come onboard with the hardcore tribute, and came up with this cheeky "band" tee. You'll find elements of hardcore t-shirt relics (i.e. BOLD) dispersed throughout the design.
This t-shirt is offered in Black… (pictured: the front)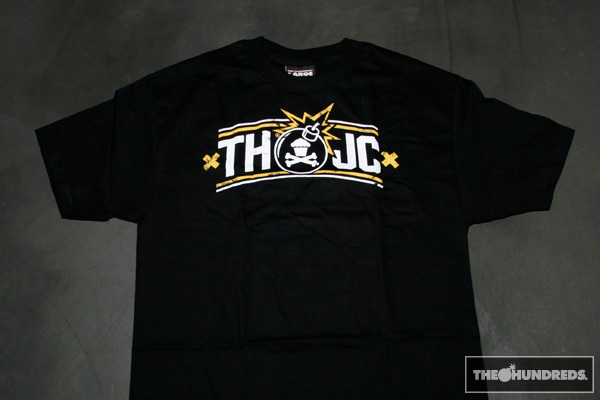 and Navy Blue (pictured: the back).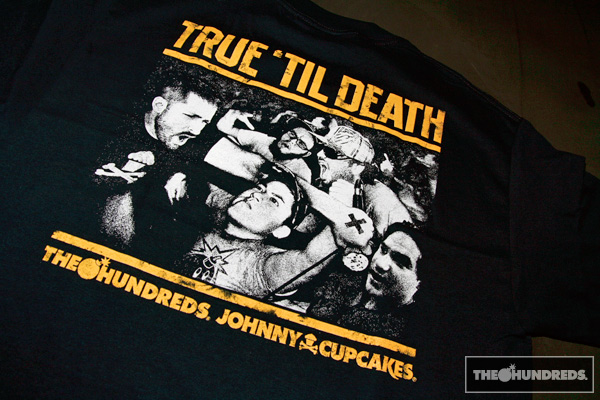 Our third streetwear designer collaboration for the series is with brand Benny Gold. If you recall, the San Francisco-based designer is hardcore about hardcore. You've seen Benny here before. He designed one of the opening day tees for THSF, and if you remember, they sold out in mere hours. This time around, his Gorilla Biscuits-inspired graphic is poised to do the same. The '80s hardcore appeal is there with the front-crest hit and large-back design. I like how he flipped the GB to BG, and if you know Benny, you know he couldn't keep a skateboard out of it.
This t-shirt is offered in White (pictured: the front).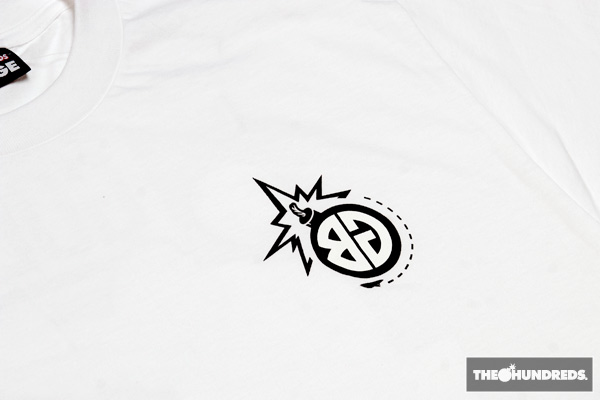 and Black (pictured: the back)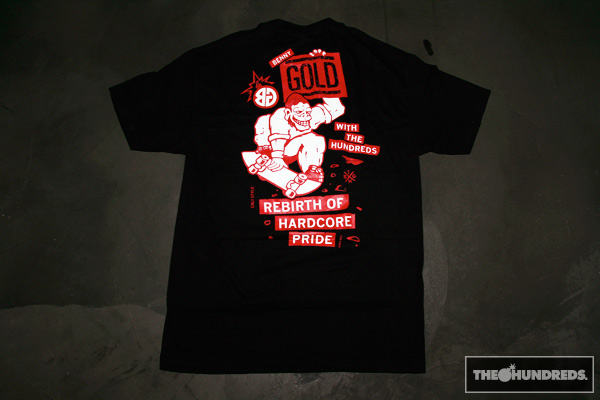 Streetwear aside, the last 2 chapters are dedicated to the hardcore pioneers themselves. First up, the one and only Anthony Civarelli (aka Civ), singer of Gorilla Biscuits (pictured at the beginning of this entry) and later, punk band CIV. Here's some trivia for you, Gorilla Biscuits' "START TODAY" was the first CD I ever bought. And I never looked back. Widely regarded as a founding father of hardcore music, Civ now helmsLotus Tattoo in Long Island, New York, and he was more than happy to contribute to The Hundreds: A TRIBUTE TO HARDCORE.
Civ's concept for our collaborative t-shirt was based on a ticket stub (that he's kept for decades) to the best live show he's ever been to. The date is December 27, 1986, and the show featured Bad Brains and Cro-Mags. He wanted that vintage punk flyer aesthetic for the shirt, so we worked in that colored gradient. The back graphic is one of Civ's own masterpieces, his handstyles on "The Hundreds." This one was a real treat, and a true collaboration of minds. Much respect.
Offered in Black (pictured: the front),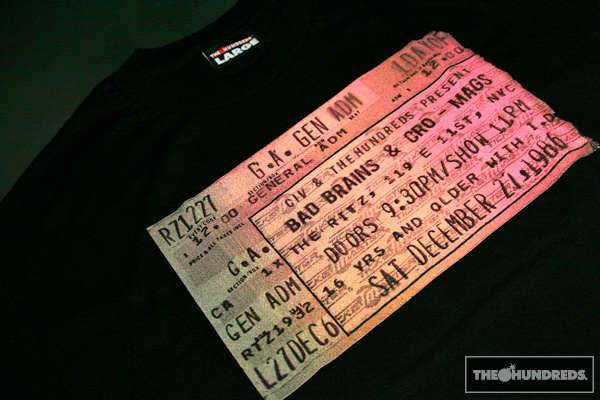 and White (pictured: the back).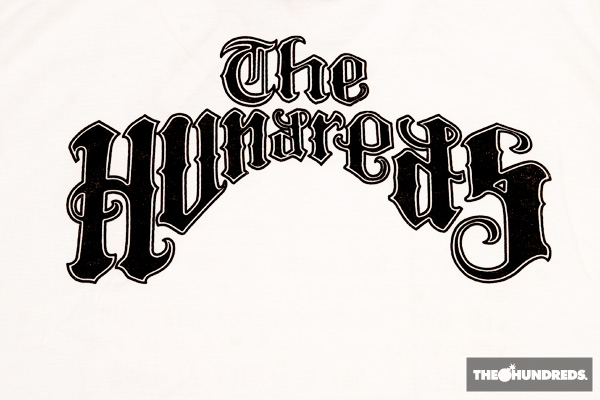 Last, but certainly not least, perhaps the most-talked-about piece from the entire series: The Hundreds x Chain of Strength x Revelation Records.It's safe to say that Revelation Records is one of, if not THE, ultimate independent hardcore record label. In it's 20+years of existence, Revelation has put out the aforementioned Gorilla Biscuits' "Start Today," Bold, Judge, Shelter, Warzone, Quicksand, and Youth of Today.When I initially contacted Jordan from Revelation about doing something, I honestly didn't expect him to care about The Hundreds or the message we were trying to convey with this collaboration. But he was stoked to hear about it and help us on our journey, and then asked if perhaps we'd be interested in working with Chain of Strength on this as well.
And so I was introduced to Ryan Hoffman, guitarist for COS, and a fan of The Hundreds brand. Chain of Strength was one of the largest early influences in hardcore music, and for many, the anchor that much of the culture has been centered around. Not to mention their iconic logo t-shirt, the originals that are as coveted on eBay as any limited sneaker. So Ryan's concept was to re-work that original t-shirt, keep it simple and nostalgic, with the Rev star on the back. The result has become fodder for discussion in the hardcore community since I first previewed it a couple weeks back, the exact response we were all looking for. Hardcore and streetwear together?
For this streetwear brand, considering it was a part of our genetic makeup, they were never apart.
O.G. colors. Heather Grey (pictured: front),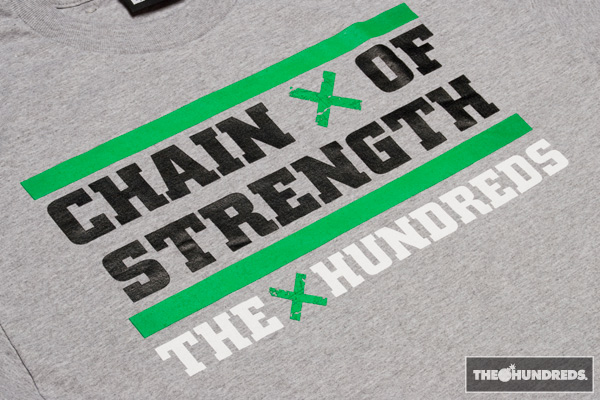 and Black.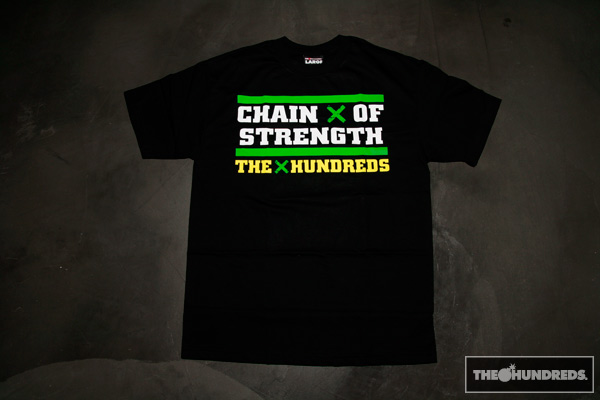 Plus, the back: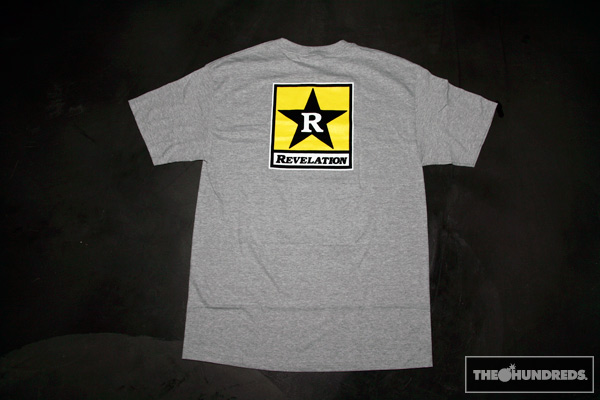 Thank you for reading this, thank you to all who participated, and most importantly, Thank You Hardcore.
Gorilla Biscuits photos by bobbyhundreds (Reunion Show, 2006)
product photos by Vito and Paul Sun and The Social Trust
by bobbyhundreds