Ever since we stepped foot in Cleveland, we felt like we were hearing more about Akron than the city we'd come to visit.  Granted, this was primarily coming from its loudest ambassador Mr. Michael Hurley, who is now declared the unofficial mayor of Akron.  Xhibition's Creative Director somehow convinced us to take a heavy detour on our road trip out to Cleveland's neighboring town (all it really took was the "The Black Keys are from there" and the legend of a local hamburger that womped In-N-Out's)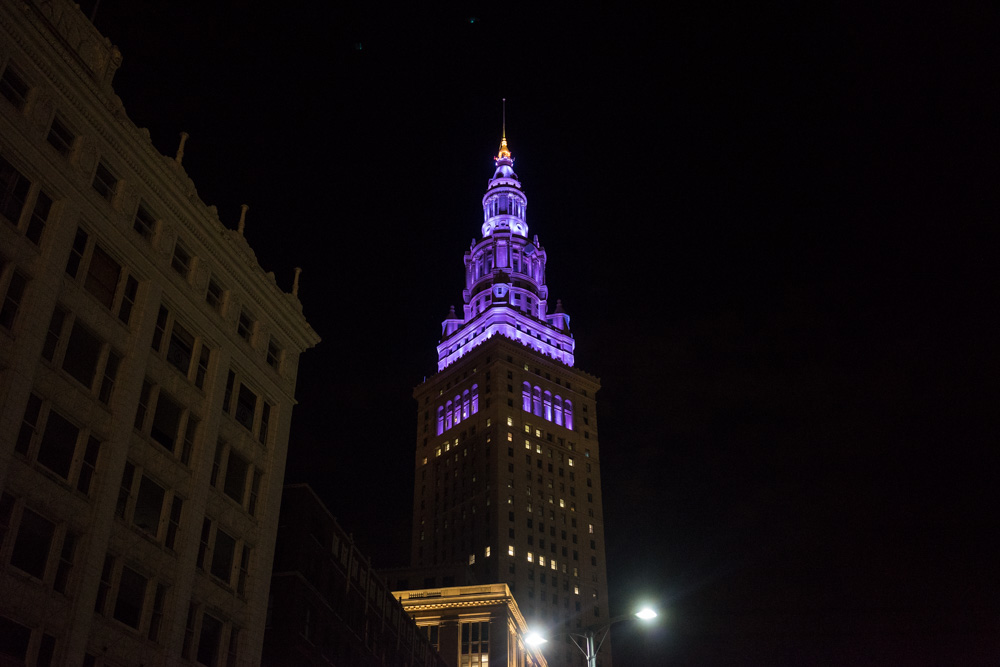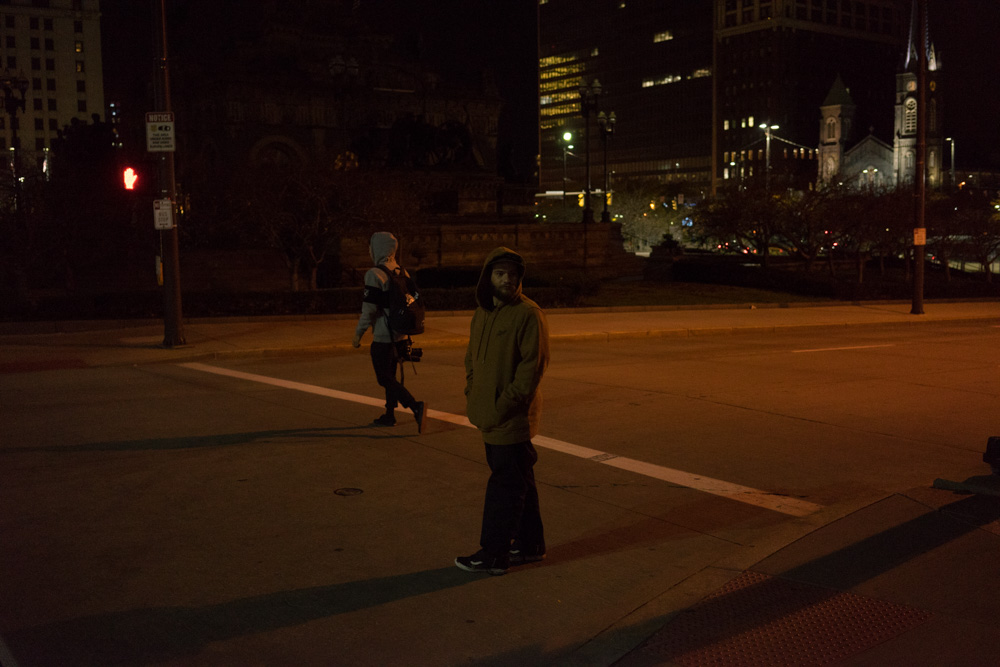 After all, the Cleveland Cavaliers' prodigal son actually hails from Akron and takes residence there. In fact, he opts to shoot around at his alma mater high school – St. Vincent-St. Mary –  instead of on his team's official court.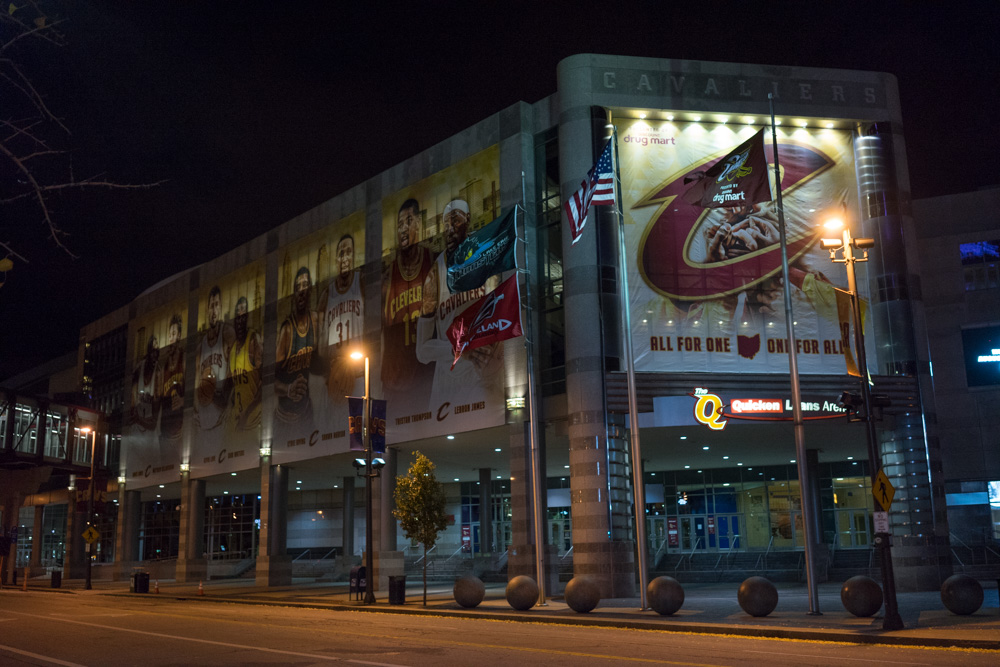 I mean, I watched More Than a Game.  I had to WITNESS where this all started.  And I know more about sports than you do about Back to the Future. So.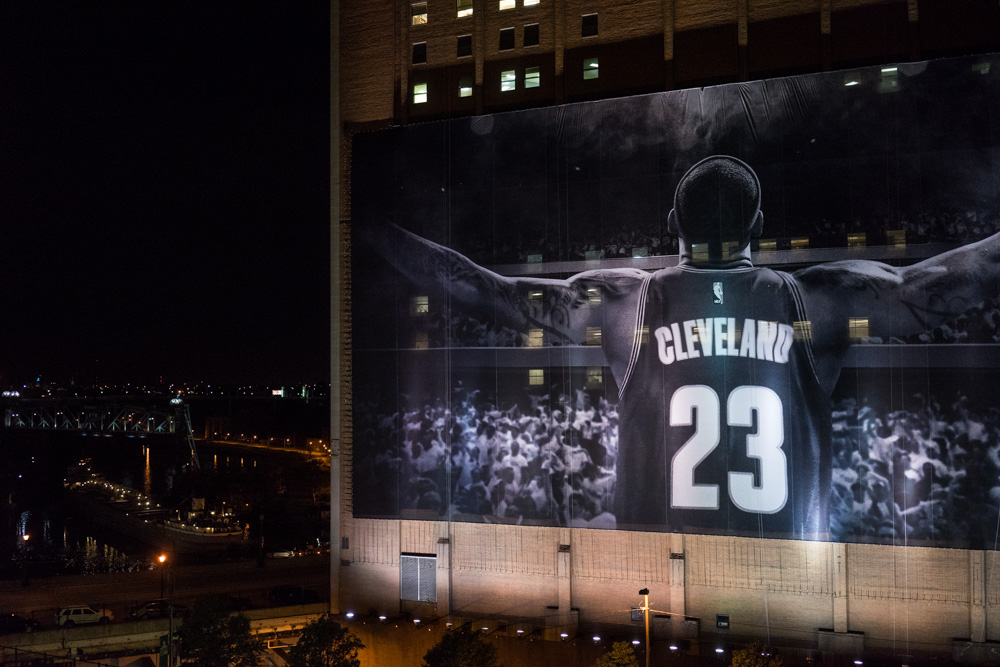 We woke up early the next morning and Wazed it out to Akron, Ohio.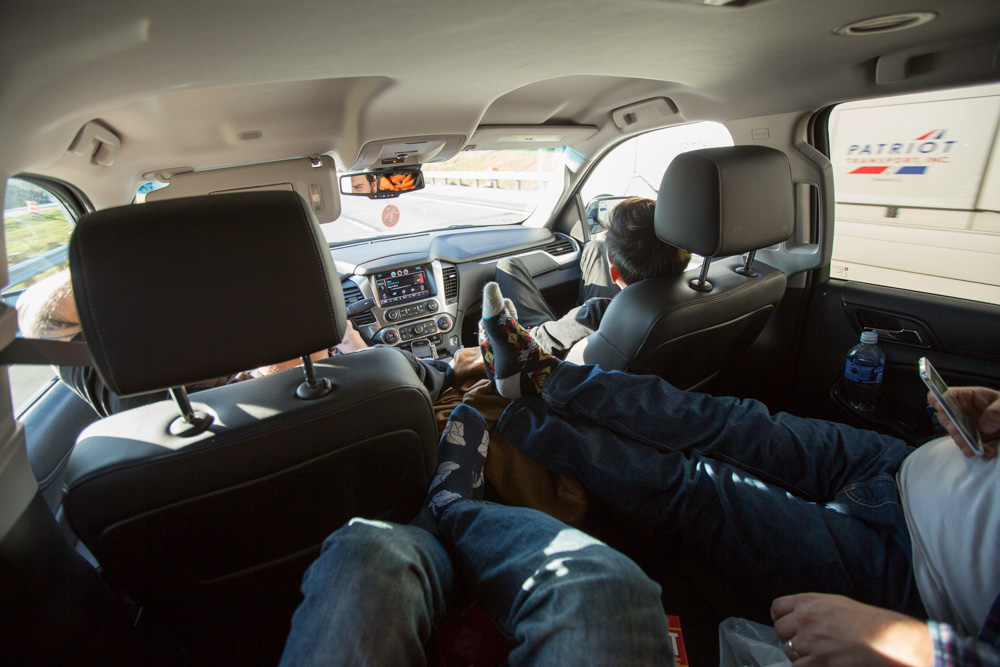 Makes sense.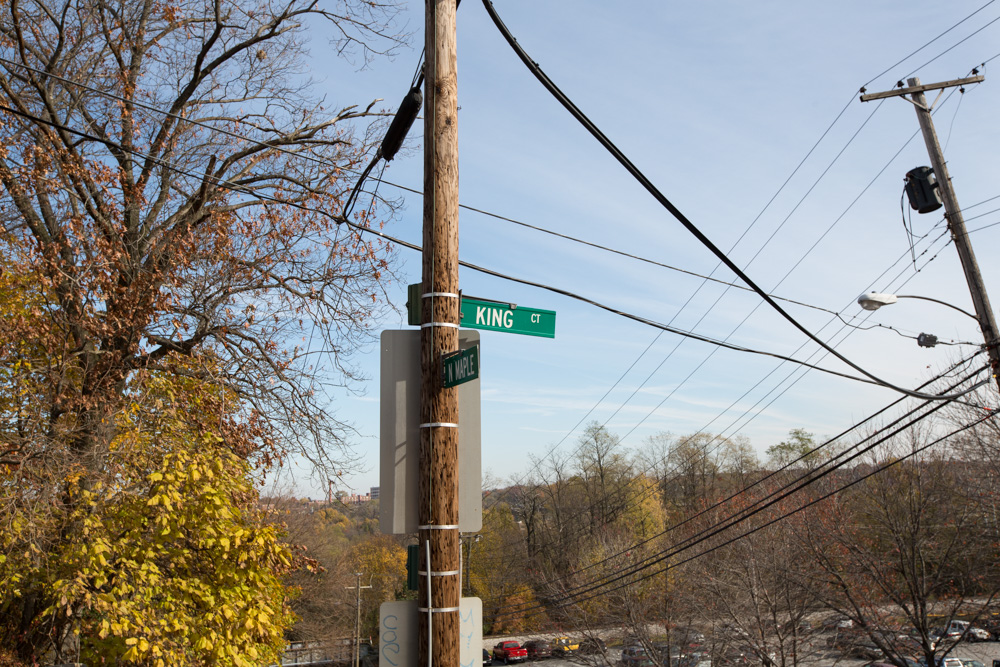 St. Vincent-St. Mary is a Catholic high school that attracts top sports talent from around the nation – including a scrappy, 6'8″ basketball star named LeBron James who found success and global fame early in his career here.  I still remember his first Sports Illustrated cover in 2002 – the first high school underclassmen to score one – and the rumbling comparisons to MJ.  At that point, the media was already starting to circulate out on the sidewalk here every schoolday.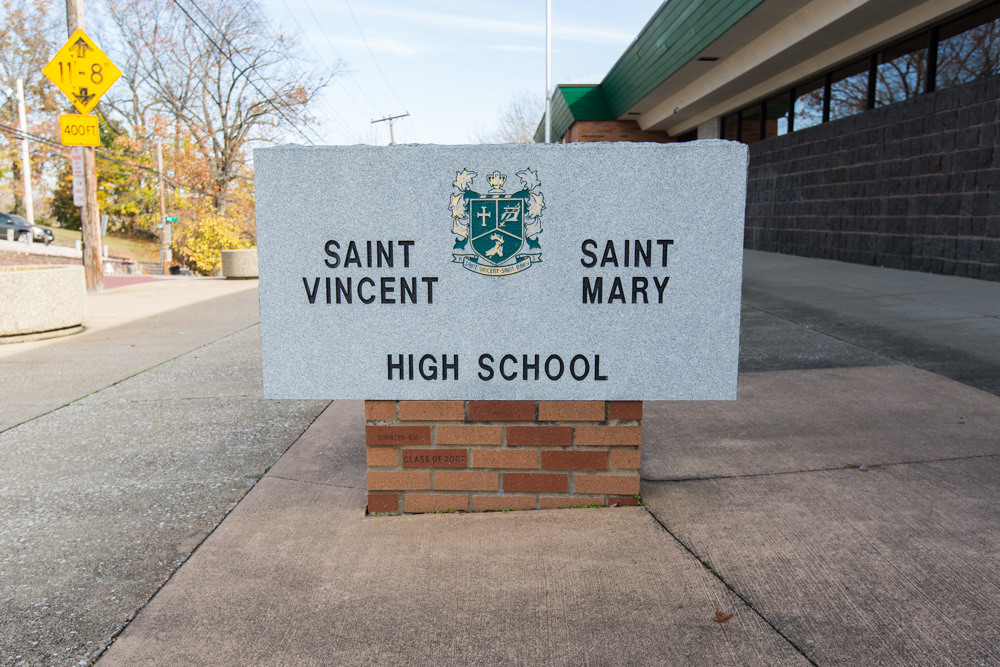 My high school had like 3 trophies for badminton honorable mentions from 1972.  This photo only captures half the wall span.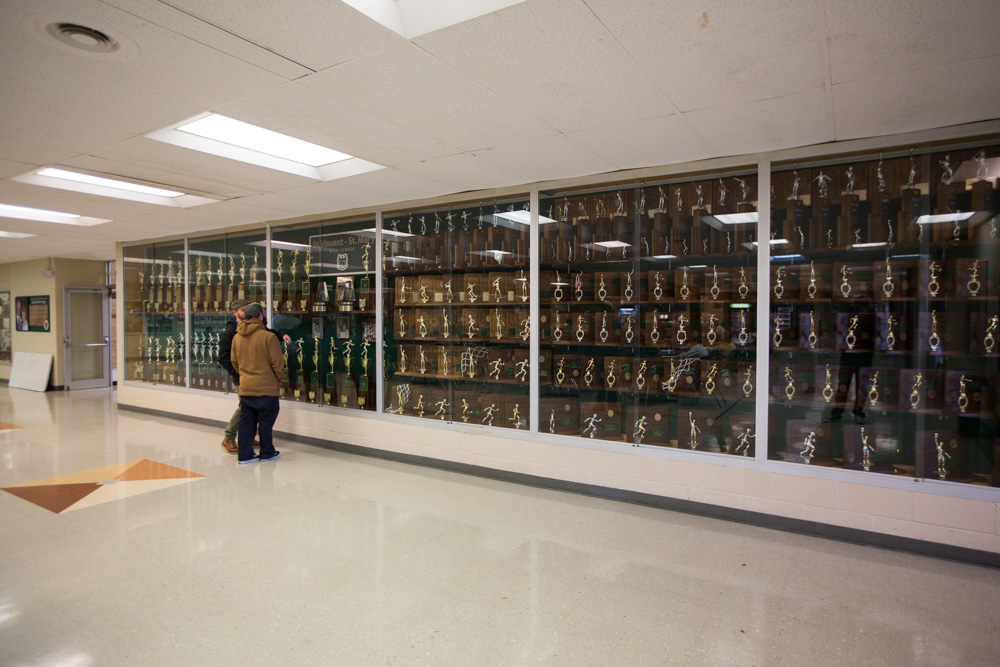 The heart of the showcase belongs to King James: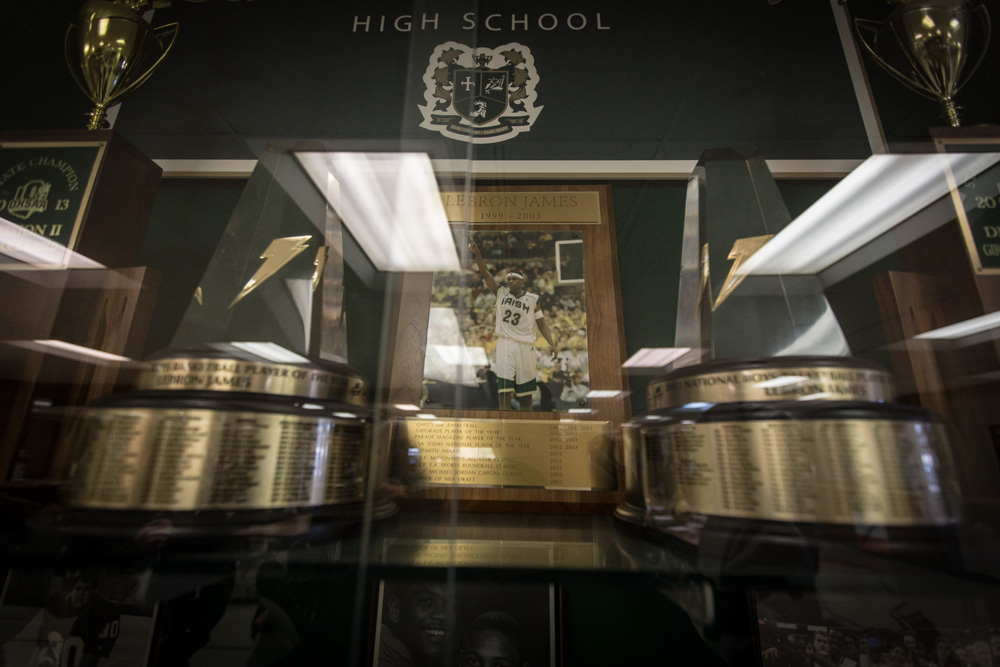 ..In 2013, the star alum threw in a million bucks to renovate his home basketball court.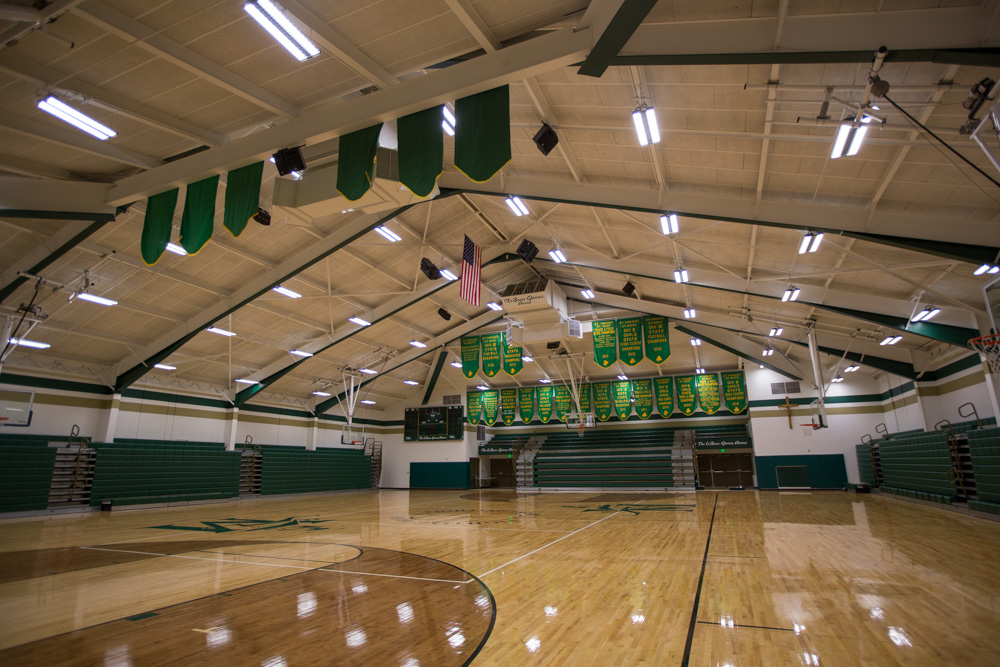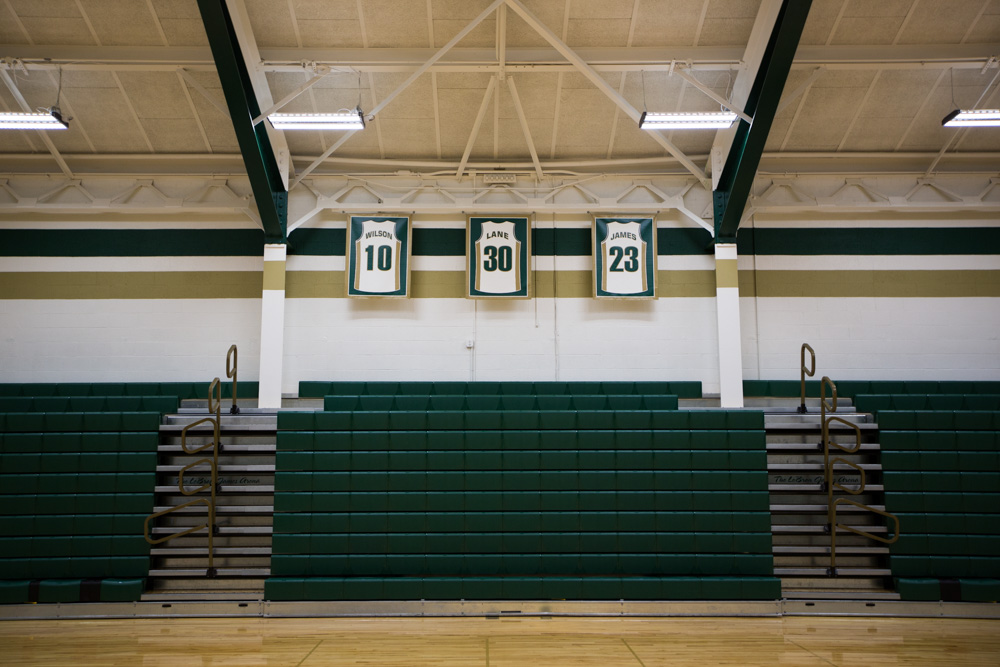 The guys christened it with a game of H-O-R-S-E.  Johnny Smokes won, surprisingly unsurprisingly.  Even though he thought the gymnasium was named "The LeBron Games Arena."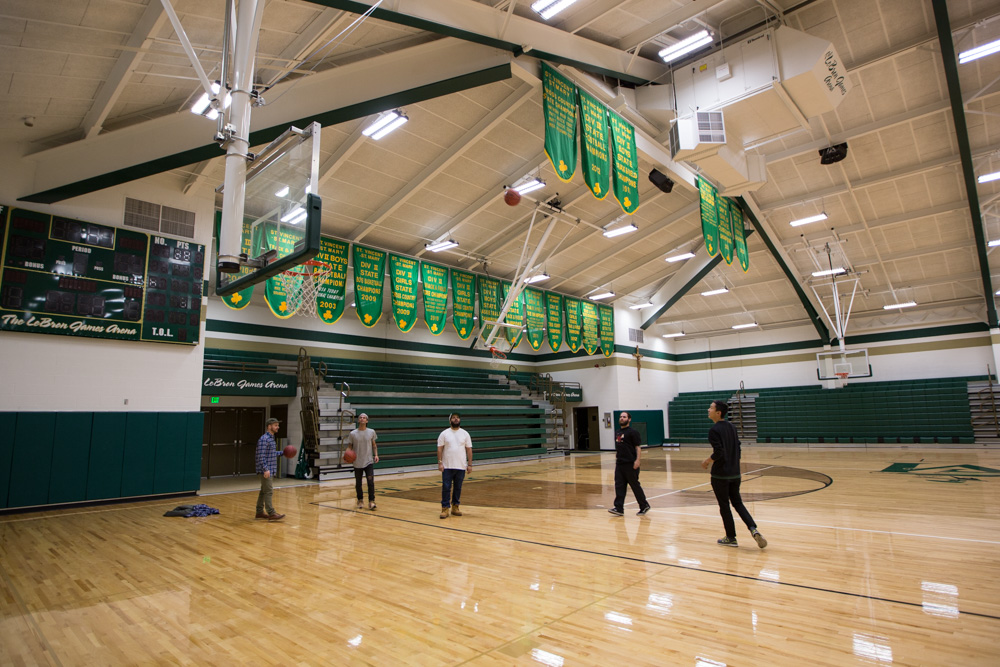 St. Vincent-St. Mary is a Nike school, which is kinda cool and kinda crazy.  The football jerseys, the basketball shoes, even the high school sweatshirts in the bookstore are adorned with swooshes.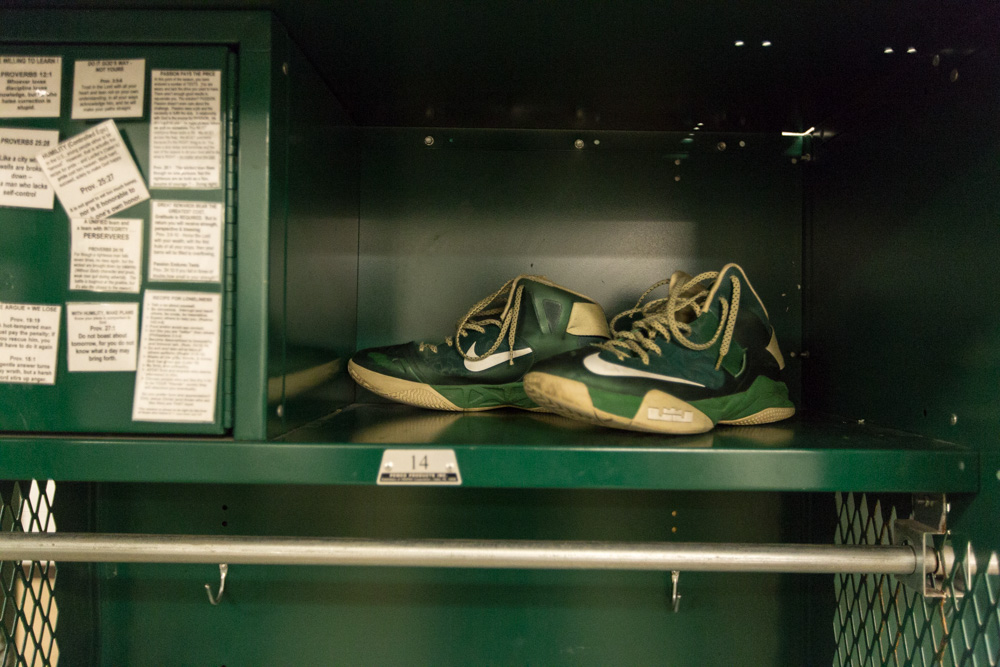 The secret ingredients to making the best basketball players in the world.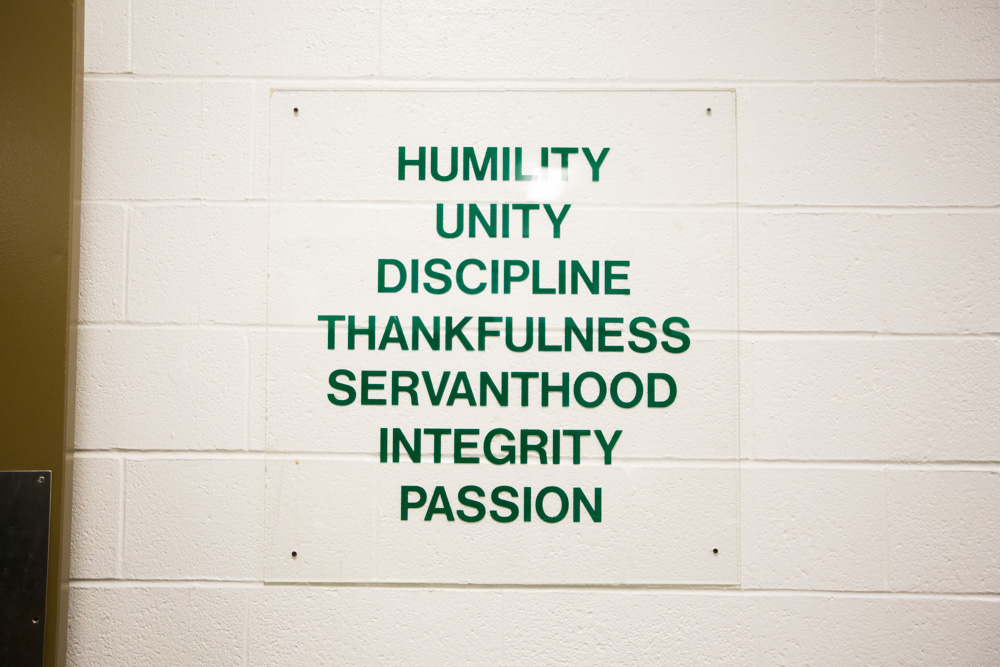 The master and commander: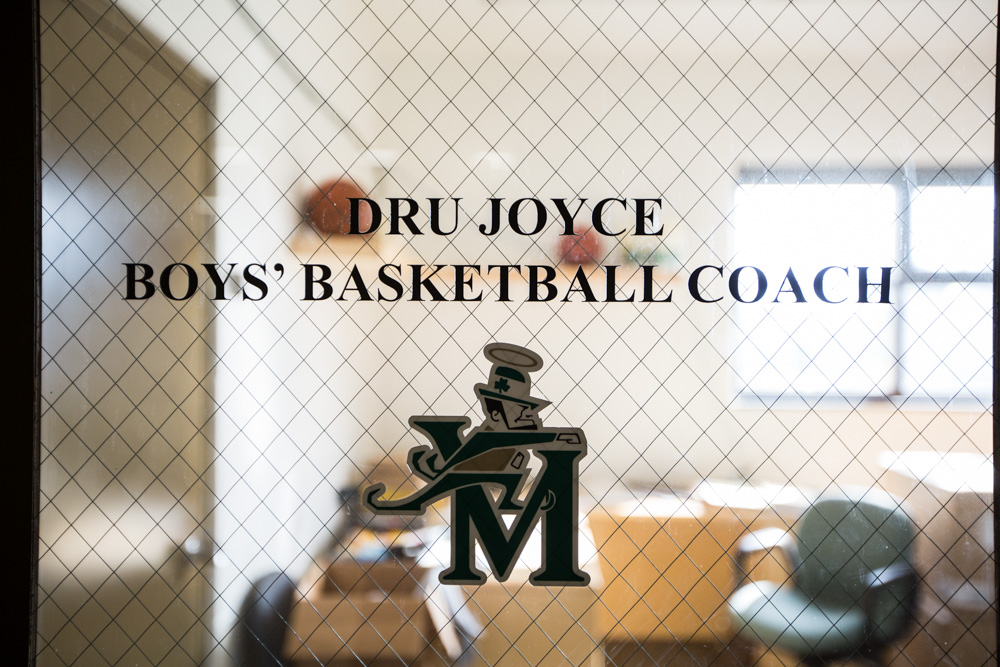 After we made fools of ourselves on the basketball court to all the snickering 14-year-olds, we walked the halls of St. Vincent-St. Mary and tried to imagine what it must've been like during the LeBron years.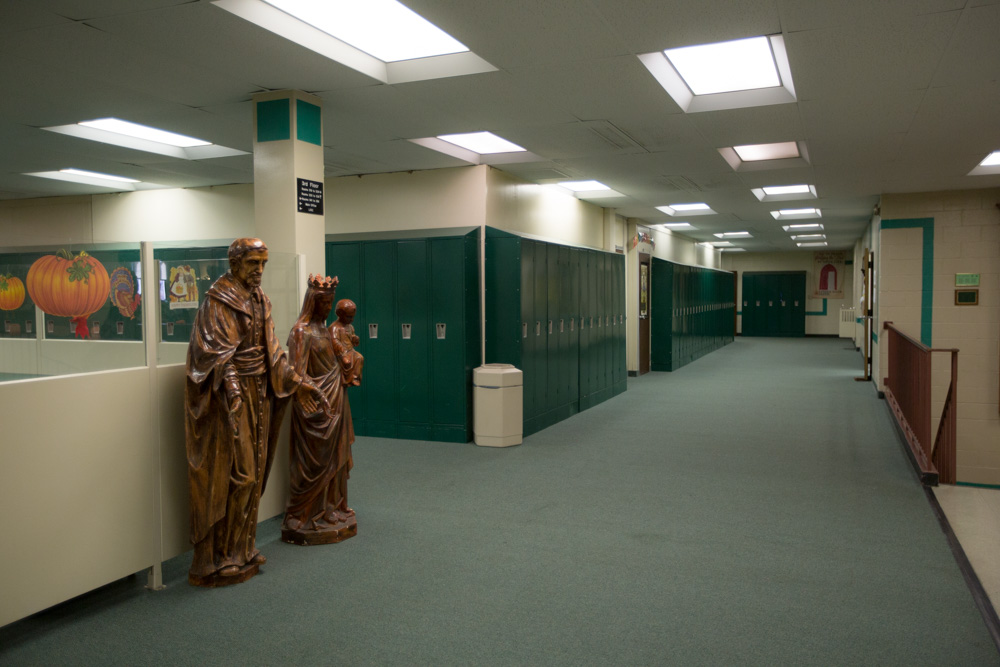 Barbara Wood helped us paint the picture.  The librarian was LeBron's favorite faculty member and she regaled us with stories – both fascinating and borderline embarassing – of  #23.  She nurtured the athlete like a mother, sheltering him when the media wore his patience, and listening to him when he had problems at home.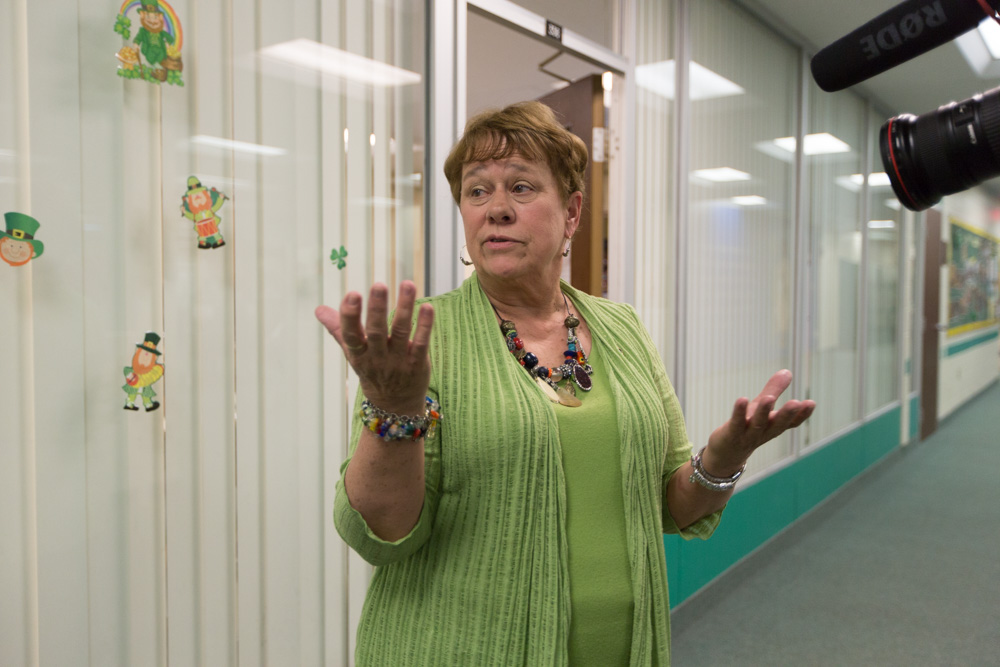 The other star of Akron is Swensons Drive In, a home-grown burger chain that has won the hearts of the community.  They swear by it, and claim it, like Swensons is their own sports team or star player.  Even LeBron knows, as it's acknowledged as his favorite hamburger.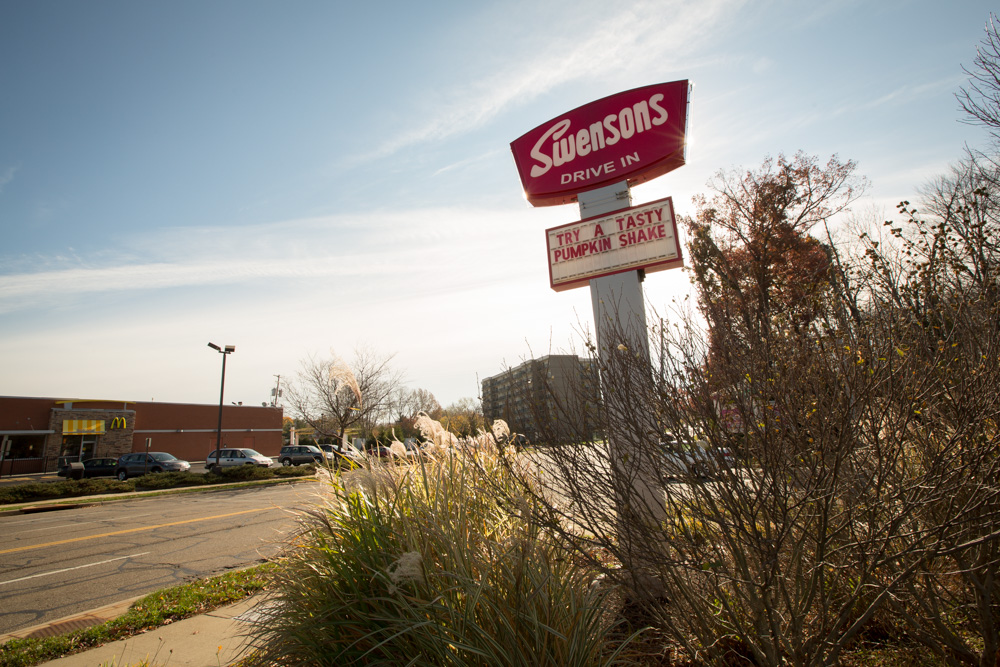 Mr. Michael Hurley made some pretty bold statements, saying that Swenson's burgers put In-N-Out's to shame, as well as Five Guys, Shake Shack, Whataburger, whichever your hometown go-to is.  So we went to the original: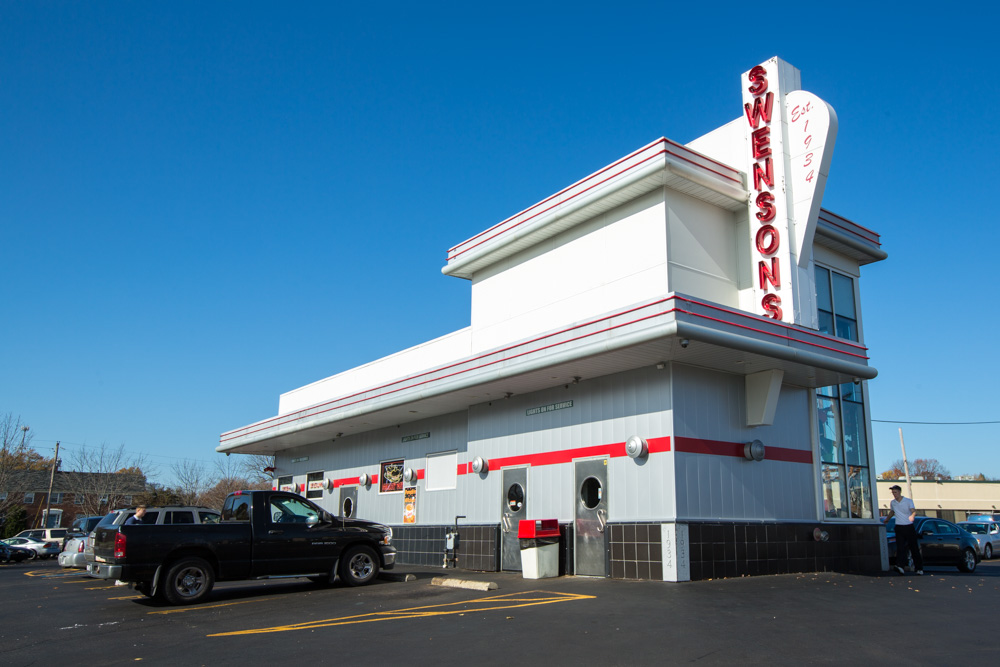 Like Sonic – let's say – this is a literal drive-in.  The curb boys and girls dash in mad sprints from car to kitchen, with no time to waste.  One of the guys serving us clocked 38 miles in a week's work.  It's an ideal gig if you're paying your way through school, so Swenson's recruits from college kids whose GPA is 3.0 or higher.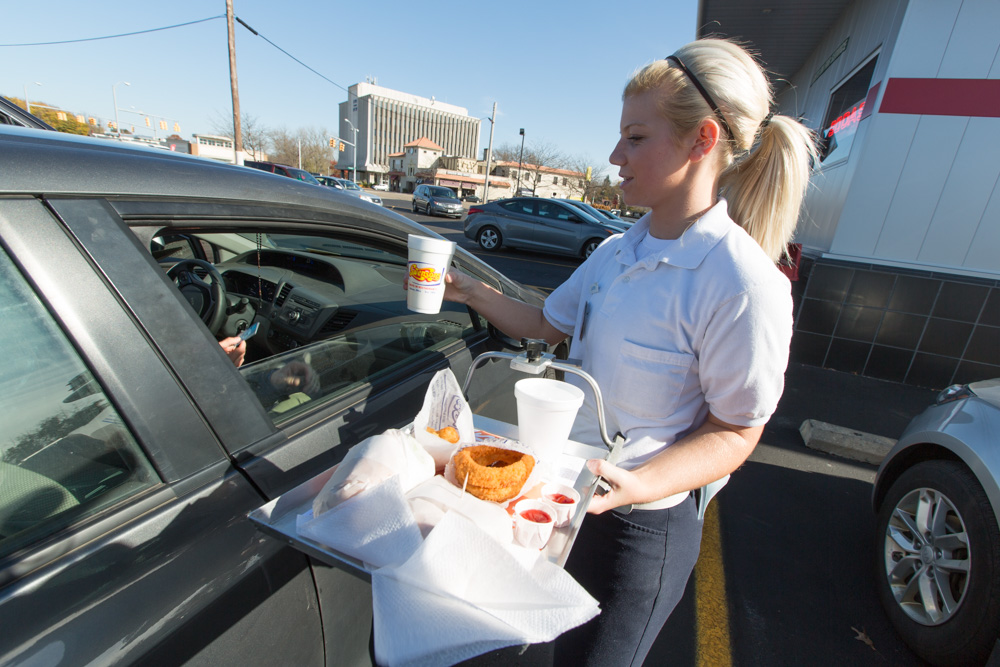 The food comes on these customized trays that slide into your window slot and lock in position.  Although you have to start with the classic cheeseburger, true Swenson's diehards swear by the saucier, patty-er, more flavorful Galley Boy.  When I asked for fries, our server shook his head and told me to try the Potato Teezers instead, which was like a jalapeno popper but stuffed inside a potato.  When I asked for sprite, he said they didn't even have 7-Up, but I could take a ginger ale or strawberry root beer milkshake.  Scotty got the shake.  It was the most delicious thing I've ever drank.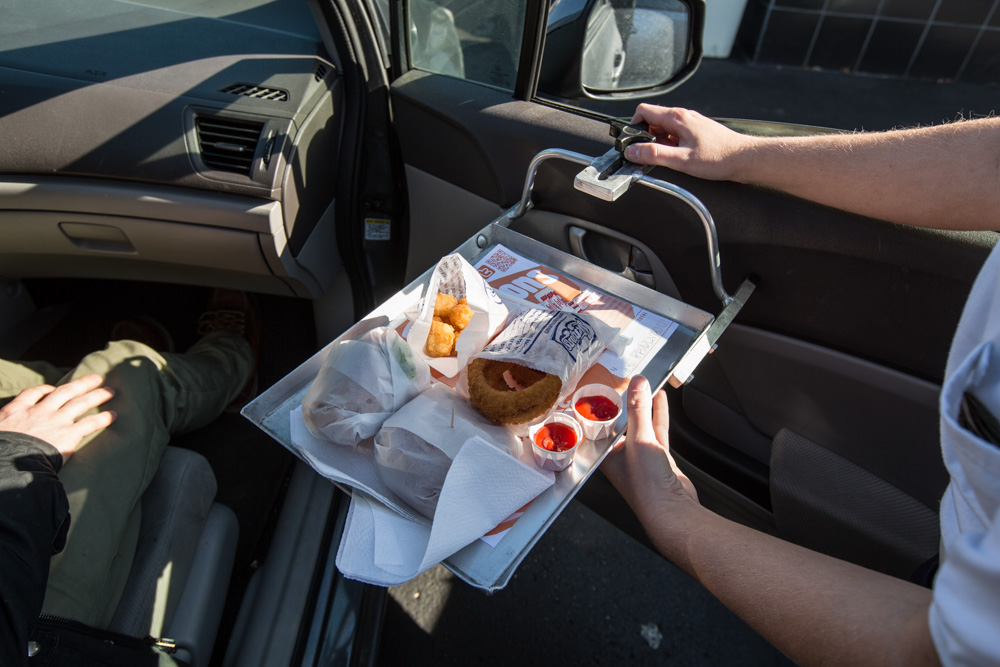 The Swenson's cheeseburger was equally tasty.  Not as pretty as its competitors, but high volume on taste.  They must be spraying brown sugar over the beef and the buns, because the burger had a sweet and syrupy introduction.  Then the hearty chew would trail off with a hickory, smoky, signature.  Right amount of sauce in there as well.
The verdict?  Okay, maybe not better than an In-N-Out, but certainly different.  In-N-Out's burger is in a class and (animal) style of its own, that's near impossible to mimic on your home grill.  While Swenson's is something homemade and familiar, classic Americana fare.   Yes, it beats Shake Shack and Five Guys and all the other guys for that matter.  The only negative would be they didn't sell any Swenson's merch at the drive-in, what's up with that?  "You have to order the T-shirt online," our curb boy said.  Like being first place but taking a nosedive at the finishline.