Fairfax Ave. has historically been the nucleus of LA's Jewish community, a distinction which ramped up after WWII with the influx of Jewish residents.  Although the Farmers Market (which eventually anchored The Grove mall) and CBS studios accentuated the neighborhood, it wasn't until Supreme opened their first Los Angeles door that some semblance of modern Fairfax materialized.
This was around 2003, just as The Hundreds was coming together.  Ben and I would shop at Supreme off our Brooklyn Projects run on Melrose, or Union and Undefeated on La Brea, and also pop our heads in at Reserve, the cool boutique on the far side of Fairfax.  Otherwise, there were only family-run Jewish bookstores, the famous Canter's deli, and Israeli eateries lining the avenue.  Once we graduated and delved into The Hundreds full-time, we were the next to join the block with our first workspace (where The Hundreds LA stands today), tucked away on Rosewood.
You know what happened next.  One afternoon, Sal Barbier walked by our window.  I freaked and geeked on the skateboarding legend. He later stopped by to tell us he was opening his "MAN" store, SLB, on the corner (where RVCA now stands).  Damany was around more, as was Ricky.  So, Flight Club LA.  Hall of Fame was a big one.  And suddenly, there were less  old Jews with canes, and more young people with baseball caps hanging out on Fairfax.
Today, Fairfax has evolved (or mutated) into this other beast.  I don't recognize half the names on the street anymore, let alone most of the community.  Everyone seems so young!  Kids now refer to it as "The Block" or "The "Fax," which is amusing.  And I'd say most of them don't know (or care) about the history or the instrumental players in establishing their home.
So I went back to the first lady of Fairfax, Reserve's founder Naama (who now lives and works as an artist out of Venice) to stir up some fond memories of "The Block"s early days.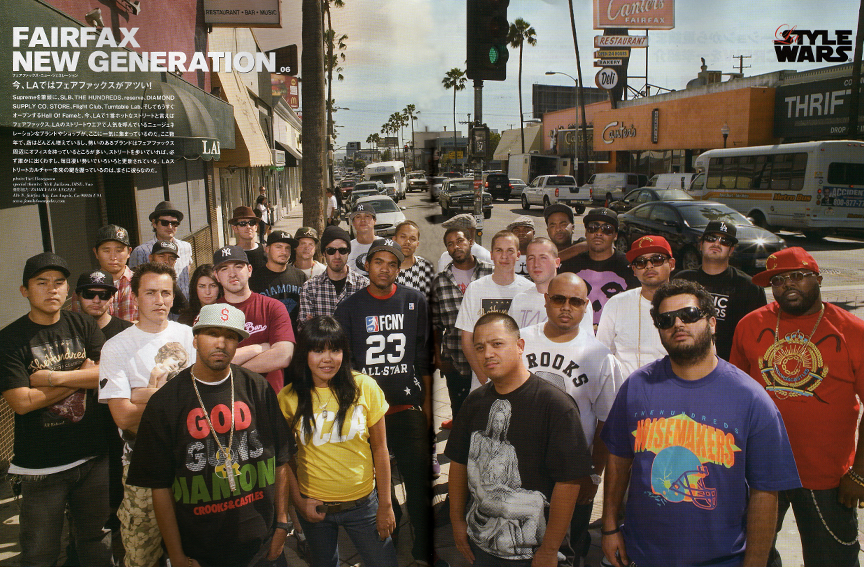 [An early, mid-2000s shot of Fairfax for a Japanese magazine. Featured players include ourselves, Crooks (RIP LEWDS), Twelvebar, Flight Club, Diamond, SLB, and Naama of Reserve, seventh from the left.]
So, what was Reserve?
Reserve had a couple of lives, but to me Reserve was a lifestyle shop that specialized in art books that were meant to inspire. Focusing more on photography and graphic design. At the time I opened Reserve, many of my peers were commercial directors so when I did my buying I thought a lot about content that would inspire them.
When did you move onto Fairfax?  And why did you decide to set up shop there?
2004.  It was much cheaper than the surrounding retail streets, and when Supreme moved in, it brought attention to the street.  At that time, there was nothing happening on Fairfax. Which was of course a scary thing but also refreshing.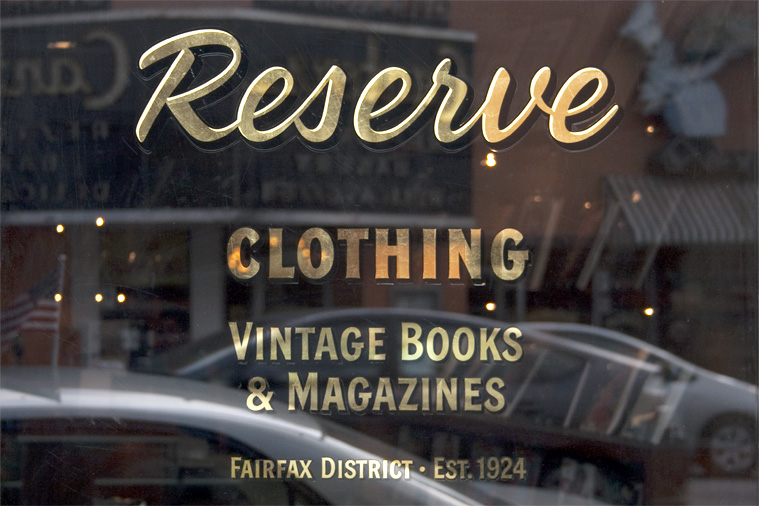 Did you think anything of Supreme moving to LA and onto Fairfax?
I thought  a lot about Supreme moving on that block. It was an anchor for that street as far as young culture.
It was epic. It's courageous and smart when companies who can afford it, move to areas that have something else going on other than retail.  Fairfax has LA history.  Maybe they weren't even thinking that.  Maybe for them, it was just cheaper rent while still being in the heart of LA, who knows?  But for me I thought it was rad.
How did the block start changing after that?
The Japanese came (!) and with that attention more shops started to open.  The influx of younger kids started to come.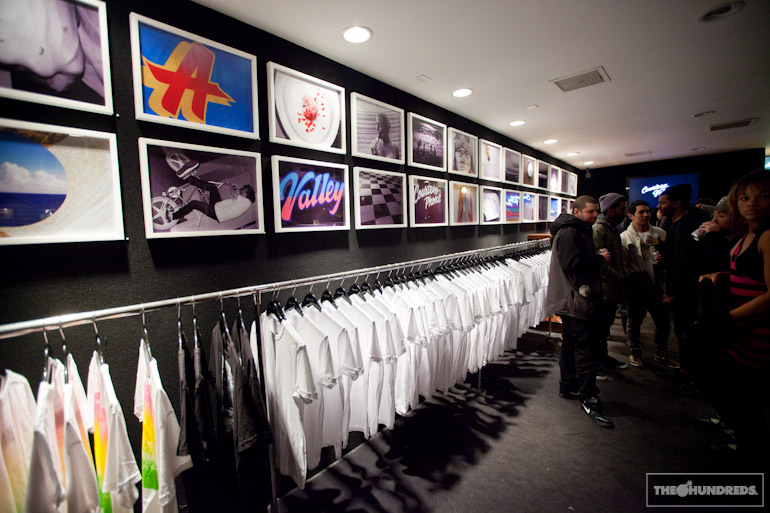 What were some of your favorite memories from the early Fairfax gang?
Aww man, I love that crew we had!
It was always pretty awesome getting a call from Berto or Curtis yelling at me to send Jeff/ Kutter  back to work.  Of course when Sal Barbier opened up shop it was awesome having him there: "Naamers!"  I loved watching The Hundreds grow and have my understanding of streetwear shift.  Banksy hitting up the street,not many people knew who he was at that time and just painted over his work.
It was always great when the skate and street culture from NY would visit Fairfax.  I have a lot of respect the people who inspire "beginnings."  Whenever you consider the beginning to be, you will find interesting stories.
And truthfully, being the girl on the block, my favorite memories were hearing all the skateboards go by.  There's so much independence in skating. The sound of wheels speeding on concrete always makes me blush.  Being on Fairfax was like having a constant crush.
What were some of the worst parts of early Fairfax?
Other than my perverted property manager and slow days, early Fairfax was great.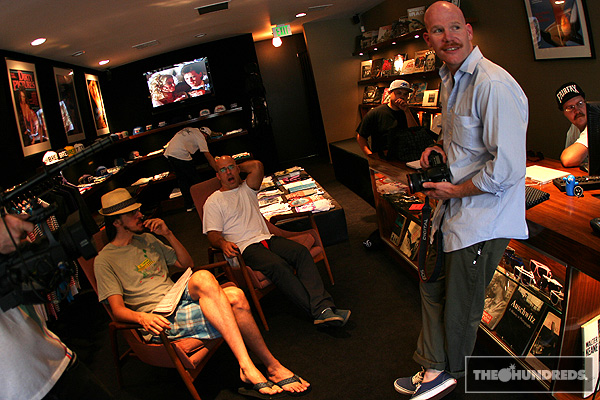 At a certain point, you partnered with Rick Klotz on Reserve. What was that all about?
Oh Rick Klotz …hmm.  My first partner had left after just 8 months.  It was tough in the beginning days of Fairfax.  I knew I didn't want to leave, so I started racking my brain for ideas on how to generate additional income.  Rick would come by the shop a lot.  He and I were already friends.  He liked a lot of the books I stocked.  He also liked this part of LA.  He's one of the few people I know born and raised in LA.  He has amazing stories about Hollywood, Fairfax, Beverly Blvd.  He's also such an artist in many uses of that word.  He has vision, he has insight, and man can he be tortured by an idea or belief.  Undeniably, it is a pretty cool feeling when he sees something in you.
I told him what was going on and he asked to take me to dinner.  At dinner, he proposed partnering up.  Huh, it's strange to recall the story and think about what if things had happened differently. In any case – long story short – I agreed and we shut down the shop for a couple of months to renovate, and created a space where Freshjive, Gonz, and my books could live.
Not sure if you were around when Tyler and the Odd Future kids worked in that store, but did you see something special happening there with those kids?
I wasn't there during this time. I was there when Dillon Francis, Lucien Smith, and their whole crew would hang out.
Reserve was like a hang out spot for the other side of the Supreme culture. It's crazy to see who Lucien and Dillon have become.  It's fucking rad.  I can remember having to speak to Lucien's PO and tell them that he was serving community service by interning at the shop.  Lucien would show us new pieces he was working on, they would all just chill here.  Dang, he still owes me a piece for covering for him with his PO!
Dillon.  Dillon was the sweetest – I mean, you know. Who knew he was going to end up a superstar?
There was also Will, the Gaslamp Killer.  He would also get yelled at by  TurnTable Lab for hanging out too much at my shop.
BJ Panda Bear, do you remember him?  He loved coming by and hanging out.  He was so young then and just figuring it all out.  They all were.  So many others too.  Nervous but fearless.  Look at them all now.  It's like being a proud Jewish Mother.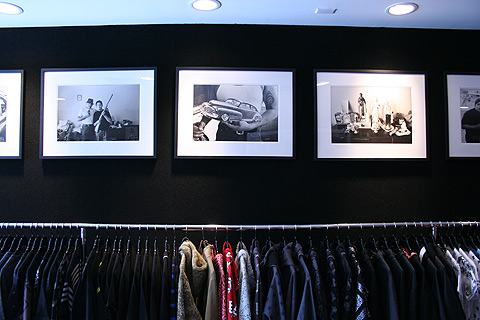 When did you decide to leave Fairfax?
I think it was 2007/2008.  It was tough for me.  I was young and didn't know much about business.  Didn't know much about partners.
Do you still visit Fairfax?
I do.  I live in Venice now so you know us Westsiders never leave, but every once in a while I venture out.
Any opinion on what it is today?
Sure.  I have good thoughts and not so good thoughts.
The thing about something special is that everyone wants in.  It gets saturated, and those who have the ability to create new, do.  It's true of all aspects of culture.  So I guess there's good when something gets too saturated.  It forces us to create.
I visit now and barely know anyone, and that's kind of great.  I had my time and crew, and now it's someone else's time and crew.
I love Fairfax. I love all you guys and everything it gave us.
::
You can follow Naama and her art on Instagram HERE.