Here are my favorite *horizontal photographs that I shot throughout this past year:
On the streets of Tokyo back in January. Japan's weird because it'll be 20 degrees outside in the winter, but indoors they'll crank the heaters up to triple digits. I was suffocating inside BEAMS, so I stepped out on the pavement and spotted this kid pushing back and forth on his skateboard. He's wearing a Zephyr hat. I live less than 10 minutes from where the original Zephyr shop stood in Dogtown, yet this kid's halfway across the world mimicking the Z-Boys. I think that's a testament to the universal language of skateboarding.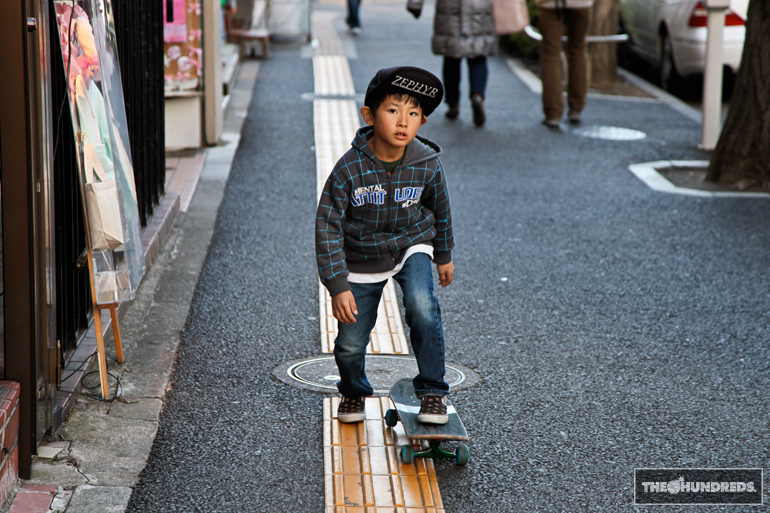 Michael Jackson's funeral was a field day to shoot at. But the photograph that evoked the biggest response from you guys was this one. I was shooting through the bustling crowd and caught this girl's stare in the moment. A half-second later, it would have been a different shot. The contrast in brights and darks suited post-processing in black and white. She's mysterious, ephemeral, half-knowing, all-captivating. Kinda like an Asian Mona Lisa.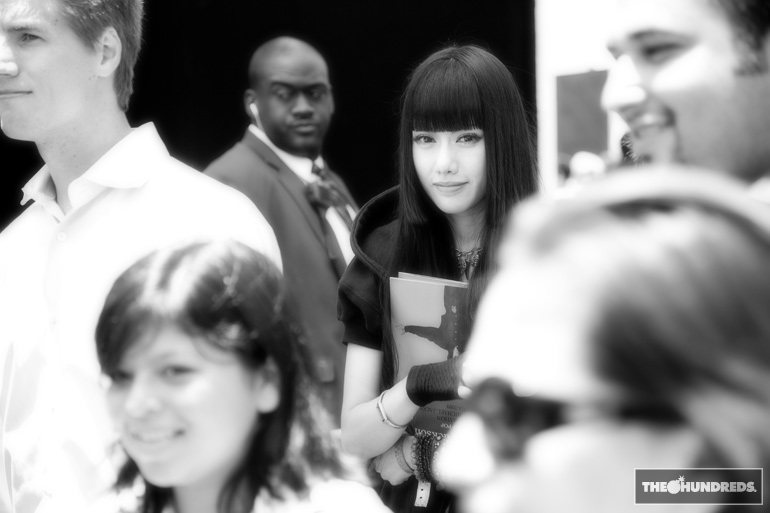 Alex moved to New York, so the last time Ben and I were there, he came to visit us. We sat on a sidewalk stoop for an hour or so, people watching and catching up on his young life and the debauchery involved. The entire time he was fiddling with his pocket knife and I wanted to capture that attitude. It's in his hands, how he wears his clothes, fabric and metal. As I noted in the original blog post, it reminds me of Bad Religion's 80-85, which is one of the first albums I had as a teenager. It's nice to know that rebellion is still alive and kicking.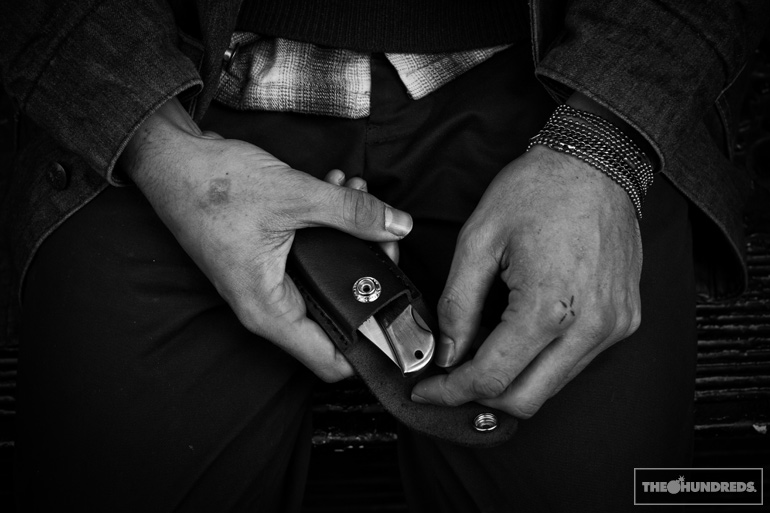 Over the summer, I shot a Linkin Park show at an all-day music festival, and this one photograph encapsulates the entire experience… The sun setting on unbridled adolescence, it's as if they're all on a rollercoaster ride. These kids are happy, excited, they're here to celebrate music. It's very pure.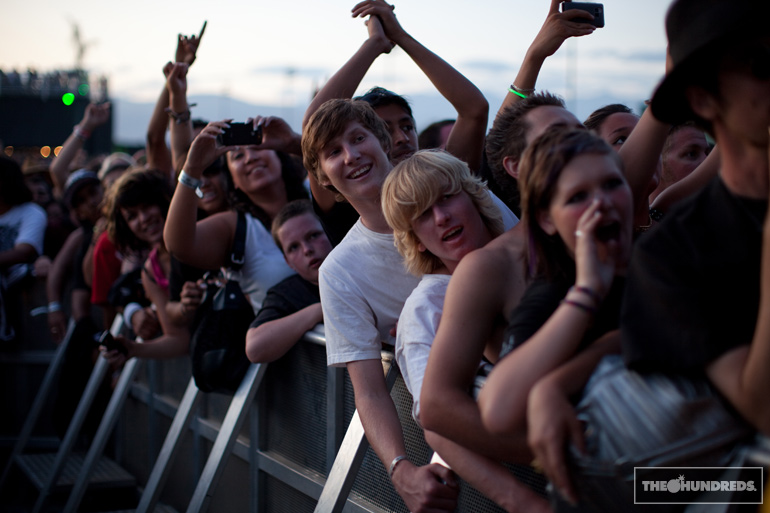 We were shooting the Winter '09 lookbook for The Hundreds Magazine's premiere issue out in San Francisco's sketchy Tenderloin district. In the midst of it all, this guy walked up with a bucket and inside, was his little friend. And by little, I mean GIGANTIC RAT. Anyways, sometimes they're good photographs, and sometimes it's just some crazy content. This time, it's probably that.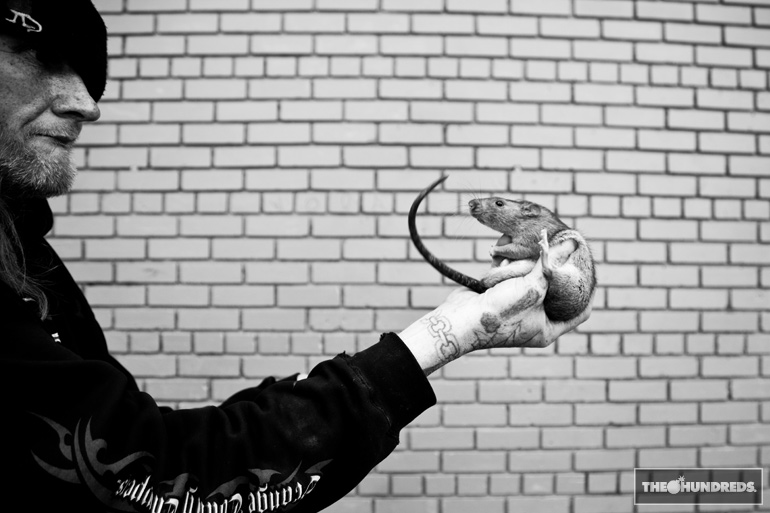 I forgot when exactly I shot this in New York, but it turned into one of my favorite shots of the year. This is also one of those instances where the post-process editing actually helped to dramatically alter the mood of the shoot. The girls appear to be at a literal crossroads, with arrows and lines going in all different directions. As you may know by now, I'm naturally inclined towards angles, and this photograph is chock full of 'em.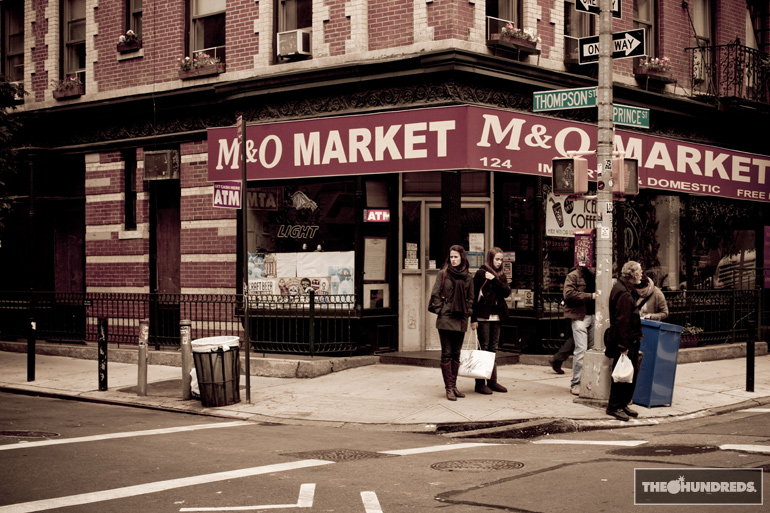 We decided to test out some print advertisements in magazines over the latter part of the year, and what that meant was I had to shoot an impromptu campaign. So I took Boss up to this amazing props warehouse in Hollywood. It's like 3 Costcos filled with every movie prop your heart desires. A room full of purple fire hydrants, a hallway of vintage cracked baththubs, a closet with old-timey elixir bottles. This was our favorite room to shoot in, the Mannequins. Boss is a character and loves his facial expressions, but for a few seconds, I caught him just taking it all in. And that was the shot we went with.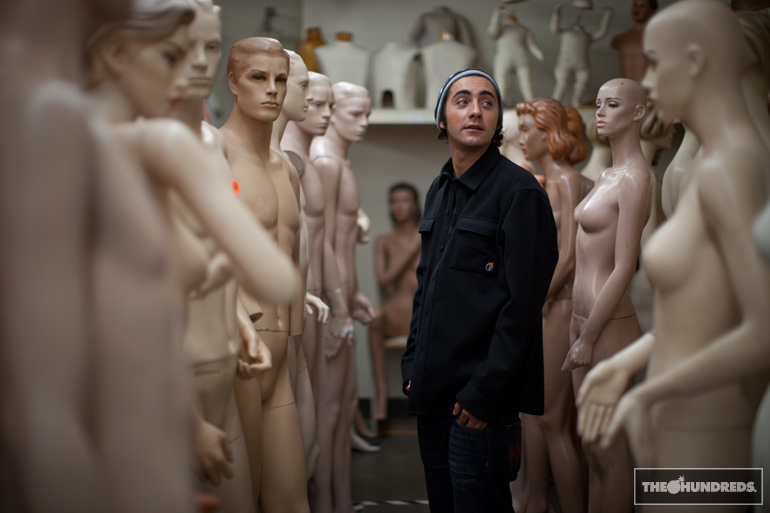 This was just a couple weeks back, when we were in San Francisco, you probably remember it. We were cleaning up after our Warehouse Sale when I caught these 2 brothers across the street. I'm gonna go out on a limb and say they're twins. This shot is so SF to me, with the trolley car along rain-slicked streets, the Chinese boys offering peace fingers and ping-pong paddles. They were good sports about the whole thing and were friendly enough to bust a quick pose before running off to table tennis.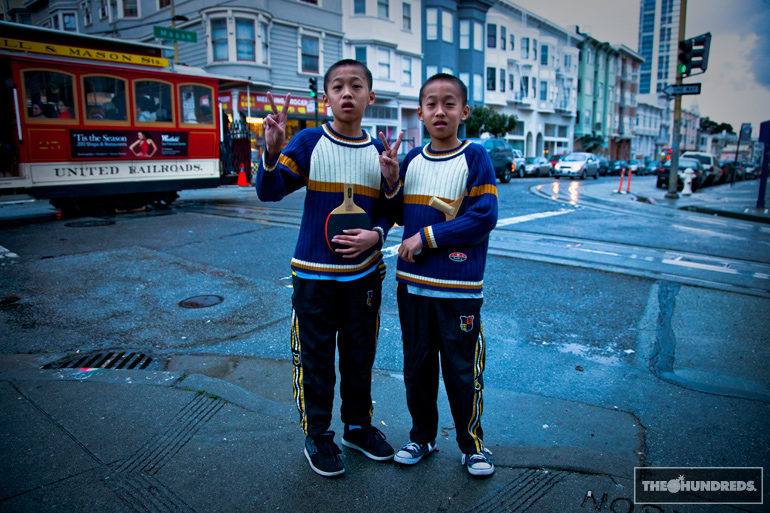 I have a lot of family in Maui, so once a year I'm out there to eat Da Kitchen and sit around bonfires. This is quite possibly my favorite location in the world: Big Beach out in Makena. On this afternoon, I was lackadaisically shooting the ocean when Cameron ran out of nowhere and started popping off all kinds of tricks. He and his homey were eager to show off for the camera, talking about sponsorship and free gear. Local kids in Maui are good kids, but can get caught up in all kinds of trouble because there's not much else to do on the island.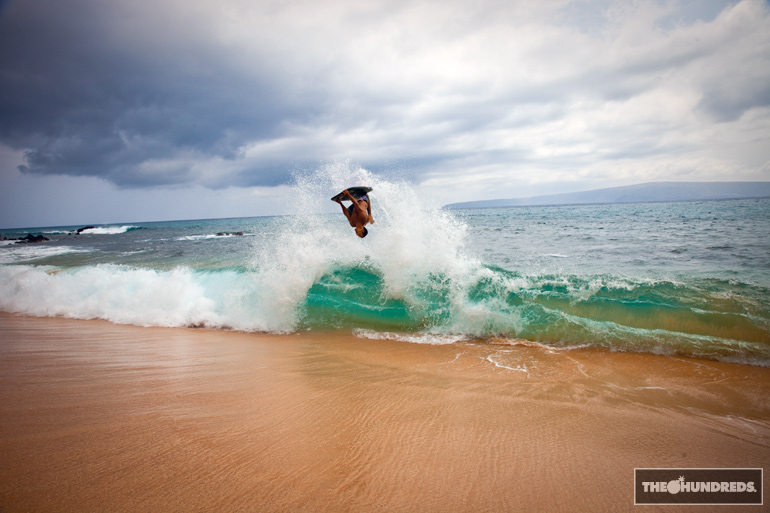 It was a big year for Rick Klotz and his longstanding L.A. brand, Freshjive. A few months back, Klotz announced that Jive would no longer be associated with any logos, which fast became a topic of discussion from streetwear blogs to national newspapers. Anyways, I wrote about it myself and asked Rick if I could shoot him for the accompanying piece. I've shot Rick a few times before at his downtown Los Angeles factory but this time he agreed to do so ONLY if I kept the shots serious and emphatic.
You rarely see this anymore in youth fashion: actual reams of fabric and patternmaking. I like this shot because years from now, this is how I want to remember the independent apparel game.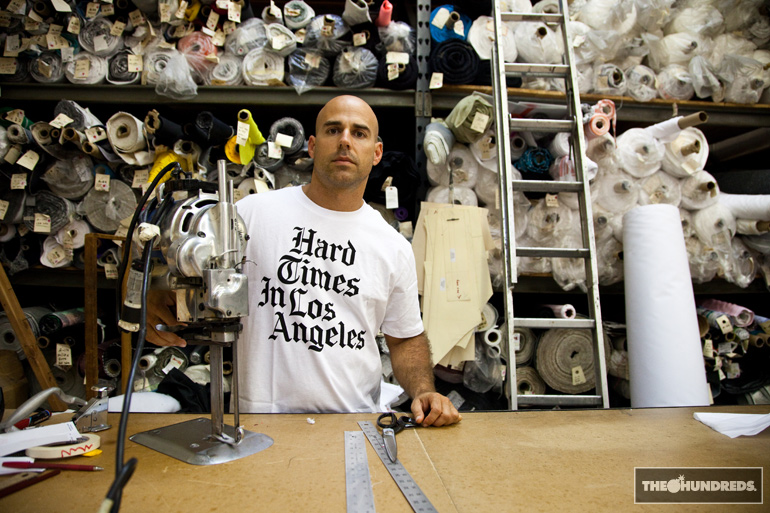 Out of all that DeLorean bloggery I bothered you with, this was probably my favorite shot from the DMC headquarters in Humble, Texas. I rarely shoot with my fisheye lens anymore, it doesn't quite fit the aesthetic I want to get across. But this time it really worked. The DeLorean is such a unique-looking automobile that any shot of one will catch your eye. But distorted like this, as if reflected in a mirror, gives off a retro-futuristic space-pod vibe. I dunno.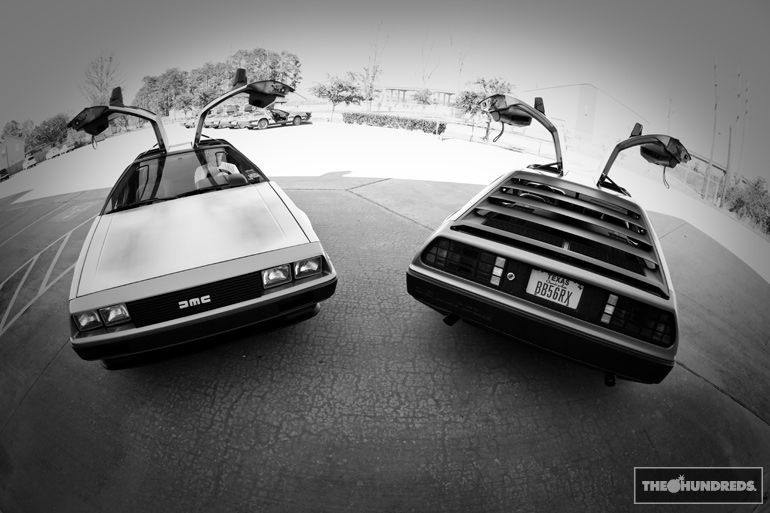 Hong Kong. I can post a million photographs from Hong Kong. The streets are alive and Blade Runner-esque. So many different kinds of people and environmental stimuli. I wanted to capture those colors and the intensity of it all. It's a really busy shot, but this girl is the centerpiece, the centrifuge of the chaos.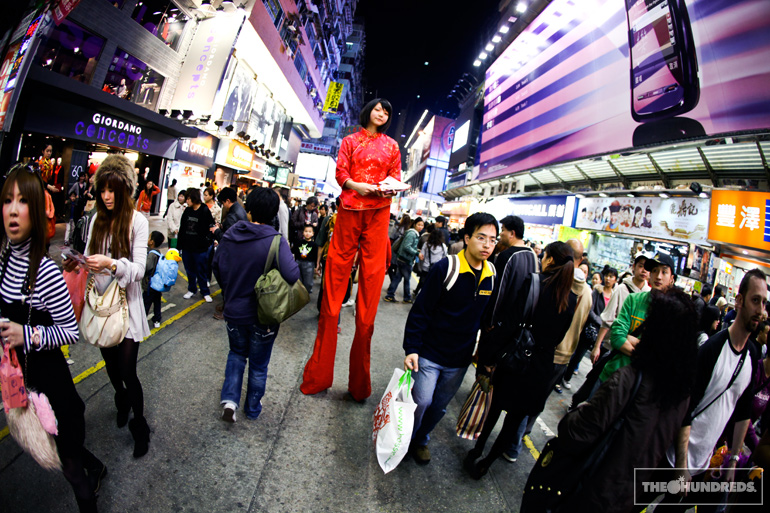 Aside from Jon and Kate, what more did America talk about this year than the Economy? Streetwear and The Hundreds wasn't safe from it either. Earlier this year, I posted a harbinger of things to come for our industry. By the close of '09, many of you have seen the ramifications. Over the months, Ben and I had multiple meetings downstairs in our showroom on how to bolster our business in this downward economy. One day, I looked up and noticed that one of our sample racks was stripped; a mere skeleton of a healthy product range. It tied everything up succinctly.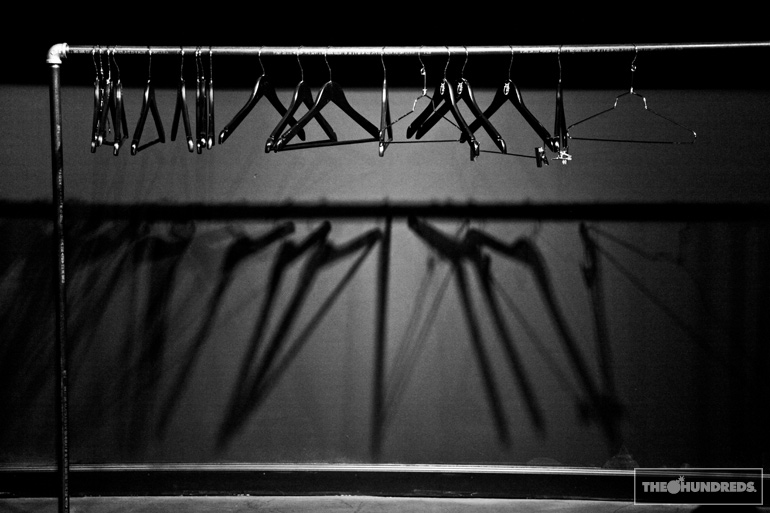 by bobbyhundreds