It started with Start Today. Gorilla Biscuits' 1989 seminal hardcore album was the first CD I bought. There had been cassettes and records before that, but once Compact Discs became a thing, I followed my big brother to the local record store and dug through the alphabetized racks. Gorilla Biscuits had a funny name, written out in colorful letters. The band's mascot cartoon character on the back drove it home. I was 12 or 13 years old and had no idea what I was about to get into.
"What do you mean that it's time, time for me to grow up?," vocalist Civ bursts forth in the opening stanza. "I don't want any part / It's right to follow my heart." I had never heard a sound like this—pulverizing guitars, the urgent call and response—it felt important. And staring down the road to adolescence, I knew exactly what Civ meant. He longed for a past that I had just discovered. I wanted to know everything about hardcore.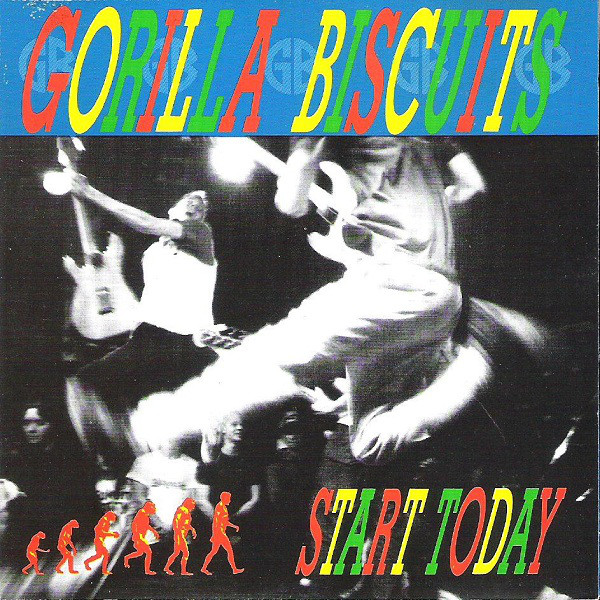 The R-star logo on the back of that album was how you knew it was real. Revelation Records. If this label could give me a record as powerful and pure as Start Today, what else was waiting for me? I went down the line: Judge. Youth of Today. Chain of Strength. Bold. I collected and shared these albums like baseball cards and comic books, but took them to heart like Bible study. I gravitated towards friends who understood the music, and if somebody didn't get it, I converted them or left 'em behind.
I didn't even attend my first hardcore show until a couple years later and that's when it all congealed. It's funny because I was a Southern California hardcore kid in the mid-'90s on a steady diet of newer, metal-infused hardcore like Strife, Earth Crisis, and Botch. I had missed the New York hardcore glory days by a decade, and wasn't even on the right coast. But, Revelation's bands provided the foundation for my attitude, philosophy, and ethic—of which I carry to this day, in my life and work. To truly appreciate The Hundreds is to recognize its hardcore upbringing—the spirit of camaraderie, to stand up and stay true. You can trace those roots directly back to that CD with the funny name and the Revelation Records stamp.
***
The Hundreds X Gorilla Biscuits by Billy Sidebyside releases today. Available HERE.
This essay was originally published June 23, 2017, when we released our third Revelation Records collaboration.
The Hundreds is proud to announce our collaboration with legendary New York Hardcore band Gorilla Biscuits. Our The Hundreds X Gorilla Biscuits collection will be available at The Hundreds Los Angeles and our Online Shops (US and UK).
Reigning during a golden era of matinee shows, crude demos, and DIY-merch, New York City's Gorilla Biscuits managed to meld the verve of New York City Hardcore with a unique sense of humor and melody. Reigning during a golden era of matinee shows, crude demos, and DIY-merch, New York City's Gorilla Biscuits managed to meld the verve of New York City hardcore with a unique sense of humor and melody. Formed in 1987, Gorilla Biscuits allowed themselves to be seriously lighthearted, while their peers sang about street fights and armageddon, maintaining a proper edge and knowledge of mosh part placement. Perhaps the Rockaways were in their DNA, along with the subtle melody present in the bands hailing from their neighborhood in Astoria, Queens, but their self-titled 7" and LP Start Today, both released on Revelation Records, both remain essential parts of NYHC's canon.
Graduating quickly from home-dubbed demos on dollar store cassettes, Gorilla Biscuits' larger introduction to the world was a track on the legendary New York City Hardcore 1987 – Together compilation, followed by seven song EP released in 1988. From the charging bass rumble of the opening track "High Hopes" to the menacing, but also, a little welcoming gorilla wearing a Champion reverse weave hoodie on the cover, GB had arrived, immediately endearing themselves to the thugs, sneaker skins, punks, straight edgers, outcasts, and anyone else fighting to get a piece of the stage in the pit.
With the still unnamed Gorilla as their official mascot, the band continued to spread the gospel of Biscuit Power until they disbanded in 1992 only to return to active status in 2005, as well as releasing a two-song, limited run single of newish material.
The Hundreds X Gorilla Biscuits celebrates the 30th anniversary of the band's self-titled 7″ and new pressing on Revelation Records with new art from Billy Sidebyside, the elusive creative whose iconic gorilla in a Champion hoodie graced that original definitive EP's cover. The Hundreds tapped Billy to create a new version of his original Gorilla Biscuits design for this collaboration. The artwork is featured on a Champion Reverse Weave hoodie in true NYHC spirit, and a T-shirt and long-sleeve T-shirt.
Having created images that have become part of New York City hardcore's visual identity, Brian "Billy Bitter" Clark's illustrations embody the energy, urgency, and urban edge associated with the genre. In an era where everyone's skillset was a sharp tool waiting to be leveraged, he began creating flyer art, as well as starting the band Side by Side, with Jules Masse. Following the dissolution of Side by Side, who left behind a terse yet potent discography available on Revelation Records, Clark immediately immersed himself in a successful commercial career, creating comics, such as Bad Moon, Fly In My Eye, and King of the Dead, before taking his skills to the WWE as Senior Art Director and most recently adidas, where he spent a decade as Creative Manager. He's also worked on the MTV's Celebrity Deathmatch and The Tick animated series.