Throwback to this post from 2012 during the time we dropped our first Revelation Records collab. This Friday, we drop our second collaboration with the esteemed hardcore label, The Hundreds X Revelation Records.
Hardcore. As a youth growing up in an inland Southern Californian suburb, I was often interrogated about the local hardcore music scene. From ignorant teenagers, confused adults, "What is it? Porn?" (Imagine trying to run an AltaVista web search for "hardcore" and "XXX" during the nascence of the Internet) "How can you listen to this? You can't even understand what they are saying," said everybody who I wanted nothing to do with.
But hardcore meant a lot to me. Maybe it meant everything to me. I was devoutly Straight Edge at the time—it was my way of distancing myself even further still from the distanced. Local venues like The Barn, Showcase Theatre, and Koo's Cafe in the '90s were outcast hideouts. Kinko'd 'zines were the literature, the communique. And the music that surrounded it all was the glue; a motivating, inspiring music. Electric, uniting, visceral, emotionally charged. That's what hardcore was. That's why I listened to it.
And most of that hardcore music came from, or was largely in thanks to, Revelation Records.
This is Chris at Revelation's headquarters in Huntington Beach, California. He's been here about 3 years, and he'll be our tour guide for today.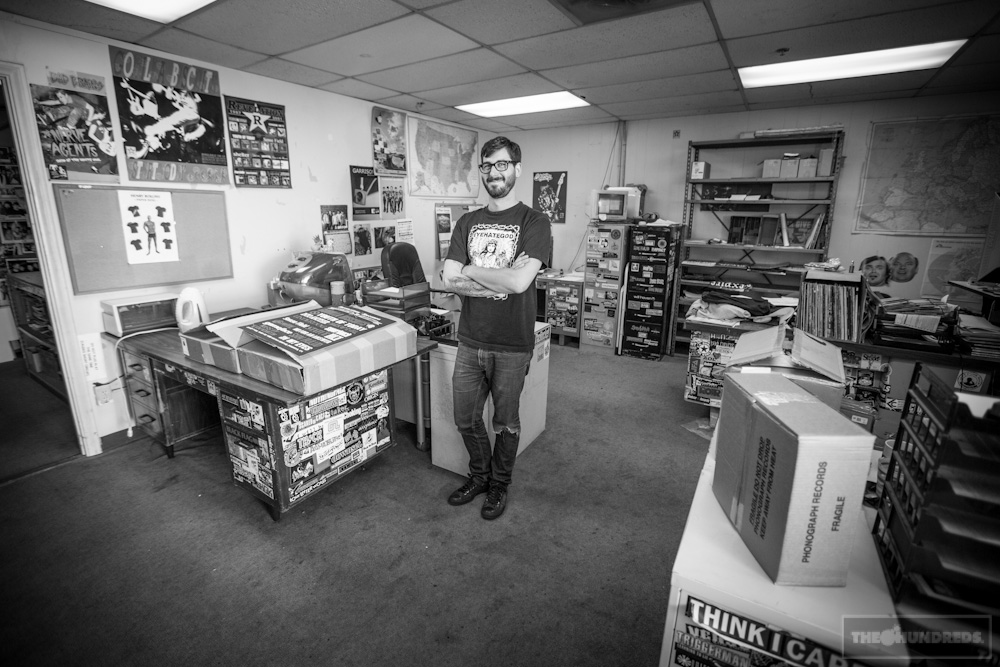 The room he's standing in is where the main office operates, but it's about to be converted into a sorta-showroom, sorta-storefront, for looky-loos and diehard fans (like myself) who travel the world to poke their head in and see where the sonic mantra by which they live emanates from. Revelation Records didn't create hardcore but they fostered it, enlisting such pioneers as Gorilla Biscuits, Youth of Today, Warzone, and Bold (amongst a slew of others) in their roster.
It's hard not to fan out a little myself. This is what my childhood bedroom's walls looked like, except I'm at the epicenter of it all.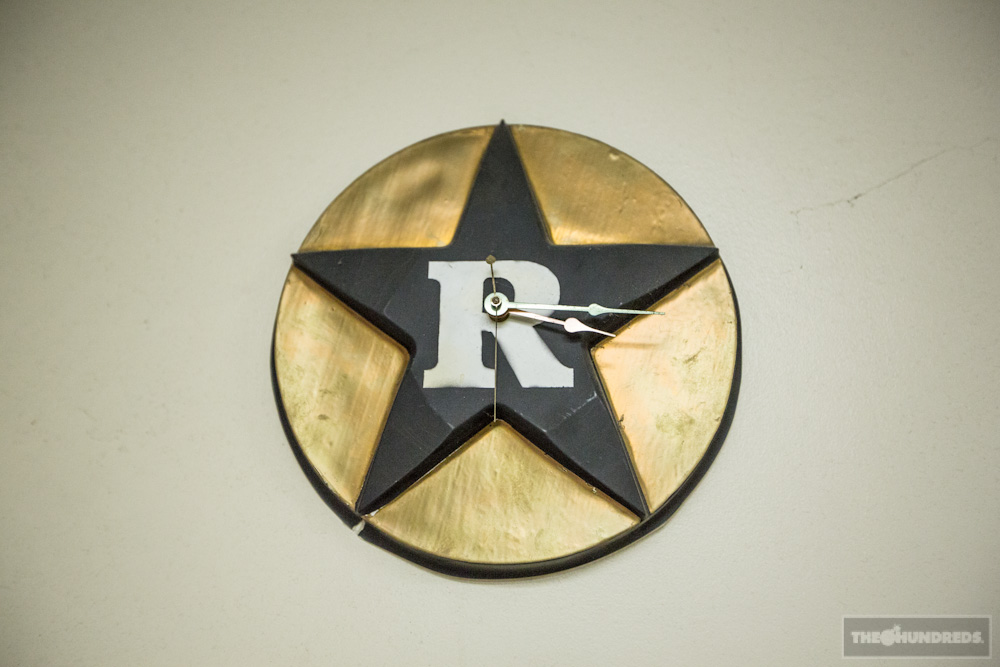 So in the next room, which is essentially a multi-purpose space, they're putting together the VIP gift bags for an upcoming series of shows at the Glass House in Pomona. It's Revelation Records' 25th Anniversary and it's a monumental week for the label and distribution.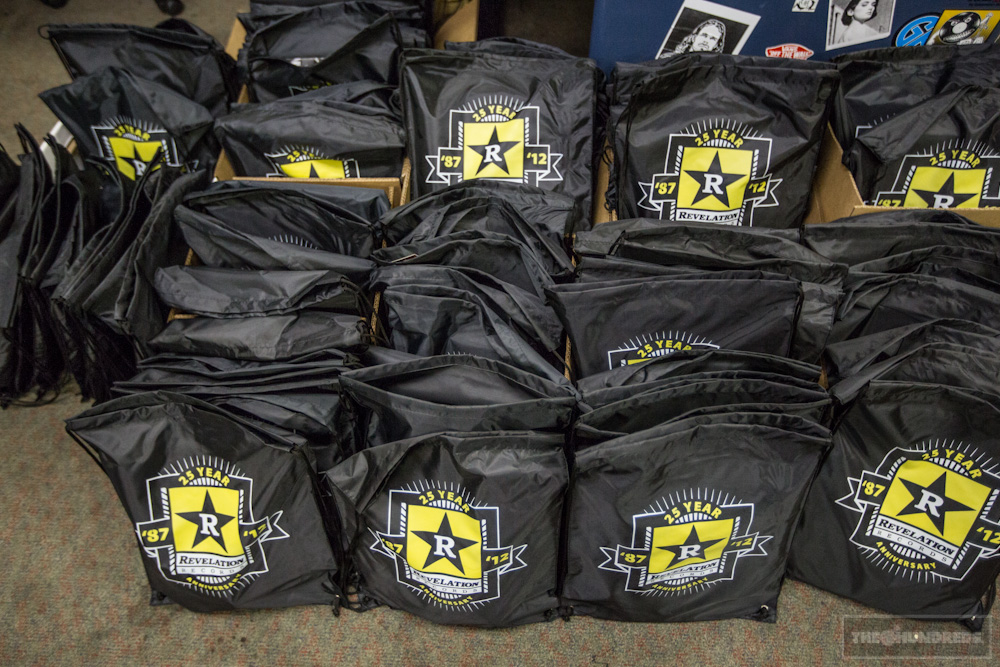 I'm assuming this is the retrospective disc to commemorate the shows and anniversary.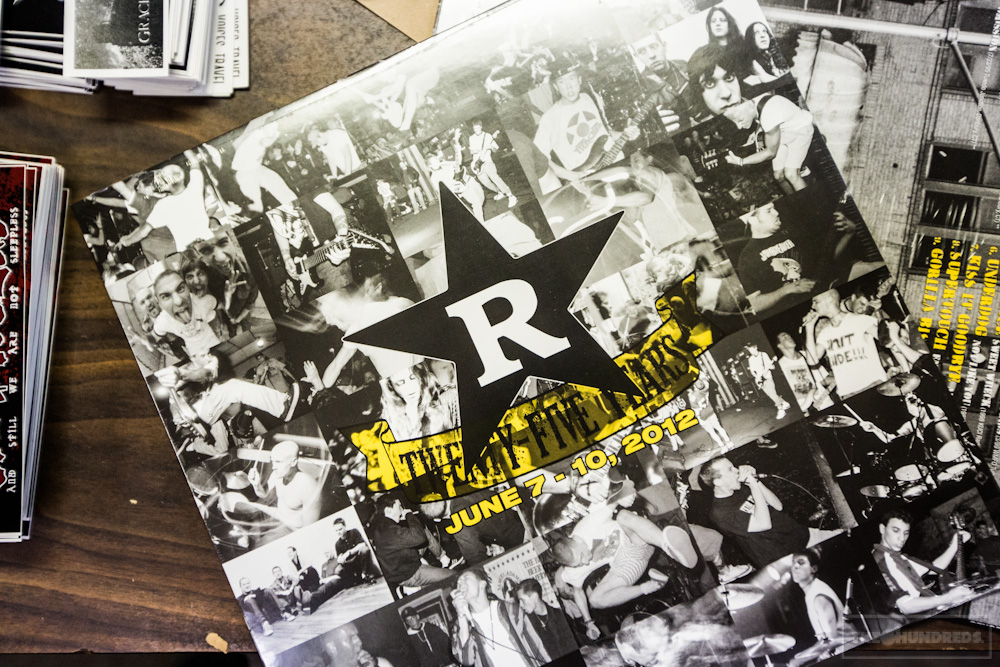 Larry is handling a lot of the anniversary goings-on from this end. He's Rev's Special Projects manager. He also has great stories of driving Refused's tour bus during their Snapcase tour.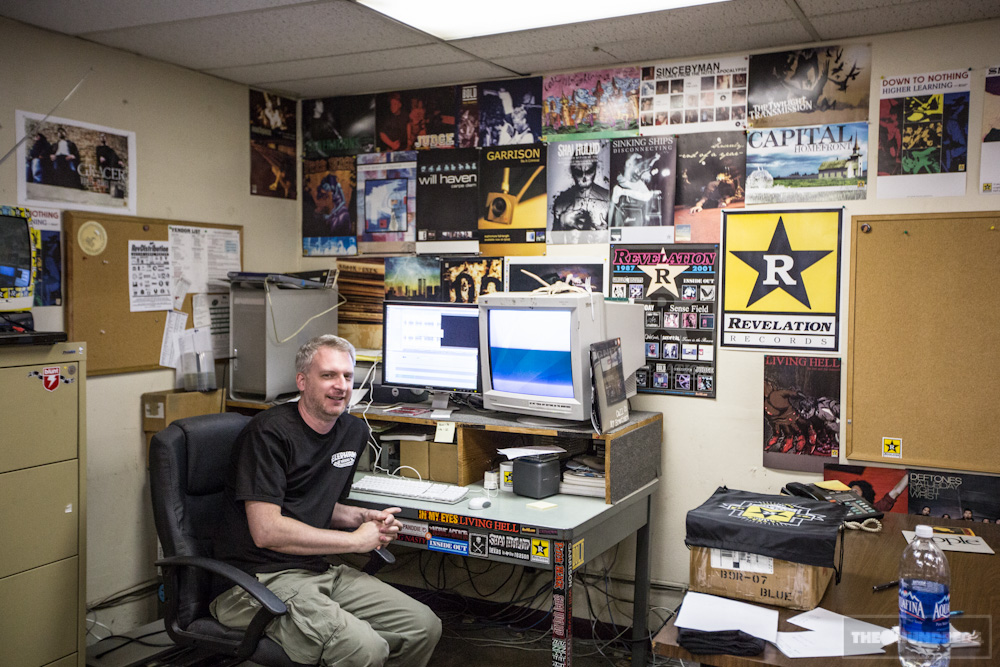 I guess that's what it's all about, actually. These stories and the camaraderie and the community. That's why hardcore will never die, because those that were affected by it will never let it go. Music plays an important part in everyone's lives, some more than others. But hardcore is more like a mentor or big brother—he helps you grow up, he teaches you about life, and so you never really forget what he's done for you.
David is Revelation's webmaster, and at this point, has been here the longest outside of Jordan Cooper, the founder. Speaking of Refused, he remembers when a couple of the band's members actually worked here after they disbanded in the '90s. This career, as it remains with many teenagers, was a dream job for David and then it became a reality. But he would be the first to say he's still living the dream.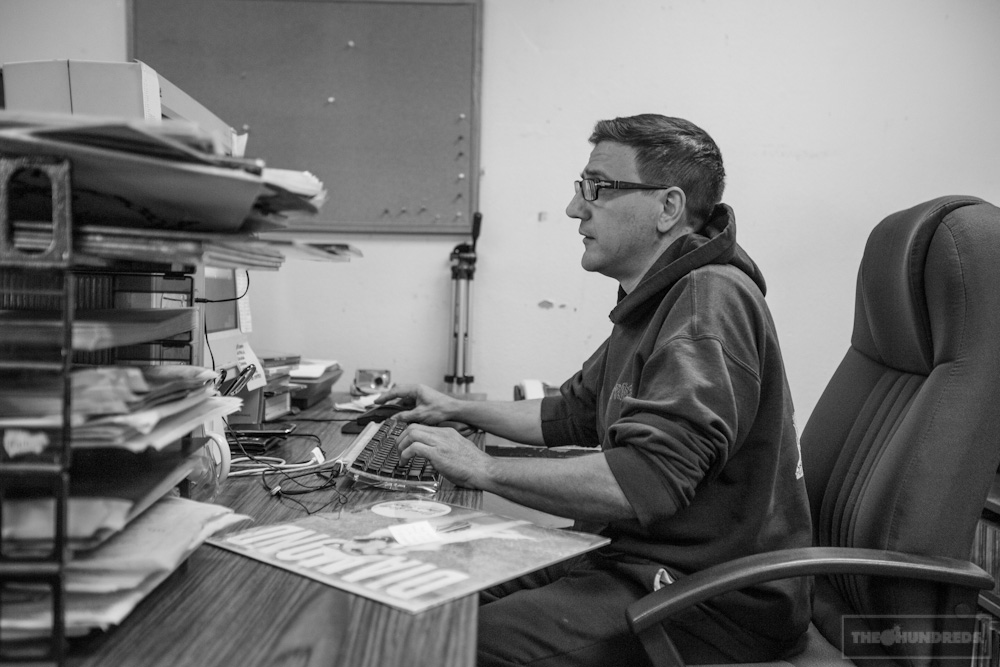 David does remark, however, that it has been unfortunate to see the music industry suffer. And the little guys, the independents, get hit the hardest, as Revelation fights to keep the spirit of hardcore alive. They do that by running their genre's most prominent distribution and mailorder: RevHQ, which not only stocks all of Revelation's classic portfolio of cassettes, CDs, vinyl, and soft goods, but that of other labels both within and outside the hardcore umbrella. All your punk and indie needs are supplied in one spot.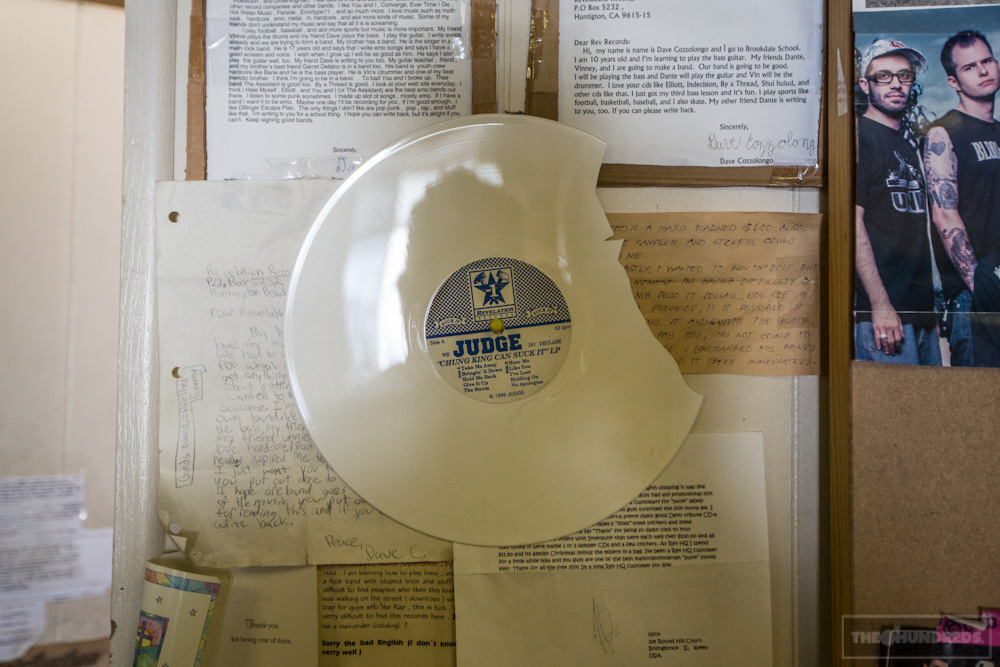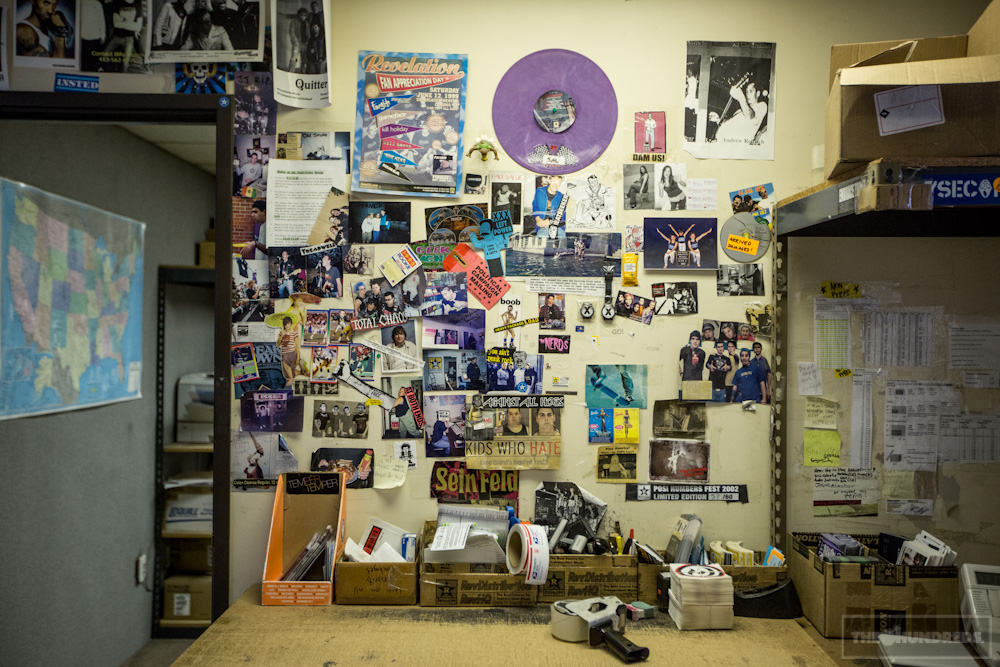 Accordingly, the stockroom is like the world's coolest record store. First, I come across the stickers: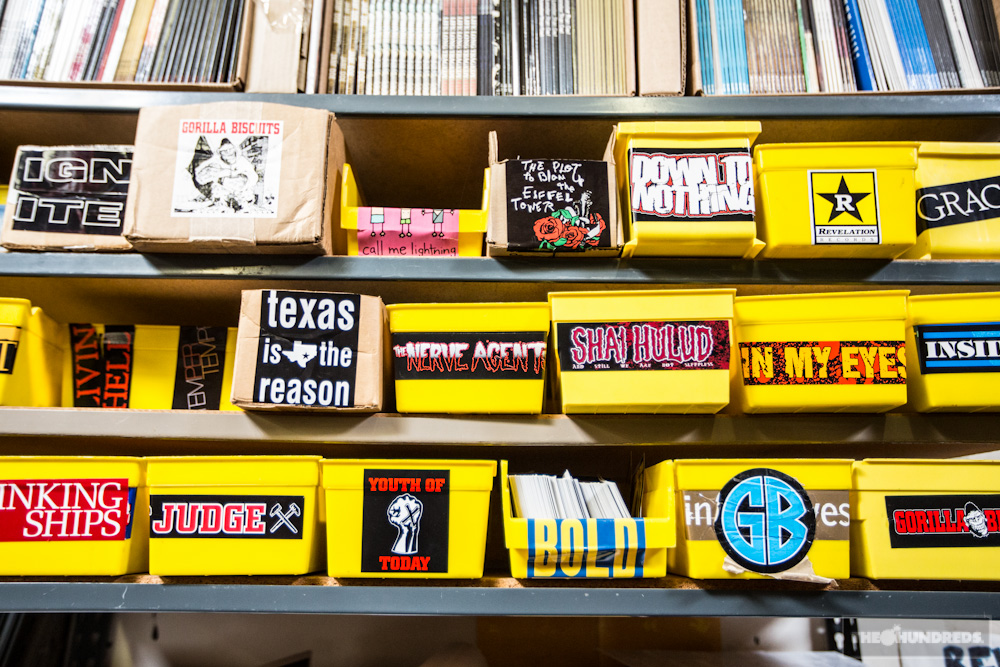 Then all the print materials. Relevant books and literature, as well as magazines and 'zines.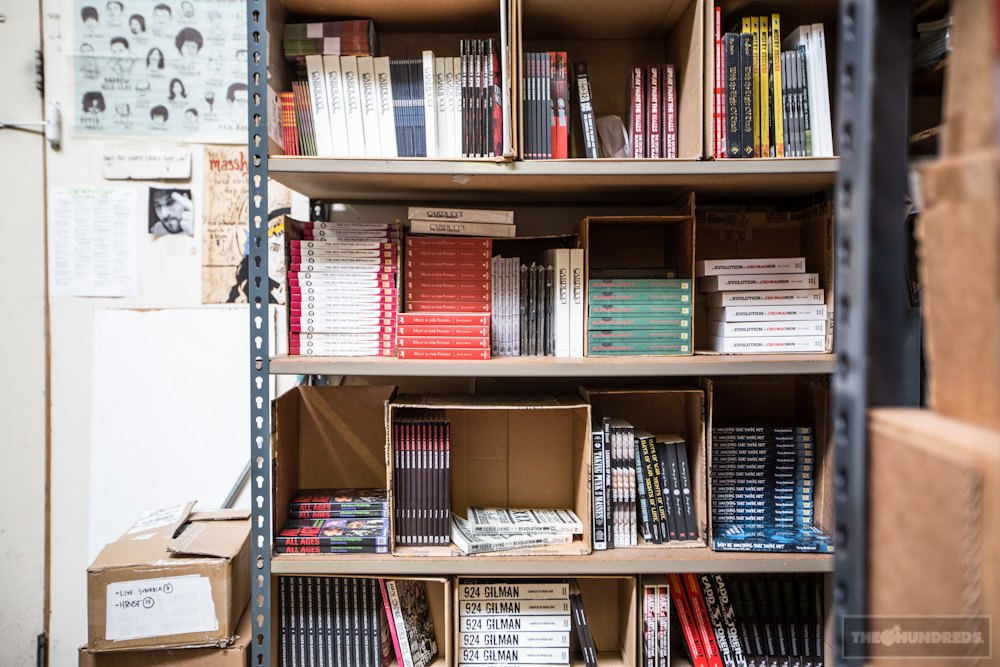 And yes, as cassettes have found a resurgence in the niche collector's circuit, Revelation's tapes are being dusted off and injected back into the pipeline.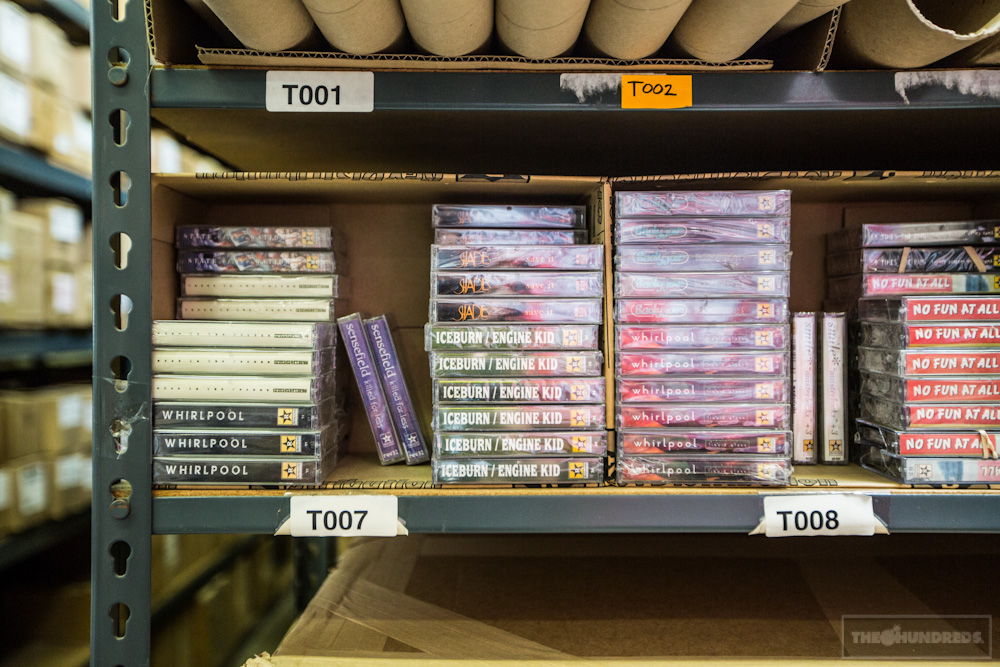 Cave drawings.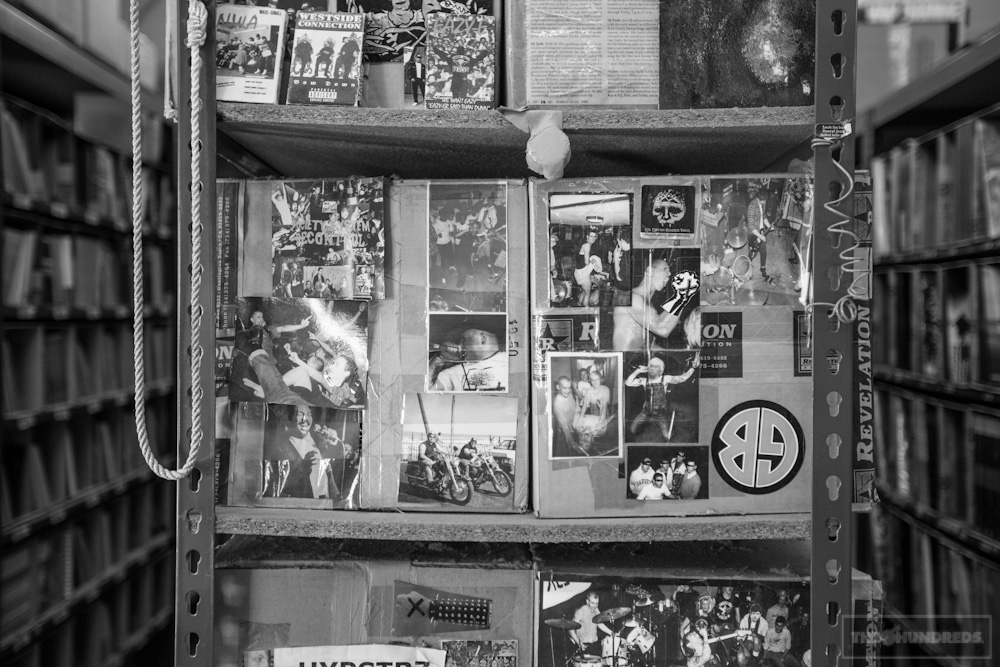 At the far end of the warehouse are all the vinyl, records, 7-inches… It's a music gangster's paradise. The halls of fame.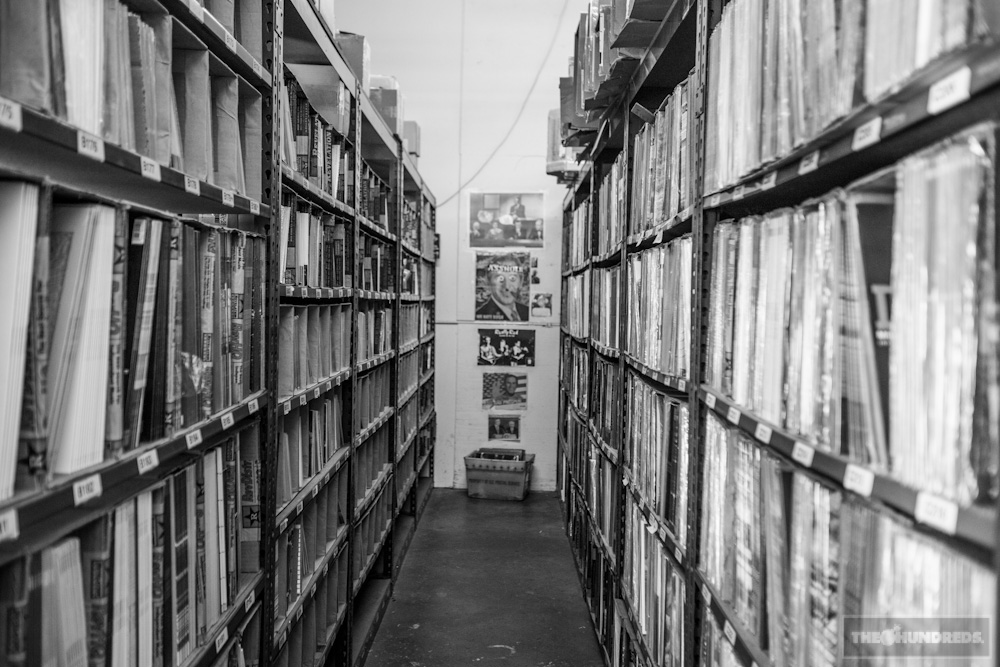 This is like foodblogging, except I'm not taking mouthwatering Instagram shots of lobster grilled cheese lunches; instead I'm lusting after memories and classical hardcore pieces.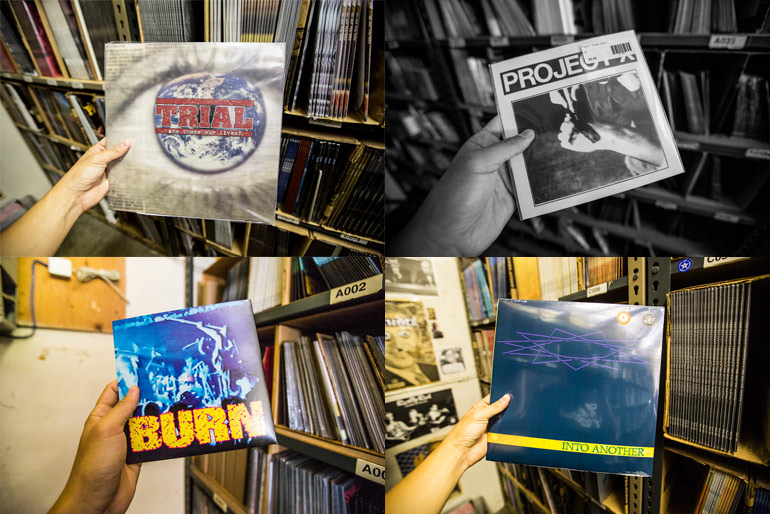 I highly recommend you buy these albums or Spotify them. If you don't like what you hear, that's the first sign of having really bad taste in music.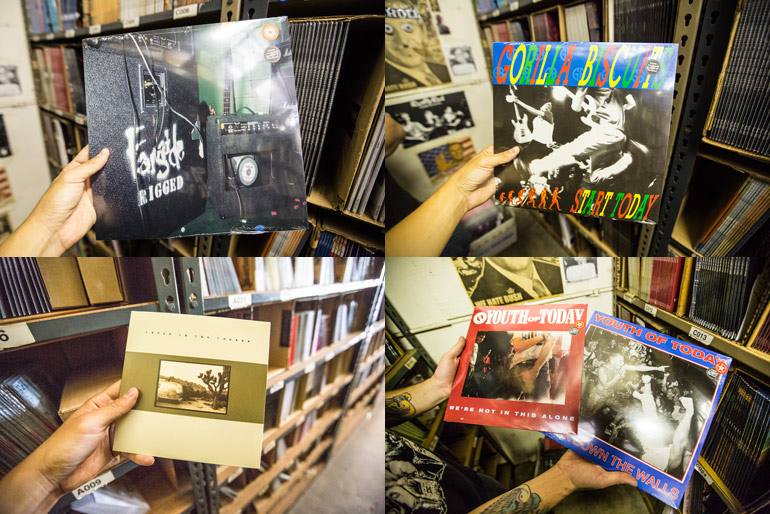 And what's great music if you can't advertise that you love it? Hardcore and fashion are strange bedfellows – it always comes down to a simple 1-color logo hit on a Gildan blank tee. But those are the uniforms of the counterculture..
Not only distributed through RevHQ but screenprinted here as well.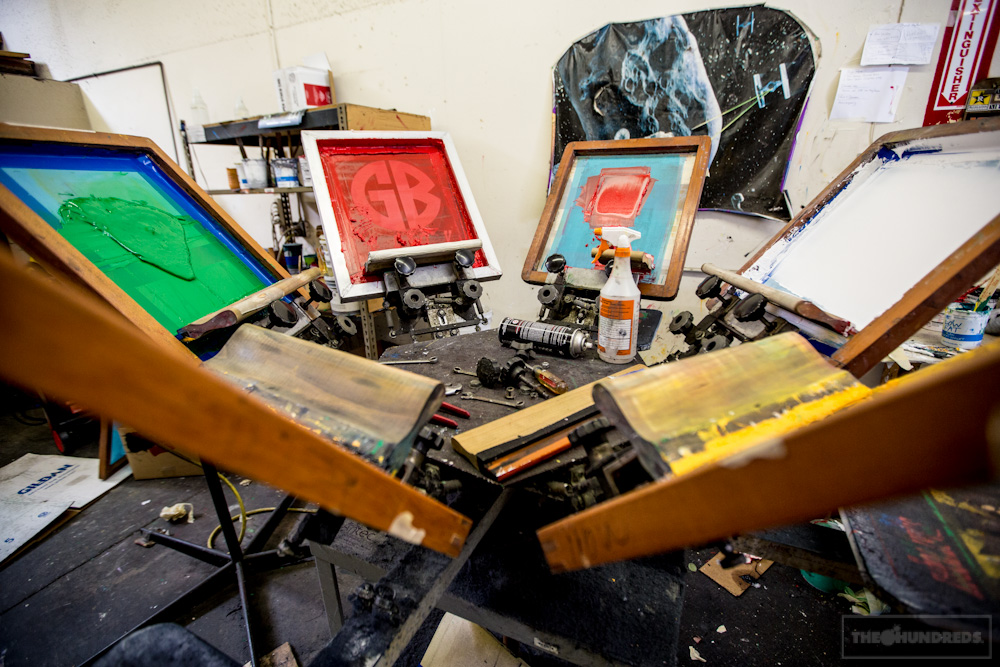 Right now, they're running Kiss It Goodbye t-shirts for the 25th Anniversary showcase. Kiss It Goodbye's playing the 6:15 spot at Thursday's show.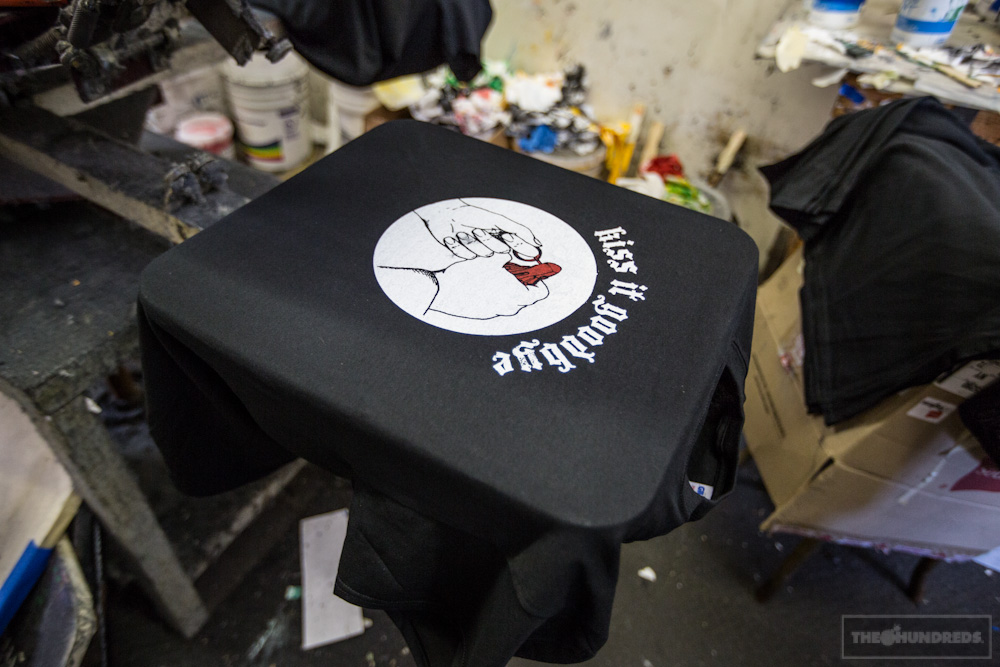 And some relics… The Gorilla Biscuits "Start Today" evolution screen: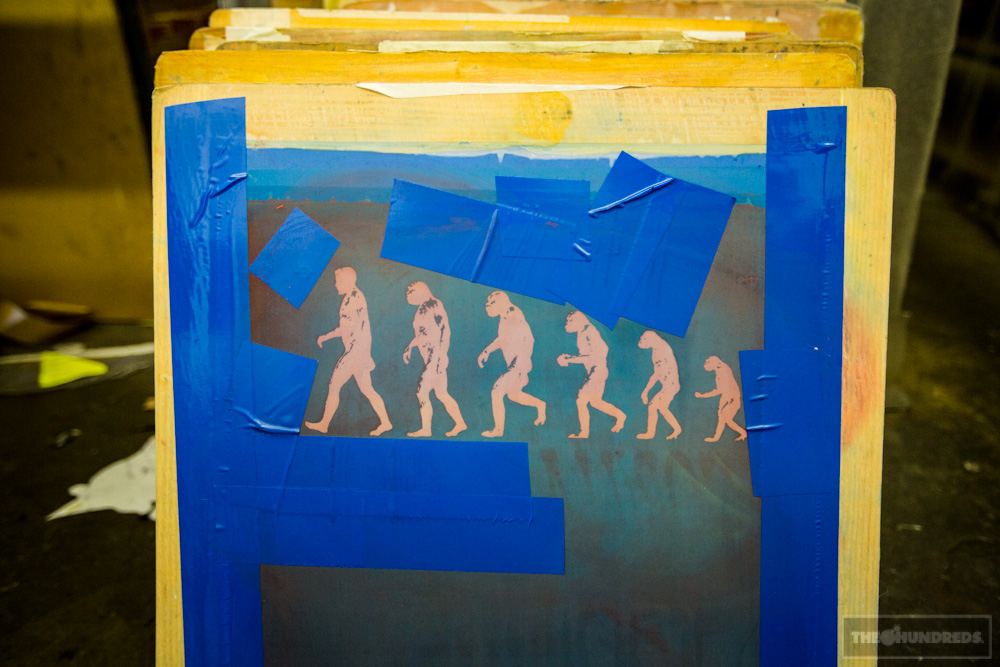 The signature Revelation emblem: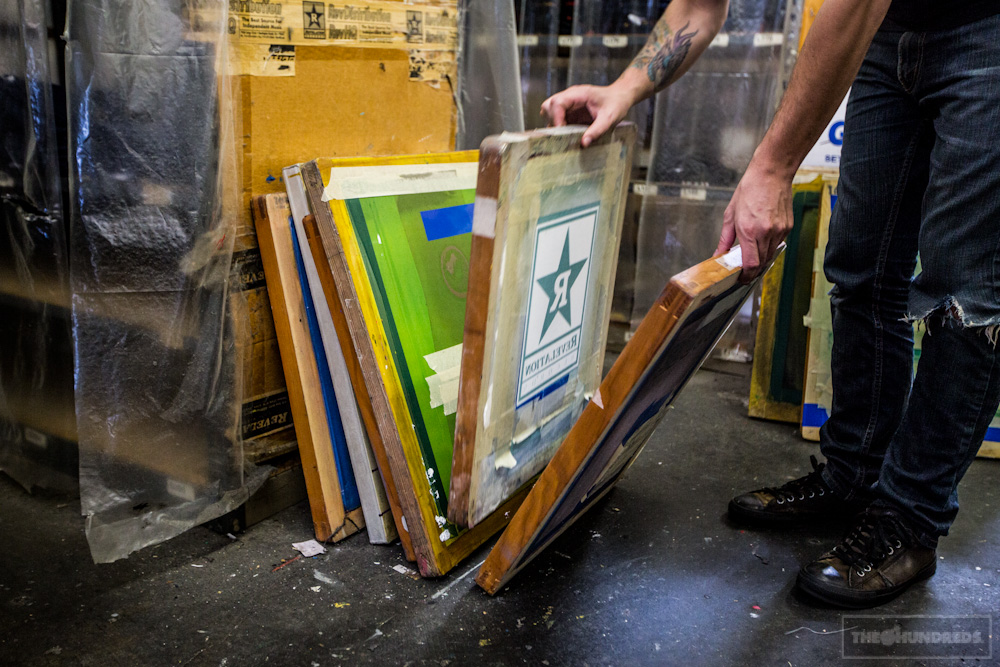 Of course, Chain of Strength: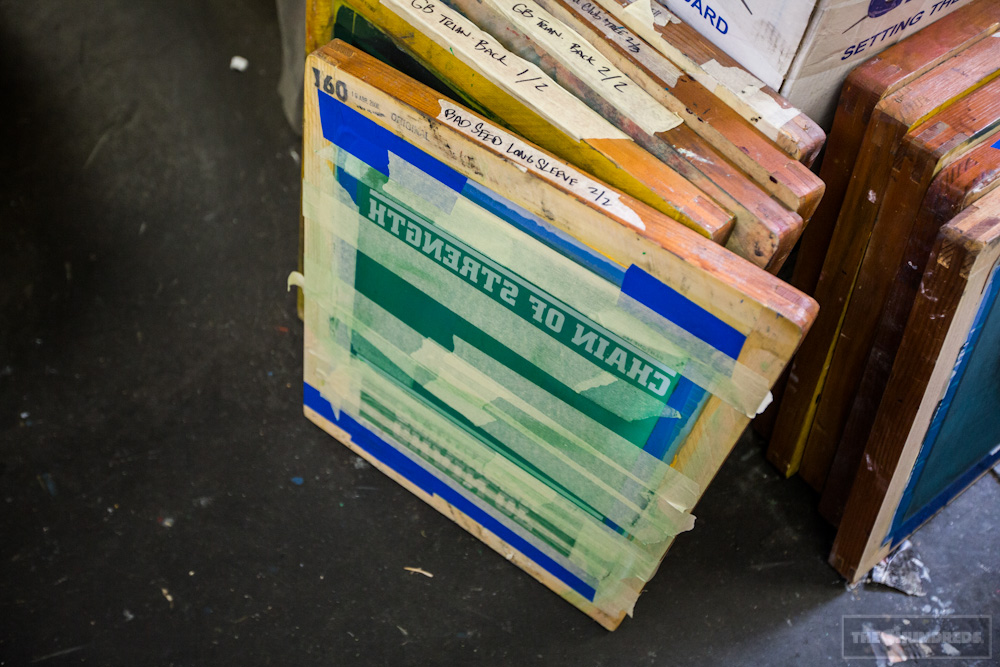 And much more in the archives.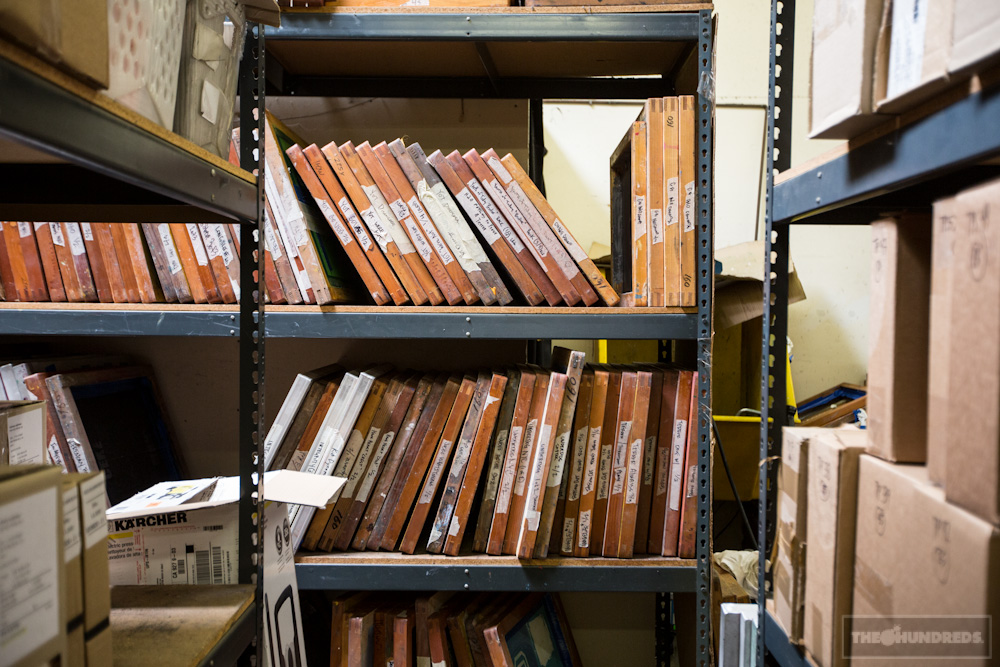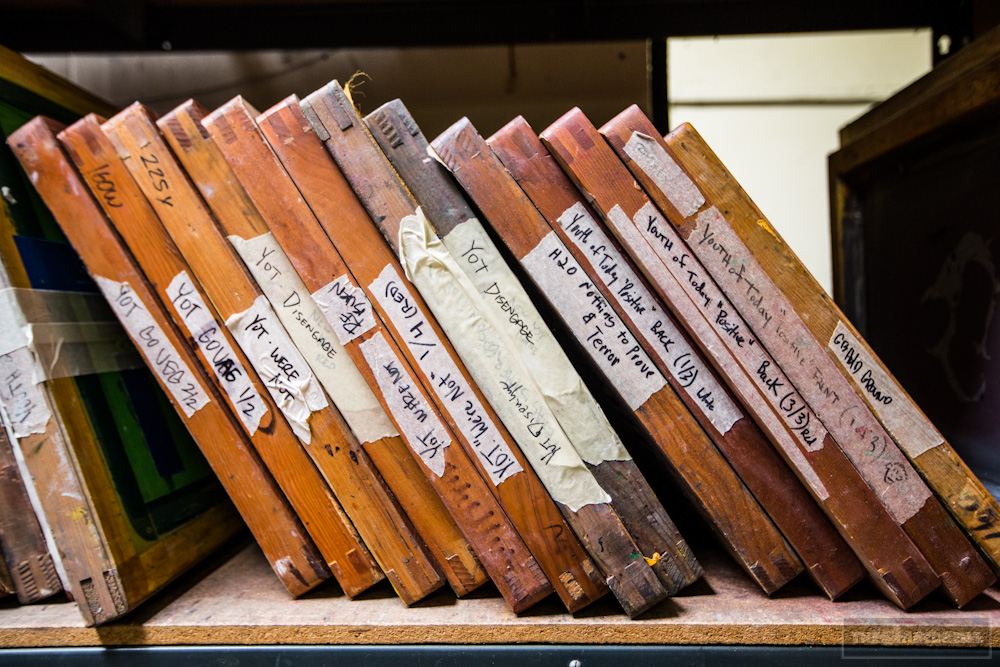 The shows begin tomorrow (Thursday) night at the Glass House in Pomona. I would tell you to buy tickets, but of course all 4 nights are beyond sold out. So for the lucky few, I'll see you there…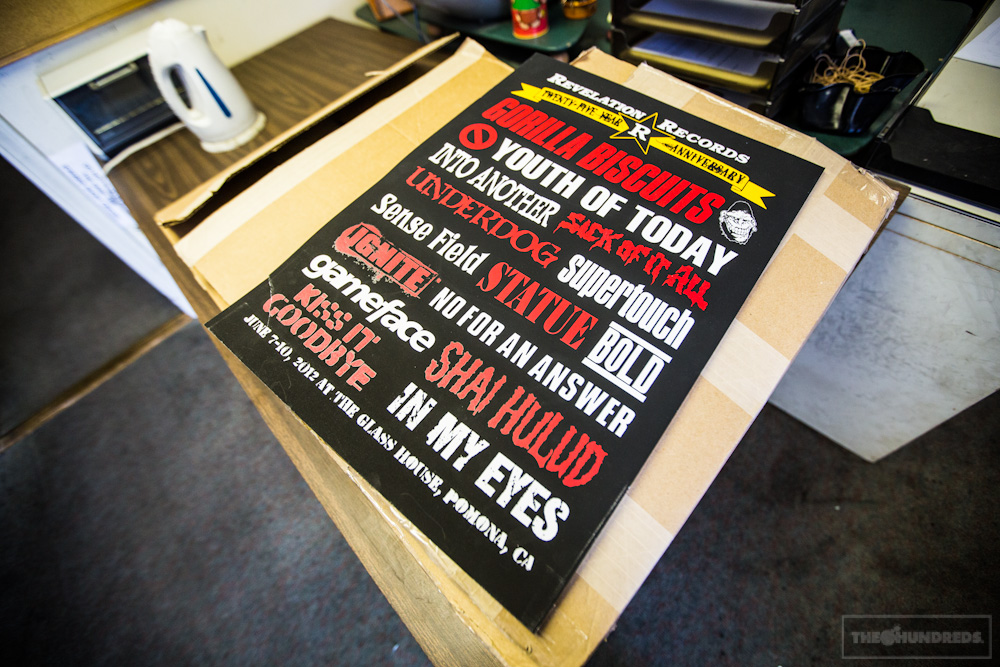 ***
For further reading on thehundreds.com, check out Break Down the Walls :: How the Youth Crew Aesthetic & Ethos Disrupted Punk's Status Quo by Anthony Pappalardo.