Years ago, Ben was on a sales tour of Scandinavia and discovered a local socks brand called Happy Socks.  He was wholly convinced it'd make sense in the States, to fill a wide-open niche that a traditional apparel brand (like ours) couldn't own.  Although we were making fun-spirited socks at the time (as were many brands in the street/skate space), they were always considered as a hanging-rack accessory.  Not enough of a demand to warrant a standalone business.  Meanwhile, Happy Socks was specifically producing a sleeker, kooky-colored, graphic-patterned dress sock that mixed business with pleasure.  What's more, Happy Socks was speaking as a total socks company, not as an addendum or afterthought to an overarching label.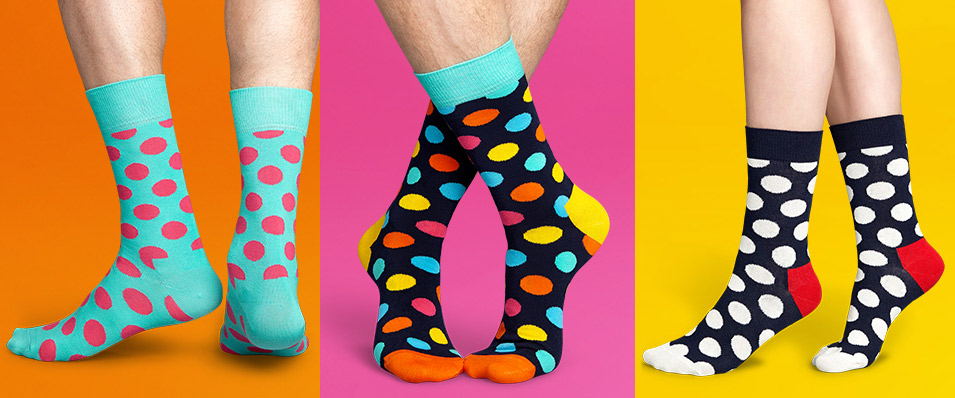 Happy Socks
Before we knew it, Happy Socks penetrated the U.S. market, with their point-of-sale display fixed in sophisticated fashion boutiques from coast to coast.  Now I don't know if they were the first to think of socks this way, but they certainly weren't the last.  In the half-decade since, socks have skyrocketed as booming business – $25 Billion, in fact! – not just for established fashion labels (like Huf with their Plant Life socks), but independent socks-specific startups (like Cash Warren's Pair of Thieves) who are cracking open an entire market that presumably didn't exist before : the stylish male customer who cares how his feet look under all that selvedge denim and vintage basketball shoe.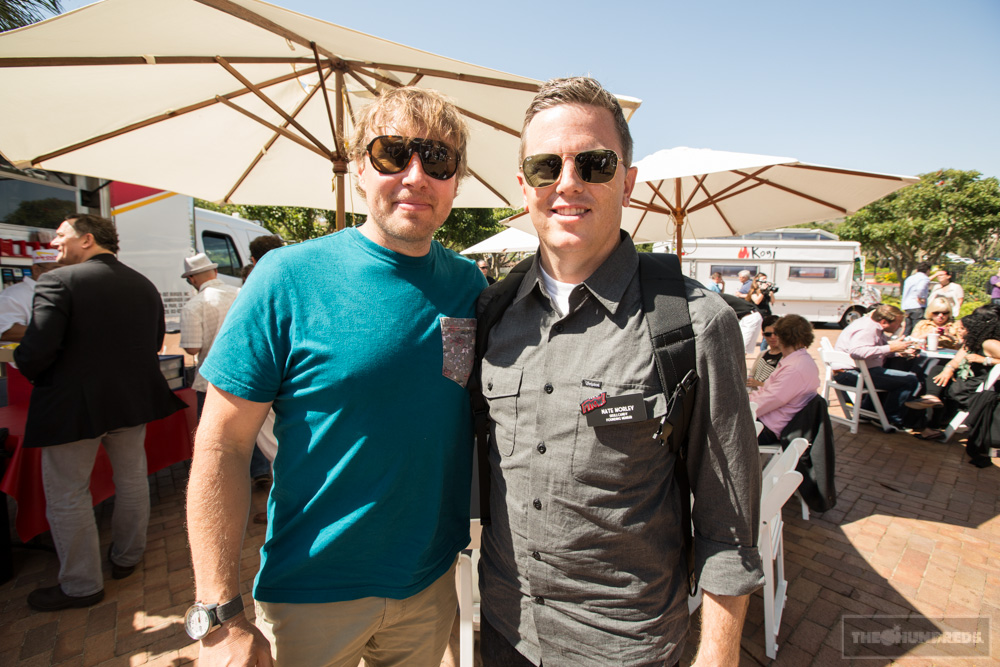 Jeff Kearl (on the left) of Stance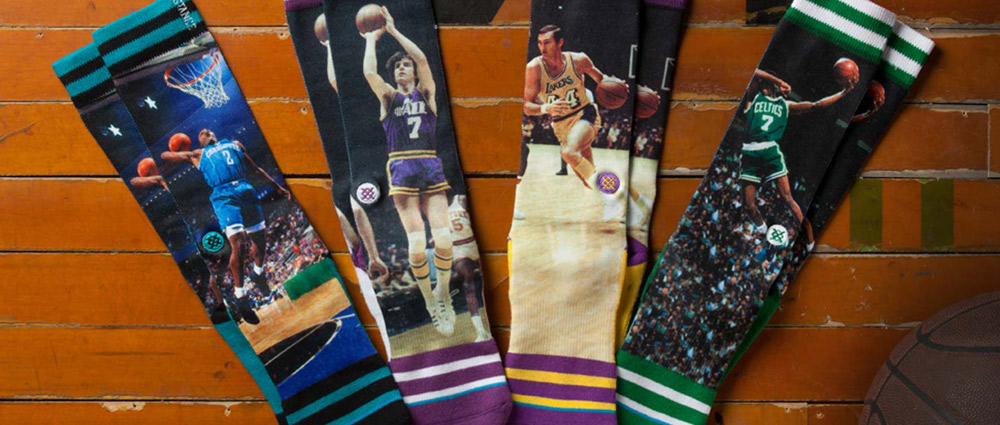 Stance Socks
Perhaps the most well-known – and successful – of the new school socks brands is Stance.  Founders Jeff Kearl and Rick Alden (who were responsible for Skullcandy prior) took the lessons they learned from the niche headphones market and applied them to socks.  Shying away from apparel ("The gross margins aren't exceptional…If you are going to do it, you have got to be different."), the founders literally walked the grocer's aisles looking for that next untapped market.  Toothbrushes… Sunblock…  They settled on socks, especially after touring Chinese factories and seeing how cheaply the major manufacturers were making them.  "I was like, 'Wow, what if we start putting all the quality back?'" Jeff continues, "Let's really use premium materials. We spent a lot of time on fit. Instead of One Size Fits All, we had to find a way to fit the socks, because that was the number one complaint.  And so, when we put all of those factors into the sock, and even washed it in a silicone bag to make it feel super soft to the hand, our cost was still a dollar twenty something."  The next big idea was rethinking how socks were sold.  "Instead of going out trying to sell 3 for $8, $12 or $24, we tried to sell them single pairs, so we were able to create really great margin in the business more than I've ever been involved with. I guess the way to explain it was that, in simplest terms, no margin, no mission."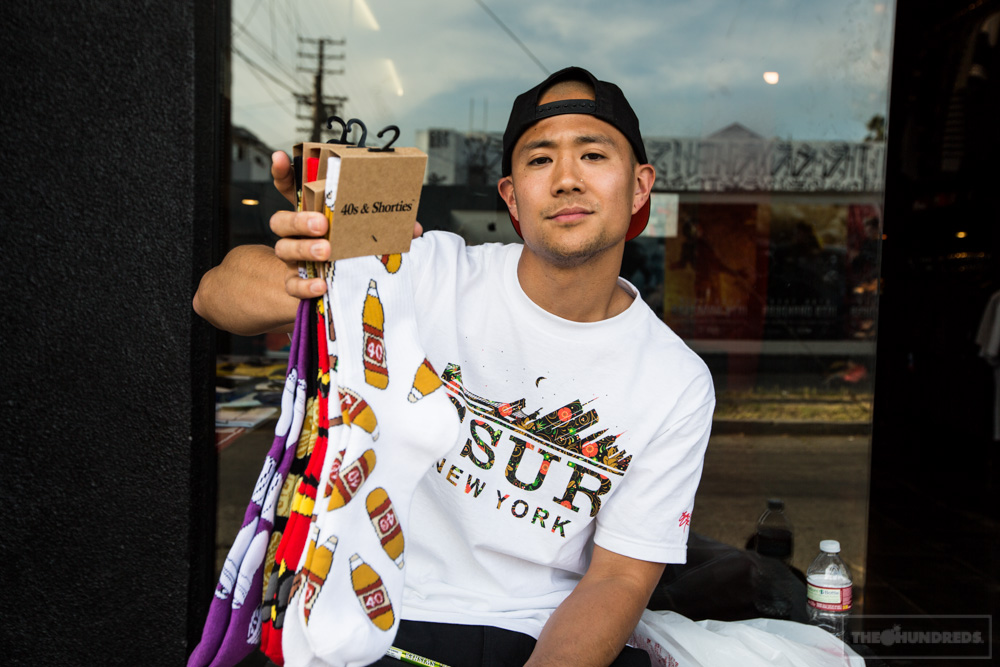 Drew Byrd of 40s and Shorties
Like the garment themselves, not all socks labels are built the same.  And not everyone is as driven by profits and bottomlines in their overall growth strategy.  For DJ and producer Drew Byrd of indie brand, "40s and Shorties," it's arguable that there isn't much of a margins-driven endgame at all, versus design, lifestyle, and spirit.   "We wanted to start a project we could all build together as friends and just have fun with."  40s and Shorties plays a different game from most competitors in the graphics content they feature on their product.  As the name suggests, the indie label patterns smoky blunts, ice-cold malt liquor, and lean sip cups around the foot instead of the traditional polka dots and stripes.  Drew says, "Even though our logo isn't blasted on the outside of each pair, the content itself now becomes what's most identifiable about our brand."
Indeed, patterns and colorways are the most uniquely attributable and marketable qualities of any socks brand. Rob Kardashian's sock line, Arthur George, also sees the value in unique design.  The reality TV star and designer proclaims, "Our patterns are very original and different from the rest; I haven't seen such patterns used by any other company."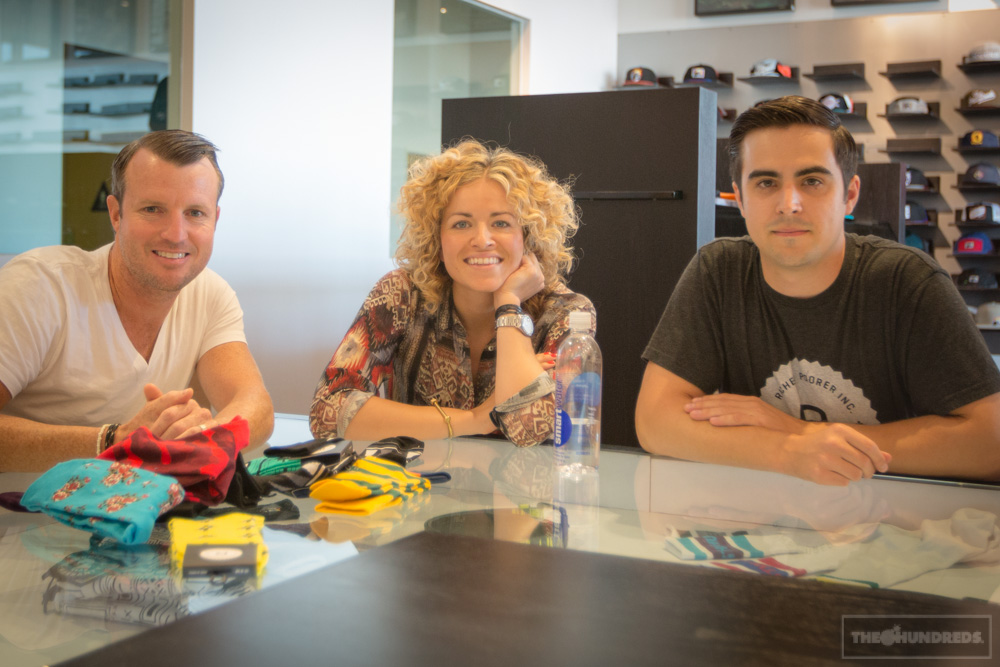 Iva Pawling (center) of Richer Poorer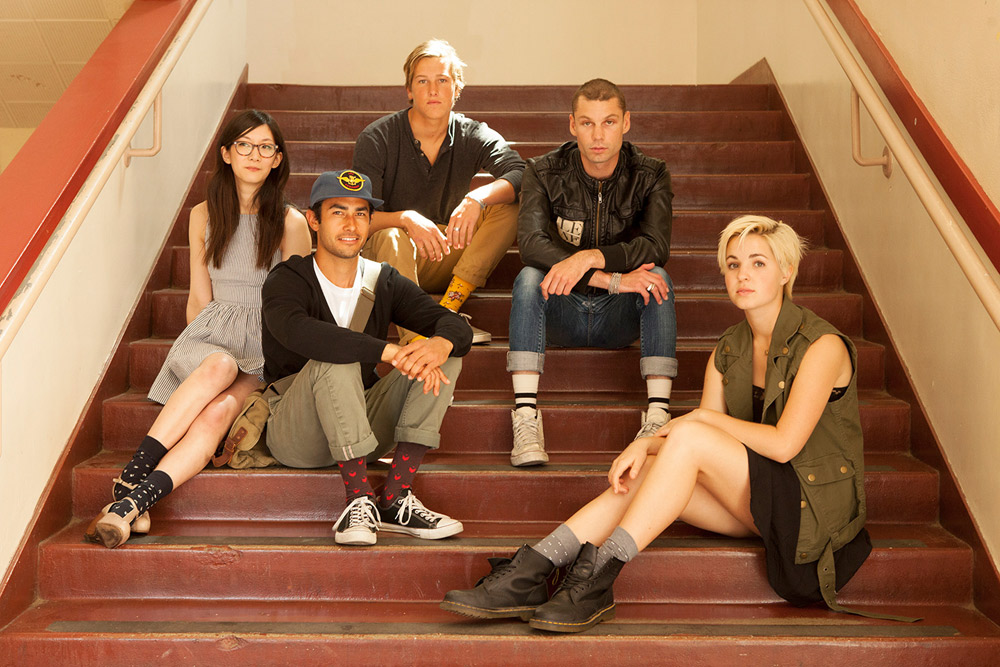 Richer Poorer
Iva Pawling is one of the founders of Richer Poorer, a menswear-directed socks label (that The Hundreds is in the process of collaborating with).  Like Drew and 40s and Shorties, what differentiates Richer Poorer from the deluge of socks competitors is "Design. Design. Design." The former PR exec-turned-entrepreneur maintains, "Our attention to the details, from the patterns to pantones to packaging, is meticulous. Everything you see us put out has been scrutinized to the nth degree…We know our customer sees this difference, and is loyal to us because of it."
Which begs the question, where did these customers come from?  Just a few years ago, you'd be hard pressed to get the average dude into considering a colorful pair of socks outside of a Costco 3-pack of whites or Kenneth Cole dress socks for the office.  Nowadays, Odd Future to Holly Madison have popularized crazy socks, and even the coolest of coolguys bares his wild side with the lift of a pantleg. According to Pawling, the socks surge can be attributed to men's heightened awareness and appreciation for fashion.  She explains, "The Heritage trend hit hard the last few years, which meant pants were being rolled again and you better have something decent to show at the ankle. Dudes as a whole have just recently figured out that they have to pay attention to their attire, down to the details. You're not the cool guy anymore by not giving a shit about what you wear; you simply look unkempt."  The sudden popularity in men's socks also emanates from competition and the economy, "There have been so many sock brands to enter the space to give you options, which has brought a lot of attention to socks in every market – fashion / street / action sports. Finally, the economic meltdown put a serious pinch on everyone's shopping funds, so being able to buy into a brand and get some cool duds for under 20 bones became pretty appealing."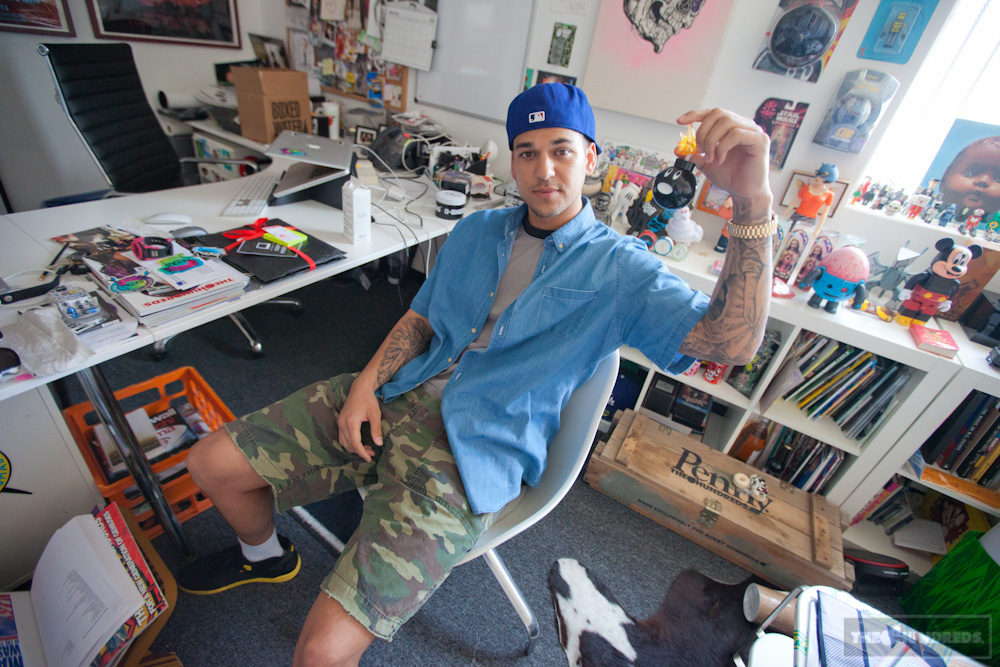 Rob Kardashian of Arthur George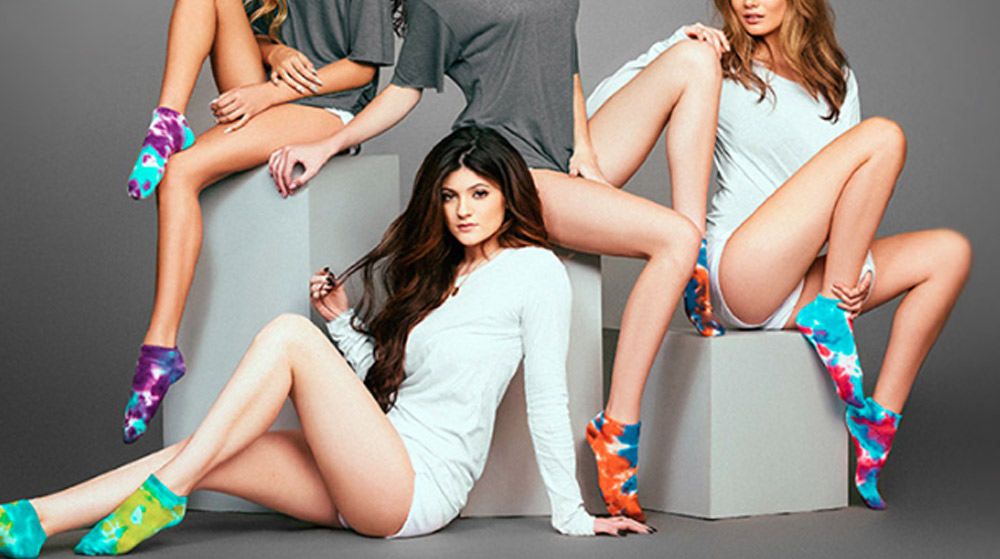 Arthur George
One of those newer competitors is Arthur George.  Founded in November of 2012, Kardashian's socks were seeded by necessity and a burgeoning market: "I started Arthur George because I am very passionate about socks and thought it was a very cool industry to tap into. I noticed the changing trend from guys wearing only black and white socks to wearing very colorful socks. You used to go into Foot Locker and could only buy white or black socks, but now you go in there and it's like a rainbow."  Rob adds, "There was an era when socks were super colorful and then that went away. Now it is coming back."
Drew (40s and Shorties) agrees.  "Fashion/Apparel will always have a rotating door for new trends. Right now, socks just happen to have the spotlight. But, socks as an accessory are perfect for mass consumption.  They're affordable, accessible, and they can be paired with any fit."
Now that socks are here, what's next?  If guys are comfortably investing in stylish under-accessories, are boxers and briefs next? Richer Poorer thinks so. "We just stepped into the underwear category late last year and anticipate this becoming a huge place for growth. We've always wanted to focus on the things that men have to buy, just give them a better option. Our patterns are king, so we certainly see a lot of categories that we can put the Richer Poorer touch on. For now, we're staying focused. Socks and skivvies. First things on, last things off."
Stance takes an opposing view.  "The reason why Stance wouldn't do underwear is that, first and foremost, we believe that the market is sufficiently large for us to build a big, big business," Kearl says, "I think people would be startled at the size of the business if we told them, because it's big now.  I think when you see the growth rate, how big it could become even in three, four, five years, you would see it could be a very sizeable business. So I don't think we need to have any other category.
Secondly, I think there's a lot of power in focus – period.  Just staying focused on one thing. We have over forty employees now and all we do is dream about socks. We don't dream about underwear, we don't dream about new material for underwear, we just dream socks."
The Hundreds makes socks too!  Click HERE to shop our latest selection.