The week that LA initiated lockdown, I was Facetiming my friend Ellen Bennett.
You know Ellen. She owns Hedley & Bennett, which makes aprons and kitchen workwear right down the street from us in Vernon. We've done a couple collaborations with her before and I also interviewed her for my podcast last year.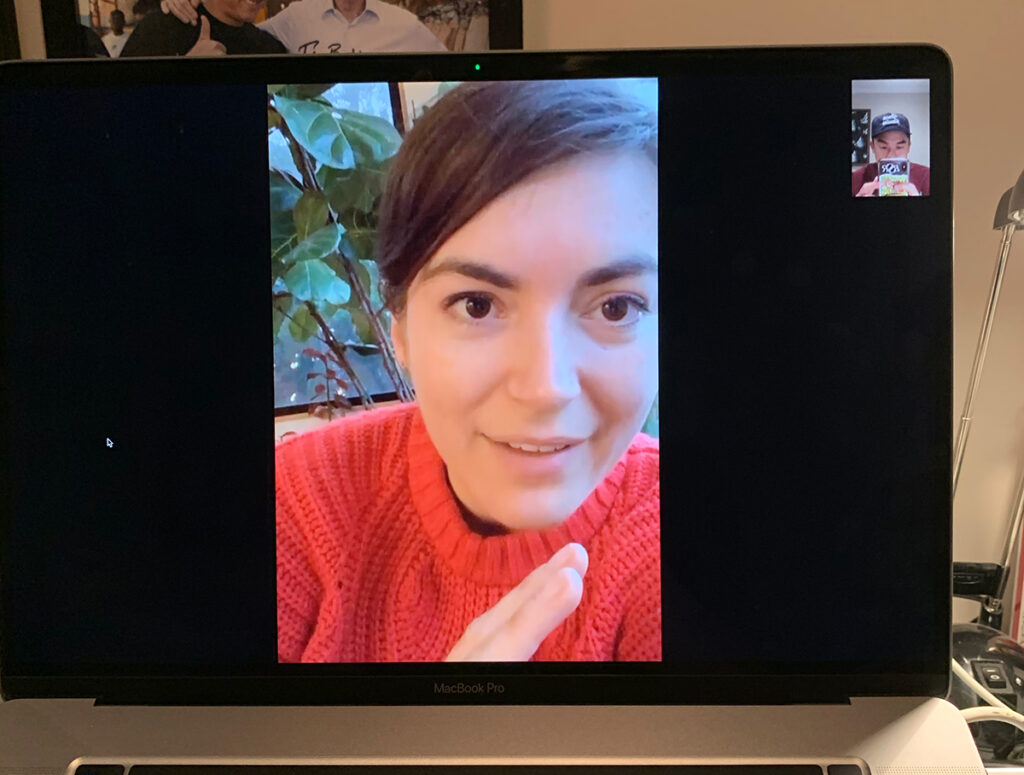 But on this morning a month ago, Ellen called to ask how I was personally managing the shock of the Coronavirus and how The Hundreds was bracing for impact. We broke down our options as business owners facing a mysterious and threatening pandemic. Ellen's husband Casey was off-camera, saying Hi over boiling water. He unpackaged a ream of fresh pasta and we admired the box design together. I told Ellen that as far as her offerings go, people could use her product now more than ever. I'm a terrible cook – the only thing I know how to make for dinner is reservations – but I was increasingly finding myself in the kitchen. I was also quickly realizing how short I was on utensils and supplies. As our lifestyles reposition around our home, brands that cater to the great indoors will be in high demand: That goes for furniture makers, designers who make sweatpants, and cleaning supplies. So, Ellen and I casually discussed making another apron collaboration to re-acquaint – or introduce – our audiences to their stoves and cutting boards. Perhaps that could help.
The next time I talked to Ellen was this past Friday. Once again, she called me from the confines of her home but this time there was a different energy swirling around her. Right off the bat, I could tell she was invigorated and focused. She was still the same lively and spontaneous Ellen, but I was watching the boosted, upgraded version with the in-app purchases: Ellen +.
In the time since our pasta box phone call, while the rest of Los Angeles and 3/4 of the world's population was off-kilter from COVID disorientation, Ellen pounced on a deepening need to be met. As soon as Mayor Garcetti engraved a hard line between essential and non-essential businesses, Ellen evaluated how else her factory could serve those in immediate crisis. It was in that hour she heard the national call for masks. Ellen's facilities could sew, she had access to cool patterns and quality materials, and she had the skilled staff, office resources, and shipping logistics to contribute. In typical Ellen fashion, she hit the ground running, one of the first-to-market with a functional AND cool face mask (called the Wake Up and Fight mask). For every mask sold, she'd donate another. She'd leave the factory at 2am and be right back in place early the next morning. For the rest of us, the days have lost their designation, but for Ellen, those boundaries became extra blurry. Hospitals across the country were placing orders by the thousands. Her customer service requests boomed by 200x. Ellen bore down and pushed harder.
Last week, Ellen sent out an email to her customers. She was grateful for the support by her loyal community (She uses the word "community" a lot in discussing her business – that's something we love to share as founders). Ellen was also proud to announce she'd be donating over 100,000 masks (since that's how many she'd sold) to hospitals and health care workers on the front lines of the virus. A hundred thousand. In a week.
It's easy to dismiss the mask as a fluke, an anomaly. But, Ellen quickly points out that we are watching our psychology and customs shift in front of our eyes. Face masks will not only be in common usage on airplanes and crowded environments, but it is probable that they will be required to wear in any kitchen. In 2020, a mask is as much a part of a chef's uniform as a funny hat, a hairnet, or an apron. Let's get over how weird, dystopian, and uncomfortable they are, because they're here to stay. So, why not innovate it?
I wanted to share this story with you for a few reasons. First, to remark how Ellen not only created positive change in her own life by being a resourceful business person, but how it transferred onto employees' livelihoods, hospital workers' safety, and public health. Capitalism can be a dirty word, but I don't think it's a binary either/or when it comes to having a successful career while also doing good for the world. Of course, there are egregious limits to that argument, but there are ways where everyone can win.
More importantly, Ellen's last month is a case study in preparedness. Entrepreneurialism is not just about work ethic and talent, although Ellen clearly has both. It's also about humility and discernment. I've watched Ellen's company weather the storm and through the years, she's stayed vigilant in the night. There are so many forces that are out of your control when it comes to business – you can't direct the trends, set pricing on materials, and you definitely can't predict a pandemic. But, the one thing that you do have control over is how observant you are of demands and voids, and how quick you are to adapt when the market shifts unexpectedly. Ellen was using a lot of wartime analogies in discussing her work – how she had to turn her factory around within days to be a hub for medical supplies. So, I started calling her Rosie the Pivoter.
How can you use your creativity to solve a problem in the world? How can you use your ingenuity and resourcefulness to answer the questions within? And are you willing to put in the work? A lot of people are counting on you, not just yourself.