If "Yea.Nice" sounds more like a passing phrase—the kind of laid-back affirmation that skaters, surfers, or boarders say to one another all the time—than the name of a burgeoning hat brand, that's the point. Founders JJ Thomas and Josh Sherman hope their well-designed, high-quality collection of beanies will evoke a sense of excitement and pride, not least because their company also works hard to give back to the community.
Five years ago, the two pro-snowboarders-turned-entrepreneurs launched Yea.Nice, intending to use their professional experience withstanding inclement weather conditions to make superior beanies. Along the way, the friends realized they could do more than simply make great hats. So they launched Beanies4Life, a one-for-one philanthropic program that donates beanies to their various homeless shelter partners across the United States. This year, they're on track to donate 50,000 beanies, all while growing their company and continuing to create an original, authentically designed product.
We spoke to both JJ and Josh about their brand, how they make their beanies, and the real story about the name of their company.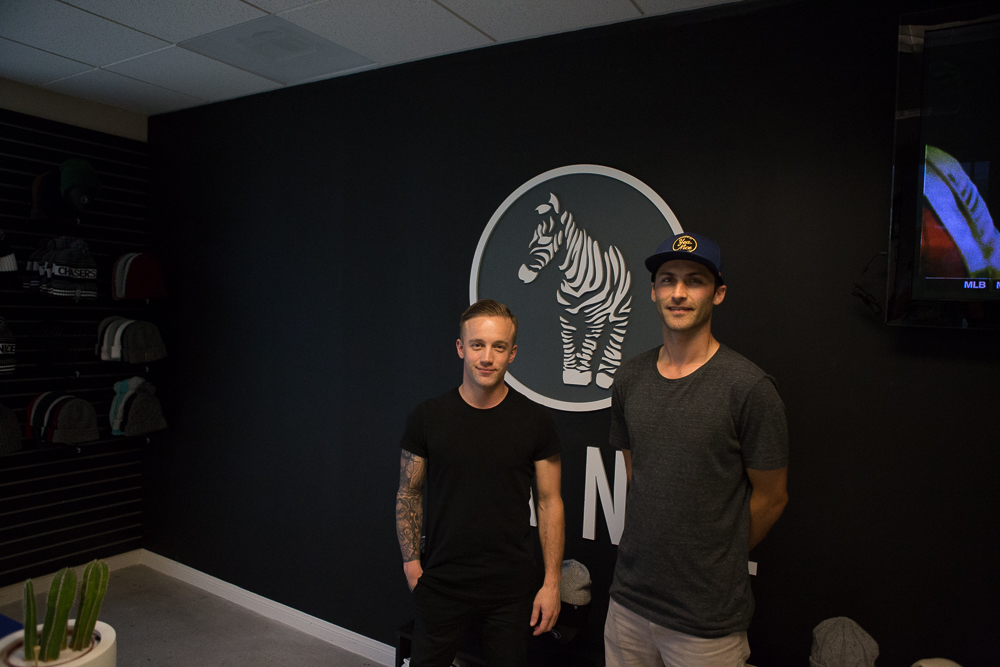 TIFFANY TSE: When did you guys launch your brand?
JOSH SHERMAN: We launched Yea.Nice on October 2, 2010, and hosted a launch party in Madison, Wisconsin, that included our family, dear friends, and great music. I believe the capacity was 400, but I remember we ended up having 450 people in there. My mom was literally selling hats in the back and we shut the place down to closing time.
Why is it called Yea.Nice?
JS: When I was searching for a name, I became really in tune with people's conversations around me. One day while snowboarding, I saw a guy riding away from a jump and heard his friend yell out, "Yea, nice!" to show his friend how excited he was for him—and that stuck with me. Later that week, I was in a skate shop and a girl handed a guy a product. The first thing he said to her was "Yea, nice," as his way of telling her he liked it. I realized the phrase was a unique way of expressing excitement, happiness, approval, and pride. It was two words that, when combined, meant a lot more than you'd think. There's no other name like it. I emailed the name to JJ and he loved it.
How did you guys meet?
JJ THOMAS: Josh and I met through snowboarding in Breckenridge, Colorado, where we were both professional at the time. I think we were on a photo shoot together and we just started rapping out and hit it off. Josh was a young kid who had just moved to town; he wanted to start competing, so we started going to a few events together and then we hosted a signature session up at Windells Camp. That's when we both decided we should get into the business side of things together. We sat on Tim Windell's porch every afternoon talking about names, categories, and different strategies, but it didn't come about quickly. It took us about a year from that initial meeting to come up with a name, logo, and category that we were happy with!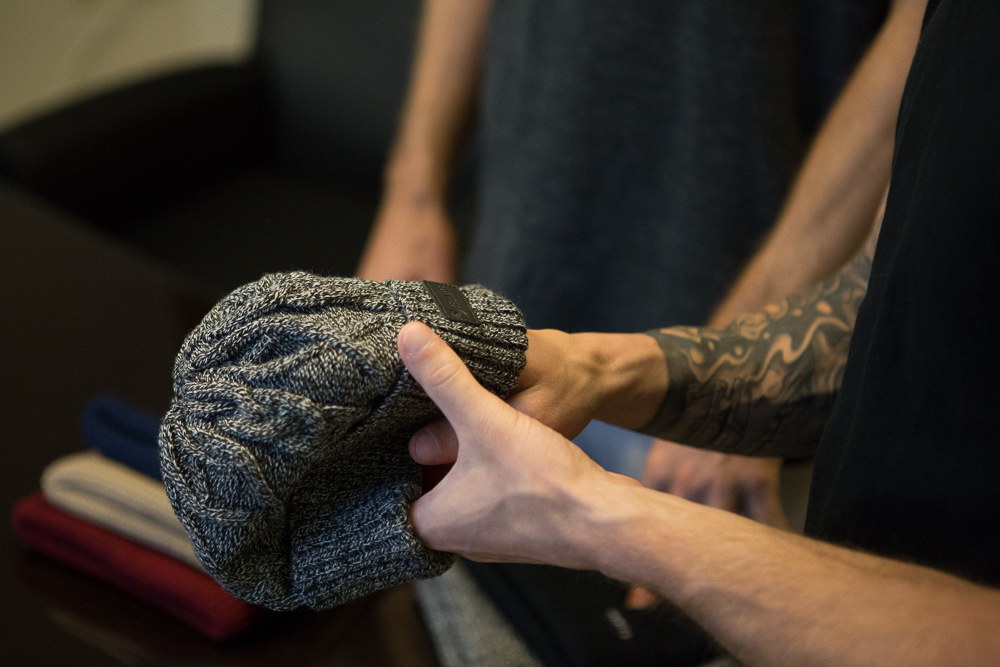 "WITHOUT OUR SNOWBOARDING HISTORY, WE WOULD'VE NEVER STARTED A BRAND. THAT PROVIDES US WITH AN AUTHENTIC MESSAGE THE CONSUMER CAN BELIEVE IN."
What makes Yea.Nice different from other brands in this space?
JJ: What separates us I think is the simple fact that we've been on the other side of the coin when we were pros. I saw the whole business side of things go down for a good 10 years or so, and I took what I liked and didn't like from all the companies I rode for and applied it to Yea.Nice.
JS: We specialize in making high-quality beanies and do not produce products in other categories. A lot of other brands consider beanies something they throw into the line as an afterthought, and then produce multiple other categories such as watches, sunglasses, board shorts, outerwear, and gloves. By keeping our focus on one, we're constantly thinking of ways to make the beanie fit better, provide premium fabrications, and push innovative ways to make a superior product. So a big part of what separates us is our dedication to quality through specialization.
The next is authenticity—a word a lot of brands use, but, like JJ mentioned, we used to snowboard for a living. We were forced to bear harsh winter conditions in a beanie, and without our snowboarding history, we never would have started a beanie brand. That provides us with an authentic message the consumer can believe in. Last is Beanies4Life; we created a philanthropic one-for-one program to help homeless people across the country face cold winter conditions with distribution through our shelter partners.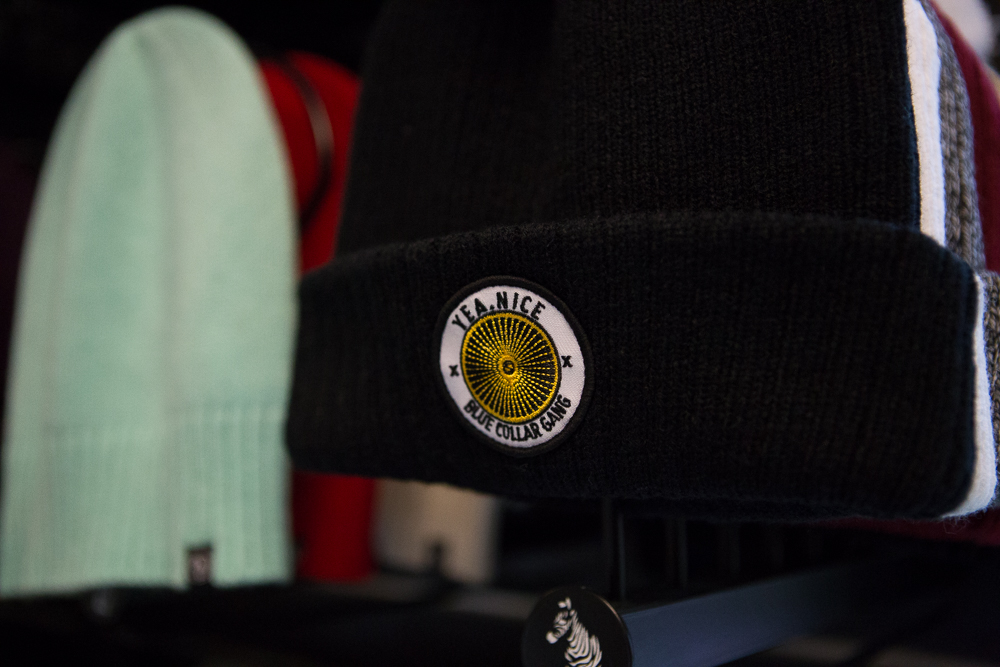 Can you tell me more about Beanies4Life?
JS: JJ and I used to fly out of Denver a lot during our snowboarding careers and we'd see homeless people on the streets at nighttime when it was five degrees outside. After some research we discovered that thousands of homeless people die each winter due to hypothermia. About 578,000 people in America experience homelessness and 31% of them in 2014 never made it into a shelter, meaning 131,000 people were forced to sleep outside in the winter with 7.8% of them being children unaccompanied by adults and 9% being veterans. Even worse, we knew for a fact that no matter how many emergency homeless shelters there are during the winter, some people will still have to sleep outside. It's inevitable, so we wanted to make sure that at the very least they had a high-quality fleece-lined beanie if they can't make it inside.
We launched Beanies4Life: For every beanie sold on Yeanice.com, we match them with a one-for-one donation and ship a beanie to one of our many homeless shelter partners across America. Last year, we donated 24,000 beanies and this year, we're on track to do 50,000 beanies. We also partnered with Mike Smith; he's the face of our program and speaks to over one million high school kids every year about how they can help the homeless in their community. He is the founder of Skate For Change, which has over 100 chapters in the U.S. of kids who skate in their community with backpacks filled with water, socks, and beanies to give out to people in need. Then we partnered with Tilly's and Active Ride Shop as our two retail partners and we match every beanie they sell with a donation to our shelters on their behalf. Beanies4Life is a phenomenal program that I'm very proud to have created and be a part of.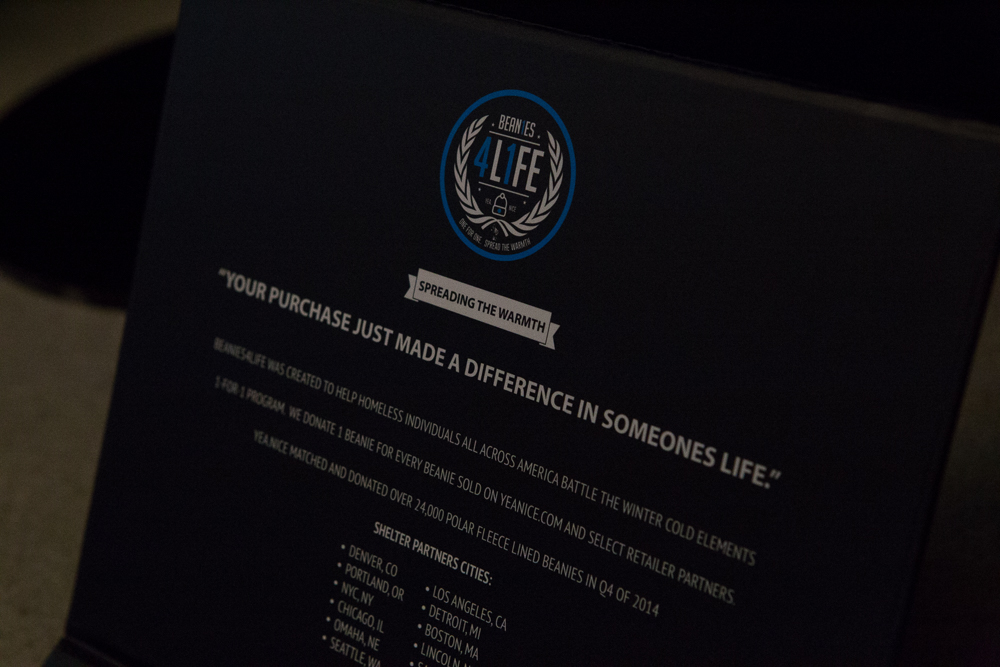 Will you ever expand beyond beanies?
JS: We have no intention of expanding beyond beanies. We did patent a very unique face mask that we trademarked The Hollaclava; it's technically not a beanie, but serves a similar purpose.
What makes a high-quality beanie?
JS: It comes down to fabrication. Our beanie line is broken up into three yarn stories: 100% cashmere, wool, and acrylic. Each have their own price point and live in separate retail channels. When you wear a 100% cashmere beanie, it feels amazing. Other things that complement a high-quality beanie after you use premium fabric is color, ribbing, and fit. All of those elements used with the right mix give you an incredible look and feel.
Many athletes and celebrities have worn your brand already, but is there anyone whom you'd get really excited about if you saw them wearing a Yea.Nice beanie?
JJ: It's really cool seeing famous people wear the product because they have huge followings and it's good for the brand and all, but I honestly get the most excited when I see normal people rolling around in our beanies. Like the other day at the beach, I saw this little grom rolling around with his squad and he had on a brown folded Yea.Nice beanie on his head. It looked so sick on him, and that's what makes me the most stoked—when I see people whom I don't know and they're wearing the beanies and looking and feeling good in them. That gives me the most enjoyment.
JS: I'd be really excited to see someone like Mark Cuban, Guy Kawasaki, or Jared Leto in our beanie.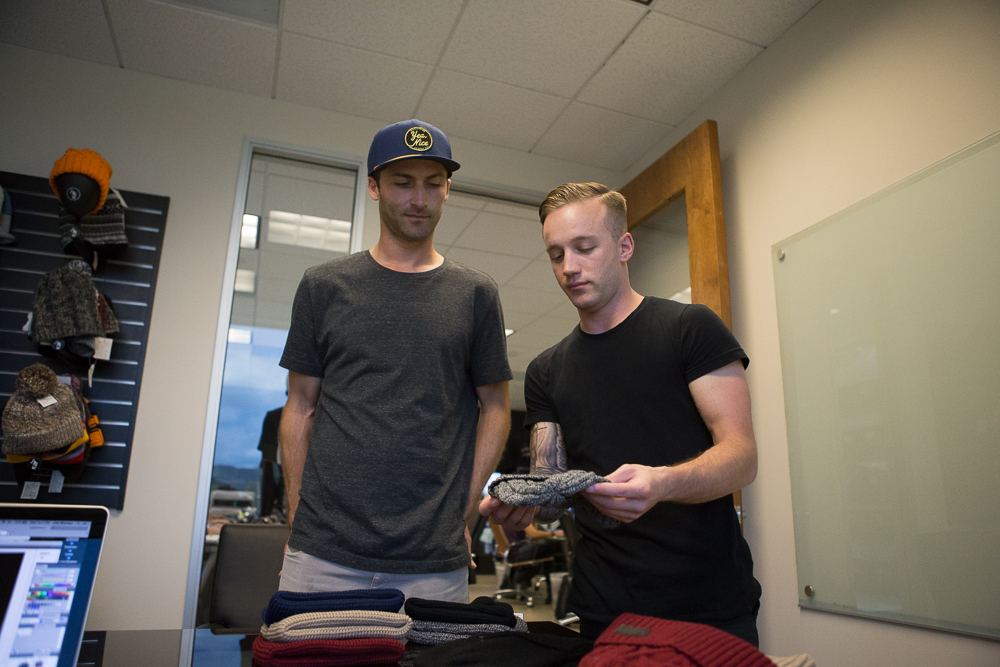 Who would you love to collaborate with on a limited edition collection of products?
JS: Google would be cool. They are starting to build technology into fabrics and it'd be unique to see how a beanie could integrate their tech with something we've never seen before.
Can you tell us a little about your design process?
JJ: The design process is probably the most fun part. That's where we can get the most creative and really look at fabrics, colors, and fits we want to incorporate and then try it out. Once it comes back, we see what we like and start making adjustments or cutting pieces altogether. It typically includes Josh and I sitting down at his desk, going over what we both want to see. From there, Josh makes it a reality by whipping up tech packs to send off.
What do you want your brand's legacy to be?
JS: To be the best beanie company in the world with no one in our rearview mirror.
 ***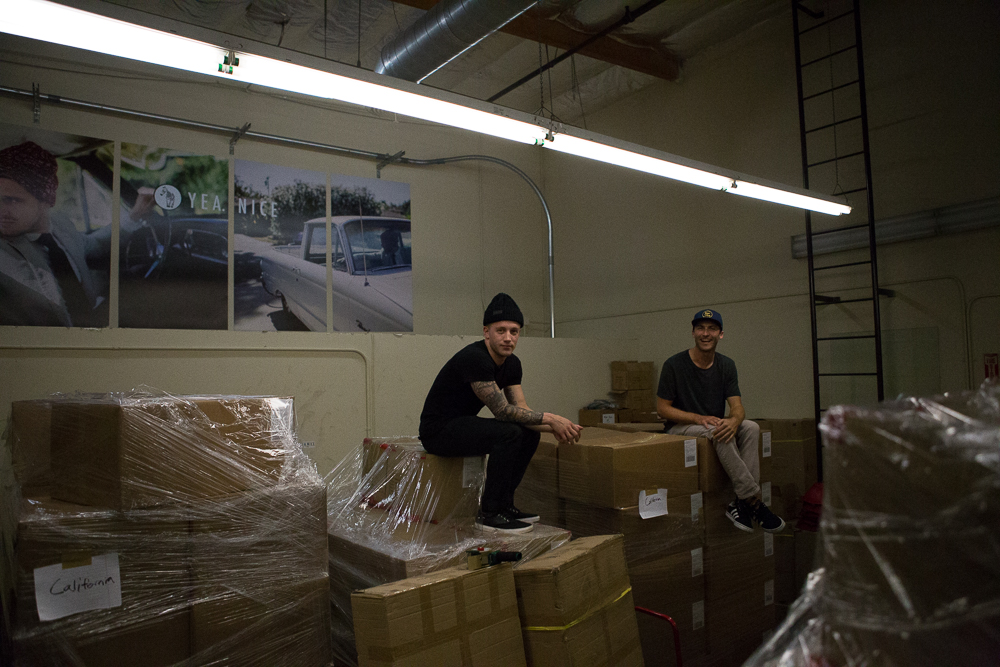 ::