It was a sunny Friday in Oakland at the barber shop. I told my music-obsessed barber that I was interviewing Erk tha Jerk. "So, does he sound real Bay?," he asked. "No," I told him, "He just sounds like, him," I explained. My barber went on, "Man, I remember that one song with the smooth singing hook, but I think that's all I know. Does he do a lot of singing?"
I smirked. "This dude does it all."
And this is a fact. As sure as Dwayne Johnson could beat you arm wrestling, Erk tha Jerk is one of the best artists in the game that you're probably sleeping on. Consider this your alarm clock with no snooze. Get up! You have listening to do. This dude possesses the five-tools of rap. In other words—he's the player you don't pass on. The Richmond, California, native is fresh off the release of his fifth full-length album, Airplane Mode, where you find Erk in the cockpit of your flight-of-fancy for the times when rap was still exciting.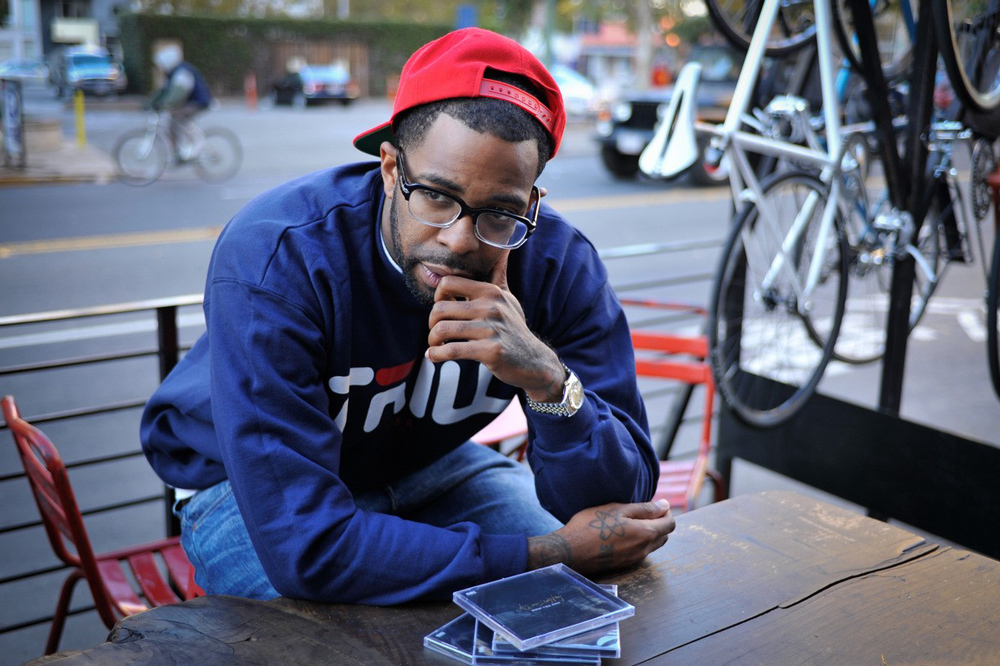 Ladies and gentlemen, this is your captain speaking. Today's weather is mild as always, but as we descend into trillness, you can expect smokey skies, hot beats, compelling content, a gravelly voice, and style for days.
I sat with Erk tha Jerk at a vegan coffee shop in Oakland's bourgeois Piedmont neighborhood (a location I'd arranged because of its irony to host us). The cafe was so cool that they didn't have wifi—all the better for the well-to-do couple to interview nannies at the table next to us. But tangible cool was provided by Erk's presence. Standing well over six feet, he sipped the world's daintiest macchiato. Smirking, I asked if he considered ever not being such a jerk, to which he joked, "No."
"…I'M NOT RUSHING. I WOULD LIKE TO DROP SOMETHING NEW EVERY MONTH OR EVERY WEEK, BUT YOU JUST DON'T MAKE GOOD FOOD LIKE THAT."
In fact, he's anything but. "Energy is everything," he spouts on aptly-titled hitter "Smoke & Ride." His energy is that of an artist's artist. Constantly in the lab in working on music he wants to make. Those energies focused on an honest piece of work, rather than a product for the market. "I take it a step further, because I'm not rushing," he explains. "I would like to drop something new every month or every week, but you just don't make good food like that." An apt analogy for the focused artist.
As he's explaining it to me—hands gesticulating—I'm taking in how much fervor he has for his craft, for his finished project. I use the next moment to slip in the anecdote about my barber's inquiry as to whether or not he's a (stereo)typical sounding Bay Area rapper. As if in the closing minutes of a moderated debate, Erk's quick to respond. "That's one of my biggest gripes with making music or making art, in general, because people associate you with a region, but, when you transcend that region—then they say, 'Oh, he's an artist.'"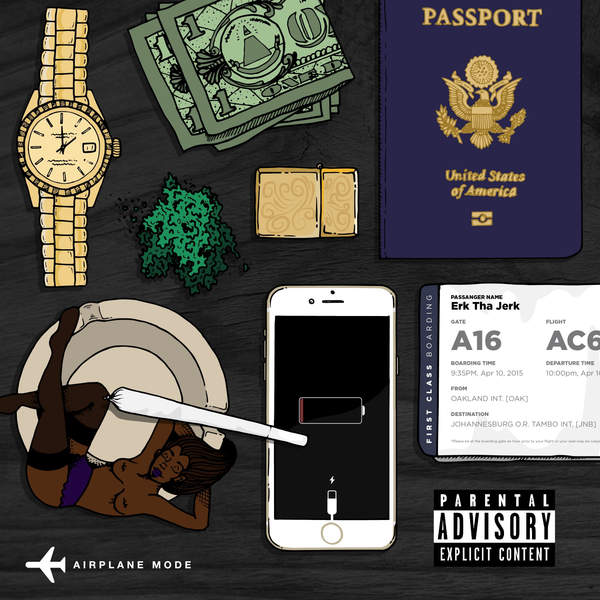 He goes on posing the rhetorical question of whether Jay Z is just a Brooklyn rapper, or is he an everyone rapper. The answer is quite obvious. As he explains further, I'm nodding in furious agreement. "Art can just be art," Erk says. "I've never drowned anyone out with a Hyphy sound, or an overly Bay sound. If you know any project of mine, it was never heavily influenced by any one regional genre. [Airplane Mode] is purposefully done. I grew up on so many styles of music, and rap in general, that it's all there. It's all in my music."
Good food is Erk's thoroughly enjoyable 2014 EP, Junk Food & Vegetables, which Erk describes as a bit more for the esoteric ear, remarking that it's so in-depth that it could make listeners afraid—a notion that I scoff at. The staple motif of the collection are tracks like "Nobody's Watching," where Erk spits over an austere melody, whose drums don't even populate until the second verse. It's conceptually broad, lyrically witty, positively futuristic, and fuckin' tight. He raps, "Where'd you get that beat from? / Rollin' on pine / In a high-rise on my new iPhone nine / I should probably sleep some."…But not be slept on. He tells that he recorded Airplane Mode at the same time as Junk Food & Vegetables to give the opposite feel the languid pacing of the EP's offering.
Aside from being blasted with Erk's undeniable rap-acumen on Airplane Mode's "Swear to Gawd" and "So Amazing," the fully-formed universe of an album allows Erk tha Jerk to display the gamut of his talent—a tableau where passion and skill form a marriage of good listening. Everything you like about rap is in Airplane Mode.
Each successive track offers the listener that time for epiphany. New track? Yup, also good. The album opens with the one-two punch of "Monumental" and "All the Time," which showcase the emcee's uncanny ability to chop it up at speed, and ride a beat with a steady lyrical cadence.
"Monumental" sports a soulful and syrupy beat backing a'la production duo Tagteam, slowing you into a hazy room, before exploding you with rap-confetti. The intimate bass line and chorus-laden sample are reticent of older Kanye beats. Erk introduces it with a "Welcome," before telling you, "This the shit my daddy used to smoke," like a fitting metaphor for the experience of listening to Erk in general—where the vessel of rap is familiar, but the listening provides that dose of those core elements you've missed about hip-hop, (and they still sound so, so good).
After asking Erk what some of his favorite cuts on the album are, he lists for me a few including the Too $hort feature, "Callin'," and my favorite, "All the Time." I'm fuckin' incredulous when he tells me he produced it. "I made that beat top to bottom," he says. "…all the breaks, and I threw the extra hook in there. I'm just imagining this crowd participation song for the stage." And it will work so well, I presume. But Airplane Mode is not fully for the one theater. In its rap sub-genre, mash-up renders it fluid in terms of best places to experience: Like Erk says, it's all there from the hitters for the whip, to the contemplative joints (without that J-Cole preachiness) for the headphones, to the classic smoke-n-rides. The enjoyment potential is sky high.
***