Last week, news broke in Hollywood that Paramount Pictures had purchased an idea for a movie from one of the most unlikely sources on the Internet. It seems the brain trust behind the globally successful website WorldStarHipHop, the hub that's brought you viral videos like "Girl Gets Hit In Head With Shovel," "The Stuff Coochie Make You Say" and "Damn: Dude Straight Knuckles Up With a Girl!" is ready to yell "Action!" (or just "WorldStar" repeatedly) on their very own feature film. Now it's important to at least understand that WorldStar's traffic is somewhat unprecedented. The site's founder, who only goes by the letter Q ('cause that's apparently a name you can pick), basically created a YouTube for the streets, often called "CNN of the ghetto," by mining user content uploaded to the website, and also just straight stealing videos from other outlets on the web and mirroring them onto WorldStar. The posted clips focus mostly on fights, risqué / hood music videos, live hip hop performances, and just old fashioned goofy shit that people want to watch. Some have claimed his work to be racist and exploitive, while others have it as their homepage. But no matter what you think about it, you can't deny its staggering success. WorldStarHipHop averages 1.1 million unique visitors a day, and is the 247th highest trafficked site in the US and 983rd worldwide. That's a lot of people watching the new Lil Terrio video.
With numbers like those it's no surprise they're branching out beyond the site, as they've also recently released an apparel line of logo tees, hoodies, sweatpants, and hats—with an impending women's line on the way. The website also added a documentary short series amongst its traditional viral videos, but the view count is nowhere near what the company is used to. And now with rumors they've partnered with Cartoon Network on an upcoming animated TV show, things are sure coming together for WSHH. But making the jump from a website that posts 30 second clips of cheerleaders fighting outside of a high school to a full-fledged movie producer isn't exactly how Orson Welles did it. They're going to need some help – and that's where I come in. I've compiled a list of original pitches – exciting movie ideas – for WorldStarHipHop to bring to their newly formed business relationship with Paramount Pictures. Consider it a favor, but if you use anything, I am repped by 3Arts and CAA, and have a super Jewey lawyer. So here we go...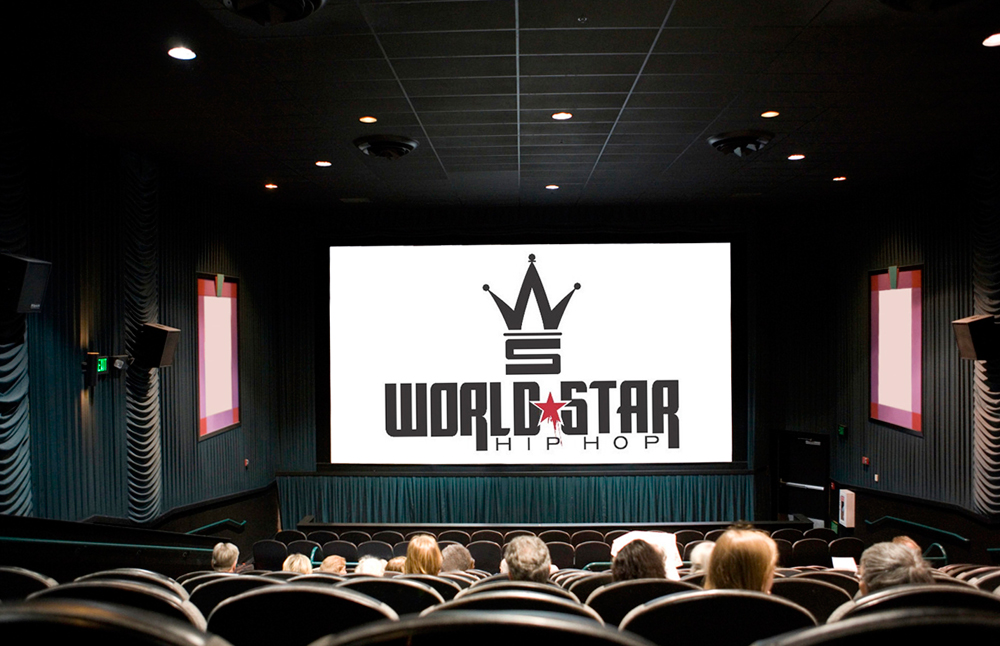 ::
Untitled DJ Khaled Super Hero Movie
The hip hop superstar who doesn't actually DJ, doesn't actually produce, and doesn't actually rap can actually save the world. You'll finally stop asking, "What does this guy do anyway?" as he swoops in, flying by to save the day and your life. He cultivates his super powers by just hanging near more talented superheroes and yelling around them as much as he can. It's like if the Avengers had one member with Tourette's Syndrome. Keep this in mind though; the first film is just a set-up for a follow-up sequel, where Khaled will crossover to team up with Groot from Guardians of the Galaxy in a film entitled, Tree The Best.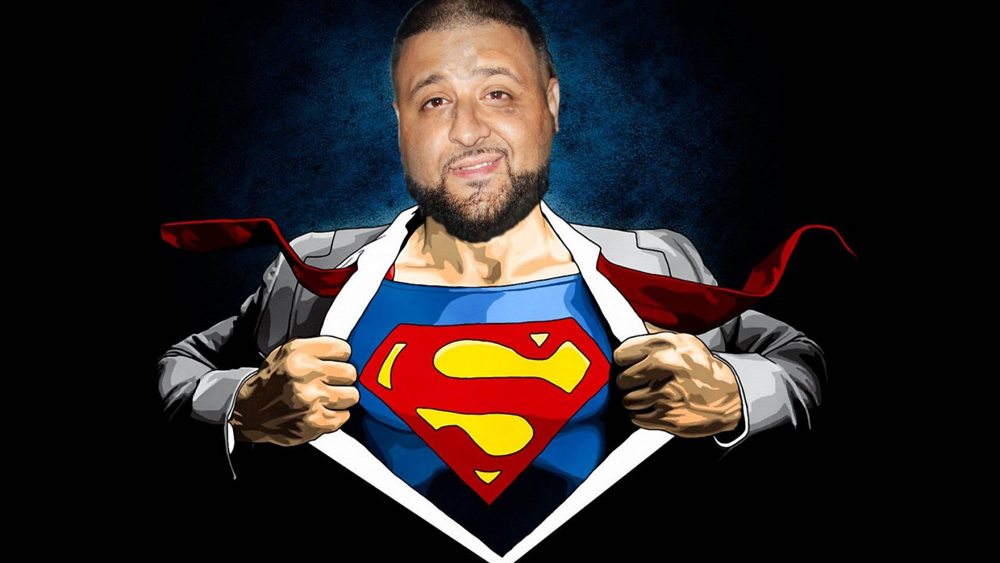 ::
The Miracle Twerker
Loosely based on the 1962 film The Miracle Worker, which is the story of teacher Anne Sullivan's selfless work with Helen Keller to help her to communicate, The Miracle Twerker updates the tale for 2014. Cinnamon is a stripper from Chicago who has dedicated her life to teaching a deaf and blind young girl how to properly twerk. Cinnamon's struggles center on the fact that the child can't hear the music or actually see what happens to your butt during the dance, but her charitable nature never allows her to give up. The films ends during NBA All-Star Weekend, when the handicapped child finds herself on stage at a French Montana concert, forced to finally show what Cinnamon has taught her. I'm not going to give away the ending, but this movie is a surefire Oscar nominee.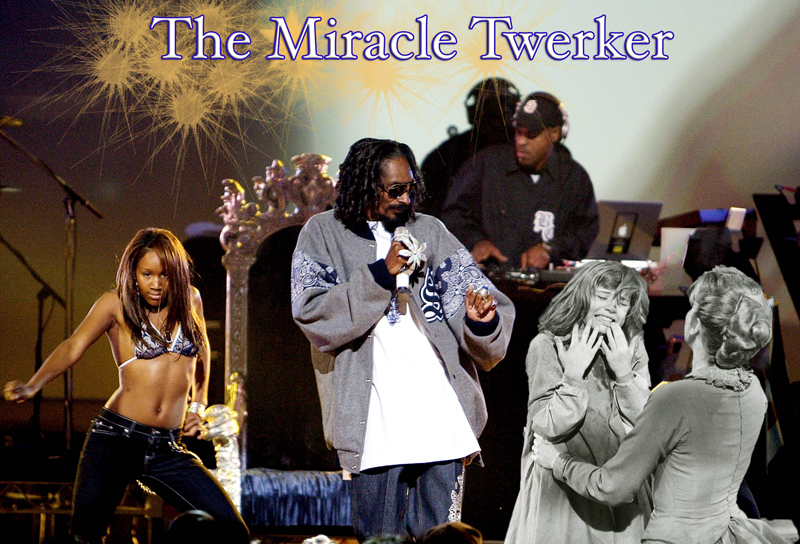 ::
Boy Meets WorldStar
With the recent return of Boy Meets World and the success of the Teenage Mutant Ninja Turtles reboot film, the resurgence of the '90s is hotter than ever. WorldStar should take advantage of this trend and cast Ben Savage and Danielle Fishel to star in their first feature film. The plot of the movie would find Cory and Topanga on a road trip in an attempt to meet some of their favorite participants in memorable WorldStarHipHop videos and recreate the clips. The duo would track down Sharkeisha, start to interview her, then sucker punch her and run. They would also attempt to make a shot-for-shot remake of the Nelly "Tip Drill" video, the granddaddy of all uncensored videos, where the rapper slid a credit card down a dancer's butt crack. Topanga would attempt to be posted on WorldStarCandy, a division of the site that features photos of music video vixens – only for Mr. Feeny to stumble across it while hoping to masturbate online to his favorite iCandy. Look for numerous RiFF RaFF cameos that actually weren't planned – he just keeps showing up to try and have sex with Danielle Fishel.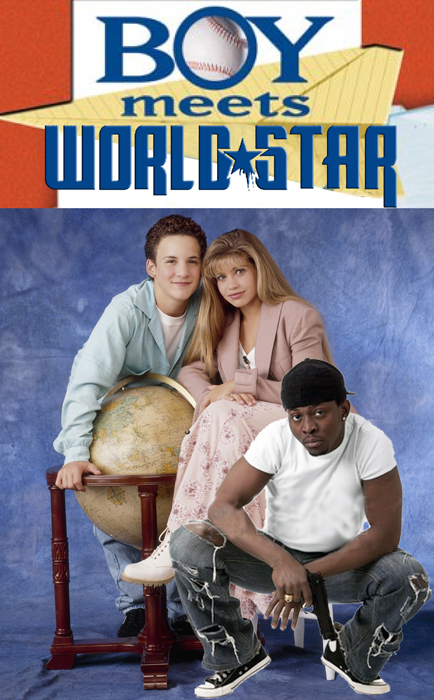 ::
Jackass & WorldStar present Rappers You've Never Heard Of
Both Jackass and WorldStarHipHop are infamous for their hilarious pranks, but for their movie collaboration they'll actually take the genre in a totally different and more annoying direction. Instead of depending on violence or shock for pranks, unsuspecting victims will be cornered by 1000s of different unsigned and unknown rappers on the street, forced against their will to listen to mediocre tracks about selling dope and being in a club. There will be nothing these innocent men and women and can do to avoid it, since these rappers will take up 80 to 85% of the screen, despite the fact they just want to see someone get hit in the nuts or an illegal boxing match that takes place outside a Jiffy Lube. The movie, in an almost Fellini-esque analogy, will be a perfect metaphor for what visiting WorldStar's website feels like. Also, the soundtrack is unbearable.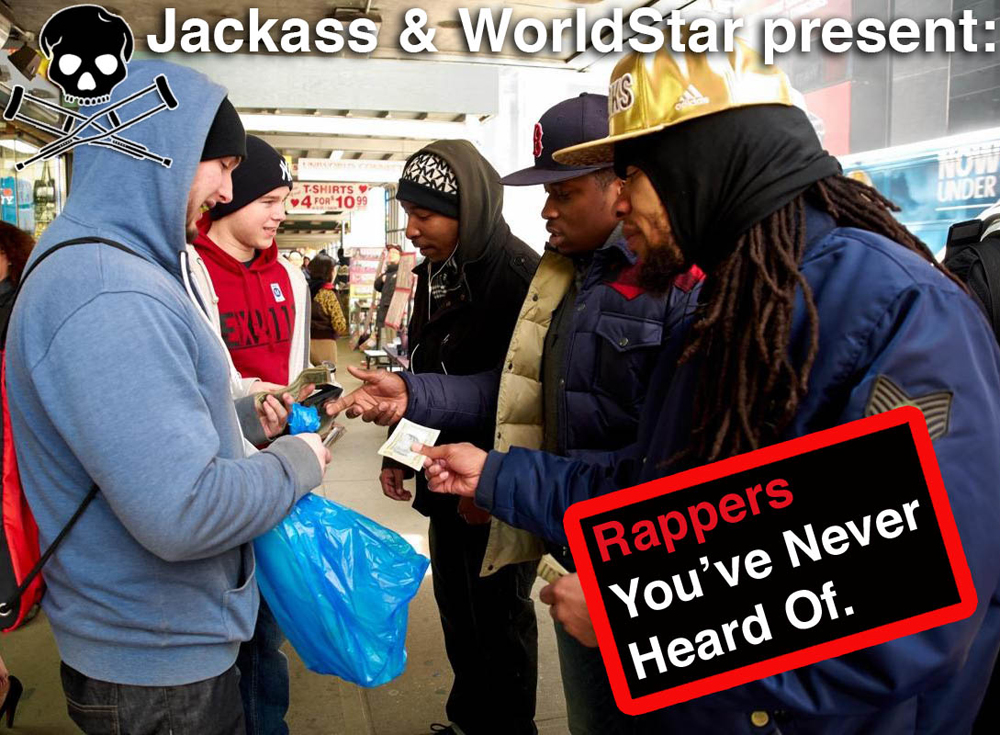 ::
Tyga Gets His Chain Stolen
Based on the very popular clip of a similar name that debuted on WorldStarHipHop in 2008, this documentary will tell the story of this forgettable moment in hip hop, but from the perspective of Tyga's necklace. See what it's like to hang around the neck of a rapper, then be yanked off by a random guy in a neighborhood you should've never have pretended to be from – all from a first-person point of view. Watch as Tyga cries while you're sold to That One Pawn Shop near the Fox Hills Mall and then repurchased by his label at double the price to save his credibility. A revolutionary step in documentary filmmaking, Tyga Gets His Chain Stolen is cinéma vérité at its best, but also a total waste of time for the moviegoer and filmmakers. Consider this Michael Moore or less.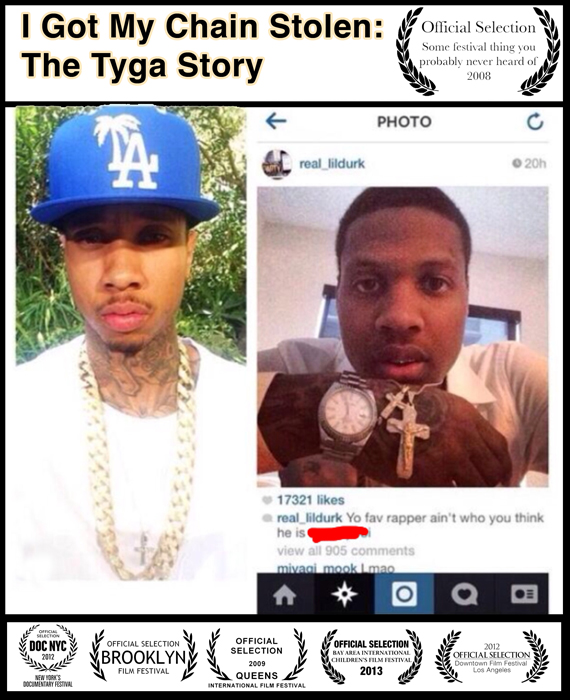 ::
The New Teenage Mutant Ninja Turtles Movie
This is not ANOTHER Teenage Mutant Ninja Turtles reboot; it's the actual one that's already in theaters. But just like most the content on WorldStarHipHop, they will steal the movie in its entirety, put it in theaters, and then pretend like it's their own. This is a surefire way to connect with audiences and capitalize on other peoples' hard work without giving any credit. And keep in mind, you can't get cease & desist letters in Thailand.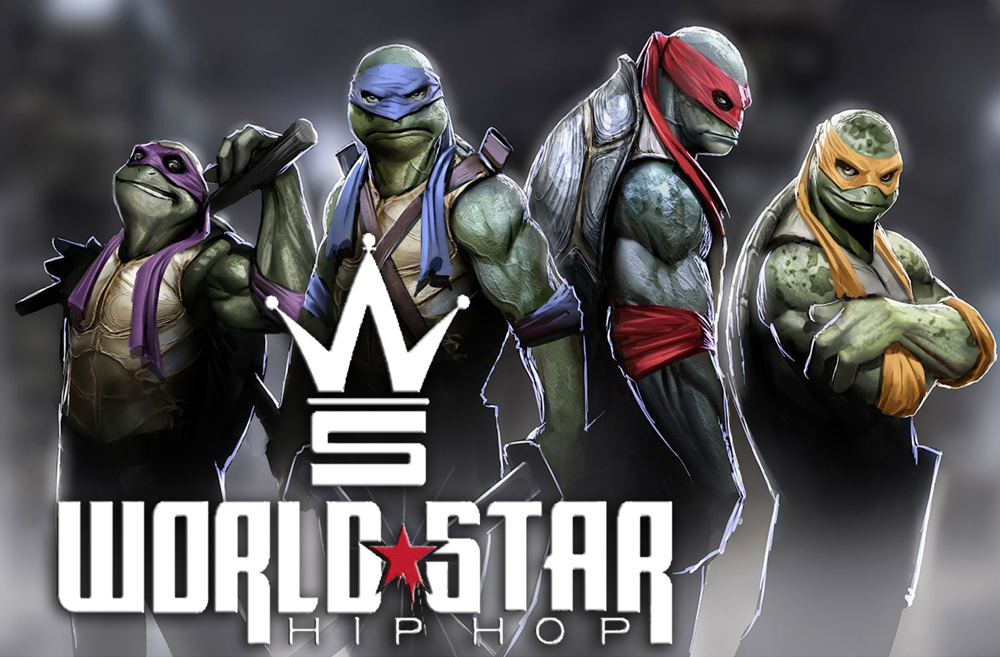 ::
Pretty Woman 2: The Kat Stacks Story
One of WorldStarHipHop's most notorious characters is professional groupie Kat Stacks, who has aired out rappers like Lil Wayne, Soulja Boy, and Bow Wow on the site to such success that she got a "Queen of WorldStar" tattoo and was managed by Q for a short amount of time. She's admitted to being an escort and basically puts a rapper on blast every time her name appears on a confessional clip. But for this possible blockbuster, Kat Stacks will meet a John that is ready to save her from this life of sexually questionable behavior. In this sequel to the Julia Roberts love story, Kat will be wined and dined by a business man, and despite her better judgment, fall madly in love with him. At their wedding, right before she says "I do," she will be deported by US Immigration, leading to a future torture horror sequel called Kat Stacks Goes To Guantanamo Bay. This could be the WorldStar / Paramount franchise they so badly want.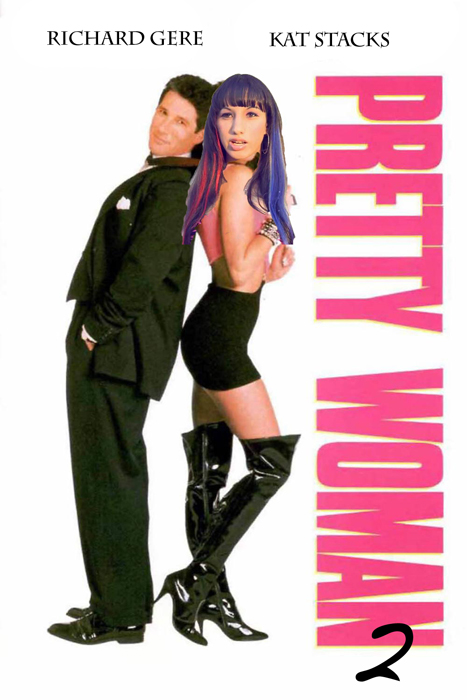 ::
Ratchet: The Musical
In the spirit of Rent and Les Miserables, WorldStar goes Broadway with this musical, incorporating the site's grassroots, but now with lyrics by Sir Tim Rice (Lion King, Evita, Jesus Christ Superstar). The movie will follow Q's real life journey in creating WorldStarHipHop, starting with porn sites and eventually just stumbling into what is easily one of the worst designed and luckiest Internet phenomena of all-time. Musical numbers like "I Guess This Will Work," where Q finds a free website template from a public domain library to create the dot com, and "Typos Are Fine," will impress audiences worldwide. Other highlights include "Let's Exploit Women" (which incorporates the world famous Rockettes, now named the Rachettes) and the rousing finalé, "This Is The Exact Opposite of What Martin Luther King Jr. Was Talking About." Celebrate the tradition of musical theater and join in on the sing along now.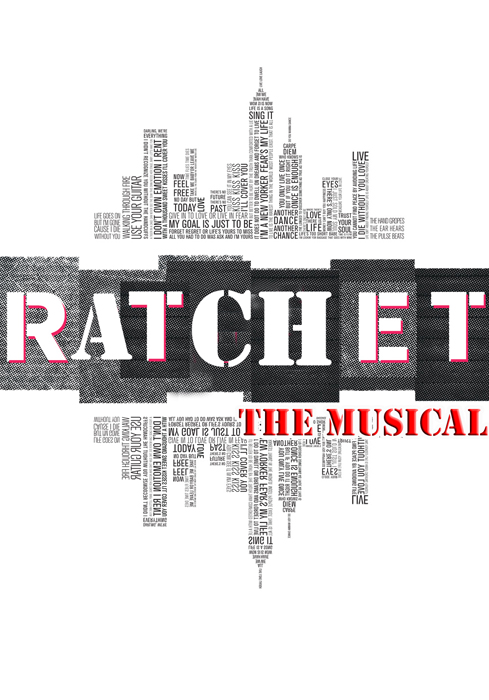 ::
Punch Drunk Love
Yes, there's already a movie called Punch Drunk Love, but I'm just going to assume Q isn't into Paul Thomas Anderson flicks. It's a good title, and honestly that Adam Sandler snoozefest will pale in comparison to this movie where we just watch people get punched in the face over and over for 85 minutes. Some of the victims will know the punch is coming, others will be completely surprised by the violence. It won't matter because it's going to fucking rule either way. The movie will be scored by Mike Will Made It's cousin, Stephen Will Made It, who just bought a drum machine from Guitar Center last Thursday. The best part of this idea is that every punch will be accompanied by someone yelling "Worldstar" – and that person is Morgan Freeman.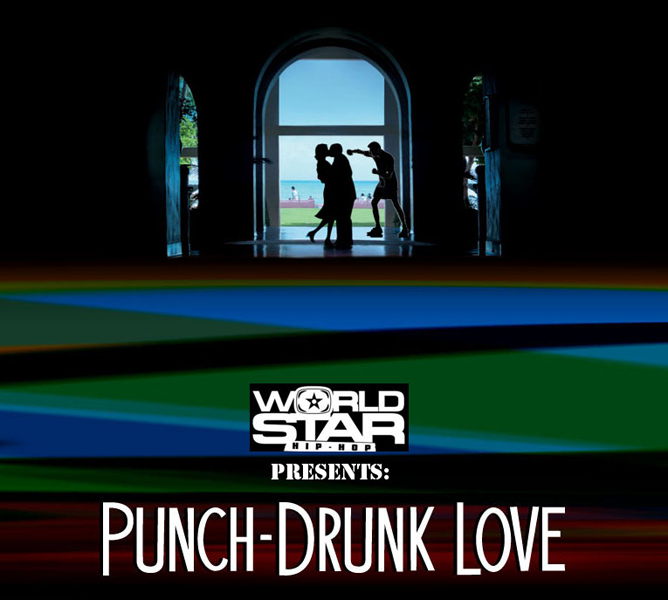 ::
Have your people call my people, Q, cause I've got a million more where these came from and Hollywood is waiting. Let's get this paper together.