I've lived in the UK my entire life, but I'm very much a product of America. 99% of the music, film, sports, and all-encompassing pop culture that I grew up with in the '90s was imported directly from the States – so whenever I've had the chance to visit across the pond, it weirdly feels like I'm coming home. About a month ago, a couple of homies and I embarked on an "inspiration gathering trip" over to NYC to soak up as much of the city as possible. In essence, it was an excuse to take a break from our individual grinds, and more importantly, an opportunity to harvest some fire #content for our respective Instagram feeds.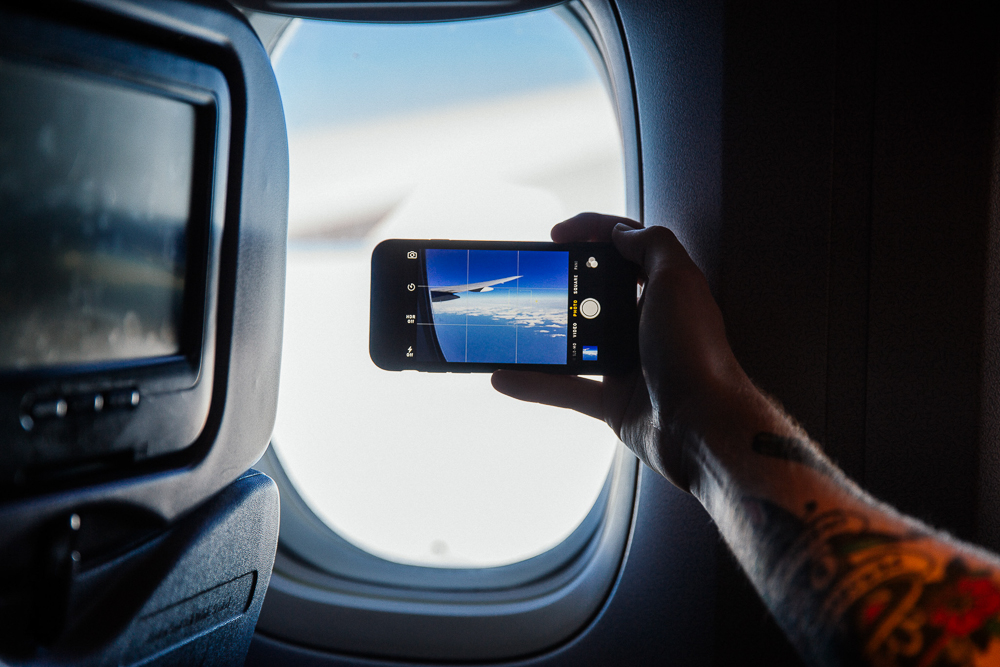 Admiring Greenland from above.
Between us, we tried to document as much of our trip as possible. Jordan handled digital duties, whilst I fired off some film on my 35mm point and shoot for good measure. We had all angles covered.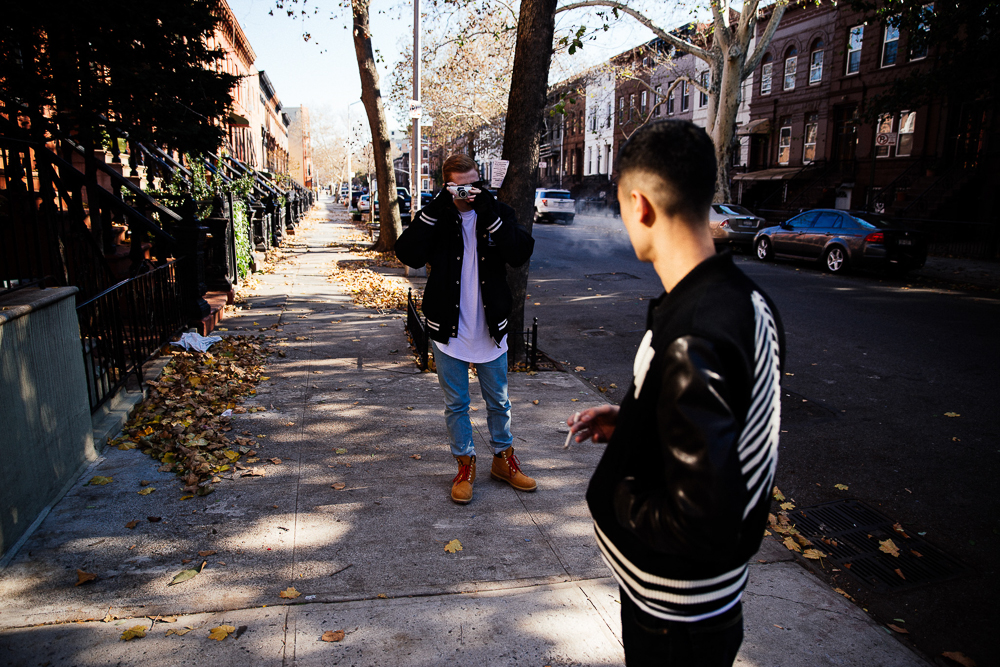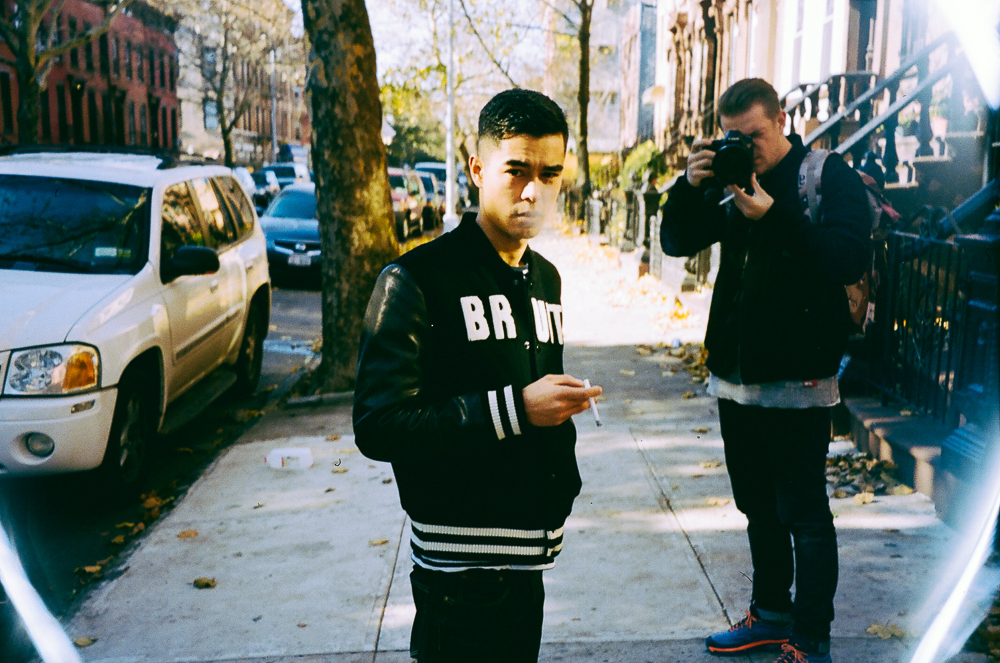 Samsun Lawson :: Quincy St, Brooklyn
Last time I was over in New York City I stayed in a hotel looking out onto Times Square, like a textbook tourist. It was cool, but this time I suggested staying out in Brooklyn for a change of pace and ultimately different experience. Best. Suggestion. Ever.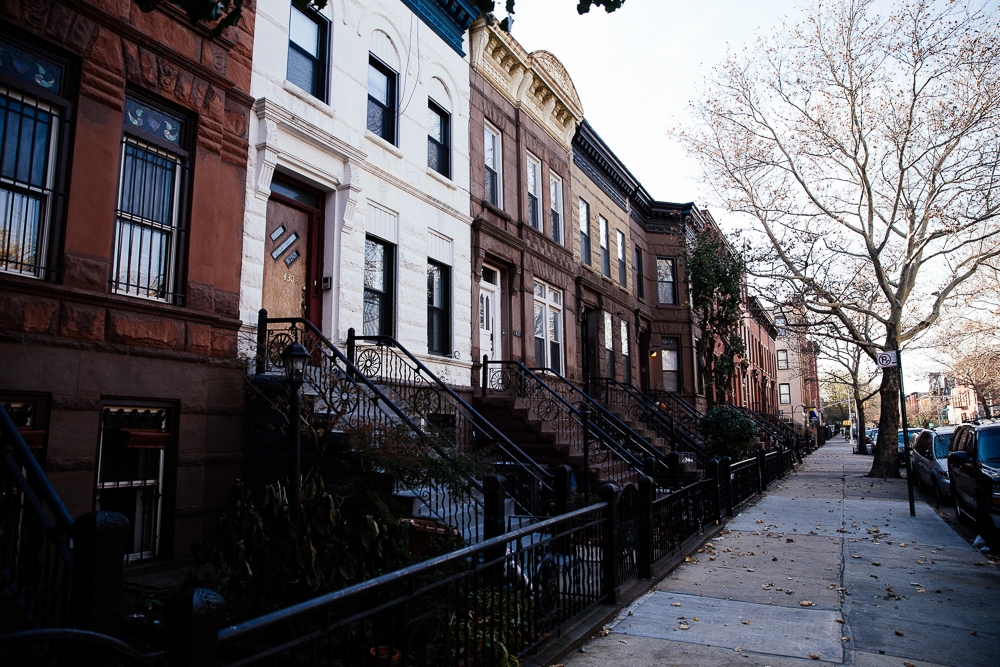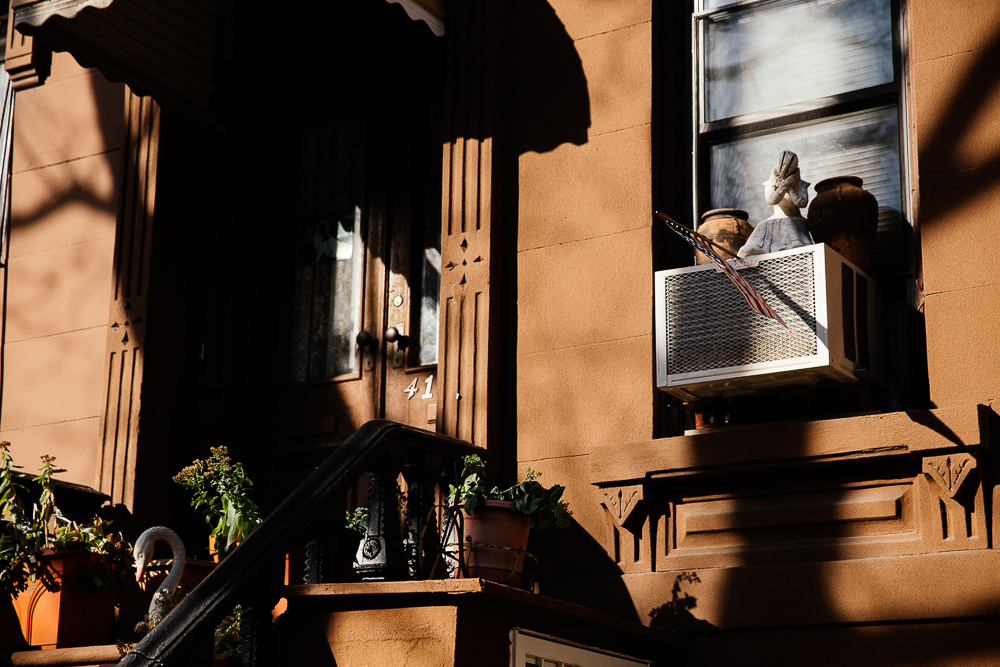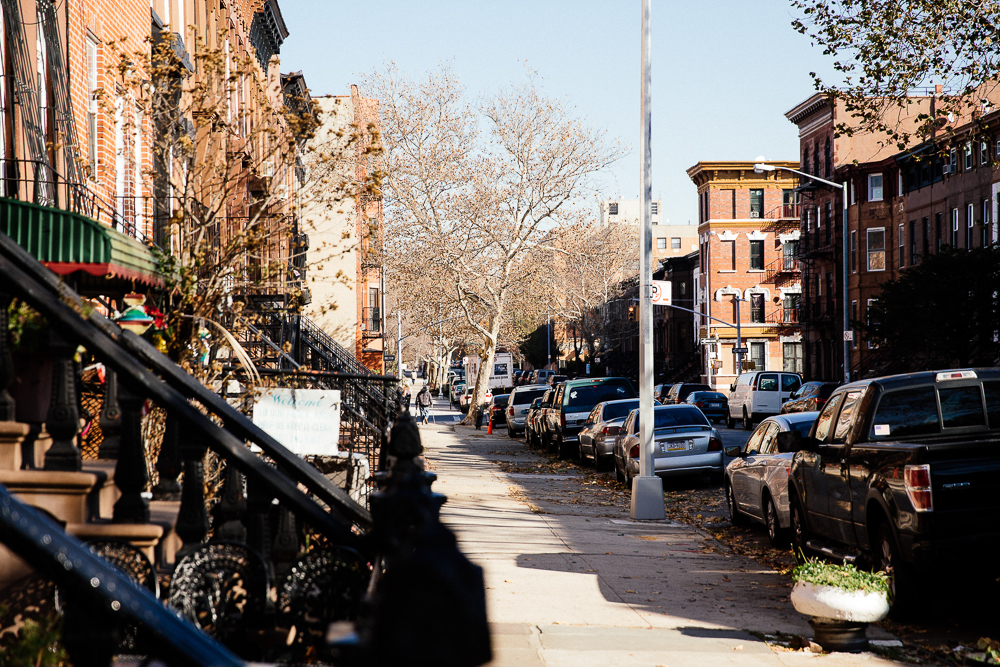 Considering tales we heard about how sketchy Bedford-Stuyvesant was as recently as 5 or 10 years ago, our first impressions were beyond welcoming. Almost every local we crossed paths with would wax lyrical about how much the neighborhood had developed in recent years. And they're right to be proud. This part of town is full of hidden gems, with an equally warm community to match.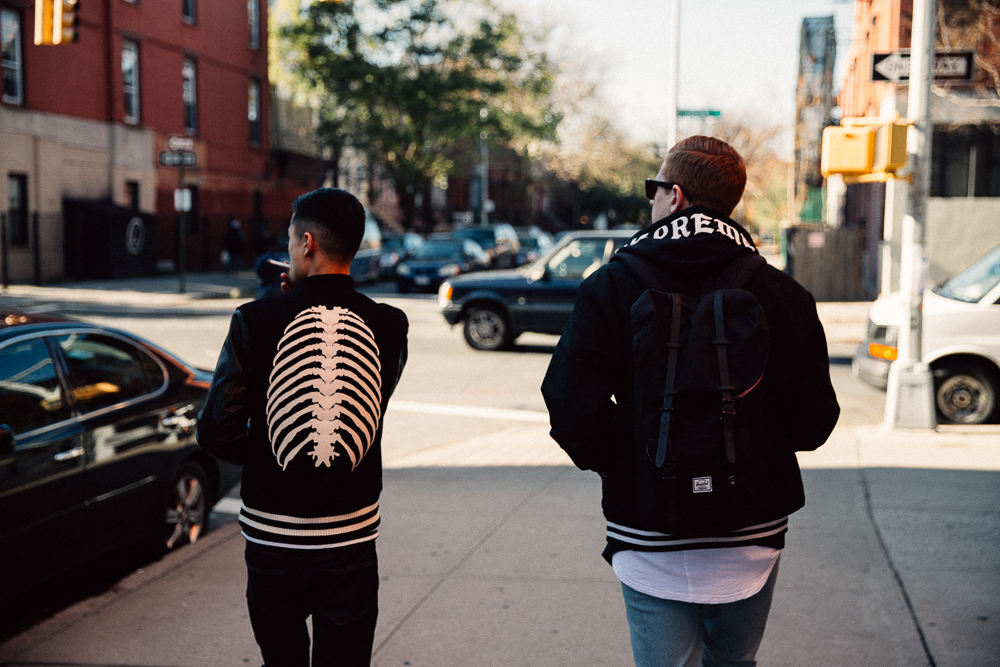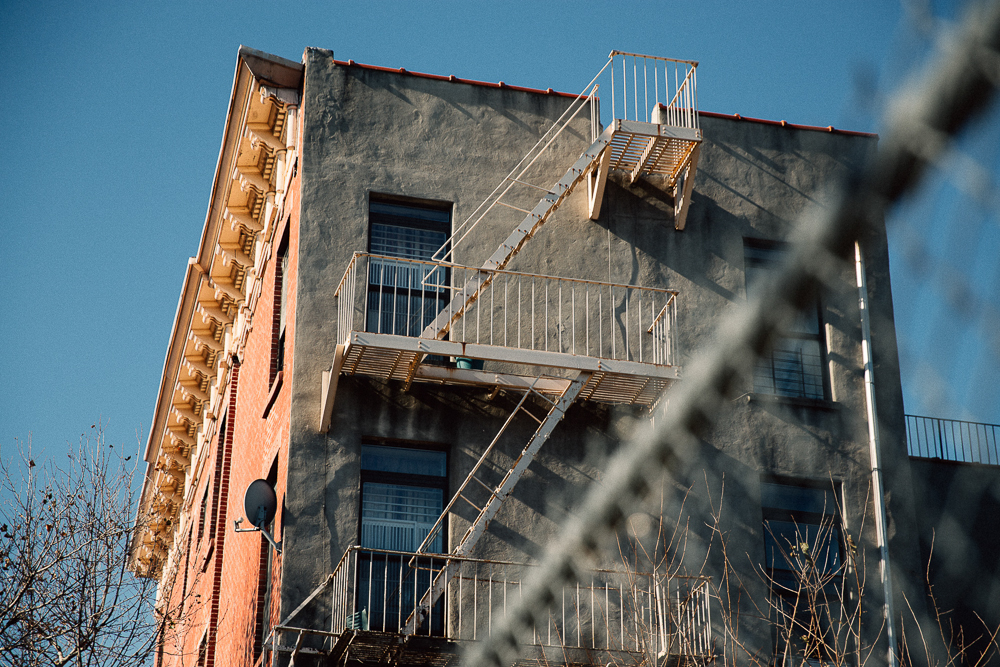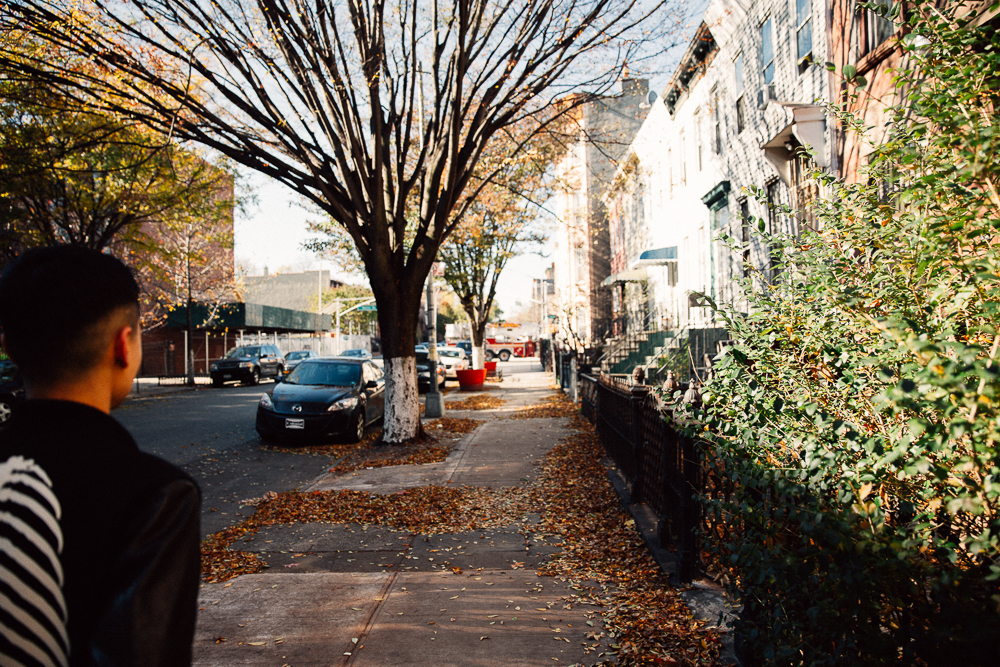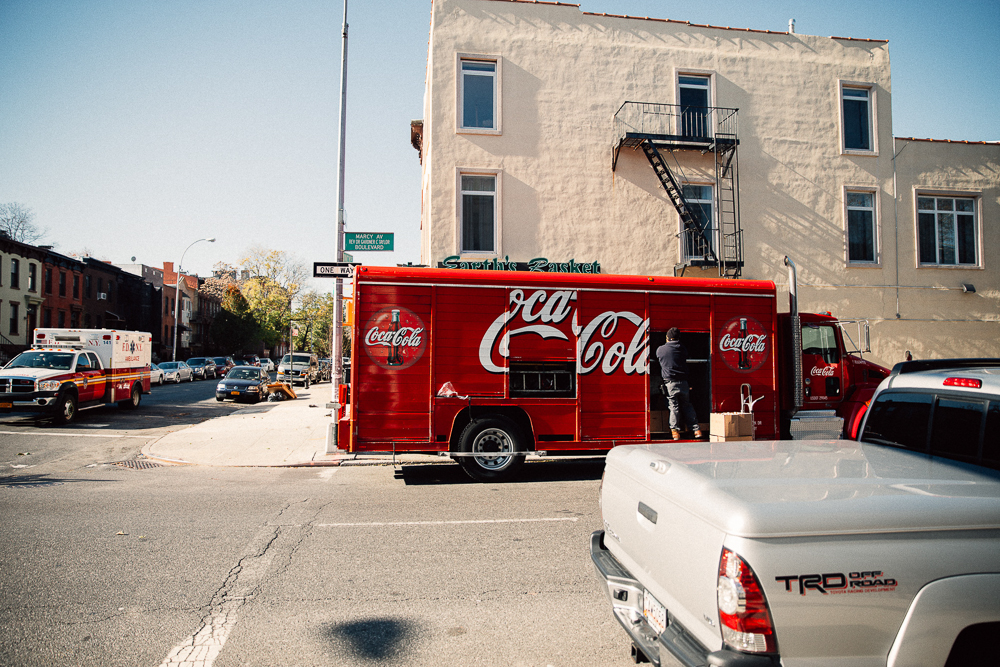 Of course, with staying in Bed-Stuy, we ended up spending a lot of our time in the neighboring district of Williamsburg. Living up to its reputation, this certainly seemed like the place to be in Brooklyn. North of that, Greenpoint.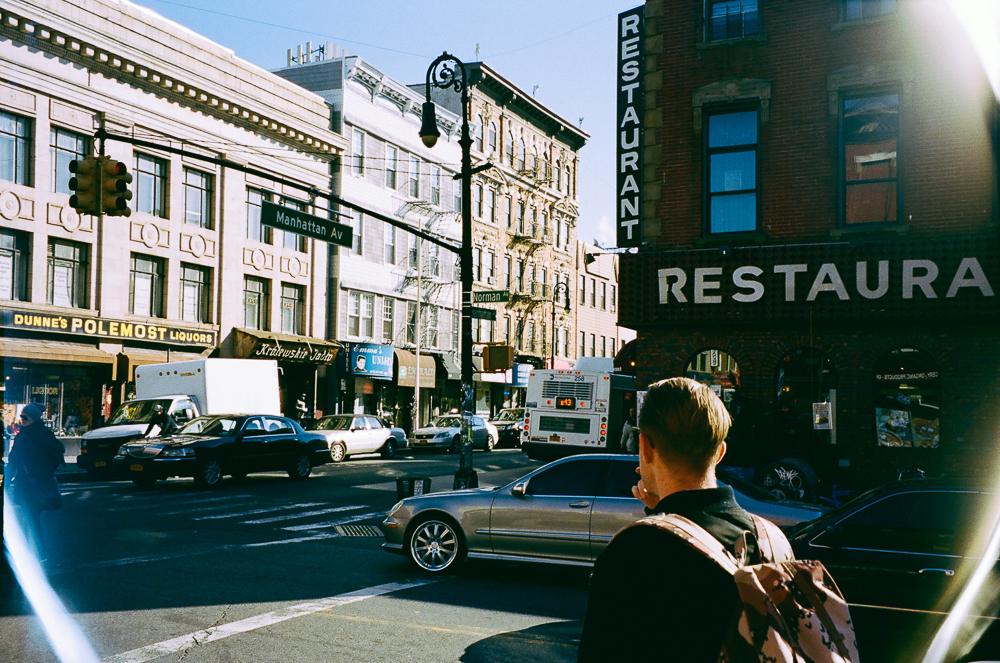 We'd end up visiting Greenpoint and Williamsburg mostly during the evenings, but one of our first encounters with the North side of Brooklyn was in the form of a breakfast mission to Five Leaves. I later learned of the restaurant's connection to the late Heath Ledger.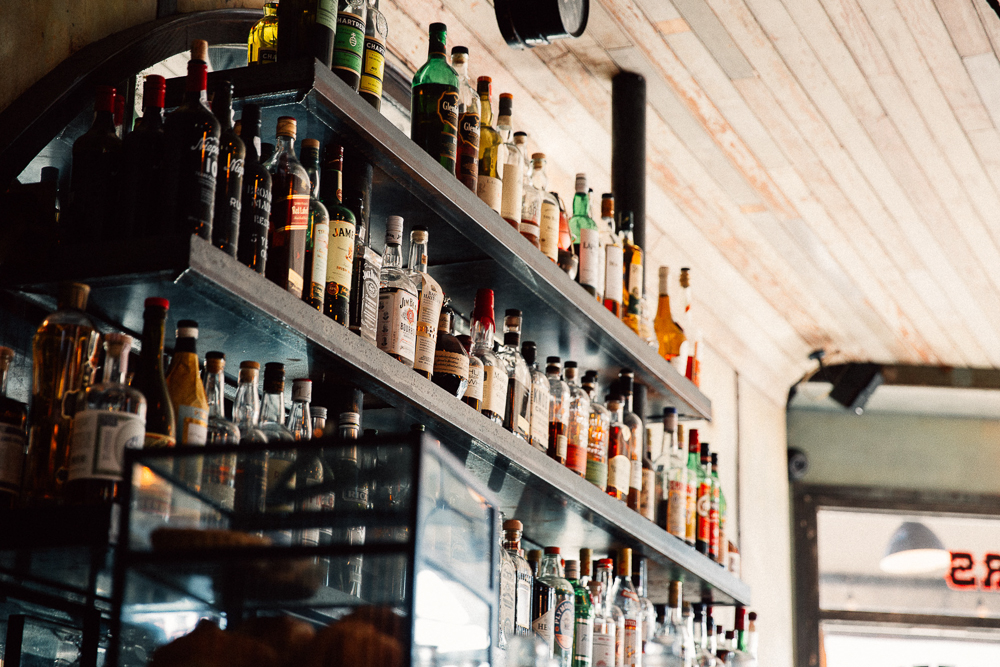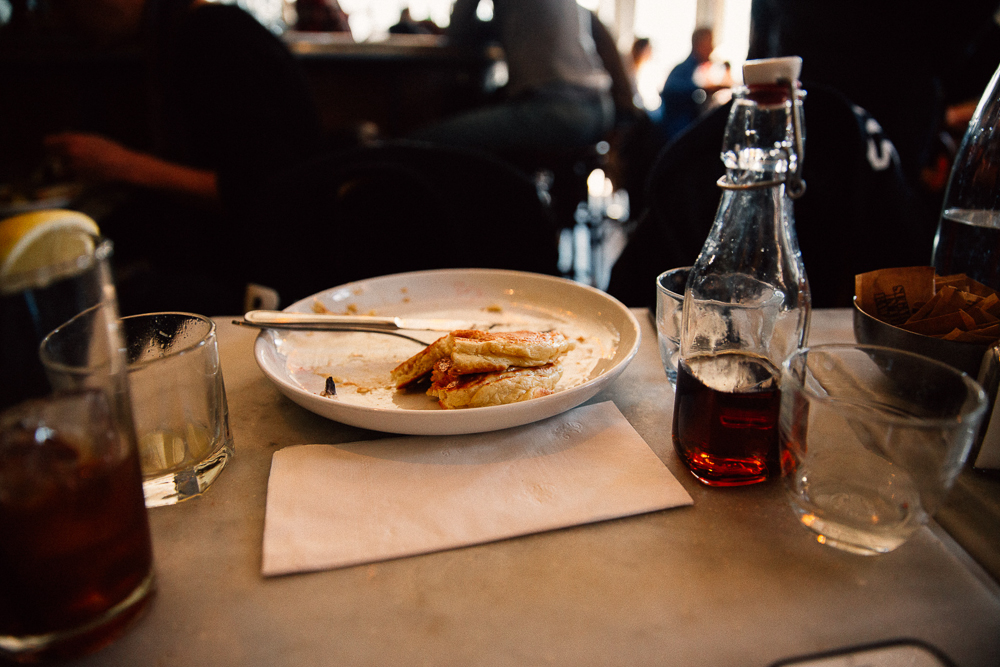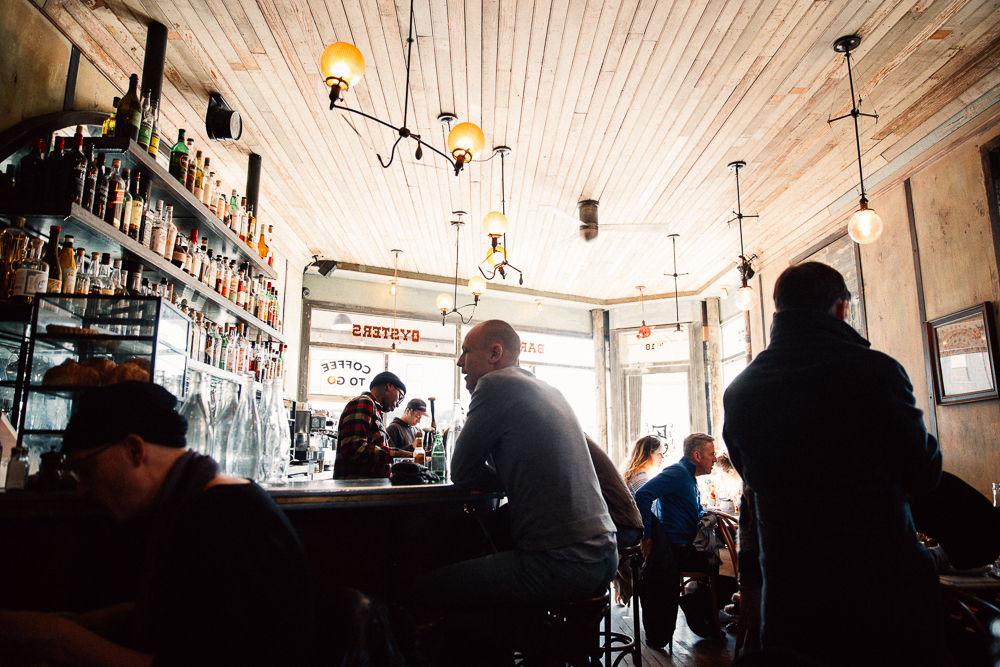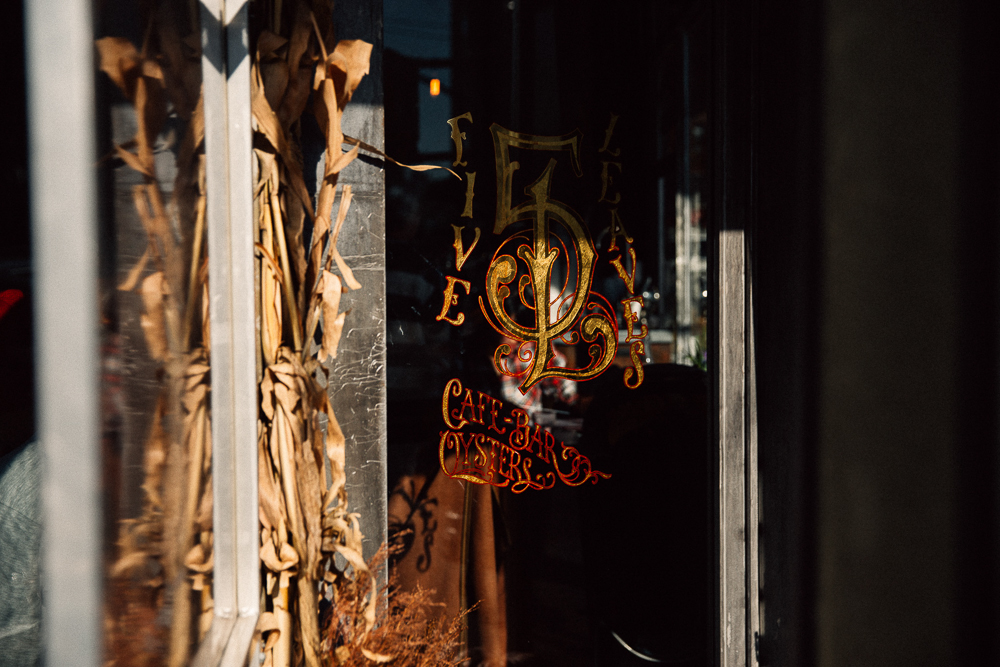 It was only a matter of time before we ended up heading over to Manhattan.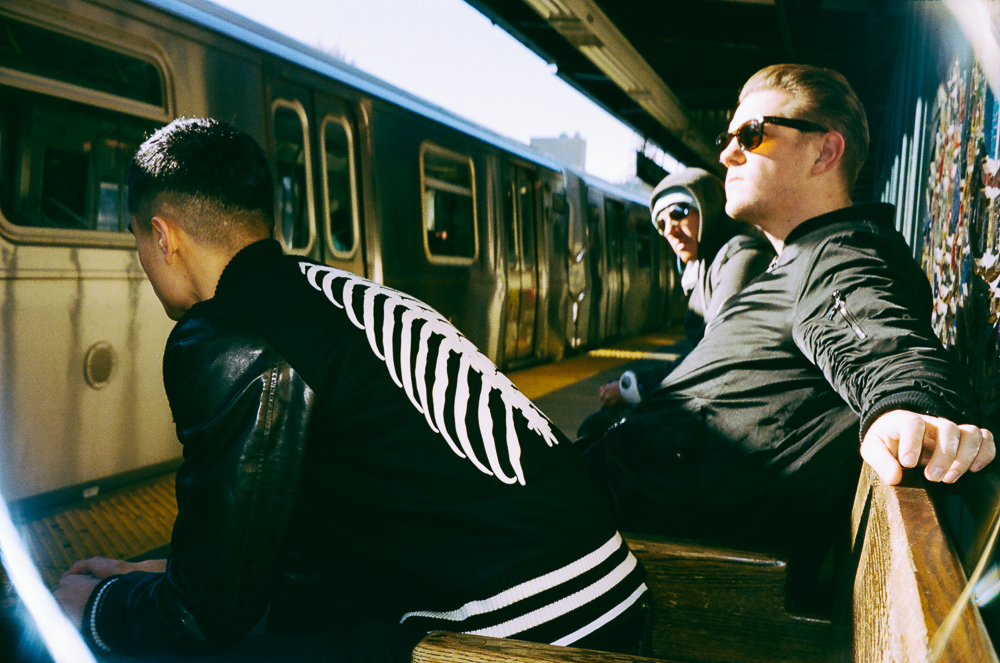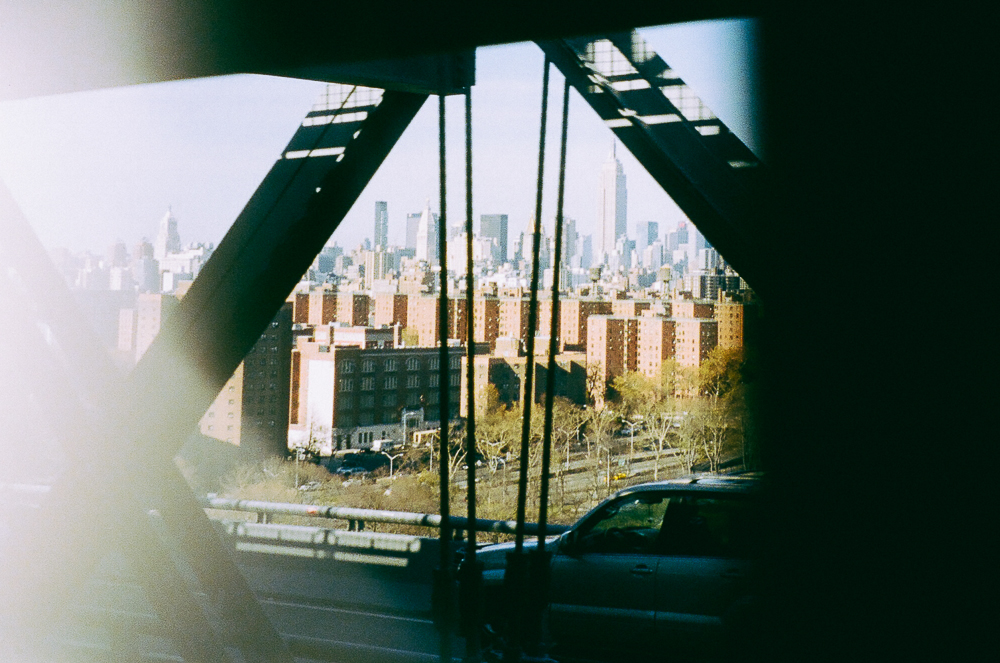 First stop was the Lower East Side and SoHo to hit up a bunch of stores and generally explore.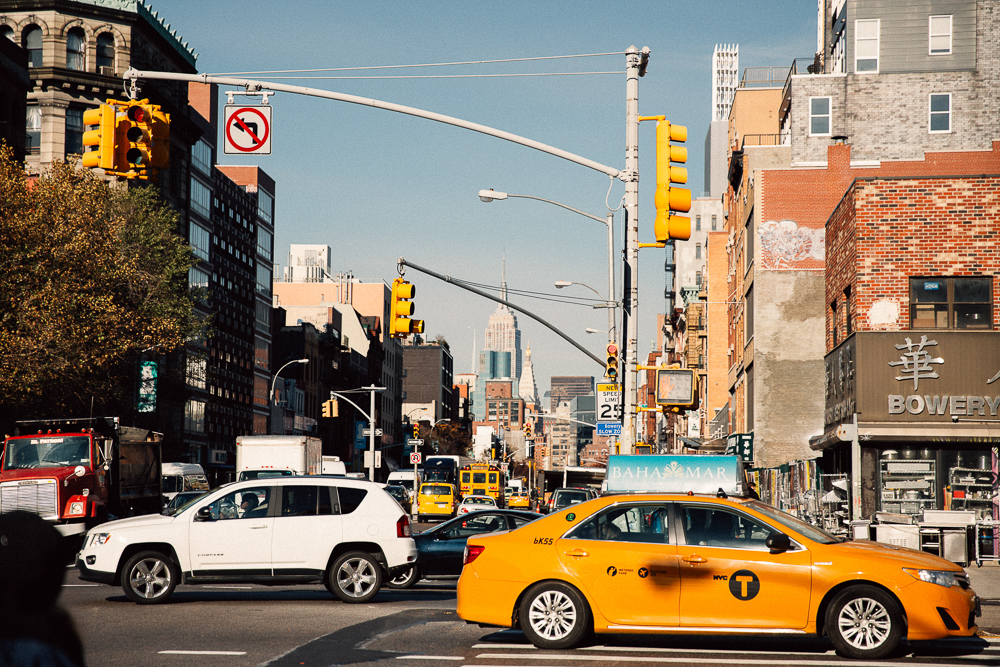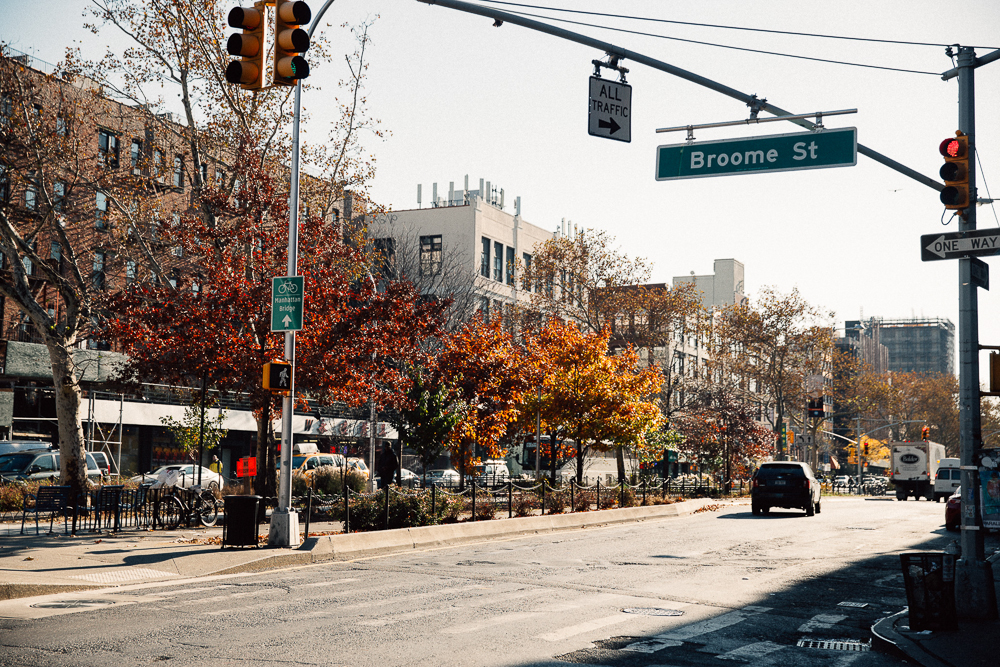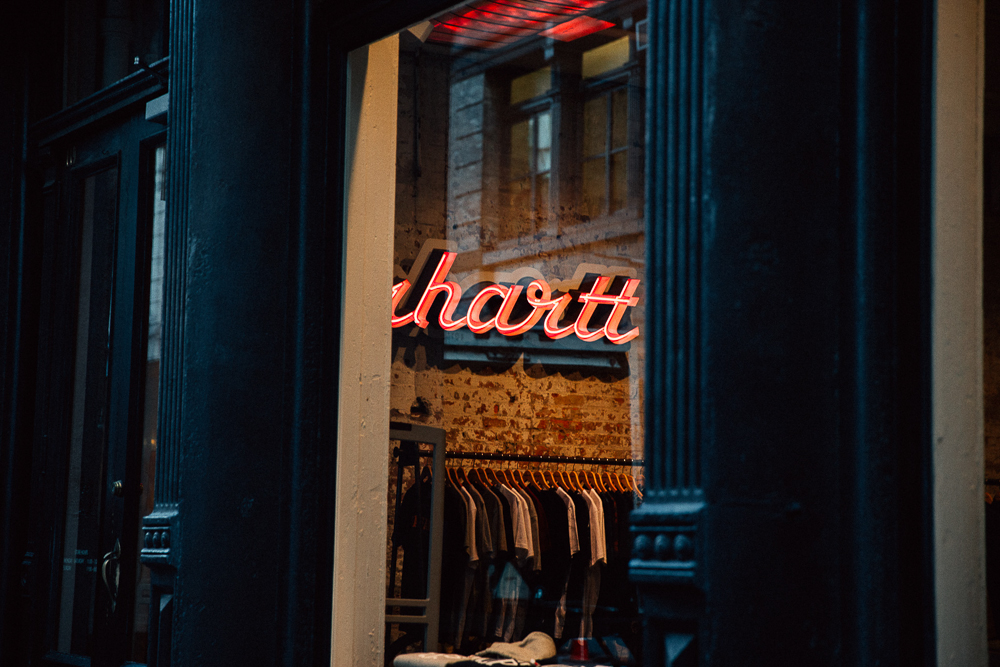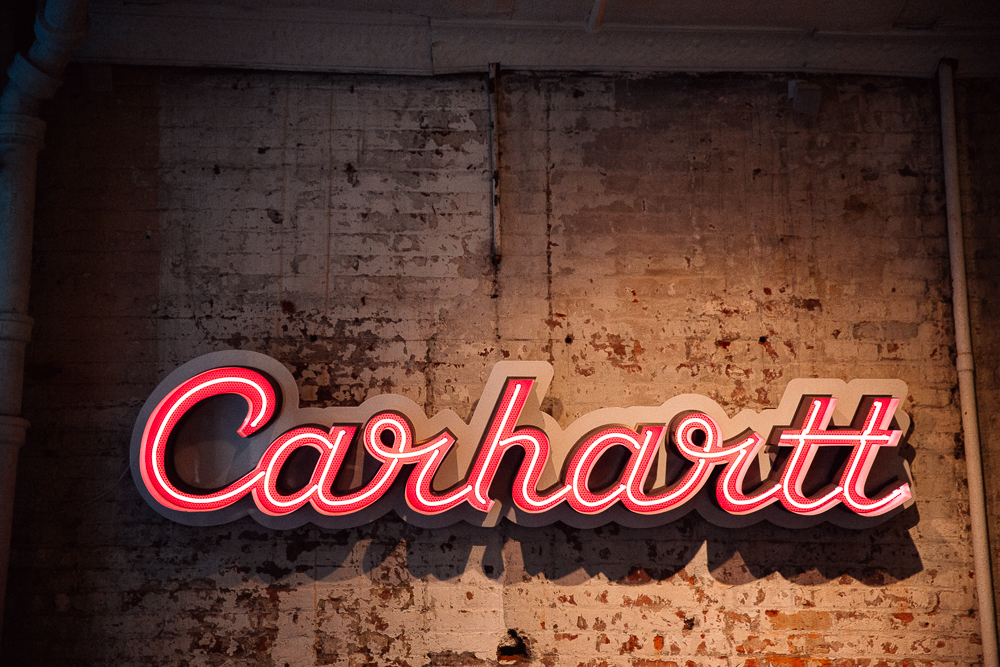 Shouts to Aaron Kai for his work on the ceiling of The Good Company. I see you out here, my dude.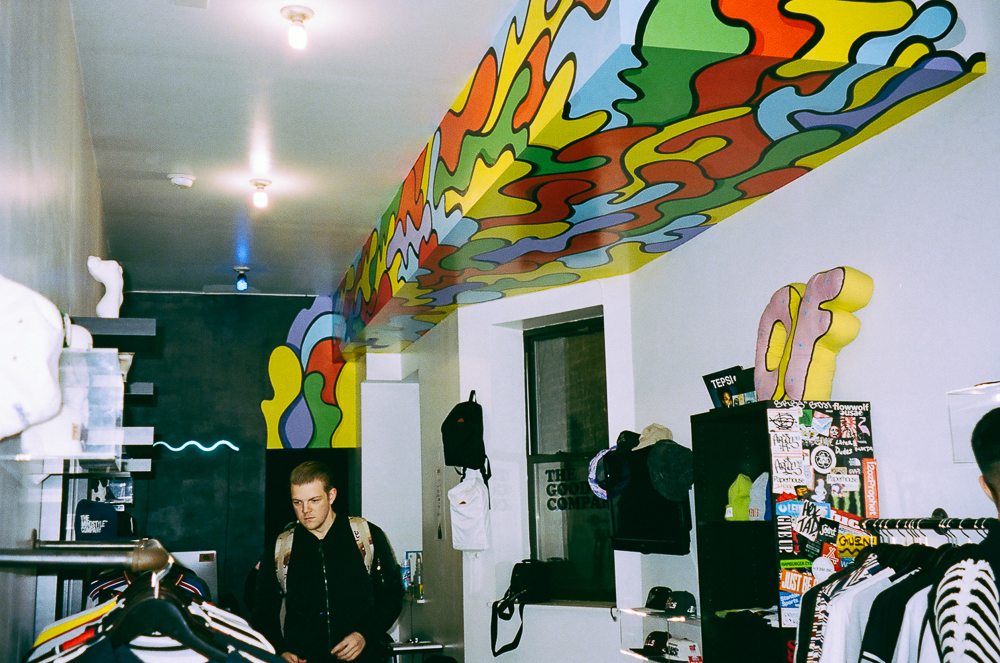 We managed to link up with our friend Steve just on Broadway. It was dope to catch up with him over grilled cheese and beers at The Grey Dog in Nolita, talking about how he's adjusted to NYC life since relocating there from the UK, to work with Glamour Kills.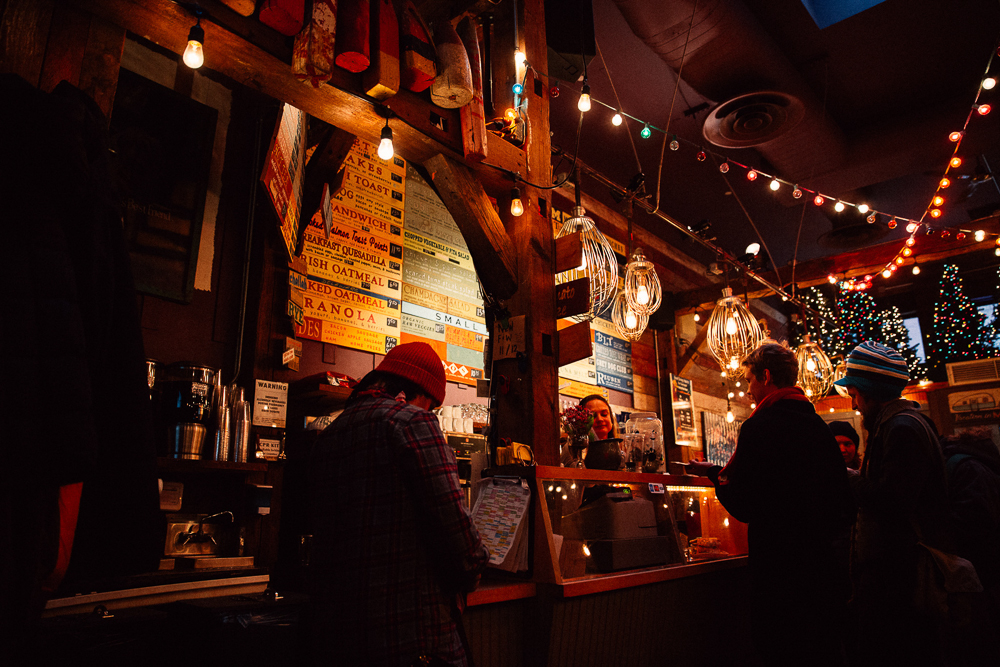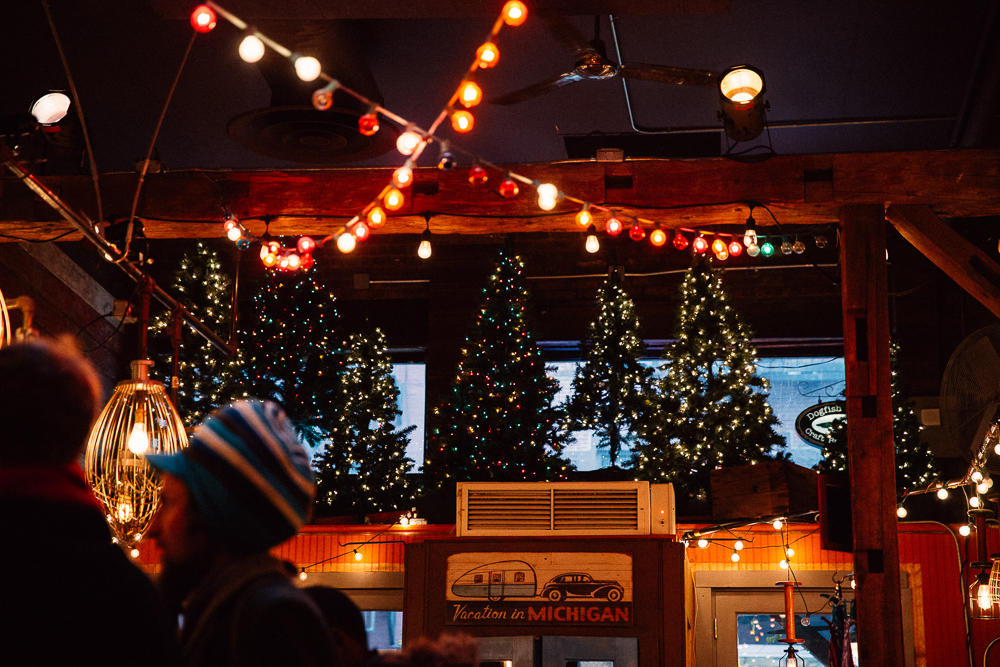 We actually managed to hang out a whole bunch during our visit, so shouts to Steve for being our unofficial tour guide.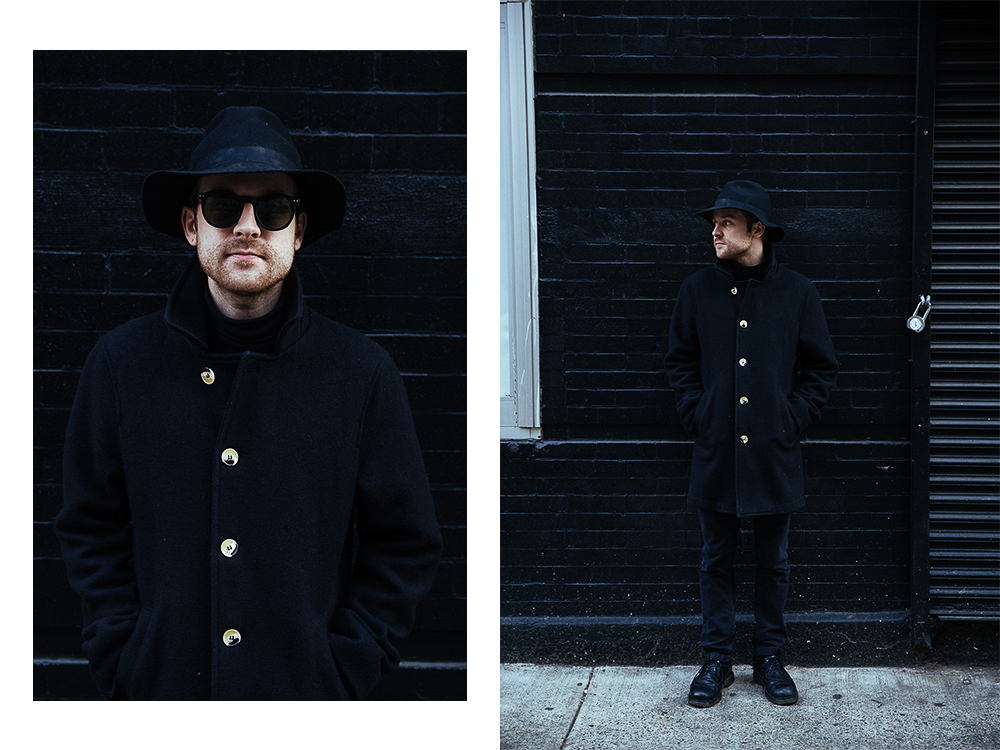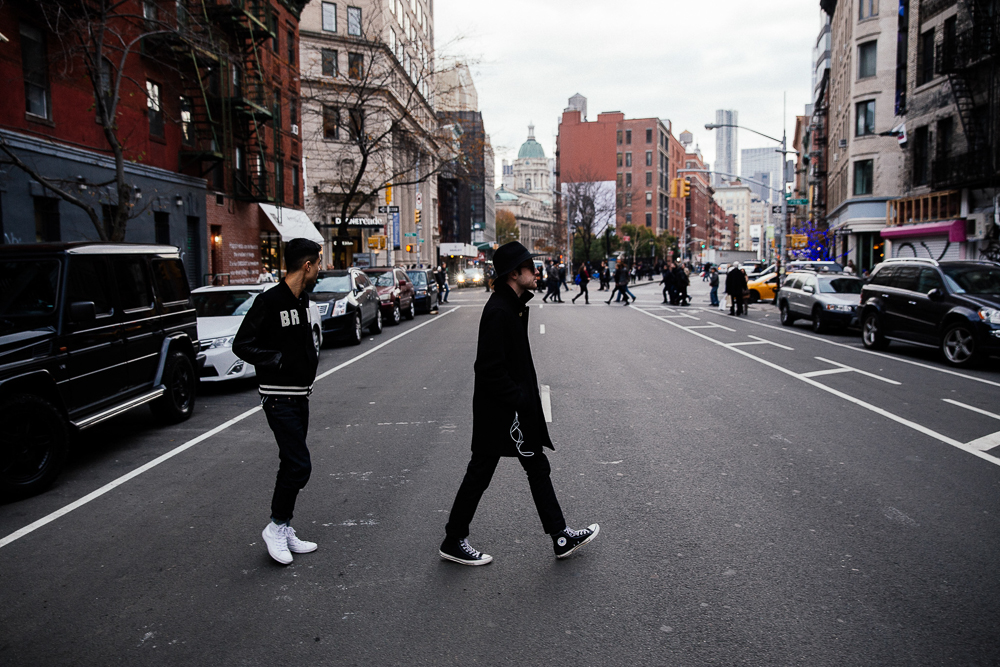 Naturally, we had to pass through GRND.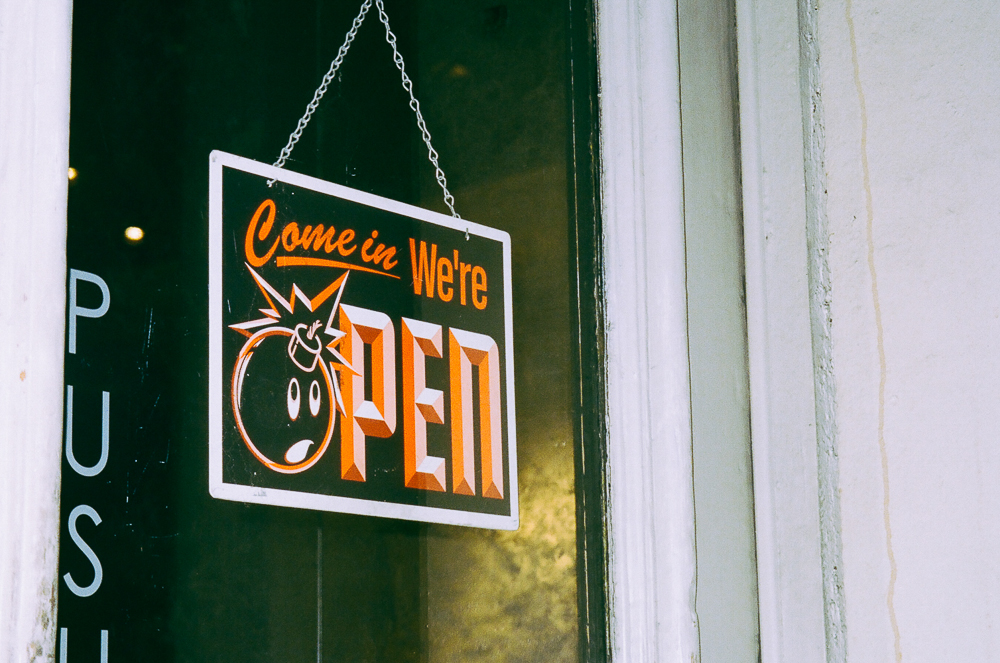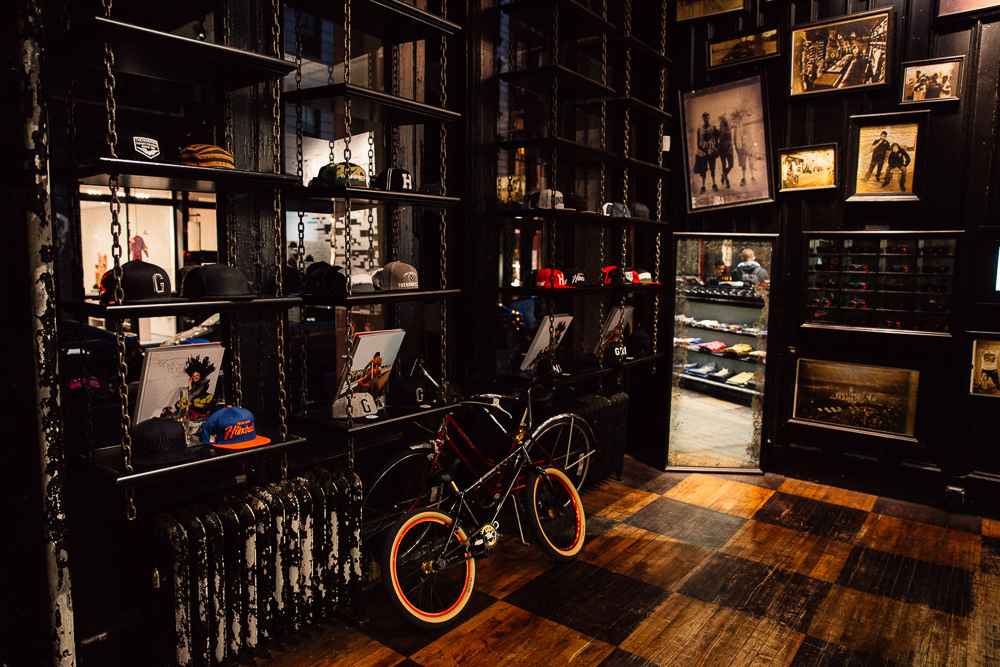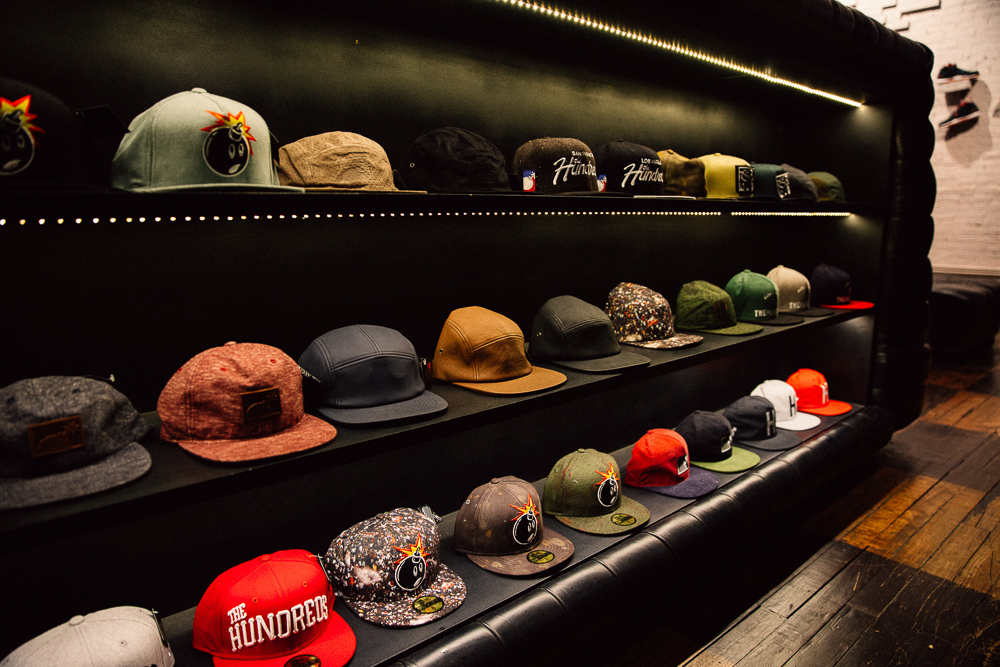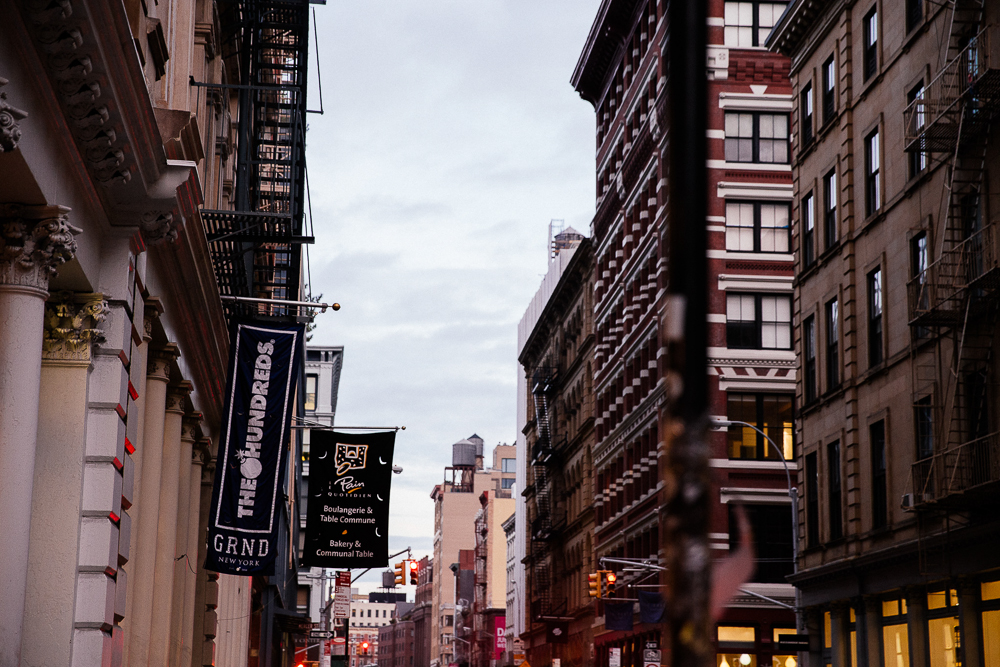 The recently renovated KITH store just off Broadway was my favourite retail encounter during the trip. Honestly, this space is too legit. From the outstanding architecture and layout, to its considered product selection and presentation, right down to the positive attitude of the store staff themselves. I only took a quick iPhone photo of the Daniel Arsham / Snarkitecture ceiling installation, so you'll have to go visit for yourself to really see what I'm talking about. But seriously, A+.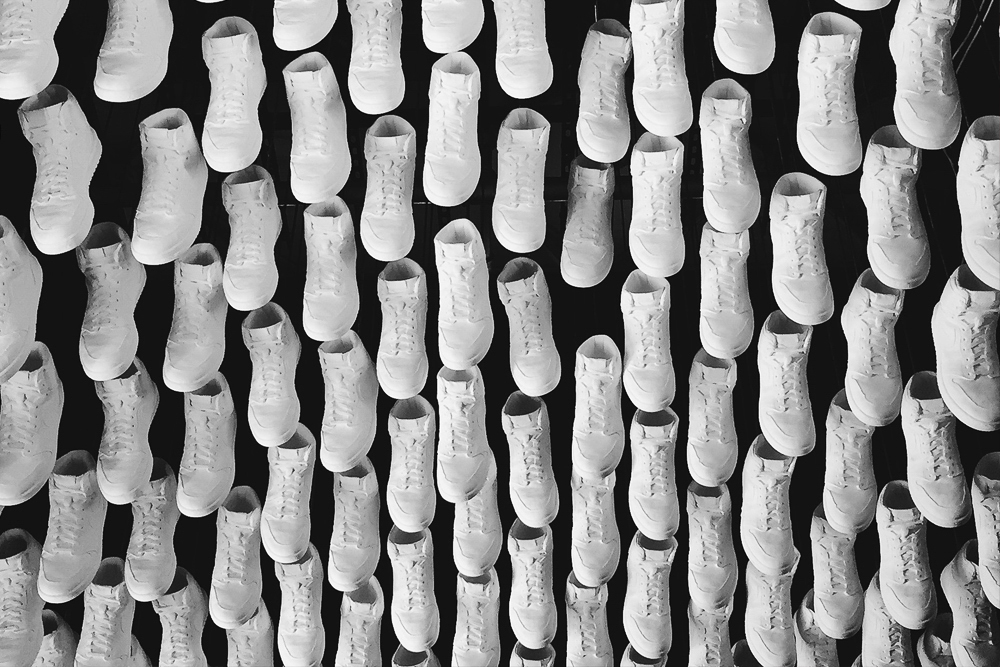 By chance, Aimé Leon Dore were hosting a concept store centred around their Fall/Winter line while we were in town. I was initially unfamiliar with the brand, but Samsun suggested we should hit it up and I was hella impressed by their product range and attention to detail. One to watch for sure.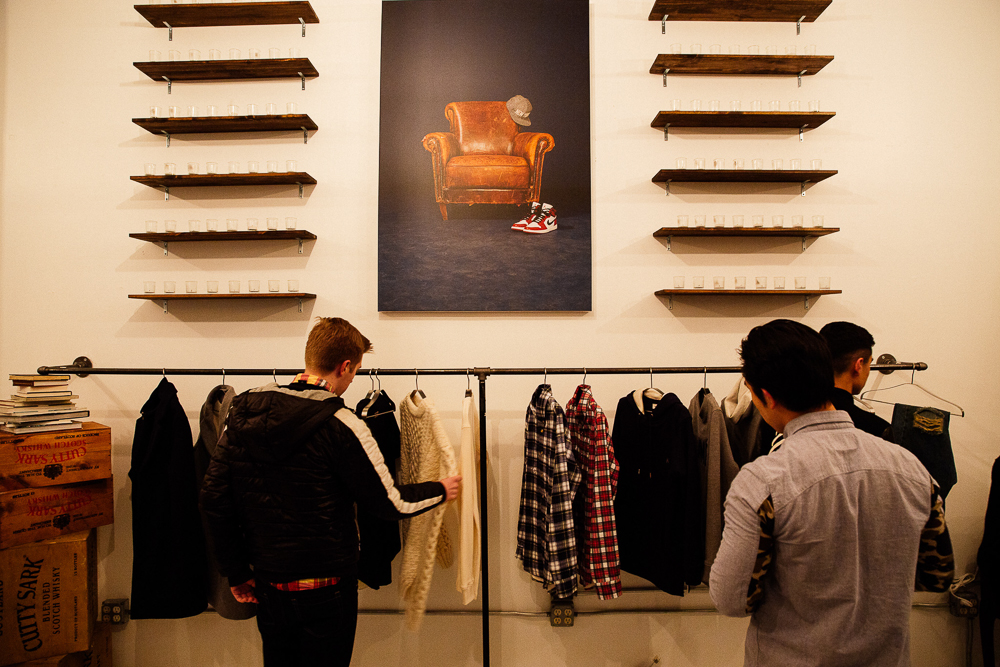 We spent half our time simply roaming around and seeing what we stumbled upon.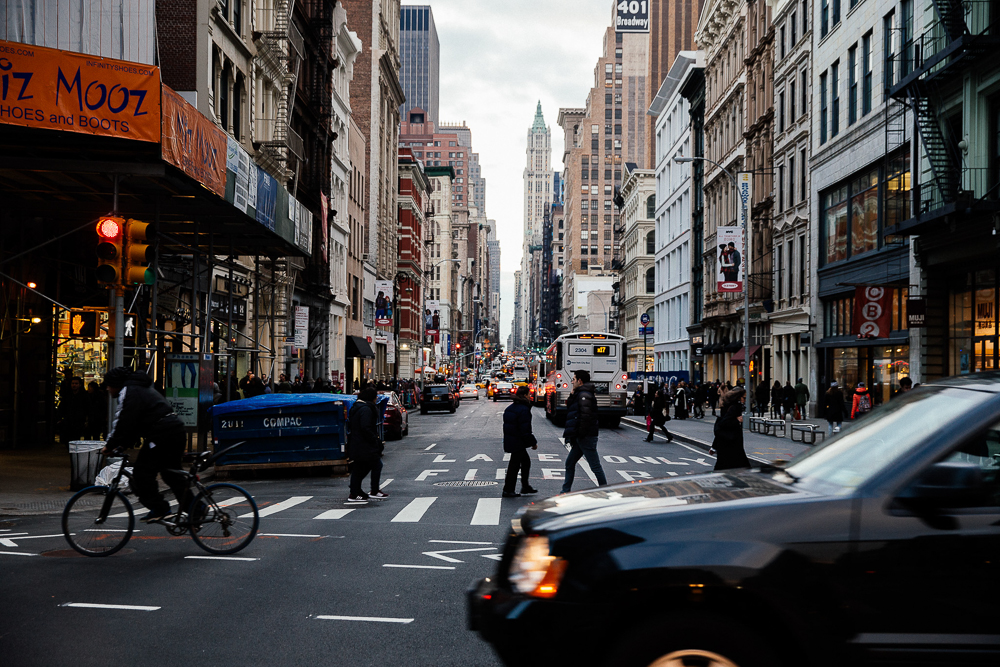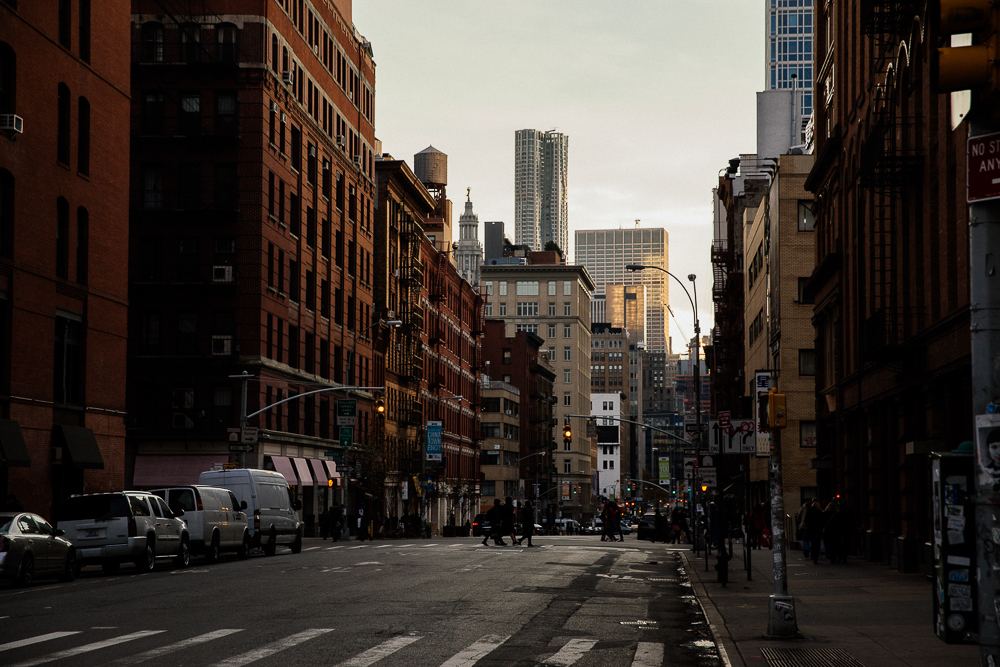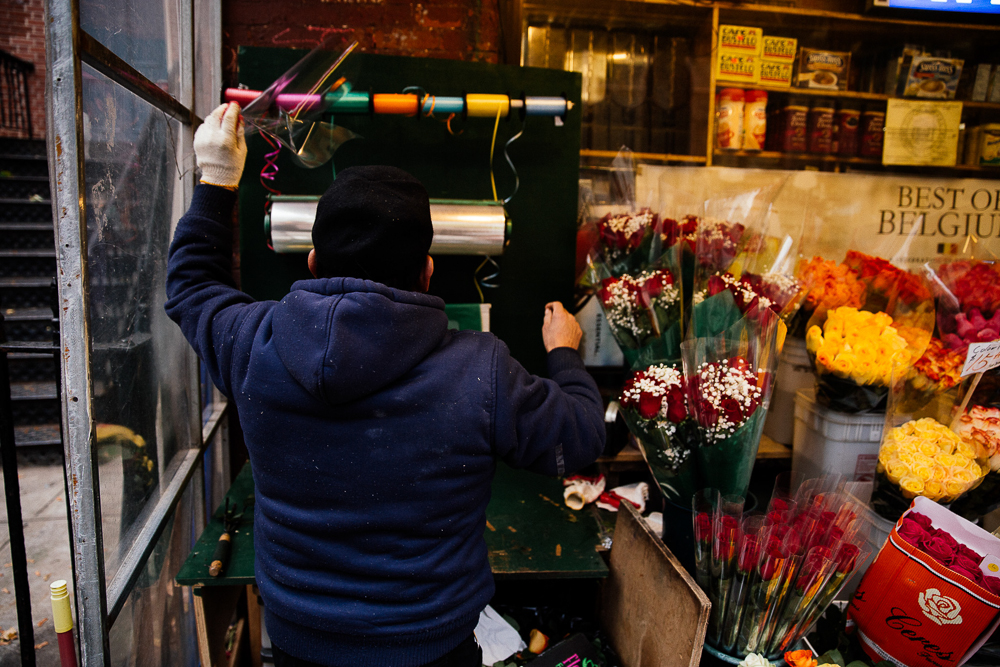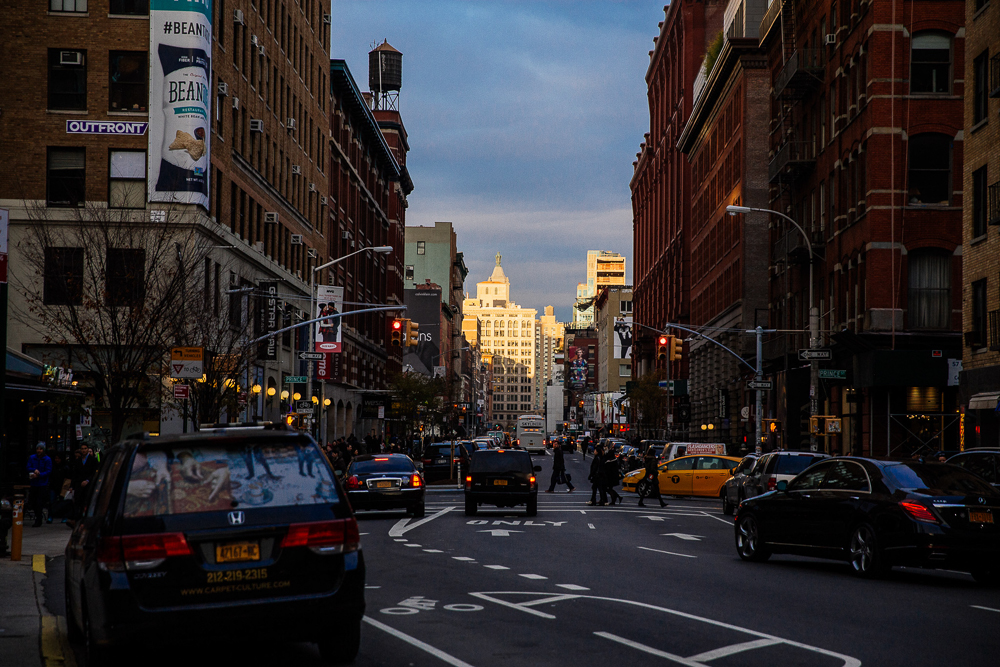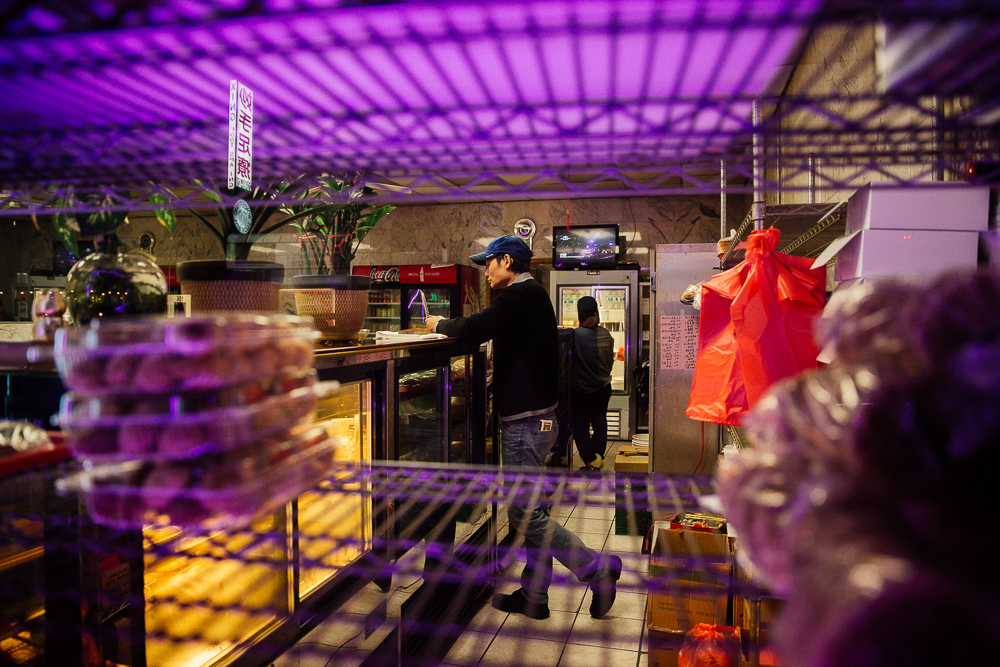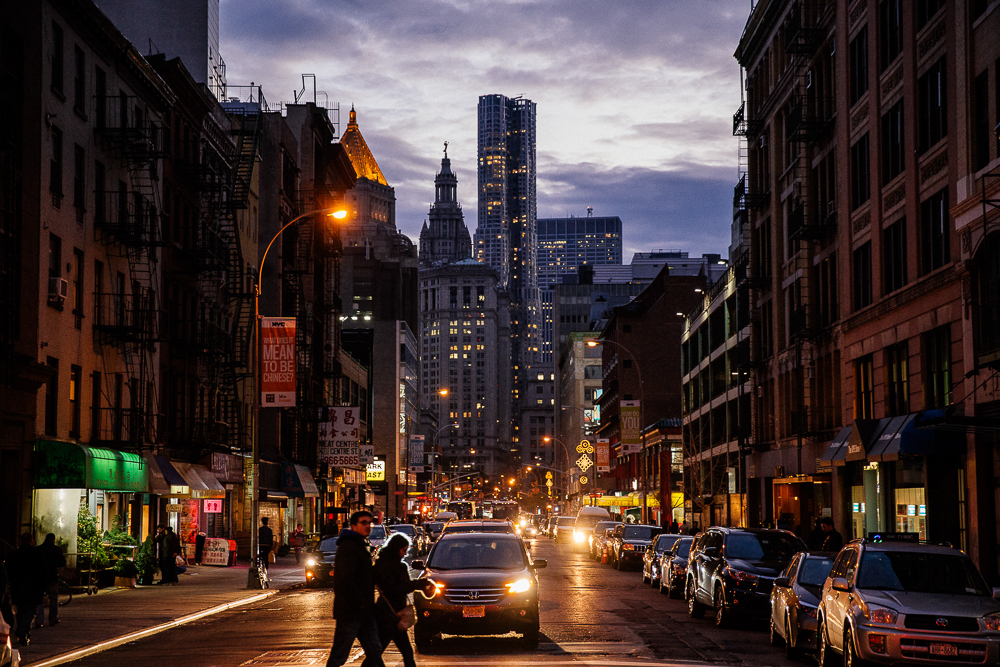 I finally got the opportunity to visit MoMA and it was kinda awesome. The Pop Art section was undoubtedly my favourite part of the museum, although despite the big names, I'm not sure if it was as good as the Post Pop exhibition I hit up in London since returning home.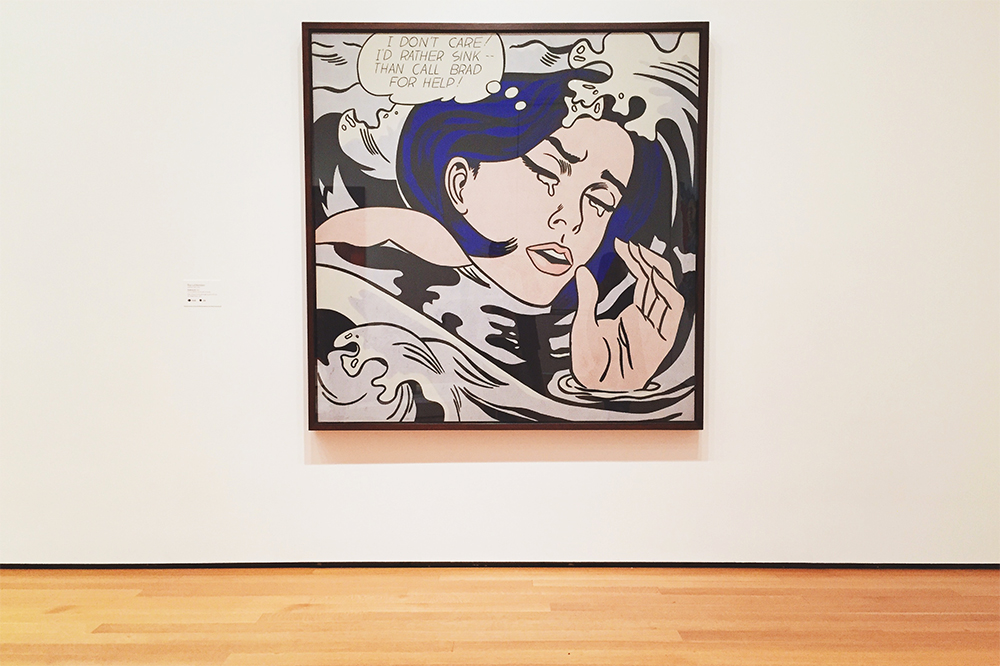 Being a Brooklyn Nets fan, of course I had to drag the guys through to the Barclays Center for a game at some point during our trip. I'd been here once before, but it was still surreal to be in attendance for a change, rather than streaming the game at 2am back home.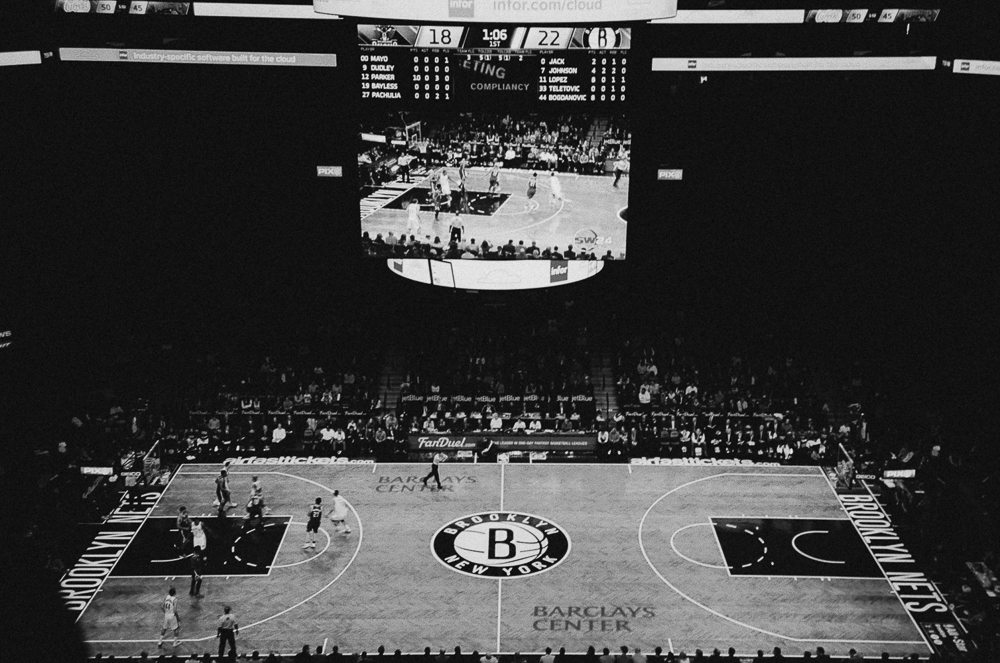 America, you don't know how lucky you are. Buying cans of Arizona Iced Tea back in the UK ain't a cheap vice.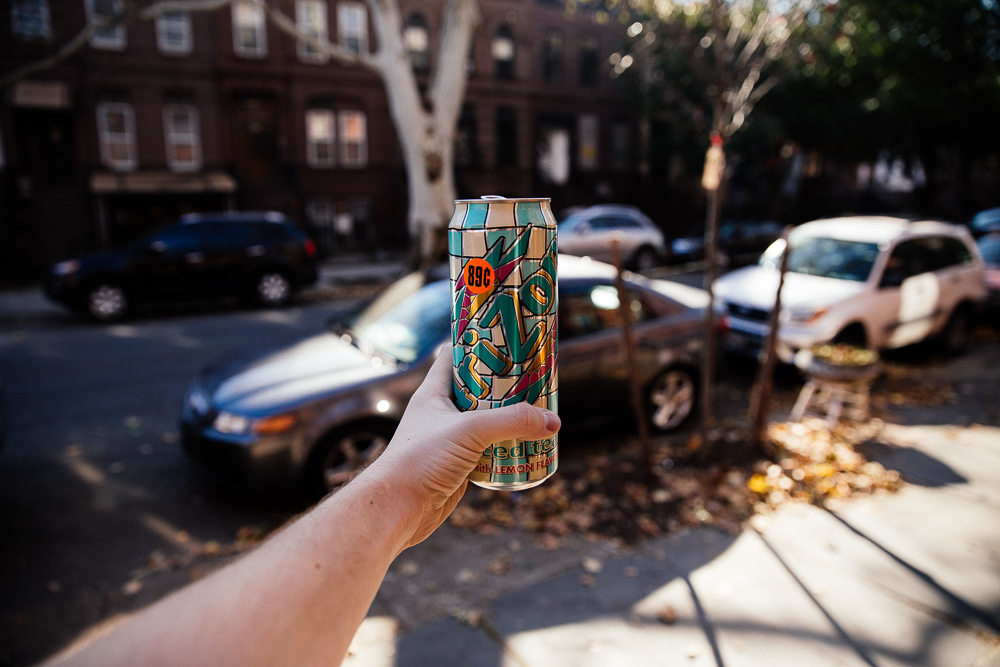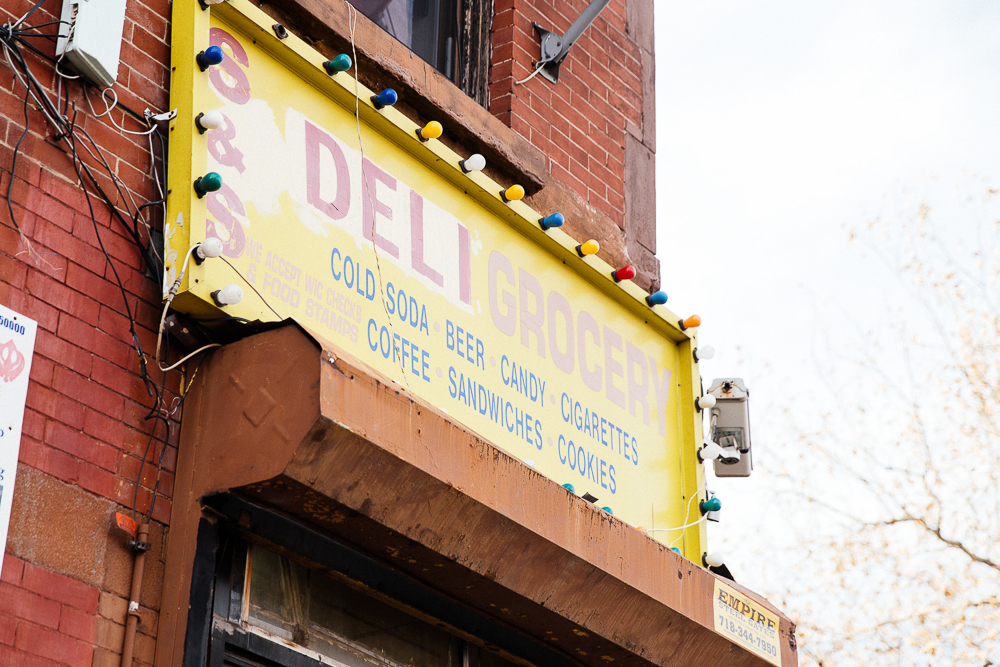 Eventually we caved in and headed back over to Midtown to get our tourist vibes on.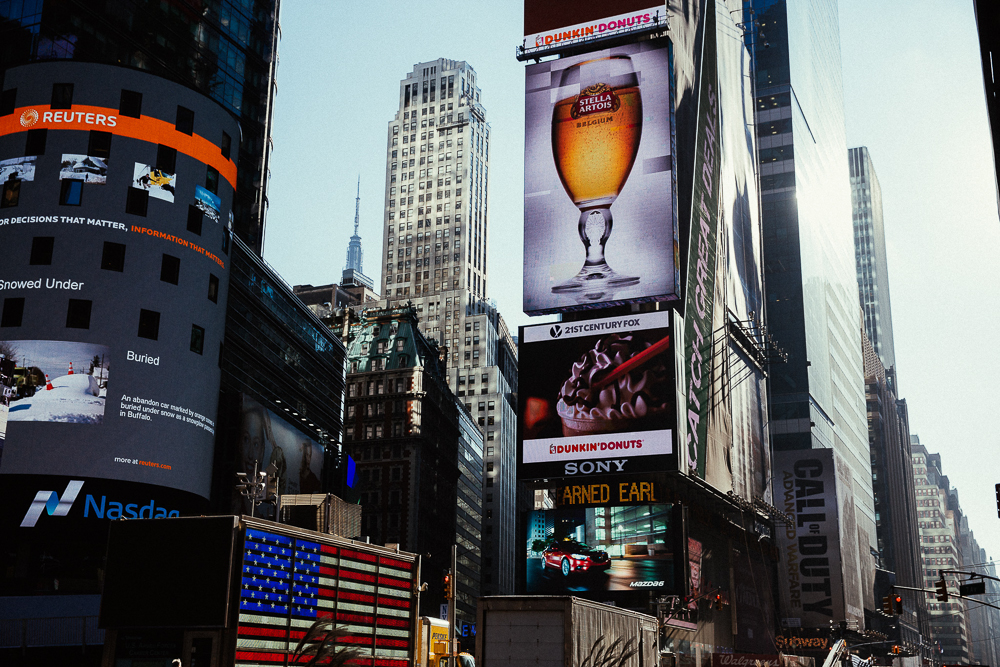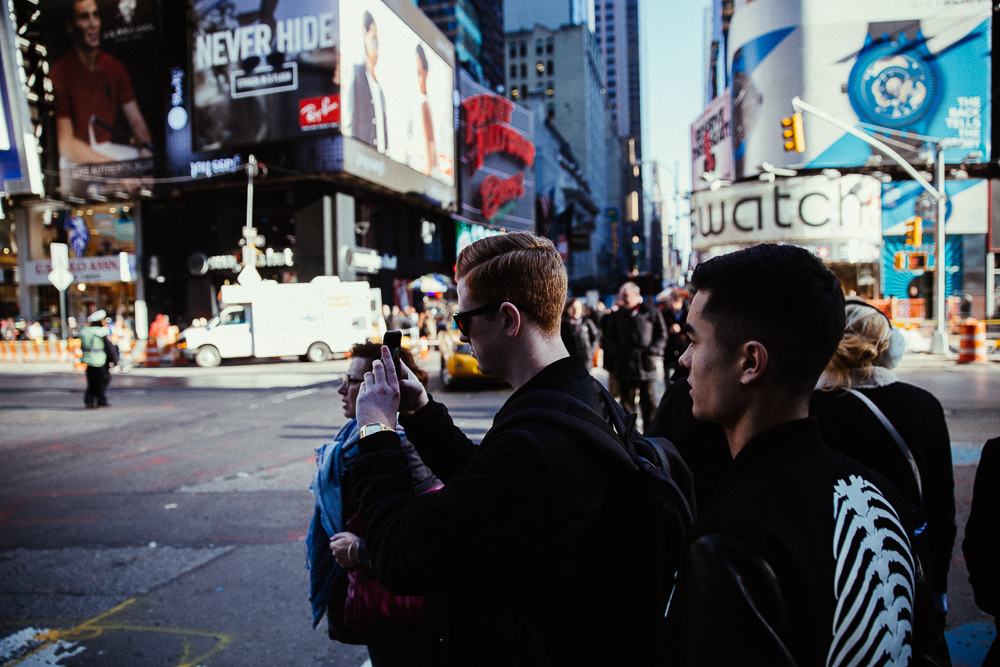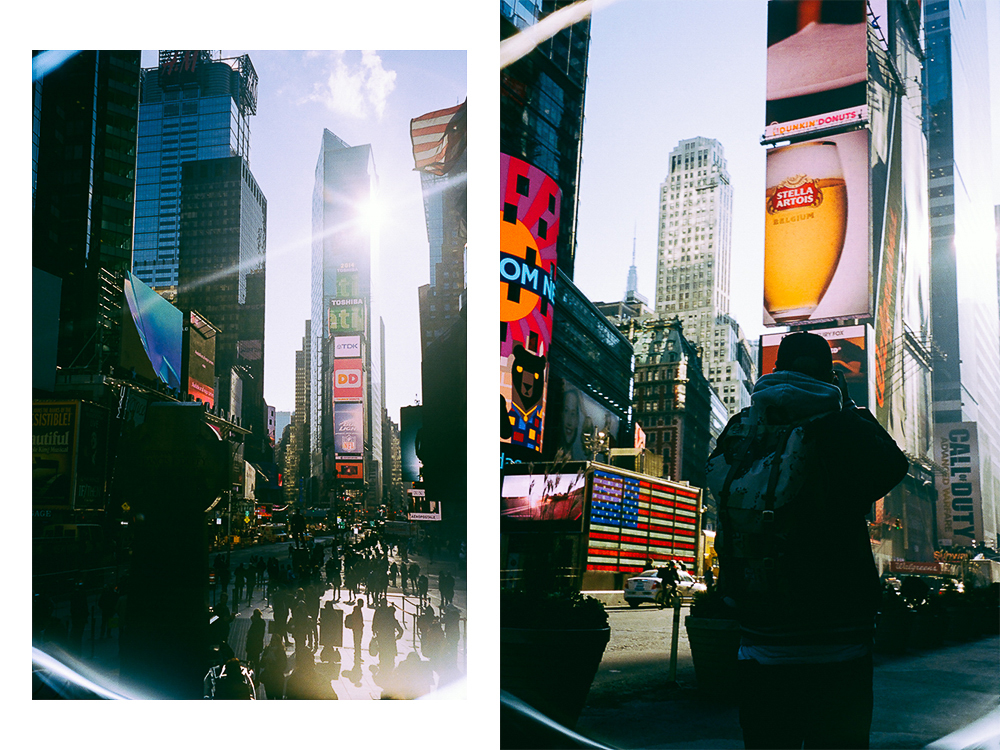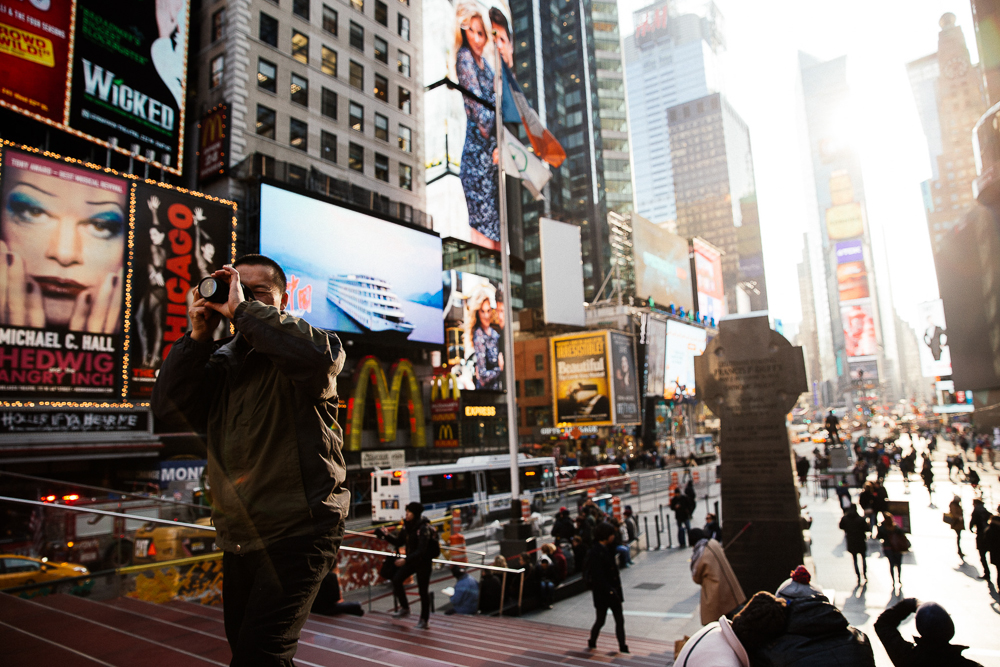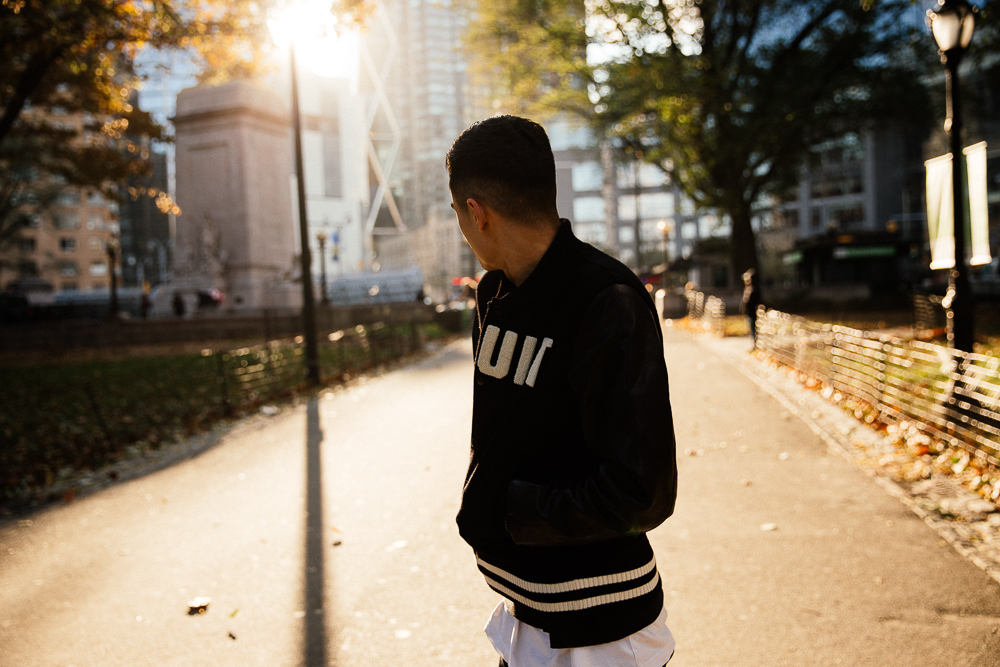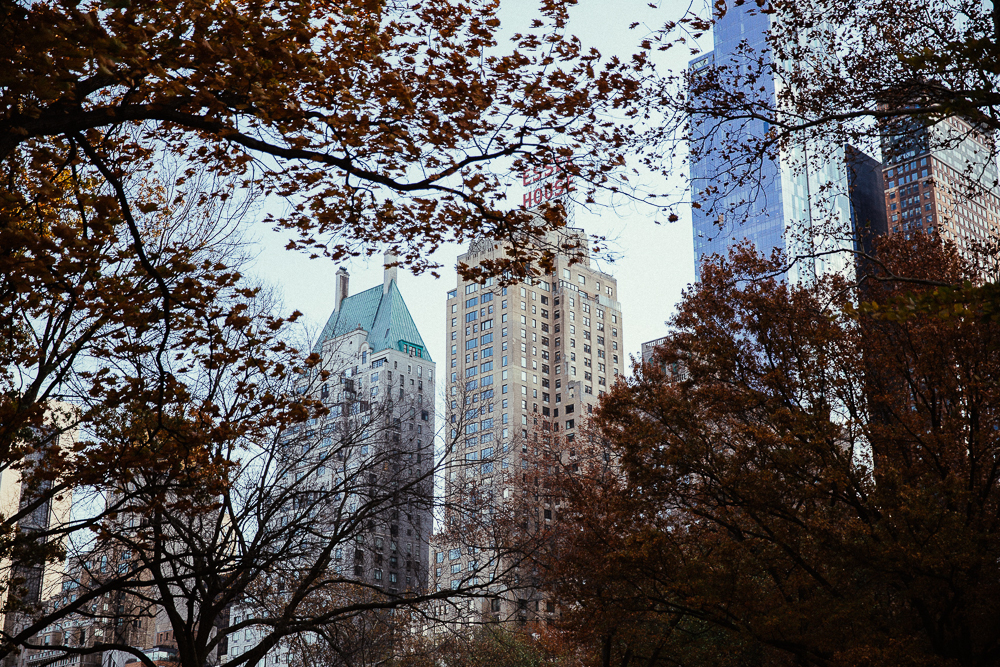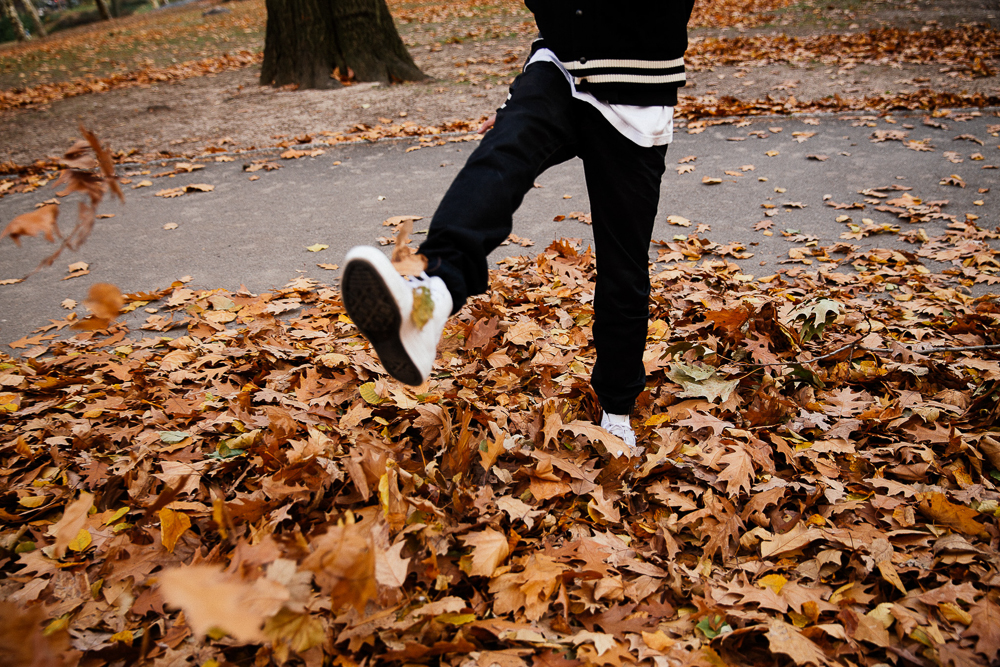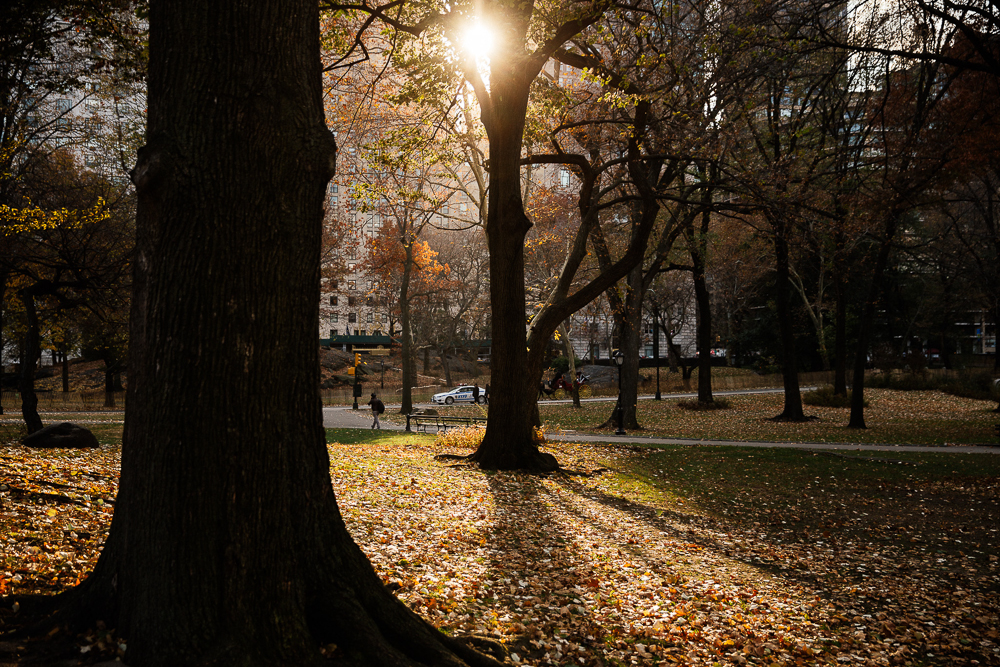 I don't think I'll ever not be impressed by the sheer ridiculousness of Times Square. No matter how many film scenes are set there or travel blogs document it.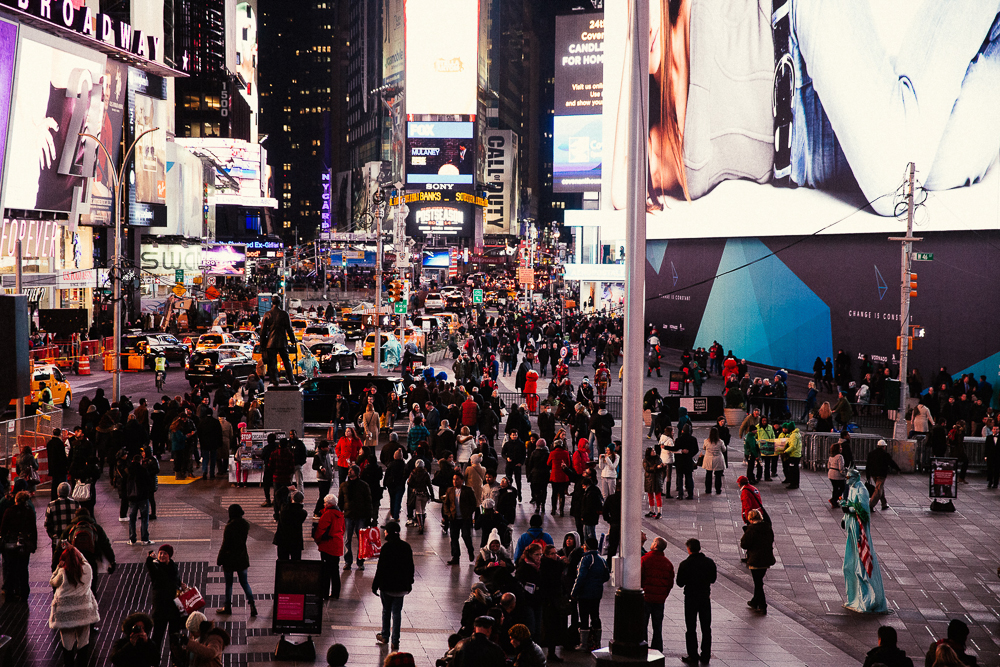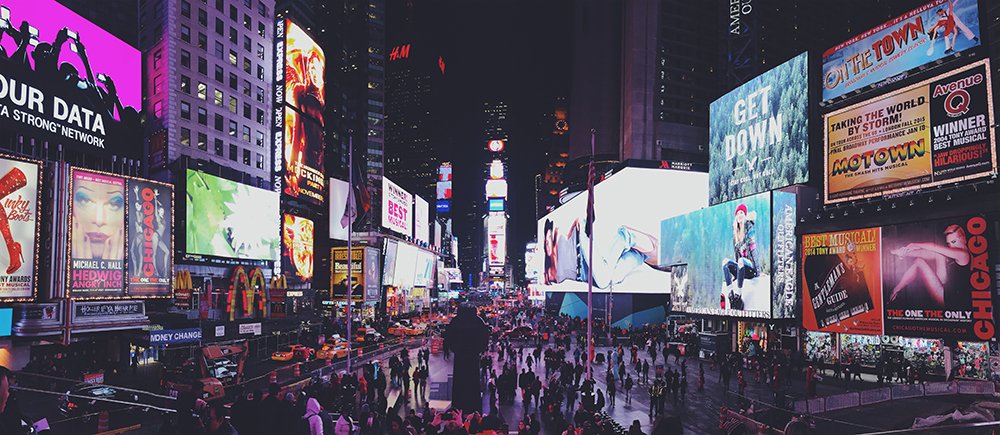 The iPhone camera's panorama mode really came through.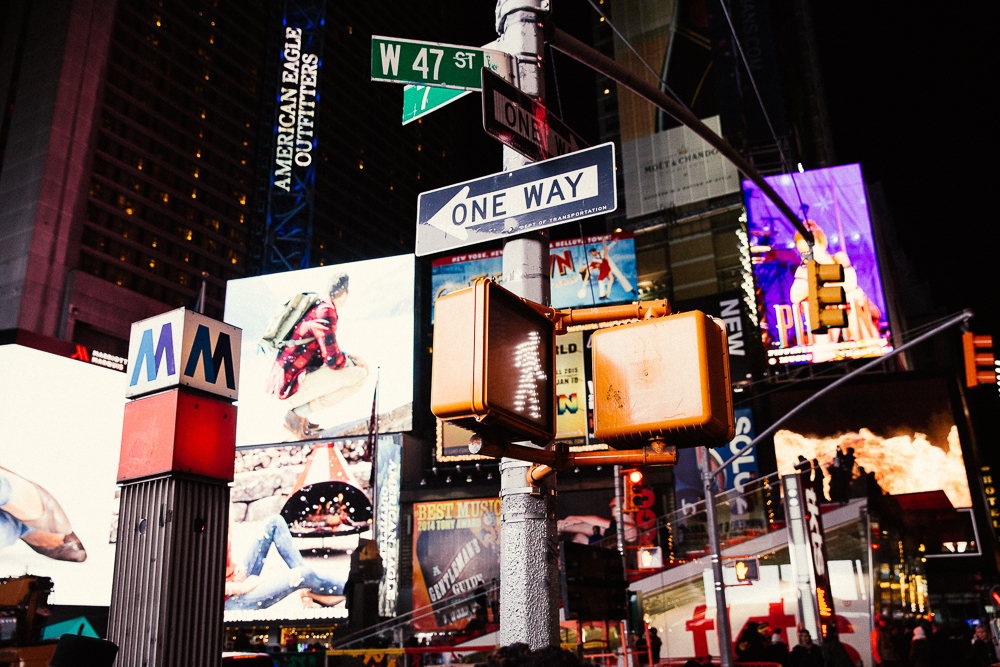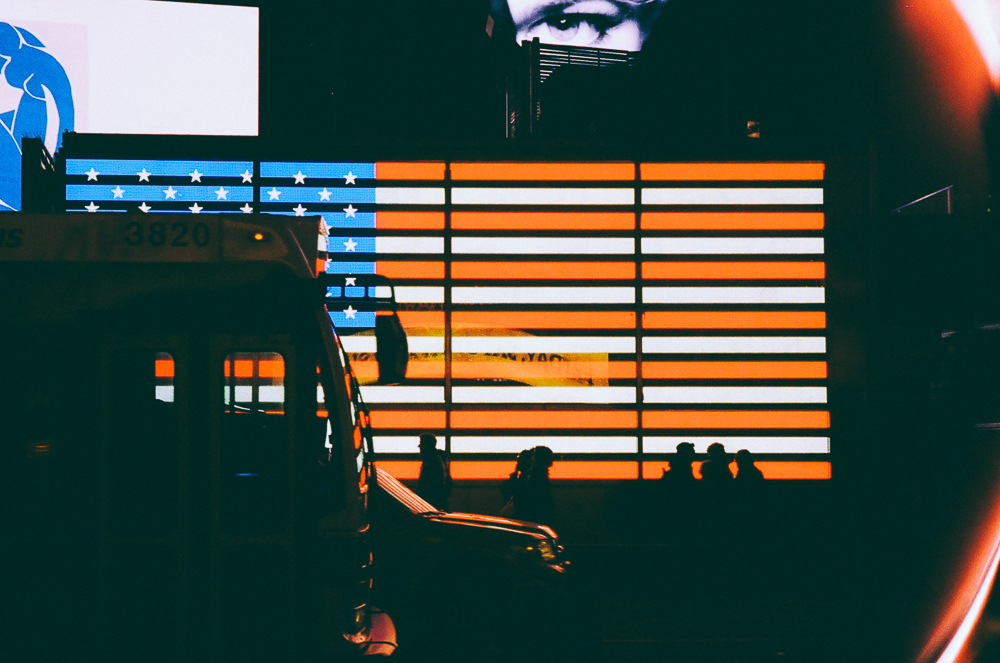 We happened to be visiting when the Ferguson verdict came in. Despite the understandable negativity surrounding the situation, there was something incredibly inspiring about witnessing huge crowds of impassioned people taking to the streets and making themselves heard, first-hand.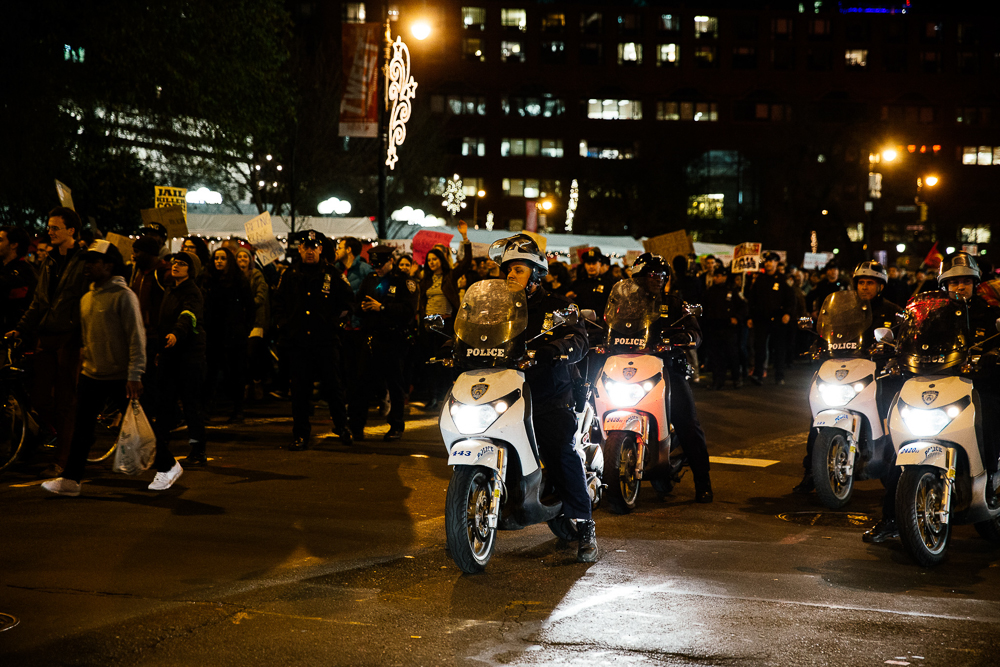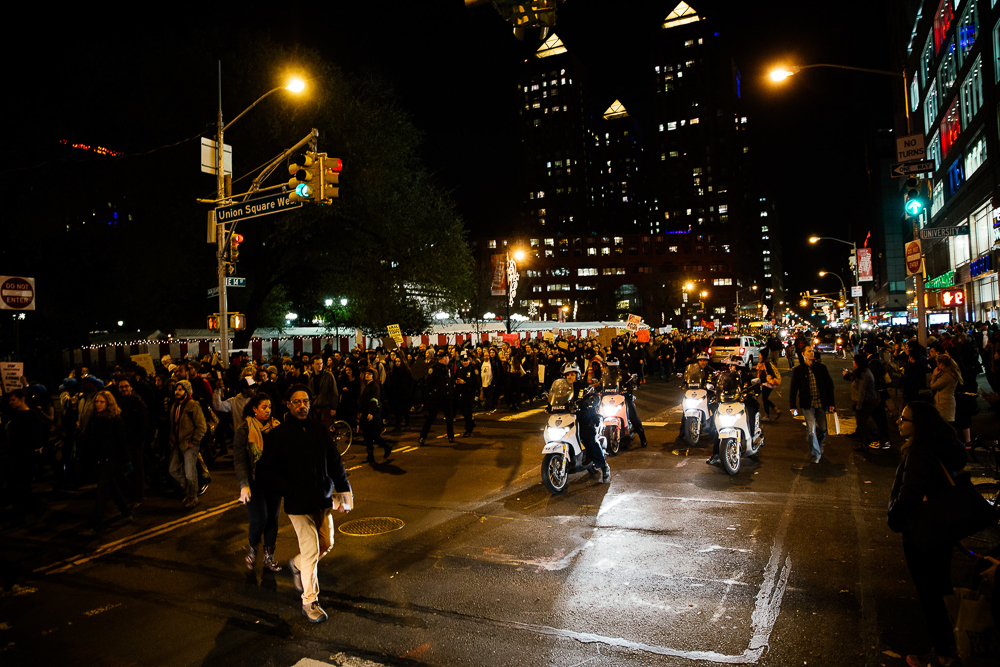 Food. We ate too much during this trip, but unfortunately we ate most of it before we even thought about taking photos of it. You know, like normal people. Anyway, I had to mention Parm. We grabbed the namesake Chicken Parm to-go on recommendation and it was a taste sensation.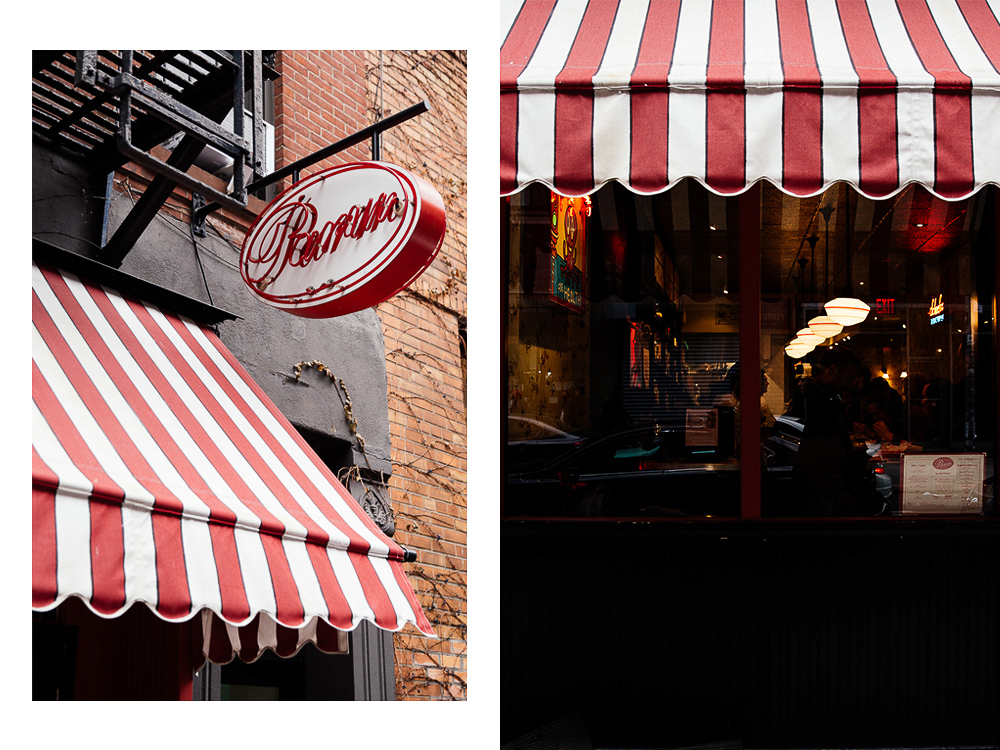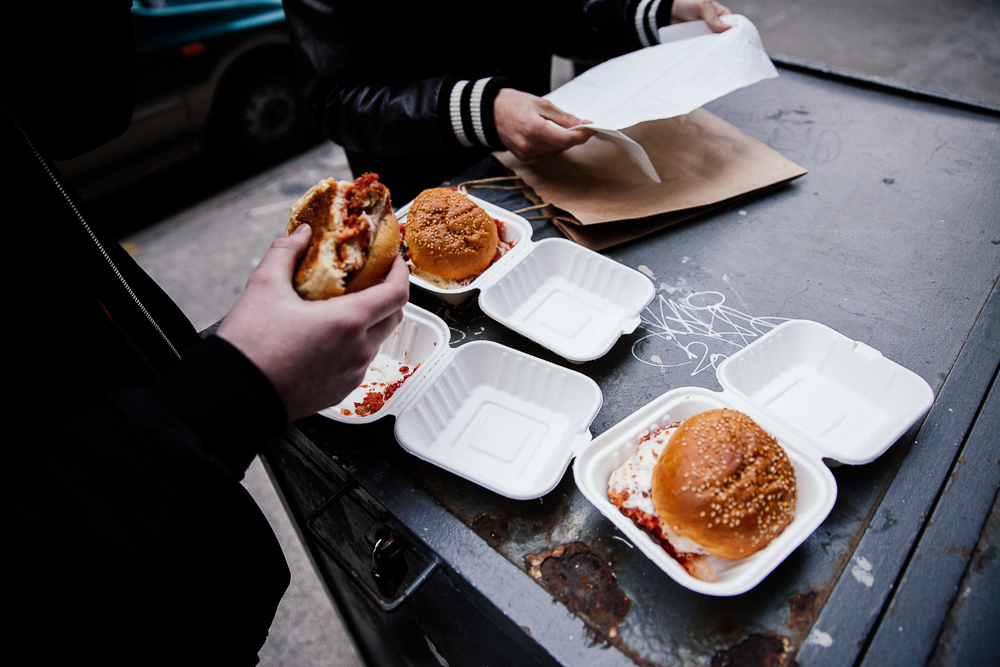 It would be rude for Jordan to come all this way and not set up a few shoots while he was on site. Naturally, we linked up with our homie Tyler of CX.City in the Lower East Side to shoot a lookbook for his brand's FW14 collection.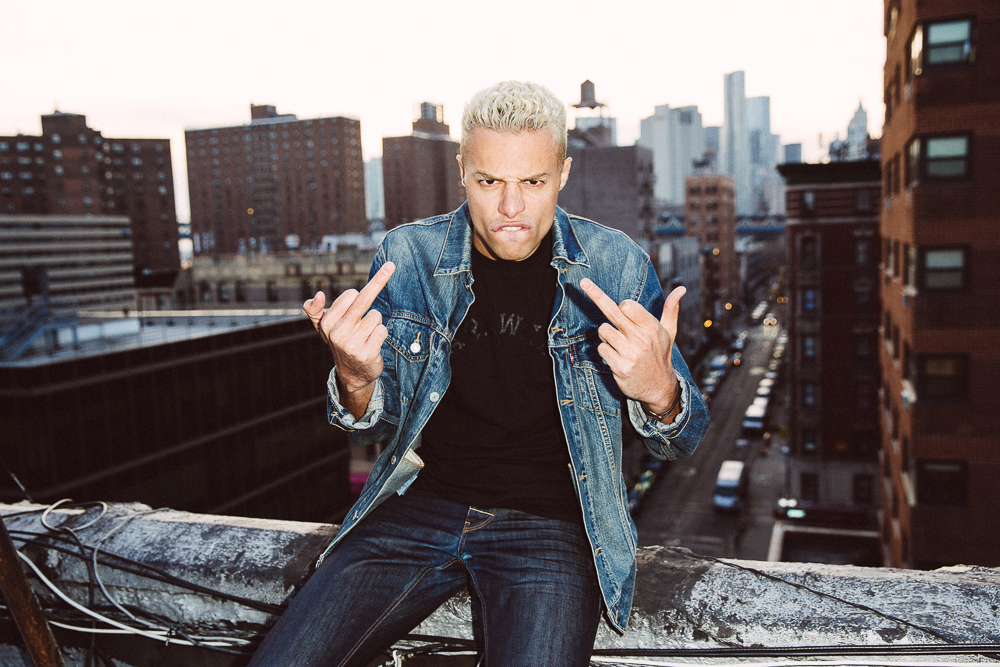 This isn't Tyler. This is Miguel.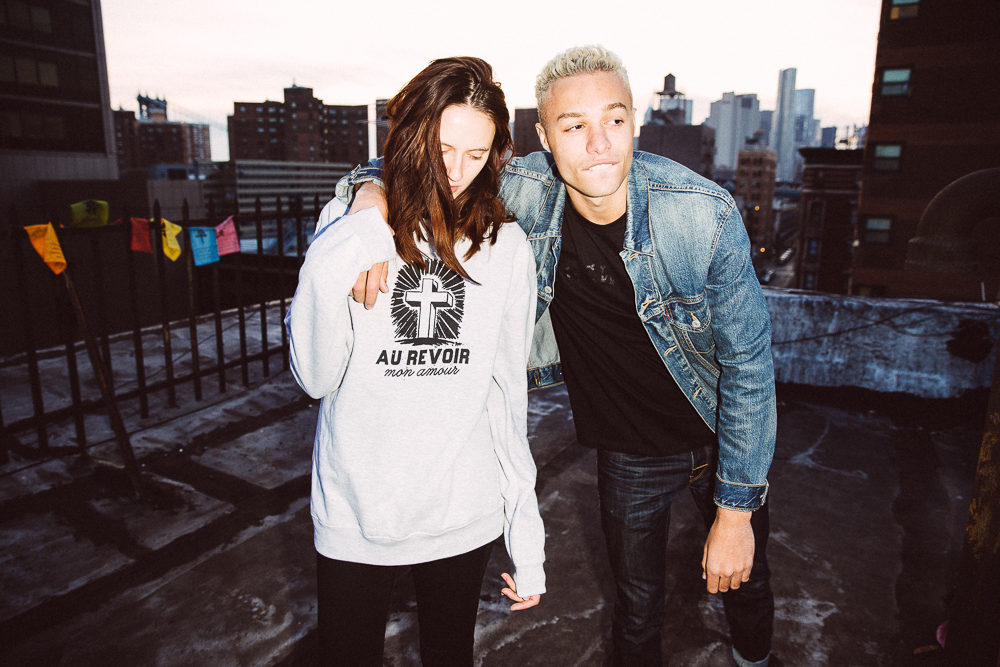 After the shoot was a wrap, we forced Tyler to show us around some of his local haunts, hitting up my favourite dive bar in town, Welcome To The Johnsons, as well as this low-key speakeasy, Death & Co. It was borderline pretentious, but I fuck with it.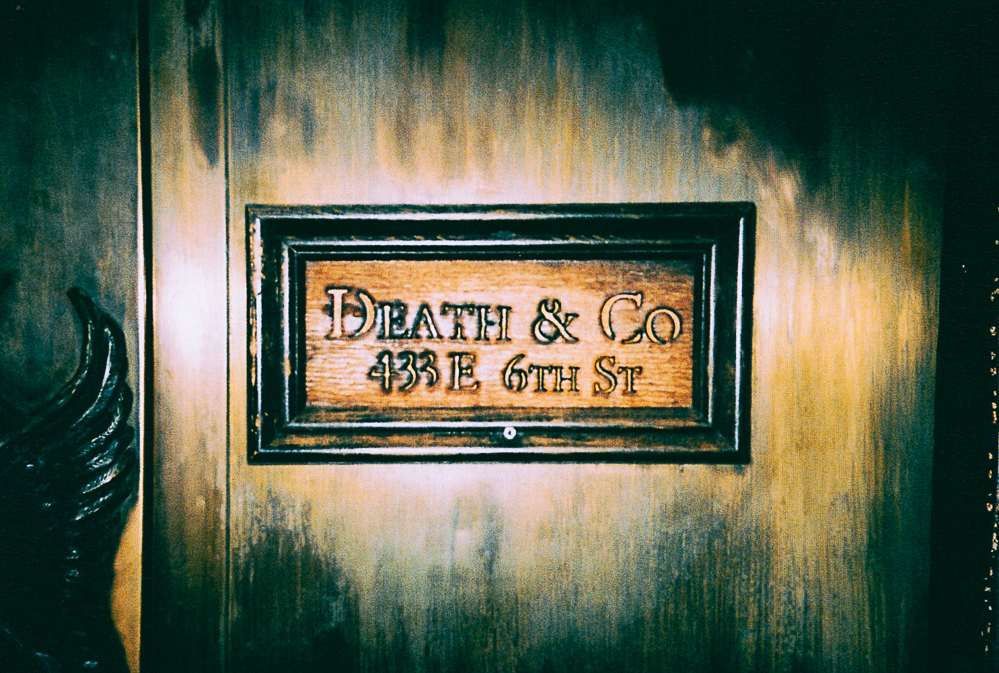 Of course, when we eventually sobered up, it made sense for Jordan to sort a couple of shoots in our adopted home of Brooklyn, too.
First up, he captured Kimbra out on her apartment building's rooftop, before shooting Ashleigh in what I can only describe as an inadequate Winter alphet.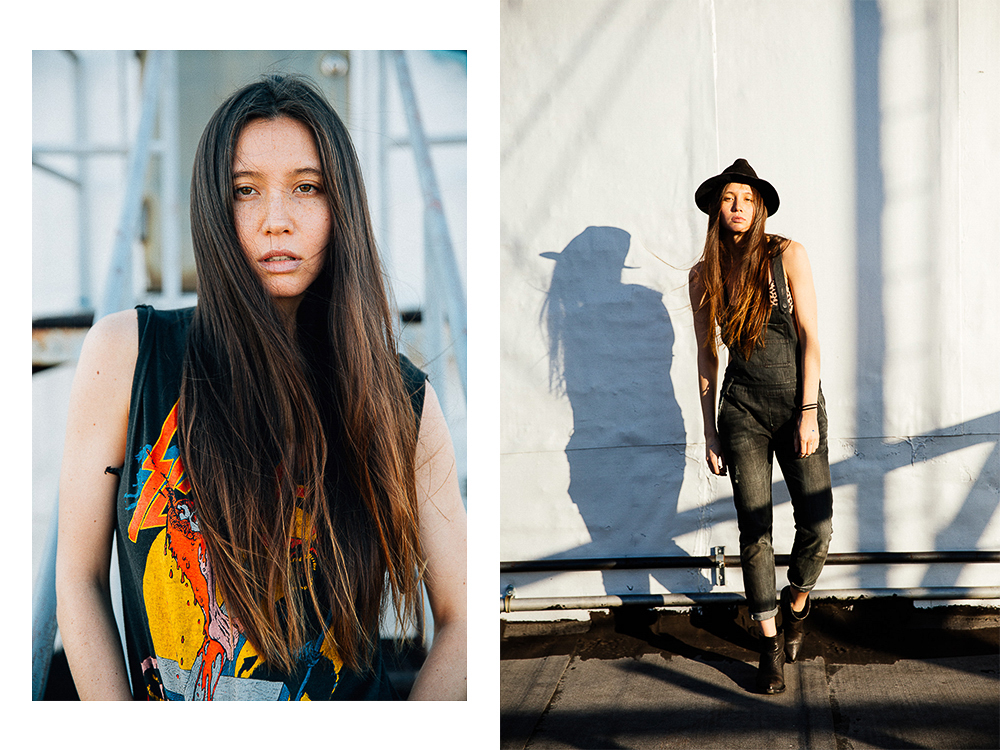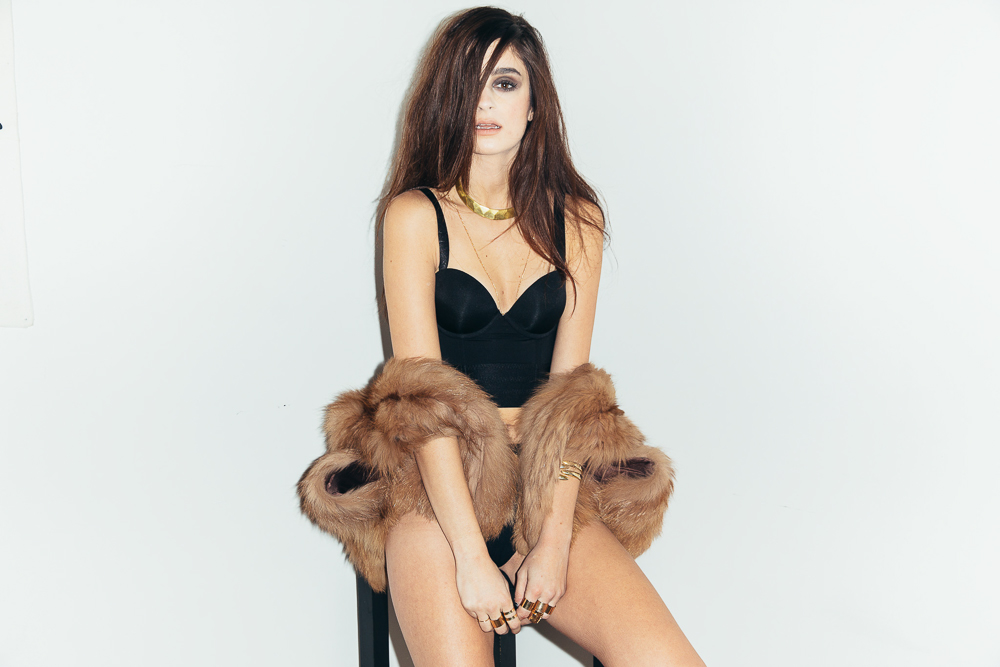 Heading back up to Williamsburg another evening, we paid a visit to the Northside Piers for what we were told was the best view across to Manhattan. You don't want to see a cliché photo of the skyline, though, so here's me popping a rap squat in front of it instead.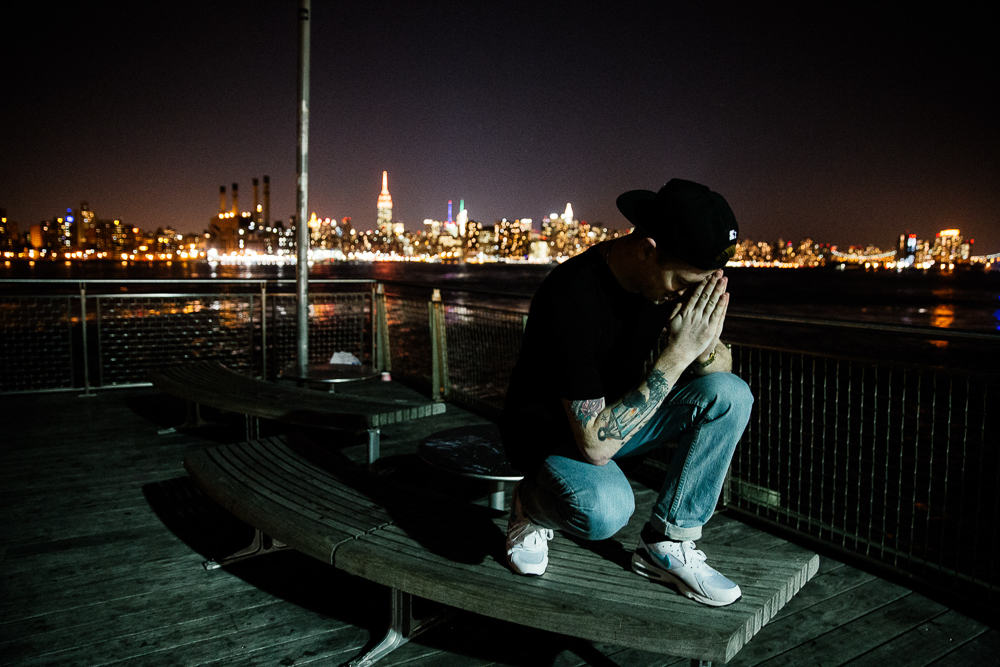 Is fried chicken and waffles a common American dish, or nah? Someone enlighten me, please. Either way, Williamsburg's Sweet Chick has been on my to-visit list for a minute now. It was a weird combination for a reserved Brit such as myself to get my head around, but it lived up to the hype. I now want waffles with everything.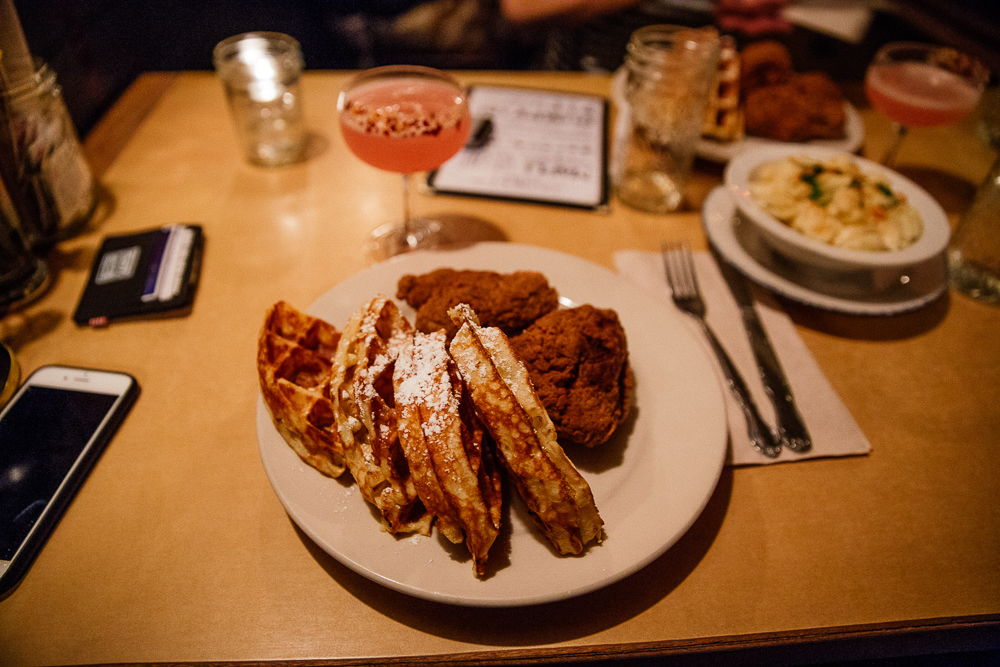 For the record, this was Jordan's drink, not mine.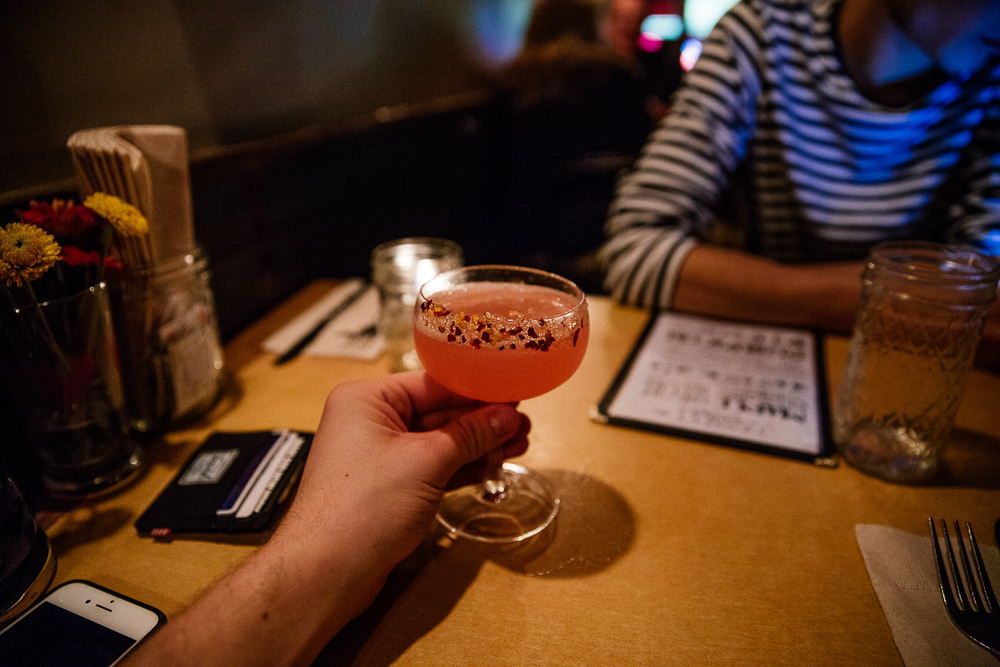 While I'm on the topic of food, the "Bee Sting" pizza that Roberta's served up out in Bushwick was one of the best things I ate on this trip, if not during this entire year. Shouts to Emily Oberg for the tip off on that place.
Poetically, our final day of the trip fell on Thanksgiving. We headed over to Manhattan to hit up a final few spots, including a trip to the top of the Rockefeller Center.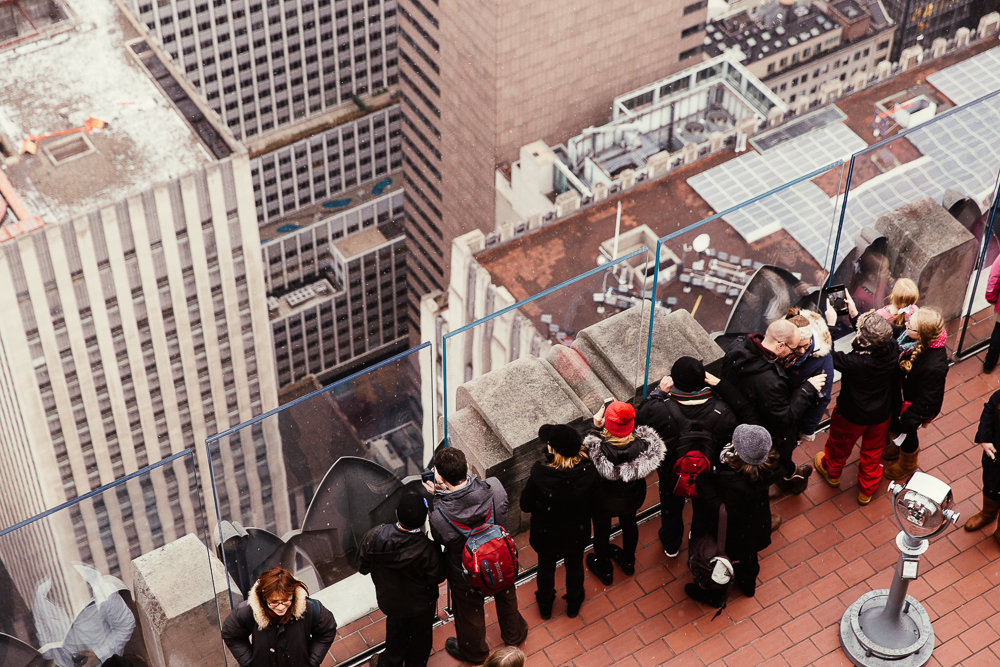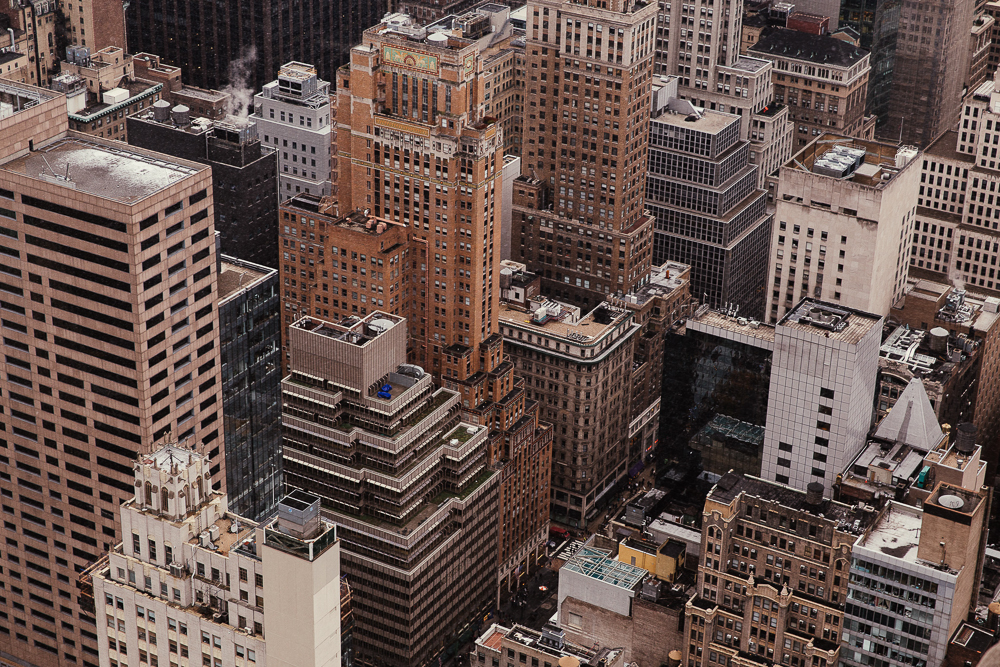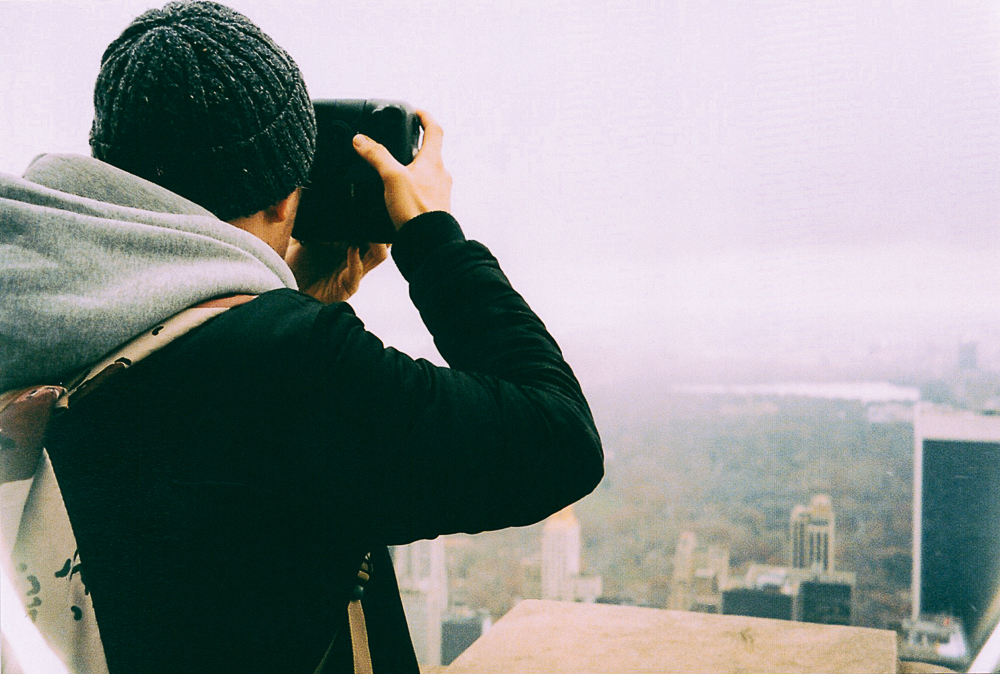 Jordan Green :: Top Of The Rock, NYC.
I played it off like we were doing it on Samsun's behalf, as he hadn't been up there before, but secretly I wanted to clock that iconic view of the city once again.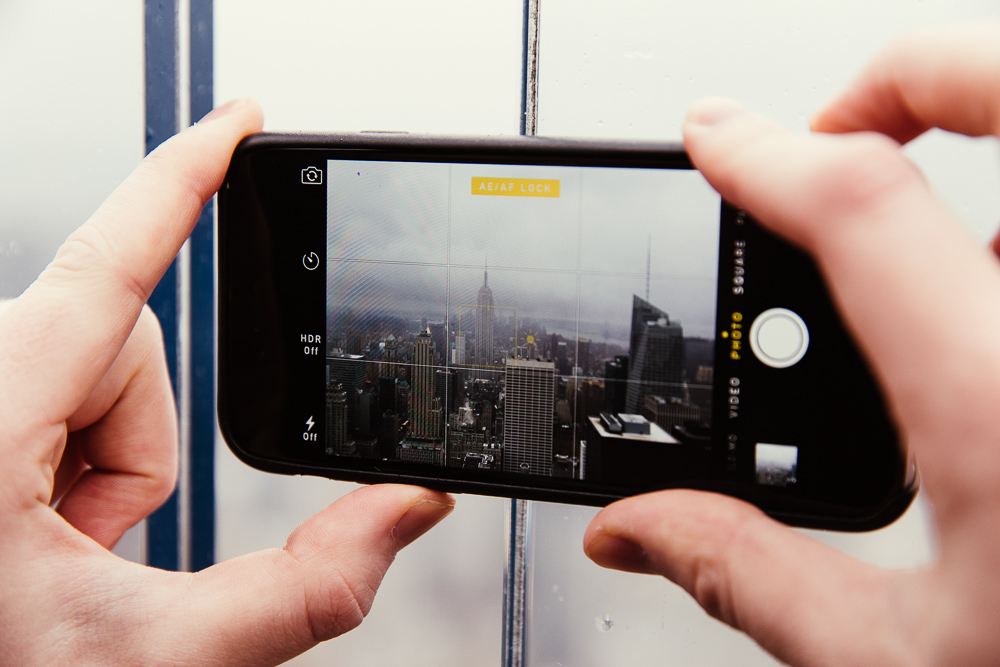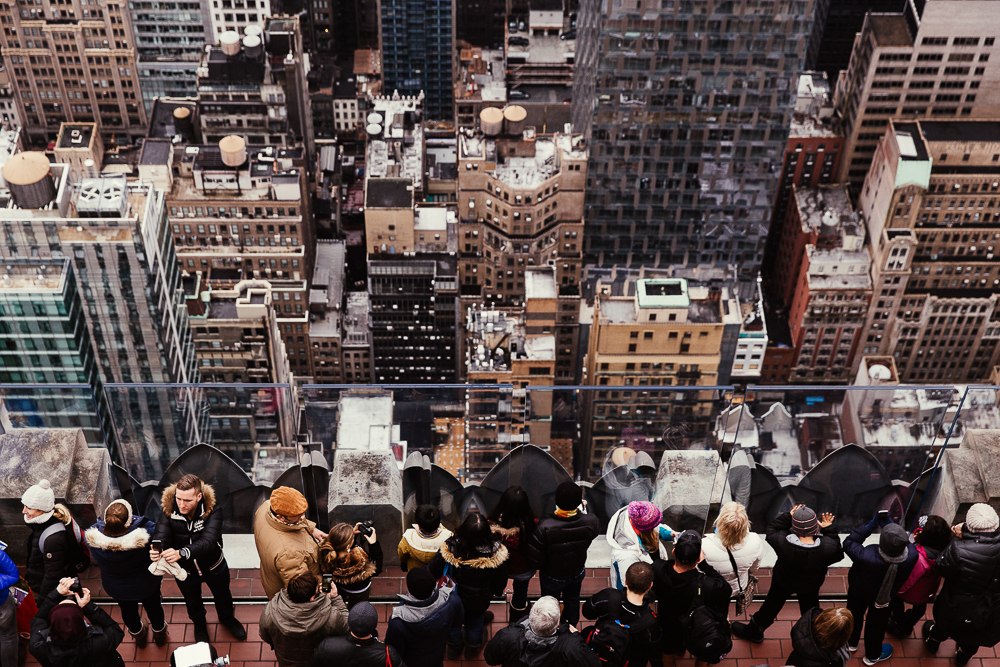 Adding to the festivities, it started to snow while we were up there.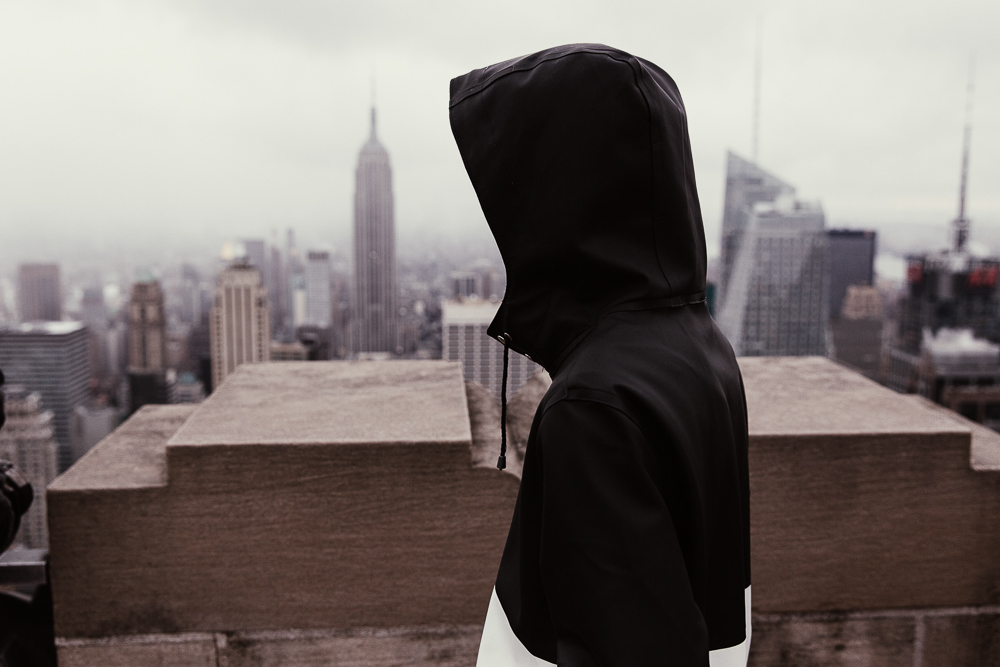 And that, my friends, was the picture perfect end to this damn near perfect trip. TW, signing out.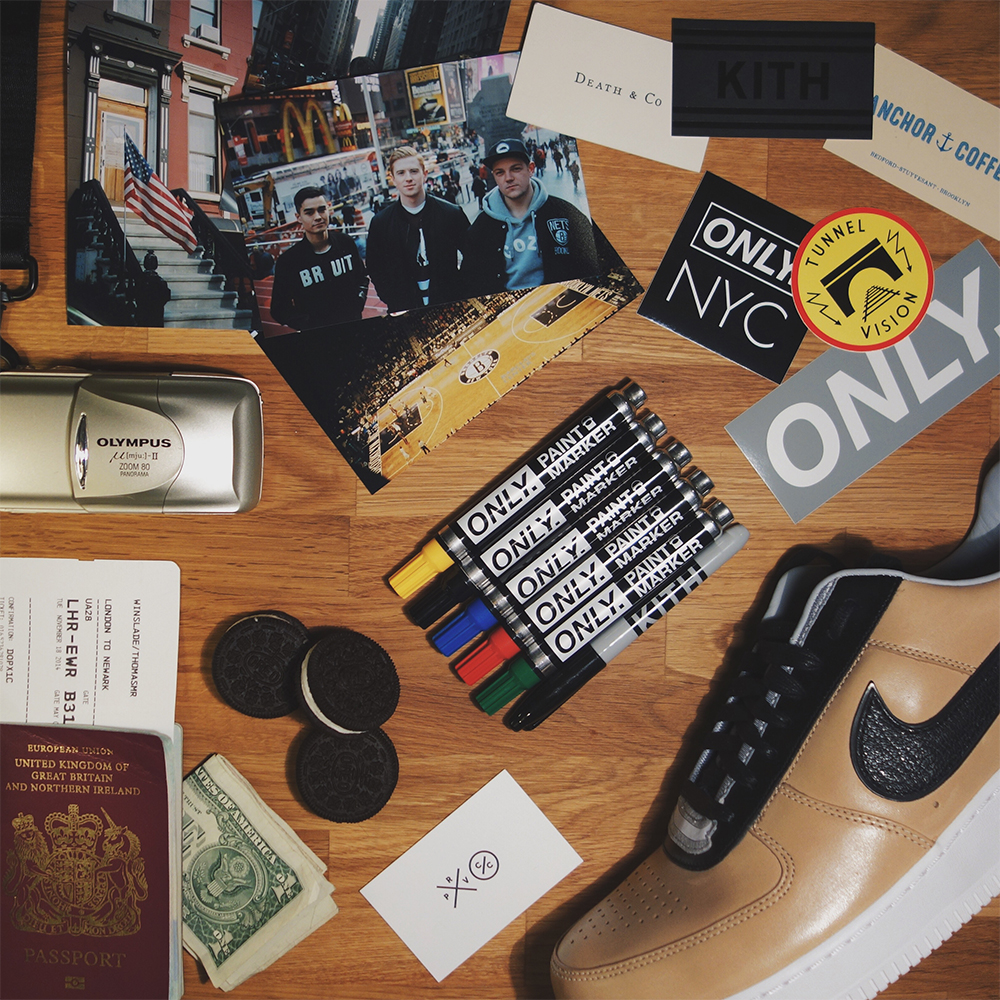 ::
Lead photography by Jordan Green of Prevalence Creative Co.
And if you're not already sick of me, everything you need to know is here.