Words by Maurice
Photos by Paul Sun
You run two different showrooms out of one building, is it difficult to switch between Ford & Ching, the furniture showroom, to 722 Figueroa, the fashion showroom?
Furniture and clothing are similar but they require different agreements with vendor partners. In furniture you're inserted into a different part of the transaction than you are in clothing. In clothing, your sales guys sell clothing and we just wait to receive payment on the clothing but we don't have any wholesale retail relationships. It can be the same way in furniture, and its really straight forward, but quite often what happens is you're often inserted as a showroom because showrooms typically also sell to retail. I'm not good with numbers or sharp with remembering things so the way I do it is to write everything down so I can pick up on the different accounts because it can get confusing.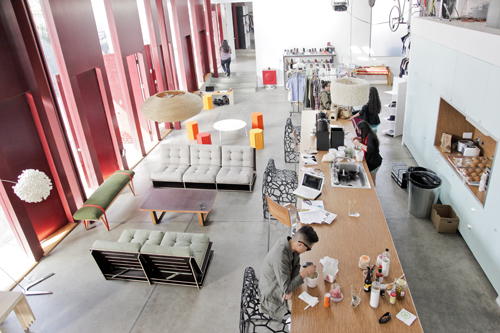 When you first opened the showroom was it strictly furniture?
It was furniture and home accessories. We started in 2005, mostly importing from overseas, and slowly, as the market was falling apart and it became difficult to hold inventory, we started to represent US designers and started working on smaller commissions. Now, we work almost exclusively as agents, where we push our brands into other showrooms. So, its like a retail store and we're the agent, so we're selling to that store, where we would make the sale to them, and we never touch the goods, they go directly from the manufacture to retail stores and other showrooms.
We're trying to get out of the showroom business where we have to sell to the public because of the complexities and collective sales tax it's not worth it. It's better to focus on promoting and selling stuff to those outlets than it is to get involved with customer satisfaction and warranties. Its like, if you had a crappy shirt that fell apart we don't want to take that call, the brand takes that call.
How did you end up running a showroom?
Well, I was in graduate school in an education program in San Francisco State after I got my undergraduate from U.C. Santa Cruz and I dropped out of the program when I had to come home and take care of my mother. But right after college I went through a series of jobs  I went back to being a bike mechanic and machinist, then I was a silk screener, and then I started a company with a friend at the same time as I was teaching in Oakland, and then I had a business taking people on adventure tours to Vietnam, Cambodia and Laos. I still work for the company, but mostly, my partner does it.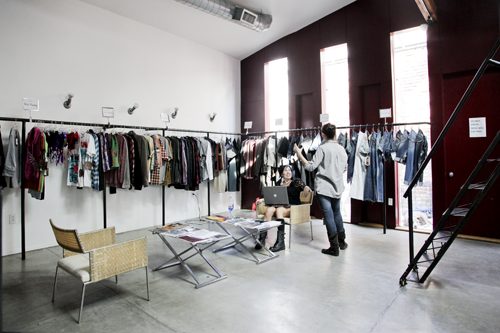 I did that for a while when I was teaching and then I was a program officer for a foundation after that. I worked for various foundations doing grant reviews, and then after that, I worked briefly for a real estate development project in Las Vegas–that was a joke. Then I started Ford/Brady with my old partner John Brady, which I have known for 25 years. Now, it's called Ford & Ching, but John is still here everyday…bothering me.
You actually have more than two businesses going on in the same space. Tell me about what else goes on here.
Well there are four businesses essentially. The four businesses are: 722 Figueroa, Ford & Ching (furniture), Strong Sports MMA, which is a MMA and boxing gym, and then there's the actual building and building management because I have tenants here. I bought the building in 1999-2000, and it took me five years to renovate it. I did a lot of the renovations with John Brady, so we built this place by ourselves for the last couple of years.
Originally, I had to rent out everything because I couldn't afford the mortgage, and slowly as the businesses have taken flight I have taken over my own spaces, and there's only one tenant left, so I pay myself rent from all the different businesses.
Explain the bed back there.
I still live here. I live in a store.
Since you live and work here, do you feel the need to spend time away?
I've become accustomed to it, but it's probably the best situation because I can't really escape it I'm always working. The best part about of it is the businesses have finally achieve lift off; 722 is doing great, Ford & Ching is doing great, the gym is going strong everything has turned that corner, so its all good and the next step is to move out.
Strong Sports MMA seems a bit left of what else goes on here.
I started training martial arts when I was a kid, and went through all the typical martial arts: Judo, Kung Fu, Karate, and dabbled in things like that. And then when I was in Northern California starting my family I got into Brazilian Jiu-Jitsu and more into Kick-Boxing…I did some boxing when I was a kid too. When I moved to Los Angeles I started training at the R.A.W Gym and made a couple of friends over there, one of them being Kengo, who works for me, he's kind of the super here, and the Vice President of Operations. He's a professional fighter; he just won the title over at Pancrase, one of the Japanese organizations. So, he and some other friends, we put the project together, got two major gym sponsors and we manage it onsite. It has distinguished our overall program here and there are also a lot of promotional activities that we are running through it.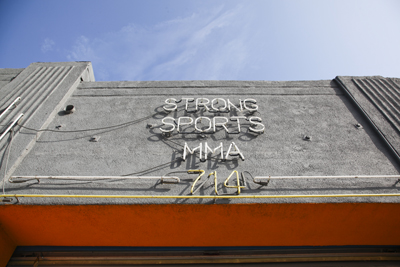 Right now, we're doing a project with Theo Ehret, who was the staff photographer at the Olympic Auditorium for 30 years. He has a library of 35,000 images from boxing, wrestling, semi-erotic fetish apartment wrestling, and roller derby. We have an agreement to produce clothing, events, books, documentaries, and all this stuff based around the subject matter.
In regards to picking the furniture designers, do you go out looking for them or do they come to you?
There's a little bit of both. We will go out to the shows. We'll go to the furniture fairs in Asia, Europe, and the United States and see what's out there. We get solicited all the time but the solicitations usually don't go through because people are too early in their evolution to benefit from our services.
Is this something that you fell into?
This is definitely something I didn't plan to do. I had no intention of ever becoming a resale agent I wanted to be a ninja or a Special Forces soldier or a professional athlete, a scientist, or something cool. I have bad knees and feet so I could never be a ninja. But there are some things that as you get older, I'm older than a lot of people in this business, you start to recognize your own limitations. And when you see opportunities that you can actually get paid for, and you're ok at doing it, and ok with doing it, which are two different things, then you just jump at that. I've always been one of those people that just does what's in front of them.
What would be your ultimate job?
Have you ever seen The Shield? I would love to be on The Strike Team! I would love to be some awesome detective or something like that. Not that I want to be a cop or have any particular love for the police, it just looks awesome.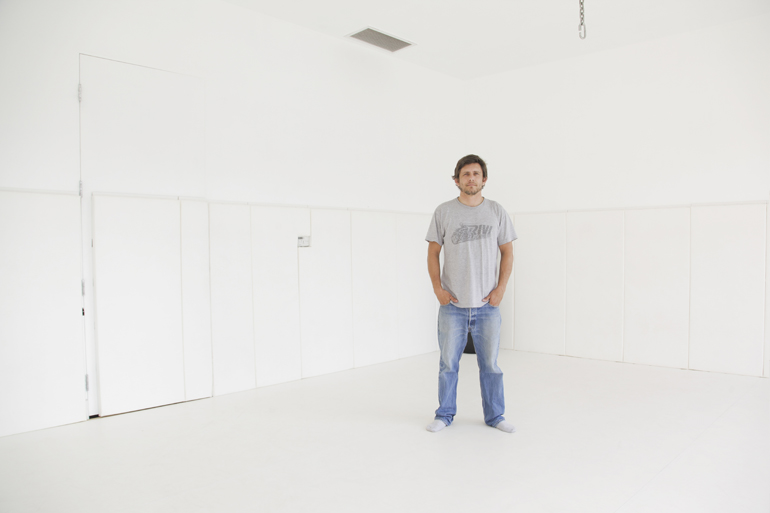 What is coming up next for you guys?
The photo project is super exciting because it ties in a lot of the different things that we are doing, and also distinguishes 722 as a different place. If you go to other showrooms… they all are doing a great job, and I'm not saying they are doing anything wrong but when you go to the other showrooms they don't have the flavor of 722. And that started off by doing interesting projects and the collaborations with Ford & Ching, which gave us access to the design community and the design media that put us in a different space than most showrooms. Maybe it's the pretense of us doing something more interesting, but people expect us to continue to do things, which actually lets me go out and find new and interesting projects, which may not be exactly tied to the commercial success of the showroom and the brands but its something that keeps us on the leading edge of having interesting content. We are doing that [photo] project and then we're going to do another project that is a short film documentary and they kind of roll into one another, and that's how I stay creatively interested. We're doing this music festival called Sound Of Summer that I'm hoping to turn into something. It's in the very beginning stages but we're hoping to do a interesting music festival now that we got our teeth cut on the first couple.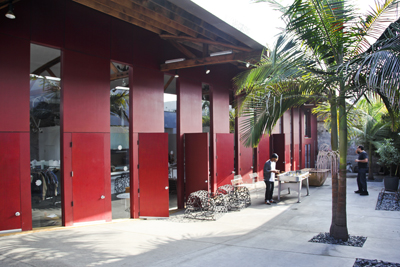 We're also doing something around the history of the theater, so we're going to do some sort of movie night. We have access to really cool chefs there are so many things we can do here that because of the space and because of the resources involved, and frankly, I don't mind spending the resources on these things to help build our name, it keeps us interesting to certain people.