Hey again, Internet. Welcome back to story time with The Hundreds' resident struglord.
I'm not really sure how it happened, but at some point in my extremely conflicting and socially confusing childhood, a pirated copy of Nelly's Nellyville found its way into my CD Walkman whilst catching the school bus, and it completely changed my life. I wasn't sure what Pimp Juice was or why I enjoyed Kelly Rowland's hook on Dilemma so much, but that album was undoubtedly a gateway drug into the real hip-hop that I went on to discover over the next decade; just as soon as I got past my fuccboi G-Unit stage. After resisting persistent urges to buy a pair of coke-white Air Force Ones for at least 6 months, I started digging a little deeper and, before long, it was less 21 Questions and more 36 Chambers. I finally got down to the good stuff and it helped me grow into the well-rounded narcissist I am today.
Anyway, what I'm trying to get at is that over the years, against all odds, I've become a true hip-hop fan. So much so that when I first started seeing Will Prince's rap portraiture floating around the Internet, it immediately caught my attention. The combination of his art style and hip-hop influence was right up my street, even more so when I realised he was a skinny white kid from the UK like me. Will and myself recently crossed paths in London during his month-long exhibition at Boxpark in Shoreditch, giving me the perfect opportunity to speak to the man himself and share his art with you guys. Enjoy, Yung Trill Prince.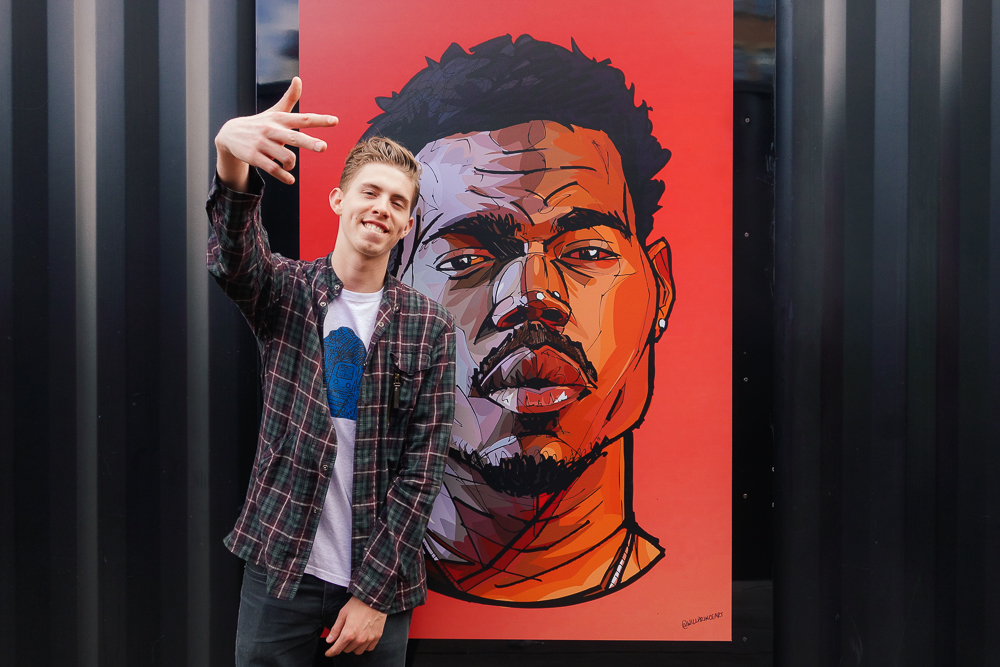 Will Prince with his portrait of Chance The Rapper at Boxpark, London.
::
Tom Winslade: Yo! So, who is Will Prince?
Will Prince: I'm a budding artist from England. I'm just trying to make my passion my career, you know?
I feel that. Jumping straight into it, have you always had an active interest in art?
You know how you have the kids who are into sports or whatever and that kind of becomes their of their "thing"? Well, I was always just drawing, man. The whole time I was young I'd just be drawing cartoon characters everywhere.
Did you enjoy art class at school? I've got a bunch of illustrator friends that actually hated studying art, despite it becoming their career.
I always loved it. At school, it was the only lesson that I really looked forward to. I didn't really matter what project I was set, I knew that I'd be able to make it enjoyable somehow. It was just something I felt comfortable doing, more than other classes anyway.
Were there any particular artists you came across that inspired or influenced you early on?
It was the whole Pop Art thing. Like, Andy Warhol and all them guys. I love Basquiat too – the abstract style.
Man, Pop Art was what gripped me too. Roy Lichtenstein always stood out for me.
There's something about the fame of them as well. Like, they made huge names for themselves.
You mean, like a celebrity status?
Yeah. They were artists, but they became icons. It was almost as important as the art itself. That fascinated me a lot.
I see what you're saying. Hey, that could be you next...
Well, that's what I'm trying to do, yeah.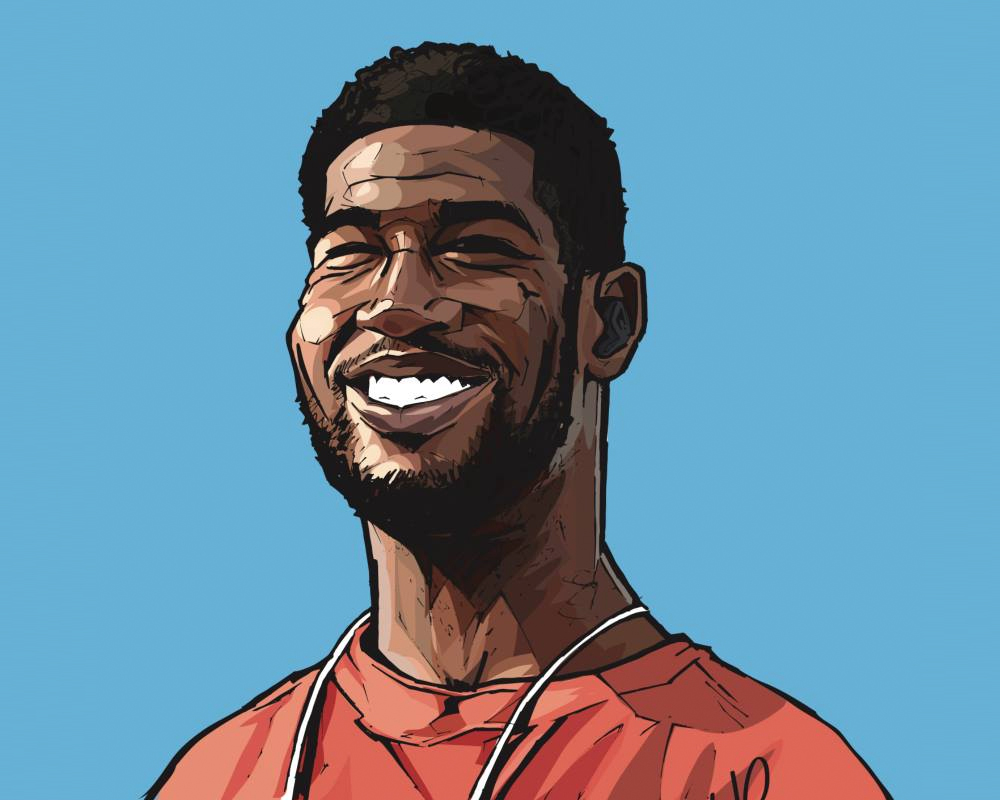 Kid Cudi by Will Prince
I'd say that you've got a pretty distinctive style. I could spot a Will Prince joint a mile off. Was that a intentional thing, or did it just develop naturally?
Early on I was just lifting ideas from art I liked, but I eventually found my own style through doing that. So yeah, I'd say it was a natural thing.
So it wasn't like "Shit, all these guys all have their style, I need to find mine"? 
Nah, not really. It wasn't a conscious thing. I was just playing around and I guess somewhere along the way I stumbled across something that works for me.
I respect that. That's how it should be, really. There's a lot of contrived "artists" out there.
Yeah, for me it was just a case of getting more and more confident with my linework until it eventually clicked.
So, how would you describe your illustration style? Let's say, in three words?
Free. Live. Loose. It's expressive. In fact, I'd just go with expressive. There's life in the lines themselves, you can see the energy there.
I find it crazy how it looks like you've kinda just gone mad with it, yet it still captures a specific person's image. Despite the erratic lines, you can still tell exactly who it's meant to be. If that makes sense?
[Laughs] Yeah, like when my brother is watching me work he says it just looks like a bunch of scribbles until it eventually starts to take shape. I know exactly what you mean.
Your back catalogue seems to be predominately comprised of portraits. What is it about portraiture that interests you specifically?
I just enjoy trying to capture the characteristics of a person. Especially with the pieces I picked out to exhibit at Boxpark. Like the one of Wiz Khalifa, I've got him laughing, it's got his smirk. You can tell it's him a mile off.
The green background is a giveaway too...
Naturally! Or the one of Chance The Rapper, he just looks spaced out. The whole acid thing. It's just about trying to capture their personality within the portrait.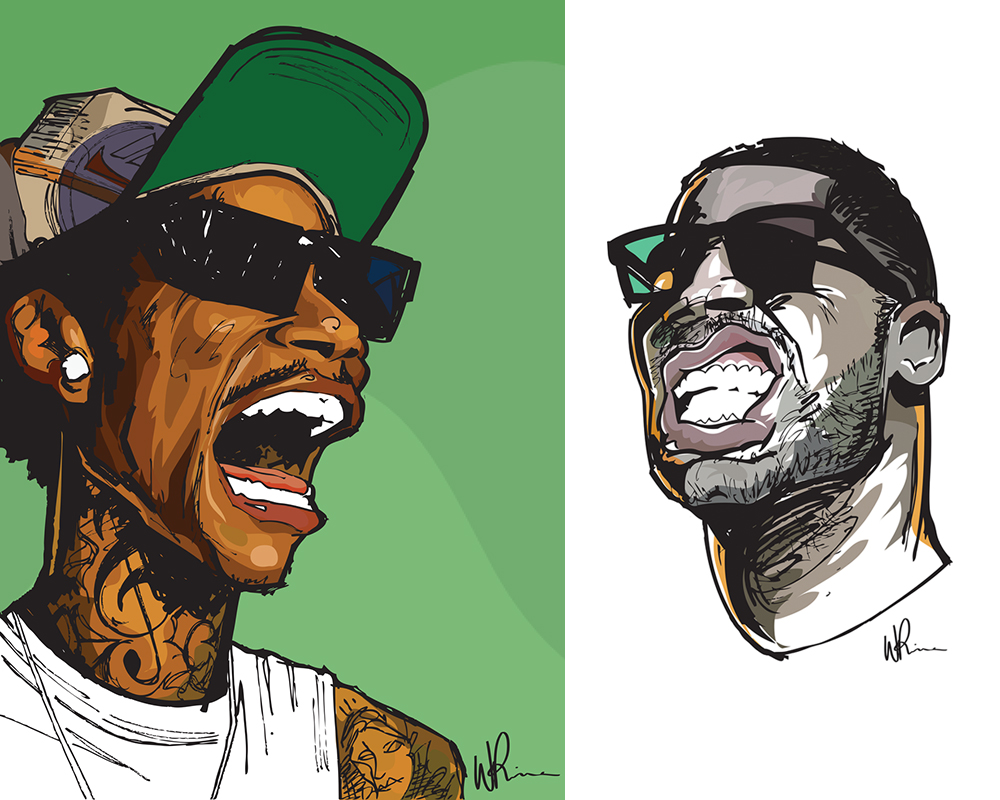 Wiz Khalifa & Drake by Will Prince
There's obviously a large hip-hop influence. Is there something about capturing a rapper's typically larger than life personality that lends itself well to your style?
Yeah, I'd say so. I mean, I'm as passionate about music as I am about my art anyway, but it's their personalities that pull me in. When you've got people like Young Thug or Rick Ross, they're already larger than life. They're already cartoons, I've just got to translate that onto paper.
Let's say you're drawing Andre 3000, will you consciously chuck an Outkast record on in the background while you're working?
Sometimes. It definitely helps to listen to the artist while I work though. Just to get the vibe right, you know?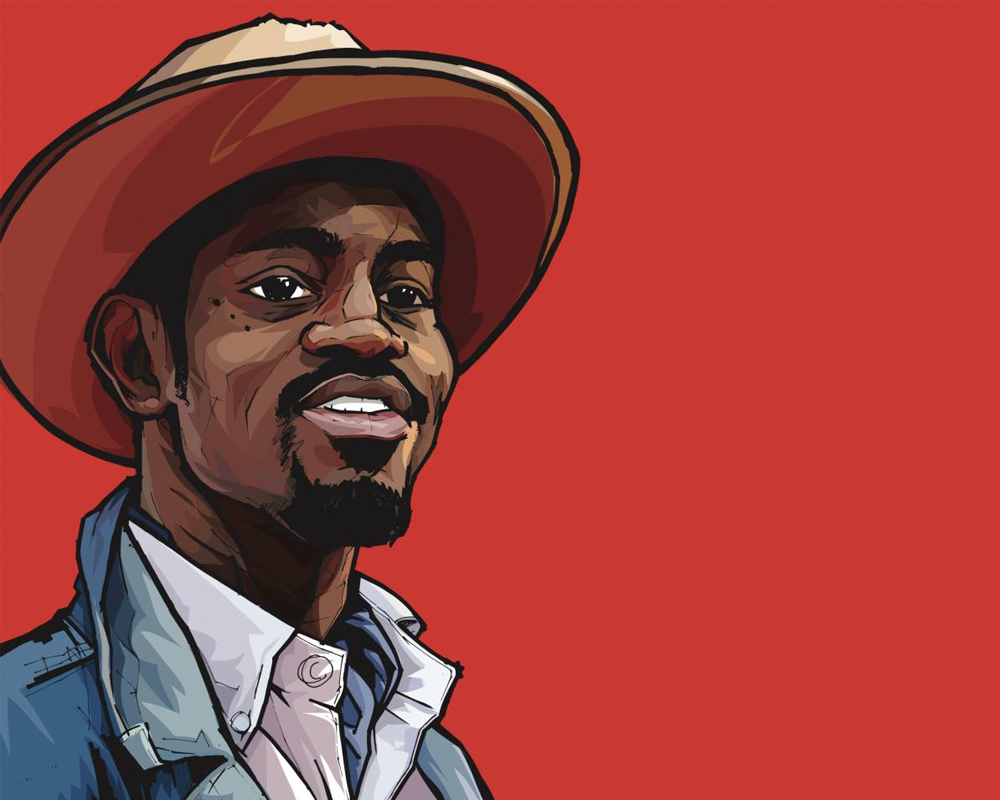 Andre 3000 by Will Prince
It makes sense. Actually, let's talk music for a minute. It's clear that you're a hip-hop head. Are there any particular artists that you've found yourself listening to recently?
Kembe X. Vic Mensa, Chance –basically the whole Save Money crew. That whole breed of rappers coming out of Chicago right now is tight. Or GoldLink, who performed at my exhibition, I've been fucking with him a lot. Topaz Jones from New York, Rich Homie Quan out of Atlanta, Little Simz, representing the UK. There's that Raury from Atlanta too, he's getting loads of buzz right now.
There seems to be this surge, this whole new generation of hip-hop coming up at once. Like, right now.
It's weird, right? The new breed.
I mean, it's probably to do with shit like Soundcloud, or Instagram and Twitter giving young artists that huge potential reach straight outta the trap. It's cool though. I guess it's the same for us as artists and designers.
It's useful for sure, but I don't think people should use them websites to push their stuff on people. Whether it's music or artwork, just put it out there and if it resonates with people it'll catch on naturally.
What's your all time favourite record?
That's tough. I really like neo soul, aside from hip-hop. I could take some D'Angelo... that Voodoo record. Or maybe Slum Village? Slum Village – Fantastic, Vol. 2.
That's an obscure one. It will make you seem cooler if it's obscure.
[Laughs] Yeah. Let's go with that.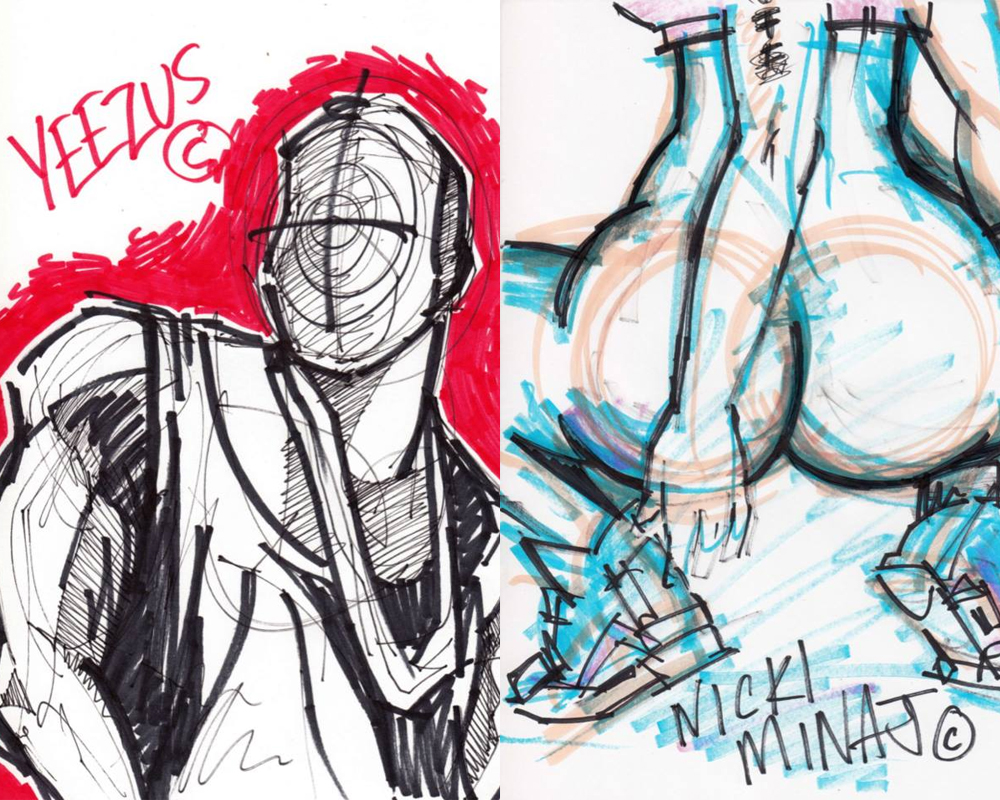 Yeezus & Nicki Minaj sketches by Will Prince
Bringing it back home, the UK isn't typically known for it's hip-hop. I mean, the closest we've probably come on the world's stage is through our grime scene, but there is legit hip-hop here. Now, more than ever. Which British artists should people be keeping an eye on?
I mentioned her briefly before, but probably Little Simz. Like, her whole team is doing it right. They're building a buzz in the States as well as at home, so I think it's all gonna grow at once for her.
Yeah man, shouts to Little Simz. Those MOBO Award nominations as well, that's a big look. I'd love to see her take at least one of those home. Her work ethic is crazy right now.
Agreed, she deserves it. Also, he's not a rapper but I love MNEK. He's the man. London's looking good.
What about Danny Seth? I've liked everything I've heard from him. I think he's onto something big, you know?
Yeah! I actually met him out at SXSW.
He's dope. I checked him out after speaking to Ciesay and I was like, "What the fuck? This shit is coming out of the UK?!"
Mad isn't it.
The British are coming.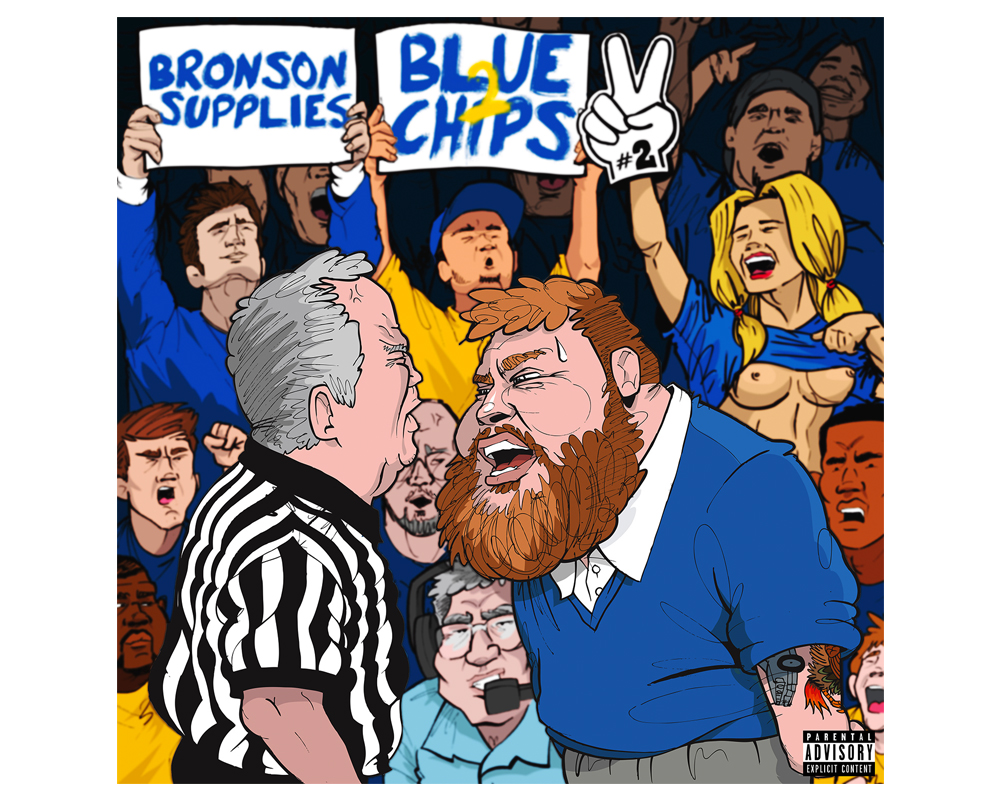 Action Bronson's 'Blue Chips 2' mixtape cover by Will Prince
Right, so getting back to the art, you've got some mixtape artwork under your belt; namely Action Bronson's Blue Chips 2 and Asher Roth's Pabst & Jazz. How did that come about?
Just through my blog, I guess. They were cool though, I really enjoy working on covers. I actually kinda designed Chief Keef's Bang 2 mixtape cover. Some anonymous designer basically just lifted my illustration and slapped it on there without asking me. It was kinda cheeky. I should be mad about it it, but it's Chief Keef, so I'm just claiming that as mine anyway.
Talking of cheeky, did you ever manage to get that booty piece over to Kim?
Nah, I'm trying to though! She liked it on Instagram, which I found crazy, but I haven't made the connection yet.
She's such a tease, man. Just another Instagram girl out there playing us for a fool.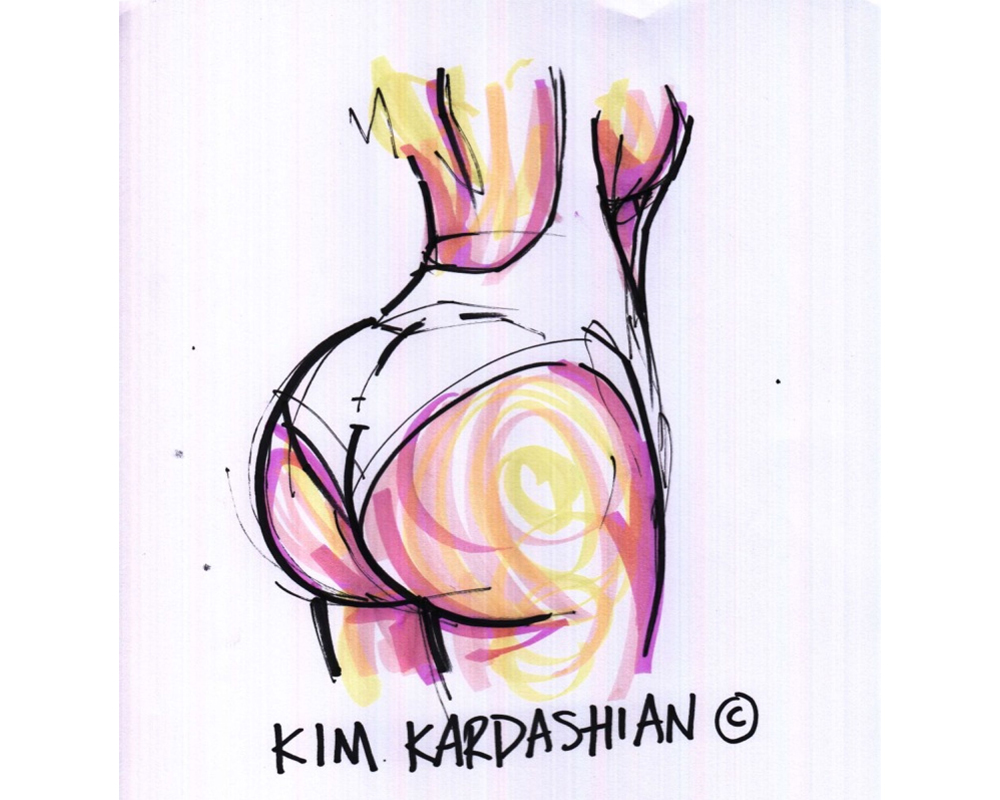 Kim Kardashian's Butt by Will Prince
Who's the dream client?
I'd love to do something with Erykah Badu. Actually, Young Thug would be wild too. Like what we were saying before about characters, he's on another level – like a mutant Lil Wayne.
He's rare. What about someone like Yung Lean?
Bro, I can't get my head around Lean yet. I mean, I liked that song with Travi$ Scott but –
I'm telling you, that new album is on some other plane of consciousness. I was listening to it the other day and I swear I started tripping out.
What's next for Will Prince then?
I'm gonna be doing a Will Prince capsule collection with my friend's brand called Tastemakers. It's going to be more than just throwing my illustrations on T-shirts though. We're looking at doing some classic polos with a little signature embroidery, quality stuff that I'd like to wear myself. I'm also looking at doing some more large format work, but instead of digital prints, actually working to scale with paints. At the moment I do all the linework with Sharpie, scan it, and then colour it digitally. I want to do all of that with paint, but without losing the impact of the linework or having to blow up a small drawing.
Are more exhibitions in the pipeline then?
Well, this Boxpark one was actually my first in the UK. I did one earlier this year in Chicago and then a couple of year's ago at SXSW. Being from the UK, it's kind of weird that I exhibited in the USA first. But I guess with the whole hip-hop thing, my subject matter is more American. I'd like to exhibit more in the UK, but the next stop is actually New York in November.
I really want to work on an album cover next though. To walk into a store and see an album cover I've designed would be dope.
Who would it be for?
It's funny, Rick Ross followed me on Twitter the other day, so maybe that's a sign? That was weird though, he followed me and then DM'd me asking if I could tweet about his new single for him.
What?! Ricky Rozay is reaching out to you personally to plug is new song? That's when you know.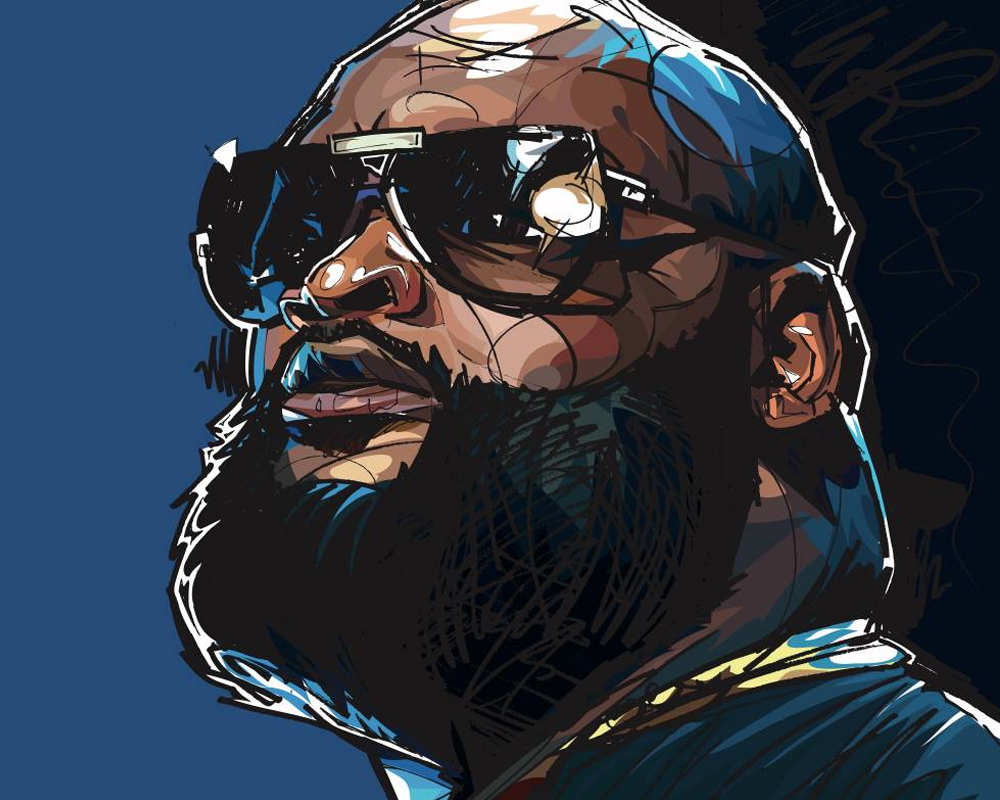 Rick Ross by Will Prince
To be fair, with a name like 'Will Prince' you should probably be thinking about launching a rap career yourself. That's the next logical step.
I did think about it. Maybe as 'Trill Prince'? I'll just call in favours from all the producers I know and completely kill the game.
Just before we wrap up, any shout outs?
Shout out to Boxpark for the exhibition and letting me do my thing. Shout out to The Hundreds for this interview. Just shout outs to everyone that supports me really. It's all love.
::
Keep an eye on Will's latest work via @WillPrinceArt on Instagram & Twitter. And if he does ends up launching a rap career, someone slide into my DM's and let me know so I can claim my %.