It was 2009. Rapper Krondon was in hip-hop collective Strong Arm Steady, who had just released In Search of Stoney Jackson, a critically acclaimed seminal work produced by mysterious wunderkind Madlib. At the time, it caught the ear of producer Shafiq Husayn, transitioning from his place with the genre-defying Sa-Ra. Stoney Jackson reminded him of his foundations within the culture that made a life for him: "I came up DJing, b-boying, the whole nine. So that's what [Krondon], for me—as far as the craft and art—really epitomized. Because everything I like about rap and hip-hop, that's what he demonstrates. And I'm quite sure he would say the same thing."
This interaction coincidently occurred simultaneously while Krondon spent months on tour buses and planes around the world with Strong Arm Steady, enraptured by the sound of En A Free' Ka, the trailblazing project dropped by Shafiq off Plug Research that showed his love and connection with the essence of the motherland—a personal sonic journey. "For me, as En' A-Free-Ka was for him," says Shafiq, "it was redemption—and got me through a dark period."
From destruction comes life. This is one of those necessary lessons to be learned in order for one to shape order into an otherwise tumultuous world. To be able to break down and absorb that science sets a listener up to understand the grand orchestration that is White Boiz. Birthed at pivotal soul-searching moments in their creative careers, Shafiq Husayn and rapper Krondon have now come together to masterfully reiterate their place within the eclectic LA scene they've helped build over the years with their debut album on Stones Throw Neighborhood Wonderful.
With tracks like "G.U.N. (God Understands Niguhs)" and "Mary's Son," Krondon is able to effortlessly maneuver through celestial soundscapes—formatted by the Grammy-nominated maestro that is Shafiq on his first rap album ever—and build with the youth on the street corner in a language that speaks to them.
The strong imagery represented in the visuals for "Mothership Intro" and "Main Street" (shot by the OG Eric Coleman) hearken back to a presence within hip-hop that many have forgotten about. Black men in moorish garb in 2015 are an anomaly to a generation likely ignorant to the influence of the Five Percenters and Moorish Science Temple. The recent success of To Pimp A Butterfly and local labels like Brainfeeder and Stones Throw have created new opportunities here, as the industry begins to refocus on the creative endeavors of LA for its originators to come to the light. We're witnessing a slow shift towards the search of knowledge as an aesthetic, now viewed as popular by a new generation of hip-hop fans outside of the traditional tribal affirmations that were once signifiers (backpackers take notice).
Not afraid to discuss the love and heartbreak involved within the creation of Neighborhood Wonderful, I sat down with the White Boiz and talked about rap culture today, consciousness, and the lessons they took from reading the autobiography of Quincy Jones, in the edited interview below.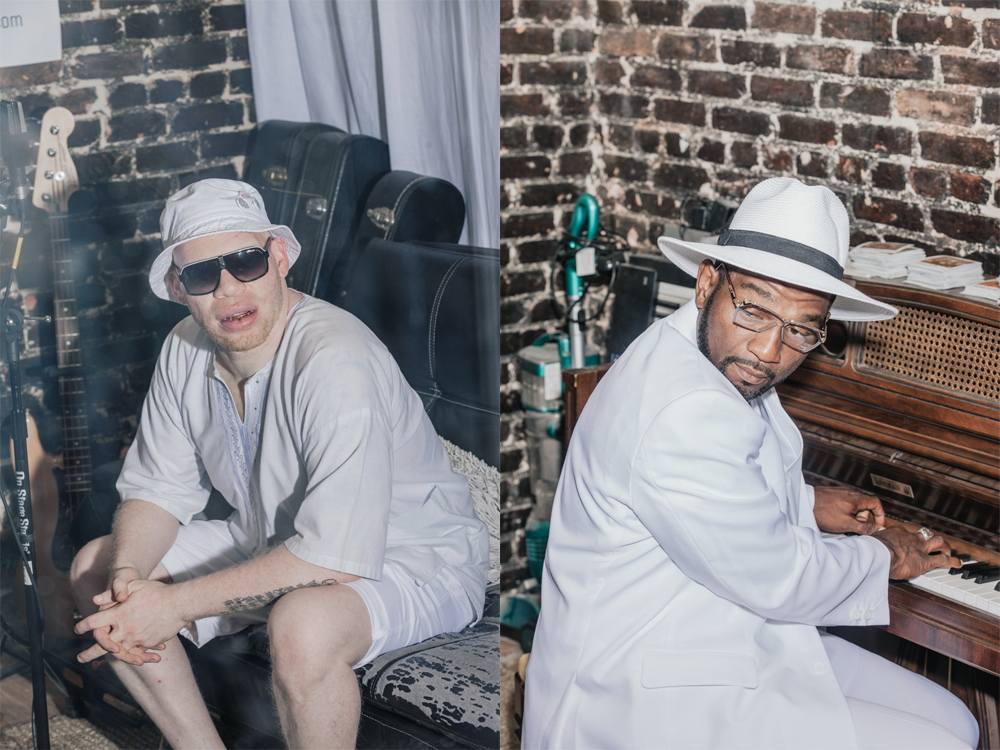 I'm here with White Boiz, a new collaborative project with Krondon and Shafiq Husayn, [who just released their debut Neighborhood Wonderful] on Stones Throw. Pleasure to be here with you guys. The project, which I had the pleasure of listening to today, is a knowledgeable journey. Which is something that within the rap realm, specifically here in LA, we've been seeing a shift towards—more of an appreciation towards knowledge. You guys want to speak on this new interest a lot of people are having on what the LA sound is?
Krondon: I just think that overall—coming from Los Angeles, me being an artist in Los Angeles—I think that for so long we've been stereotyped and pigeonholed to be something. Where I think the world, based off of media and movies and television and our own selves, our own music that we've put out as a community, kind of gave people an idea—well, they think they have an idea—of what we're supposed to be and what we're supposed to talk about. And based off our lifestyle that we do live, some of that is true. But I think that intelligence reigns supreme and what you're seeing now in our new generation of artists and the older generation of artists is a personal maturity and an artistic maturity overall.
I just think that now, in this new millennium that we're in, 2015, it is more prevalent. It's sought after because for so long, we've been only been giving the world one thing; or one side of it per se. So I just think now it's more open.
"LIFE WILL BURN THINGS OFF OF YOU, THAT'S THE THING THAT PURIFIES YOU." -SHAFIQ HUSAYN
Shafiq: Yeah. It wasn't metaphysical, it's prophecy. All the holy books say that the sun is going to rise in the west and California, like he said, has been stereotyped as a place where that particular thought process doesn't exist. It's really just prophecy because we're in an electrified age anyways; age of Aquarius. That's fire and water—the sun and water, which is wisdom. So right now, I would say the fire would be the purification part of it, and the water would be the cleansing. White Boiz is a reflection of that because we were into fire, so to say. Being burned and going through life. Life will burn things off of you, that's the thing that purifies you. But like with cuts, you can't just put the bandage on it, you just can't come white, you got to go through that process.
So White Boiz really symbolizes that spectrum from darkness, fade to grey, all the way to white.
Before I get too deep into the meaning and the symbology behind the name and the direction you guys took with the album, [what was your process] to eventually become what is now White Boiz?
Krondon: We just sat up for six months, every day how we are now, and didn't record one song; just talked. Talked, built, laughed, joked, smoked, talked about life. I'd take him home, he'd take me home, we'd go over and talk about females, talk about family problems, talk about everything for about six months. Then it was, "You know what? Let's start going through music, it's about time." Then we went through beats for three months, he just played me everything for three months. It just started organically happening, bro. After that "Bloomingdales" beat, it was on.
What is it about Krondon that made you feel like he would be a perfect fit for your sound? And vice versa—what about his production?
Shafiq: I was going to say, I'm already a fan. I come from that, before in Sa-Ra, I came up DJing, b-boying, the whole nine. So that's what he, for me—as far as the craft and art—really epitomized. Because everything I like about rap and hip-hop, that's what he demonstrates. And I'm quite sure he would say the same thing. People that are in hip-hop, they know that thing. If you're into books or cars or stuff like that, there's certain things about those that only those particular people can relay. Now, as far as working with the brother, I know tons of emcees. I tell people all the time, I know tons of people, all my friends do music. But I don't do music with all of them.
So for him, aesthetically—for him knowing the music, studying it. He went to school, that's a music appreciation class that he basically formed for himself. I have to really honor that because I do that; I do the same thing. I know the Stoney Jackson album backwards and forwards. So for him to do that, we're already in sync and tune with that, we already come from the same place. It was very organic, it made complete sense to do that. And this is my first rap album that I produced from start to finish, so that was another opportunity that we talked about as well production-wise.
"WE LOCK OURSELVES IN A CLOSET FOR TWO OR THREE MONTHS WITH ALL OF OUR HOMIES AND THESE LO-FI BEATS." -KRONDON
Krondon: Because I was aware of that going into it. It was like, "No, bro, we're going to do this because you ain't never done [a rap album]." Madlib did it… and J Dilla, Khalil, name it. Alchemist. Name it. At the same time, [Shafiq's music] got me through a year, a tough year too, musically. Where, sonically, it was therapeutic for me. We had recorded Stoney Jackson already, and that was therapeutic. So it was like, Okay, I needed to do that. I'm coming out of this Xzibit, Snoop shit. My group is crazy, we're all over the world. And we go and do Stoney Jackson. We lock ourselves in a closet for two or three months with all of our homies and these lo-fi beats.
You know what else helped me? I don't know if I ever told you this, this helped me a lot, a lot, a lot, a lot. Quincy Jones's autobiography. I was reading this at the time, my brother DJ Khalil gave me this book and I ended up reading it twice, like, two and a half times. And I was ghostwriting, I was in a group, and I was solo. I was all three of those things. The one thing I did not know how to do was make music. The magic that is music. And reading Quincy Jones's book, his autobiography—I suggest anybody read that, especially if you're into music—he explains how to make music. It has nothing to do with making music.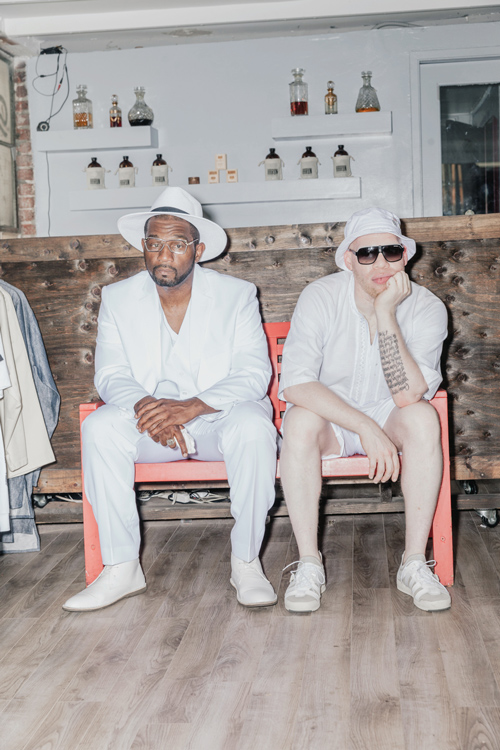 What'd he say?
Krondon: Two things. The music you make is going to be based off of where you are as a spirit individually. Where you are individually as a spirit. Think about the music that is made, think about the genres of rap and how it's broken down to where those spirits are. The trap is in the trap; that's the spirit. That's where that spirit is at. So the music you make is going to be based off of where your spirit is. You want your music to evolve, your spirit must evolve… This is from the man who made Thriller at 56, he was 56.
Shafiq: People always forget that, I want to say that, bro. He was 56.
Krondon: He was 56 when he made the biggest record in the world and the best record of his life. This is the guy who has been making music since he was 17 years old, went on tour with Miles Davis at 18. At 56, bro!
…That was what he said, and then one thing he said—this is the truth, G—"the greatest music is not made individually." No great music is made with one person in the room, the greatest shit in the world. I didn't understand that, but I knew he did; I knew that. I knew he was already making music like that, I could hear it.
"I WAS GOING THROUGH DIVORCE AND FORECLOSURE, BUT HIP-HOP, SEE? MY FOUNDATION—THAT'S WHAT THAT REPRESENTED." -SHAFIQ HUSAYN
And this was what created the subject matter, the point, the position. Everything you're seeing now, him and I built that; it was already worked out. The concept, why we're doing—everything as we doing it. It was organically happening, we were just building and building and building, and from building, this was built. "Okay, we got that, that's built just from us building. Now we've got to build the neighbor." We've done built a whole world, Neighborhood Wonderful.
…That's why to me, that album is my best work, John [Wheeler]. [Referring to John] This is the White Boiz general manager because he hears me say that and people who love Stoney Jackson or love this and love that look at me and go, "Huh? Really? You think that? I like this." "Shut the fuck up."
Shafiq: Stoney Jackson got me through. I was going through divorce and foreclosure, but hip-hop, see? My foundation—that's what that represented. Why? Because I had been used to these brothers doing the high end—Snoop, Kweli, all that. But I know they really rhyme-rhyme. I'm just waiting for this thing and then they drop that thing with one of my other favorite producers. So I'm like, "There's hope." That's what that album represents to me because that particular frequency, everybody remembers that… Your parents, they remember that frequency, but it's brand new and fresh to you. So for me, as En' A-Free-Ka was for him, it was redemption—and got me through a dark period.
The visual that you guys put out with Coleman [for "Mothership Intro"] is amazing. What are the plans that you guys have for this album? Are you going to go on tour?
Krondon: Yeah, we're going to go on tour, we're going to do everything. It's a real thing as you see, it's not just something that we're just trying to throw out there and see what happens. It's not that. We got a point and we're very, very focused on that. We're speaking to the people, so we got to go to the people, that's our thing. It's definitely touching people; tour-wise. We want to be very visual, we think that the music is very visual just without a visual. From the interludes to the things we're saying, the hooks, it's very cerebral, yet very visual. It's plain in your face. We really wanted to bring that to fruition.
…This is going to sound funny and cliché, but think about it. You're an artist, Shafiq is an artist, and what we're doing. Think about how many black and white covers have dropped this week, this year. Based off of a conscious undertone. My point is that at some point, it was like what brother love said earlier, the fire's going to burn so long. It's what the steamer does, what the iron does, it's going to get the wrinkles out because it's so hot and you press on it. So we're feeling the pressure, whether it's police brutality, whether it's financial instability, whether it is domestic unrest, that's the iron on our people… It's going to take wisdom and accountability.
Do you feel like artists are no longer concerned with both the impact of their actions within the community and what they present towards the community because they can't make money off of being concerned with their own people?
Krondon: I think it's two people, it's the artist and I think it's the few companies that handle distribution and/or manufacturing. I think it's one in the same. When you had labels like 4th and Broadway that dealt with Eric B., Rakim, and X-Clan, and Funkytown Pros, and DeafGeoff and the list goes on and on and on. These were the same people that were distributed through Island, who did Bob Marley and blah, blah, blah. So if you think about it, it's like that was a time and an era. Then you had Jive Records—rap was still new and consciousness wasn't. Rap was new but consciousness wasn't knew, we've been conscious. Now rap became the vehicle to get this conscious shit on. Then major corporations said, "No, no, no, no, no, monetize. Rap is the way to get to the bank."
When rap was a way for us to get our shit off. For Kane to say, "Here I am, R-A-W." For him, that was what that was for. For KRS-One to say, "You must learn." Chuck D, "My 98." You know what I mean? When I heard [Public Enemy's] "Night of the Living Baseheads" and I'm in LA in a crack house—I'm in LA, my dad is selling crack, and these niggas come off over the TV talking about "Night of the Living Baseheads." They got the fucking smokers walking around the street. We was like, "What the fuck?" These guys know us, they know us and they care about us. They don't want my uncle smoking rocks, they don't want my uncle to take my TV and my bike and go sell it down the street for a rock. And even if he does, these niggas put out something that's going to make him feel like an asshole every time he hears it.
…I think even in the era that we're talking, it stayed and it sustained for a long time. I think if you think about the great artists, you feel the concern. You think about Tupac, who everybody loves, he's like Jesus to us. You feel his concern. I can go down of this guy's records, he made records with some intent. My grandmother would always tell me this, and I didn't realize—until I was an old man—what she meant. She'd say, "Marvin, anything you do, do it with intent. Know what you're trying to get out of it and what you're trying to give to it. Whatever you do."
***
Get your own copy of Neighborhood Wonderful on Stones Throw. Photos by Julian Berman.