Skateboarding pioneer Stacy Peralta was no stranger to making movies before he decided to hop behind the camera for his 2001 directorial debut, Dogtown and Z-Boys. Peralta virtually created the skate video economy with 1984's Powell-Peralta Presents: The Bones Brigade Video Show, which introduced the world to some of skateboarding's pantheon: Tony Hawk, Steve Caballero, Rodney Mullen, and Lance Mountain, just to name a few. It also cracked the concrete for a new generation of skaters.
It was on-brand for Peralta to present his progeny to the world in such avant-garde fashion, already established as a trailblazer alongside Team Zephyr in the mid-'70s. It's like they always say: To understand where you're going, you need to understand where you've been. So, it was the next logical step in Peralta's career to revisit the story of how they—Peralta, Tony Alva, Jay Adams, Jim Muir, Peggy Oki, Shogo Kubo and Wentzle Ruml—became accidental revolutionaries as the Z-Boys in Dogtown.
The doc (narrated by Sean Penn, which adds an unexpected emotional intelligence as well as some welcomed Spicoli nostalgia) begins by painting the picture of a group of outcasts from broken homes finding identity and community in the concrete ruins of a pre-gentrified 1970s Santa Monica and Venice Beach. Having established a reputation for aggressive localism and a gnarly sense of style on surfboards, Peralta and Co. eventually found a surrogate family thanks to Jeffrey Ho and Skip Engblom, owners and operators of Jeff Ho Surfboards and Zephyr Productions. They acted as father figures, giving the kids an outlet for their creative self-expression, from the waves to the streets.
Little did they know they were making history while creating a new art form, a democratized sport, and an eventual corporate cash cow in the process. In the '70s, society treated skateboarding like a safe, silly fad, much like the yo-yo. The Z-Boys changed all of that, with an aggressive, yet operatic, sense of style that had never been seen before. Dogtown and Z-Boys follows a group of kids breaking and making the rules on their own terms, capturing the attention of competition judges by laying the DNA for street skating, and inventing transition skating (shout out to all those empty LA pools during the drought), propelling the Z-Boys into the international spotlight. Intercut with interviews from the actual team, we experience a first-person account of history that is equal parts accessible and visceral.
The '70s soundtrack (The Stooges, FTW!), the humorous interviews and the iconic skateboarding footage make Dogtown and Z-Boys a worthy watch alone, but it's the crisp, kinetic editing that really raised the bar for documentary filmmaking. "I think Stacy Peralta created his own documentary genre from taking images and moving camera around to make it seem like they were moving," original Z-Boy and all-around legend Jim Muir tells me over the phone. "That was pretty much necessary because having footage back then meant having Super 8 film and not too many people had that. It was an expensive process and hobby so it was very hard to find actual footage from that time period. So it was pretty clever what they did and I give a lot of credit to the editor."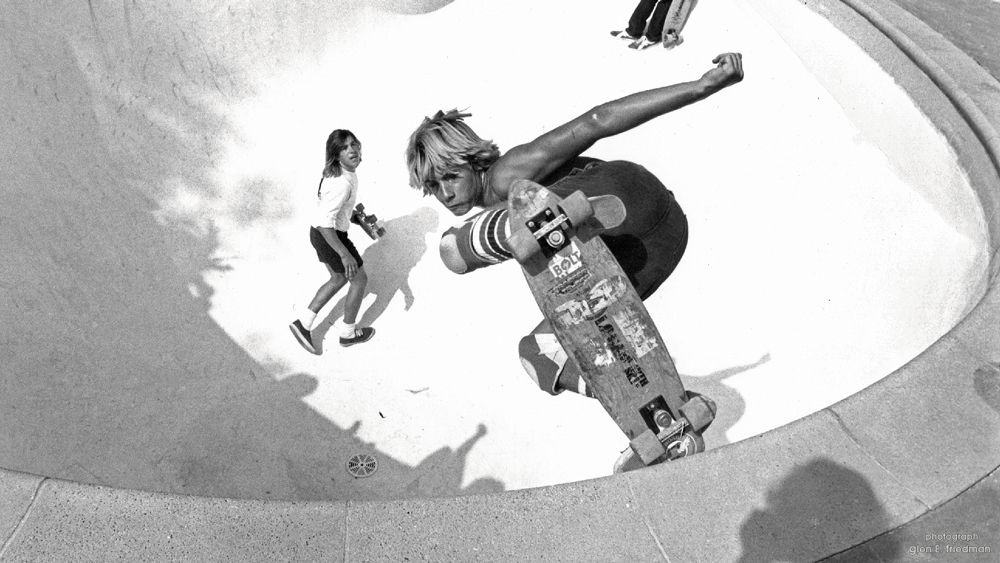 Jay Adams. Photo by Glen E. Friedman
What really resonates in Dogtown is the human element. The interviews with the original Z-Boys and the wide reach of people they inspired highlight the growth, success, and interpersonal drama the Z-Boys weathered as self-actualizing kids and adults. They behaved like rock stars, constantly pushing the boundaries of their bodies, and the lifestyle reflected that. But with any subjective storytelling, the risk of a Rashomon Effect is always a possibility.
Muir expressed to me that "anytime you have someone creating a film, you're getting it from their vision. It's their opinion. It's all coming from their heart and from their eyes and sometimes those two might not be in agreement. I think if someone else from outside of the group did the documentary, it would've been a lot different. But it came from Stacy's perspective. If Tony Alva had done the movie, it would've been really different. Overall the doc presented the energy, aggression, style, and substance that paved the foundation of skateboarding to this day."
"Overall [Dogtown and Z-Boys] presented the energy, aggression, style, and substance that paved the foundation of skateboarding to this day." – Jim Muir
He continued: "I feel like Jay [Adams] was taken advantage of. It made him look like a lost soul and that wasn't case. Jay wore his emotions on his sleeve for better or worse but that was what made him the creative enigma that he was! You play the right song behind the right moment of someone saying something emotional and it makes it sound like they're having a near death scenario or something [laughs]. There are a couple of things in there that I wouldn't have done, but then again, I wasn't telling the story."
Discrepancies aside, there is no denying the impact of Dogtown and Z-Boys. It won the Audience Award and Directing Award at the Sundance Film Festival in 2001, earned the admiration of the skate community at large, and reminded the world that rebelling against the mundane can change the world. A group of punk rock kids used their energy as the easel, their boards as the brush, and the concrete as the canvas to birth a new art form for the rest of the world to enjoy. Like esteemed skate photojournalist Craig Stecyk said in Dogtown and Z-Boys: "Two hundred years of American technology had unwittingly created a massive cement playground of unlimited potential. But it was the minds of 11 year olds that could see that potential."
To tie this commemorative review together, I spoke to five skateboarders currently ripping it today to get their thoughts on the documentary and the eternal influence of the Z-Boys.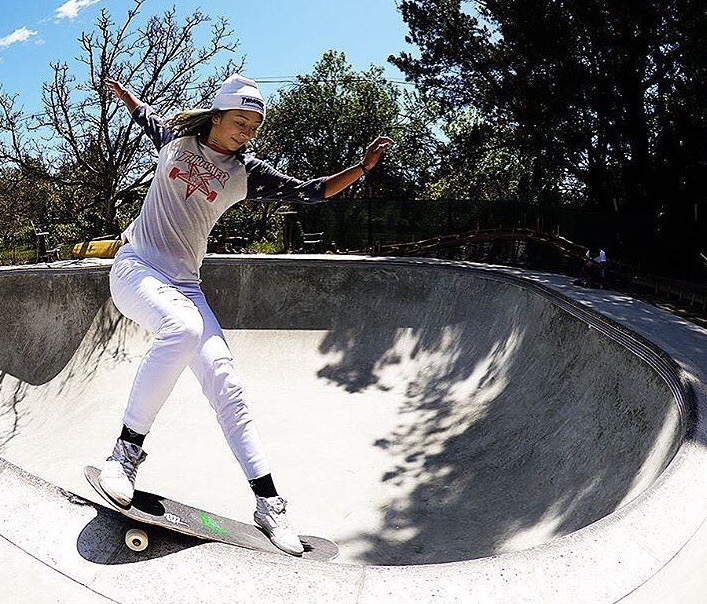 Photo by Greg Smith
Lizzie Armanto (@lizziearmanto)
Rides for: Birdhouse | Vans | Mahfia | Independent| Bones | G-Shock
On the cultural groundwork laid by the Zephyr Team: "I think I'm just really attracted to the culture in the sense that it's accepting, like there's no one mold that skateboarding fits. You can make it your own. It is a very social thing, but it's on a personal level. Skateboarding has been able to help me grow as a person. I've learned life lessons from skating because skating teaches you perseverance. It's not something you could learn in school. I feel like in school you get penalized when you're wrong, but in skating there are so many times when you can be wrong but you still learn and progress, which is the reward. In school, you have to always be right. Life doesn't work like that."
Lessons learned: "With the Z-Boys, they truly showed you how important the people you surround yourself are. Skating breeds that. Your friends want you to be the best you could be. You're teaching them and they're teaching you. It's a symbiotic type of thing."
On the Z-Boys legacy: "Their world and everything that Stacy worked on, especially the Zephyr Team, made my world possible. It was the only generation that established what skating truly was and could be. I wouldn't really be here without them."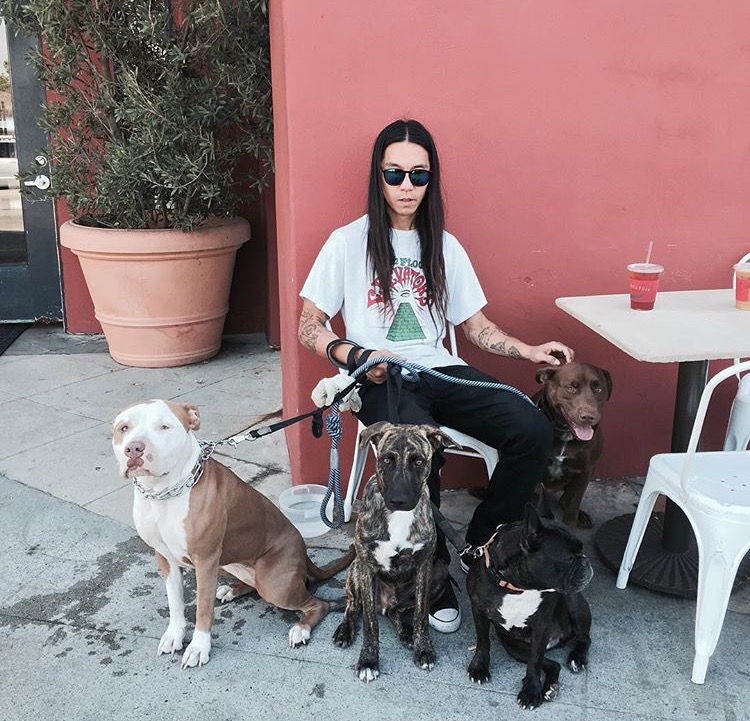 Don "Nuge" Nguyen (@nuge666)
Rides for: Baker | Volume 4 | Converse Cons | Shake Junt | Pig Wheels | Ruckus | Split | Independent Happy Hour Shades
Praise for the doc: "I grew up skating in Oklahoma City with my older brother—we started in my parents' pool hall parking lot. I totally remember looking at mags and seeing photos of Tony Alva just ripping. My initial feeling was these dudes were raw as fuck. I thought it was sick that skate crews have been around since day one. And I think that's what makes Dogtown and Z-Boys pretty dead on. The doc made you wanna go skate instantly. That's what I loved about it."
The Z-Boys Cinematic Universe: I actually portrayed a Z-Boy [in Catherine Hardwicke's 2005 Lords of Dogtown feature, also written by Stacy Peralta]. I played the legendary Shogo Kubo and was on set pretty much the whole time from start to finish. I felt like the legacy was represented well because Tony [Alva] was there every single day making sure it was gonna be legit. And so did Stacy, who would cruise in randomly and just chill as well. The story had to be told and it had to be told right.
I had never been on a movie set before then or after really but everyone there was saying this is the most chill set they have ever worked on. I hung with Heath [Ledger, who played Seth Engblom] and all the bros a lot everyday. He already skated and surfed. Emile [Hirsch, who portrayed Jay Adams] could already do heel flips and shit. I was in shock. The actors were learning how to skate and towards the end of the movie they could carve pools."
On the Z-Boys legacy: I'm not sure if the Z-Boys wanted this [the current mainstream skateboarding landscape] At least a couple of them didn't. I know I didn't start skating to be in the Olympics. We used to get chased everyday by hicks in Oklahoma City. I started skating because it was fun and I got to do sick shit with my homies. Nothing has changed. But at least we have an argument against security guards now: Next time you get kicked out of a spot just tell them you're training for the Olympics!
And I'm sure this all came from Stacy. Well, for one, he made the Bones Brigade, which is nuts. The videos they used to put out were legendary. [They were] lawless. Skateboarding has a certain feeling of being free. You don't need a coach or a teacher. You get your ass out there and push. Fuck the rules, skate and destroy."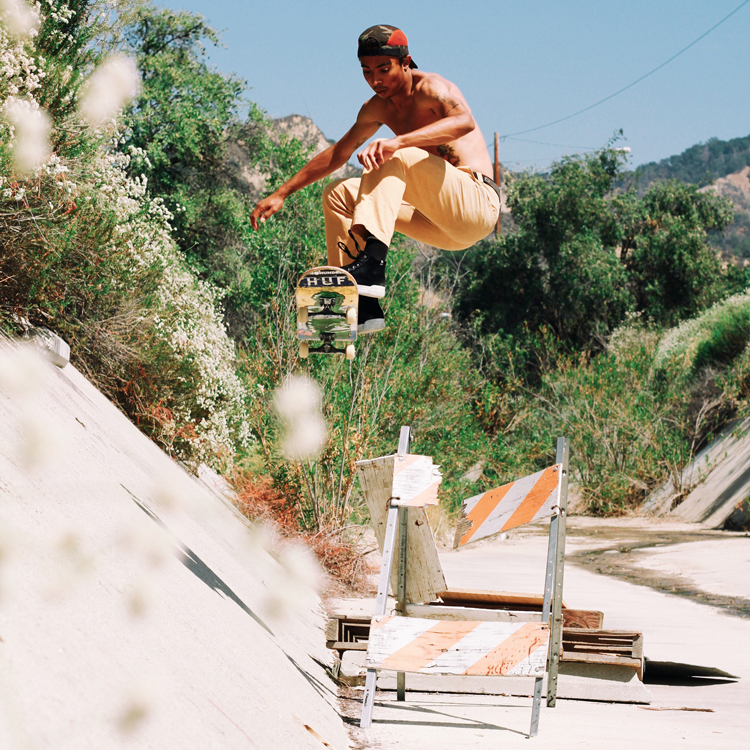 Photo by Alexi Macou
Chris Harris (@chrisxharris)
Rides for: The Hundreds | HUF | Active | Friendship Skateboards | Outdoor Tech
On feeling the Dogtown influence: "Growing up skating in Venice, I always get that feeling out there. With the Z-Boys, it was all about their style. They just broke out the norm, like when skating was starting and they had all these sponsors, and people were skating just to go corporate. The fact with the Dogtown dudes, they were just trying to skate. It was pure. They kept it all core, and that's amazing. Everyone likes core shit. You could do all the corporate things, but core skating is what's gonna live on forever."
A shared philosophy: "The documentary really highlighted the sense of freedom those guys encouraged. That's what I'm about. It's not like team sports like basketball or football. Sure, you have skating with teams, but you're an individual doing your own thing. It's up to you to decide what you wanna do—from the tricks you wanna try or the boundaries you want to push. It encourages you to push yourself."
On the Z-Boys legacy: "Stacy and those dudes showed you that you get to define your own limits and shit. That's how you push yourself because you see other skaters just going on and progressing... It makes you wanna progress and get better at it."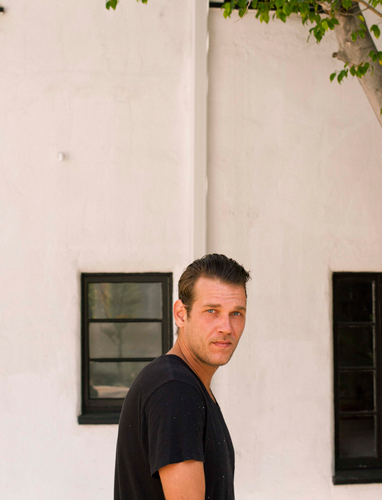 Photo by Taylor Rainbolt
Arto Saari (@artofoto)
Rides for: Alien Workshop | Flip Skateboards | New Balance | Volcom | Ricta
On the Z-Boys creating a lane: "Skateboarders have always been the outcasts. It's more mainstream now. It's almost like you play soccer—skateboarding is just more publicly accepted these days. But years ago—before I even started skating—in the '80s, '70s, '60s, back then if you skateboarded, you were a total freak. Hell, even my time in the '90s skating in Finland, you were a total freak. But when outcasts are never publicly accepted, this family feeling is created. You skateboarded down the streets, you saw how someone wore their shoes or whatever and [was] like, 'Hey, that guy's a skateboarder. I'm homies with that guy!' I think that being outcasts established this community vibe so we have each other's backs in order to move it forward because skateboarding is so close-knit. We just had to hold our ground. A lot of these skate teams today learned that from the Zephyr team."
On the innovation of Dogtown: "It's all come full circle. In early 2000s, when I was a very active professional skateboarder, there was a little bit of pool skating but it wasn't what it is today. Now it's full-on accepted. It's cool to skate everything. In the early '90s, it was street skateboarding or nothing. Like ramps, pools, all that stuff was out and looked at as whack. Now in order to be a professional skateboarder, you have to be able to skate everything again which those guys were doing all the back in the '70s! They were skating blocks, ledges; whatever they could ride they would ride."
On the Z-Boys legacy: "The Z-Boys basically pioneered the world of being a professional skateboarder. There was no such thing as a pro skateboarder before they created the concept. That's pretty huge. They invented the whole thing: the demos. The photos. They pioneered and molded what it is today. It all stems from them. That includes the tricks, too. Z-Boys created the foundation for everything that's going on today."
Photo by Almost Skateboards
Daewon Song (@daewon1song)
Rides For: adidas | Almost Skateboards | Spitfire | Matix
On the Z-Boys legacy: Even though I was more 2nd generation Z-Boys [The Bones Brigade—Steve Caballero, Tony Hawk, Rodney Mullen, Lance Mountain and more] and inspired in the '80s/'90s era, I loved that [first generation Z-Boy] era of skating. Stacy was a visionary and ahead of his time with skate videos. Stacy created icons and heroes for the skate world to idolize for years to come!
***