In these strange times of fake accents, Trap Music For Dummies production, and fairy tale storytelling – crossing paths with a rap crew that actually sounds and looks like the city they're from is a breath of fresh air. In the case of the on-the-rise and OPM-affiliated rap trio, Warm Brew, it's a breath of kush smoke, beach mist, and smog, live from Los Angeles, California.
Composed of Ray Wright, Serk Spliff, and Manu Li, Warm Brew is an LA-based crew whose name should be written in Old English with its lyrics written like cholo tags. The music feels like all the things an LA act should feel like; but it's presented with the vernacular voice, outlooks, and realities of being 20-something in 2014. I don't want to simply paint the picture of their sound with PCH joyrides, 40 oz malt liquor, Dickies, Chucks, women, weed, weather, and every tip of the tongue City of Angels description that exists... But Warm Brew's music truly and unapologetically is all that.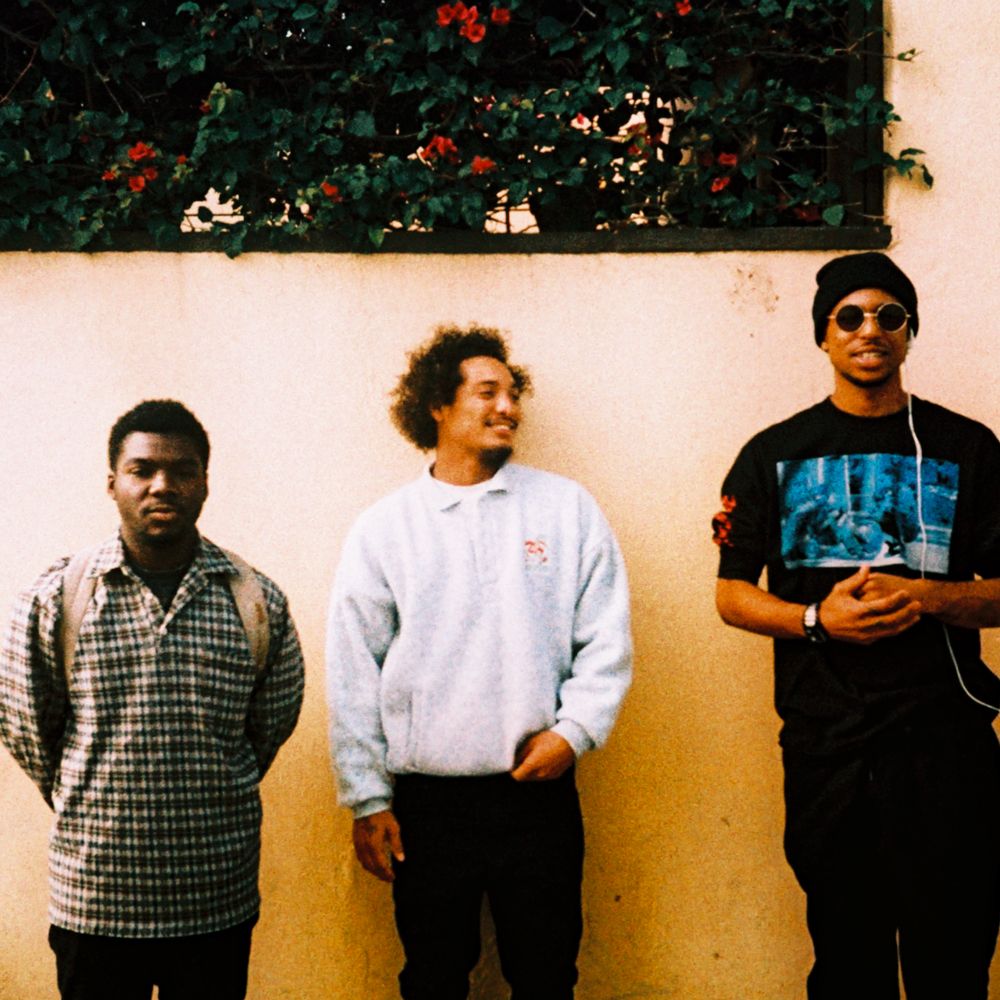 A few weeks back, Ray Wright contacted me and introduced the idea of collaborating. I've been heard his crew's name floating around a few of my circles. Whether it be spoken by common friends or music peers, the unanimous opinion was a positive one. So after the commonplace rapper texts of "sup g,""chillin'," "let's work," and "bet," we locked in a session at my humble bedroom studio setup.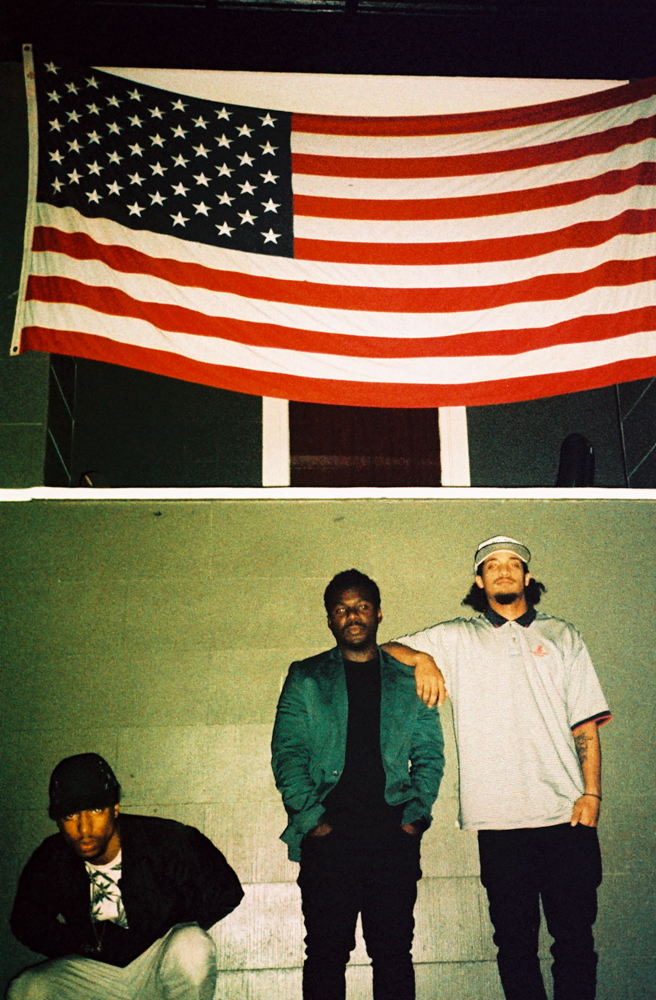 Warm Brew and their DJ, Al B. Smoov packed into my bedroom as I blasted my newest beats for their use. I played about 15 instrumentals out of a playlist I constructed for the session,  watching the group react enthusiastically to those with musical layers; as well as bang their heads at the pace of a movie's "slow clap" to my far left and abstract beats. Ray generously kept his G Pen in rotation and watched videos on his phone in between bars written. Manu Li finished writing his verse the fastest. Serk sat covertly in the corner of the room inaudibly mumbling until he tracked his animated verse in my closet. Al was naming the samples to some of my beats within 5 seconds of the intro. We smoked cigarettes on the stoop as each hour passed. They played me the intro to their upcoming album with an opening line of, "55 degrees is cold to me."
While working on a track, very little was said in between discussions of song concepts and rehearsals of their verses drafted. As they wrote to a simple 8 bar loop with a minimal bassline and cassette tape drums, I accented the instrumental with the dissonant weirdo quirks I do. Transforming from a basic loop into a musical with different acts, no one in the group complained as I added jazz and dissonant elements I felt might challenge their go-to sound choices.
The group's chemistry was as simple as Ray voicing the immediate song concept with Serko and Manu calmly agreeing. The song's arrangement was as simple as tracking and recording vocals in the order of whomever finished writing first to last. They muttered their voices calmly to themselves before recording, but raised their presence and volume with animated voices and adlibs in the booth. On our first collaborative session, they effortlessly made a West Coast anthem about making moves for money and women on your phone.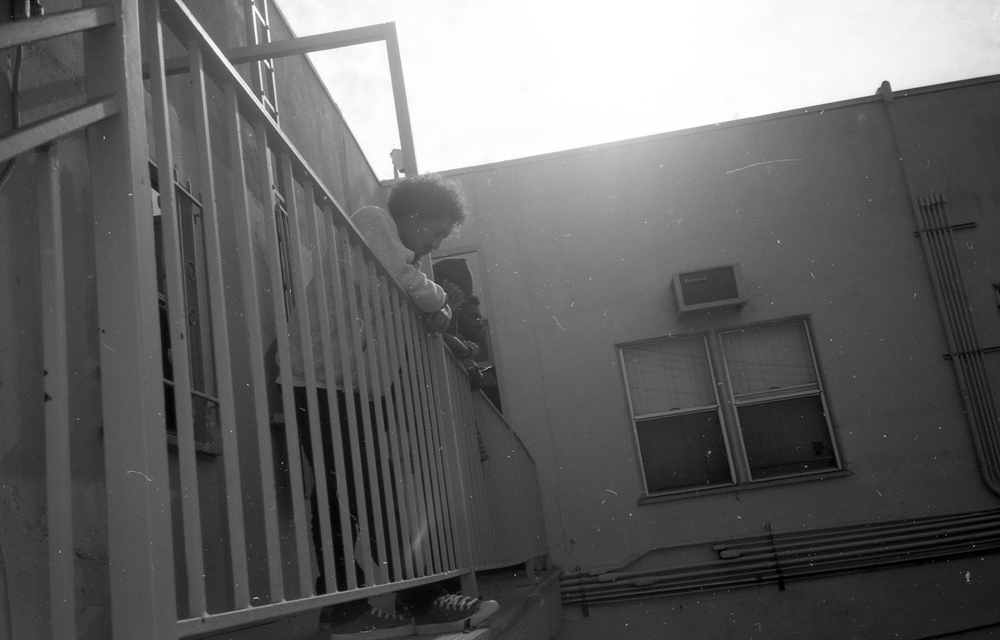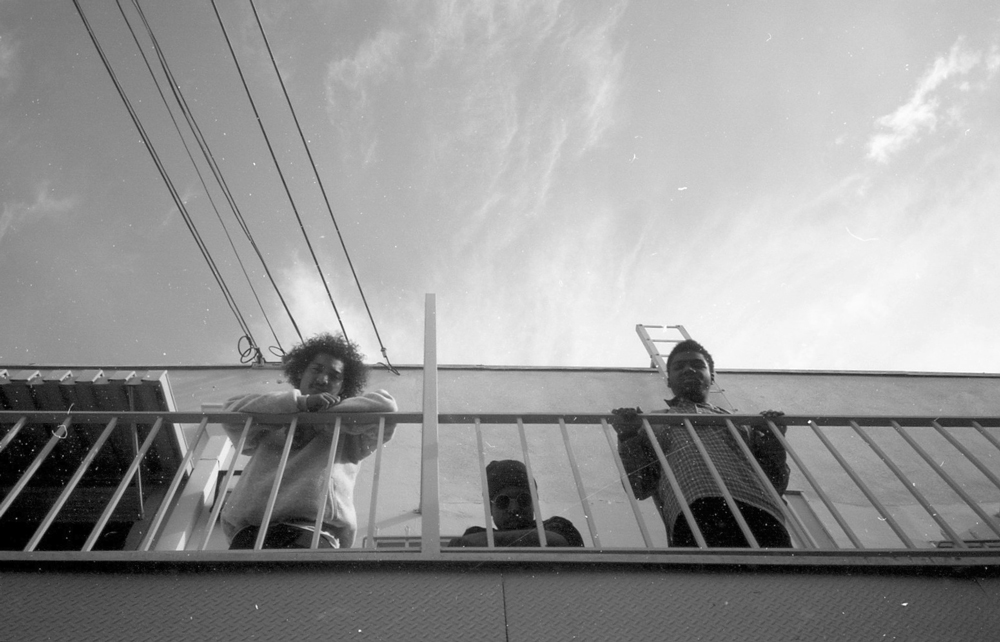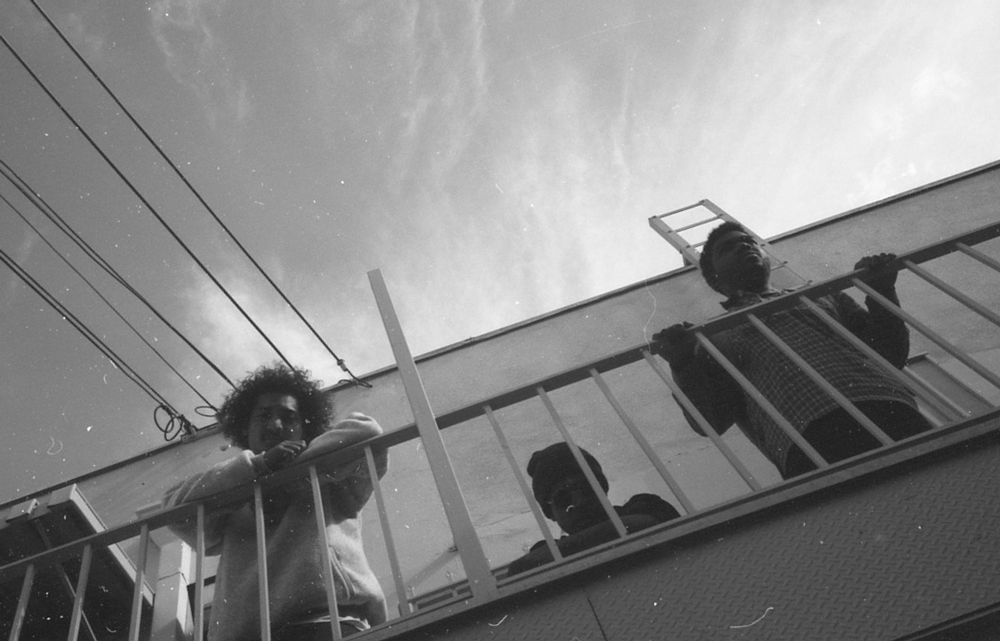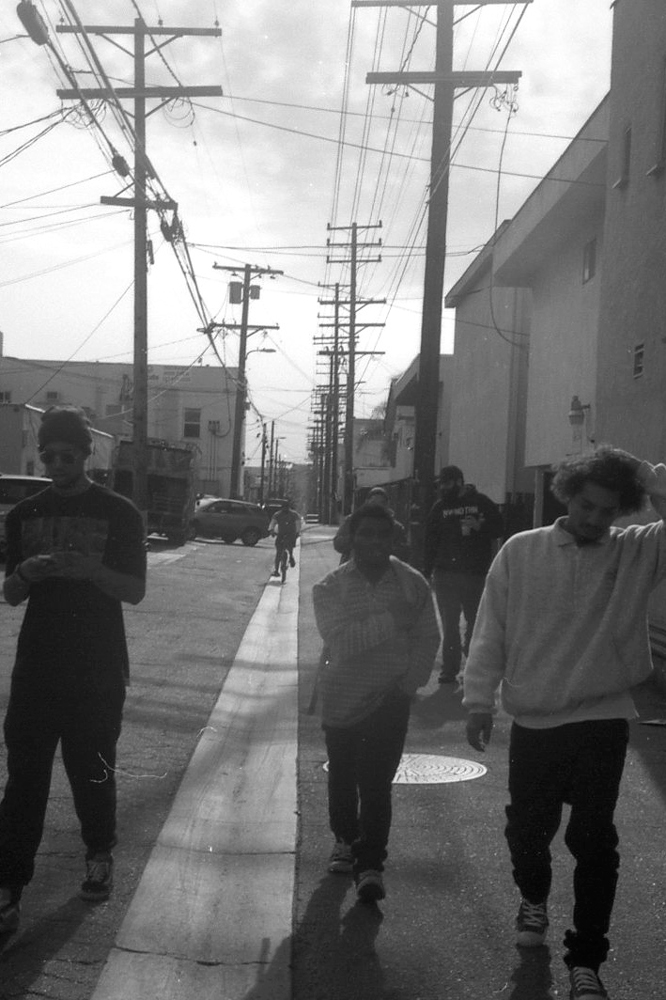 The following week, I linked with Warm Brew on RSWD to shoot photos and grab eats. Ray painted the picture of his upbringing with repeated praises of his mother's attempts to keep him in school. Manu Li and Serk Spliff read through magazines at the newsstand. We talked about the grand artistic luxury of dropping music whenever you please like D'Angelo did with Black Messiah. We spent many steps pacing and contemplating where to eat. I feel like many hours are spent trying to make that decision in Los Angeles.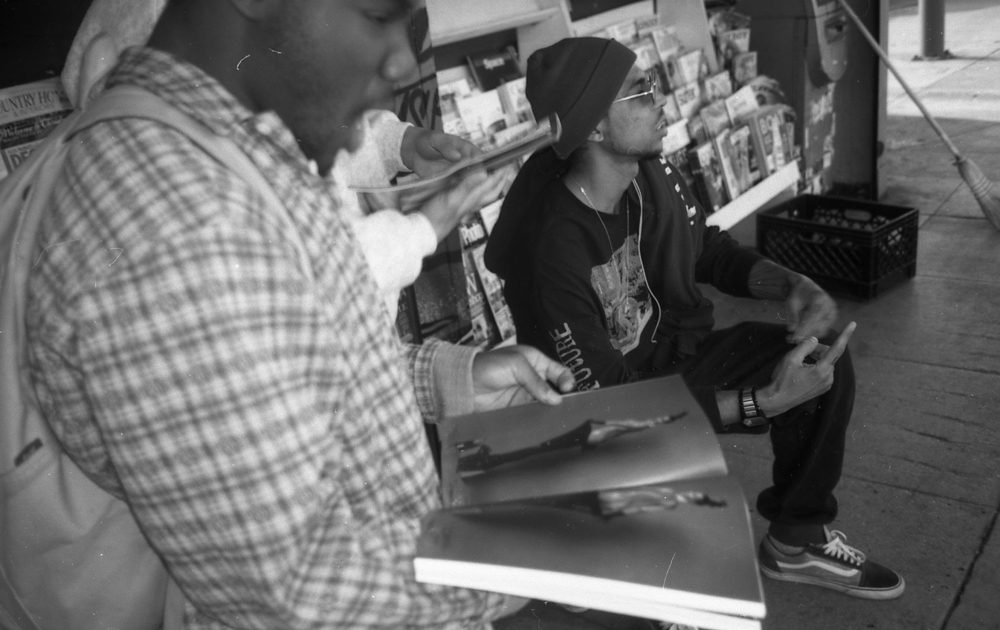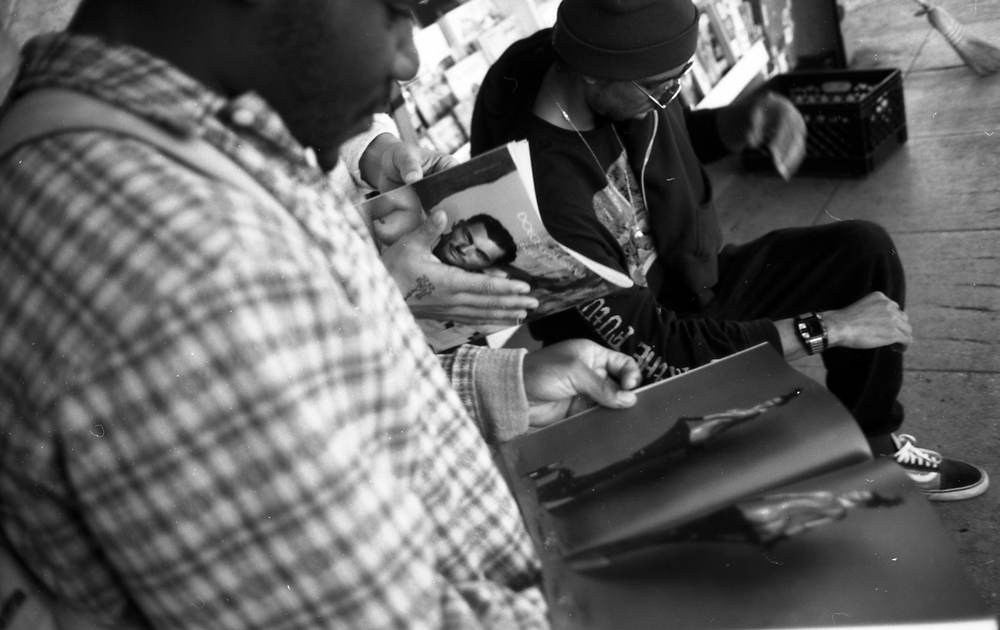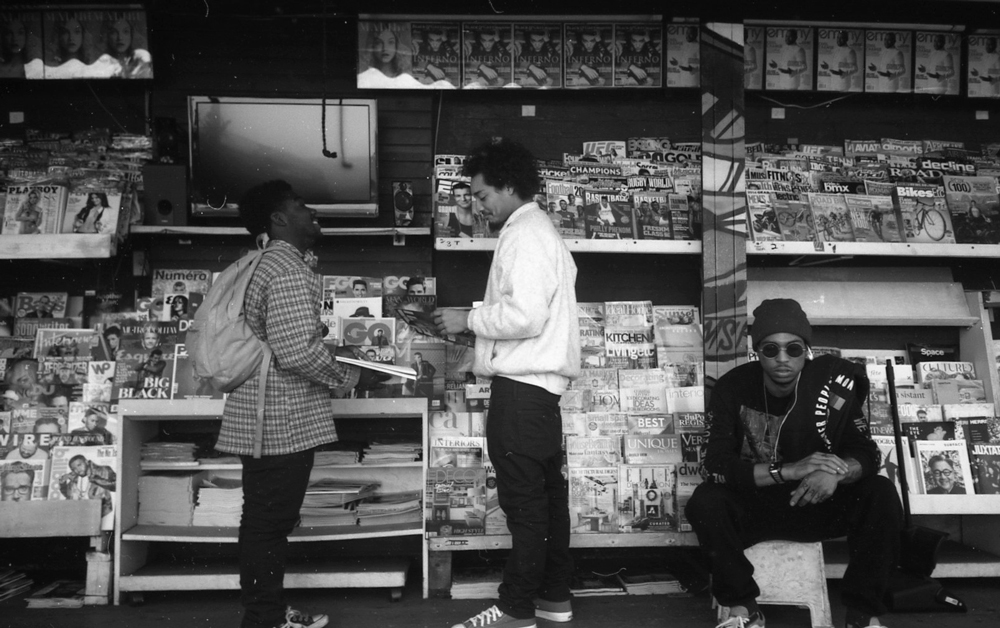 We eventually ended up at the greasy spoon breakfast, Rae's Restaurant in Santa Monica.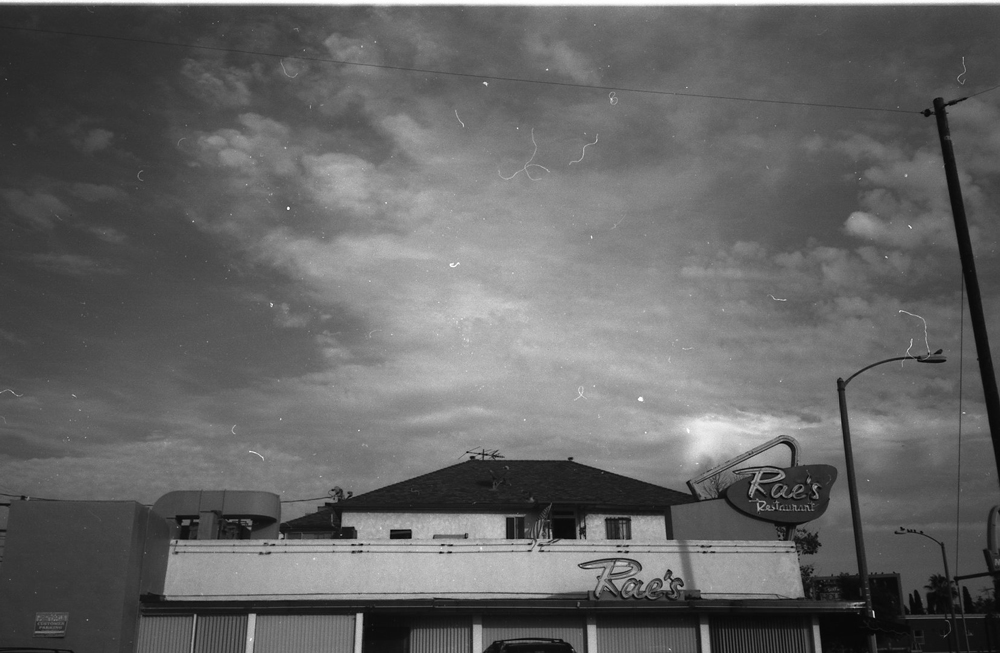 Warm Brew barely glanced at the menu. I asked what the go to choices were. They confidently replied, "Anything."
During our meal, we discussed the timeline of the group's existence since its formation in 2009. They listed the various project releases and miscellaneous show performances prevalent throughout California. They described Dom Kennedy's ability to tell them if something they made meets the standards or not. Each person answered whatever curiosities I had without waiting for an approval from another member to touch upon the answer. Each member had their own personal perspective on whatever topic we discussed, but there was a common thread of views amongst the three rappers.
The trio is a crew of equals without the complexities of one member outshining another.
After our meals, we smoked cigarettes outside the restaurant. Everyone moved away from the door, once realizing we were smoking too close to the humble LA establishment.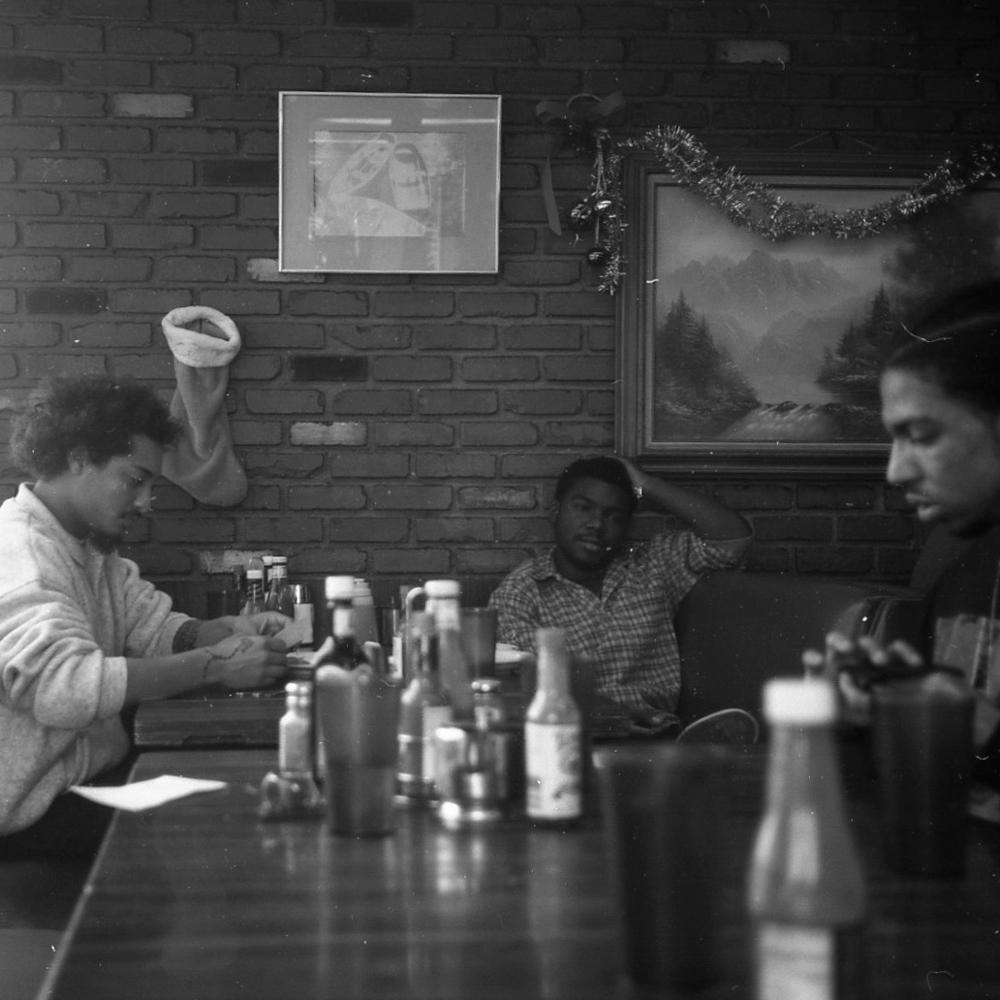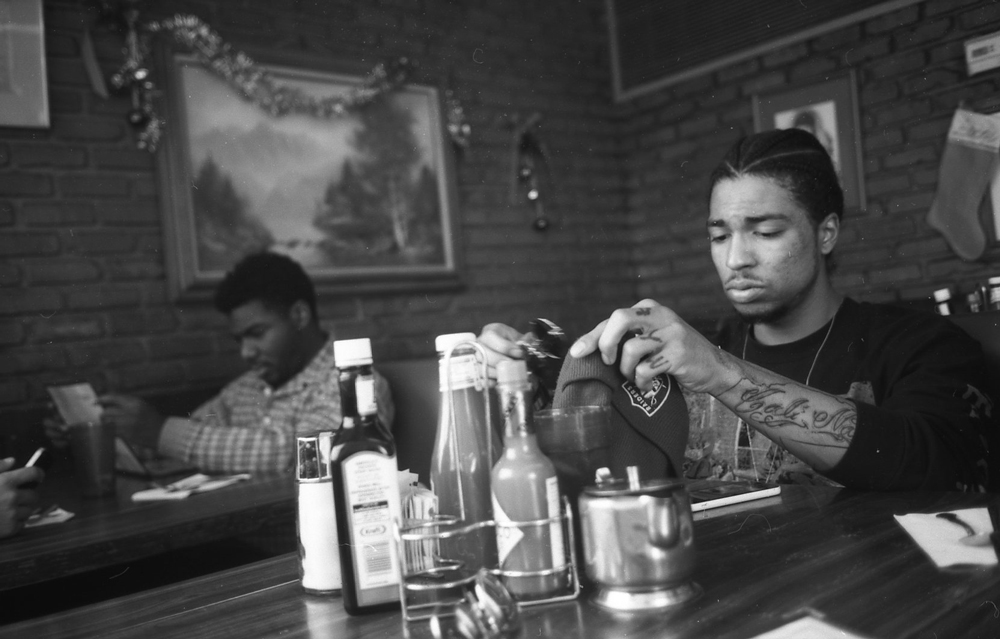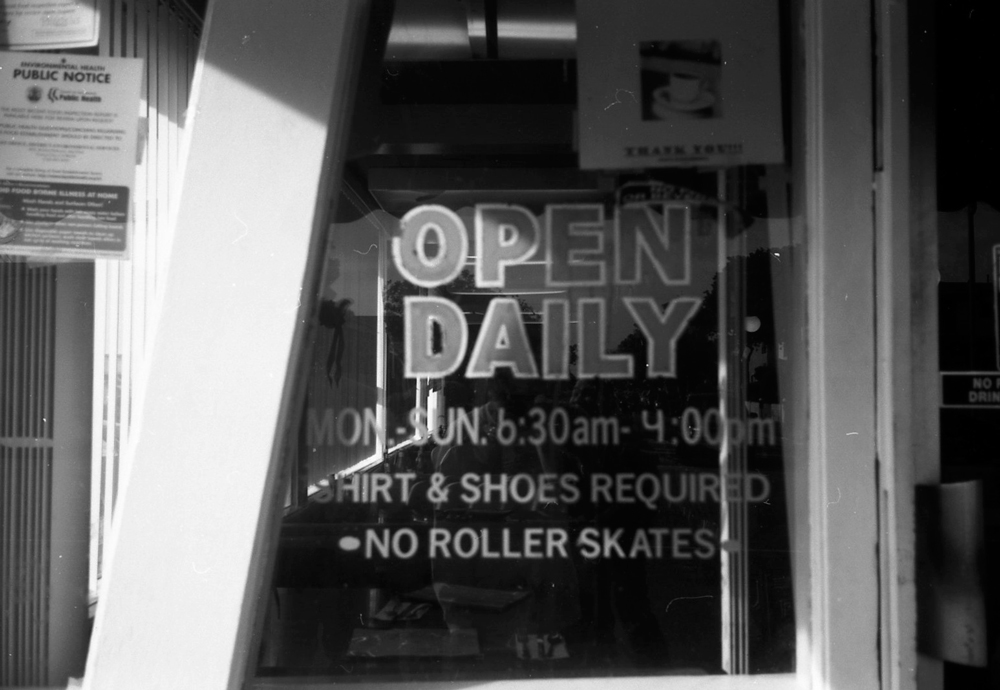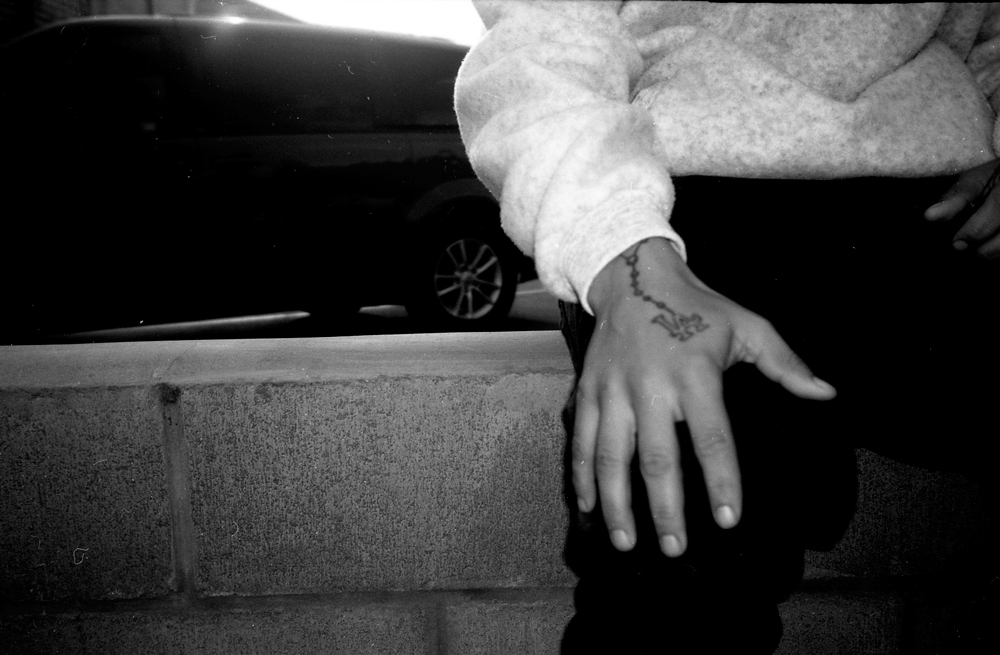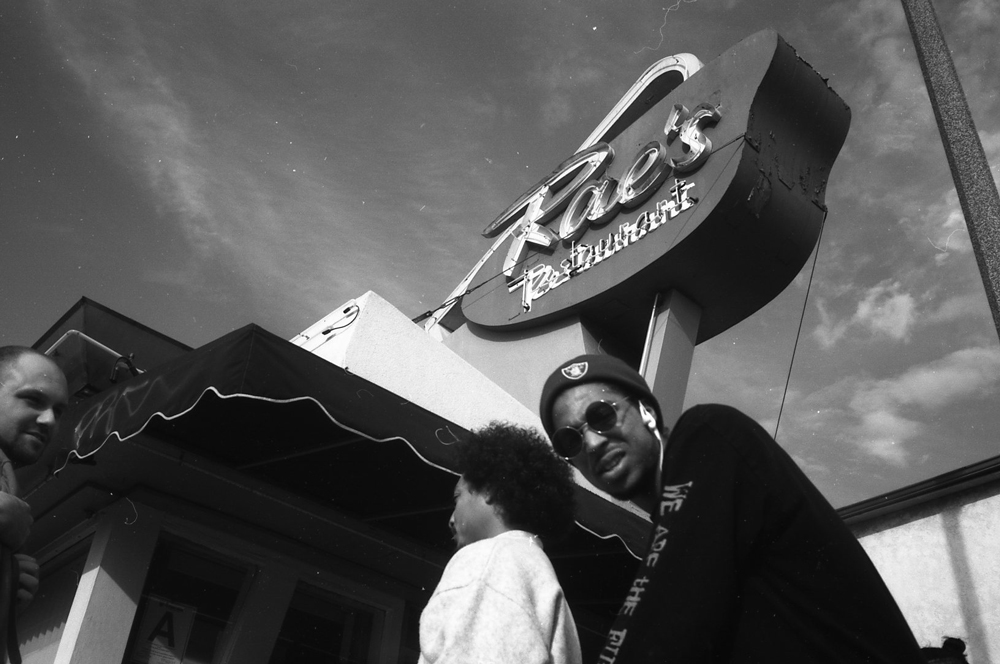 Los Angeles and its effervescent culture is merely the motif for the crew's own contemporary charismatics and sonics. Warm Brew is a group that takes their pursuit in rap seriously. They understand the sights and sounds of the current generation, but have a firm pulse on the traditions of LA rap that allow a crew like themselves to be possible. Regional rap is a dying art form and Warm Brew responds with albums that move like "Backyard Boogie" and sound like today.
Their formula is a timeless one during these times where being timeless is secondary to being relevant. Today, relevancy is as easy as staying on the Internet all night. Today, relevancy is making a song that you want to get big on Vine. Today, relevancy is the easily digested substance safely designed for the cookie cutter basics and spineless of the world. But creating with the endeavors of timeless sights and sounds, while simultaneously pushing the envelopes of the here and now – is a 24/7 existence that Ray, Serk, and Manu have enthusiastically signed up for.

Watch the latest Warm Brew music video for their single, "Can Ya Blame Me" produced by Al B. Smoov.
::
Keep an eye out for  Warm Brew's debut album on the Other People's Money Company imprint Ghetto Beach Boyz is dropping January 13, 2015.