"Everyone calls this the next alcohol. Look at what alcohol is now."
It's a Wednesday and I'm at the Soho House for weed aficionados and no one wants to hit this joint. Someone handed it to me and now no one wants it. I get the feeling I showed up late to the party; everyone around me is completely smoked out, giving me the universal hand signal for "I'm good."
Tonight's the release event for Waka Flocka Flame's new cannabis strain Flockaveli OG, made in collaboration with Crown Extract, and his Honey Supply glassware collab of 3 bongs. I showed up around 11:40pm, so I missed the part where Waka allegedly passed out free nugs from a large bag resembling a marijuana pillow, and the part where he "lit everyone's dabs" (my friend Julianne updated me). On the roster, the latter was actually called the "chief and greet."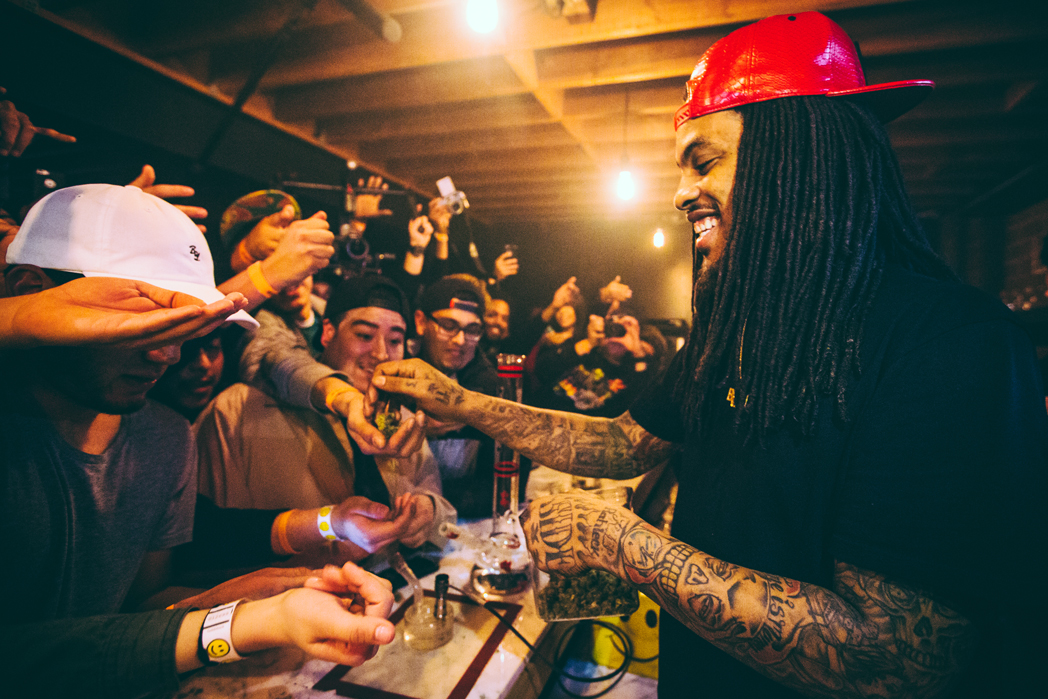 Waka passing out fistfuls of Flockaveli OG. One of his collaborative Honey Supply glass pieces can be seen on the table next to the Nexus Puck rig.
Enter through an unassuming alley in Skid Row and you're at the Nexus Social Lounge. It's brand new; I just missed their private launch event last August with The Alchemist, but heard it was "heaven." Tonight, the Grilled Fraiche food truck is parked outside serving loud jazz and spicy stuffed egg rolls next to a group of abnormally kempt security guards serving intense LAPD realness while briskly patting down attendees, single file. Inside: a table of confections I soon realized were edibles, several lounge rooms, a dab bar, a free sticker booth (my friend informs me that this room usually has free snacks), a huge endless free-play arcade room, and a VIP area lined with astroturf and laced with free liquor. I reach for the Patron, but give up; there are no cups, and no one's drinking.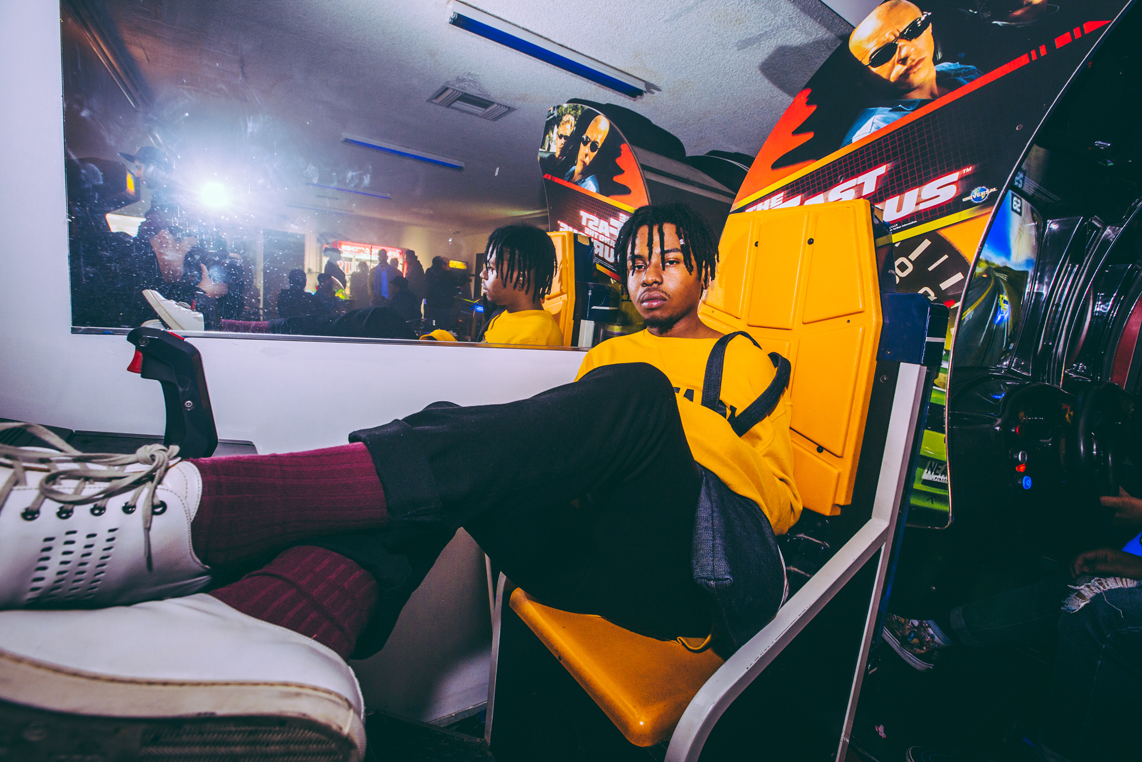 Outside VIP is a vision through the fog: a Purell stand in the main room next to a sculpture of a hippopotamus head, its mouth wide open. I take a photo of it with my phone but it doesn't quite come out—there's too much smoke. The building is a literal hot box. My eyeballs feel like they're made of velvet. Why did I take a photo? I'ma let you finish, but first riddle me this: Who was genius enough to add a goddamn Purell stand to the dab lounge? I think aloud that this place must be heaven on earth. I'm wearing a gold VIP wristband and all I want to do is Purell.
In my current state, I begin to recognize that this is everything that I want in life: Firstly, to be able to take photos of myself, again and again, in the Asian sticker booth, while medicated; secondly, to play the non-scary zombie arcade game for as long as I want next to a group of hypebeasts playing The Fast and The Furious, and to die again and again, but continue, for free, while medicated; thirdly, to be handed free shit constantly; and lastly, to have the pleasure and privilege to indulge in the Purell Advanced Hand Sanitizer receptacle at my will. After all, my fingers are sticky from the Flockaveli OG. That's a good reason to use it a third time.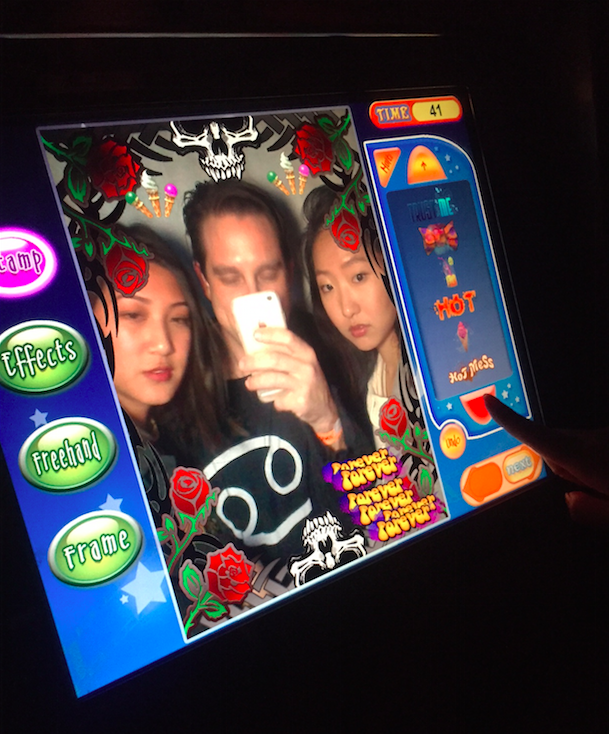 Me, my friend Maxwell Williams, and Julianne using the free sticker booth.
So whose idea was it to create this idyllic place? The answer in part is Green Street, the cannabis marketing agency behind Nexus and Honey Supply, responsible for linking artists like Snoop Dogg and Rae Sremmurd with weed brands. The President of Green Street, Rama Mayo, has a diverse background in the music industry, fashion, trade shows, and experiential marketing; this know-how aided his work with the G Pen brand while at another LA ad agency. A rep for Green Street likens what Rama and his team did for G Pen in the cannabis space with the metonymic "Xerox effect."
Marketing weed to a broader audience takes branding savvy. A quick Google Image Search of "stoner" yields a plethora of bad street art, even worse typefaces, stoned versions of popular cartoons (always with the cartoons), dank memes, and of course, the ubiquitous snap-back stoner girls with their bongs instead of pants. Green Street, says the rep, aims to provide core cannabis businesses—for instance, an edible company still wrapping their brownies in cellophane—the marketing acumen, influencer access, and "the business sense to make it real."
IS STONER-OWNED THE NEW SKATER-OWNED?
This is essentially how they connected the dots between Waka, Ham on Everything (LA underground party scene kings, champions of the 18+—they helped organize the event with Ain't Nobody Cool), Honey Supply, and Crown Extract. Each of these names have been dedicated to their lane's community and culture—and perceived authenticity is more important than ever now in 2016. I'm reminded of the [redacted] high-profile cannabis release party I attended recently where it took me 15 minutes to find rolling papers. Is stoner-owned the new skater-owned?
When the rep says, "What we're doing at Green Street really is taking the mentality of what streetwear kind of did to legitimize itself and bringing that to cannabis, a billion dollar industry," I think I know what he means. Streetwear, after all, to me represents a culture industry narrative of expertly branded microcosms, all conjoining the "lifestyles" of fashion, music, skate, and art, with its fans' insatiable appetite for semblances of legitimacy.
I asked Green Street's rep what "the insiders" are saying about cannabis legalization, and he said—first, asserting that this is but hearsay and conjecture, but—"the thought is that it's going to be a bill again in the 2016 election… I mean, that's no guarantee." And what will Big Marijuana do to LA? "Everyone calls this the next alcohol. Look at what alcohol is now."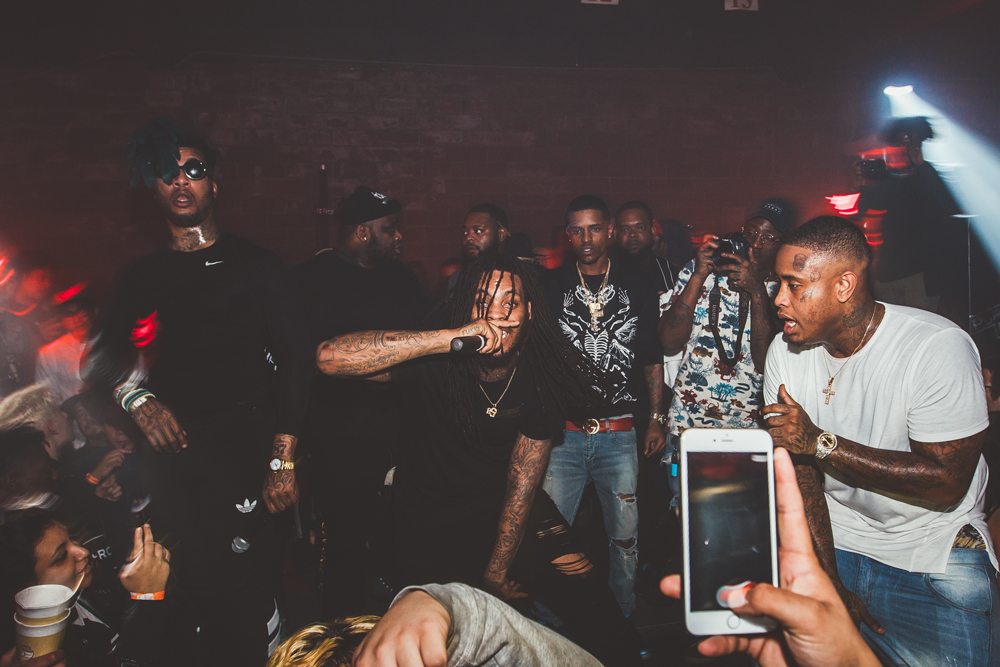 Left to right: TM88, Waka, and Southside.
Because the event was done in collaboration with Ham on Everything, the crowd feels young streetwear tonight. I'm feeling really good—it must be the Flockaveli OG. Soon, Waka Flocka will perform alongside some of my favorite producers TM88 and Southside, and I will watch from the back behind a girl in an olive MA-1 bomber and white polo cap, her hair long and smooth as glass. It's so dark and full of smoke that I can't really make out her face until she begins to Snapchat-video herself mouthing lyrics to "Hard in Da Paint" with front-facing flash, reeling around in a circle as if on a lazy Susan. The last time I see her face is when she sparks a blunt.
***
The Nexus Social Lounge, owned by Mike Bhamia, will be rolling out their "Soho House-style" monthly memberships soon. Day passes will also be available, but monthly includes VIP extras. Confirm your medical eligibility like I did, pay for the perks, and you get exclusive access to a free-for-all kickback club for 420 friendlies.