Originally hailing from Albuquerque, New Mexico, DJ Chavez has been known for being a sophisticated man of fine taste, sipping on rare French or Spanish '60s garage music, sonic sommelier-style, or kicking it with the coolest skateboard companies during his sponsored years (New Deal, Think, Hollywood, Hellrose, Hustle, Baker/Deathwish,) while not trying too hard to turn pro for any of them – the sign of real class.
Now 34, he's ventured for the past year into a new project: opening with fellow pro Patrick Melcher the Kingswell skateboard boutique in Los Feliz. A slice of skate nerd heaven where you can, all within a few minutes, purchase a board from a carefully hand-picked selection (yes, that means Fucking Awesome and Polar), get all tatt'd up from the flo' up, or check whatever photo exhibition is up right now – currently, my old French homie turned international man of mystery, Viktor Vauthier.
Even better than all that, there's always the option to just chit chat with "Dirty Chavez" about some ancient skateboard memorabilia he's had the good idea to hold on to over the years. Like what? Super rare vintage skate shirts? Exactly. Here's his top 5 to prove that the dude quite knows his merde...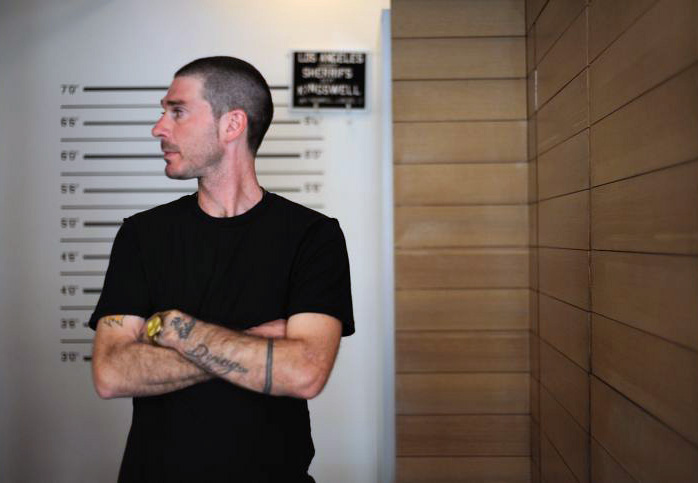 1. New Deal – "Useless Wooden Toys" (1990)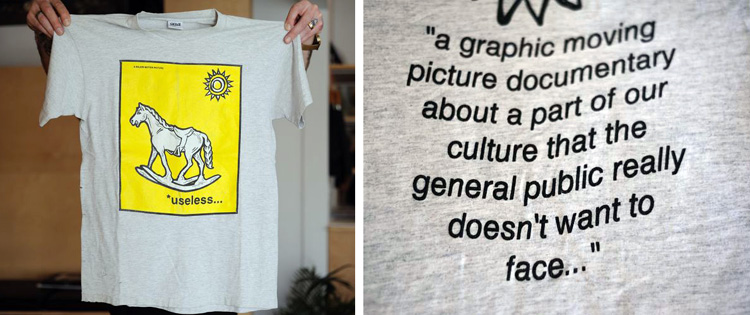 That was the shirt that New Deal made to promote their first video, Useless Wooden Toys. I remember seeing that bold, gnarly, yellow box, and just, "Useless."
Everything about it was so ahead of its fucking time, graphically. That insanely simple, sketchy, imagery, and then, "A major motion picture." Like, fully a mockery of what our industry actually is, you know what I mean? The back says, "A graphic moving picture documentary." That kind of humor set the bar for people to start branching into their own shit, kinda doing skateboarding in their own way. That's when the industry didn't mean anything, it was just about making whatever everyone thought was cool at the time, it wasn't about the dollars.
This is probably with New Deal, and seeing Ed Templeton's art on their boards as well, that turned me on to liking art – just the artistic impact and the rawness of the way it was drawn out.
2. Blind – Jason Lee "Burger" (1991)

That Jason Lee Burger King logo rip-off was super iconic. I got this shirt from Concrete Wave skate shop in Albuquerque; it was THE shop and, actually, my friend Ray Chavez' grandparents' shop. Ray was the fucking dude, you know what I mean? His grandparents had opened the skateshop, it was in the middle of nowhere, and it was the front of their house that they converted into a skateshop. They just supported what he did. Ray knew everything, he was cool before cool. He's still in Albuquerque, he still has Concrete Wave, and he has a smaller shop called Microwave.
But anyway, the Jason Lee embroidered tee... My friend Eric got the board and I didn't wanna get the same board, so that's why I ended up getting the tee. Funny thing about that is that I was 11 years old, Eric was my best friend, he was 17, so he showed me all the bad shit and took me the all the good spots. So he had the Jason Lee board, we went skating one day, he got mad and focused it [broke it in half deliberately]. It was the first time I saw somebody focus a board, and I, being supportive of my friend, focused my board too. The fucked up thing is, he had a job and I was a little kid and didn't. So when I showed up at home with a broken board, my mom didn't take me to get a new board, but he cashed his check the next day and bought himself a brand new board. I had to do hand me downs for a while... That's what I remember when I see that shirt. It's super rare, to the point that even Jason Lee knows I have it. He's not getting it, though!
3. New Deal "Andy Howell Target" (1991)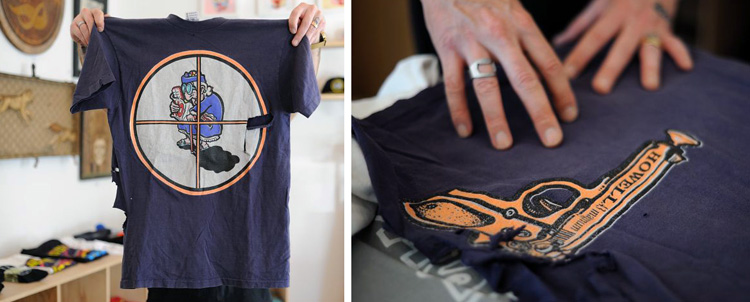 Sorry to go to New Deal again, but like I said, that's when I started to understand art concepts and stuff. When I found the shirt, I saw the old lady in the cross hairs of the scope. At first I didn't really get it, and I remember turning it over, and seeing the .43 Magnum but with the toy dart sticking out of it, putting it together in my head I thought that was fucking awesome. It was so subtle, and rad. It's totally about being an asshole kid, it's not malicious, it's fun, it's a prank.
You can see from how it wore out that this was a favorite shirt. The side tear is from carrying the board under the arm all day, everywhere. And then there's this big hole in the front, which was devastating and awesome at the same time. I was grounded, but my mom let me go skate for the day. My buddies just got a car and they picked me up. I was so happy, ran out of the house, and I caught onto the handrail that was just outside the house. I heard the shirt rip. I looked down and I almost wanted to cry because of how bad that was. But still, I got to go with the dudes. In the car. Funny thing is, my mom said she could sew it, but I just let it go. This is a lifer shirt.
4. Blind Jason Lee "American Icons" (1991)

Damn — but yes, I'll double on Jason because this particular shirt is the first that made me actually really think about the imagery and what that represented. And actually as cheesy as that shit is to say, it kinda molded my personality into what I believe in today. Just in the sense that if you look at this shirt, it's a fucking controversial shirt TODAY.
I remember it taking me a second, and then realizing what that actually fucking meant. My parents were fucking cool as shit. My dad wasn't around, my mom was always supportive of what I was into, her side of the family and my dad's side of the family, they're super religious. I mean, my dad is Christian pastor and my mom's side of the family is all Mormon. This resonated deep for me because my mom always told me to believe in whatever I wanted to believe in, but this shit actually made me think about what I was wearing and how people were gonna take that and why I actually wanted to buy that shirt.
Coming from a small town, that helped me understand that there was something wrong with the society in general. There was nothing wrong with us, we were just being different. And I think this shirt calls out America fucking hard, you know what I mean? It's the first thing that made me think, and that's probably why I still have it to this very day.
5. Vision "Skull" (1987)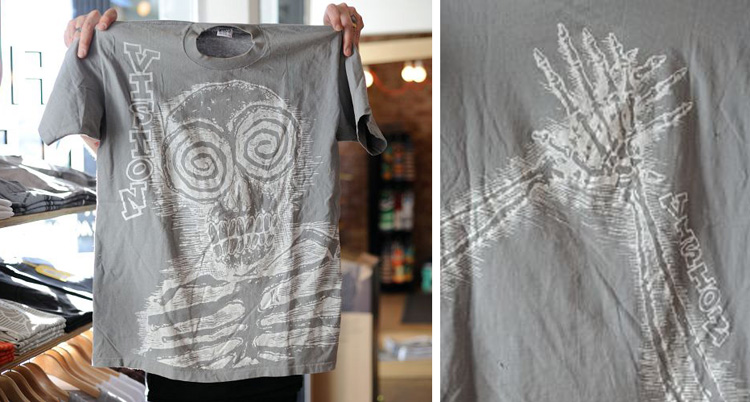 My uncle Kent, my mom's younger brother, is a badass skateboarder, I was in love with the dude. He skated, got me my first banana board in 1983, and gave me my first Per Welinder freestyle board when I was 5, in 1985, when he realized that I wouldn't touch anything else but my skateboard.
This is the first skateboard shirt I ever got. The shirt is from 1987, he gave it to me I think in 1988. He started to die down from skateboarding, he was gonna "grow up" or whatever, and he gave me a box of a bunch of his old shit. Like, tapes of Echo and the Bunnymen, rad Descendants punk rock stuff, and weird '80s music shit. That shirt was in the box.
I was tiny, but this went on me immediately. It's an XL and I was probably 8 years old when I got it, this probably looked more like a dress, but I wore the shit out of this thing. It was my uncle's and it was a skull! I think it's so funny how the graphic wraps around, everybody thinks that this all allover print was invented in the last couple years. It was heavy to have something like that back in the day. My uncle doesn't skate anymore, which is a travesty because he was seriously amazing. My whole first part of skating was wanting to be almost as good as him. He ended up getting a girl pregnant early, young, getting a job, and fucking listening to everybody, "You need to grow up." That was the biggest problem. One thing I can be thankful for is that I never listened to anybody. Everybody says skateboarding saved my life, but I wouldn't even have no fucking life without skateboarding.
::
Follow DJ Chavez on Instagram @dirtychavez and visit his shop Kingswell in Los Feliz. More info at Kingswell.tv.