Kim Kardashian didn't actually break the Internet with that picture of her ass. Thankfully, because then we wouldn't be able to read these hilarious tweets. This list of tweeters is to prove that even some accounts without a blue "Verified" check mark are worth following.
::
1. @jonnysun
Don't be fooled by his spelling, Jonny Sun is a brilliamt.


::
The number 23 on his handle is surely because he is the Michael Jordan of being very good at Twitter.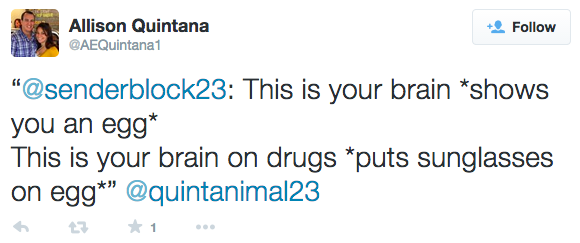 ::
3. @mzeld
She is good to follow year round. There is no reason why every month shouldn't be Mae.


::
Michael is the king of word play and also has a knack for retweeting hilarious tweets from the deep dark crevasses of funny Twitter.


::
5. @robwhisman
Rob kills it every single day on Twitter dot com. And last year he did one of the funniest things to ever happen when he owned some gun lovers. http://theconcourse.deadspin.com/man-on-twitter-deftly-trolls-gun-nuts-1588958145


::
6. @MaryKoCo
Mary gives zero fucks and will regularly make you blow a quick burst of air out your nose while reading her tweets. She's that funny.


::
Michael writes tons of jokes for your reading pleasure every day and also posts all the funny pictures days before they end up on fuckjerry's and thefatjewish's Instagrams.


::
8. @weismanjake
Jake is a stand-up comedian who speaks the cold hard truth on stage and, most importantly, on the Internet.


::
9. @teen_news69
This account makes fun of teens and teen-related things and it is glorious.

::
10. @curlycomedy
Even if she didn't have the word "comedy" in her Twitter handle, you'd still know she is funny by simply reading her tweets.


::
11. @Trevso_electric
You know those funny people in your friend group who everybody says should be a comedian? Well usually they're wrong, most people would suck at being a comedian. But I think Trevor would be pretty good at it.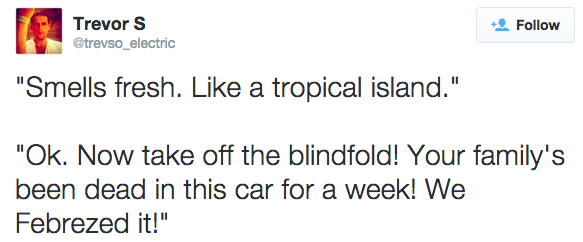 ::
12. @robfee
Rob Fee is kind of everywhere on the Internet. He writes for tons of web publications and kills it every god damn time. His tweets are always those "it's funny because it's true" jokes that never get old.


::
13. @Bridger_W
Bridger Winegar is going to be a household name in comedy. Follow him now so when he's on the big screen dating Mila Kunis in a rom-com you can say, "I followed him on Twitter before he was famous."


::
14. @Yoyoha
I would say Josh Hara is the funniest guy in Ohio but I think Dave Chappelle lives there. But second ain't bad. He's also an incredibly talented artist so you should follow his Instagram (also yoyoha) while you're at it.


::
15. @lawblob
Ever wonder what the red ghost from Pacman is up to these days? He grew up to run a very funny and relatable Twitter account.


::
16. @TheNardvark
He'll make you laugh, he'll make you cry, he'll ma– wait no, just laugh, that's it. No one wants to follow someone who makes them cry; that's what exes are for.


::
17. @ceejoyner
If tweets could kill, his wouldn't kill anyone. They'd just make people laugh.


::
18. @nachosarah
What do you call a Sarah that isn't yours?


::
19. @dubstep4dads
His posts have literally nothing to do with dubstep, fatherhood, or a combination of the two, and that is probably for the best. He is great at jokes.


::
20. @chasemit
Chase takes commonly overlooked day-to-day occurrences and creates pure hilarity.