If you follow me on Twitter, you know that for the past 4 years (and about to be 5) I have tweeted the same thing on New Year's Eve, predicting that classic Hollywood actress, and possible immortal vampire, Zsa Zsa Gabor, now 97 years old with a bevy of health ailments that has left her with an amputated leg, will pass away at some point in the upcoming year.
Don't believe me?
It always seems like a sure bet, but somehow she makes it through another 365 days, and I'm sure the entire world is as bewildered as I am about it (if not, you should be on some real 28 Days Later shit). Well, if you're sharpening the point on your wooden stake, I ask that you craft another, because, no matter how unsuccessful my predictions have been in the past, I'm forecasting the death of network TV in 2015. I know I'm preaching to the choir here, as a majority of people visiting The Hundreds website have been watching shows from their computers since they were 3 months old, slowly pecking away at the industry of television as a whole, but as I sat down to write out my top 10 shows of 2014, I realized only ONE show from a traditional network (FOX) even came to mind. Cable and streaming services have not only changed the game, but made network TV's formulaic sitcoms and run-of-the-mill procedural dramas a thing of the past, getting their final Nielsen run now before the older generation, used to the remote controlled cable box, die off and leave only us for sponsors to appeal to. Our generation is sick of being fed the lowest common denominator and luckily we witnessed some amazing work in 2014. Here's the list of my favorite TV shows of the year, within an industry that much like Zsa Zsa Gabor, is on its last leg.
10. Fargo (FX)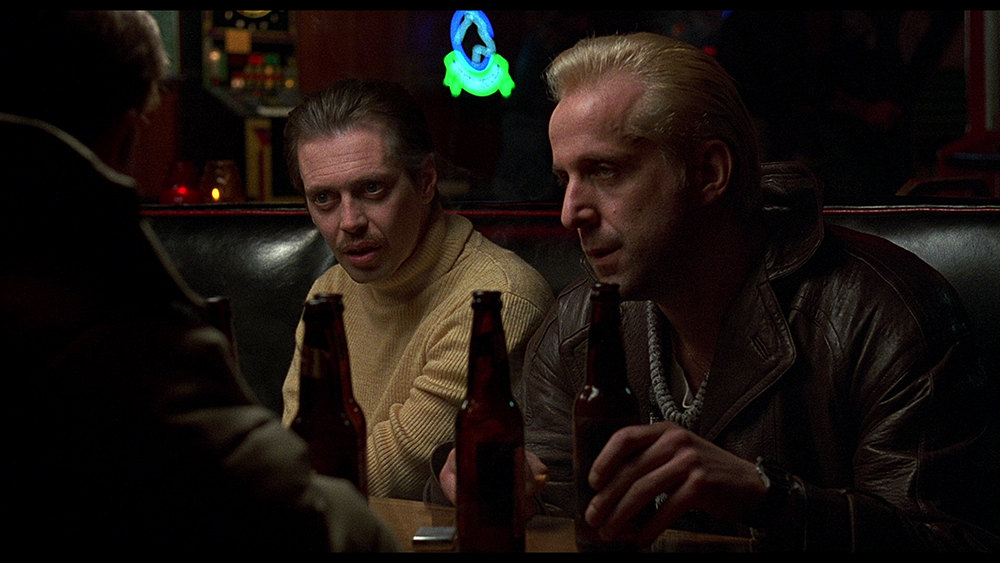 When I first heard that the classic Coen Brothers film was making its way to TV, I immediately contemplated dousing my eyes with sulfuric acid, moving to the Ozarks, and trying hang gliding. The hang gliding part has nothing to do with Fargo, it just seems like something I'd want to do if I was blind and in the middle of nowhere. That may seem drastic, but I genuinely love the work of the Minnesota-born brothers, and if anyone were to ever sour the movie, I would be crushed. But when word got out that Joel and Ethan would be producing and overseeing the project, a small glimmer of hope appeared. Little did I know that this reimagining would become one of the brightest spots on television, breathing new life and excitement into something that deserves a brand new audience. Billy Bob Thorton and Martin Freeman are masterful, as they weave in and out of the original story and feature cameo appearances from Key & Peele, Bob Odenkirk, Kate Walsh, and Oliver Platt. The first season ends wrapped up in a nice little bow, so they've already announced that season 2 will be a whole new story that you can just jump right into. I assume you'll see this show back on my list next year.
9. The Affair (Showtime)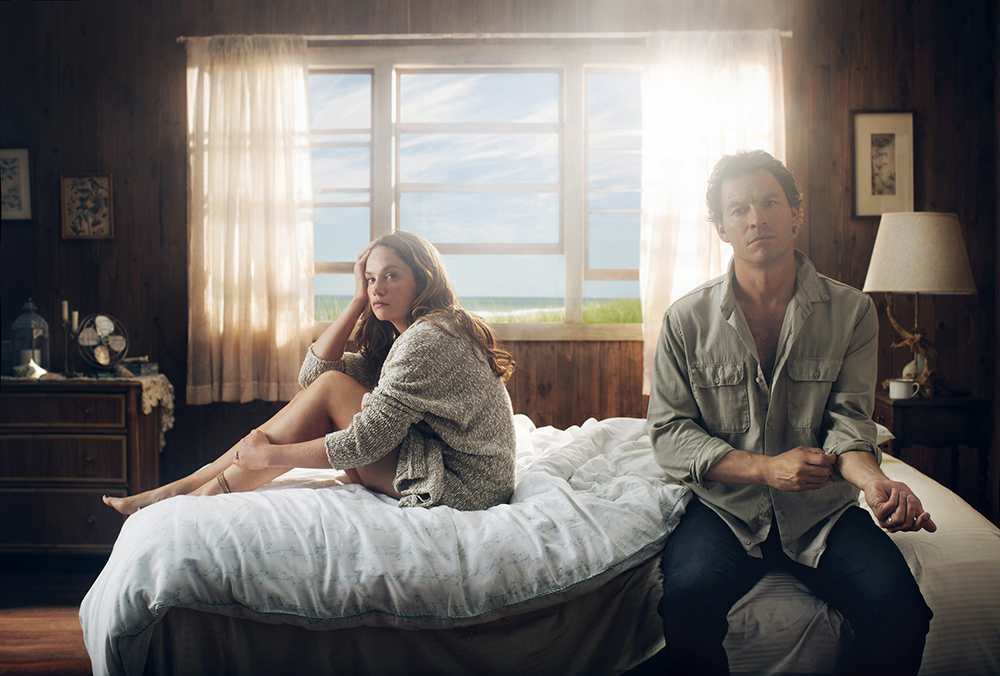 Just sneaking in at the end of the year, this crime/love story tells the tale of a fling between two married people during a summer in the Hamptons, leading to the death of a local man and a never-ending list of mysteries. McNulty from The Wire is the main dude and the show is broken up into two parts: The point of view of the adulterous man and the point of the view of the cheating female. The differences in their memories not only say a lot about perspective and gender roles, but create an even foggier tale of murder, a crime they are both questioned about throughout the first season. Expect to say, "Hey, it's that guy from Dawson's Creek," when Joshua Jackson first shows up (and is super impressive) as the husband being cheated on, but also get ready to be riveted, even if you end up back at square one for every episode's ending scene.
8. Bob's Burgers (FOX)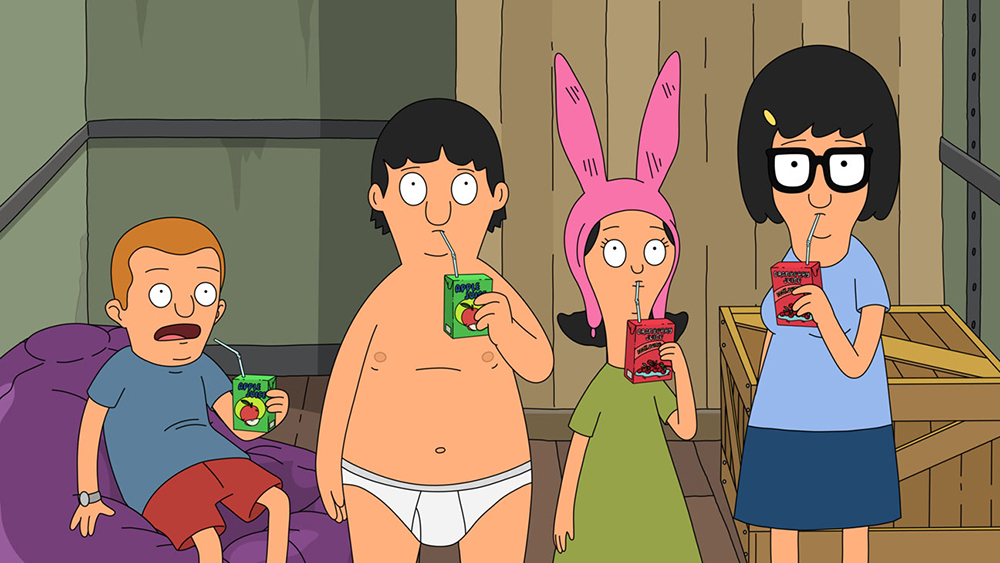 If you aren't watching TV's best cartoon, then I don't know what to tell you at this point. Currently in its 5th season, Bob's Burgers continues to stay fresh and relevant, something that veterans like The Simpsons and Family Guy understandably have trouble accomplishing decades into production. The series revolves around the Belcher family: Bob and Linda, and their 3 children, Tina, Gene, and Louise, as they attempt to run a hamburger spot. Created by Loren Bouchard, who I first became aware from his impressive work co-creating Home Movies, this show forces you to fall in love with every animated character and their quirks, with hundreds of jokes per episode, many layered and long-running for fans who've either been with the show since day 1, or binge watching in excitement like I did. Alt comedy mainstays like H. Jon Benjamin, Dan Mintz, Kristen Schaal, and Eugene Mirman lend their voices to the family, but get excited to recognize the talents of guest stars like Jon Hamm, Patton Oswalt, Aziz Ansari, and Jenny Slate as they swing by Ocean Avenue for a bite. One of network TV's only positive contributions to pop culture in 2014, Bob's Burgers is for you.
7. Girls (HBO)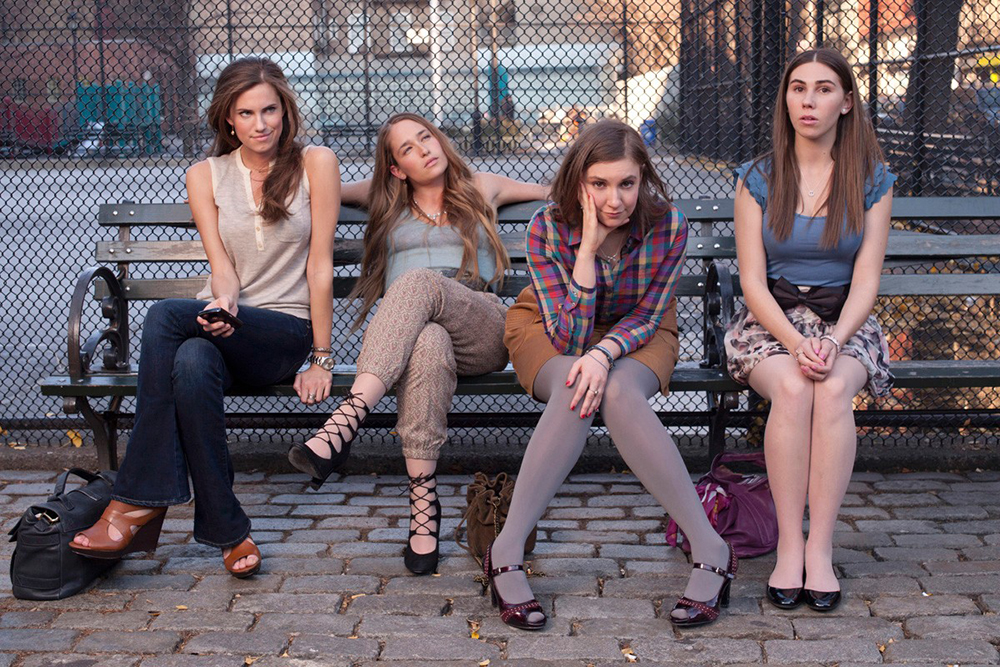 The work of writer/actress Lena Dunham continues to be the edgiest and most profound work in the medium, airing the 3rd season of Girls in the first half of 2014 to critical praise and her highest ratings yet. The dramedy has won Emmys, Golden Globes, and Peabody Awards, so it's not like it's underrated, but I think the real shame is the press's incessant need to write think piece after think piece about every decision made on the show. Its cultural significance is undebatable, but trying to find ways to criticize Girls, and Lena, for just being honest and truthful about the characters, and generation depicted on the show, has become catty and somewhat obsessive. Unfortunately, the first two seasons of the show spawned more debates over Lena's nudity than the larger themes being presented in her plots and dialogue, but more recent controversy has luckily fallen into the behaviors of the sometimes despicable leads. Season 5 of Girls begins January 11th, so get your Jezebel article ready, because I have a feeling it will never say sorry.
6. Funny Or Die's Billy On The Street (Fuse)
I know it's a dumb joke format, but comedian Billy Eichner is my spirit animal. Recently thrown into the spotlight thanks to his show-stealing segment on this year's Emmys and his reoccurring character on Parks and Recreation, Billy has been the host of his own game show Billy on the Street for the past few years, hidden for you to find on the Fuse network. Billy walks the streets of New York with a corded microphone and 2 cameras to ask strangers pop culture questions for prizes. Season 3 premiered in 2014 and features classic games like "Quizzed in the Face," which consists of 3 rounds, and a final question that is solely based on his own subjective opinion, and "Chris Brown or Serial Killer," where he reads quotes that are either from the mouth of R&B singer/songwriter Chris Brown or a convicted serial killer. That one is very tricky. Every episode of the show has recently found its way onto Amazon, so if you're looking for genuine laughs in this world of garbage and racism, look no further than Billy on the Street.
5. Kroll Show (Comedy Central)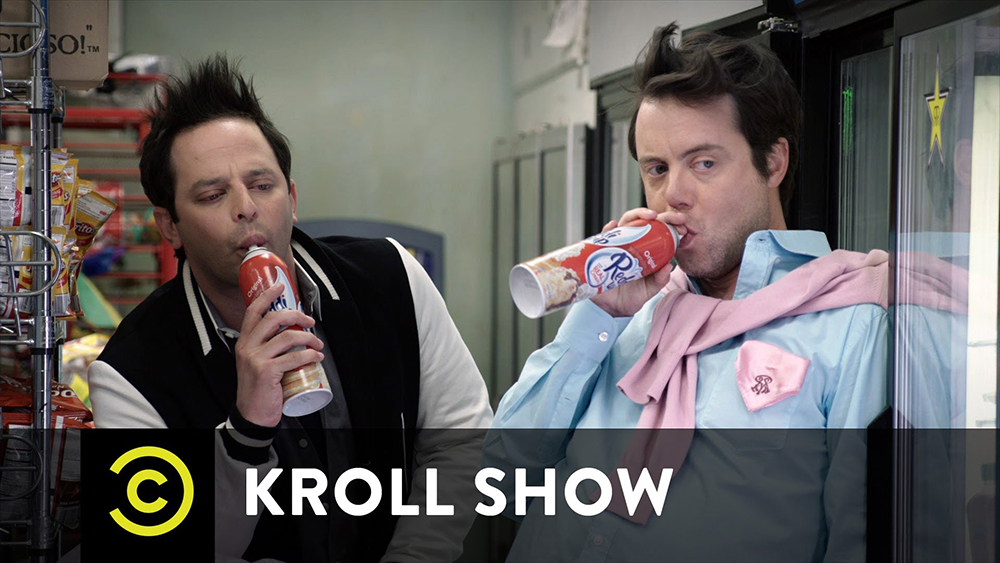 When comedian Nick Kroll recently announced that the third season of Kroll Show, debuting in 2015, will be the final run of episodes, it broke my heart. The sketch show, revolving around his plethora of characters from Bobby Bottleservice to PR specialist Liz G., is one of the sharpest shows on television and has created a universe so dense that I can't imagine living without it. Other top-notch comedians like Jon Daly, Chelsea Peretti, Jenny Slate, Andy Milonakis, and John Mulaney regularly appear alongside Kroll, who is also known for his work on the improv-centric FX show The League, ending in 2015 as well. Even Katy Perry popped up as a guest star last season, after announcing she was a massive fan. And if it's good for Katy, it's good enough for you. If you aren't up on Wheels on Ontario, Armond of the House, Rich Dicks, or El Chupacabra, you better brush up on it now, before it's gone forever.
4. Silicon Valley (HBO)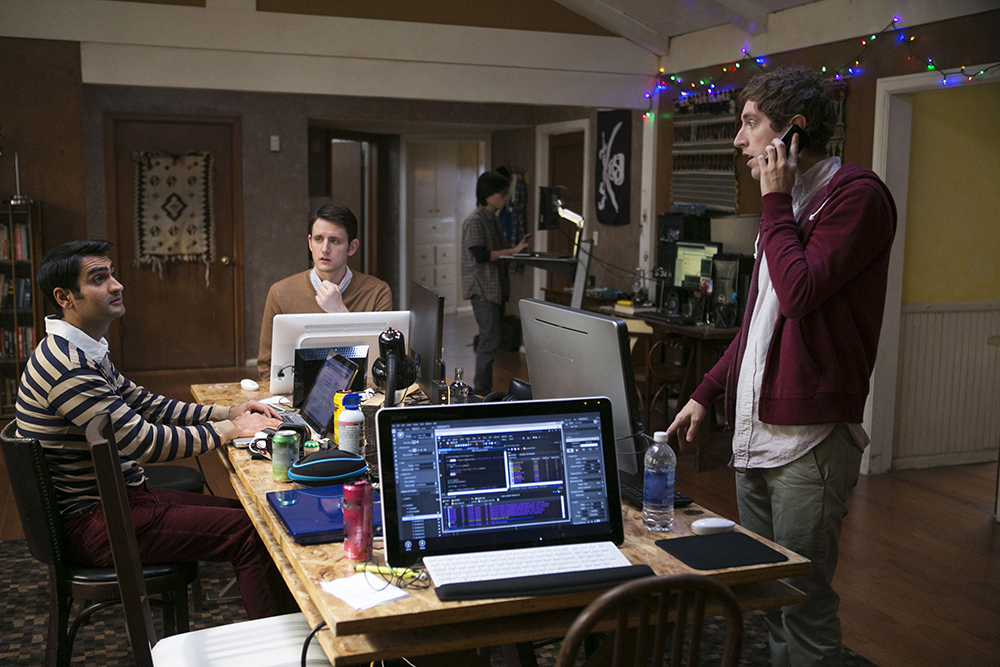 When Mike Judge's half hour comedy about friends finding a start-up Internet company first aired its pilot in April 2014, I was intrigued, but not hooked. Like many first episodes, it showed promise, but lacked a real draw to bring me back. Luckily for me, I watched the second episode and have been singing its praises ever since. Thomas Middleditch, TJ Miller, Kumail Nanjiani, Zach Woods, and Martin Starr make up TV's best posse, navigating through the world of apps, websites, and excess speculation. It's like Entourage if you don't wear Axe Body Spray. The show gained so much momentum and improved so drastically over the course of the first season that it has quickly become one of HBO's most anticipated shows, amongst an already successful line-up. The show tells the story of Richard Hendriks, played by Middleditch, who stumbled upon code that may just revolutionize music-sharing. We watch as he fields offers and temptation from within the world of technology's epicenter, Silicon Valley. The group of friends and co-workers, who've helped create the code, face adversity and failure at every turn. Sadly, the show's biggest standout, actor Christopher Evan Welch – who played billionaire Peter Gregory, a possible suitor for Middleditch's genius – passed away from lung cancer after filming his first season scenes. Watch the origin of the show, not only to see one of the smartest programs on cable, but also to witness the incredible work of Welch, a talent that will be dearly missed.
3. True Detective (HBO)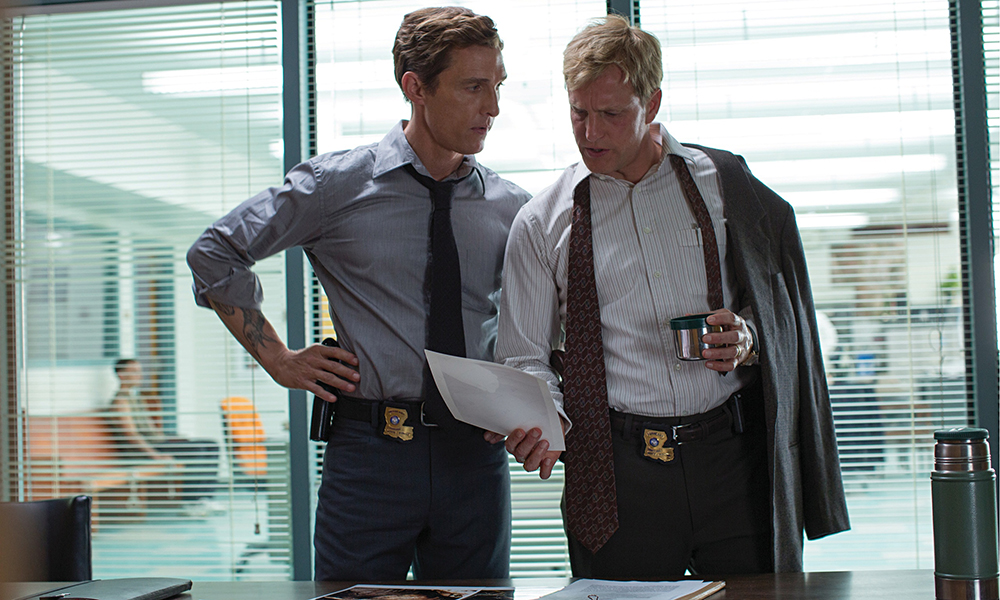 What can I say about HBO's heavy thriller starring Woody Harrelson and Matthew McConaughey that hasn't already been said? Writer Nic Pizzolatto basically came out of nowhere, with just a few credits on a show called The Killing, to create (or plagiarize) the most exciting new pure drama of the decade. The true star of the murder mystery however may be Cary Fukunaga, who directed every episode so perfectly you can't help but anticipate what he'll do next (P.S. he's remaking Stephen King's IT). Maybe you understand True Detective, maybe you don't, but either way, every word said by two of the best actors working today were enthralling and visually stunning. Truthfully, this show can't really be touched. Like Fargo, season 1 had a finite ending, so they've announced that season 2 will be a totally new story (with a new director, or directors), starring an all-star line-up of Colin Farrell, a ripe-for-a-comeback Vince Vaughn, Rachel McAdams, and Taylor Kitsch. Sure, time is a flat circle, but so is pizza, and I love that shit.
2. Nathan For You (Comedy Central)
Canadian Nathan Fielder is the funniest person on TV and I can use his show, "Nathan For You," as a Litmus test as to whether or not we can be friends IRL. Fielder, uses his minimal training in business school and life experiences to help real struggling businesses attract customers and sales, but his strategies aren't always practical or successful. You may know him from his work with Dumb Starbucks, one of the most covered TV episodes of the year, but you should also just know the entire two season run of Nathan For You and participate in repeat viewings of that shit. This past year, he lent a helping hand to a Hollywood souvenir shop, a realtor, a dating website, a maid service, and Pink's Hot Dogs in only a way Nathan could. If you've never seen this show, just drop whatever you're doing and find a way to view every single minute. You'll never be the same.
1. Transparent (Amazon)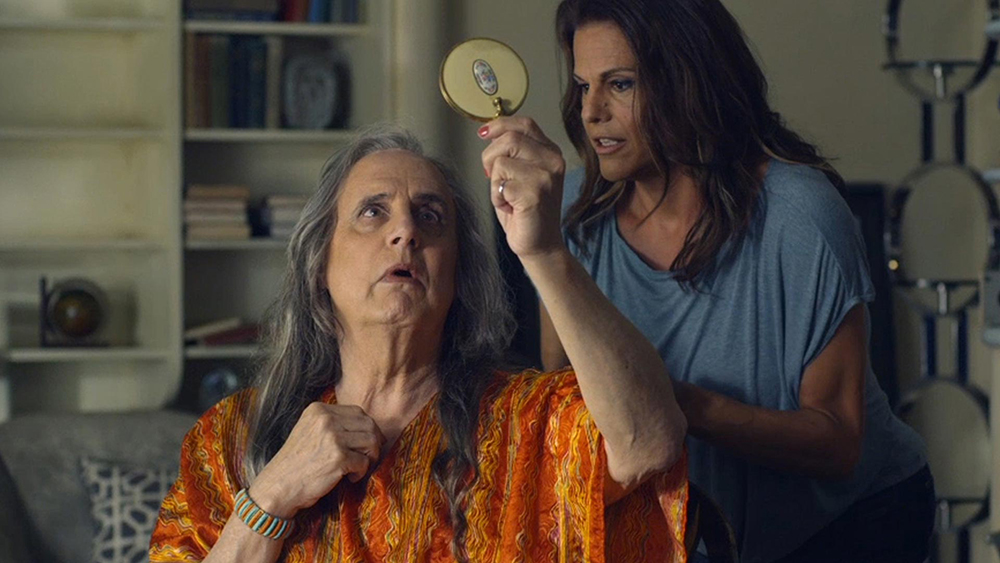 Amazon Studios debuted their most impressive series back in February of 2014, finally making your Amazon Prime account worth more than free shipping. Created by writer Jill Soloway, who I love from her time on Six Feet Under, Transparent tells the story of Mort, genuinely and lovingly portrayed by Jeffrey Tambor, a man struggling to tell his three grown children that he is now openly transgender. It straddles the line of heartbreaking drama and hilarious comedy so often, it's difficult to really give it a definite genre. The characters are impressively complex and deep, something most shows that came and went in 2014 didn't even try to tackle. With Fox's dismal failure Utopia finally ushering in an era where reality shows can no longer receive excessive budgets for production and marketing, you have to hope everyone starts to take chances on challenging and thought-provoking programming like this, but realistically, they won't. And that's a shame. Transparent takes you on a journey of growth and emotion through this family of faulted and selfish siblings (and outstandingly understanding parents), that you can't help but start to question your own tolerance and actions. It's not only what good TV is supposed to do, it's what good art is supposed to do. There are currently 10 episodes ready to stream, with a second season on the way in 2015, so please, do yourself a favor, and support art.
::
Mad at me? Pissed that I don't watch Game of Thrones? Broad City? The Americans? How mad are you that I thought Louie was awful last season? And I haven't even started the second season of Orange is the New Black yet. Anyway, you can be as mean as you want in the comments, because we're all just humans with DVRs here. Either way, Zsa Zsa Gabor is going to die in 2015.