If pizza in a dingy basement is the first image that comes to mind when you think of smoking, the guys at TRICHOME have another thing coming your way. The chic elevated glassware and apparel shop in Seattle's International District is meticulously curated by owners John Le and Richard Saguin, whose penchant for and deep knowledge of the green stuff flourishes in pop-up events like Cannabis and Coffee, which is exactly what it sounds like. Touting clever and inspired pot paraphernalia, futuristic clothing, and even their very own Ms. Pacman Machine, this can't-miss shop is an easy one to get lost in, even sober. Read on for more on Seattle's dopest shop.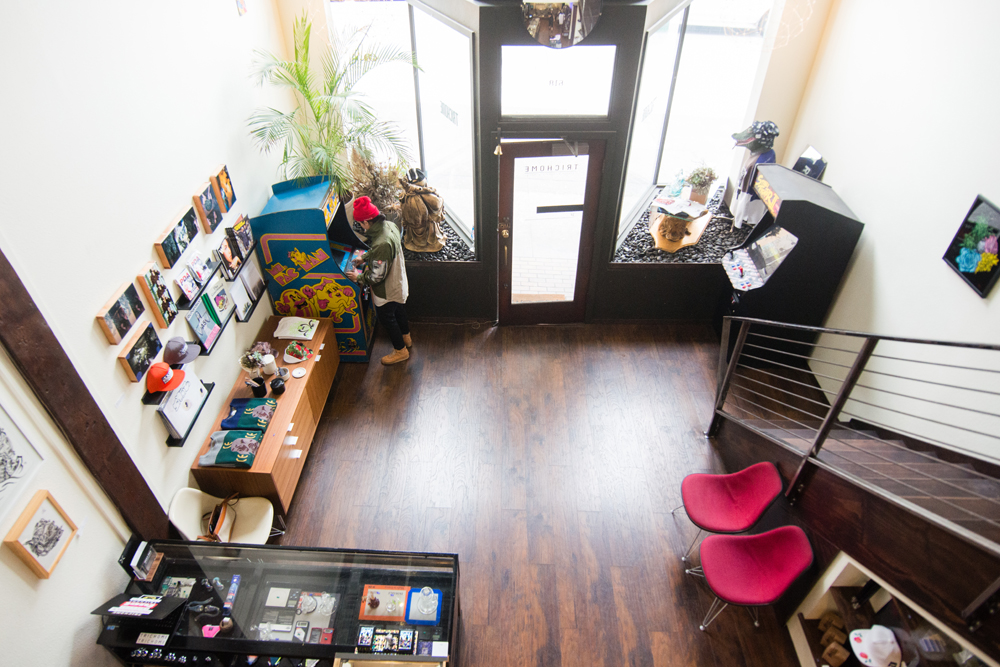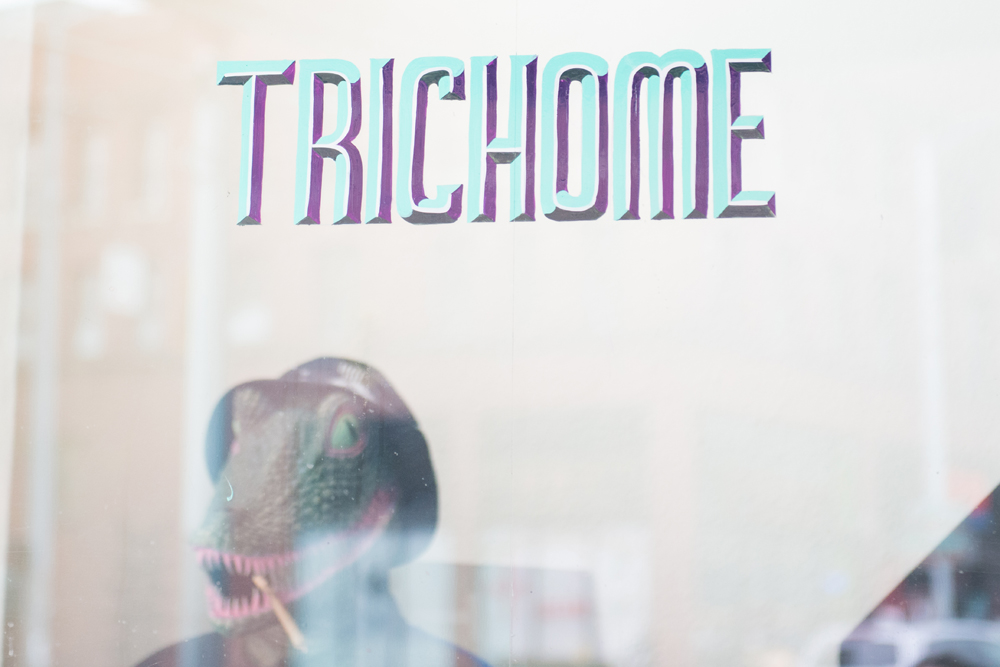 CHONA KASINGER: Was there a specific chain of events that led to opening Trichome?
RICHARD SAGUIN: It wasn't so much a specific chain of events as it was a major shift in perspective on how we wanted to spend our time.
JOHN LE: Together we created TRICHOME to reflect how the future is now. It's a modern perspective on cannabis use and its crossovers into various lifestyles. It's why and how we really use the modern magic to bio hack our minds; how cannabis et al. can enhance our lives and style.
TRICHOME is my go at not having to work for the man. To not be targeted by the system as much as possible. Not let much of my ch'i be channeled to the collective dumb shit. We welcome the paradigm shift of the collective consciousness that inward-explorations are infinite, natural, and good for you. We pay homage and respect to those who have paved the way, we will always respect code.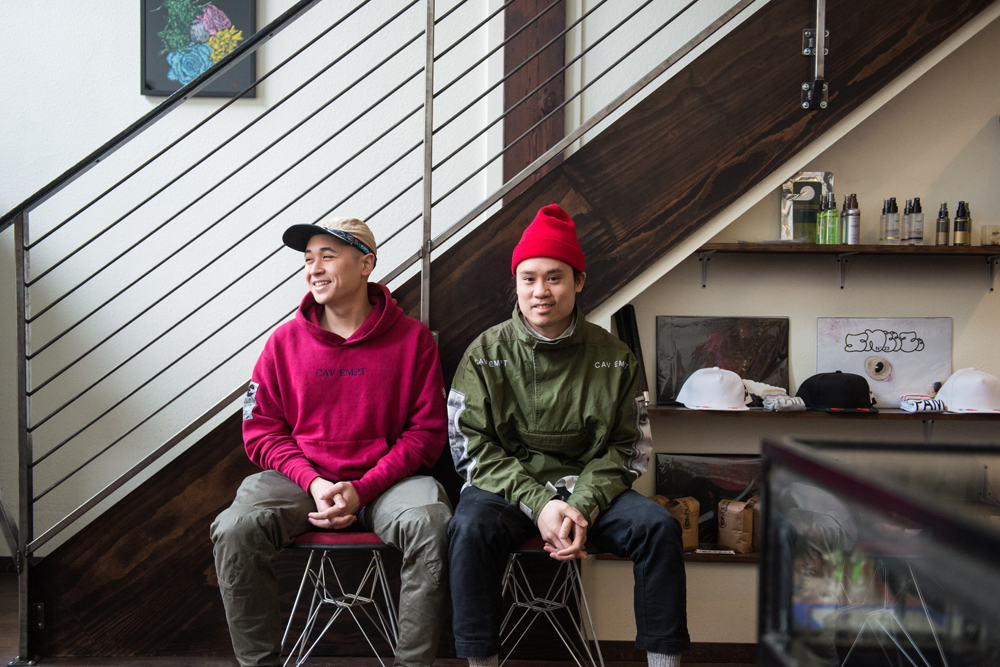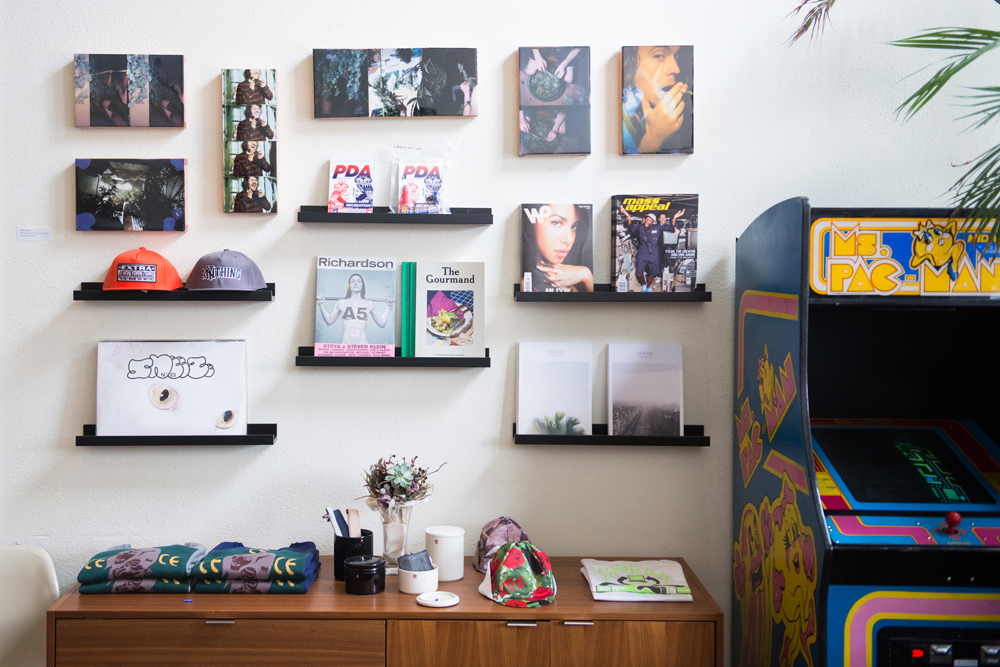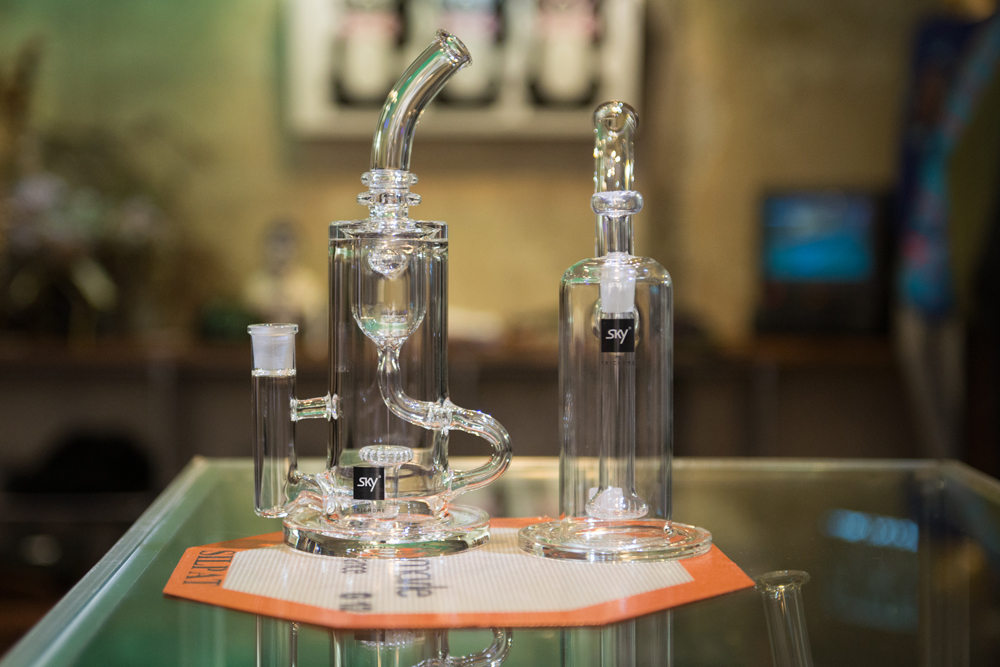 You offer quite an eclectic selection of products at your shop, from fragrances and apparel to accessories of all sorts. Can you tell us a little about some of your favorites? Just briefly perusing the shop, the Cav Empt really jumped out at me.
J: Our selection is a tuned output of our personal inputs. They come from other beings whose ideas we want to propagate for the evolution of the collective; others who have ideas bigger than themselves. Cav Empt is a future weapon utilizing culture camouflage with programmed backdoors (if you have access). P.A.M. reminds us that we came from primordial ooze and that it's okay to shed a tear when we pull triggers on the singularity (ctrl+alt+del).
R: CCP is doing amazing work with range of motion and functionality, Jungmaven and Muttonhead for their intriguing and versatile basics, Sky for their innovative glass, and LexCo for creating the best joint cases ever.
Things you couldn't live without?
J: Meditation, isolation tanks, weed, tai ch'i, nunchakus, borosilicate, the JDM Blazer GT 8000, CBDs, knowledge, $$$, whiskey, rhodiola, fish oil.
R: Clothes, mobile phone, laptop, pocket knife, lighter, rolling papers, all five colors of mana, and a clean glass piece.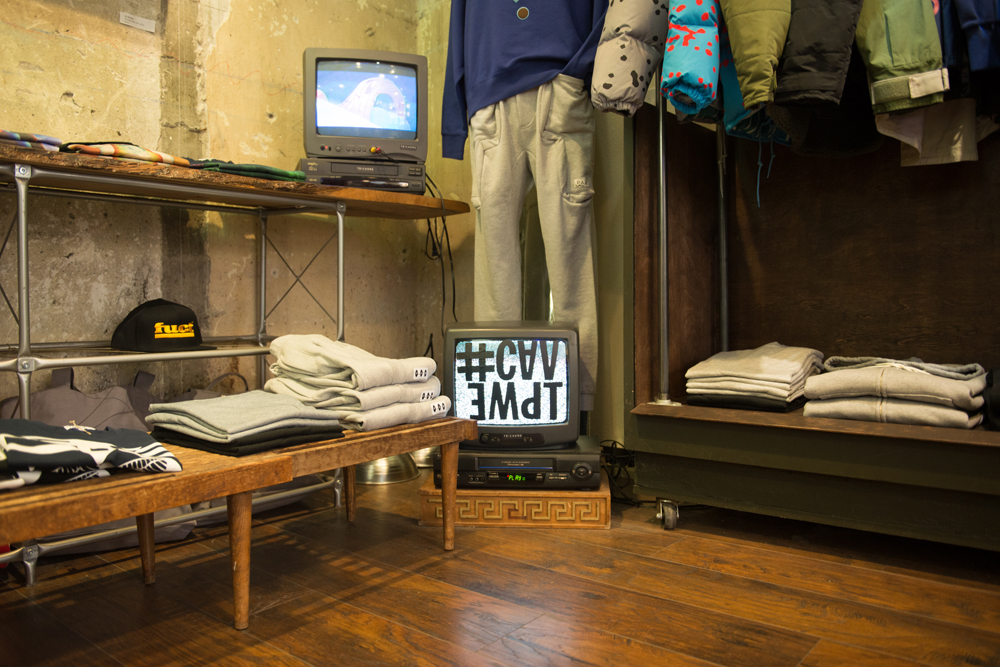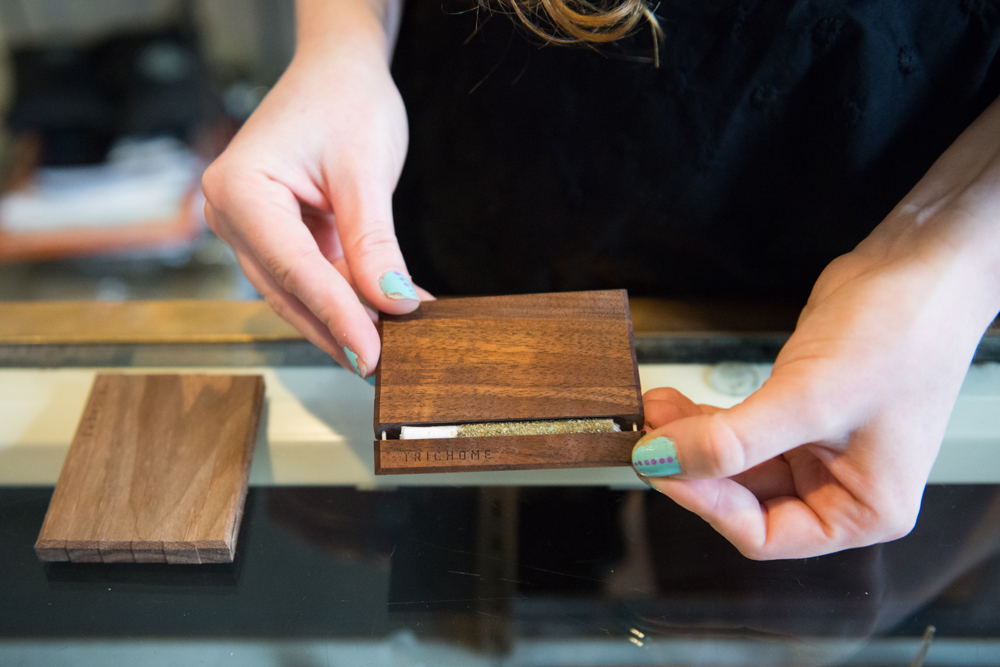 Cannabis and Coffee combines two things Seattle is well known for. Generally speaking, what can one expect when you combine the two?
J: A very dialed-in upgrade to your day. Real life yin and yang both at once. We put a lot of engineering and self-experimentation into it. A manual coffee extraction process, via an expert-level operator of an Hario v60, is infused with 1.3g of cannabis in a matrix of MCT oil and grass-fed butter. The ratio of effects between caffeine and cannabis is about 1:2. The spectrum of lipids help with metabolic uptake as it provides brain specific nutrients. Gives you energy in a specific combination of wavelengths. Guaranteed to augment you inward and outward.
R: Good vibes and a most triumphant way to start your day.
With its legalization, are there things you've noticed in regards to the public's perception of cannabis use that has changed in the past few years?
J: Everyone does it. Legitimacy is a tired argument. The change in public perception is an example of how transparent propaganda is. We like seeing cannabis as a common thread among our peers. No matter what lifestyle one has, cannabis can be that catalyst for doing work.
R: People are letting go of the misinformation and reconsidering the place cannabis has in their lives. We see people from all walks of life coming through to enjoy our shop and our events.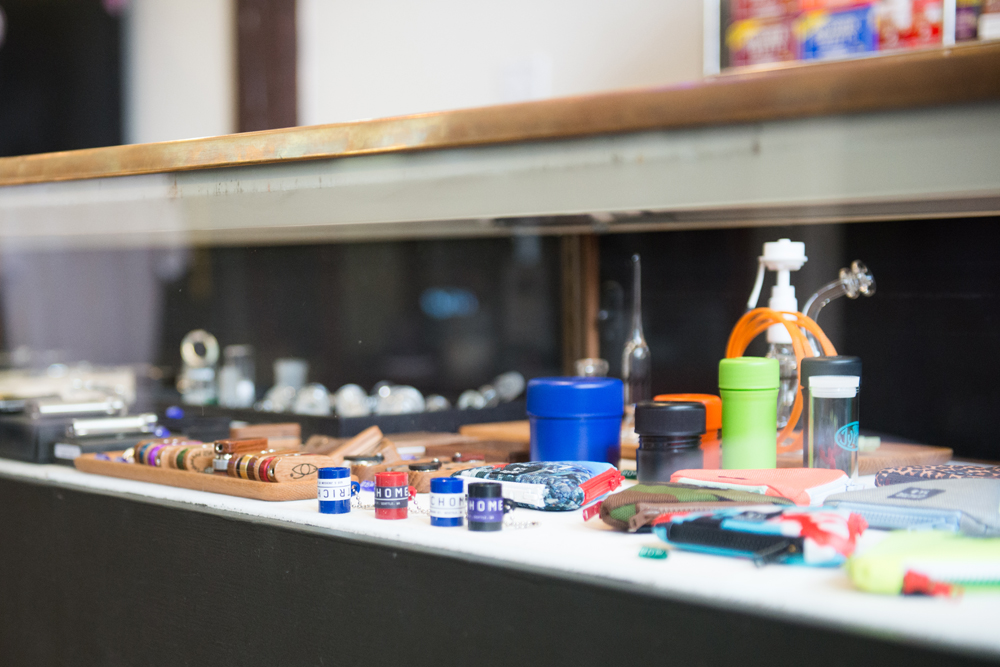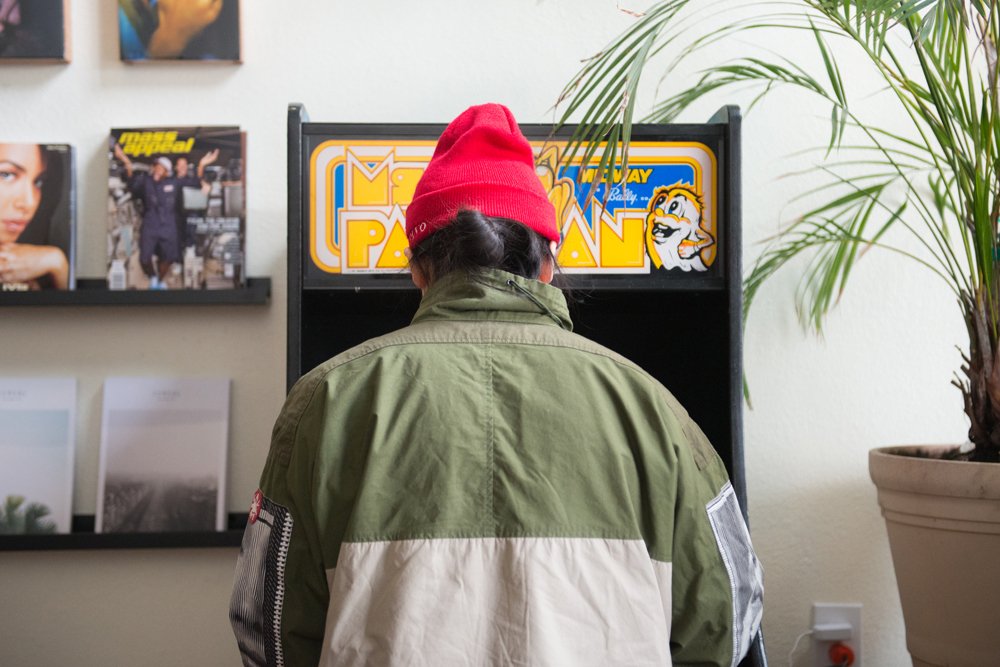 Your shop is a beaut! Can you detail some of the key inspirations in TRICHOME's aesthetic and what kinds of things inform your curation?
J: When building out the shop, I just kept in mind to respect the bones. The building is over 100 years old with some history to it. I let as much of the original wood, brick, and cement textiles contribute to my interpretation of a kung fu villain's lair or the hideout of Master Shredder and the Foot Clan (TMNT, 1990) built into an abandoned Japanese tea house. Then, over that is a layer of cyber tech, including a unhacked, OG 1981 Ms. Pacman and Street Fighter 2 Championship Edition coin-ops. In the loft above is a digitally-controlled smoking apparatus with an inert heating element to perfectly vaporize essential oil extracts of cannabis. It allows for the consumption of cannabis much like you would AWD launch a 500hp R-32 to a 9 second quarter mile with full leather interior, A/C blasting on max cold, and "Darude Sandstorm" playing in the background.
R: We want people to experience a sense of discovery as they walk through the shop. Following our imagination and the desire to elevate standards inspires us the most.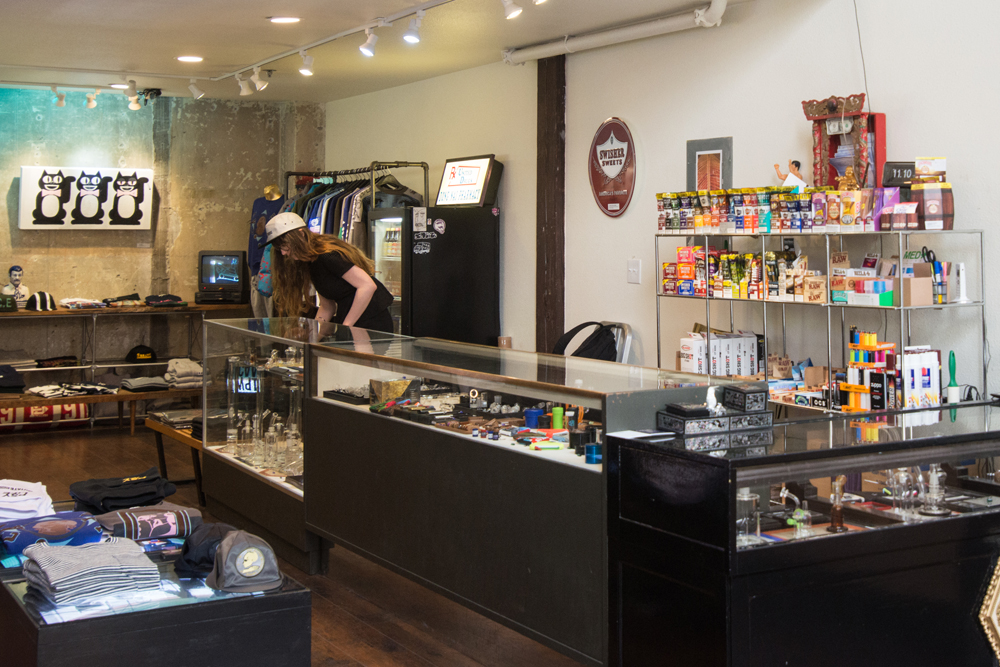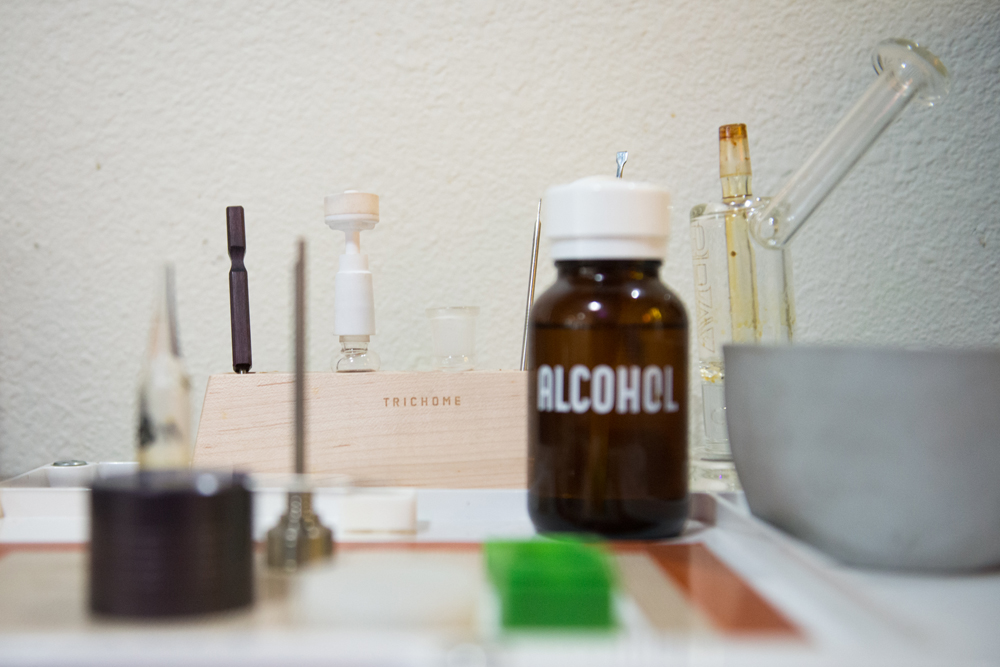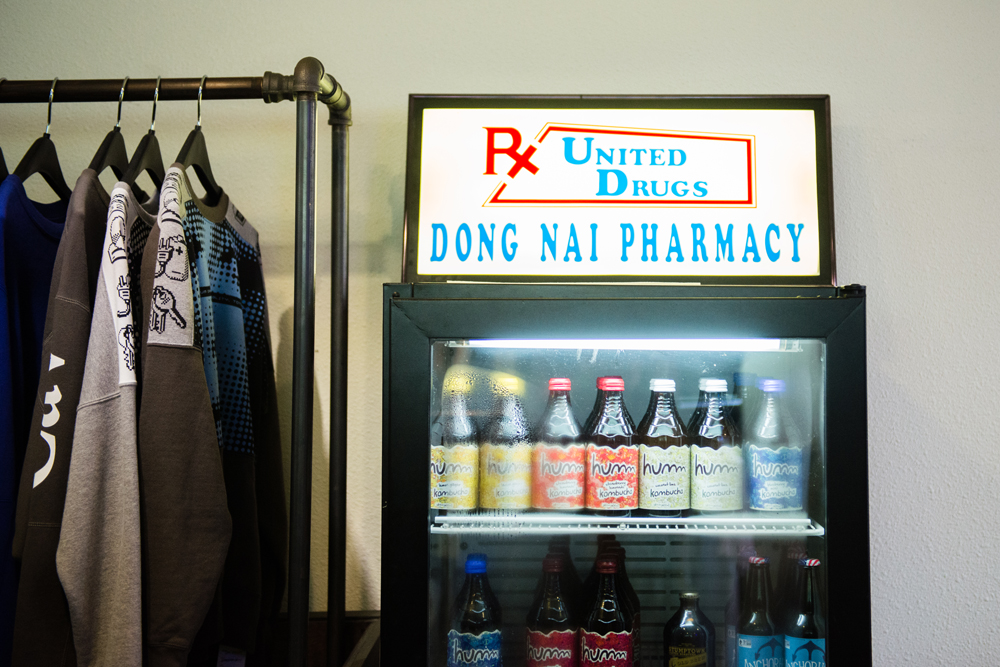 What are some of your favorite spots to hit in the International District?
J: Sun May Co., Pinball Museum, The Jungle, Tsukushinbo, Trichome, Phnom Penh, Seattle Martial Arts Supplies, King Street Supply Co., Gourmet Noodle Bowl, Purple Dot.
R: Thai Curry Simple, Phnom Penh, Maneki, Kau Kau, and Trichome.
In addition to the Cav Empt question, how did you guys link up with Cav Empt?
J:  We tracked a cybertrail into the network and just tuned into the messages in the static. We found a path to make contact and proved ourselves because no one detected us coming.
R: Open comm channels.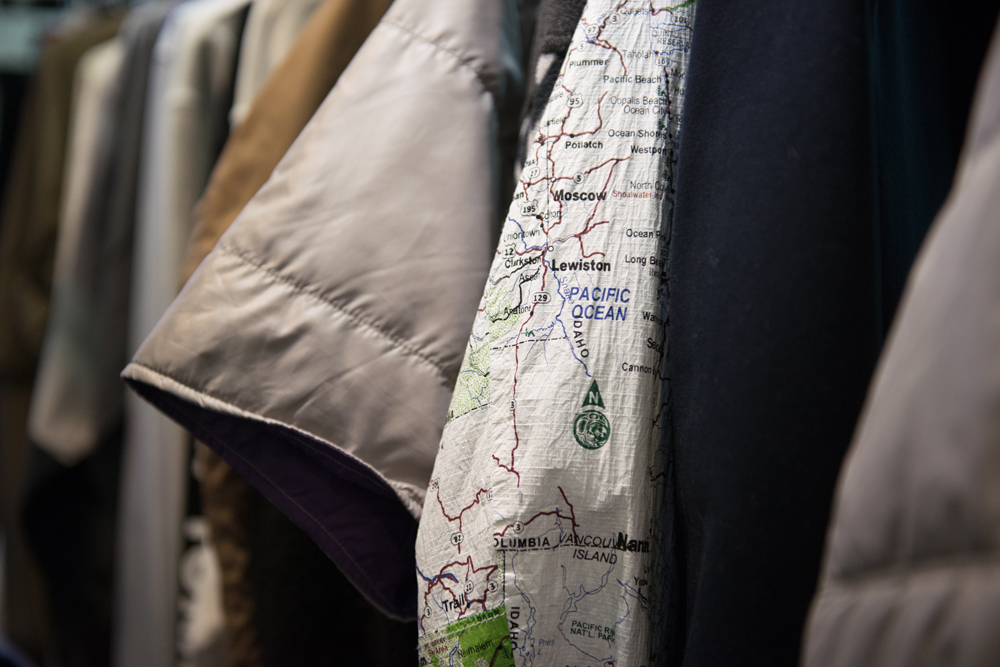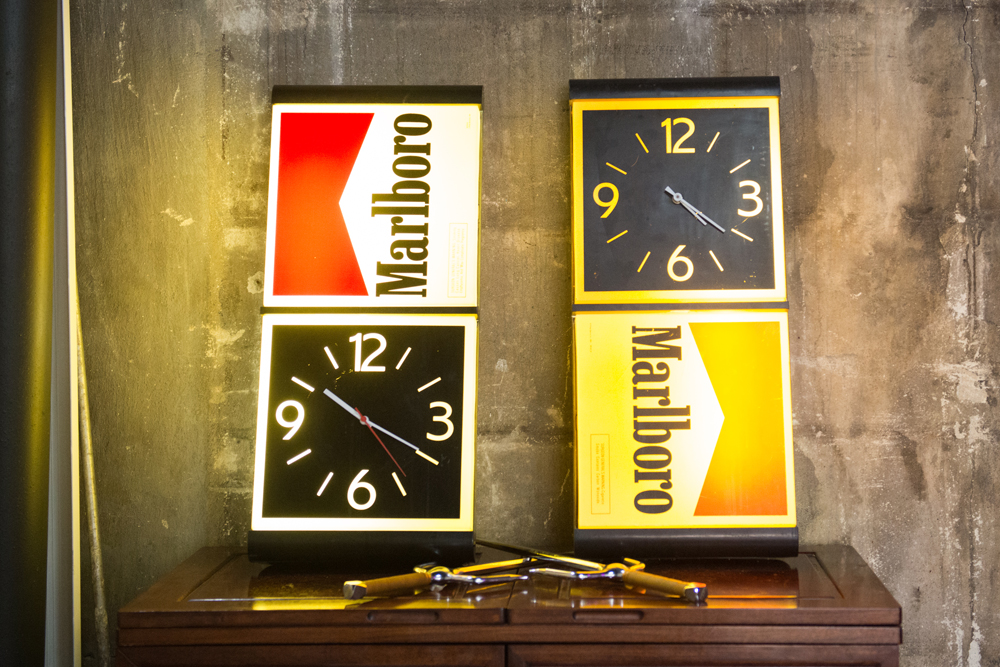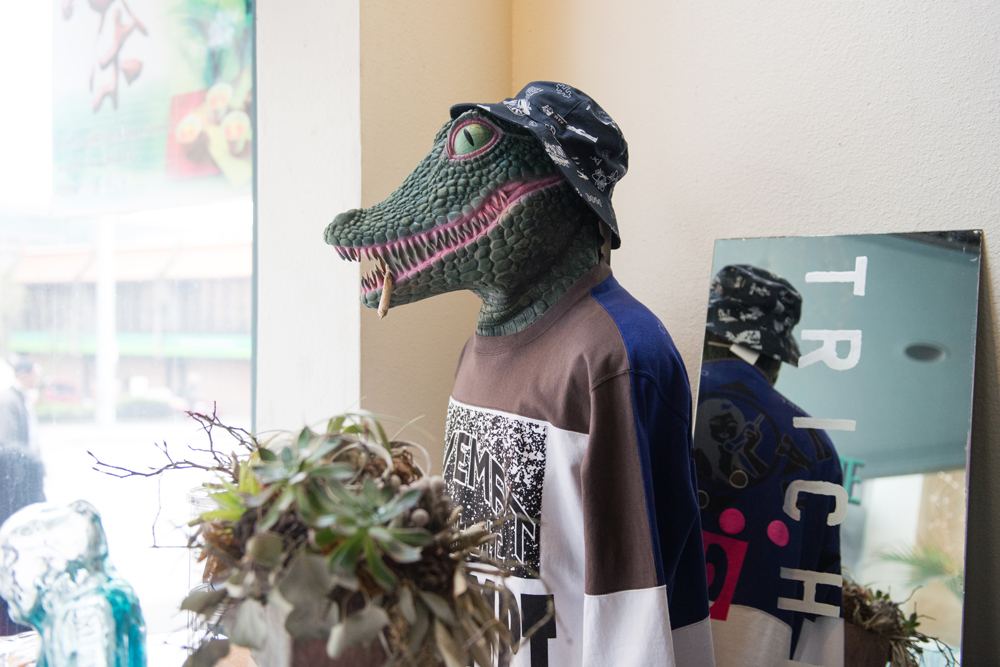 Are there other regions you try to keep your radar on?
J: Mars, innerspace, cyberspace, urgurlsplace, and nether regions.
R: The verse.
From Cannabis and Coffee to TOPCOAT (a weed-themed nail event), Trichome has been hosting all kinds of cool pop-ups. Any other big plans down the line?
J: Stay connected, come find us.
R: Yes, always.
Any last words?
R: Be excellent to each other.
J: Party on, dudes.
::