Track-A-Demia is an ongoing music series that uses popular and underground tracks to explore the nature or current news headlines and buzz. It's an informal crash course on viewing the world through song. 
The supreme irony of pledging to "Make America Great Again" is that the name America itself is a colonial fabrication—an ode to Italian traveler Amerigo Vespucci. The original people of this continent, the First Nations, called it Turtle Island. They still call it this. The title derives from folklore that attributes the physical properties of Mother Earth to a fertile turtle floating on water. As poetic and inherently abundant as the native understanding is, America's hijacking of Turtle Island, however, is the complete opposite. Recalling 500 plus years of invasion, genocide, induced-poverty, and oppression against its indigenous people is the kind of stuff that will never make any country great again, period.
As this year's Thanksgiving Day federal holiday, officially instated in 1863, swings by again cloaked in well wishes, holiday cards, and sweet potato pies, it is yet another stark reminder of how insidious America's version of the history really is. Rather than the truth, it is a day that glorifies a pilgrim-pardoning fairy tale, gluttony, and capitalism. It's psychological warfare that, if not for many of the brave poets and musicians of our times, would continue to hypnotize a great deal of us.
Remember, while many carve open their turkeys this week America continues to insist on carving open the land and its native people. Look no further than the recent tear gas and water canon assault on Standing Rock protestors to verify the sentiments. Thus, this edition of Track-A-Demia features the likes of Johnny Cash, Rage Against the Machine, and more. All of them defiantly recalling the real "American" history.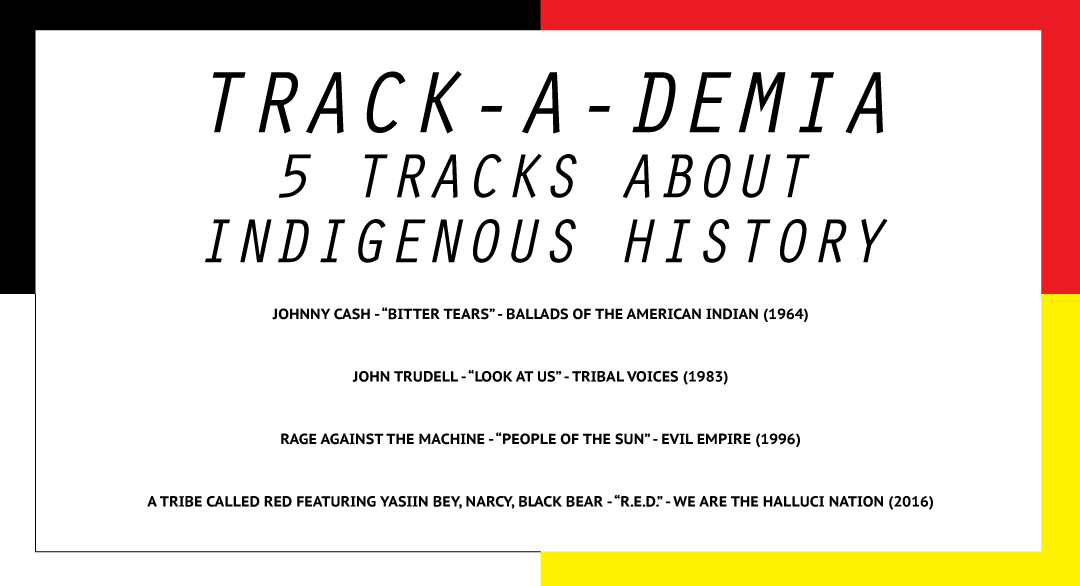 Johnny Cash – "Bitter Tears" – Ballads of The American Indian (1964)
The Man In Black, Johnny Cash, was never a stranger to the responsibility of speaking to and for the ills and forgotten people of Western soil. He was particularly known for his somberness, playing in remote venues like prisons, and wearing all black as a symbol of solidarity with people that suffered. In 1964, his concept album, Ballads of The American Indian, took aim at indigenous history. The tune "Vanishing Race" expresses a trance-like vision and lament from Cash that includes his own chanting to the Indian drum. "I see an eagle in space my people will follow oh oh a vanishing race," sings Cash. The song is an overt and mournful dedication to his emotional connection to perceiving the "disappearing" indigenous people.
John Trudell – "Look At Us" – Tribal Voices (1983)
Late poet and activist John Trudell was at one point one of the most heralded leaders in modern Indian resistance. He was the official spokesperson for the organization, The United Indians of All Tribes in the Americas and even led during their 1969 takeover of Alcatraz in California. After much turmoil and physical sacrifice, John turned to music and spoken word for his activism. 1983 marked the release of his first project, Tribal Voices, an album full of deep-rooted indigenous poetry that articulated some of the most complex and intense dynamics connected to Earth, indigenous people, and what he called oppressor, predator, or invader energy.
The track "Look At Us" very frankly and eloquently lays down the matter-of-factness in the differences between those that work for the planet and those that work against it. He tackles even the very foundation of Christianity and masterfully questions how oppressive and disconnected even people that claim belief in God can be ("Remember Jesus? Would you send him back to them, tell them not to kill him, rather they should listen, stop abusing his name and yours. We do not mean to be disrespectful, but you know how it is, our people have their own ways. We never even heard of you until not long ago. Your representatives spoke magnificent things of you which we were willing to believe, but from the way they acted we know we and you were being deceived").
The track then ends with a very clear, coherent, and almost map-like dichotomy of who the invaders and those being invaded are. They are truly powerfully evolutionary words that still hold strong today for many that may still be seeking to identify who is who and what is what: "Look at us, we are older than America. Look at them, chasing a fountain of youth. Look at us, we are embracing Earth. Look at them, clutching today. Look at us, we are living in the generations. Look at them, existing in jobs and debts. Look at us, we have escaped many times. Look at them, they cannot remember. Look at us, we are healing. Look at them, their medicine is patented. Look at us, we are trying. Look at them, what are they doing. Look at us, we are children of Earth. Look at them, who are they?"
Rage Against the Machine – "People of The Sun" – Evil Empire (1996)
In the '90s, while MTV perpetuated and promoted "Grunge" music, much to the dislike of pioneering bands like Nirvana and Pearl Jam, other breakout groups like the Chuck D-endorsed Rage Against The Machine were focused on a much more deliberate form of using popularity and platform to scale their politically-driven messages. The bands sophomore album, Evil Empire, and legacy was a commercial anomaly. It was as politically charged as it was popular. The album's first track "People of The Sun" is a title that refers indigenous history and destruction of the Aztec empire, a connection to the destruction general destruction of the western/southern hemisphere in the face of colonialism. The song itself is a riot-inducing, dystopian look at the history of a conquered land and people whose bleak is now returning in full circle towards uprising. It is an understatement to say that lead vocalist Zack De La Roche had a way with words. His lyricism and delivery is the kind of stuff that sends chills up spines and angry mobs to government doorsteps. "Check it, since 1516 minds attacked and overseen, Now crawl amidst the ruins of this empty dream" begins the track. Whether you self-identify as a freedom fighter or or not, this incredible track is the soundtrack to indigenous activism.
A Tribe Called Red featuring Yasiin Bey, Narcy, Black Bear – "R.E.D." – We Are The Halluci Nation (2016)
One of the more forward-thinking notions about indigenous history and resistance in the Western Hemisphere is its connection to indigenous resistance across the globe. While it is very necessary to dismantle the power structure's lies and decolonize, it is also important to simultaneously recognize the global scale of unity in harmony with the planet. This means connecting the dots between the indigenous people of the West and the indigenous people of the East as well. Canadian electronic trio A Tribe Called Red, Quebec's Black Bear drum group, Yasiin Bey (formerly Mos Def) and Canadian-Iraqi MC Narcy whip up one of the most progressive hip hop tracks about this globe-spanning narrative to date.
The dubstep-laced song features cosmic verses from both Yasiin and Narcy, who go back-to-back on a barrage of anti-colonial, anti-establishment, pro-Earth rhetoric. "Big Chief heart rate. Big beat. B-E-Y. Basin. Straightjacket come clean. Big said it was a dream. Now it's a living thing. We true and living kings" spits Yasiin. "Illumi-Narcy. Emergency on Planet Earth. The currency is murder. You a man of worth. They say the date is coming. Drummin' that you can't reverse. Watch the banner burn, before the cannon burst" rhymes Narcy. If "People of The Sun" is the soundtrack to this Earth realm's resistance, "R.E.D." is music for the galactic scale of things. Take heed.