Brock catches up with Bay Area graffiti artist Tim the Optimist on his latest show "Packrat's Paradise" – a project in which he paints over collaged train tickets, hair, Swisher boxes, and various hoarded travel and time-related paraphernalia, culminating in what some have called a "Bay Area history lesson."
Growing up in the small, blue-collar town of Marysville, Ohio, there was no such thing as graffiti. Light poles and street signs were not riddled with stickers and tags. There was no real evidence of graffiti ever being there. If anything, there was a bunch of typical redneck slander or the occasional ICP Hatchet Man in the bathroom of any gas station in town. There was that one time a couple of stoners painted an anarchy sign on the back of the West Coast Video we would skate behind. That whole thing made it onto the front page of the paper. It was a VERY loose idea of what graffiti is like, but had the same principle: Rebellion.
It wasn't until I made it out of the small town in Ohio and into the big-ass city of Chicago that I got to witness the lifestyle of active writers. For a good amount of more than three years in Chicago, I spent days with some of the city's finest documenting their process, listening to stories from the past, and smoking a stupid amount of blunts. The experiences with these individuals in my late teens and early twenties really showed me that I can get away with just about anything I really want to do if I work hard for it – just don't get caught.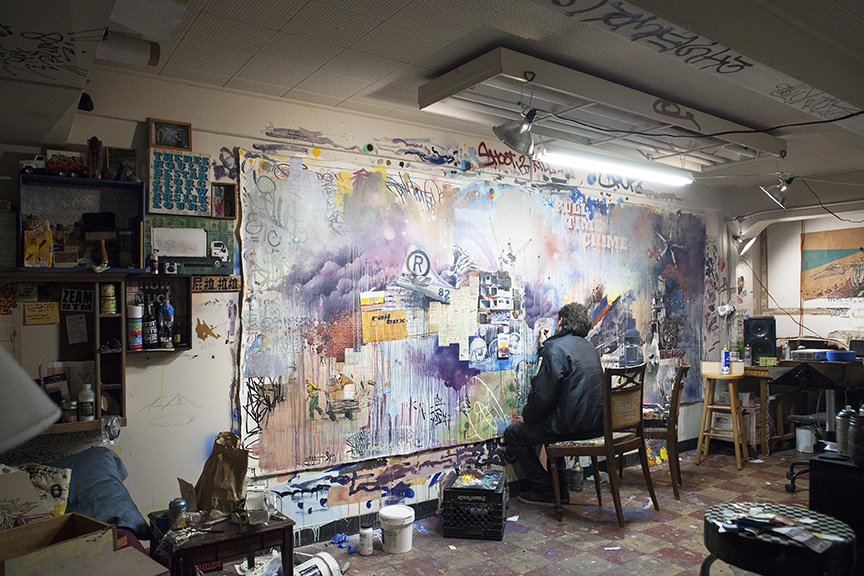 I first learned of Optimist's work during my Chicago years from a website called "Endless Canvas" where I purchased one of his photo zines from his time living in Taipei. As a photographer who documents art in the streets, I felt connected to Optimist's zine. His name came up years later when he, Tim (Optimist), and Plant Trees curated a huge box truck show at 1AM in San Francisco. Some of my friends from Chicago were in the show, which showed the incredible tie between communities, spanning states and continents, all through the act of writing on things.
That communal bond brought us together to chat in his home as he prepared for his recent show "Packrat's Paradise" with LeQuiVive Gallery. Scattered among his home were shelves full of books, magazines, old paintings, stickers, old cans, and a huge unfinished canvas stretched on one of the larger walls – memories of his journeys and processes surrounding him. Over the course of two weeks watching him finish his work, I got to know Tim pretty well as we talked about the Bay Area scene and his concepts for the show. To me, he is an example of the lifestyle and work ethic of many of the artists I knew from my first exposure to street art in Chicago until now – something that inspired me through school and the start of my career. Work hard, play hard, and don't get caught up – or caught at all.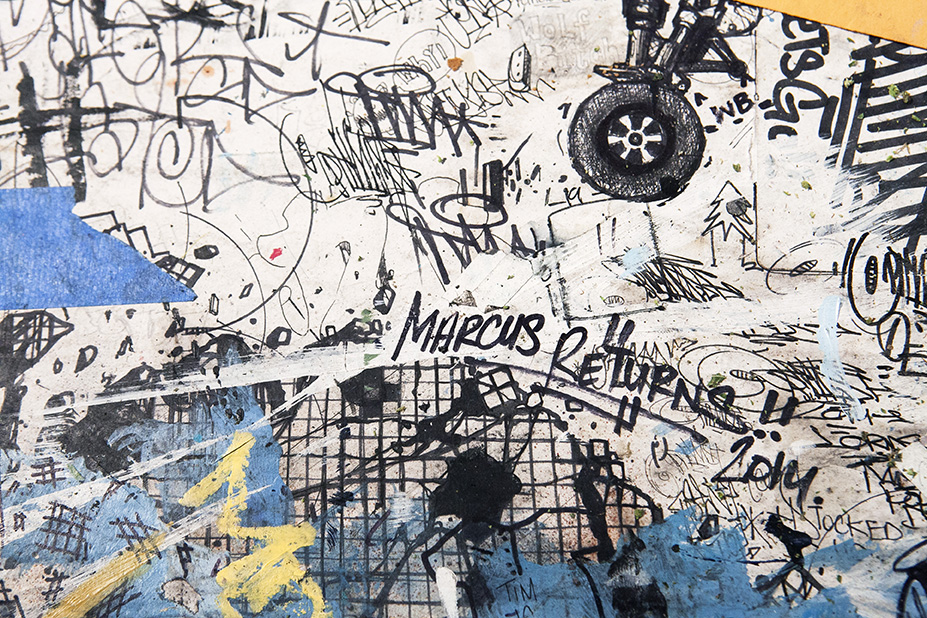 BROCK BRAKE: How did the idea for the exhibition "Packrat's Paradise" come about? What is it?
TIM THE OPTIMIST: I'm a hoarder. I save everything with meaning. Like Muni transfers, BART (Bay Area Rapid Transit) tickets, airplane baggage claim stickers, Swisher boxes, streaker boxes, lists of stuff to do, basically anything involving transportation or representations of time. I like to use them as backgrounds for my paintings. It takes a long time to collect all this stuff and I'm constantly making art with these collections. In the past five years, I have managed to cover all the wall space at my house with artwork, photos, collected items in frames and even some of my friend's hair. [Laughs] Hair is a great metaphor for time. CHEK and PANDASEX gave me their ponytails when they cut them off. I encased the locks in resin and framed them for the show.
A lot of the art that is left over from shows I have had in other cities ends up on my walls, and at [one] point my house and studio was overflowing with stuff. It was getting out of hand. I felt like now was a good time to put it all on display and give away some secrets to the public. I wanted to do a show that would give the viewer a feeling of what it was like to be inside my personal space. It is a reflection of the past 5-7 years of my life and tells the story through the composition, using a variety of mediums, collages, and texts. Some people have called it a Bay Area history lesson.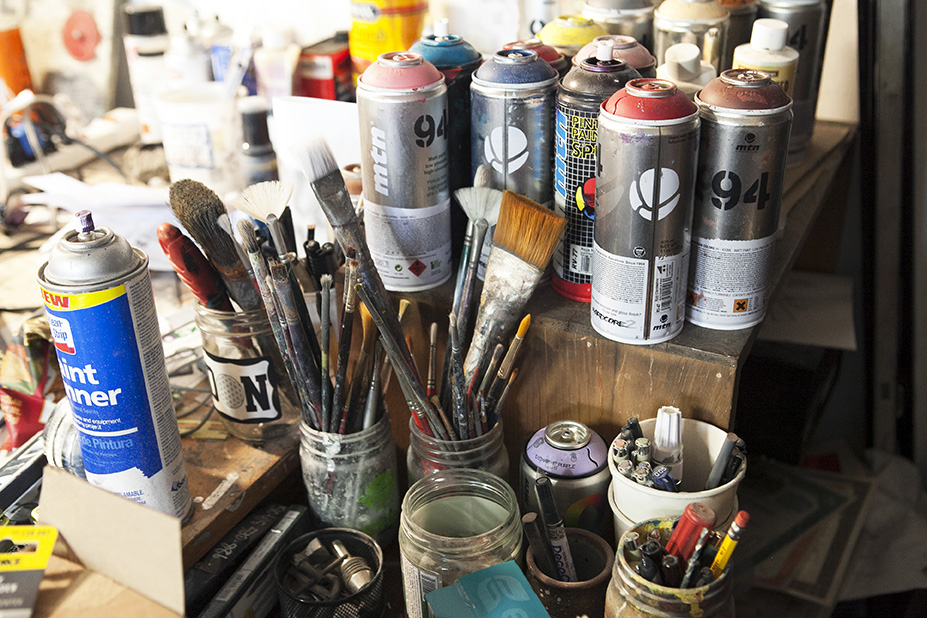 It seemed like every little addition to the installation had some kind of significance – meaningful memory. Care to share any of those?
Yes, each piece of the puzzle told a small part of the story, which I felt made the installation as a whole more powerful. For example the piece that was painted on vintage BART tickets that read "I thought I had her in the palm of my hand" was based on that Chi-Lites song "Have You Seen Her?" I painted that phrase on top of the BART tickets because one day UDON was walking around the Tenderloin singing that song out loud, and some homeless guy started singing it with him, and then a couple other homeless people started singing along and they were all singing it together. At the time I thought it was pretty funny. A little while after that, I was talking to UDON while stuck in traffic on the Bay Bridge and that song came on the radio, "Have You Seen Her?" and we thought that maybe the guy singing it was talking about the Bay – like what happened to the Bay? I thought I had her in the palm of my hand and now she's gone. The Bay that I grew up in…
At least San Francisco is over. It's dead.
What cities around the world have made the most impact to the work in this project?
Taipei and the Bay. When I say the Bay, I mean Oakland, Berkeley, and San Francisco, because these are the only cities I have lived in. I lived in Taipei, Taiwan, for a little over 3 years and go back and forth between the two worlds often.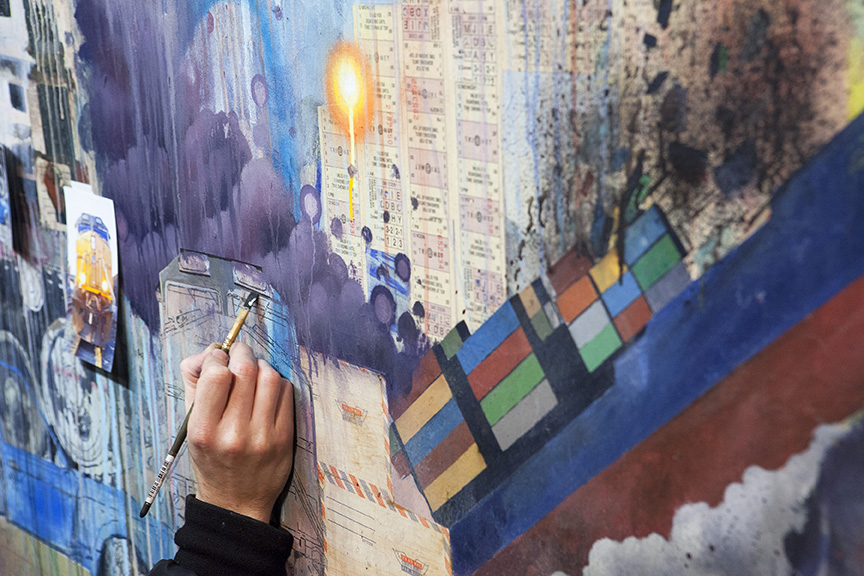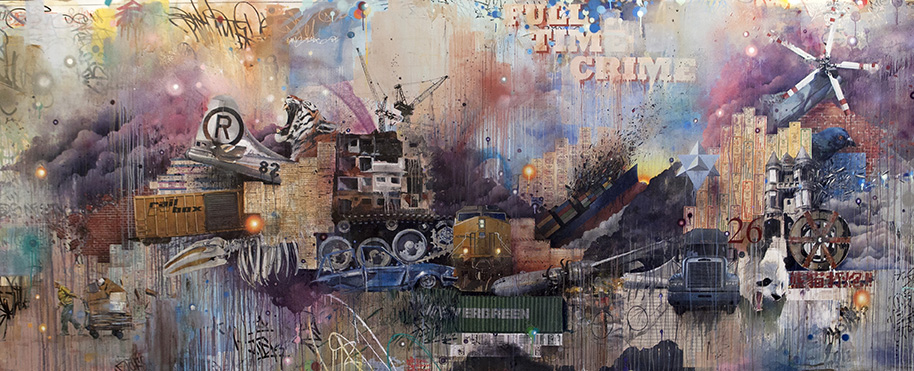 I know you've been tagging since 7th grade, but when did you pick up the brush? What's your academic background?Probably around 2002 I started painting when I took a couple painting classes at San Francisco State. I got my degree in Conceptual Information Arts in 2005, and after college I got a job working for a Mural company based in SF called Mural Arts SF. We did murals for casinos in Las Vegas, like if you ever go to Caesars Palace in Las Vegas, go check out the lobby and registration desk area. Myself and a team of 7 other people painted all the artwork in there. It took us one year to paint it all on textured canvas in the studio in San Francisco. Then we shipped it down there and installed it on the ceilings like wallpaper. We also did the giant mosaic behind the front desk.
Other then the few painting classes I took at SF State and my job for the mural company, I have not had any formal art training. I feel like I learned how to draw and paint by reading a lot of comic books throughout my life.
What are some exhibitions in the Bay Area over the last handful of years that stick out for you? Any that left an impression on you or inspired you becoming an artist?
I saw the Gerhard Richter retrospective at the MOMA in 2002 and was blown away. I immediately started painting with a brush. Before seeing his work, I didn't know people could paint images that looked like photographs. I wanted to see if I could do that too. I remember going to a lot of David Choog Lee shows at 111 Mina Gallery back in the day and really enjoying his work. I saw an Os Gemeos show at the Luggage Store in like 2003 and their use of found objects was inspiring. How they pretty much created an entire show out of stuff they found and some painted it was very inspiring.
Im just going to list cool shows that I can remember: There have been multiple Twist shows, Romanowski at 111 Mina, Deibenkorn retrospective at the De Young, APEX's solo exhibition he did at White Walls where he painted everything on Denim. There's just so many it's hard to remember.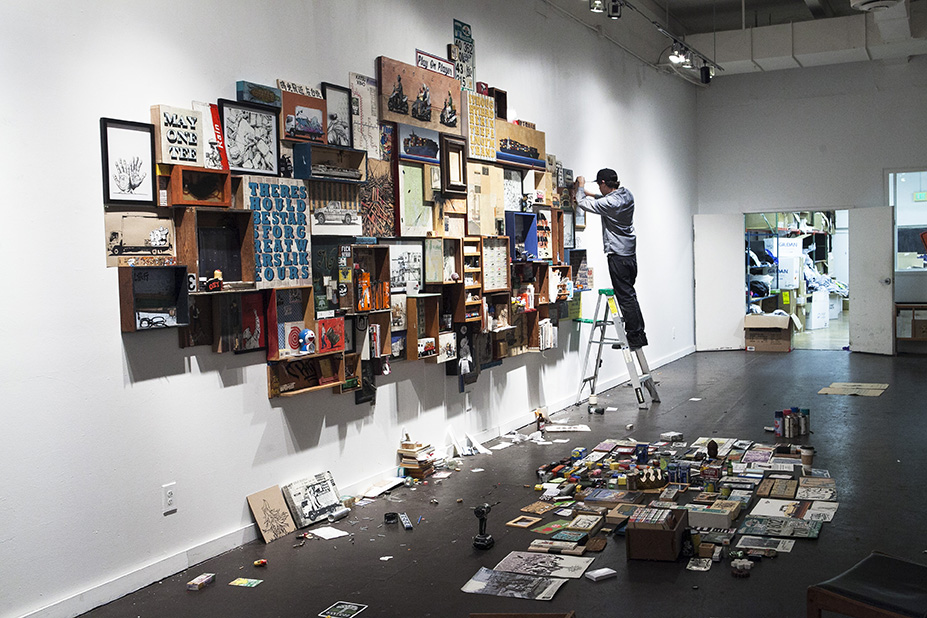 You've been around the Bay Area your entire life, seeing it through a unique perspective with your involvement in its graffiti culture. In your eyes, where is it now compared to 10 years ago?
It isn't dead yet. [Laughs] It sure has changed though. People in San Francisco are more anal than they have ever been about graffiti now. It's not the same city it used to be, the vibe is gone, the soul is dead. It's funny because everybody moving here nowadays is searching for that old Frisco vibe that took years to create. A vibe based on music, art, culture. and drugs. That's all gone now and the techies have taken over. It's sterile and plain now, just the way they like it.
"[THE TECHIES] CAN NEVER ERADICATE GRAFFITI."
Oakland on the other hand is covered in graffiti nowadays. More so now then it ever has been in the past. Graffiti in Oakland is thriving now with the scene growing bigger and bigger. But yet. at the same time, the people that moved to San Francisco 10 years ago thinking they were rich enough are now realizing that they are not. Now they're migrating to Oakland and in time will probably ruin it like they ruined SF. Graffiti has its ups and downs. Sometimes stuff runs and sometimes it gets buffed, but you just have to keep doing it and enjoy it while you're doing it. They can never eradicate graffiti – the culture, it's too strong now.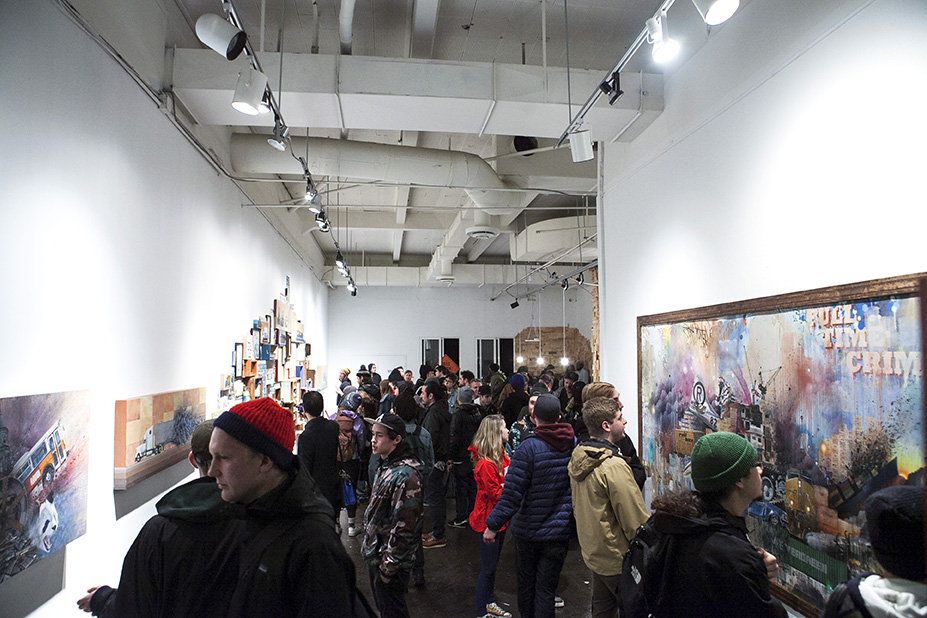 Are there any things you would change about today's Bay Area? Any things that should remain the same and not change?
Yes. I would make SF and [Oakland] 24 hour cities with all night public transit and good food and drinks till 4am. I would magically kick all the techies out and demolish their buildings downtown. Fucking up the skyline would lower the price of rent and food. I would have to fire the buff squad. Reduce the price of parking tickets while slapping all the meter maids one time. I would also like to get the humans back at the toll booth on the Golden Gate Bridge and kick the machines out. I might even have to either drop a bomb on Google headquarters or tell them to go to LA or NYC [Laughs].
I hope the fog keeps rolling in and I hope SUPER STAR never shuts down, I hope the town can stay hood and not get gentrified as fast as SF did. I hope they don't make graffiti a felony like they did in LA. They better not raise the toll on the Bay Bridge – I'm on that shit every day!!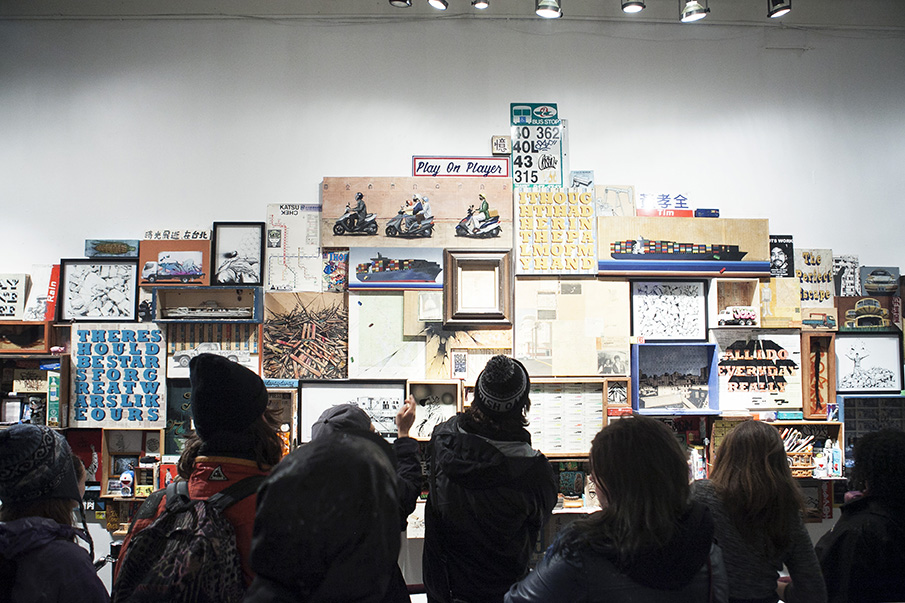 What's next for Tim the Optimist?
Keep collecting stuff, painting these freights, making art, taking photographs, traveling, hustling, tagging – I mean, just keep it moving. As long as I'm making stuff I'm happy. I will be releasing a series of prints in the next few months and working on my next body of work.
::
Follow on Instagram: