Through the Viewfinder is a new photography series where we ask renowned photographers to share the stories behind their favorite photos.
Travis Jensen is originally from Milwaukee, and moved to San Francisco in his late teen years as a part of the skateboarding migration to the City in the mid-'90s. A gifted and published writer, Travis initially picked up a camera to shoot images for his articles that were being printed in various newspapers and magazines. Skateboarding gives you a unique eye for spaces and people—you're always scoping spots and watching for cops or thugs that might jack you. This eye is definitely applicable to photography, and it shows in Travis's work.
Skateboarders are also most at home in the streets, which is where Travis chooses to do the majority of his photographic work. He captures moments in his images that can only be described as iconic. I personally have his work framed in my home and as a screensaver on my laptop—he's one of my all-time favorites—past, present, or future. After spending a couple of days together working on a project in LA, and swinging by The Hundreds Homebase to catch up with the squad—we came to a consensus that it was only right to do a piece with Travis breaking down some of his favorite photos in his own unique voice. Check out his images and the accounts of how they were captured below. They all have unique stories and lives of their own.
Indian with Facepaint
"Snapped this in 2010, or sometime around then. I was shooting around downtown [San Francisco] and ducked into an alleyway to answer a call from the wife. She was in the middle of talking when I saw this man approaching out of the corner of my eye, walking in a bizarre jig-like fashion. I told her to hold on a sec, but I don't think she heard me 'cause I could still hear her talking as I lifted my camera to eye level and fired off two shots.
I have no clue what he was up to. The City is quite magical in that sense. Sometimes these people appear out of thin air, I swear. Close to 20 years ago, I had a homeless man tell me that San Francisco was the lost city of Atlantis. And that we, the San Franciscans, were the descendants. I'm not talking about the folks that come here to live for a few years for work then leave, but those that truly love The City and are aware/and or involved in everything San Francisco: politics, sports, news, etc.
I didn't even notice the empty bottle until after the fact, but it definitely ties up the frame for me. It wouldn't have the same sense of balance without it. Every now and again you get lucky. And that's what makes shooting the streets addicting. It's like gambling. It's a rush; You're constantly trying to top your last snap. "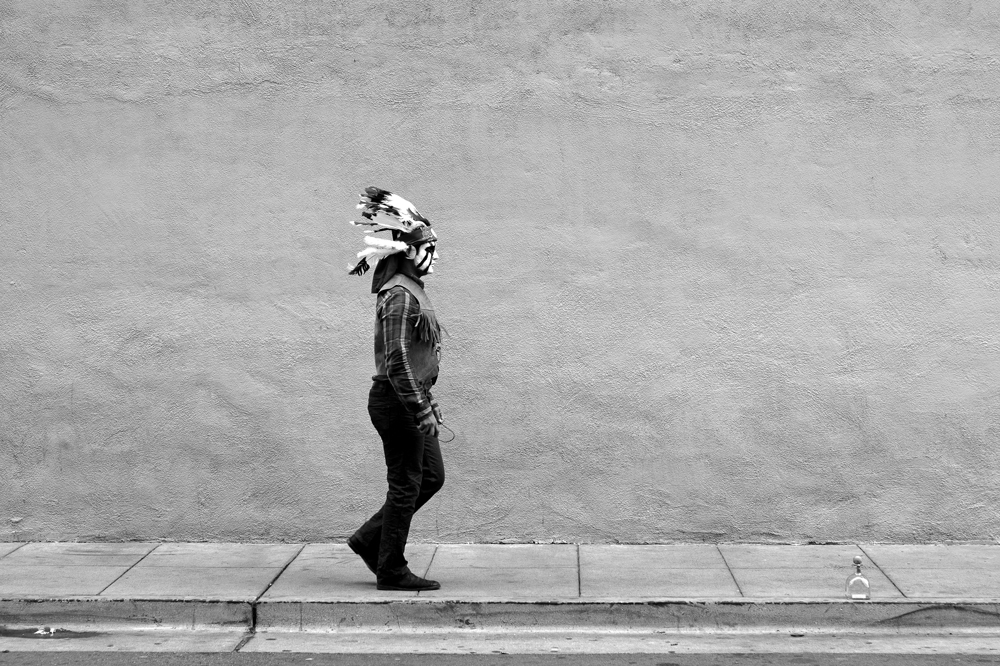 Porn Playing on TV in the Tenderloin
"As seen one lively Saturday afternoon on Ellis and Jones streets, back in 2009 or early 2010. I was shooting a lot in the neighborhood at the time. Some dude was trying to sell this old TV/VCR combo and had it plugged into the store's outlet with a porno playing on VHS to prove it worked. The whole scene was somewhat surreal as the porno was from the mid-'80s and he had the volume up full blast, so all you could hear was wonky '80s porno music and moaning, all up and down the block.
People were walking by like, WTF is going on here? He wasn't stoked on me taking photos, but I was like, what do you expect? It's just a classic Tenderloin Moment, something you don't see everyday. I've been around the world, in countless different hoods, and nothing compares to the Tenderloin. It's like its own continent. That's why you'll see me caption photos I've snapped in there with, 'Tenderloin, USA,' or 'Tenderloin, The Continent.' It's unlike anywhere else in the world.
…You know, I still owe that spot $5-$10 from store credit back in the day. And I'm pretty sure you owe them bread, too?!"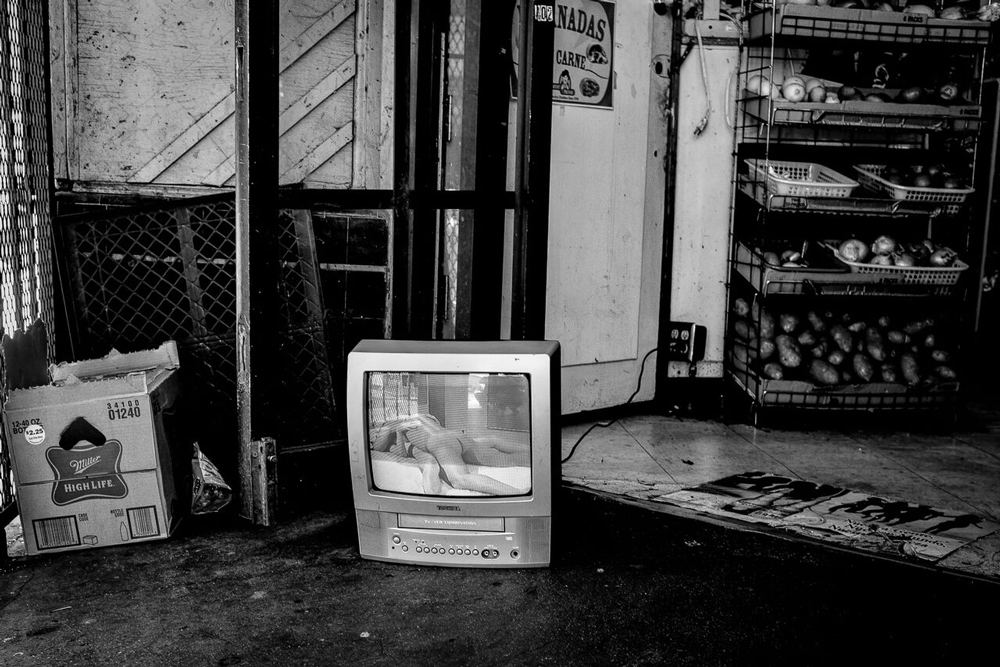 "It's just a classic Tenderloin Moment, something you don't see everyday."
Guys in Sunnydale
"This is my boy AB Millie and his crew in 'The Swamps.' I met them through Rasta Dave from Excelsior, right over the hill from Sunnydale. That neighborhood is rough, man. I've only been in there a few times and that's with folks that are from there, or live there, or whatever. Rasta knows a bunch of folks and has family up in there, so two out of the three times I've been there were with him.
This was a candid I snapped right when we first got there. I can't remember for certain, but I think they were scoping a car coming over the hill. I pushed the button and the stars aligned. A thank you, Universe moment."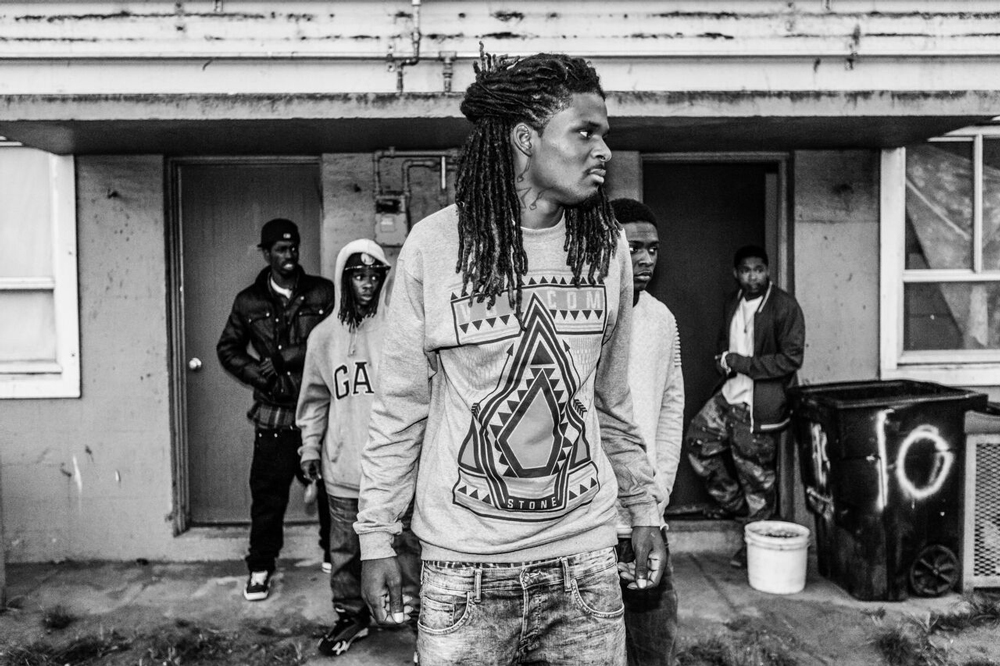 Police in the Mission
"This was the night of the 2014 SF Giants World Series Win. It was rowdy as hell in the Mission. The cops eventually intervened, of course, and shut the whole shebang down with a massive display of force. The Giants scrawl on the cement gives the photo a sense of time and place.
I actually ended up getting whapped with a billy club like ten minutes after I took this snap. I was photographing the cops shooting tear gas and rubber bullets into the crowd and this officer, a Captain, sucker punched me with a billy club from behind. I was so upset about that, especially since me and my buddy where probably the only two people in the whole vicinity that weren't drunk. I walked away with a big ass welt on my back. A few days later, I went and filed a detailed complaint with the OCC. After about a year, the results came back not sustained. Lame, but I'm over it."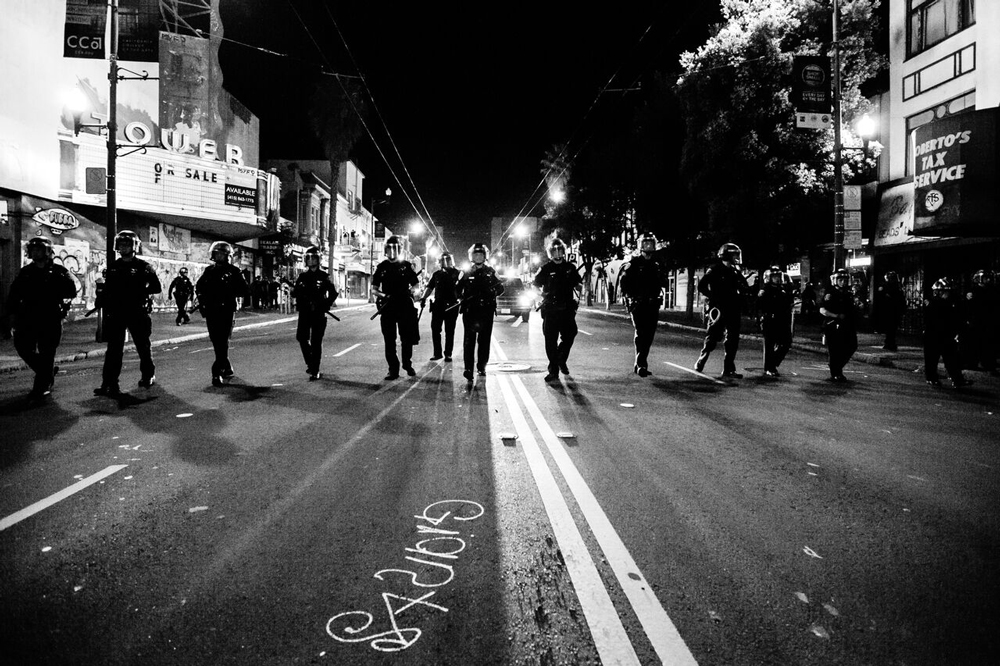 Man with Box of Baseball Cards
"Let me introduce you to John Paul. I don't know his story, but he's been around the Mission forever. I've photographed him a handful of times over the years. This particular snap was from 2012, I believe. Before full-time photography, I used to frequently walk to work in the mornings, a 7 mile door-to-door journey. I remember running into John really early this particular morning, near 24th and Mission, and he had just come up on the box of unopened baseball card packs. He was beyond stoked, like a 49er that finally struck gold after years of aimlessly digging.
"EVERY NOW AND AGAIN YOU GET LUCKY. AND THAT'S WHAT MAKES SHOOTING THE STREETS ADDICTING."
There's a lot of mystery in the image, everything to John holding a box of unopened baseball card packs, to the way the hooded sweatshirt with the mask on it covers half of his face. I like images where all the answers aren't supplied, where there's an element of mystery. Images where you look at them and you're like, 'Okay, wait a minute. WTF is going on here?'
…It was a box full of mass produced, unopened packs from the '80s. One of the cellophane rack packs had a Don Mattingly visible on top, but cards from that era aren't worth much. But, he was happy and that's all that mattered."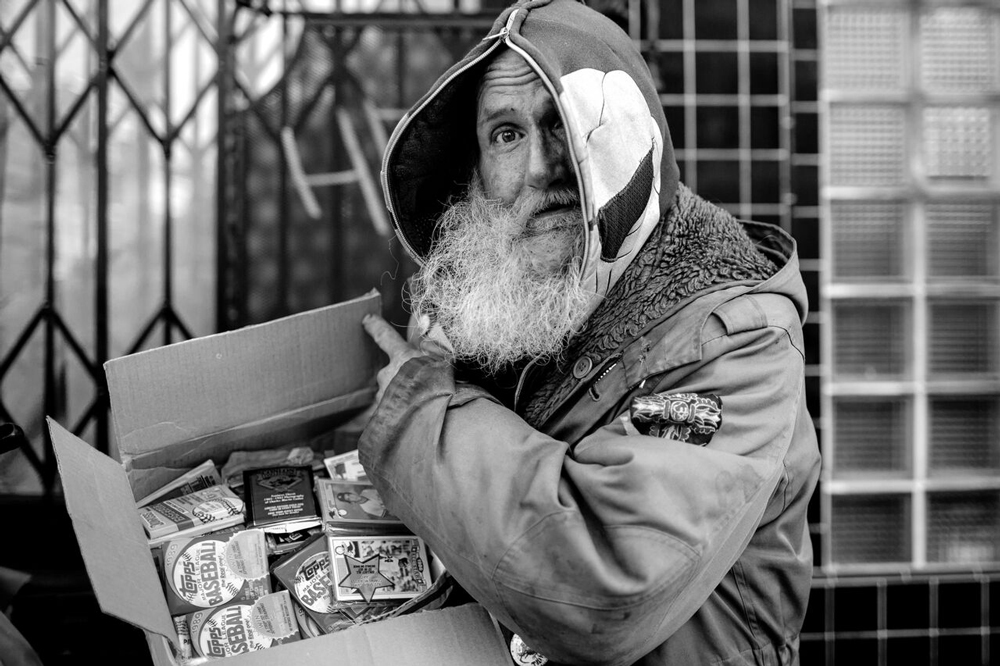 Guy Holding on to Pole
"This was snagged at the Civic Center, the edge of the arena. This image was a weird one. Me and some homies were out shooting and walked into this scene. The suspicious-looking fella on the bike in the far left side of the frame is actually an undercover cop. My friend called him out a few minutes before I snapped this. I love his reaction. He's not sure what the hell's going on.
[He's] definitely not homeless... Just some random dude, feeling the vibes of The City. Shit like this is kind of the norm, or rather not out of the ordinary in SF—folks walking down the street, randomly stopping at a bus shelter or crosswalk pole to do a round of pull-ups, just for the hell of it. Maybe it's a Bay thing, I don't know."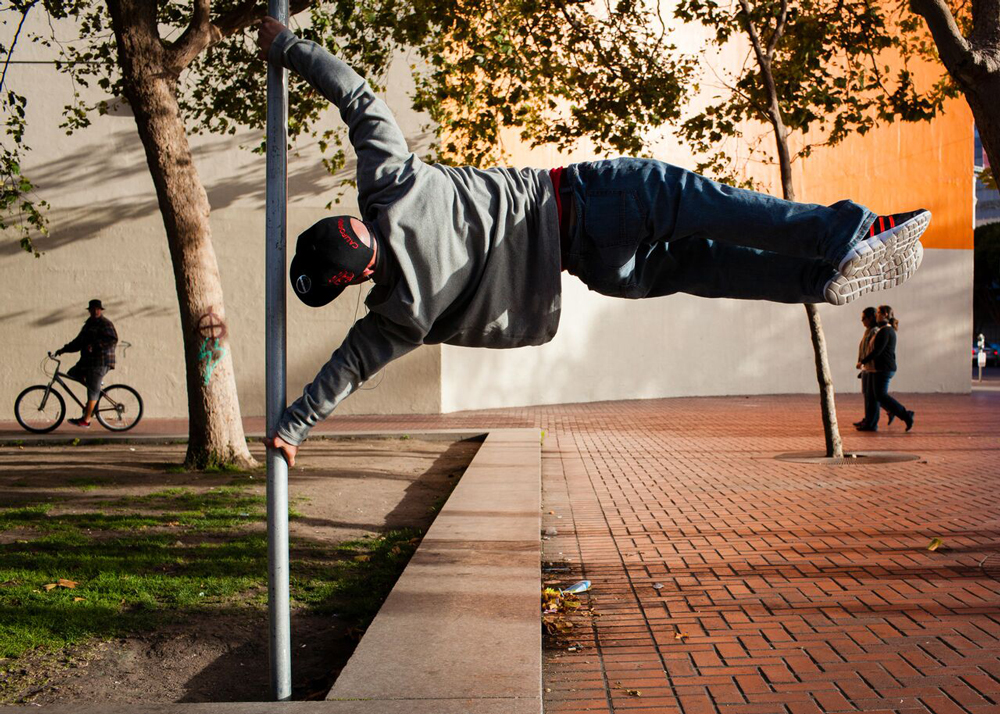 Shirtless Guy with Chicken
"This was taken in 2009. I was out on my lunch break shooting pics along Market Street when I met Toni and his pet chicken Murp-Murp. I was trying to get a shot, walking up and shooting without asking. But then, all of a sudden, he pulled his shirt off and started gang banging on me, throwing up hand signs and calling out his hood, all while I was snapping. I've only seen him one time since, a couple of years ago in the TL, sans Murp-Murp. Apparently, the city confiscated her/him. Toni was devastated."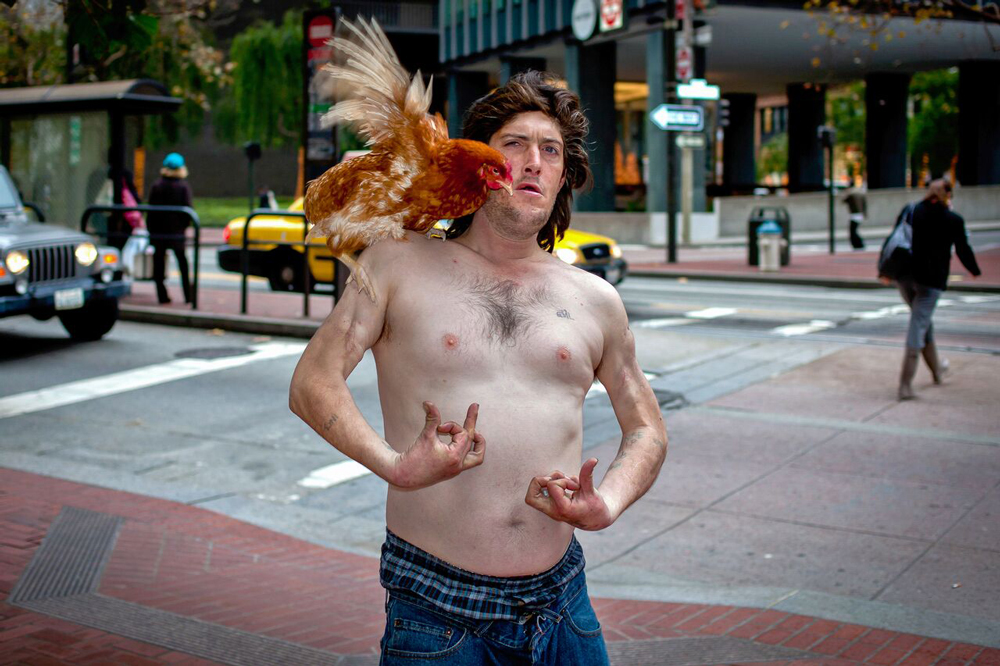 "Only in San Francisco. That about sums it up."
Guys Burning Out in Car
"Excelsior District, on the corner of Russia and Madrid streets, my favorite neighborhood for making photos. Shoutout to the MOB. I've been taking photos in Excelsior for over four years now. This particular shoot was planned—the folks in the neighborhood all came out for this video Green Label and Complex were doing about me and the FOTOMISH squad, which came out super dope. Also, a handful of cats from FOTOMISH are born-and-raised in Excelsior, so it's all love. We support the hell out of each other.
This is my boy Mikey. He's got handles like no other. Everyone knows that. In the immortal words of neighborhood OG Big Matt, 'Most of these neighborhoods got game from us but probably won't admit it.' I concur.
You can really see he tore the intersection up, corner to corner, no half-stepping."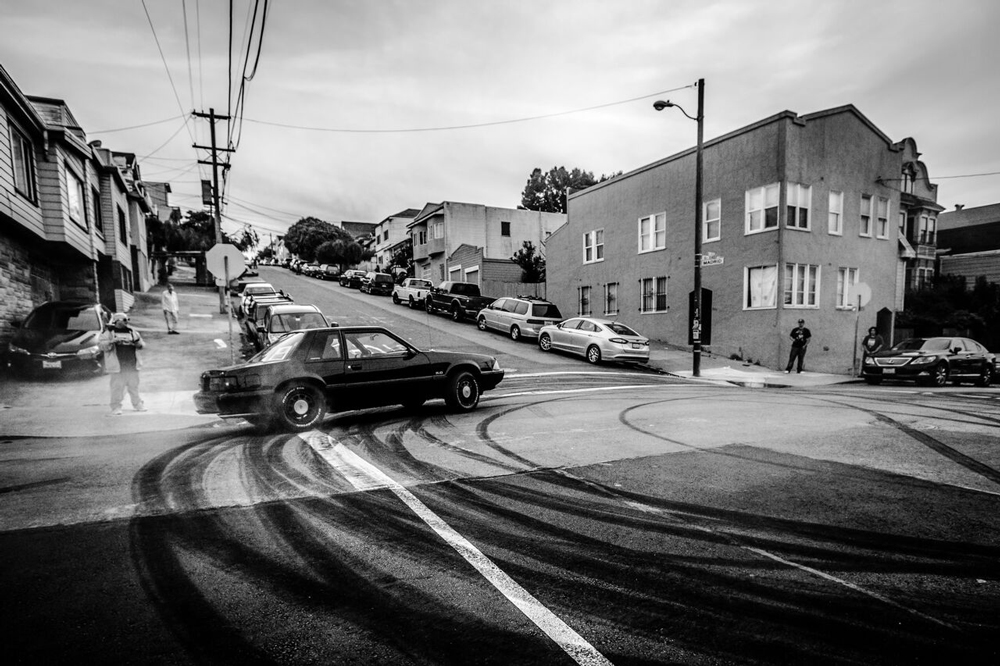 Couple Taking Selfie on Hollywood Blvd
"I was cracking up as I watched the scene unfold. Glad I was in a good position to grab the snap. I just snapped two frames and kept it moving. Like Guru said, 'Take two and pass…' I apply that motto when shooting on the streets.
Dude had on some serious photo tactical gear: glasses, vest, cargo pants, hiking shoes, selfie-stick, camera here, camera there. He wasn't fucking around, prepared for an all-out urban safari on Hollywood Blvd.
Selfie Stick game GALACTIC!"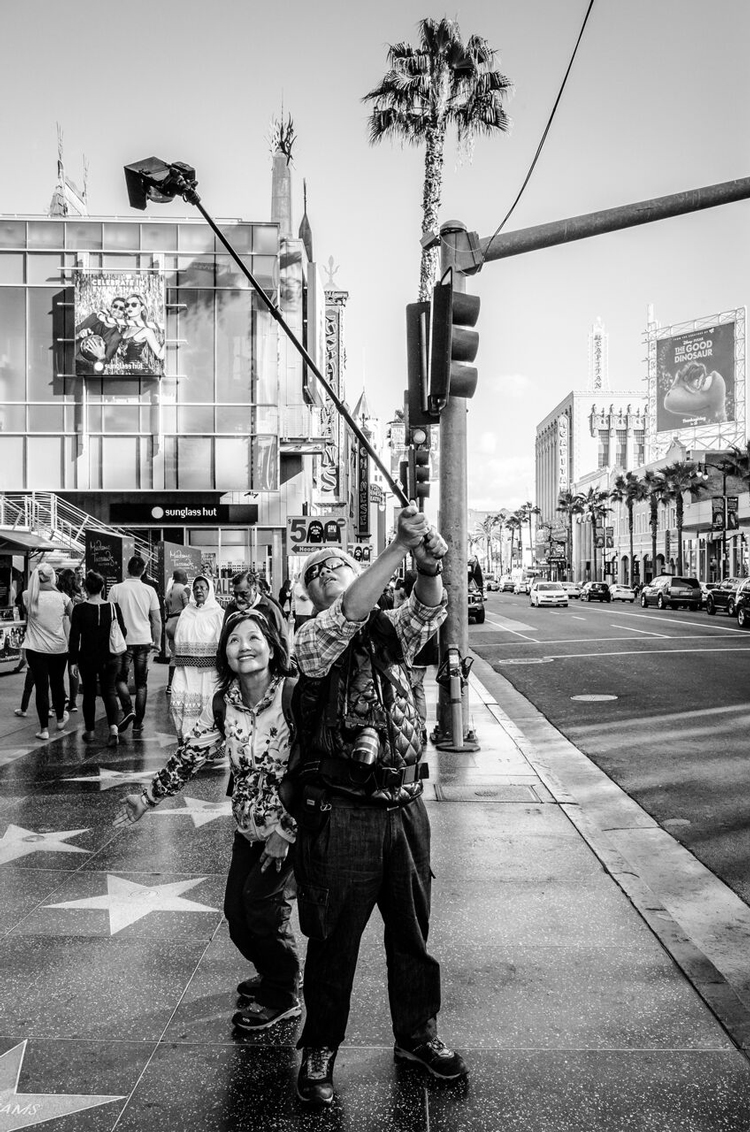 Police Car Parked on Burnout Marks
"These urban crop circles are the result of a candid burnout, where the homie came through on a whim and killed it. Everyone was hypnotized. Needless to say, this was followed by the cops showing up shortly thereafter. The officer pulled up, rolled the window down and said, 'What the hell is going on here?! It looks like a goddamn spaceship landed on the block.'"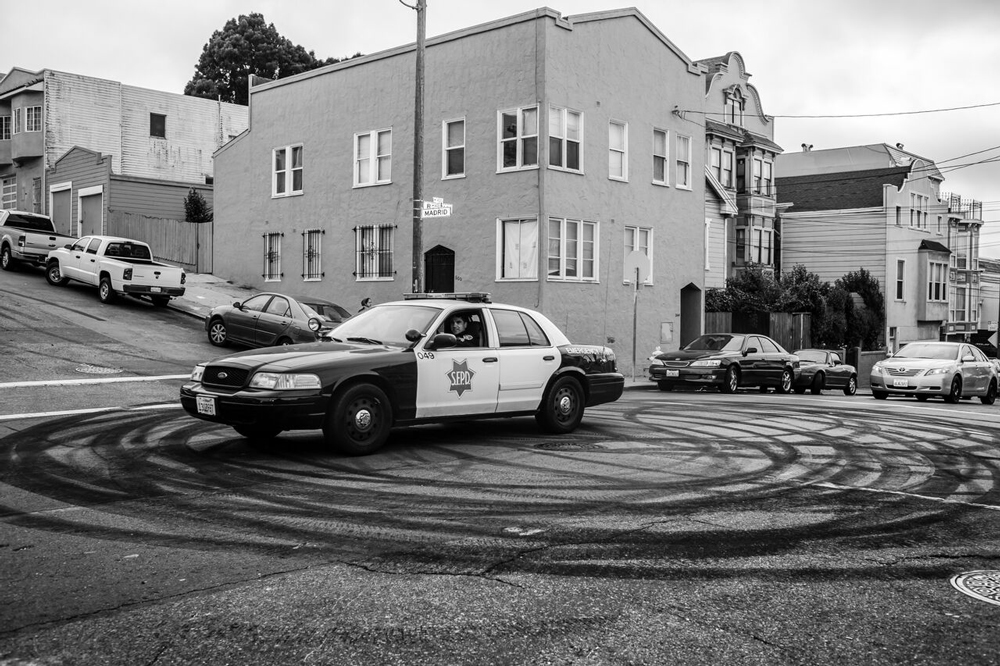 "The officer pulled up, rolled the window down and said, 'What the hell is going on here?! It looks like a goddamn spaceship landed on the block.'"
 ***
Follow Travis Jensen on Instagram @travisjensen. More of his work can be found at travisjensenphoto.com.