It's the first of the month this Friday, so you know what that means. Join one of our favorite newcomers The Posterz at Tokyo Bar in Montreal for a live performance backed by DJ sets by GoldenChild, Truspin and Kassimo.
Straight outta Montreal's community center basement, The Posterz have been bringing us the rawest verses and synth-driven beats since their enigmatic – but hard-hitting – debut last year with "The Bass Song" and their EP Starships & Dark Tintz. Made up of Husser, Kris the $pirit, and Sir Share-It, the trio is now at the forefront of a mini-tour in Quebec that includes a show with them opening for A$AP Ferg and Pusha T. Check out their just-released video for "All I Know" below the flyer.
TOKYO BAR
3709 Boulevard St-Laurent
Montreal, Quebec H2X 1A1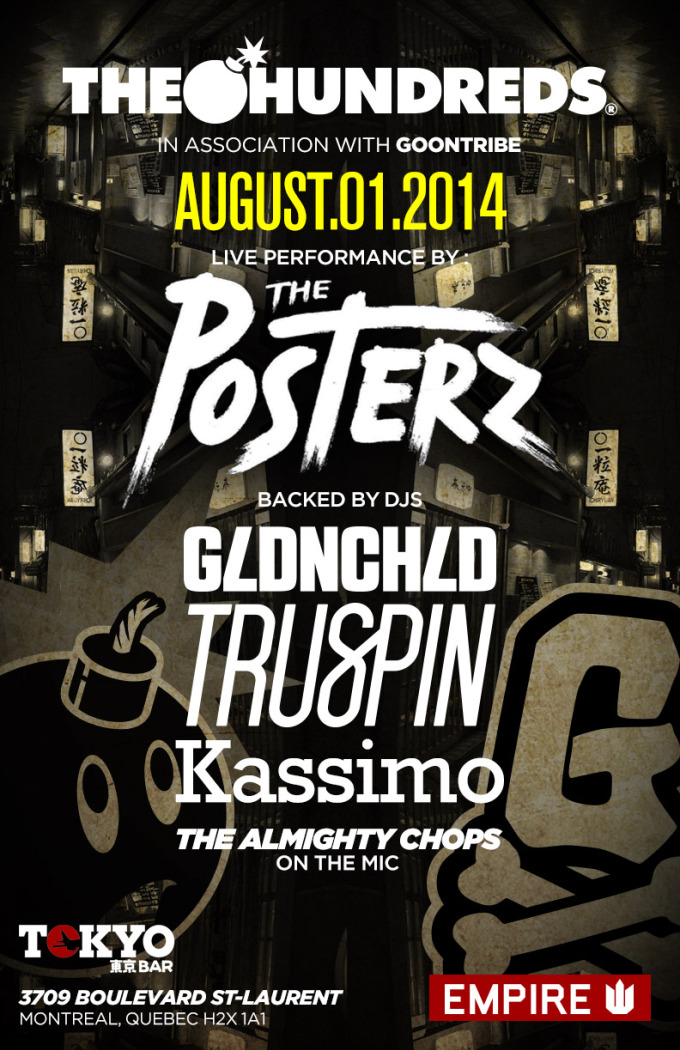 www.theposterz.com
www.soundcloud.com/thepost3rz
www.facebook.com/thepost3rz
www.youtube.com/thepost3rz
Support by:
www.thinkempire.com
www.goonhq.com
::
Listen to The Posterz's free EP Starships & Dark Tintz on their Soundcloud.
Don't miss the slick photoshoot of The Posterz trio decked out in The Hundreds gear from last year, shot by Simpa and styled by Monsiieur.