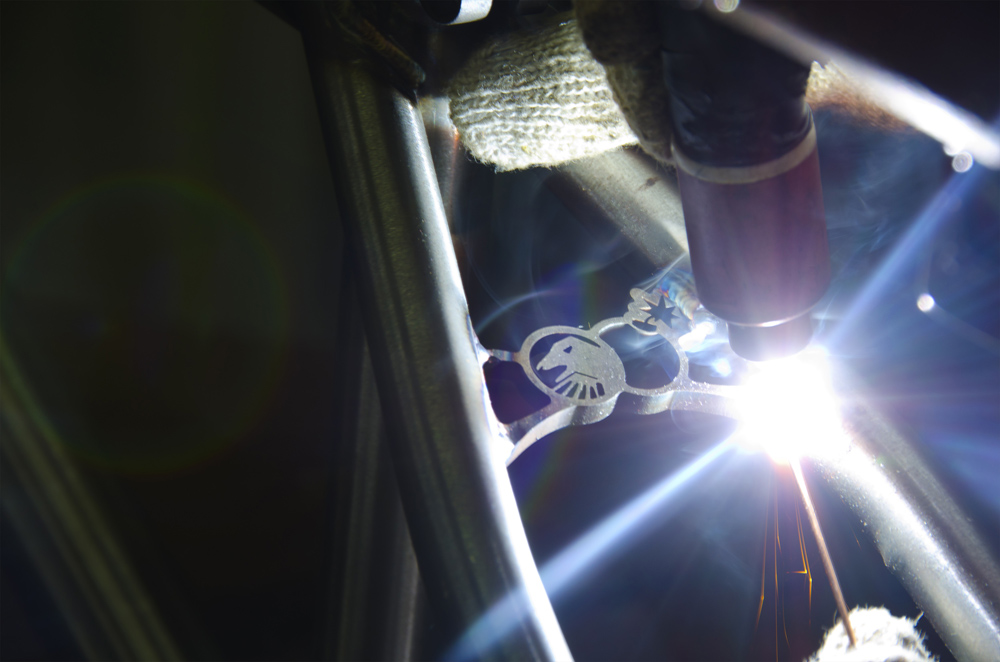 The Shadow Conspiracy, brainchild of Ronnie Bonner (Sparky's Distribution & Subrosa), emerged onto the BMX scene hardly over a decade ago, but in a short time has blossomed into one of the most thriving, institutionalized names in BMX for the brand's painstaking attention to detail, patented Interlock V2 BMX Chain, and collaborations with notable industry contemporaries, including the likes of Invisible:Man, DUB, Vans, Lotek and Stay Strong.
Ronnie is a legend to the game and our partnership (or better yet, friendship) with the prevailing BMX grandmaster begins at just about the inception of both brands, around the time when we were just getting on our feet. Truth be told, the story begins even further back than that, when our very own Bobby Hundreds and Shadow's Ronnie Bonner used to ride bikes and hang out together besides LA's OG bike crew, Casual Suspects.
The idea to collaborate with The Shadow Conspiracy has long been sprouting in our minds, and Shadows' alike. This project was a long time in the works (ten years to be exact), but the end result bore something beyond either's wildest expectations.
What was the catalyst behind the The Hundreds X Shadow Conspiracy collection?
Patrick Hill (The Hundreds):  The inspiration from the beginning was always to pay homage to vintage BMX, but at the same time showcase what the new scene in BMX is, which is like... it's my favorite thing about BMX right now. The new style of BMX is so rad. It's like a ton of Hesher kids. BMX still has an edge – it's still tough, it's still in the streets. So the main inspiration was to kind of pay homage, but at the same time have a modern take on it. The bike has an old school color theme, but it's a very technically advanced bike. So we tried to match that in the apparel, too. The jersey, for instance, is a really old school jersey design, but it's made out of a coolmax mesh, so it's wicking fabric that won't smell and will keep you cool.
Ronnie B. (The Shadow Conspiracy):  This bike is one that any top pro can jump on right now and shred, and that was super important. This is not a fashion bike project. It's not a 24″. It's not a 29″. It's a 20" BMX bike, and that is what we at Shadow wanted to showcase in this project – true BMX.
Scotty Litel (The Hundreds): As Pat had mentioned, the driving force for this bike was to pay homage to vintage BMX while working on a modern canvas (Shadow parts). Having the opportunity to build a 20" bike from the ground up with a progressive and respected brand such as The Shadow Conspiracy has been a dream come true. With such a great mutual respect for each others' brands, and a long-standing friendship, it only made sense to create a project built around respect and friendship.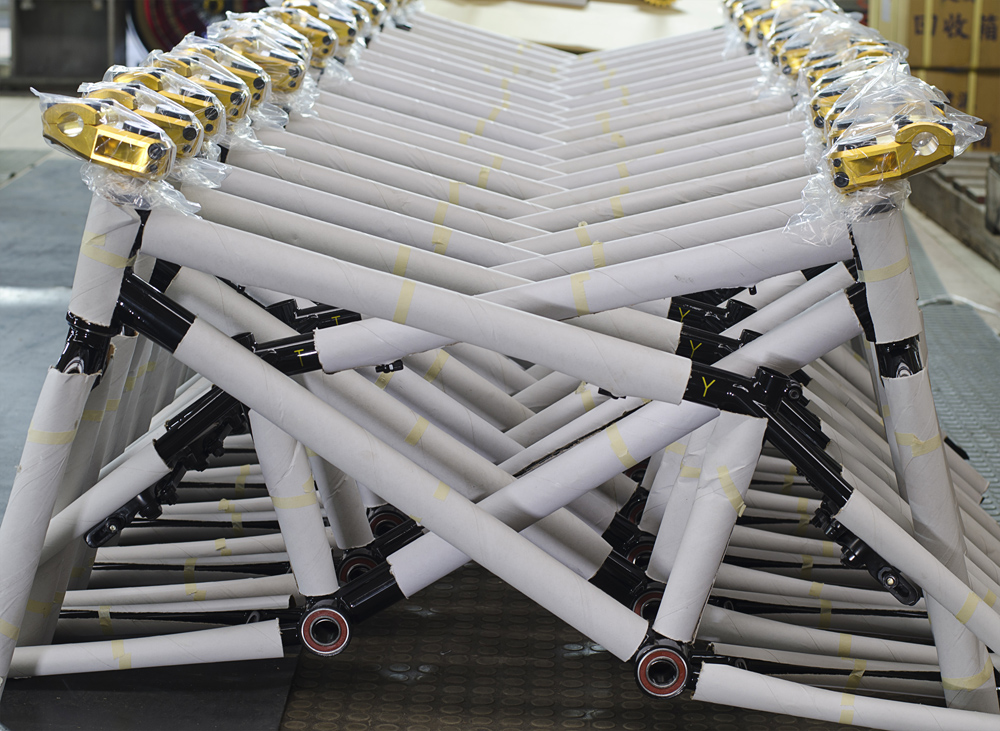 Ronnie B: For this project, We wanted this frame to be custom made so it could become the canvas for the Hundreds art and to showcase our parts. So we actually went in and made a frame, a fork, and other parts for this bike so this could be a true, one-of-a-kind project. I think the whole theme of this is friendship, and craftsmanship.
Scotty Litel: We knew that working with Shadow was going to give us the ability to do things that we haven't had with previous collaborations, especially on bikes. And going in there and working with somebody that cares as much as Ronnie and the whole Shadow crew is really important to us. It's really important for us to see that somebody else is as stoked on a project as we are. And it makes it such a true collaboration. We worked very hard all the way through, with attention to detail being paid every part of the way.
Tell us about the relationship between The Hundreds and Shadow Conspiracy.
Ronnie B: This project was not born by a marketing focus group telling us what the hot new trend was going to be.  This was born and built on people with like interests crossing paths for over a decade, and through conversation and hanging out, a project emerged.
Scotty Litel: The relationship between The Hundreds and The Shadow Conspiracy began when both brands were born. Both The Hundreds and The Shadow Conspiracy share similar brand morals and beliefs, and we always knew that one day we would work on a project together when the timing was right. Both brands have a great amount of respect for each other, and this has made this collaboration truly a unique situation.
Ronnie B: Both brands have know each brand from day one. Its crazy thinking about when I was at the Rosewood store back when it was the office. I remember him [Scotty] sitting at his desk thinking, "This space is awesome." I understand what The Hundreds is and The Hundreds understands what Shadow is.
Scotty Litel: One of the big things that really attracted us to Shadow was just the difference between the brand and some of these giant companies that don't understand what the lifestyle is or what the culture is. People that really eat, shit, sleep and breathe it – that's Shadow Conspiracy. That's something in our world. That's what we do. And we want to work with people that have the same passion for what they do in their respective industries and with their respective products. That's also why this partnership works so well – that is, it is a very organic element. That mutual line of respect is so high for both of us.
What was your favorite part of the collaboration?
Scotty Litel: My favorite part of this project was seeing the first sample, but really my favorite part of this project has been working with Ronnie and having the opportunity to build an even stronger relationship with The Shadow Conspiracy. I have such a great deal of respect for Ron and his crew, and it's a rarity these days to actually work on a collaboration with someone who cares about not only the final product, but also the entire process that goes into creating a project of this magnitude.
Ronnie B: My favorite part is probably the Seat stay bridge. This bridge took an hour to machine. Details like this show how much we all care!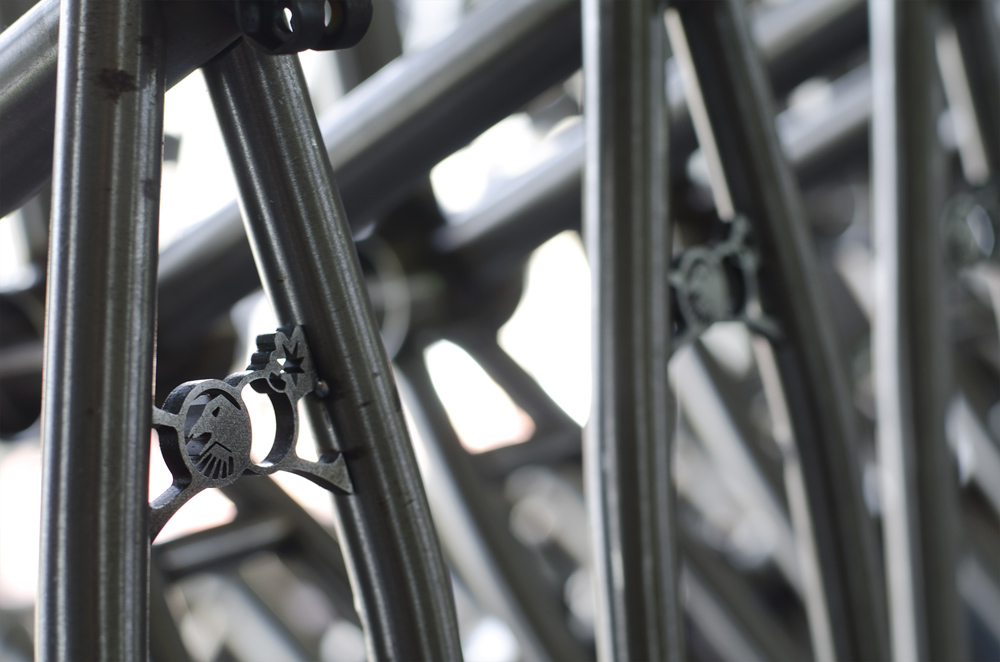 Available at The Hundreds' flagship locations (THLA, THSF, THNY and THSM) and authorized stockists on Thursday, September 19th, 2013; and The Hundreds' Online Shop the following Monday, September 23rd, 2013.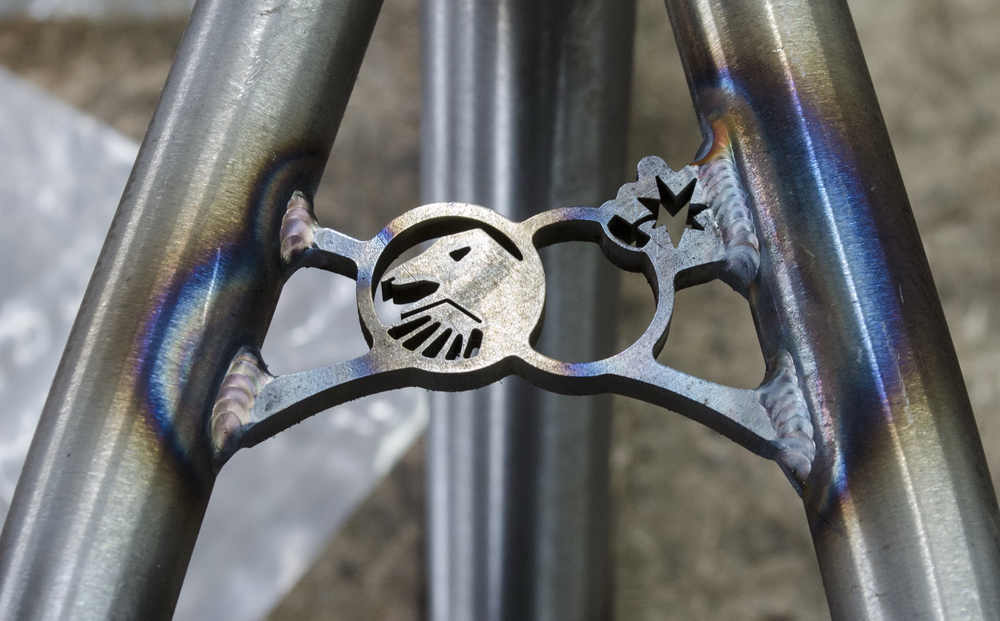 words by Olivia Stiglich