We've forgotten about Fulton Street and Canal Street hand-to-hand mixtapes––real mixed tapes, with a phone number on the cassette and DJ monikers like Clue?, Whoo Kid, and Evil Dee on the j-card. We've forgotten about August-hot subway cars without air conditioning. We haven't forgotten about the overheated East Coast–West Coast rivalry, but we've mostly forgotten that, within New York, there were impassioned cries from rap fanatics that the form had lost its sense of purpose and purity. We've forgotten that 2Pac and the Notorious B.I.G. were murdered just five months apart, because nostalgia––a mostly deleterious feeling––contorts time. We've forgotten that, before 9/11, New Yorkers were assailed by Rudy Giuliani's near-fascistic enforcement of quality-of-life offenses. We've forgotten that Bed-Stuy once rhymed with "do or die," not "vegan pie" or "Here's your chai." We've forgotten what made Mos Def & Talib Kweli Are Black Star great and we've forgotten why it's impossible to recreate.

To paraphrase De La Soul, the stakes was high. Or it must've seemed that way to a class of young, socially-aware New Yorkers who, generally speaking, believed that the sanctity of hip-hop was being threatened by shiny suits, jiggy raps, and Puff Daddy's "take that, take that" ad-libs. These factions––gritty, Pan-Africanist b-boys and glistening, glamorous ex-d-boys––were naturally oppositional. Rawkus Records was perfectly situated to take advantage of this growing cleavage. As Mr. Len, formerly of Company Flow, told MySpace, "You had a Biggie Smalls album and on one side of his single is the DJ Premier joint and on the other side is the flossy 'Juicy.' You could tell people weren't sure which way they were going to lean to. It was on the cusp of something and [Rawkus] knew they could pick a side here and possibly ride a line."
In choosing their side––the underground side––Rawkus owners Brian Brater and Jarret Myer had their pick of rappers who were artistically and spiritually incompatible with major labels. Ill-fated acts like Plastique, The Rose Family, and 7 Universal quickly gave way to Company Flow, Sir Menelik, Shabaam Sahdeeq, Talib Kweli, and Mos Def. They were all natural choices––except Mos Def.
"If a classic record is one which crystallizes a time, a place, and an ethos, then Black Star is a classic record."
Mos Def had rapped before. As a kid, he'd freestyled in Washington Square Park with Kweli, Agallah, and Supernatural, and—after having been in a group with his siblings, Urban Thermo Dynamics—he'd featured on songs with Da Bush Babees and the aforementioned De La Soul. But between 1994 and 1995, he'd appeared in 16 episodes of the short-lived Cosby Mysteries (in which Bill Cosby solved crimes), and his polished good looks and clear sense of magnetism made him a superficially odd fit with Rawkus' outsider image. He was a budding star before he'd ever set foot in the label's offices.
Mos Def & Talib Kweli Are Black Star has a certain self-assured patience. It's unhurried and thoughtful. Its color is that of brown sugar, its smell that of frankincense. It's free of post-9/11 claustrophobia––the city had yet to become Palantir's playground––but it bears the permanent scarification of black men who'd borne witness to some of New York's most brutal years. If a classic record is one which crystallizes a time, a place, and an ethos, then Black Star is a classic record––it's New York City, 1998, independent as fuck, a fitted cap, humidity, and weed smoke.
Twenty years on, the enduring miracle of Black Star is that despite it being steeped in a now-ancient rap canon, and despite it being an oppositional response to then-contemporary rap trends, it doesn't feel overly dyspeptic. They weren't old heads with generalized gripes about the youth, but young men with pointed criticisms of a culture to which they belonged and loved deeply. The shocking murders of the Notorious B.I.G. and 2Pac, the objectification of women of color, the perceived shallowness and hyper-commodification of "jiggy" rap––all were ripe for criticism and counterpoint, so all were addressed thoughtfully and pointedly.
In an interview with Rawkus co-founder Jarret Myer for Uproxx/The Hundreds, Kweli described rappers' treatment of black women in the mid-late 1990s as "'I love you but not as much as I love my Jeep; I love you but you don't come before my money; I love my black queen but I have all light-skinned women in my videos." (Or, as Cappadonna once famously quipped, "I love you like I love my dick size.") Black Star's remedy was "Brown Skin Lady," a celebration of the Afrocentric traits ostensibly shunned by mainstream rap culture. As Kweli says,
We're not dealin with the European standard of beauty tonight
Turn off the TV, put the magazine away
In the mirror tell me what you see
See the evidence of divine presence
While "Brown Skin Lady" took aim at generalized beauty standards, "Children's Story," which borrows the storytelling framework of the Slick Rick song of the same name, seemed more personal. Or it did to Puff Daddy. The song, in which Mos Def spins a yarn about a "little boy" who unsubtly samples old hits and reaps ill-gotten profits, struck a nerve with a man whose temper once led him to commit the most luxurious assault of all-time. (The weapon: a champagne bottle; the victim: Steve Stoute; the cause: the "Hate Me Now" video.) According to Kweli, at a Lyricist Lounge event at New York's Wetlands Preserve, Mos Def performed the song to a raucous response––but the supposed object of his ire was in the audience. In what Kweli later described as "one of the illest conversations I ever seen," Mos Def explained to Puff Daddy that "'It wasn't directed at you personally. It's directed at everything that's going on in the business."
"The business," buoyed by the treacly, anthemic pop hits Mos Def decried, was booming. But, artistically, rap had suffered two irreplaceable losses in quick succession. The deaths of the Notorious B.I.G. and 2Pac, caused by a mixture of colossal misunderstanding and press sensationalism, signaled a cataclysmic shift for those intimately involved in the music. Violent lyrics were no longer perceived as a cathartic part of friendly competition, but actual threats. Dying over rap beef was––and remains––anathema.
Black Star's "Definition," for which Hi-Tek flipped the beat of Boogie Down Productions' "P is Free," decried what they saw as essential perversions. The great irony is that their remedy––intelligent lyrics, a sense of historicity, a readjusting of beef to strictly on-record boasts––became their most popular song. "Definition" earned the duo airplay on the once-all-powerful Hot 97 and, in turn, immortalized Mos Def's catchy, patois refrain:
I said, one, two, three
It's kind of dangerous to be an MC
They shot 2Pac and Biggie
Too much violence in hip-hop, Y-O
But a classic record permanently alters its stakeholders' trajectories and creates lifelong expectations, and the artistic legacies of Mos Def and Talib Kweli seem circumscribed by their Brown Skin Lady's hourglass figure or the chalk outlines of the slain rappers they once lamented. Black Star is the benchmark by which they're judged––and that must be burdensome.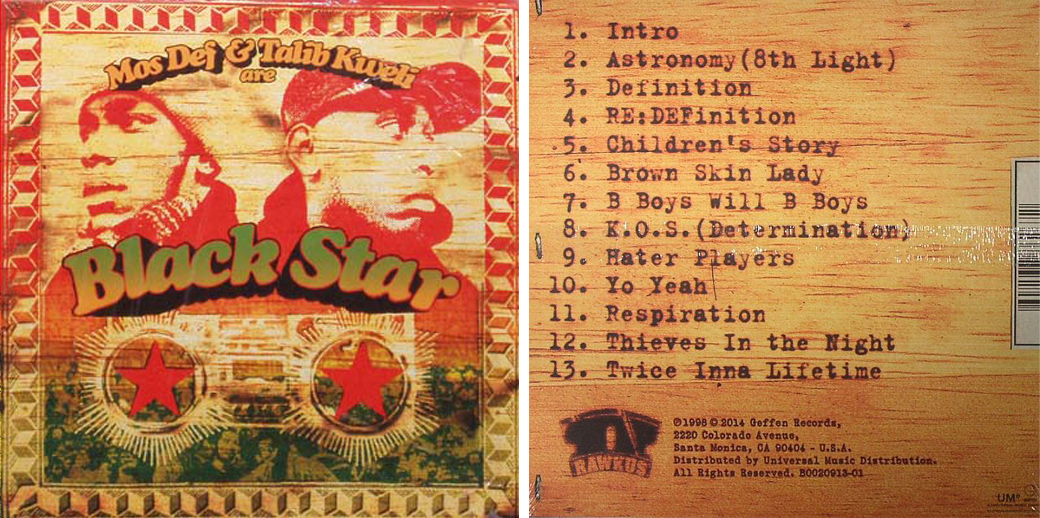 It's not that Talib Kweli is no longer a rapper––he released two albums in 2017, one of which featured Waka Flocka––it's that his work feels tangential to the genre and, perhaps, tangential to his own life. He's a rapper-turned-activist-rapper with a breathless Twitter account whose rhetoric has, of late, earned him more headlines than his music. Kweli's been right all along but, because a widening swath of the American left is becoming aligned with his stances, he's slightly less rebellious than he'd like to appear. He is a preacher with a dedicated, captivated choir.
And the inverse seems true of Mos Def: he is a wandering prophet without a cenacle. Since Black Star. he's been intermittently brilliant––Black on Both Sides and The Ecstatic are outstanding––and consistently erratic. He's retired, unretired, promised albums which never materialized, promised a live-action film which never materialized, booked and canceled shows, and, bizarrely, tried using a World Passport (an invention of the pacifist Garry Davis) to permanently emigrate to South Africa, a failed gambit which earned him a kick in the ass and a "Don't come back" from the authorities. Worse, during his Cape Town sojourn, he recorded Dec. 99th with Ferrari Sheppard, an album best left forgotten.
"Black Star was more than a group––it was an idea that was fully realized in a bygone, impossible-to-recreate moment."
Mos Def's self-imposed, half-practiced exile was, in part, possibly an indirect reaction to the same politics which galvanized Kweli into activism. Unlike Kweli's somewhat fraught outpouring of emotion, Mos Def's energies have been directed inwards. Once a canny observer and critic of inequality, he's become a cautionary tale seemingly shunted to the margins, in part by the forces he rightfully decried. But apportioning blame for his current predicament is impossible––is he a victim of an industry that places immense demands on the sanity of black men, or was he too fragile to handle the adulation and approbation his gifts deserved? The truth is probably somewhere in between.
His recent announcement of a Madlib-produced Black Star sequel, apparently to Kweli's surprise, seems a fanciful proposition (though Kweli now says that "it's a very, very, very, very possible thing"). The duo Black Star was more than a group––it was an idea that was fully realized in a bygone, impossible-to-recreate moment. Their smoldering, twenty-something summers in Brooklyn days are gone; the chess-n-freestyle Saturdays in Washington Square Park are gone too. The boroughs remain––but their New York City is gone. It's okay to let Black Star go, too.
***
Black Star will tour Europe and the US starting in July. Buy tickets here.