The Hundreds X Looney Tunes ACME drops September 20, 2018, at The Hundreds Los Angeles, select retailers (full list at end of this post), and our Online Shop (US and UK).
The ACME Corporation is arguably one of the most important characters in the Looney Tunes universe; the brand's products and contraptions always catastrophically backfired, highlighting the animated series' slapstick humor storylines. During the Golden Age of Animation, the fictional company of ACME seemed to produce every product imaginable: explosives (notably used by Wile E. Coyote in his endless pursuit of the Road Runner) and anvils, but also Invisible Paint, Giant Rubber Bands, ACME Tornado Seeds (just add water!), jet-fueled pogo sticks, Instant Roads, and even cereal and bumble bees. You could always count on an ACME product to fail—and in that way they were reliable.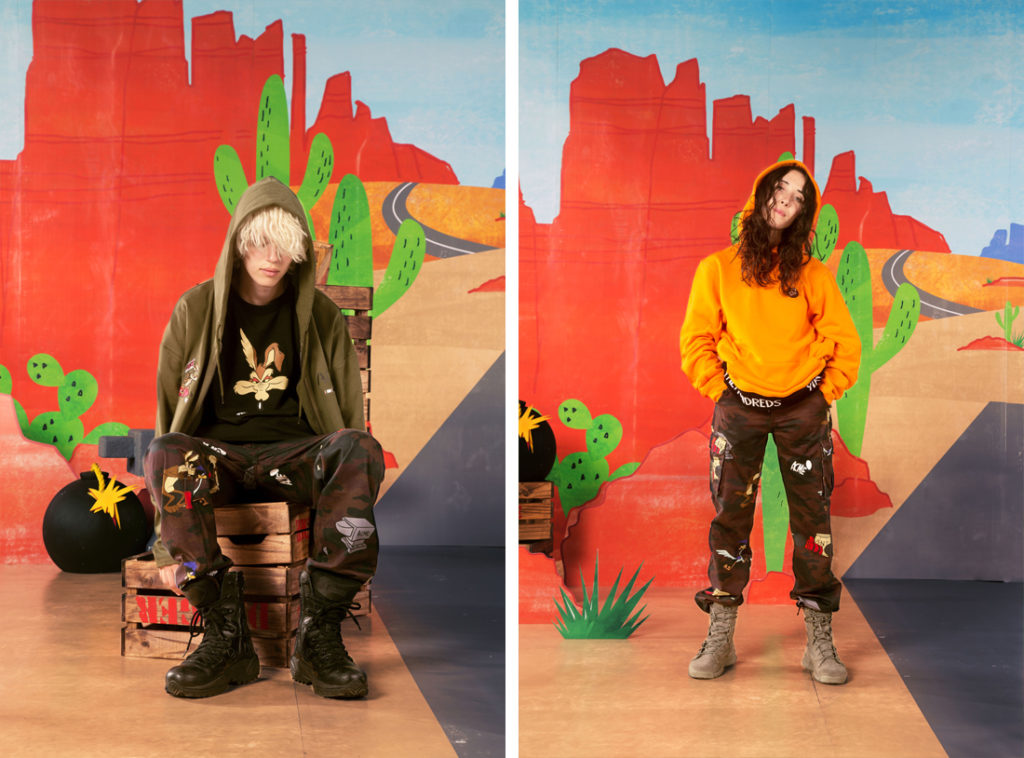 The Hundreds' co-founder Bobby Hundreds is a huge ACME fan, and the fictional brand's explosives actually inspired our well-known mascot Adam Bomb. For The Hundreds X Looney Tunes ACME, we created a military-themed collection inspired by real Vietnam War-era helmet graffiti and nose art that depicted Looney Tunes characters. We had fun with the '70s-era artwork and embellishment placements throughout the collection's garments to convey Wile E. Coyote's ongoing Sisyphean pursuit of Road Runner using ACME branded explosives.
The collection features military silhouettes done in upgraded fabrics and refined fits; an updated The Hundreds' classic "Perfect Camo" print in deeper, darker tones in some of the collection pieces; a new custom allover print of Looney Tunes characters; and a cartoonishly '90s inspired "Head" sweater. Accessories include a collaborative The Hundreds X Looney Tunes rug and a set of socks with Wile E. Coyote on one foot and Road Runner on the other.
Photographer: Robb Klassen
Assistant Photographer: Allison Gretchko
Models: Tess Oakland and Dagsen Love
BTS Videographer: Paolo Fortades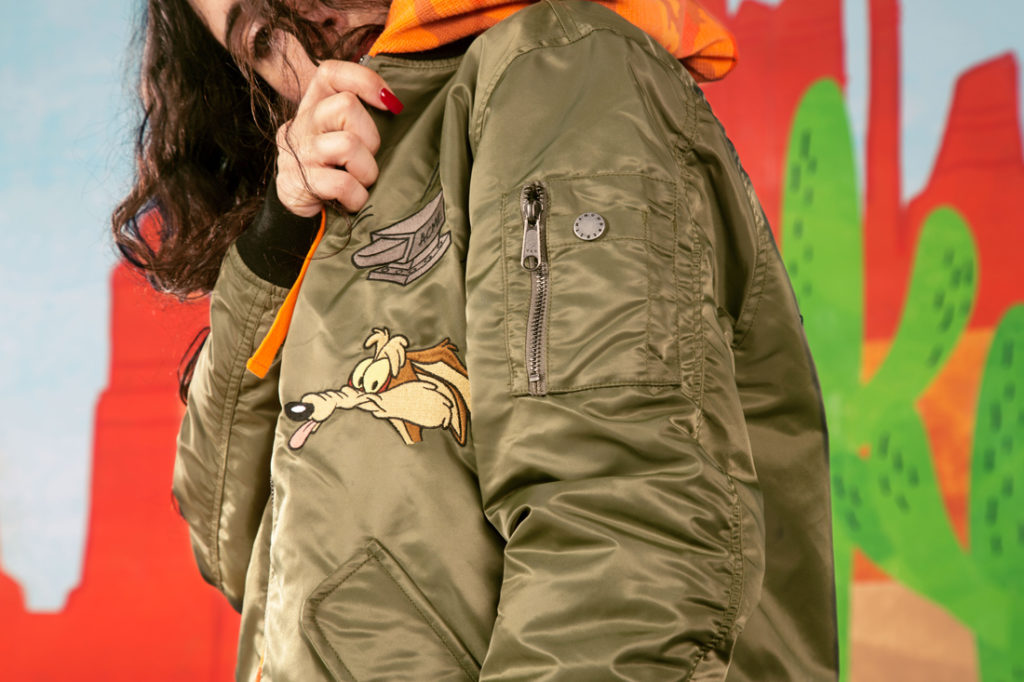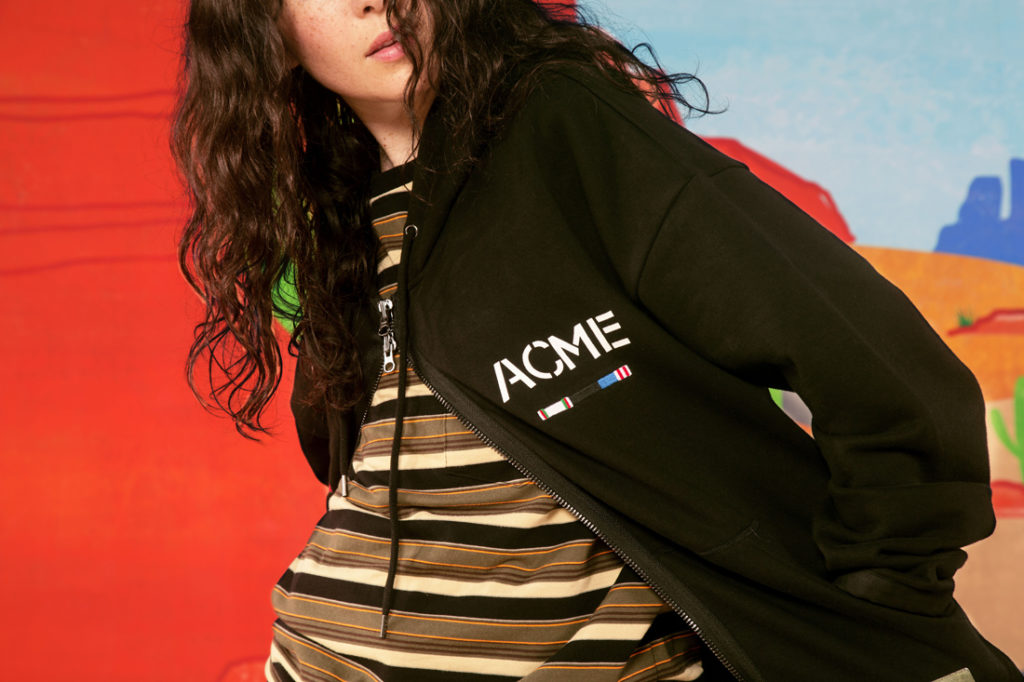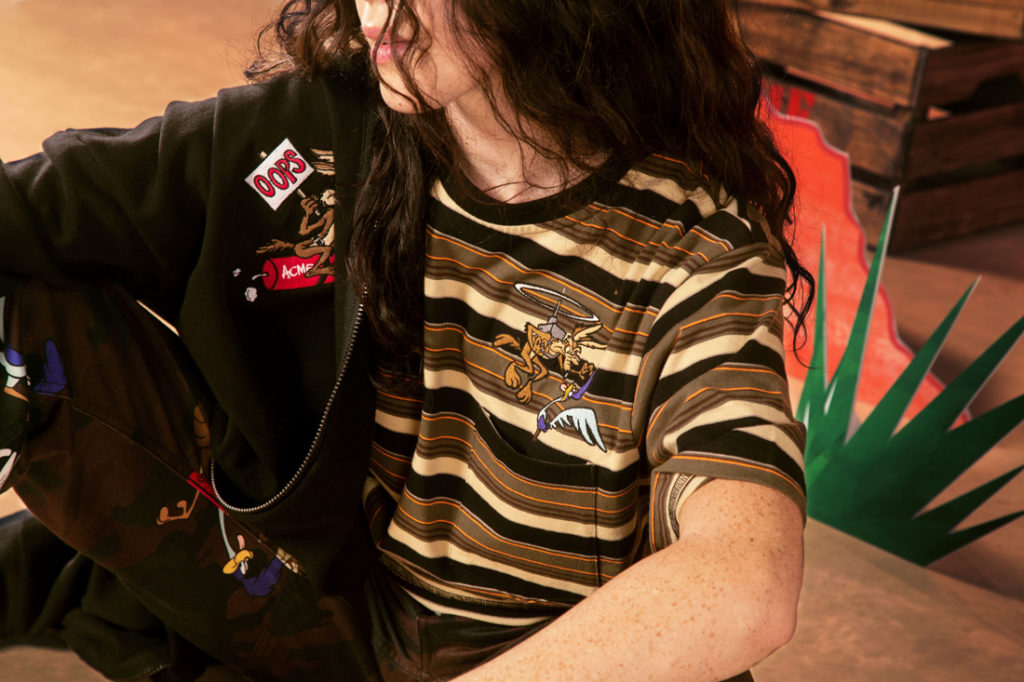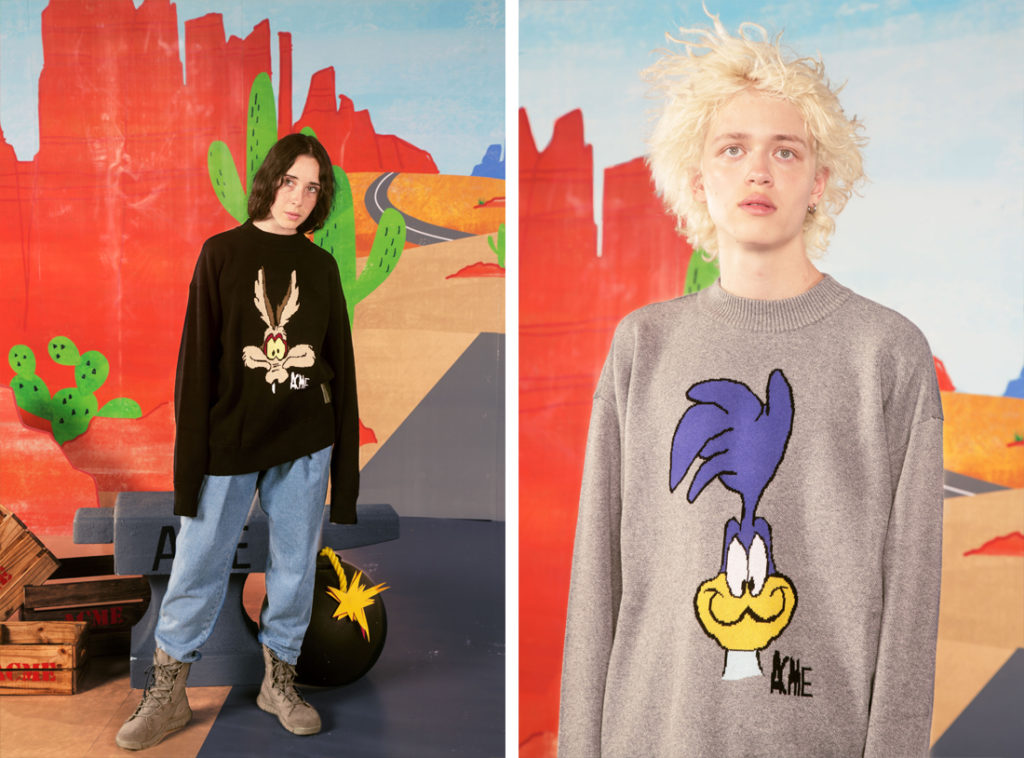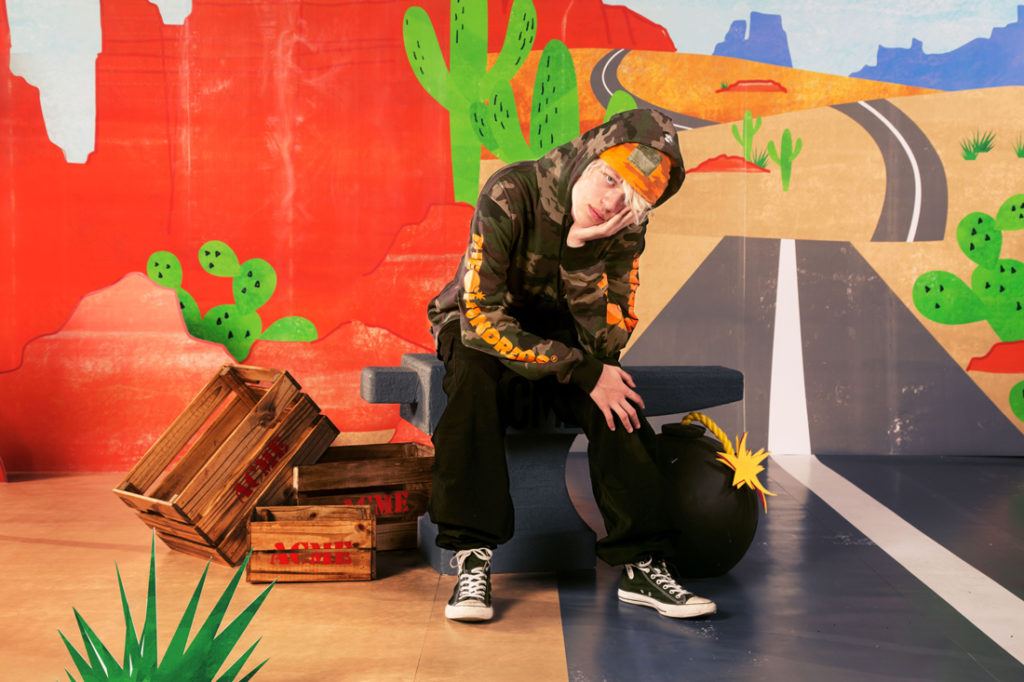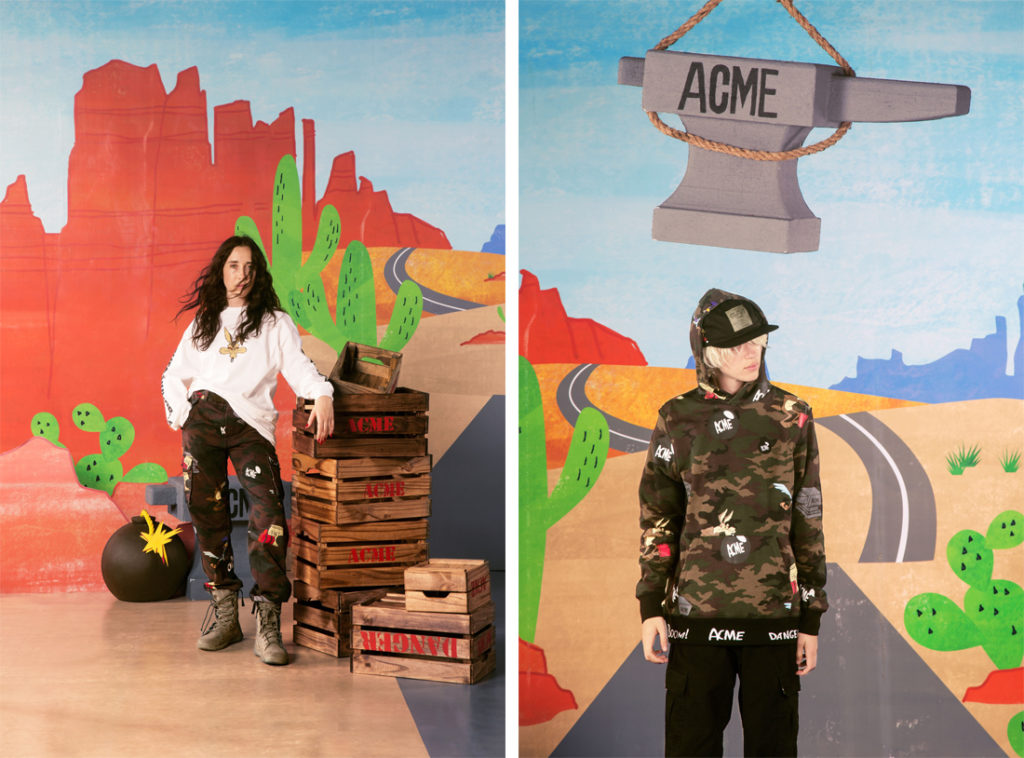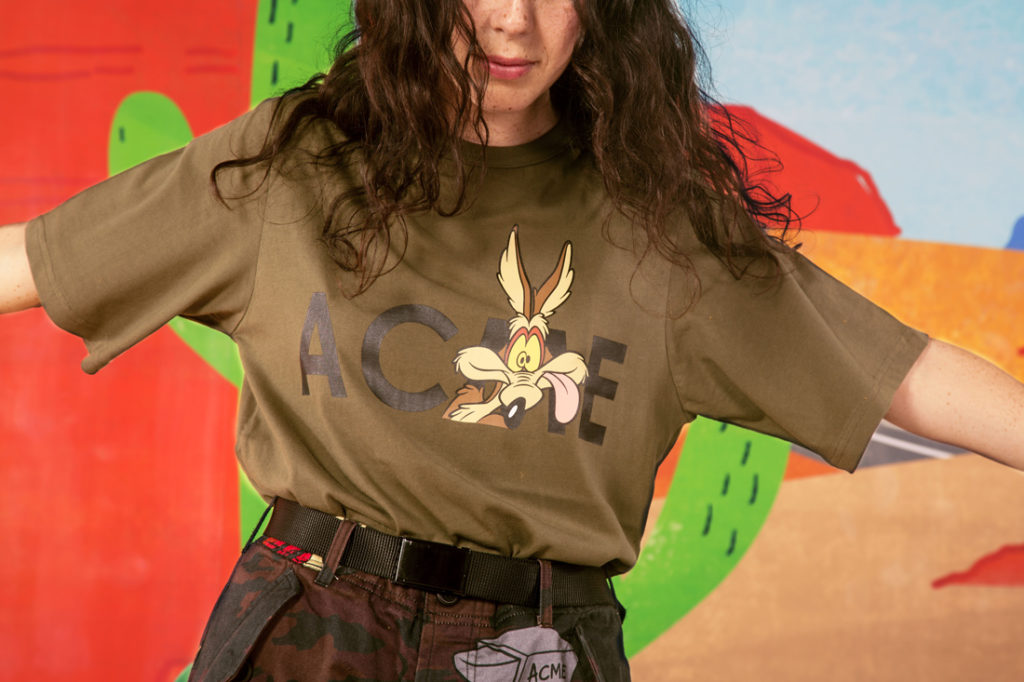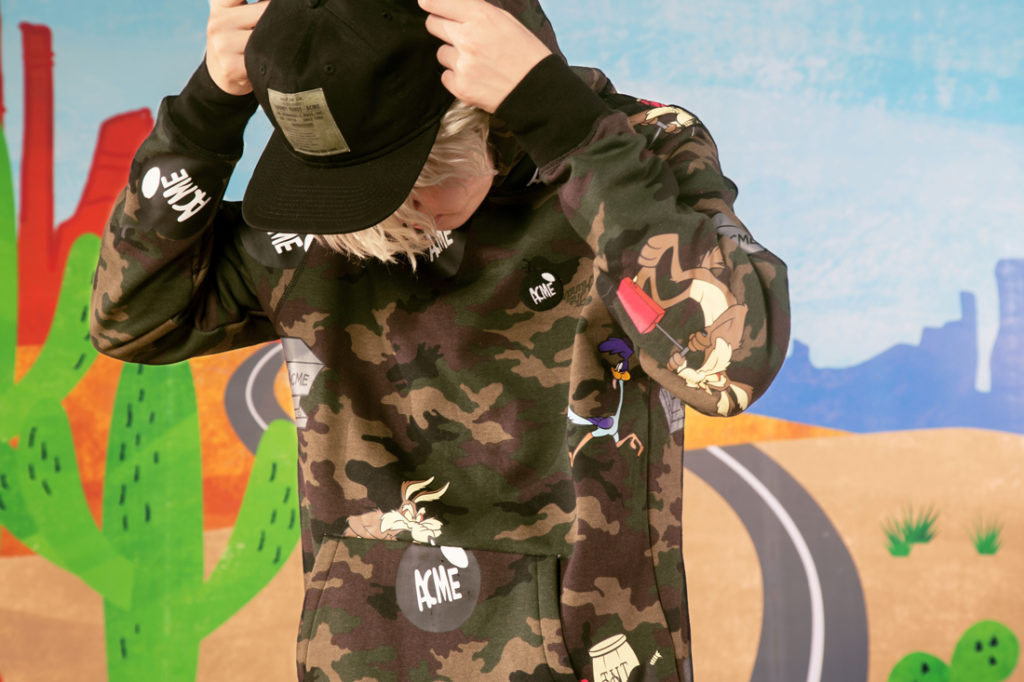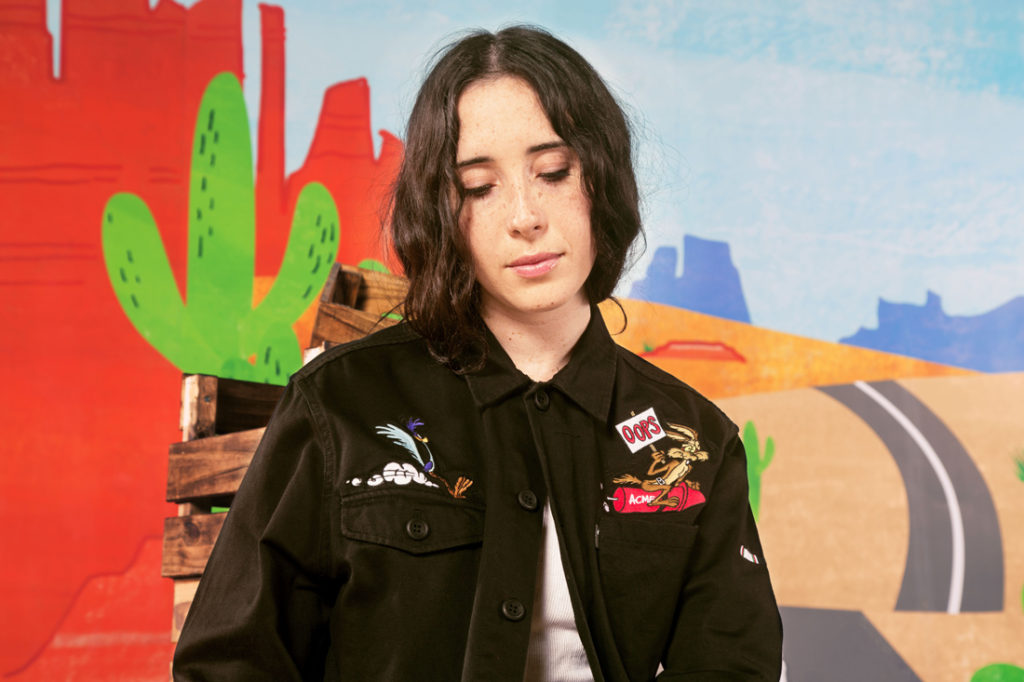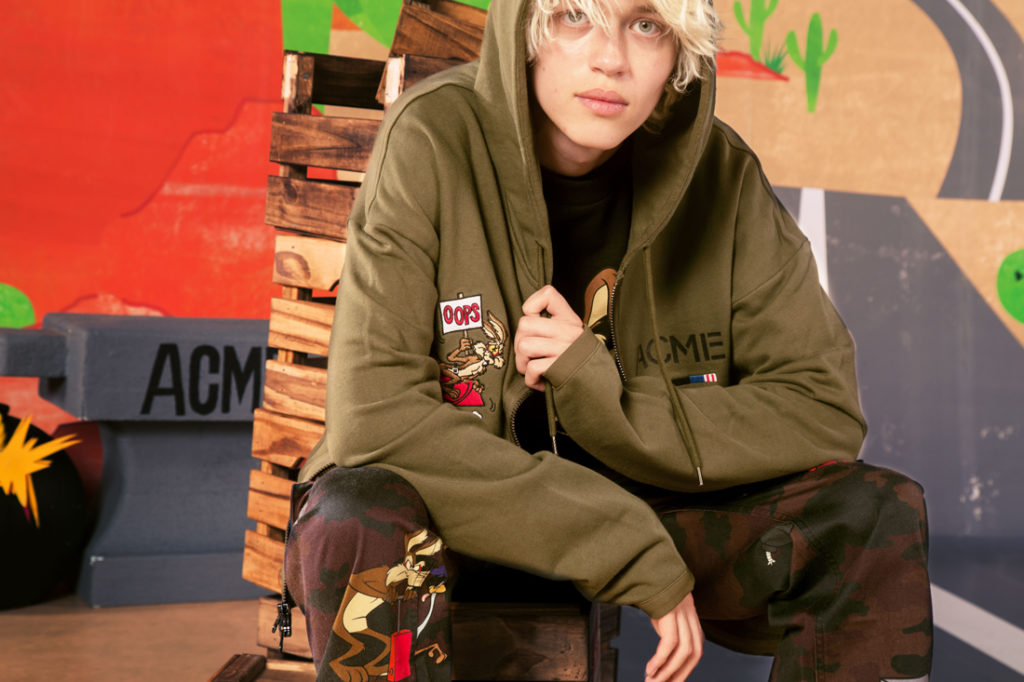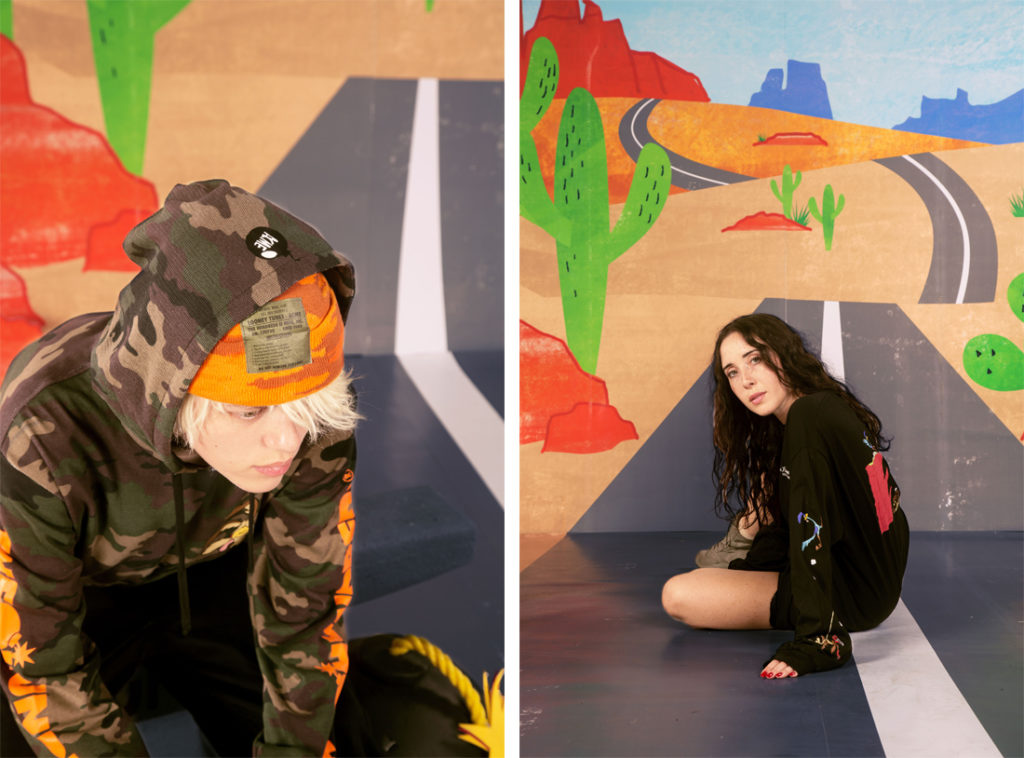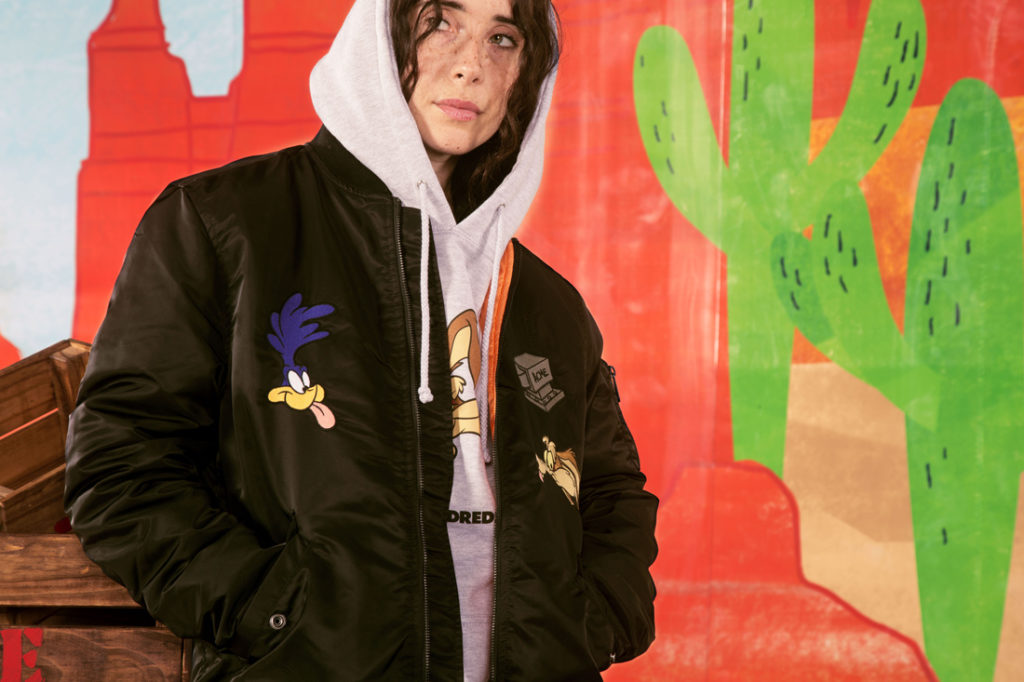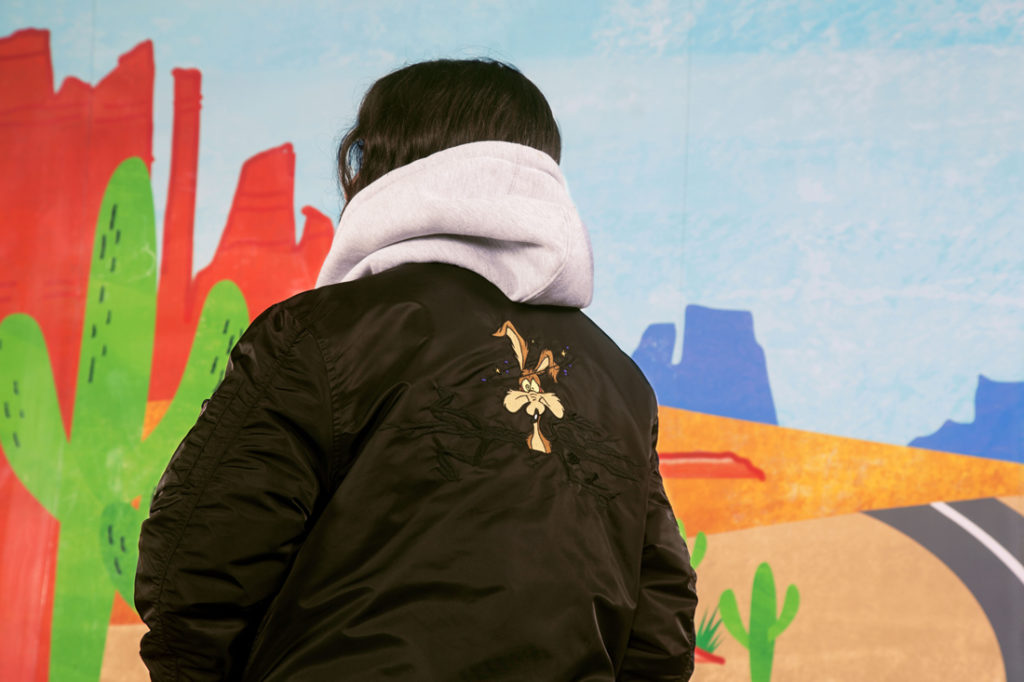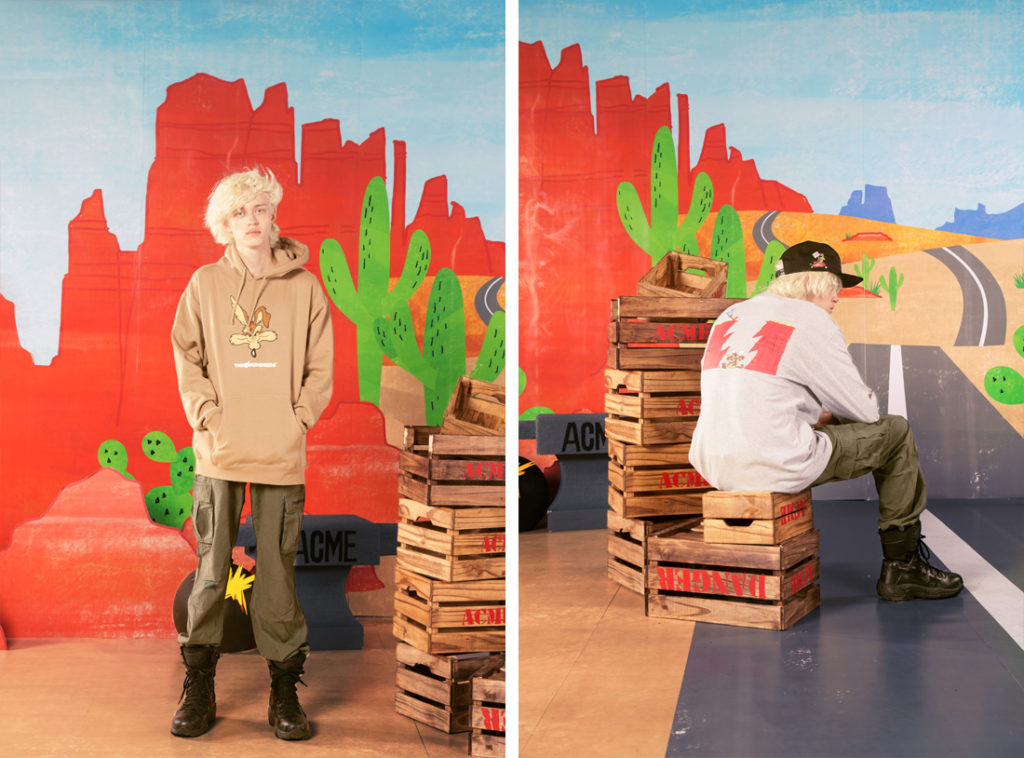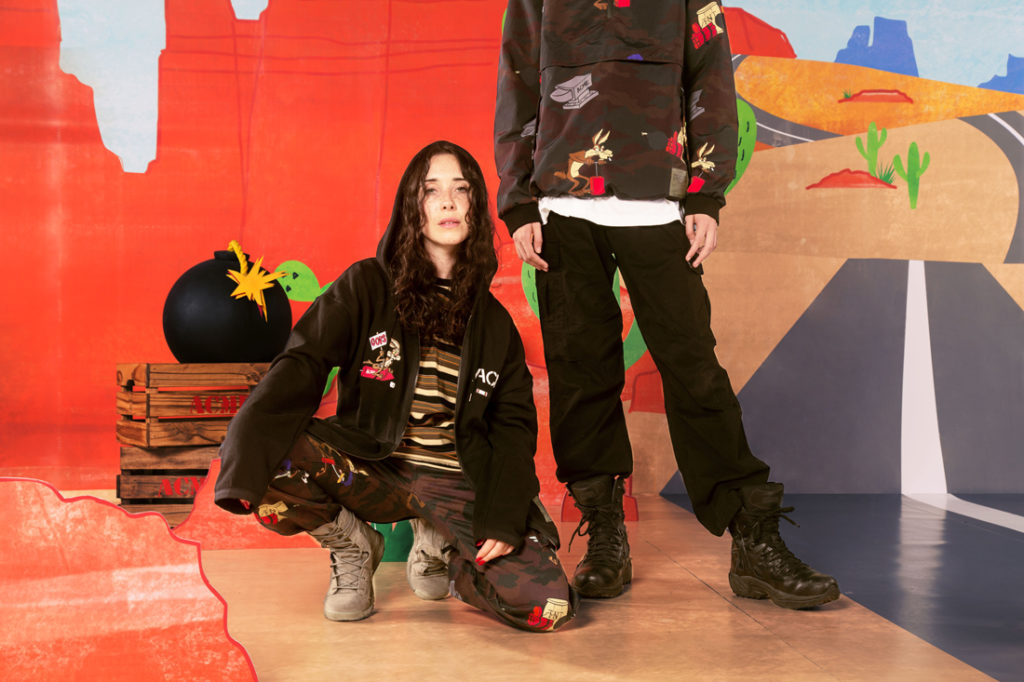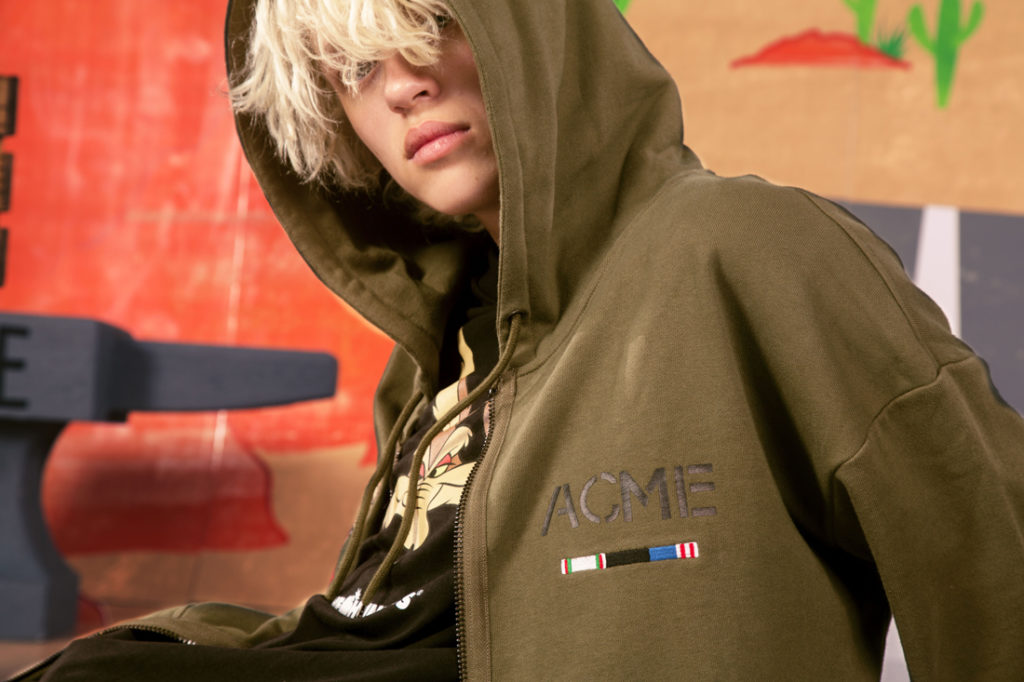 US
WEST COAST
Company
Location
Webstore
Apparel Zoo
Los Angeles, CA
https://apparelzoo.com
ASW Distribution
Portland,OR
https://shop.ccs.com
Attic 2 Zoo
Buena Park, CA
https://attic2zoo.com
Badfish Clothing
San Pedro, CA
https://badfishclothing.com
Billion Creation
Chula Vista,CA
https://www.billioncreation.com
Boarders – Arcadia
Arcadia, CA
https://boardersla.com
Boarders – Glendale
Glendale, CA
https://boardersla.com
Boarders – Montebello
Montebello, CA
https://boardersla.com
Boarders – Northridge
Northridge, CA
https://boardersla.com
Boarders – Topanga
Topanga, CA
https://boardersla.com
Boarders – West Covina
West Covina, CA
https://boardersla.com
Bosk Oakland
Oakland, CA
https://boskoak.com
Compound Gallery
Portland, OR
https://compoundgallery.com
Creative Soul
Ontario, CA
Crown Boardshop
Corona, CA
http://shopcrownapparel.com
Eden Wear
Phoenix,AZ
Family Sports
La Mirada, CA
http://legendsboardshop.bigcartel.com
Focus Lakewood
Lakewood, CA
Kings
Montclair, CA
https://www.shopatkings.com
Kore Skate Shop
San Bernardino, CA
Legends – Whittier
Whittier, CA
http://legendsboardshop.bigcartel.com
Legends – Fullerton
Fullerton, CA
http://legendsboardshop.bigcartel.com
Mutual Friends
Denver, CO
New Star Activewear
Sylmar, CA
https://newstaractive.com
Passport
San Luis Obispo, CA
https://shoppassport.com
Revolution SD
National City, CA
RVRND Boutique
Lompoc, CA
http://www.rvrnd.co
Eminent Skate
Santa Rosa, CA
X4 Sports
San Bernardino, CA
Xtreme – Culver City
Culver City, CA
https://xbusa.com
Xtreme – Lakewood
Lakewood,CA
https://xbusa.com
Xtreme – Santa Ana
Santa Ana, CA
https://xbusa.com
Xtreme – Los Angeles
Santa Ana, CA
https://xbusa.com
Active Ride Shop
Select Locations
www.activerideshop.com
EAST COAST
Company
Location
Webstore
Threads on Carson
Pittsburg, PA
www.threadsoncarson.com
Sole Lounge
Houston, TX
Vinnies
Brooklyn, NY
www.Vinnies.nyc
Sneaker Junkies
Providence, RI & Boston, MA
www.sneakerjunkies.com
Moda 3
Milwaukee, WI
www.moda3.com
Sneaker Room
Jersey City, NJ
www.snkrroom.com
Cardi
Elizabeth City, NC
www.shopcardi.com
Shoe Gallery
Miami, FL
www.shoegallery.com
Foster
New Orleans, LA
www.shopfoster.com
Burn Rubber Detroit
Detroit, MI
burnrubbersneakers.com
Oneness
Lexington, KY
www.oneness287.com
Blades
New York, NY
www.blades.com
NEXT
Cleveland, OH
www.ruleofnext.com
Fresh Rags
Pinellas Park, FL
www.freshrags.com
Politics
Lafayette, LA, Baton Rouge, LA, & New Orleans, LA
www.sneakerpolitics.com
Neckbreakerz
Charlotte, NC
www.neckbreakerzstore.com
Cap City
Teaneck, NJ
www.ecapcity.com
The Restaurant Fashion
Detroit, MI
www.therestaurantfashionbistro.com
AWOL
Boston, MA & Lowell, MA
www.shopawol.com
The Archives
Fort Lauderdale, FL
www.thearchives.com
Kicks Lounge
Akron, OH
www.kickslounge.com
INTERNATIONAL
UK:
Chimp
Online
https://www.thechimpstore.com/
Cream
Nuneaton
Grafficks
Chester
https://grafficks.co.uk/
Main Source
Norwich
https://main-source.co.uk/
Natterjacks
Kingston
https://www.natterjacks.com/
Penloe
Truro
https://www.penloe.com/
Remix
Blackburn
https://www.remixcasuals.co.uk/
Route One
Online
https://www.routeone.co.uk/
Urban Industry
Online
https://www.urbanindustry.co.uk/
Norway:
Stress
Online
http://stress.no
Sweden:
Caliroots
http://caliroots.com
Hollywood
http://hollywood.se