Here's your first official look at The Hundreds X Flying Coffin collaboration, releasing at The Hundreds' flagship locations (THLA, THSF, THNY and THSM) and the following retailers on Thursday, July 18th: MIA Skate Shop (Sunny Isles, FL), Kick (Honolulu, HI), Bodega (Boston, MA), St. Alfreds (Chicago, IL), Alive & Well (Seattle, WA), andtheFlying Coffinonline shop… And on August 1st at the following locations: Persona (Nasha, NH), Social Status (Charlotte, NC and Greensboro, NC), Primitive (Encino, CA), Attic (Buena Park, CA), Caliroots (Stockholm, Sweden), Livestock (Vancouver, Canada), Foot Patrol (London, UK), Kicks Guam (Tumon Bay, Guam), Starcow (Paris, France) and Wish (Atlanta, GA).
The collection will also be made available through The Hundreds'Online Shop shortly thereafter.
And if you live in Seattle or find yourself Seattle-bound for some reason or another, be sure to join us and our co-hosts Flying Coffin and Alive & Well next Thursday, July 18th at Neumos Crystal Ball Reading Room in Capitol Hill, Seattle as we celebrate the launch of The Hundreds X Flying Coffin.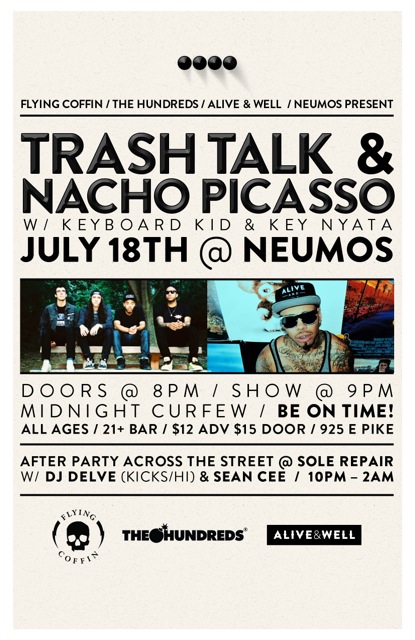 words by Olivia Stiglich