In anticipation of the release of The Hundreds x adidas Skateboarding Crush Pack, The Hundreds and adidas are pleased to present The Rosewood Invitational. The ultimate football battle: Six teams led by team captains hand-selected by Bobby Hundreds duking it out until only one team remains known, forever, as The Rosewood Invitational champions. The six-round clash is set to begin and conclude on January 24th at Hollywood High School. Find the complete breakdown of the teams below.
And don't forget to learn about the illustrious team captains and what they have to say about the game here. Guess which team captain's secret tactic is spiking the opposing team's water with tequila – Bobby Hundreds, Ben Hundreds, Skin Phillips, Alexander Spit, Lucas Puig, or Van Styles?

WHAT
A winner-take-all, bracket-style soccer tournament celebrating the launch of The Hundreds x adidas Skateboarding collaboration Crush Pack. Featuring teams hand-selected by captains Bobby Hundreds, Ben Hundreds, Lucas Puig, Skin Phillips, Van Styles, and Alexander Spit, the tournament will be a no-holds-barred, six-round battle for football dominance.
THERE WILL BE FOOD! Food trucks Free Range LA, Coolhaus, and Seoul Sausage will all be there, serving up delicious eats.
WHO
Produced in conjunction with adidas Soccer, the Rosewood Invitational will feature
groups of friends and colleagues from the industry and beyond. Company owners,
pro skateboarders, pro soccer players, musicians, artists, retailers, photographers, and
the like will be invited—six total teams with seven to nine players per team.
WHERE
The tournament will take place on the Hollywood High School soccer pitch located at
1521 North Highland Avenue, Los Angeles. The event will be immediately followed by an
open-bar afterparty at a location to be determined.
The main GA entrance will be on the corner of Lanewood Ave and Orange Drive. This will also be where the food trucks are stationed.
WHEN
The Rosewood Invitational will take place Saturday, January 24th
from 12–4 pm, followed by an afterparty from 4–7 pm.

Below is the bracket of teams in the order that they'll be competing.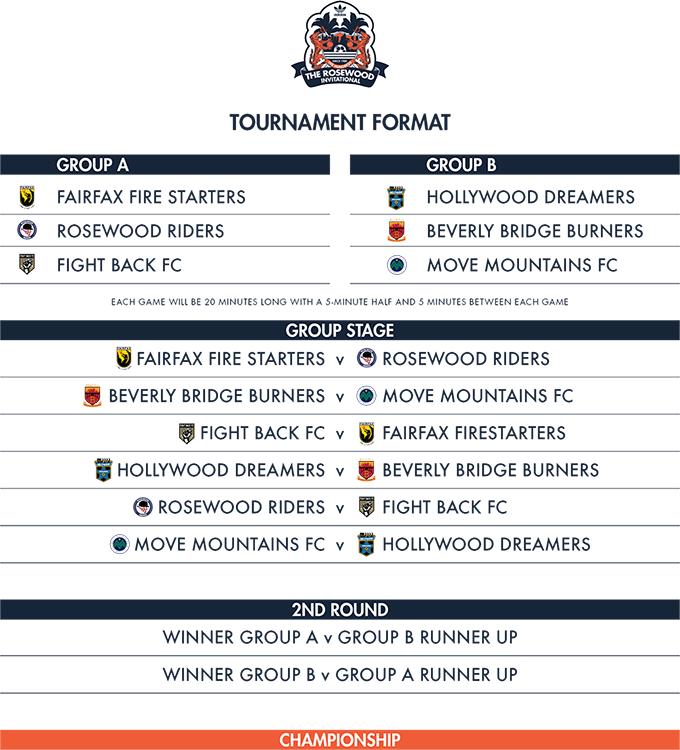 And a first look at the team jerseys: