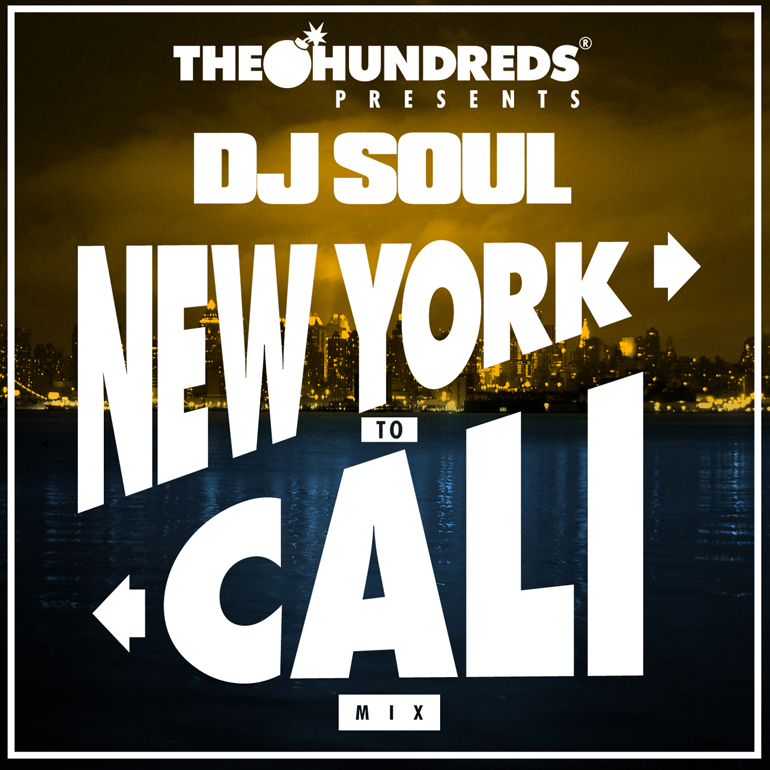 How about this as an early holiday gift for our friends and fans? DJ Soul teamed up with The Hundreds and recorded this mix of songs that New York & Cali artists have recorded together over the last 20 years. Consider it an homage to the cities where our flagship stores reside.
Since the early 90's, DJ Soul has used his love for music to create his own movement amongst tastemakers, socialites, and celebrities across the globe œ playing exclusive parties for Diddy, Kate Moss, Louis Vuitton, and Nike. Right now you can catch him at SubMercer with Stretch Armstrong for their weekly Sunday party, The WHUT?.
Listen to the bi-coastal mix below or click HERE to download.
DJ Soul x The Hundreds – New York To Cali by DJ SOUL NYC
1. The Game – Hundreds Intro
2. The Game & Prodigy – Dead Bodies (prod by Alchemist)
3. The Alkaholiks & Diamond D – The Next Level
4. Xzibit & Hurricane G – Just Maintain
5. Snoop Dogg & Sticky Fingers – Buck Em
6. The Notorious BIG – Road To Riches (Freestyle)
7. Jay-Z & The Dogg Pound – Change The Game (Remix)
8. The Alkaholiks & Ol' Dirty Bastard – Hip Hop Drunkies
9. Jay-Z, Dr Dre & Rakim – The Watcher 2
10. Mos Def, Nate Dogg & Pharoahe Monch – Oh No
11. Ice Cube & Das Efx – Check Yo' Self (Remix)
12. House Of Pain & Pete Rock – Jump Around (Remix)
13. Slick Rick & Warren G – Behind Bars
14. Gangstarr & Snoop Dogg – In This Life
15. Dilated Peoples, Guru & Havoc – Worst Comes To Worst (Remix)
16. Gangstarr, The Lady Of Rage & Kurupt – You Know My Steez (Remix)
17. The Alchemist, Nina Sky & Prodigy – Hold You Down
18. The Notorious BIG & Too Short – The World Is Filled
19. Erick Sermon & Too Short – Buy You Some
20. Cypress Hill, Erick Sermon, Redman & MC Eiht – Throw Your Hands
21. Nas, Nature & Dr Dre – Everyday Thing
by chelsea