Last night at The Hundreds HQ, ten of us got together to draft our teams for fantasy basketball and shake the vending machine violently. We fucked up not doing an office fantasy football league, so we had to make sure we got organized for basketball season. There are a lot of hoops fans in the office, so the hype has been real for the past few weeks as we geared up for the draft.
After work winded down, we all made our way to the kitchen and got in our last minute research. Well, except for Family Style guru Miles, who decided to schedule a meeting down the street for 30 minutes before the draft and ended up missing his first two picks. Thankfully, he redeemed himself by grabbing blunts on the way back to the office.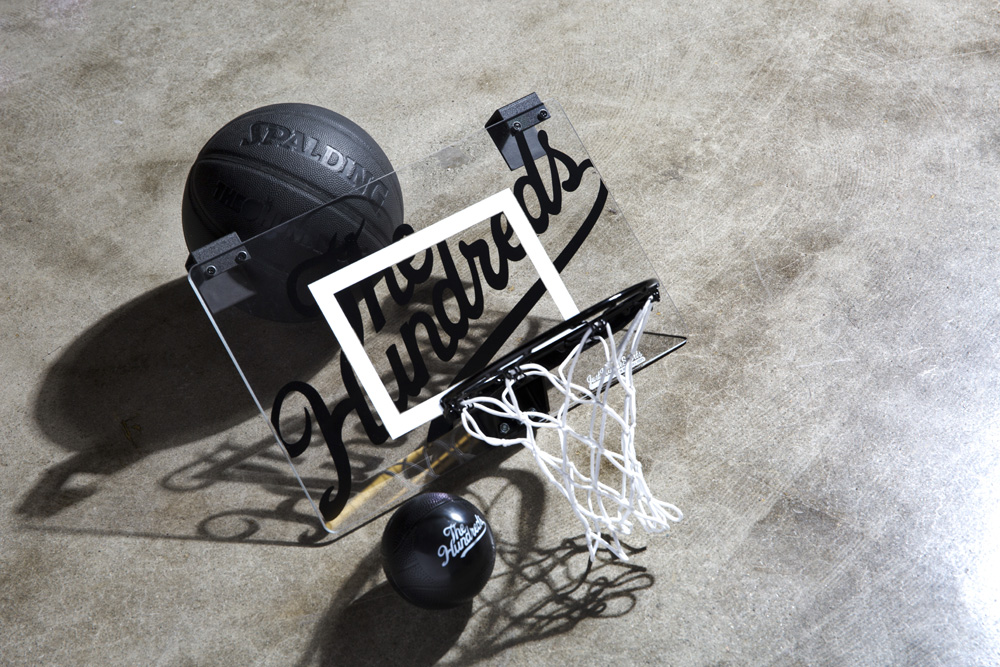 The draft was a roller coaster of emotions, part excitement that certain players surprisingly fell in our lap in later rounds and part rage when someone took a guy you had queued up and ready to take with your next pick.
But now the draft is over and the teams are set, ready to start the season on Tuesday. We have ten teams in the league, and while I won't disclose how much is on the line, just know that it might as well be a million dollars with how serious we all are about taking home the 'ship. Friendships will be tested, feelings will be hurt.
Let's take a look at everyone's drafts and team names, the most important factors in fantasy success. I'll be rating everything on a 5-bomb scale, five bombs being the best and zero bombs being Chad's team.
Hugo – Home Banana Hammocks, 1st pick overall
Hugo joined the league roughly 12 minutes before the draft and somehow managed to nab the first overall pick. Unreal. While we all figured he'd go Giannis, Hugo surprised everyone by taking new Laker Anthony Davis with the first pick. Orlando behemoth Nikola Vucevic joins Davis in Hugo's frontcourt while the rest of the starting lineup is guard-heavy with De'Aaron Fox, Brogdon, and Middleton. Hugo's team looks strong, as he'll nab a ton of REBs with Julius Randle and Blake Griffin. He aslo stole Spencer Dinwiddie from me, who I was hoping nobody noticed was still available in the last round. But Hugo's team name? I don't know…
Roster: 💣💣💣💣
Team Name: 💣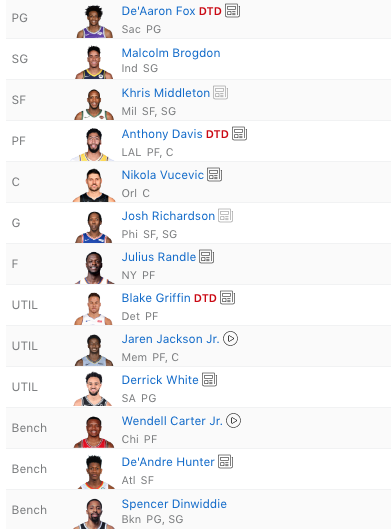 Shmik – Girls Don't Kawhi, 2nd pick overall
After Hugo drafted AD, Shmik let out an audible scream of excitement, knowing he just somehow landed Giannis. You see, the way our league scoring is set up, the Greek Freak will put up roughly 2,500 fantasy points a night. Besides Giannis, this team will rack up rebounds from LaMarcus Aldridge and Marc Gasol, but the guards section of the lineup gets a little hit or miss. While they could pay off with huge rewards, Kemba, Zach LaVine, Lou Will, and Lavar Ball's kid are all risky. Also, Harrison Barnes is apparently still in the NBA, feel like he played at UNC with Jordan.
Roster: 💣💣💣
Team Name: 💣💣💣💣💣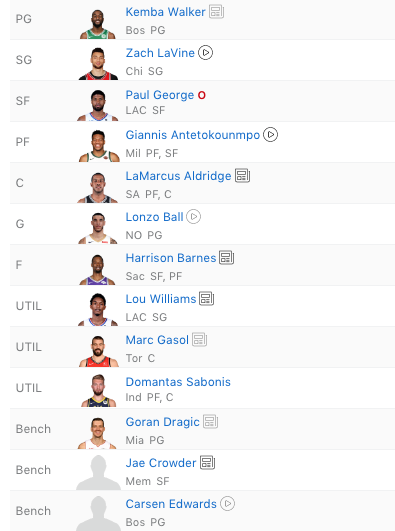 Percival – The Lakers, 3rd overall pick
Percival rounded out the top three by taking LeBrahn Jaaaaaymes, who allegedly invented Taco Tuesday®. P also snagged DeAndre Jordan and Kyrie Irving from the retooled Brooklyn Nets and former Net and Laker D'Angelo Russell, who has some big shoes to fill with Klay Thompson out for the season. I like the Mike Conley pick, and CJ McCollum is great, but unless Derrick Rose got a knee transplant from Meg Thee Stallion, I don't know if this team has what it takes to go all the way. Here's to hoping LeBron is very distracted with his Space Jam 2 shooting schedule all season.
Roster: 💣💣💣💣
Team Name: 💣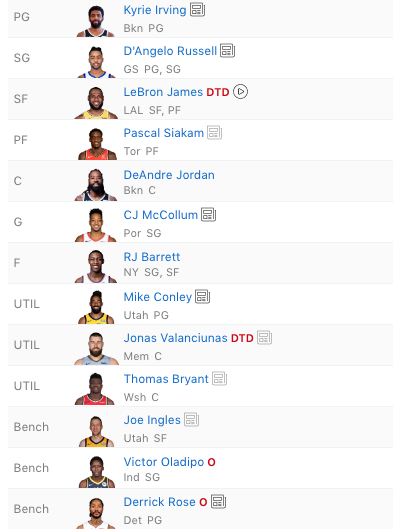 Chad – Baltimore Ravens, 4th overall pick
Chad, Chad, Chad… this roster is terrible.
Roster: 💣
Team Name: 💣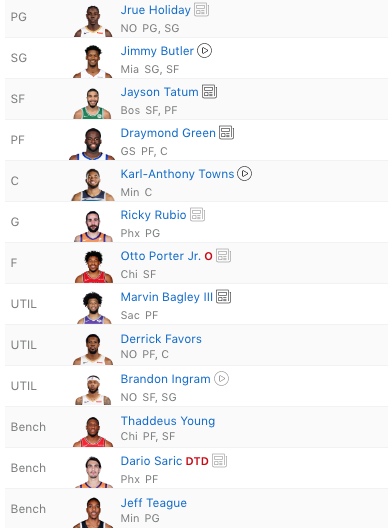 Jon Hundreds – DONT TRIP Shenassafar, 5th overall pick
This roster is pretty scary, very nice drafting by Jon. But if there's anything I've learned from years of playing fantasy, it's that the loudest trash talker typically misses the playoffs, which means Embiid is probably getting hurt and Harden is going to get his touches decimated by Westbrook. Also, the team kind of goes downhill after the top tier, with big risks like DeRozan, Wiggins, Gallinari, Rondo, and Love. This team can talk a big game but let's see if they back it up or crumble under pressure like Gordon Hayward's leg. I might be missing something reference-wise with the team name but it's not one of the strongest in the league at surface level. Was definitely expecting more.
Roster: 💣💣💣💣
Team Name: 💣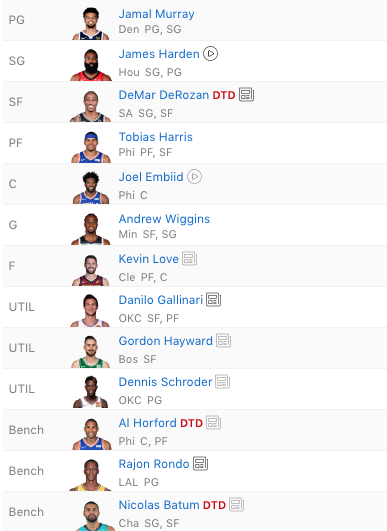 Miles – LA Canares, 6th overall pick
Miles thought he was drafting an NBA team in 1968 and went with all White guys the first few rounds, a very interesting strategy in 2019. After he realized what year it was, Miles picked up a few solid pieces like Clint Capela and Devin Booker, but the book is still out on Scary Terry as a number one option on a team. The rest of the team is pretty ehh. But hey, at least he brought blunts to the draft. However, any goodwill he built up with smoking supplies was quickly lost when his team name was revealed. Almost as bad as Percival's.
Roster: 💣💣
Team Name: 💣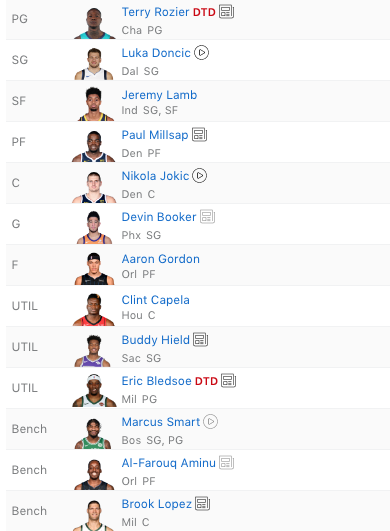 Carlos – C-Mo Dollaz, 7th overall pick
Carlos really pissed me off in this draft. He took Russell Westbrook with his first pick, who is the only guy I really really had my heart set on. Our league awards a 5-point bonus for triple-doubles so Russell is going to be valuable. But if it's any consolation to me, the rest of the team Carlos drafted is big bunk. He basically has the All-Mediocre Lakers, with Danny Green, Dwight Howard, JaVale McGee, Josh Hart, and Jordan Clarkson. He even has Kentavious Caldwell-Pope, whose strongest stat category is minutes and we don't get points for those. Also, we're all sending well wishes for Carlos' 2nd round pick, Zion Williamson, who got hurt before the draft was even over.
Roster: 💣💣
Team Name: 💣💣💣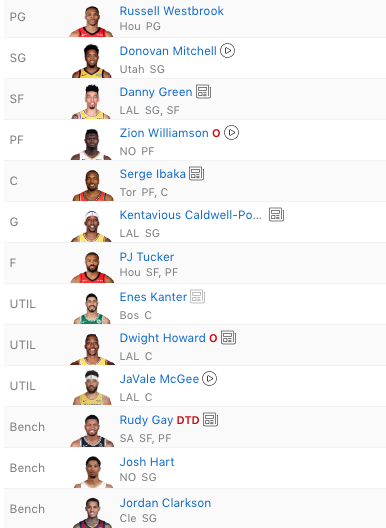 Brice – WALL_e W0rld, 8th overall pick
Brice drafted a pretty decent team, nabbing Kawhi and Dame Lillard early on and getting a sneaky star big man in Rudy Gobert to pair with Kristaps Porkzinger. But after that, it gets a little dicey. Brice took Vince Carter, who turned 62 last week, Patrick Beverly, who isn't good at anything we actually count in fantasy, and Jared Dudley, who is Jared Dudley. And Brice really thought he was doing something with that zero in place of an "o" in his name, like he was making the most fire AIM away message in his class. You h8 2 c it.
Roster: 💣💣
Team Name: 💣💣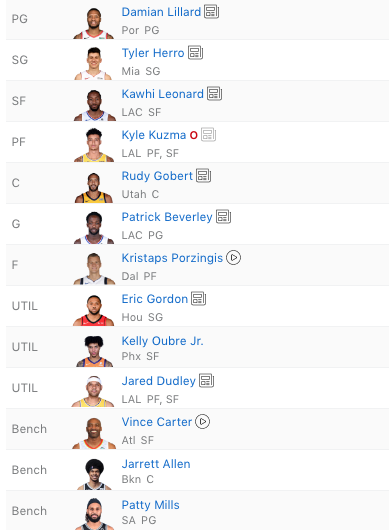 Duke – Let's Get This Breadman, 9th overall pick
I feel pretty good about my team but not great. I wanted to get a bunch of big men at the beginning of the draft but ended up with all guards. Taking Steph Curry and Bradley Beal with my first two picks is risky but could pay off huge. We get four points for every 3PM, which is why I also took Trae Young. Somehow I also got Kyle Lowry in like the 25th round, super late. Love that, lot to prove for him this year. With Deandre Ayton, Montrezl Harrel, Lauri Markkanen, and Steven Adams up front, there are definitely some question marks but I think it'll play out well for yerboi. Also, love my team name. Meme reference, The Hundreds reference, it's perfect.
Roster: 💣💣💣💣
Team Name: 💣💣💣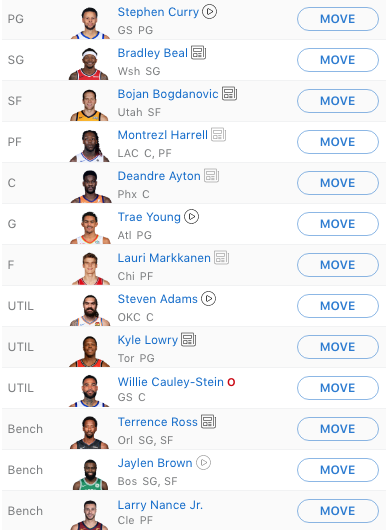 Ben Hundreds – Rosewood Riders, 10th overall pick
Ben was very not pleased with pulling last pick in the draft, even though this position typically gets the best overall team by getting to pick 10th and 11th. But Ben hated how much time he had in between picks and used his downtime to come talk shit and distract the rest of us. Listen, at the end of the day, this guy signs our checks so I'm not going to go in on him that much, but he must have missed the memo that more than rebounds count in this league. He's very big man-heavy, with Drummond, Whiteside, John Collins, Bam Adebayo, and Myles Turner highlighting a team that, quite simply, can't shoot. Also, CHRIS PAUL?!?!
Roster: 💣💣💣
Team Name: 💣💣💣💣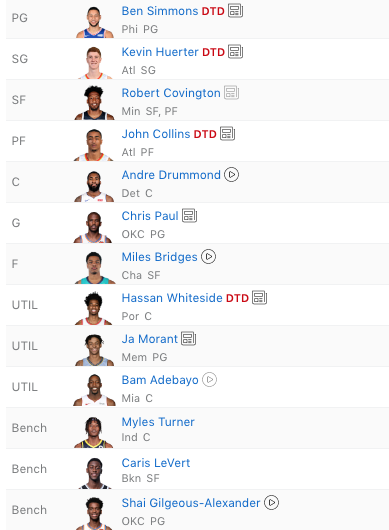 We'll be back periodically with updates on how the season is shaking out but follow The Hundreds on Instagram for updates on weekly matchups and let us know who you think is taking home the grand prize.
***