Fifteen years ago, I watched Hot Karl, a San Fernando Valley-raised rapper named after a poop-intensive sex act, record ad-libs in the home studio of the genial and aptly-named producer One Eye for his Interscope debut (note: I was hired to write interludes for the album, but didn't become the Rick Rubin of rap album sketches). Today, I watch him, now going by his real name Jensen Karp, rub his dog's belly with joyful abandon as we discuss his upcoming memoir Kanye West Owes Me $300: And Other True Stories from a White Rapper Who Almost Made It Big in his West Hollywood condo.
After dominating a local radio freestyle competition for weeks as a USC undergrad, Jensen's life morphed overnight into Madlibs: Early '00s Celebrities Edition. Mack 10 presented him with a briefcase of money in his parents' living room. He paid for a young Kanye West's car service. Interscope head Jimmy Iovine wooed him with salmon dinners. Mark McGrath from rap-soft rock gods Sugar Ray got him blackout drunk. Suge Knight complimented his rapping. He wrote a comeback single for Gerardo. He took a wrong turn in somebody's house and wound up learning what kind of porn Sisqo liked. He even discussed quesadillas with Mya.
Of course, Jensen's career fell apart even quicker than it came together. Interscope lost interest and shelved him just as anxiety issues began to overwhelm him. Like an episode of HBO's Real Sex gone real bad, Jensen had a breakdown at a Jamaican swingers resort during a Spring Break tour. But, as evidenced by this interview not happening at a halfway house, Jensen made it out the other side. In addition to owning two successful pop culture-focused art galleries in Los Angeles, he now works as a comedy writer and hosts the podcast "Get Up On This."
Though he vows never to be a full-time rapper again, Jensen manages Canadian pop-punk rapper Nova Rockafeller and recorded a new freestyle (below) to help promote the memoir. We got together to play armchair A&R to discuss white rappers in 2016 and which singers deserve a Benihana in their backyard.
DAVID VIOLA: Is there anybody you mention in the memoir whom you wouldn't want to read it?
JENSEN KARP: Not really. I don't say anything I'm scared of, only because all of this actually happened. I was surprised to hear some people think I go a little hard at anyone, especially when Hannibal Buress, after reading the book, told me he thinks I'm gonna make some enemies. I just see it as a play-by-play of what happened to me during a very weird time in both my life and the music industry. Maybe Pink though? She clearly can beat my ass.
I forgot to ask you this 15 years ago: why in God's name were you beefing with Tyrese?
I mentioned Tyrese on the radio because his name rhymed with beef. Genuinely. I had, and have, nothing against the dude. But honestly, I didn't think he'd eventually have a Benihana table and Starbucks in the backyard of his mansion. I just thought he was one of those generic R&B guys. In 2001, he was more famous from his appearance in that Coke commercial than his own music at the time. I mean, couldn't Tank or Jon B have been in the Fast and Furious? It's sometimes weird to think that I'm no longer releasing music, but Tyrese is in Dubai petting tigers with Will Smith.
But were there any artists from that era who you thought would wind up with their own Benihana?
My favorite album of the 2000s is from a guy named Kenna. He was on Interscope through Fred Durst's imprint, Flawless Records, at that same time I was. He put out an album called New Sacred Cow that I was given a little early and I instantly fell in love with it. It sounded like The Neptunes produced an Oingo Boingo record, which made sense because Chad Hugo worked on it. It came out, but no one really knows it exists. I would've bet the house on Kenna. I still would. It's genius, he's a true artist and another example of how the industry just picks and chooses blindly sometimes, because Kenna should have the type of money where could afford a dozen Benihana tables. I also thought Ja Rule would be around forever, so maybe I don't know what I'm doing?
"…Hannibal Buress, after reading the book, told me he thinks I'm gonna make some enemies."
It's striking how many rappers and singers from the early 2000s who now seem to be more famous for their TV careers than their actual music.
Like Christina Aguilera. To me, Christina Aguilera seems more famous for The Voice than she is for putting out her own albums at this point. She was supposed to be that generation's Celine Dion or Mariah. I remember losing my shit when I met her purely because she was like royalty in 2000. Britney is doing Vegas, but at least she's performing music. Christina, and a ton of musicians from that period—including randoms like Xzibit—are more well known as a "personality" than a musician, which still creeps me out. I guess nothing beats the Fresh Prince/Will Smith transformation of the '90s, but I feel like that happened to more people than ever in the 2000s as the industry broke down completely and people had to find new outlets for income.
What rapper do you think should be doing a Vegas residency?
I know I would go to Vegas just to see a Busta Rhymes residency. He's always been hip-hop's low key most impressive showman, and he can do hit after hit for 40 minutes. Also, the stage show can just mimic his elaborate music videos. I recently saw Ice Cube perform too and it had a real retrospective feel to it. And he can still spit. But honestly, I do think we're a few years away from a '90s revue out there, like LL Cool J, Salt-N-Pepa, and En Vogue.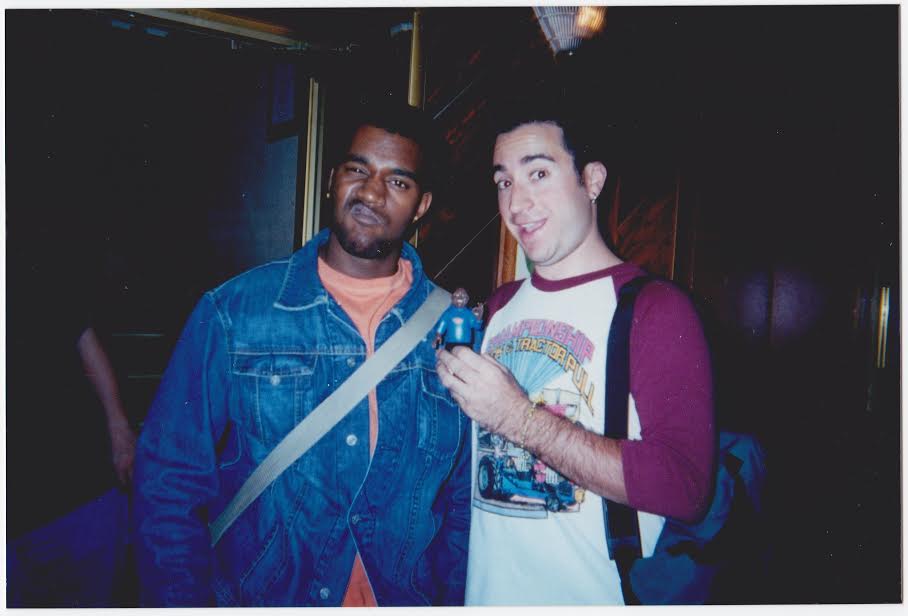 Jensen and Kanye pose circa 2000, way before he confused Ellen.
What do you think your Vegas rap show would've been like? Also what casino—Circus Circus maybe?
I would've been a good fit for Luxor, which is like the most decadent '90s shit ever. They built a fucking pyramid in the middle of Vegas, with a beam of light so bright that you can see it from space. That's just throwing money into a toilet, because now in 2016, that shit is last on the list of most visitors. It's like a Groupon staple. And Hot Karl had a similar vibe. They would spend basically ANYTHING to make my project look shiny from the outside, but in real life the whole thing was kinda fucked from the jump.
What went through your head when you heard Asher Roth?
I instantly saw our similarities, and gravitated towards his story, just because I knew I had tried that maybe 7 years before him. "The college rapper" had been tried before me, but never with so much mainstream attempt behind it. I wasn't angry or jealous, mostly because I thought Asher was actually kinda dope and I can't shit on a Weezer sample. I just hoped he'd have a better ending than I did. From piecing together interviews, it seems he's still unhappy with the way he was sold at first—I just kinda wish I was sold at all.
"They would spend basically ANYTHING to make my project look shiny from the outside, but in real life the whole thing was kinda fucked from the jump."
You mention how Bubba Sparxx's second album is under-appreciated. Why do you think it didn't do well commercially?
I mean part of the problem was that he, like all white rappers at the time, was being immediately compared to Eminem who was at his peak then. Which isn't fair. Everyone has a different point of view and pigeonholing ANYONE in music based on appearance is just lame. I'm actually bummed about Em's career trajectory, though. It's easy to forget how good he used to be. "Stan" was great. "Lose Yourself" is great even though they've played it before overtime in every major sport for over a decade. I remember thinking, "This dude is kind of our Dylan." Now he's just kind of another great rapper. There's nothing personal about his music anymore. Now it feels like the A&R gives him a beat and pre-written hook and he writes Lance Bass jokes around it.
My 10-year-old niece actually screamed some G-Eazy lyrics at me the other day. Do you think he's going to make it pop star big?
Absolutely. I think that's a predetermined one. We seem to have a bit of a cycle going, where a white dude pops up every few years and takes everything, then becomes a bit problematic in think-pieces. G-Eazy is selling out 10k rooms worldwide and getting spins on urban, pop, and rock stations. It's a common formula at this point and he's clearly in line. He hasn't hit the "musical guest on SNL" part yet—but I bet that's coming next season. Girls also LOVE him, which always helps. I wouldn't say I "get it," but I understand the trajectory at this point, and there isn't much that can stop him.
Who is the last rapper you thought would make it big but bombed?
I've been pretty good over the past few years, calling Chance The Rapper, Flatbush Zombies, and Odd Future well before their tipping points, but I still think it's a shame no one is giving these battle rappers a chance to leave their little YouTube arena. There are so many talented dudes over there, and some have good music out there, which I know is rare in their field. But names like Rone, Illmaculate, Pat Stay, Daylyt—all of them should be out there, doing shit. Instead we just have to wait for every King of the Dot to see their new stuff. That always has bummed me out.
***
Follow Jensen on Twitter @jensenclan88.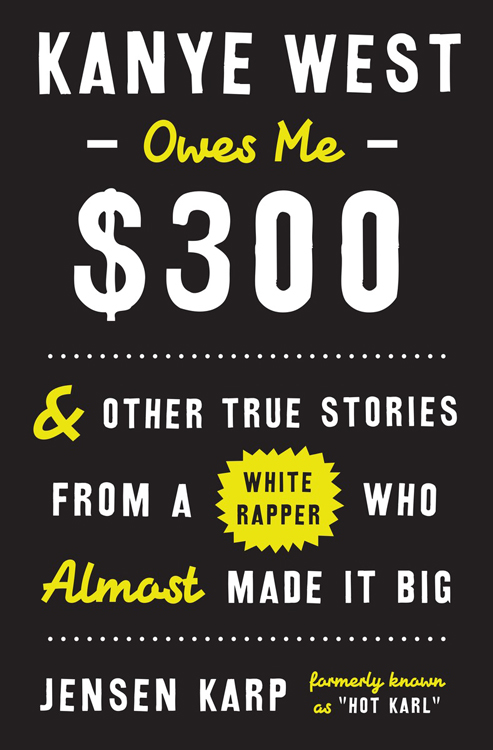 Pre-order Jensen Karp's book Kanye West Owes Me $300: And Other True Stories from a White Rapper Who Almost Made It Big. Some reviews of the book, which drops June 7, 2016:
"The funniest person I follow on Twitter finally got smart and wrote about his unlikely—and hilarious—odyssey as teenage rapper Hot Karl. Karp's sharp wit and gossipy giggles keep you turning pages, but what lingers is the story of a survivor. This book should be mandatory reading for or anyone who has ever wanted to be famous." —Kevin Smith
 "If I had kids, I'd read passages from this to them at night. Rap careers definitely haven't been explored from this perspective, and I'm excited to see the ripples. Jensen's gonna make some enemies, though. I've been on television." 
—Hannibal Buress
 
"I remember hearing faint whispers about a white kid on the west coast who got like the craziest deal ever from some radio freestyles or some shit. But we never saw anything concrete, so I assumed he was hip-hop's Bigfoot and left it at that. Who knew it was real??!!! This is the story of the rap game's Sasquatch."
—Bun B, Grammy-nominated rapper