Five years ago it would have been pretty cool to have Nike, adidas, or Reebok knocking on your door. Or, how about an exclusive collection of bags with Head Porter in Japan? Collaborations with major brands are commonplace now, but the allure of accessories is far from removed. In 2016, streetwear really stepped up their concept of lifestyle accessories, both in terms of scope and quality. While there are some definite misses amidst the string of hits, the progress is a step in the right direction.
United Shapes Orbit Series
Buying some blanks from Gilden is streetwear 101, while convincing manufacturers to make a small run of snowboards is akin to a PhD. That's exactly what United Shapes has done, and they managed to keep it all in the United States. The people behind this budding brand are the same guys from Owner Operator, and they're all about keeping things on the level. Besides creating kick-ass gear United Shapes and Owner Operator believe in paying a fair wage and put people over profits. I can't speak on the Orbits performance, but this is a huge endeavor and deserves a look.
Source: United Shapes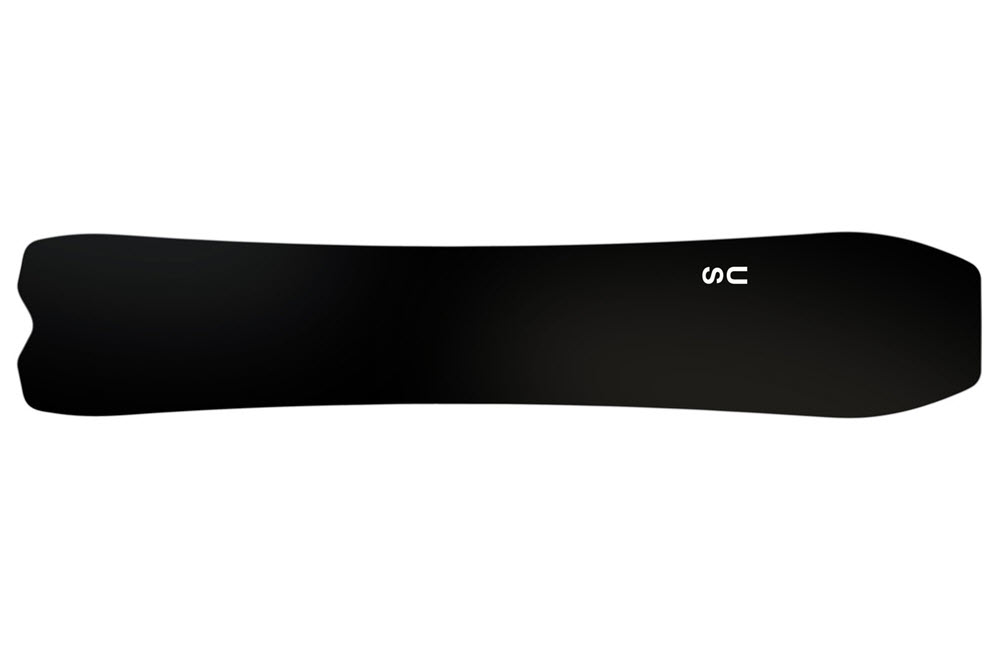 Watson Gloves for Raised by Wolves
Watson has been making gloves out of cold-ass Edmonton for nearly a century and this winter they made some for Raised by Wolves. It's not like other streetwear brands haven't made gloves before, but not many has made a practical, functional, and quality product like Raised by Wolves has. The Toronto-based brand definitely did their research and the Abbott and Pearson are a testament to that dedication. The gloves are made in Canada with premium deerskin leather that are wind and water resistant. The entire glove has a fleece lining and the cuffs are shirred. These work gloves have no business on the soft hands of a fuccboi, but still… respect.
Source: Raised by Wolves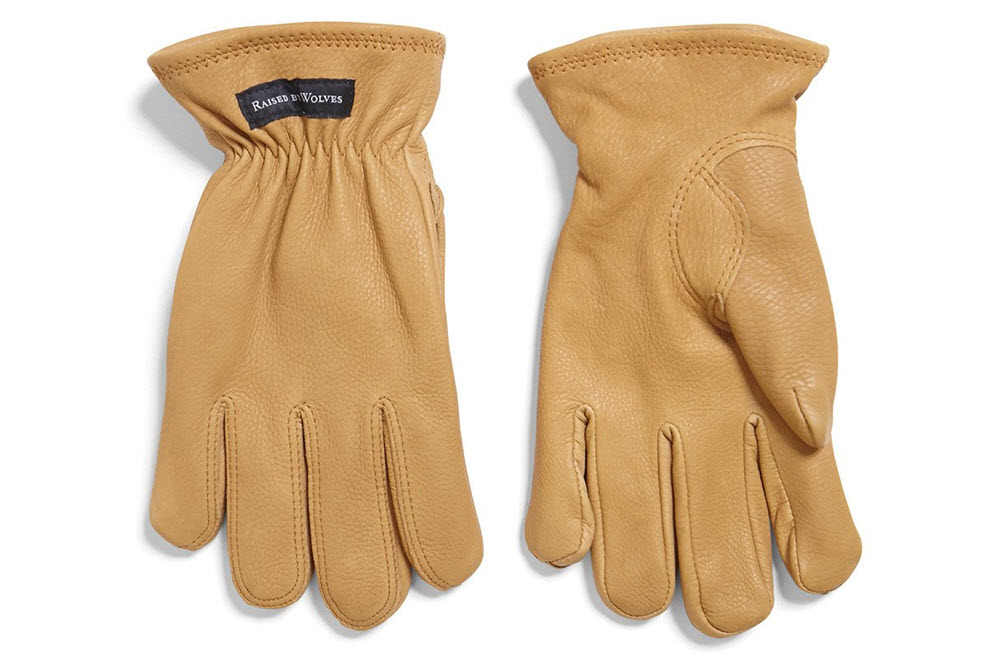 A Bathing Ape (BAPE) Neoprene
It gets cold waiting in lines and Supreme may have been the first to throw their logo onto a neoprene mask, but BAPE is the brand that perfected the look. In 2016 BAPE went in on their shark logo. Besides throwing it across your crotch and your hoodie, the motif was featured across T-shirts, sneaker soles, tote bags, and a litany more. However, none was more rightfully placed then on the ski mask. A strip of neoprene from BAPE featured their 1st Bape camouflage and the familiar shark grill.
Source: BAPE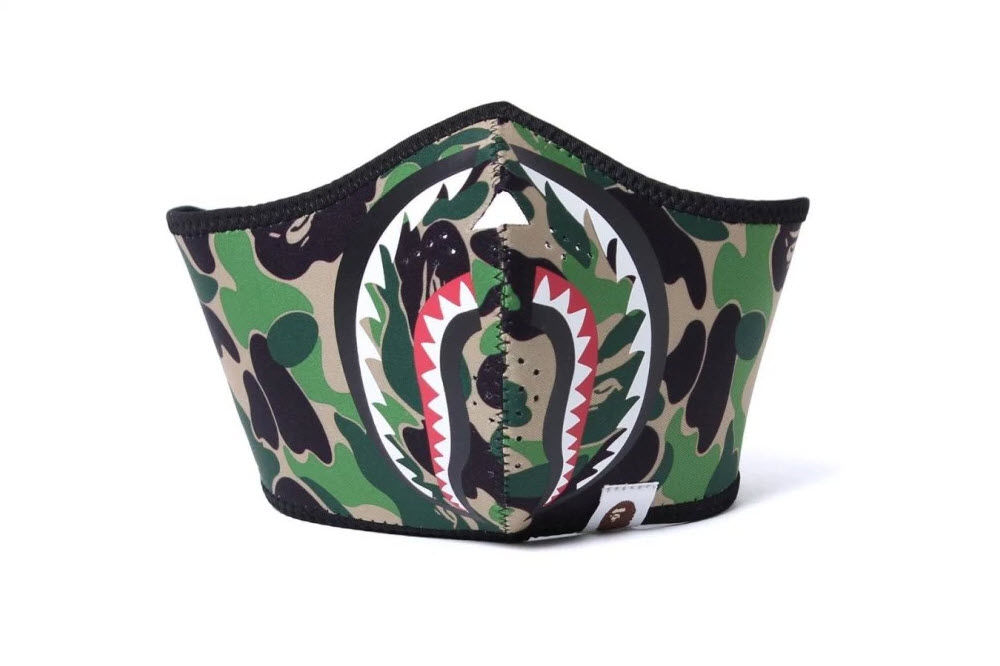 Anti Social Social Club x Aceite
The brand that everyone swears they hate, but still low-key love had some notable collaborations with mastermind JAPAN and Penthouse this year. But none more essential to the crying fuccboi than their soap. Anti Social Social Club teamed up with Los Angeles-based Aceite to make a "Japanese Cherry Blossom"-scented soap. Loosely based off of Neeklurk's fixation with Japanese culture, the soap contains organic extra virgin olive oil, essential oils and sodium hydroxide—packaged in A.S.S.C. branding. Who knew streetwear dudes were into handmade artisan soaps?
Source: ASSC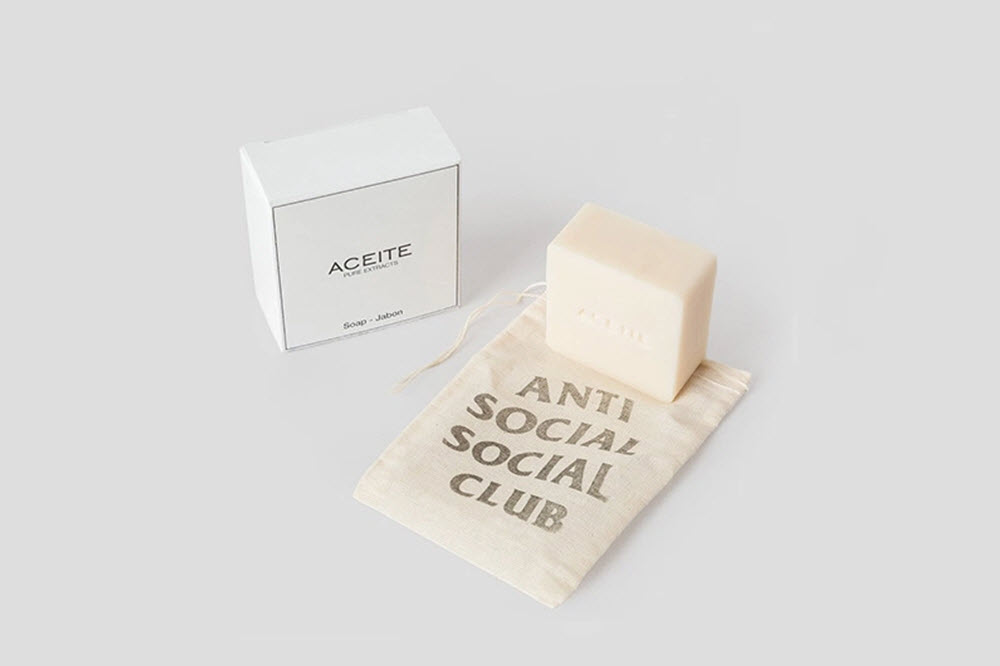 Publish x Gunnar
Streetwear was initially skate and sneaker culture, but over the years it has infiltrated many other sub-cultures. The biggest surprise collaboration of the year was between Gunnar and Publish. Anyone who spends a lot of time on the computer playing games knows that Gunnar is the go-to name for amber tint lenses. These weird looking specs reduce glare from the computer screen and removes many of the elements of blue to prevent eye-strain. This past fall, Publish was invited to design Gunnar's latest pair. The Mod is inspired by classic fashion lenses and uses the finest hand-crafted acetate, 3-barrel steel hinges, and flexible temples. But, what is more surprising is how a brand known for their joggers made sunglasses for Mountain Dew addicts that play DoTA and League. (They also have a non-dork version.)
Source: Gunnar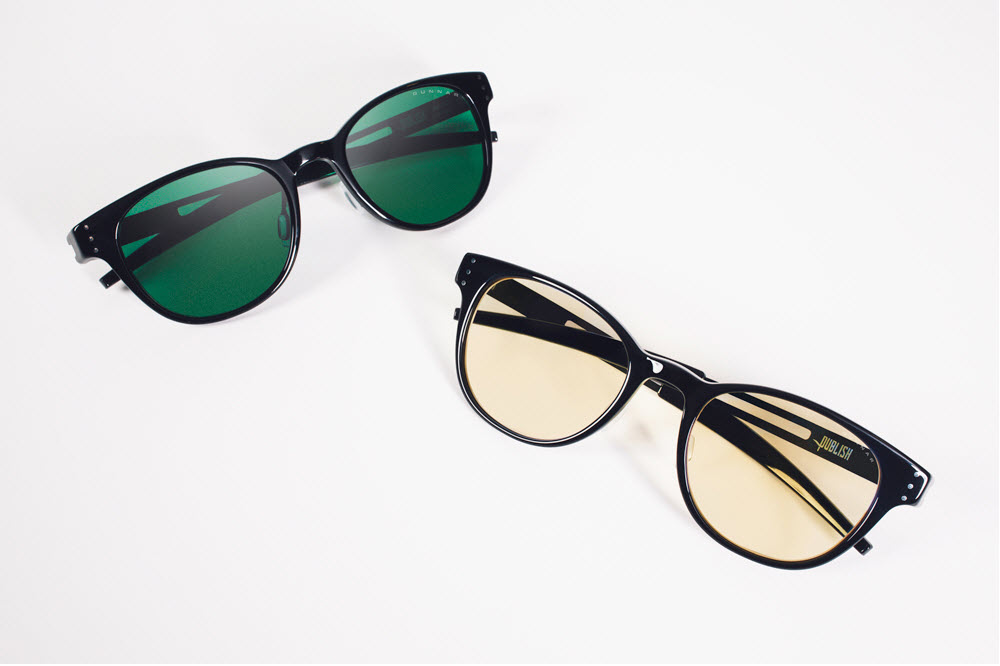 Undefeated x Shoyoroll Gi
When it comes to getting your face punched in and rolling around on a dirty mat there is only one name—Shoyoroll. The preferred gi for grapplers teamed up with Undefeated again this season, and between the white, navy, and grey gis, there were also pieces for those that don't like fighting. Co-branded fleece sweats, T-shirts, and hoodies rounded out the collaboration of premium hand-stitched fighting gear.
Source: Undefeated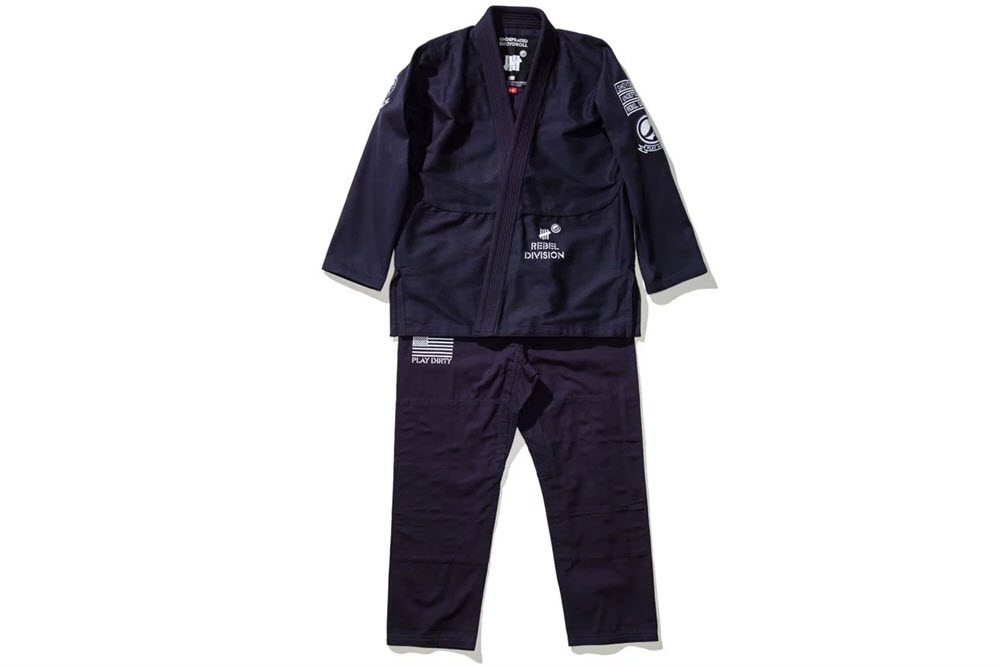 Supreme Brick
Supreme doesn't care about you. They tried to prove it last season with the hammer, crowbar, or whatever sad excuse of a hardware tool you can find at CVS. But, fuccboi's love it, and the New York skate boutique trolled everyone again by selling a brick. Imagine waking up and hopping over to the Supreme website to find a little white and grey "sold out" badge over a fuckin' brick. In the sage words of Jay Z, "Supreme-ezy, you did it again."
Source: Supreme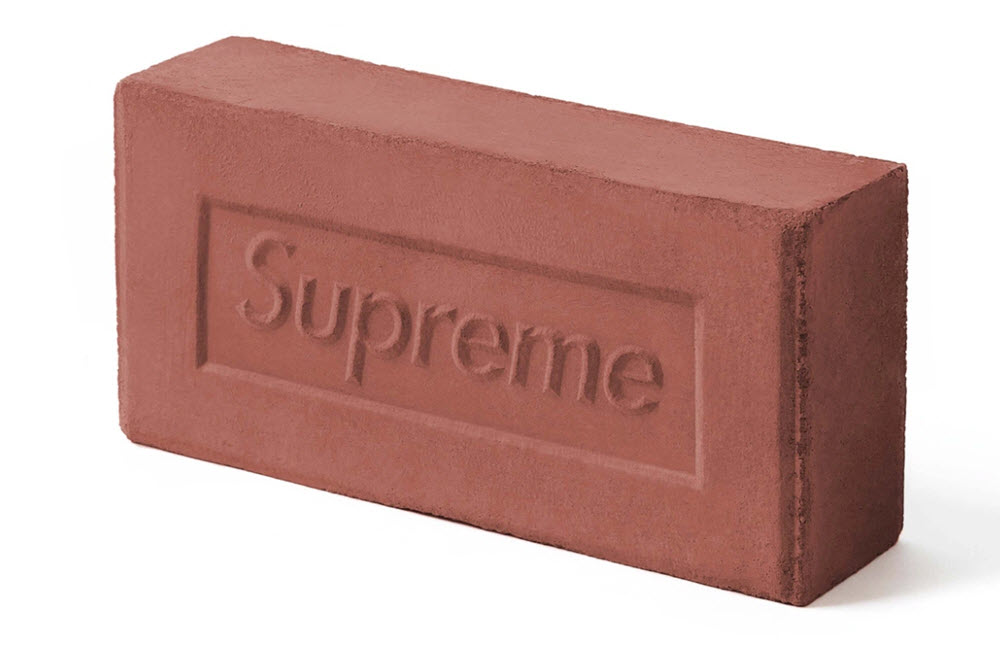 The Hundreds Semester Bag
Clean. This dopp kit for the seasoned flyer epitomizes this notion of clean. The simple "Rich" woven label sewn on the front, two large mesh compartments, and premium lambskin leather. This bag works on so many levels and clearly indicates that streetwear has moved above and beyond skateboards and sneakers.
Source: The Hundreds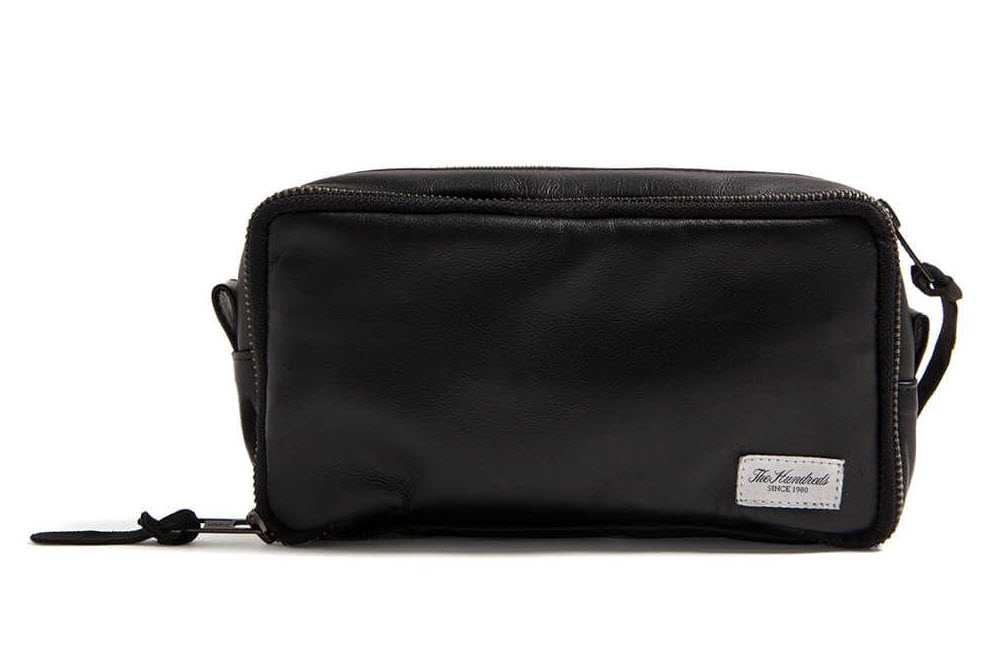 HUF Leather "FUCK IT" Duffle
Coming in at a third of the price of a Louis Vuitton Keepall 45 is HUF's "FUCK IT" duffle bag. In lieu of traditional canvas HUF kept it gully and opted for premium leather and had everything hand crafted by artisan leather-makers in Los Angeles. Everything about this bag screams luxury with the use of real gold plated hardware and zippers. The entire bag is topped off with the "FUCK IT" embossed and hand done in gold. Gucci.
Source: HUF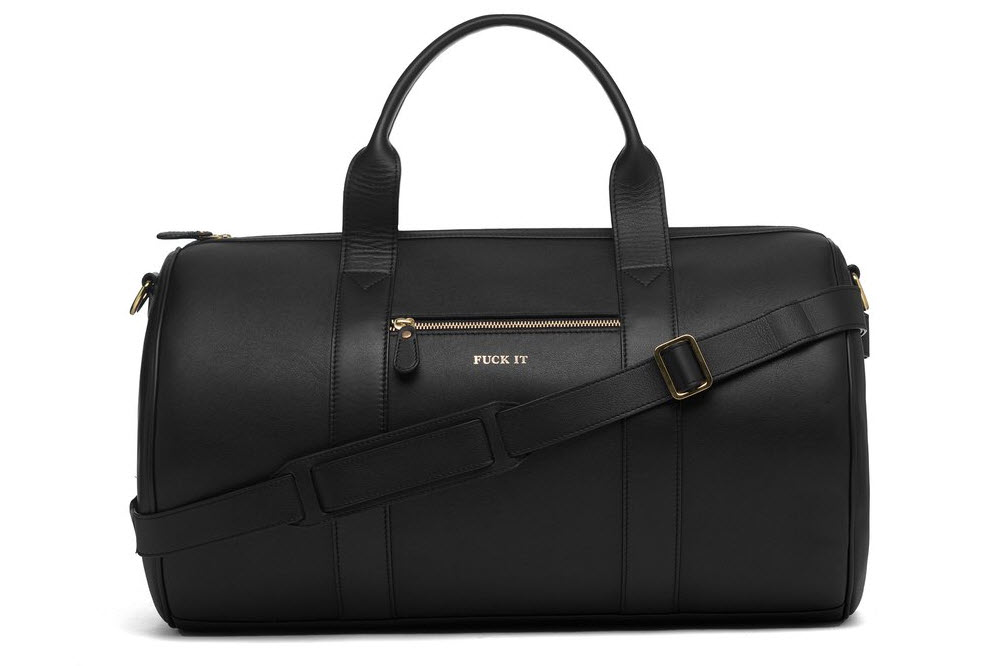 RŌNIN Pen/Letter Opener
RŌNIN is one of those small graphic T-shirt brands with a loyal cult following. They've recently ventured into some cut-and-sew, and also managed to get creative with their accessories. It's tough for a small outfit like RŌNIN to crack the minimums suppliers set, but they managed to get a pretty slick pen/letter opener this year. From the onset, the pen looks innocuous enough, but a quick flip of the cap (complete with its Beatles reference) and a blade is revealed. I'm not entirely confident on the quality of the steel, but in a sticky situation I'm sure it can handle a box from Amazon.
Source: RŌNIN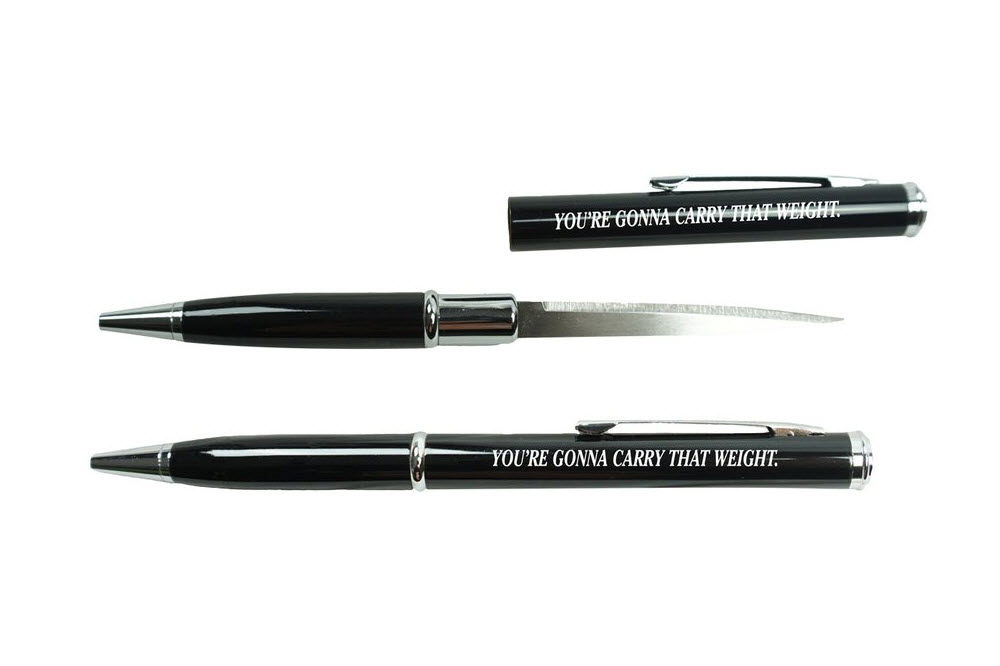 ***