36 hours on a Greyhound bus can be useful. Let me explain: The Quran in my duffle bag led to me being pulled out in El Paso alongside my Latin brethren by our good friends at the Border Patrol; a day an a half later I'm walking down 6th Street among thousands of other out of towners trying to make sense of Austin. This year was my first time at South by Southwest, a set of conferences, film premieres, music showcases, festivals, and talks connecting industry insiders, comedy nerds, tech bros, this year's accepted hip-hop acts, Hollywood producers, and the ever-present press (hey, that's me!) coalescing in the most "liberal" part of the grand state of Texas.
SXSW had the intensity of Coachella stretched across an entire downtown. This area spans over ten blocks, filled with an epidemic of rappers with that one homie who just got a 5D to document this fruitless adventure down South, groupies in search of the next big thing to latch onto, and suits and suits in training, hovering around like the gnats that they are, stuffing their Patrick Bateman-esque cards into your complimentary tote bag. It's great to have the opportunity to travel to great soulless intersections such as last week's, because it's a great reminder of the accessibility – and thereby decline and eventual death – of subcultures. The amount of corporate money awashed within the scene is pretty disgusting, but you know that already and don't really care. Just know that I never went to the McDonald's monstrosity on Cesar Chavez Avenue – just the irony alone I couldn't stomach. I ate shrimps on fancy skewers at a Google after party that I snuck into with some tech bros from IBM who later took me with them to a party thrown by Just Blaze while we rode on pedicabs around town (the chance to have young white men transport me was too good to let go!) – and that was only my first day in.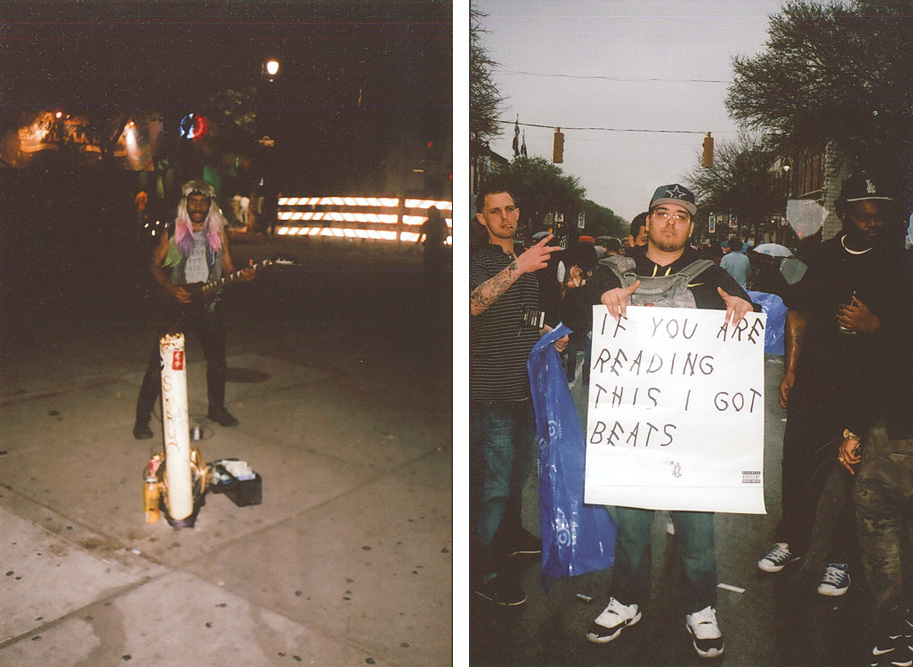 A schedule was necessary to be at all the showcases that mattered to me, as well as a mandatory iPhone charger – and this is where my intense course in the Art of Finessing the Plug really kicked off.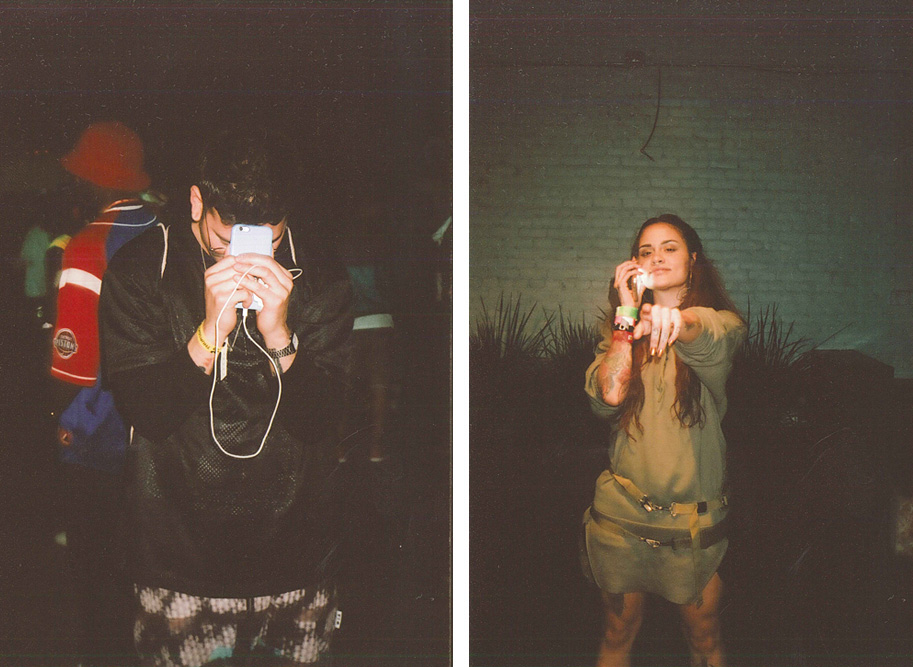 For the uninitiated, the Art of Finessing the Plug is a delicate matter, predicated first off on you being recognized as "somebody," and also more importantly, on capitalizing your relationships with other people who are recognized again as "somebody" within their respective industry. These relationships will either make or break your time in Austin and is truly the backbone of what makes this an overall enjoyable experience. Well, besides Adderall probably.
Secondly, once the finessing is in action, witness your experience and reception with strangers immediately change from being a common herb on 6th St. to being deemed worthy of a conversation with the most beautiful of people and celebrities on account of some plastic on your right wrist.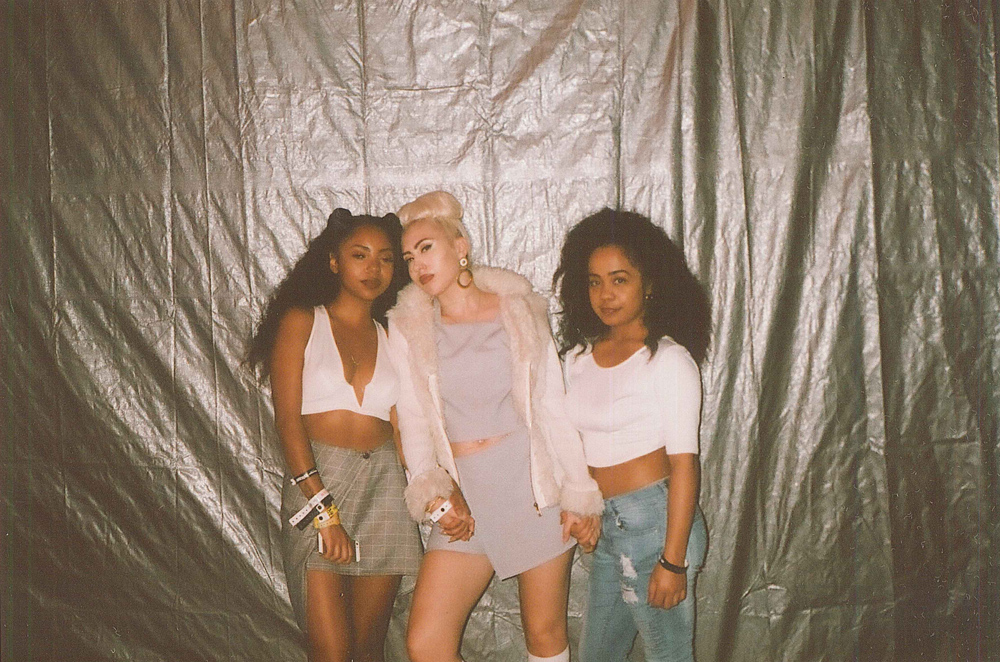 Notice the wristbands. Fresh new star Kali Uchis kept a troop of Amazonian body guards with her the whole weekend.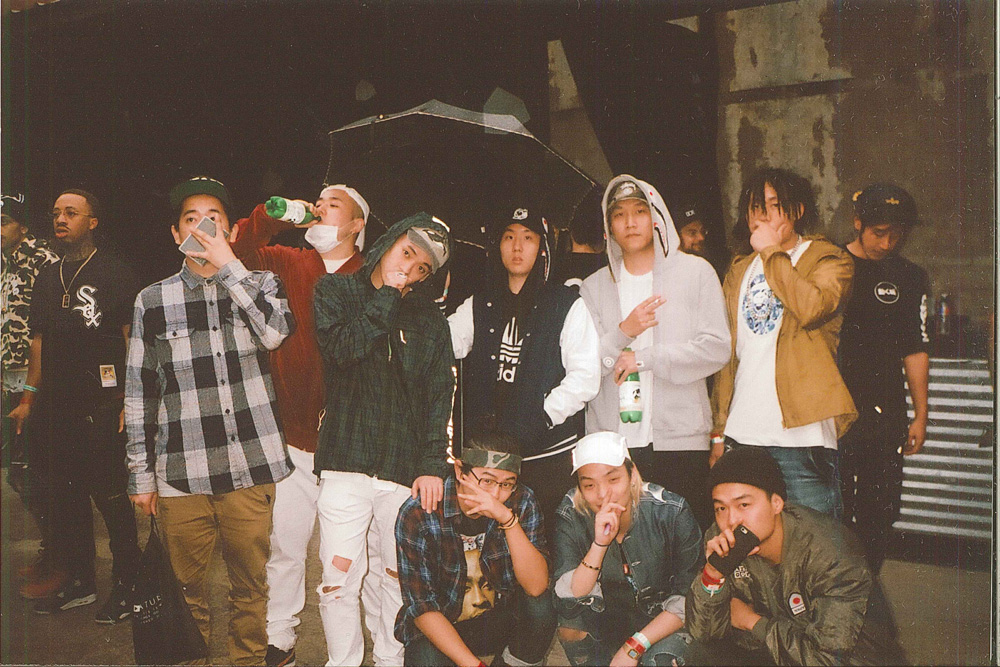 Rare flick of the South Korean legend Keith Ape & co.
Having these connections in the bag before coming into Austin is very important and will save you so much time as they will lead you into getting into any of the endless showcases, tech talks, gallery shows, and publications trying to remain relevant to a younger audience throwing after parties that you dreamed of being seen at. My buddy Blaise gave me a Boiler Room hoodie and I got into every electronic show I wanted to for the week. My homie Michelle gave me an artist band (black card level in the Finessing the Plug world) and I was treated like royalty by the lovely staff at the House of Vans. By the end of my 10-day stay, I looked like a raver or a body double for PM Dawn. I treated a security guard at the Empire like a human being once, and that translated into passes throughout the week to see acts like Ghostface Killah and Dipset.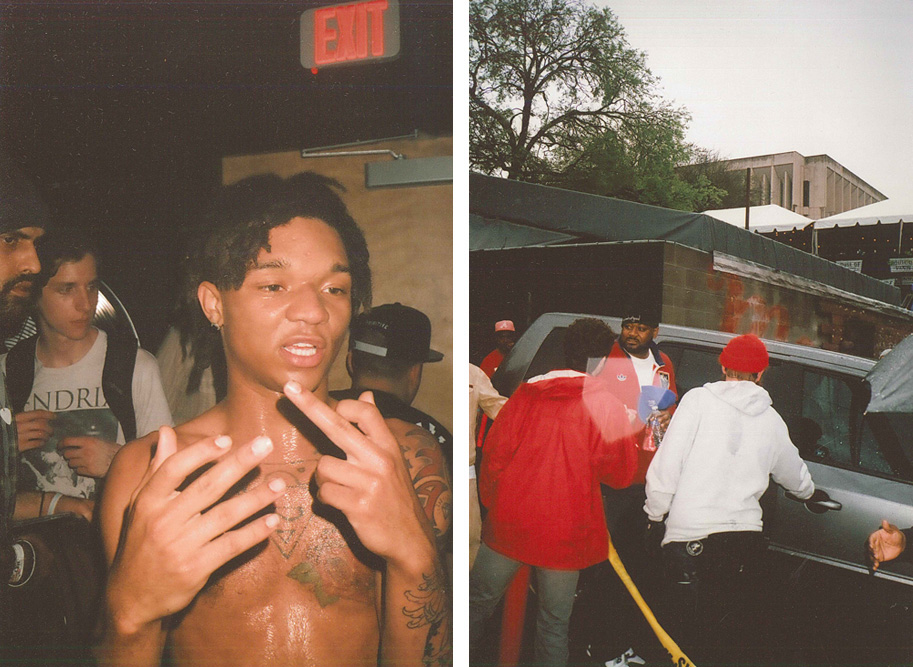 Left: Swae Lee of Rae Sremmurd. Right: Ghostface post-show.
I chatted with Your Old Droog in the lobby of a JW Marriott that used to be an esteemed Mexican restaurant downtown. We talked about the positions of power held in the music press community by nerds who can date their knowledge of the rap world with a Kanye album. Hiatus Kaiyote told me about their fascination with Eric Andre in a refurbished hotel that was formerly a brothel (interviews coming soon). I ran into D'Angelo on Congress at 3 in the morning, wandering aimlessly downtown trying to charge my phone through one of those light fixtures on the street and told him that regarding the lack of hype towards Black Messiah, I had to take the void in popular music into account. I ordered a Shirley Temple at a bar and had Bill Murray come up and congratulate me on my good choice in drinks. After getting stuck in the boonies leaving Illmore – which is on the level of one of those epic party movies shot in the late 2000s by the film crew behind Blair Witch Project or Cloverfield (shout out to Sasha!) – an Ethiopian taxi driver took me to the Hilton for free and talked to me for 20 minutes about ISIS. Maybe being a young creative isn't so bad.
::