When you live in the city,  your outerwear is probably one of your most important investments. Camel topcoats, sleek bombers, weather-ready trenches, and detailed leather jackets are pretty much on steady rotation around these parts, and rightfully so; when you're commuting so much, it's likely the most lasting impression you'll leave. So when Jeff Johnson of The Arrivals elbowed his way into the space with smart designs and manageable price points, the attention that he got was warranted. High quality materials and urbane influences sold on a straight-to-consumer model – which means just like with Greats, there's a cut in prices – have quickly landed the brand on our shortlist of names to watch.
Below, we sat with Johnson and talked about his transition from being an architect to designer, the notion of designing pieces for the long-haul, and why having a brick and mortar isn't a priority for The Arrivals.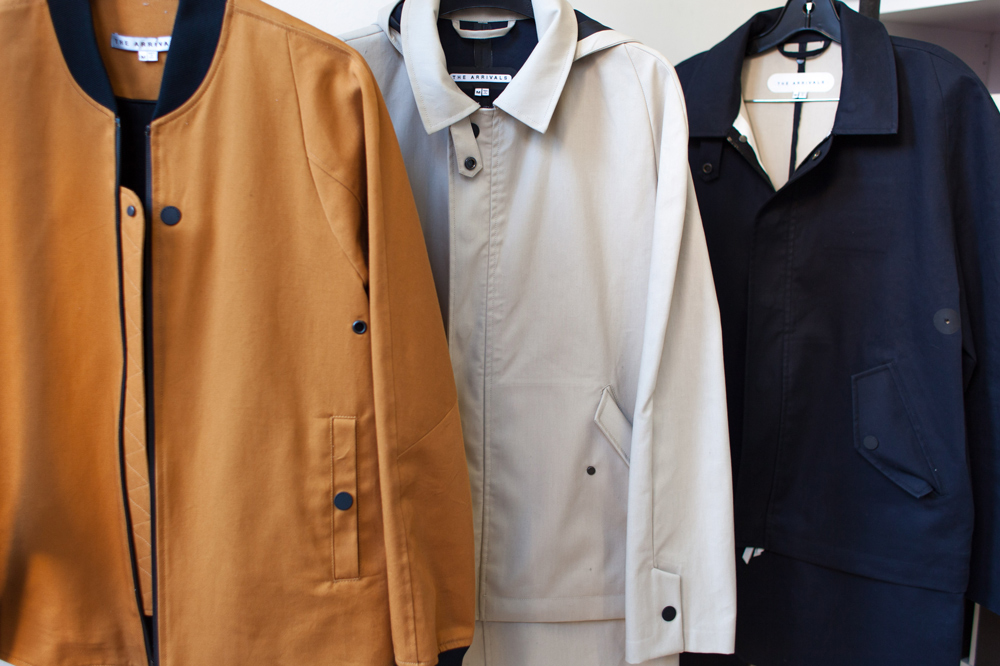 The Arrivals Spring 2015 Jackets.
MIKELLE STREET: So let's start at the beginning, let's talk about how all of this got started.
JEFF JOHNSON: [Co-founder Kal Vepuri and I] really looked into all these categories like denim, T-shirts, and everything. We just kept coming back to outerwear. There were a lot of parallels from my previous profession [in architecture]. There was this idea of protection for people – maybe less fashion-focused for a guy than for a girl – but it's really wearable shelter. We were thinking about high attention to detail, functionality… these pieces that could adapt from this cold winter climate in New York to a fall climate in LA. So we became totally seduced by the category of outerwear, and also the fact that it was like October, so we were pretty cold [and] we were thinking, "Well, do we spend $2000 at Rag & Bone or Barney's or Alexander Wang or wherever? Or do we spend $150 at Topshop or Zara?" We came to this conclusion every fall, that either way, we sort of felt screwed.
"[OUTERWEAR'S] REALLY WEARABLE SHELTER."
So there was this idea that we could start a brand in New York – that maybe on paper, we weren't the best fit to take the job, being industry outsiders. But I think it was more about finding super talented people that are very ambitious and excited by this idea, and trying to create a brand that has a face and a location and a full story. It sort of represents a younger demographic of the creative class, and that's the story of what The Arrivals is. It's anyone who is kind of willing to take the step into the unknown to go for whatever it is they are passionate about.
We then spent the summer of 2014 building the brand, developing all the product, and we launched in October with 5 women's styles and 4 men's. The idea is: What are those quintessential styles that you always want [that] you rarely splurge for – and just nailing those. That continues to be our focus: What are those pieces that you put on [that instantly make you] feel cooler. We want to always feel 100 percent confident with the product and all parts of the brand. Like how do we raise the bar in terms of experience… All the pieces are all based off of some past architect or an architectural monument. We're always thinking like, what is something from our landscape, something from our previous stories that we can take as inspiration, and then how can we pair that with the material and come up with a new design?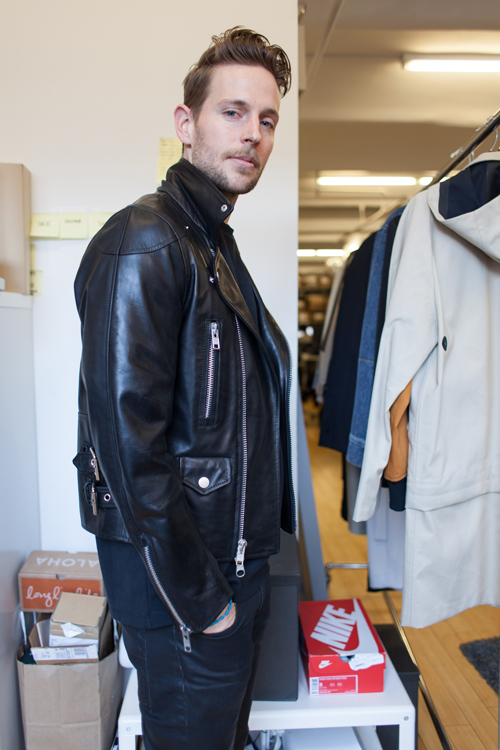 Jeff Johnson.
So in thinking about design sensibilities, do you think LA has one of its own?
I think there's always some sort of '80s radness you know? Like it doesn't always have to be so serious, it can be cool and fun. I think that's also what people are really attracted to; it doesn't have to be about the numbers. We always talk about the macro and the micro and what makes something iconic… it's really about the silhouette, whether it's a thing, or a person, or a jacket, it just pulls you in. And then even when you come close in and see the details, there's still something about it, it just keeps unfolding and it keeps you super interested. And I'm not saying it's calculated, it's just like charisma, character – we want to think of our jackets in the same way. You zoom out and there's this fantastic silhouette which changes based on season and year, but when you zoom in, there is a story behind like the chest lapel or the subtle detailing of a branded button or the heat-welded seaming. As you zoom in and out, we always want these layers that unfold information as you sort of study the piece.
So let's talk about the transition from your first Fall collection into this new Spring drop.
Well, basically you've been wearing like your wool coat or your shearling coat all winter and those are these really sort of static pieces, and it felt like it was just time to lighten up both in color palette but also in weight. Spring is sort of a bipolar season: One day it's sunny but windy and cold, and the next day it's like super hot. So we wanted to make pieces that had an element of modularity or functionality to them. So some of the things that we were always trying to do [was] add these like modular components, so some of the pieces have a fully removable hood. There's also a breathable and water resistant fabric we used. It's all also heat welded which basically gives it a bit more structure but also to reinforce the seams so it's completely waterproof. The zippers are also waterproof. But again, looking at items like the classic trench and thinking, "Do you always want the formal trench or do you want to be able to unzip parts of it to make it into a cropped swing jacket?"
We just wanted to think in general of classic items, but through the urban lens that we live in and that's a bit more applicable to our lifestyles. For menswear in particular, we looked at the men's leather jacket. The original that we did for Fall uses a 1.2 millimeter leather hide and was just like a classic jacket. But people seemed like they were ready for more design, so we included some perforated elements, these adjustment panels, and we also used a lighter weight leather [to be] spring-appropriate.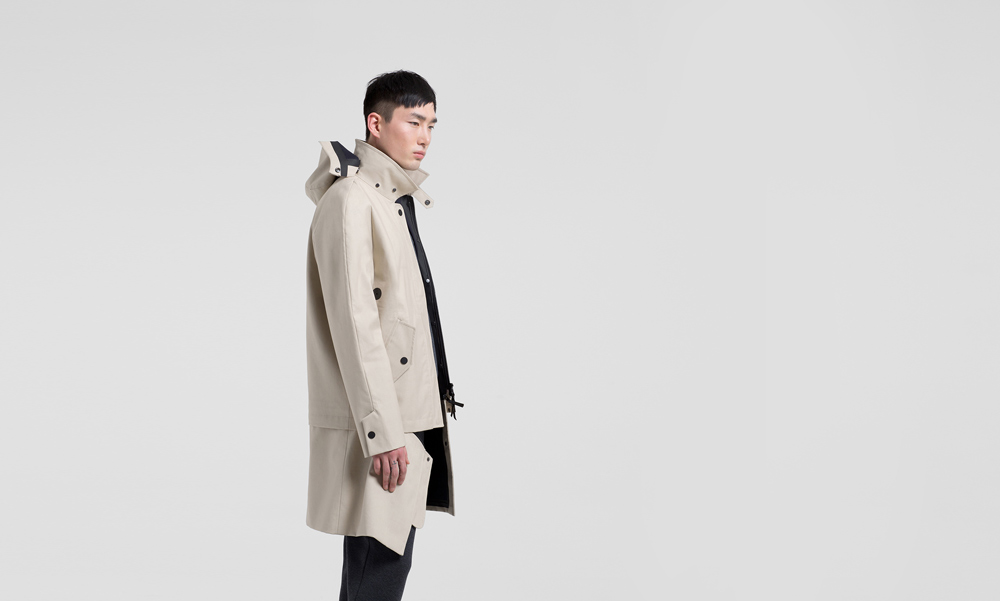 The Fuller Modular Storm Coat, featuring a removal lower portion.
Having just really gotten started in fashion, you seem to have a pretty good grasp of how people in the industry talk. So how was that process of learning all of that? Because it can be very different than other industries.
Well I think it's more just like talking design. Honestly when people ask me specifics about things, I find myself still catching up but I think it's just those standard design principles, whether we are talking about drape, silhouette, materials, fabrics, weight, proportion; I think those things are pretty consistent. But honestly, we've been so hands on. I mean, I sketched the entire collection and went to the Garment District with all of my sketches and everyone said they were super detailed.
It's been sort of an intense learning curve of figuring out how construction works – everything from lead time to stitching techniques and trends. I think it's been a combination of a design background and throwing ourselves headfirst into it.
Did you also bring on any specific people to sort of help where you weren't learning enough?
Exactly. So essentially, it was myself and Kal for the first four months, and after the first collection of sketches, I went into the factories and they felt really good about it. I bought the muslin fabric – I didn't even know what muslin was at the time – and when we got the first fit samples back, I was like, "What is this?" That's where I was like, "I don't know what I'm doing, I can't do this on my own." We really needed someone who knew how a fabric drapes and how it weighs. So at that time, we started working with Brenna, who is now our Senior Designer. She really helped us pull together the nuts and bolts of the collection.
We're still a very small and scrappy team. It's about 8 people right now, and that's everything from website design to fulfillment of sending out jackets. So it's a lean team, but it gives an opportunity to learn it all.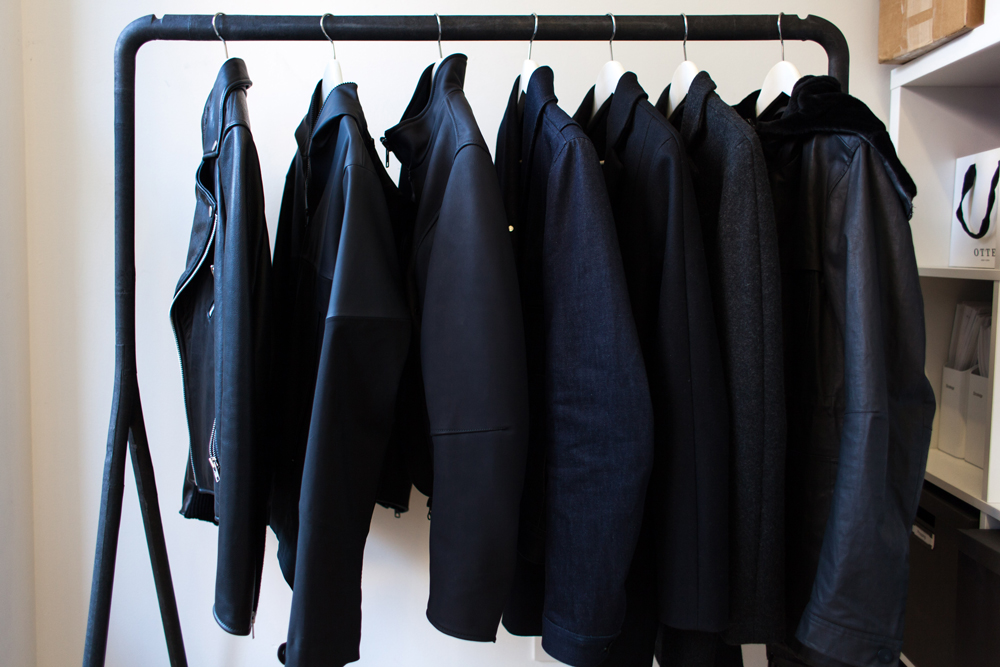 The Arrivals Men's Fall Capsule Collection.
So does this become something where you end up designing coats for yourself?
For sure! If I wouldn't wear it, we cut it. It's just kind of one of those things. I'm not sure how other offices work, but that's our editing process. We'll start with like 30 pieces and if we aren't stoked about a piece or we don't feel that in five months it'll be an item that we need, we cut it. That makes it super fun because we don't do anything as like a problem child and just see if it works. That makes the design process much easier.
"[IT'S] ABOUT WHERE WE CAN FIND THE BEST QUALITY. EVERYTHING ELSE WE DO IS SORT OF ICING ON THE CAKE."
So how important was it to do Made In USA to you? I know most of your pieces are made in New York.
Well, it originally just started as sort of that's where we are. This is where we've come together. It's super nice to have these resources here… There are pieces we've started producing here like the leather jackets that will probably always stay produced here, but at the same time we're not limited to New York. We've been looking at Detroit; we have a jacket that's currently made in San Francisco.  I think we're looking into places like LA and even Mexico. There's plenty of places that have really fantastic construction.
It's really factory-specific – like Portugal is really well known for their leather manufacturing. For us, we wanted to originally find the best manufacturers and minimize our complexity. So like our leather manufacturer is in the Garment District and they're known as the best leather manufacturers in the country. The reason we sent two coats to San Francisco is because that's where they get the speed suits for the downhill competition at the Olympic Games. So for us, it's really finding about where we can find the best quality. Everything else we do is sort of the icing on the cake.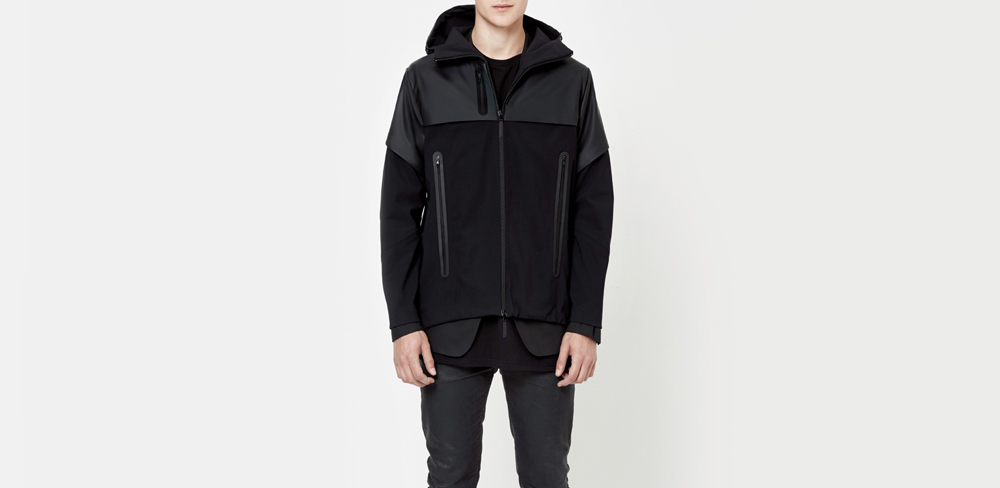 Spring 2015's Scarpa Weatherproof Commuter Jacket.
So for you what's the next most immediate step for you guys?
Well, everyday for us we're trying to improve the product. It sort of feels like we launched after our first semester in school. It's sort of like after your first semester,you do a midterm and you feel really proud of it, but once you're a senior, you look back and you're like, "Oh my god!" And our first semester product was really showcased for the entire world, so for us, it's like next semester what are we going to do better? What are we going to improve?
So talking aspiration-wise, where do you plan on going? You are e-commerce, but now do you want to stay there?
Well, the model that we've built is a consumer-focused model. Basically if we went to retail, you'd have to charge a retail mark up, and it would not be a $600 jacket any more. So I think for our foreseeable future, we see e-commerce as the focal point of our sales. That said, I think the idea of the showroom is something we're super excited about. So we're looking into space that is mostly in New York that we can really kind of extend this atmosphere to a physical presence. My background is in creating physical spaces, but to create this space that's extremely beautiful and extremely on brand that really breathes our ethos so that when people walk in, they want to be a part of it, really resonates with me.
::