Twice a year, I run completely out of money. And somehow I manage to be in another country when that happens. It's actually pretty saddening the amount of times I've had to call my dad for food money while being in the States. Also very surprised that the ol' man keeps up with my shit – imagine your youngest daughter texting you for money after spending every last penny in Vegas. And not only on gambling, also on strippers and a wedding ceremony. This all occurred last June, and besides Vegas, I also hit up Texas, where I recall drinking heavy amounts of tequila which made it extremely hard to actually see Willie Nelson perform. By the time he went on stage, my vision was too blurry and I was starting to pass out while eating a corn dog. Classy lady I am.
The second time I traveled to the States, I decided to do the complete opposite thing I had done the previous summer. So when I arrived in Los Angeles last December, my mind was set on "finding myself" and relaxing after all those hectic months prior to this trip. Nearly 6 hours later, I was running down Union Station with two bags trying to catch a train to San Diego. I soon found relaxation in one of those terrible Stone Brewing devil large bottles of beer, while listening to Black Sabbath. Taking things easy is definitely not for me.
View from Salvation Mountain when standing in front and turning your back.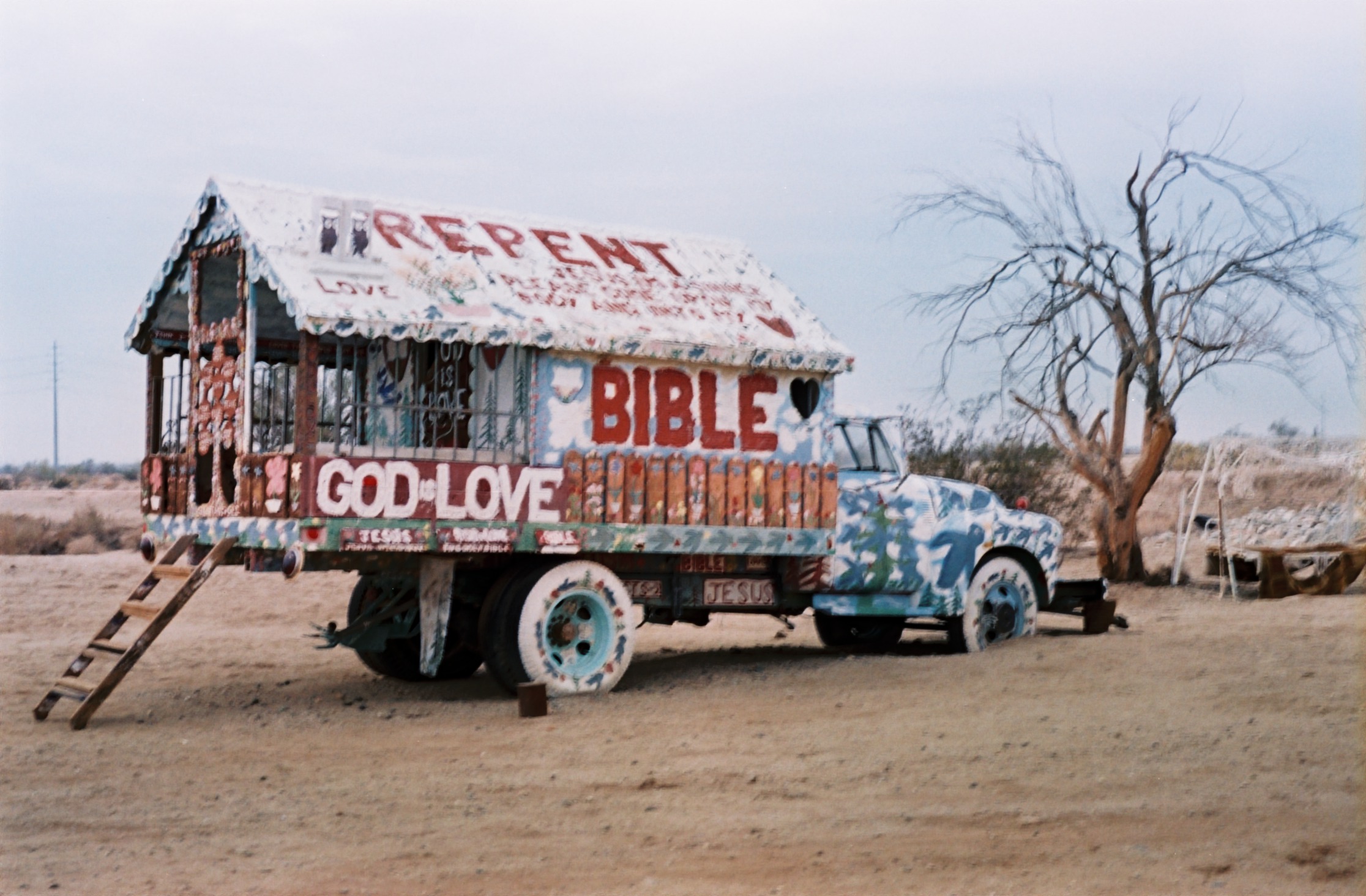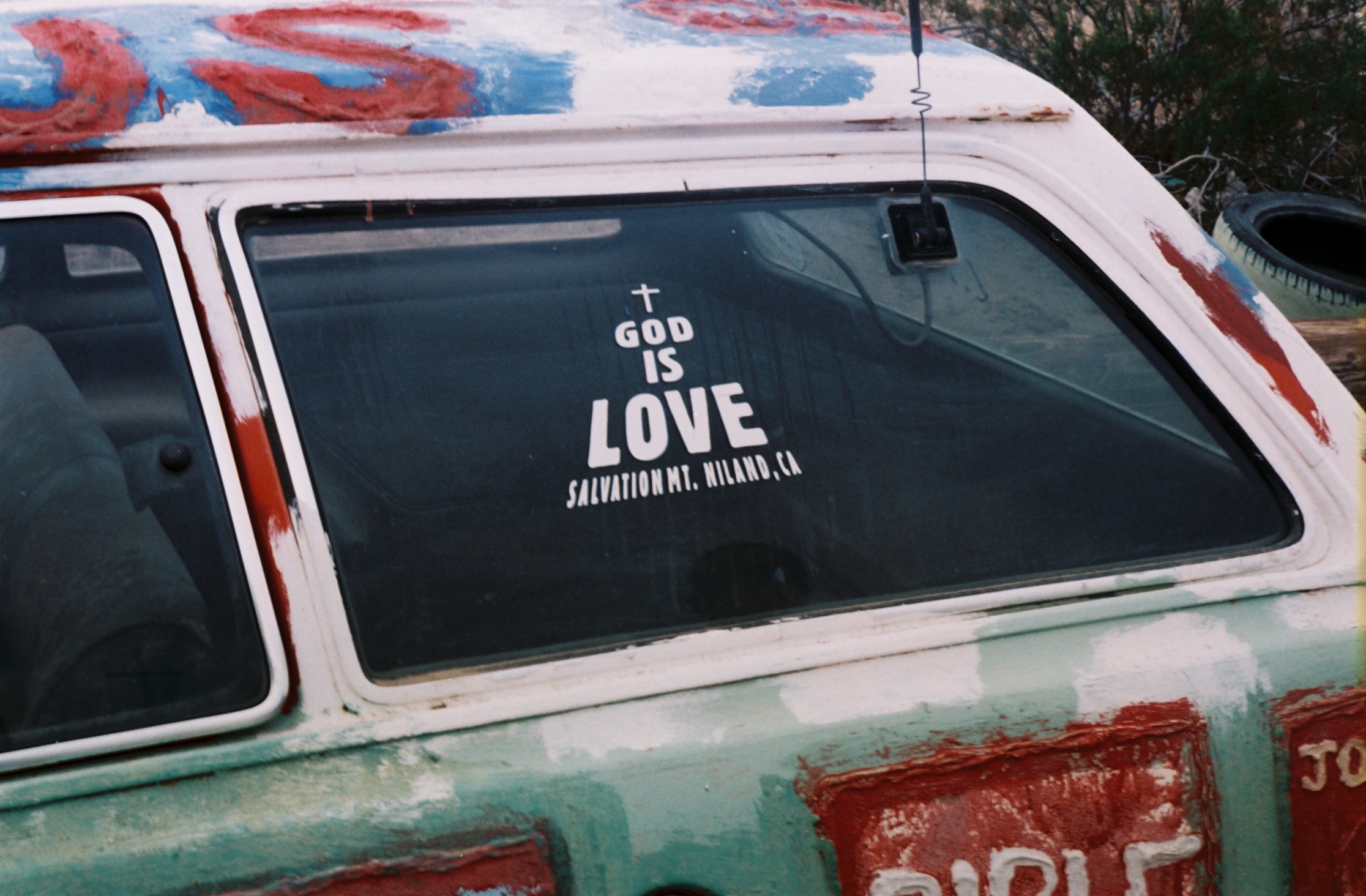 I did somehow find a newfound fondness of nature, and when I told my good friend in San Diego this, she took me to see Salvation Mountain, a man-built hill completely painted with religious slurs – surrounded by a trailer park where people live of the grid called "Slab City," not far from the Salton Sea, where literally everything is dead and abandoned. Hooray nature.
The road to Slab City.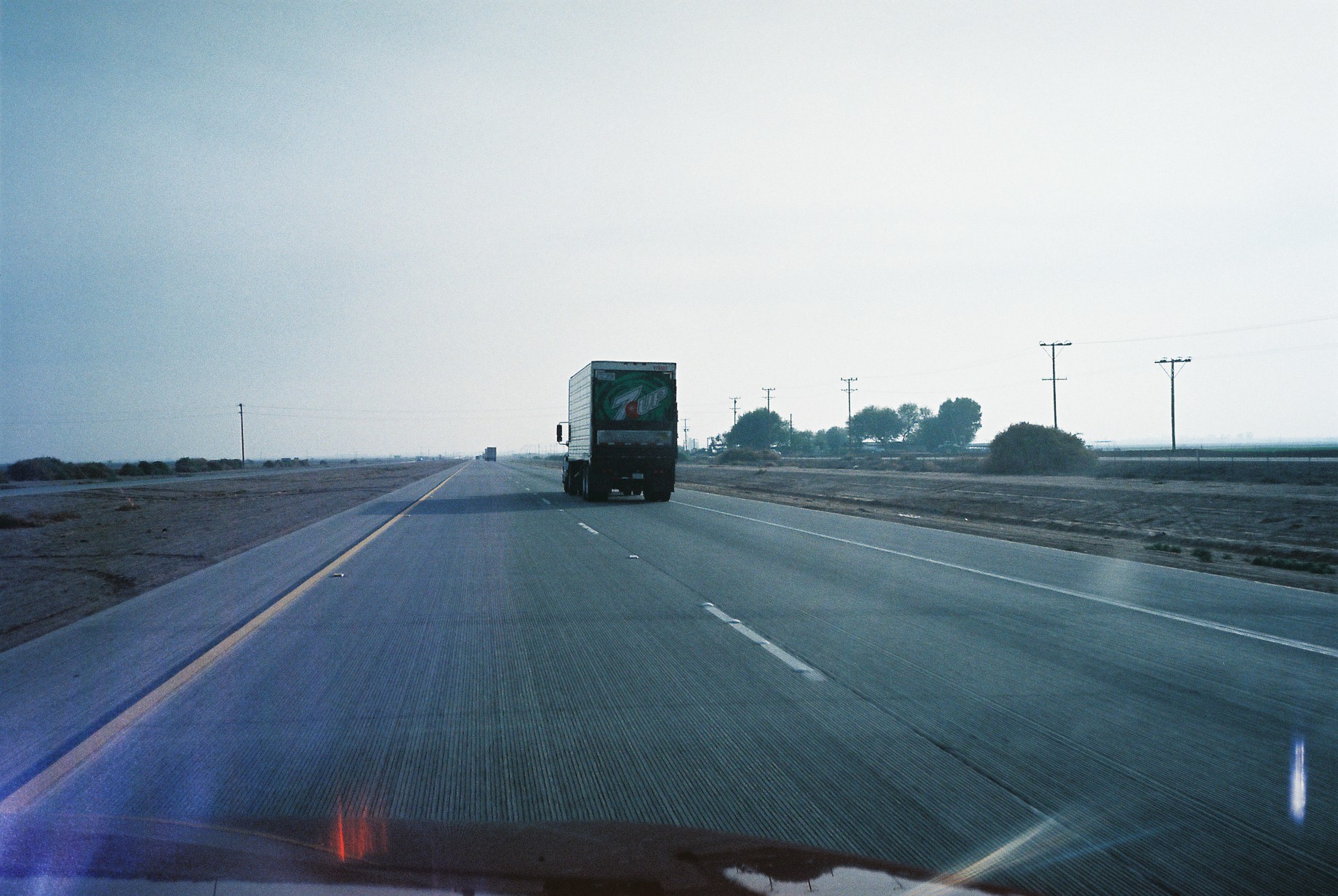 Salton Sea garage sale.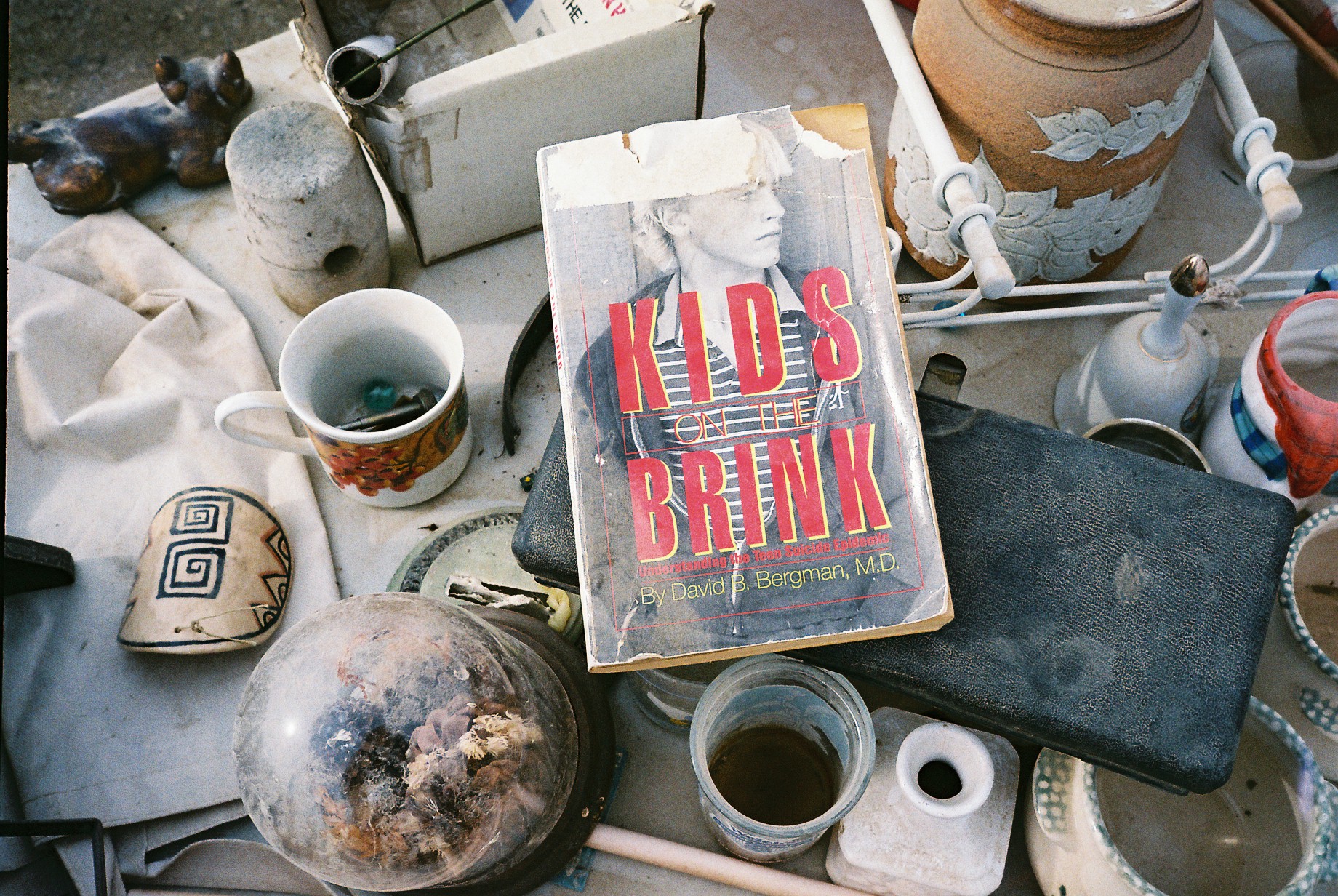 Still convinced I wanted to become one with nature, we decided to go camping in Julian, an old miner's town in San Diego. My Los Angeles caretaker and second mother told me that it didn't count as camping, as we were sleeping in a lodge with a heater. But for me, any place that makes you bring your own mattress is considered camping. I closely watched my friend make a campfire, drank rum, ate undercooked sausages, wore flannel, finished a 12 pack of beer, listened to Southern rock radio, and peed in the bushes. If that's not becoming one with nature, then I don't know what is.
Julian, California. Old dude on the right got mad at me for being a scrooge at Christmas.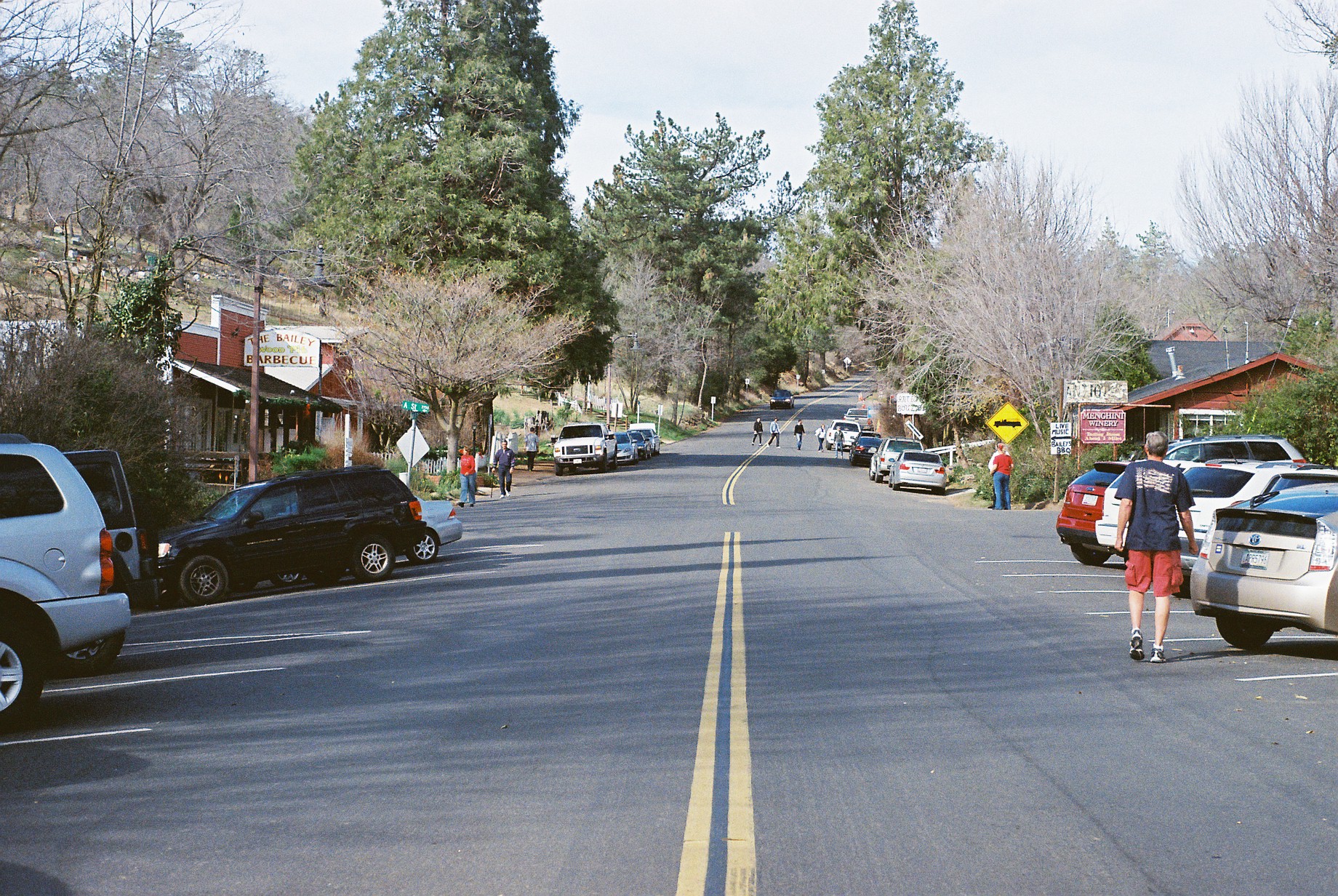 Miner's diner in Julian.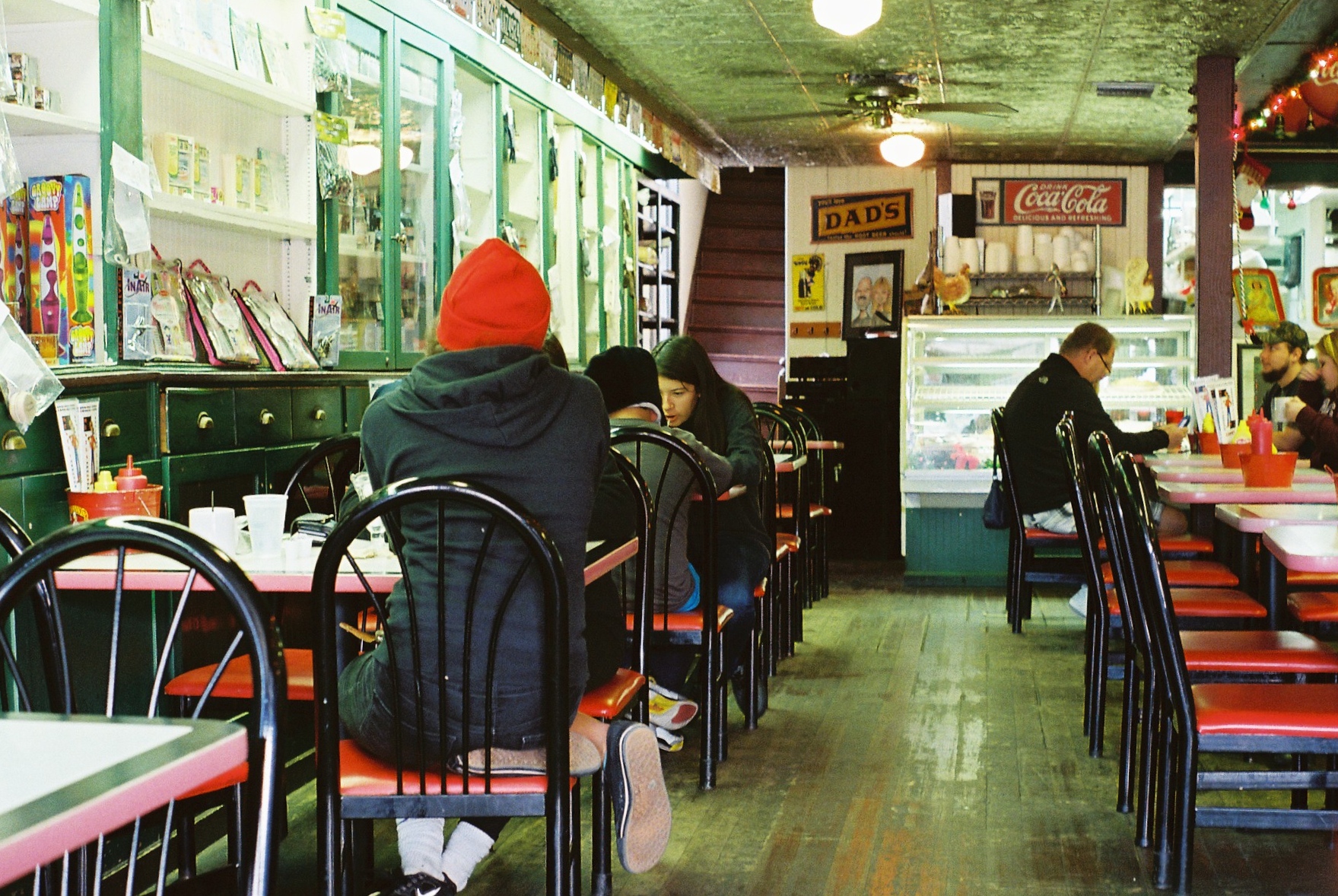 So-called glamping. Glamorous camping. Still no mattresses; nothing glamorous about it.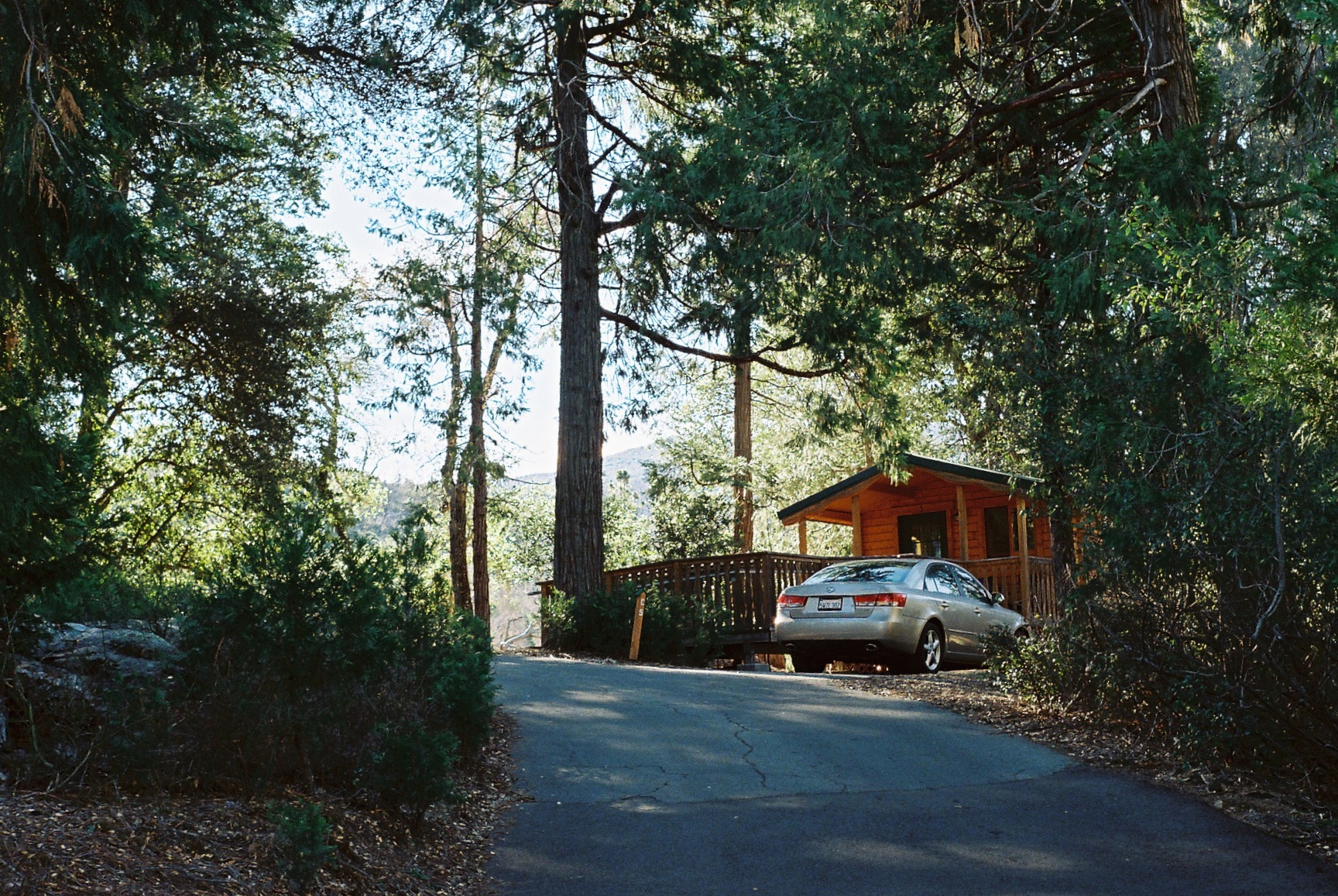 Picture of a tourist taking a picture, taken by a tourist.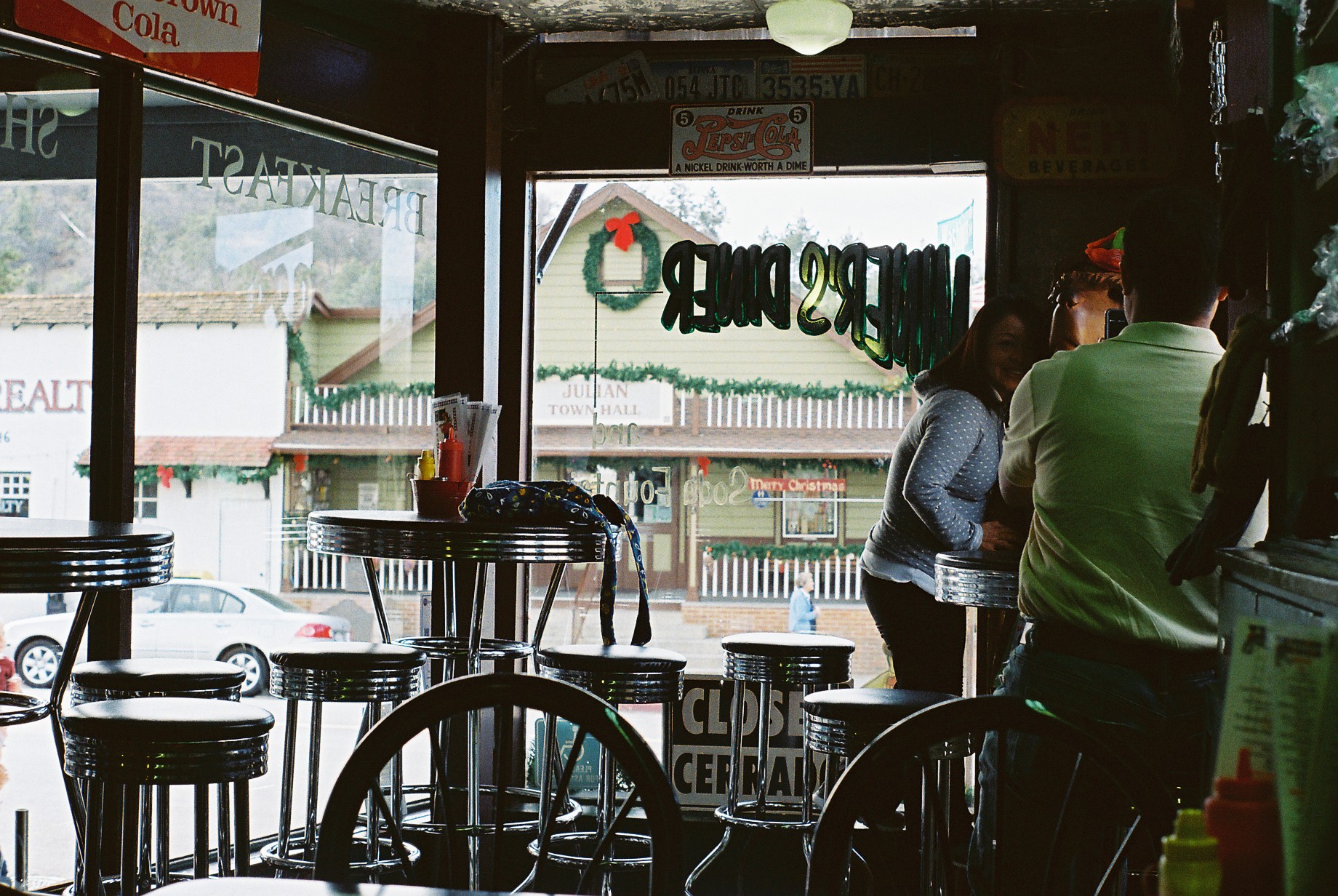 A very American view for foreigners like me.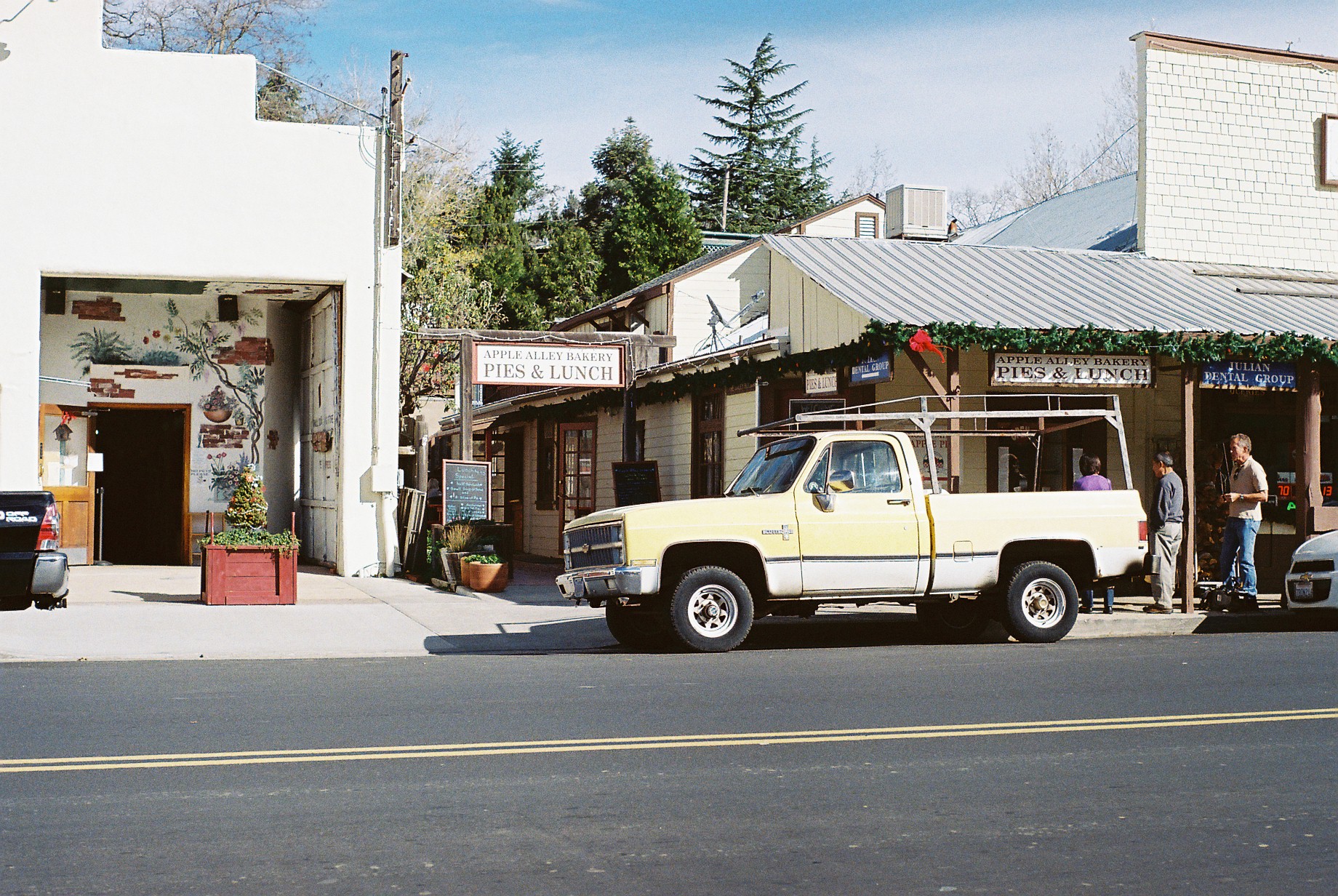 Not our lodge at Julian.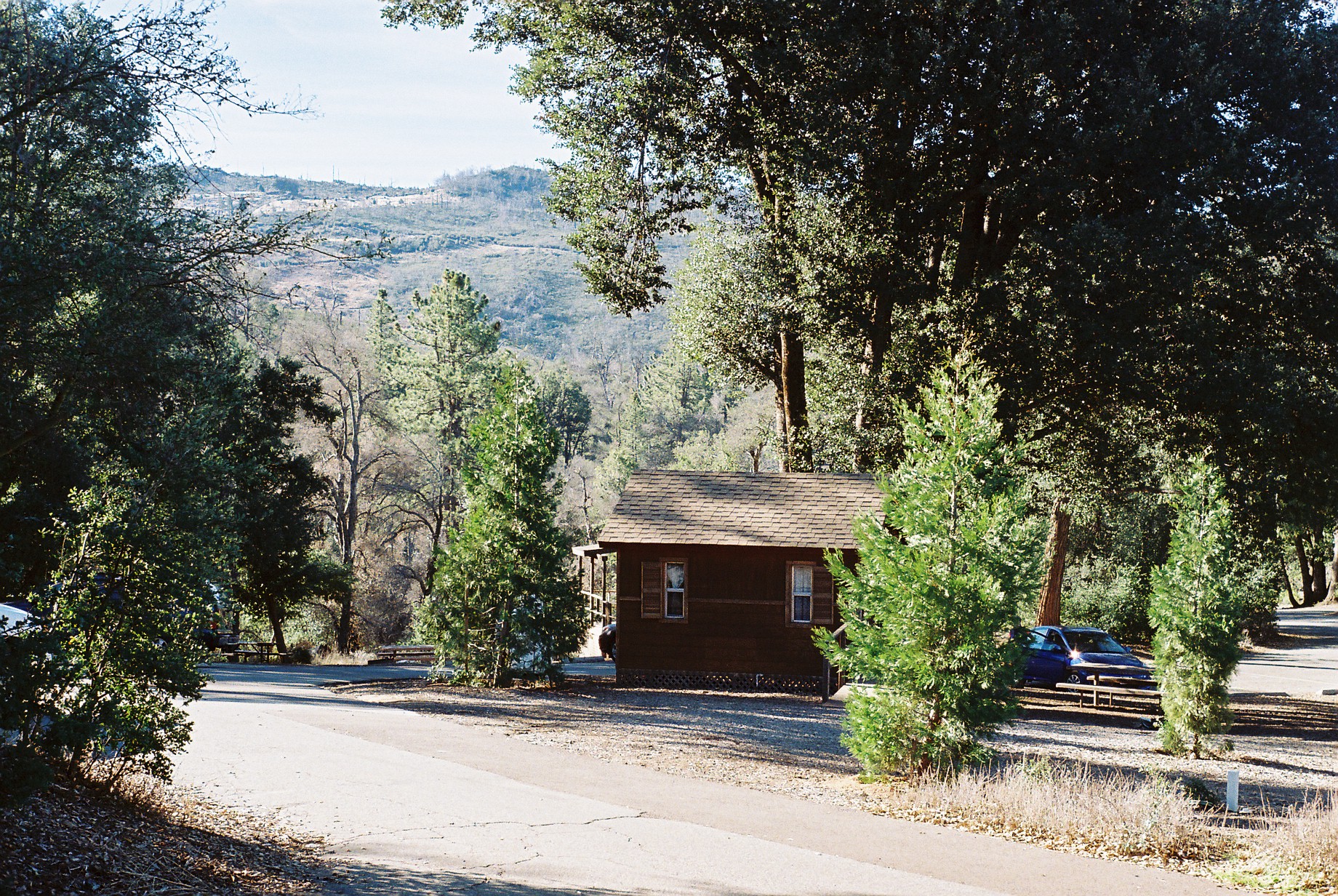 Besides staring at mostly burned down trees (what's up with all these forest fires) I also spent time doing stuff city people do. Like going to a chopper fest in Ventura, where I witnessed a biker fist fight while drinking beer with an underaged kid, something that occurs way too often in my life. The drinking with underage kids part, that is.
The only non chopper at the chopper fest, but definitely the best ride.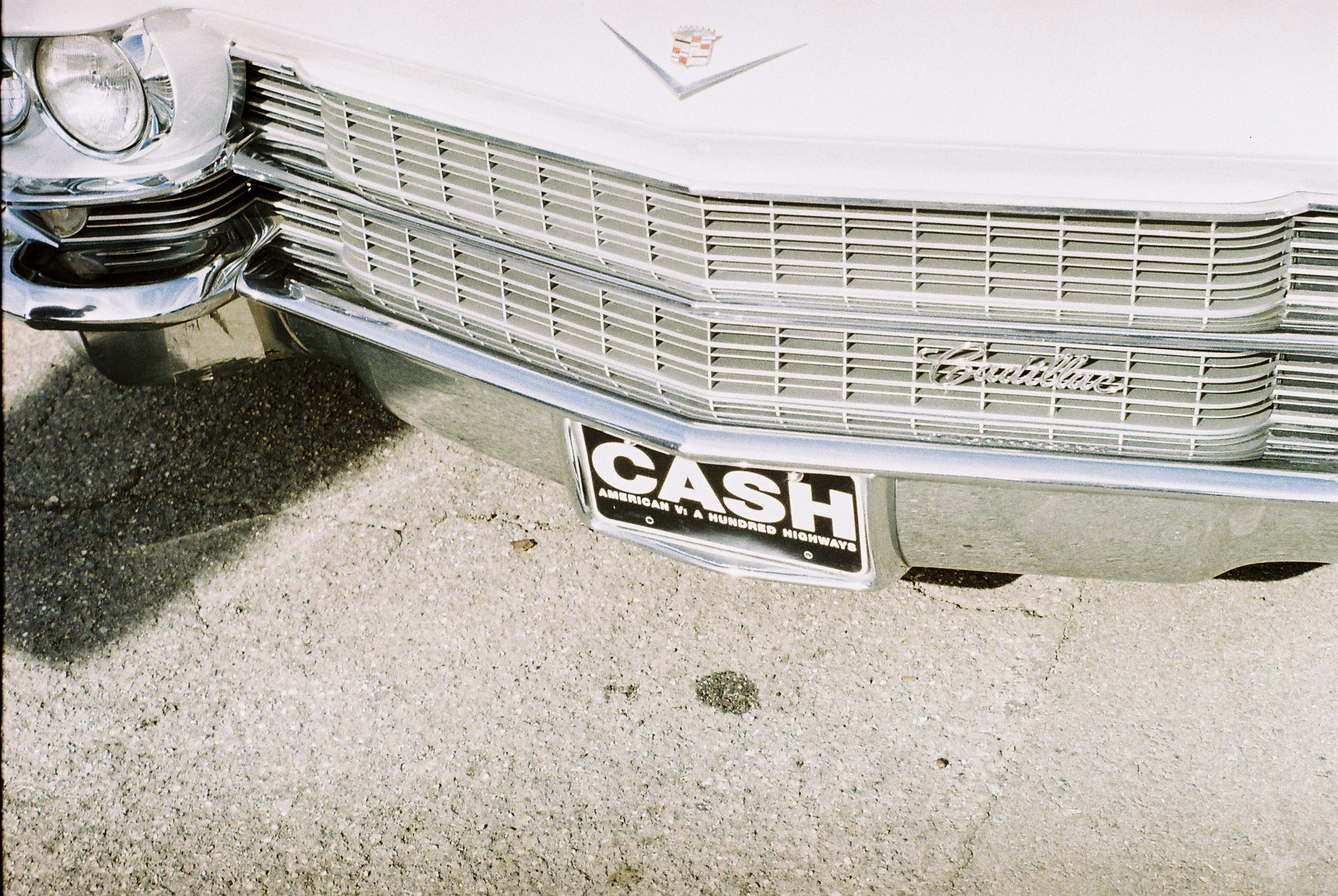 A stop at the liquor store down the street before stumbling into the house drunk while the family is having dinner.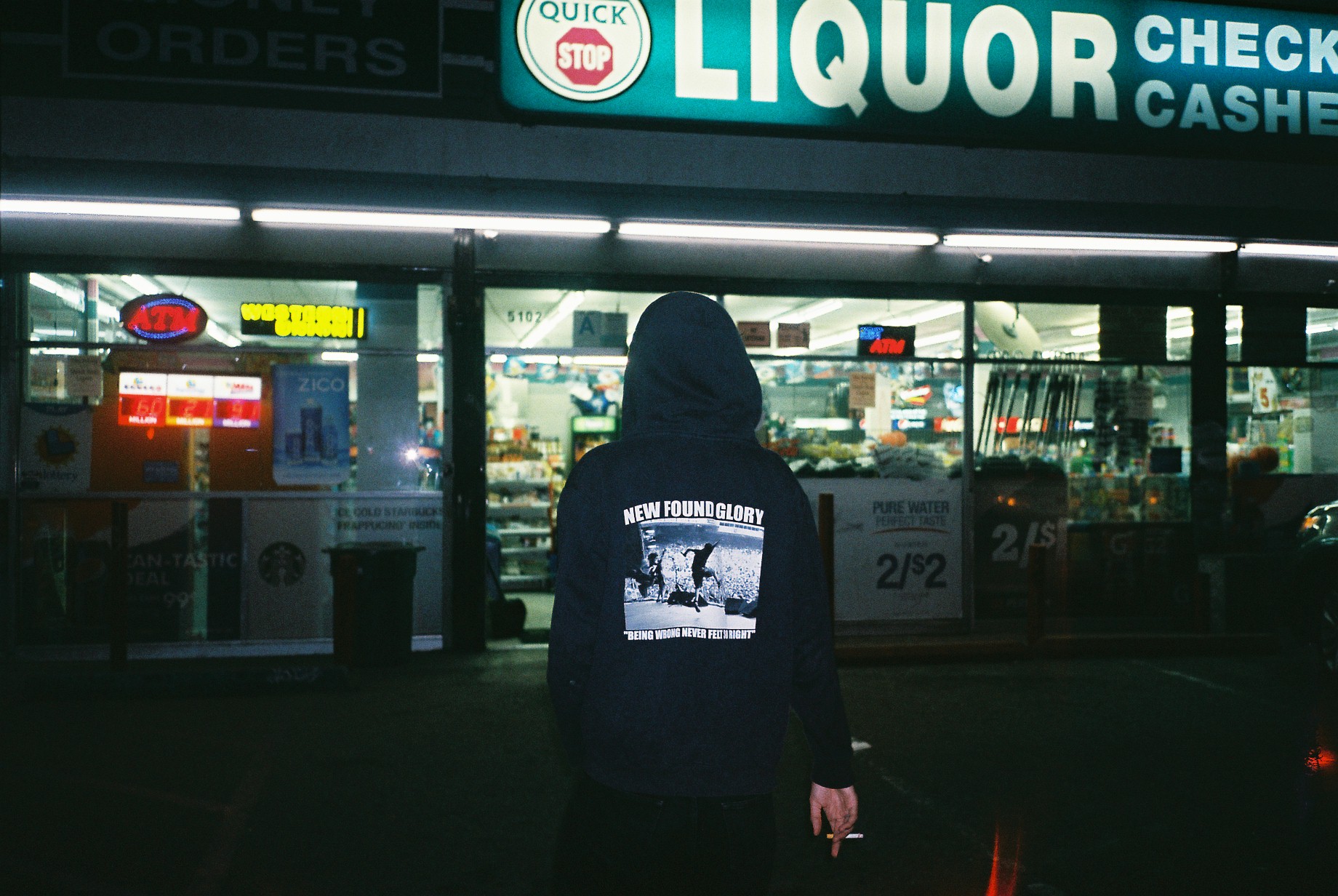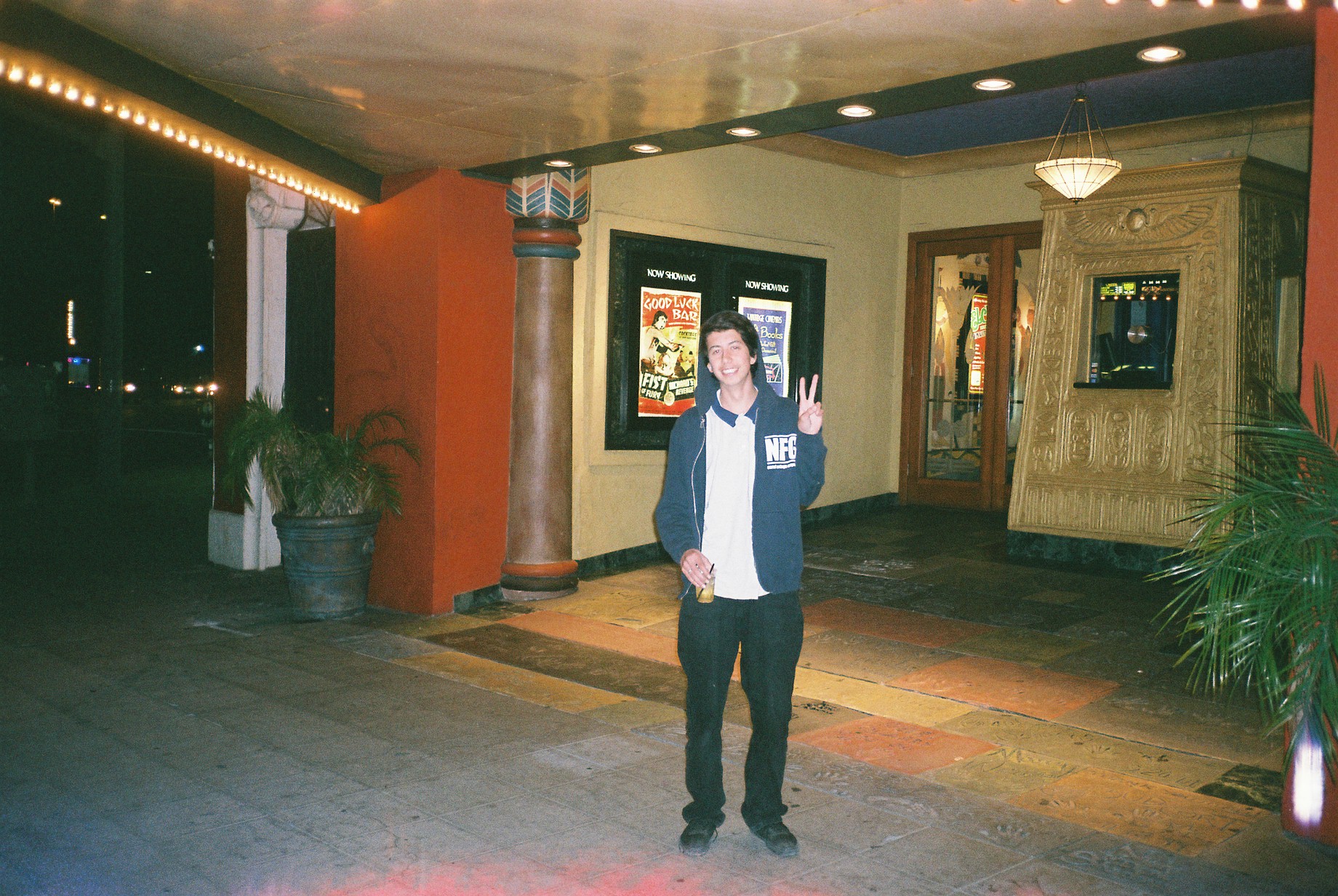 One of my fave underage kids in the U S and A, Nico. I barely remember this evening, but it had something to do with an open bar. Note the drink. Such stupidity walking around Sunset with a cocktail at 8pm.
I must say, if this trip was a person, it would be a borderline bipolar person. From hiking in Griffith Park, to obsessively buying scratchers at the Rainbow Bar & Grill that same night. It's like enjoying a nice sunset on Venice Beach. Also, lots of puke. After a strange night of drinking with my European friends and The Hundreds' Managing Editor Alina, we ended up abducting my 17-year-old brother from my not so, but same mother, to drink even more at an airbnb apartment. On the way home, Alina got the Uber driver to stop twice so she could puke. Upon arriving at the house, my brethren also had a nice puking sesh. And when yours truly woke up, I spent a nice hour talking to myself on the bathroom floor. Puking. Hey! At least I got a sober day out of it.
It's nice to know that I share my first "puke" in 2015 with two other people. Bonding for sure. January 4.
So yes, I started this trip thinking I would be cutting up logs in the forest while chewing tobacco and finding my true meaning in life. But it literally ended in a Korean karaoke bar, where we were "hotboxing" our 40 dollar an hour room, me drinking lots of soju with, yet again, minors, standing on tables, singing Limp Bizkit and Rod Stewart, somehow throwing fruit at each other and, of course, someone puking in an Uber. (Who knew that'll give you a 200 dollar fine.)
Cheers to never growing up.
LA view. Not in picture: me trying to catch my breath, 'cause fucked up lungs.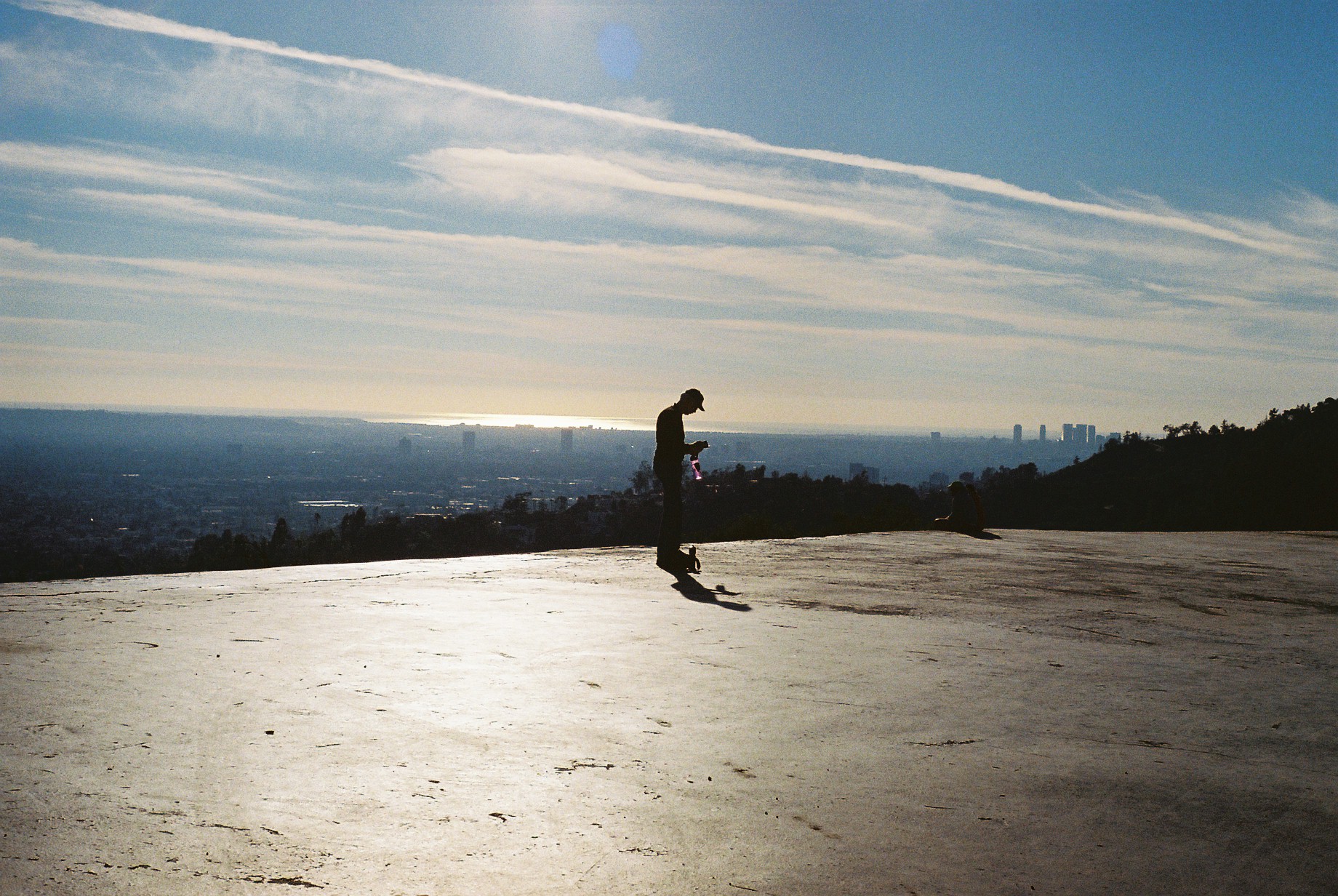 This is very romantic if you believe in love (after love, after love, after love).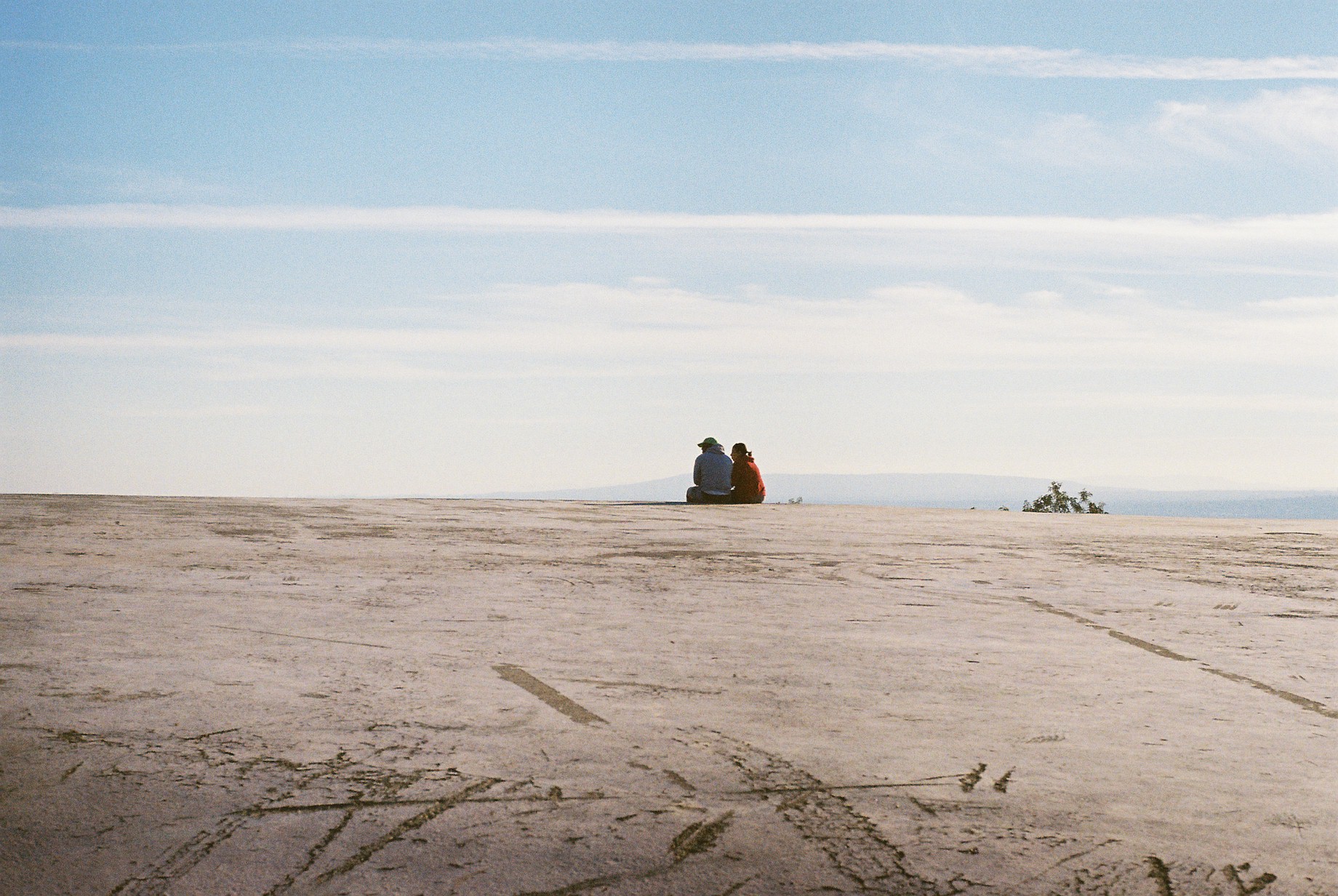 Some nice vandalism in the Hollywood Hills.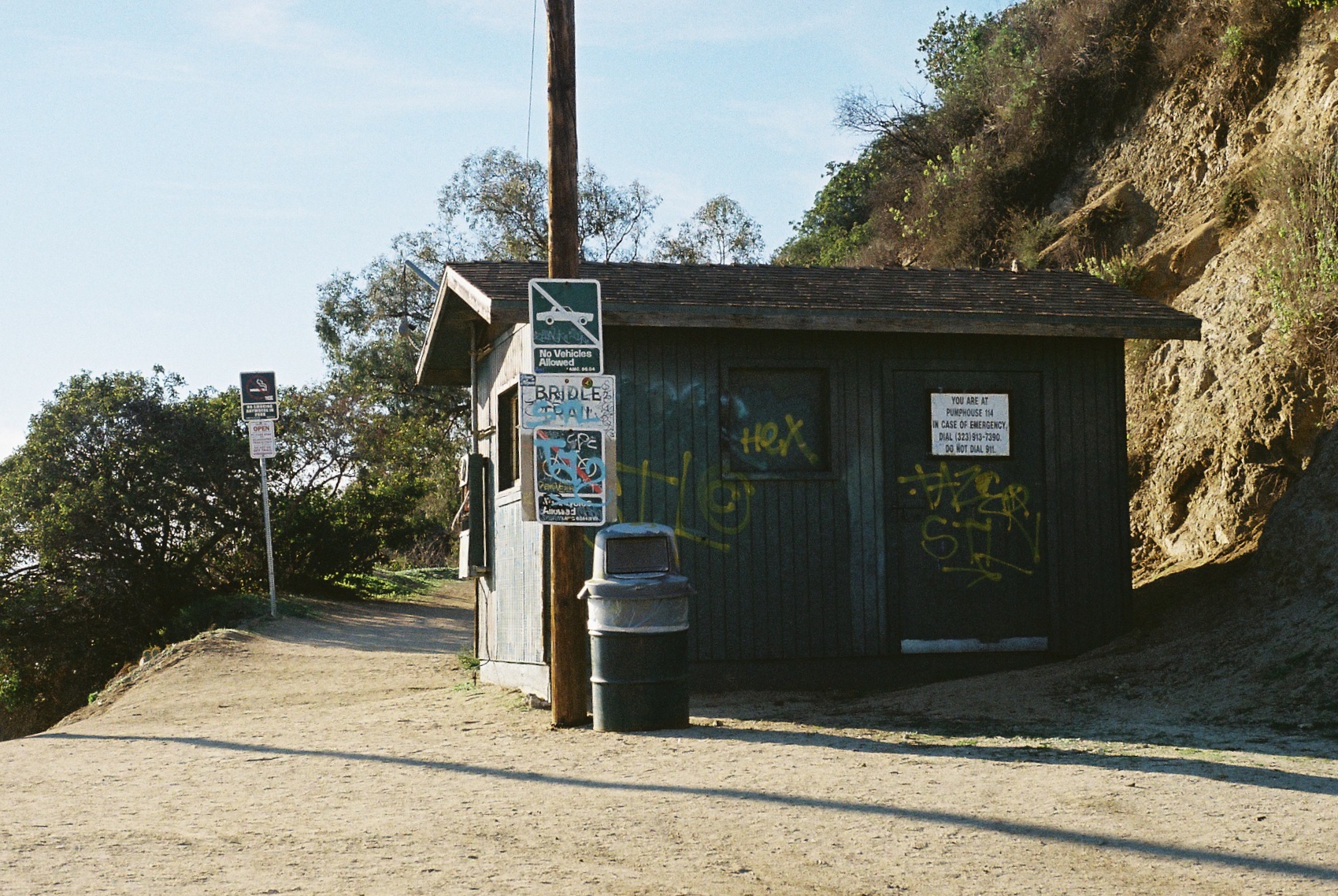 Los Angeles.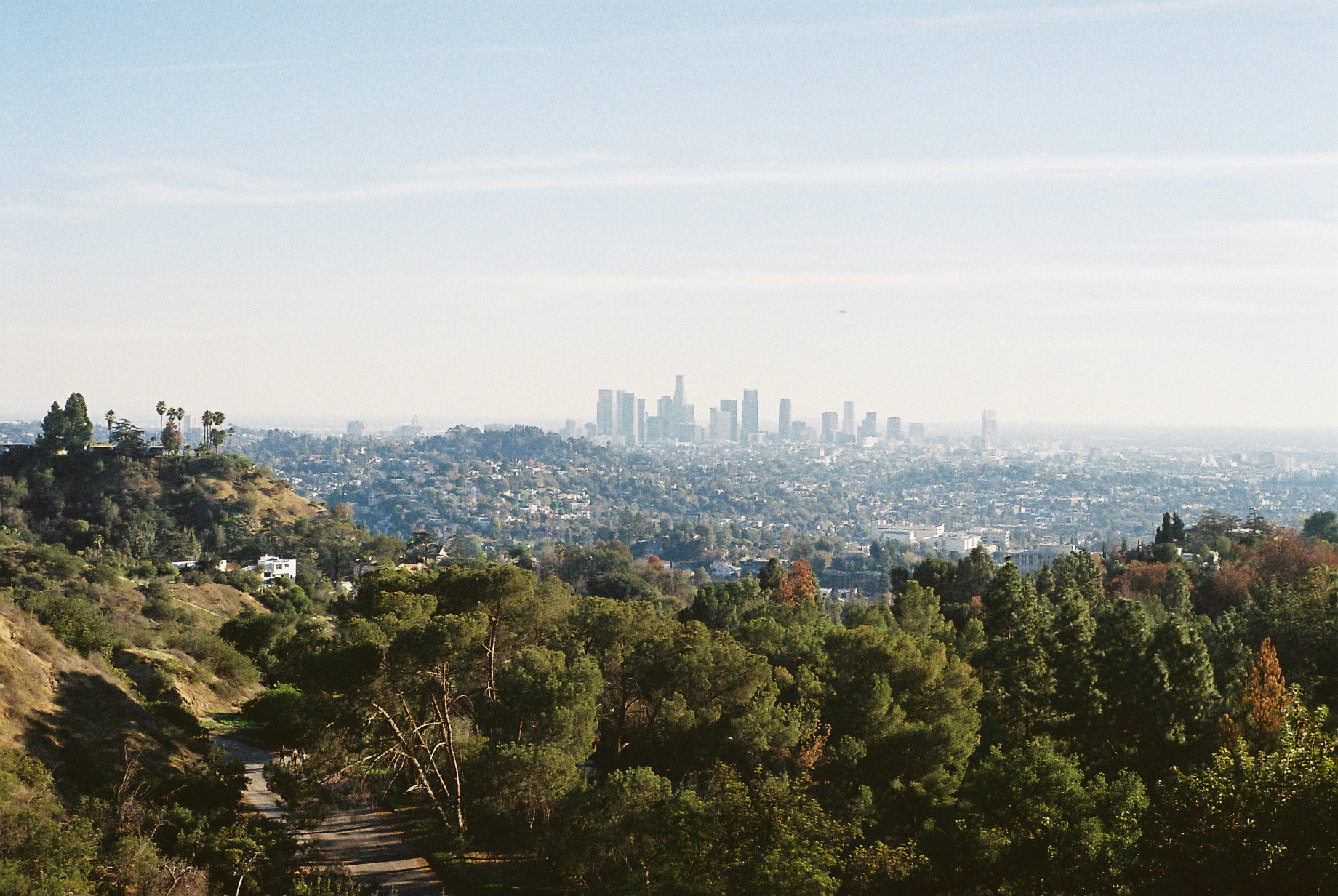 The old zoo in Griffith Park is a hangout spot for drugged out teenagers nowadays.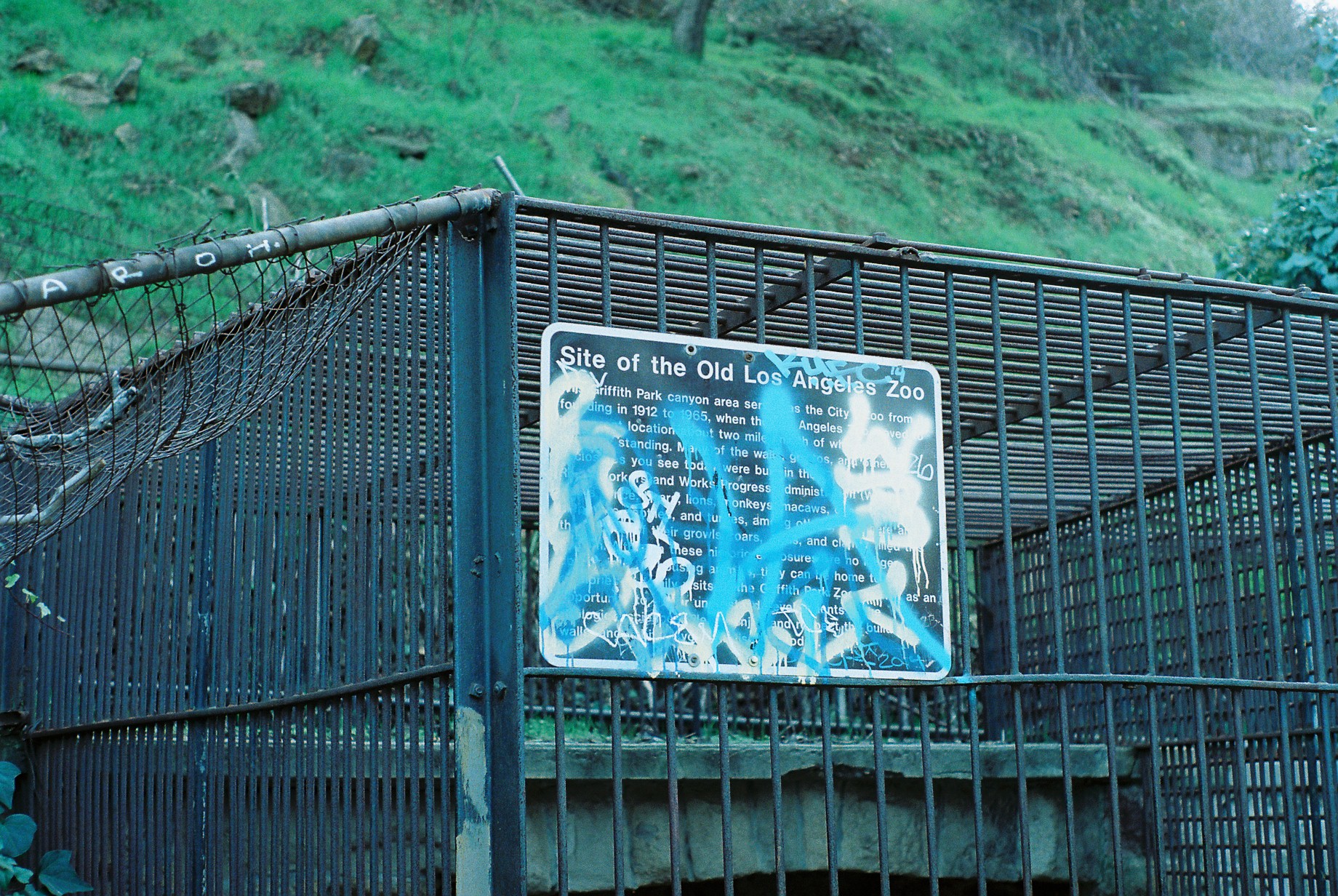 This picture makes it look like it's fun to walk back down, but really if you're wearing Converse, you're gonna have a bad time.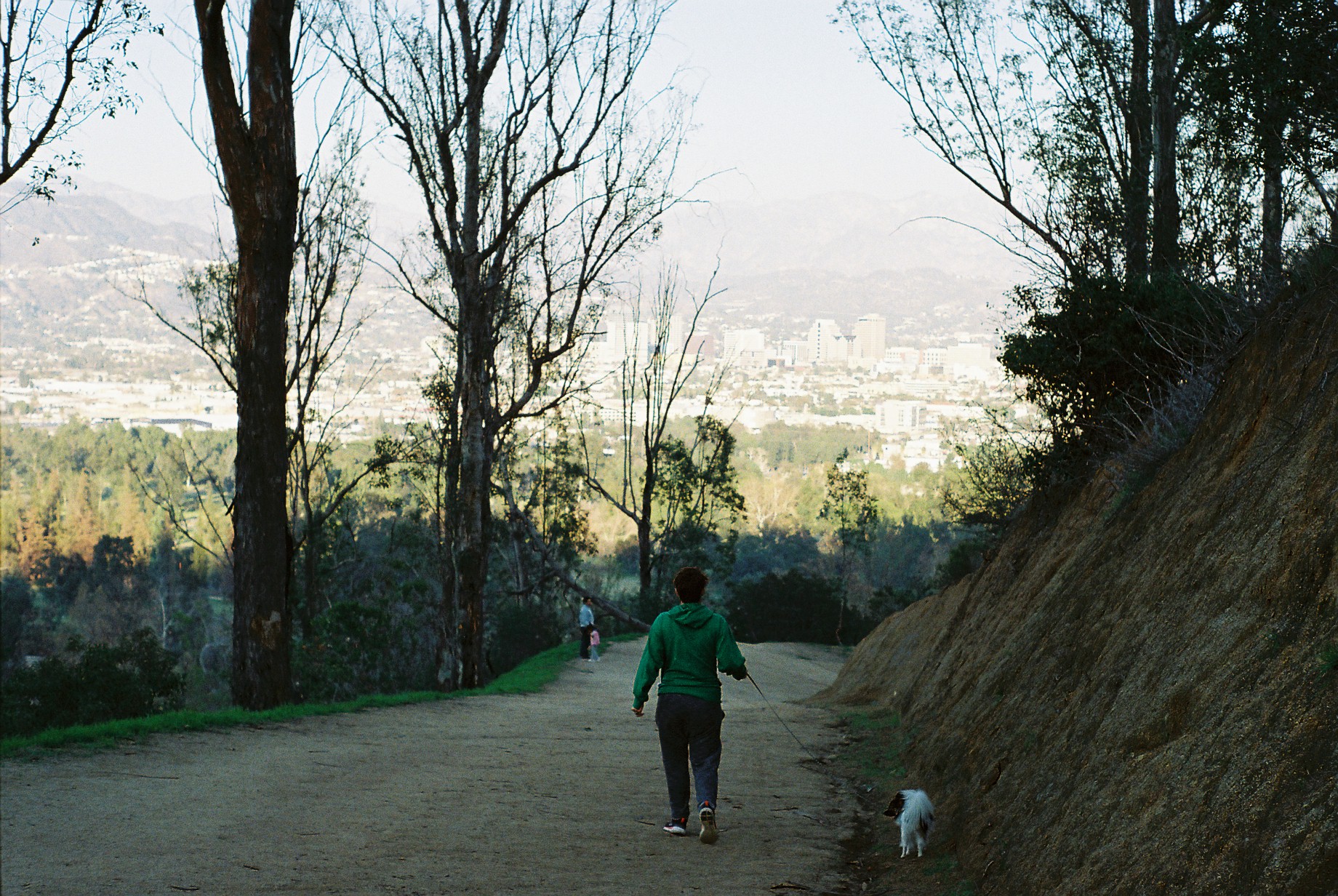 Mom Sherri and her beloved dog enjoying the view.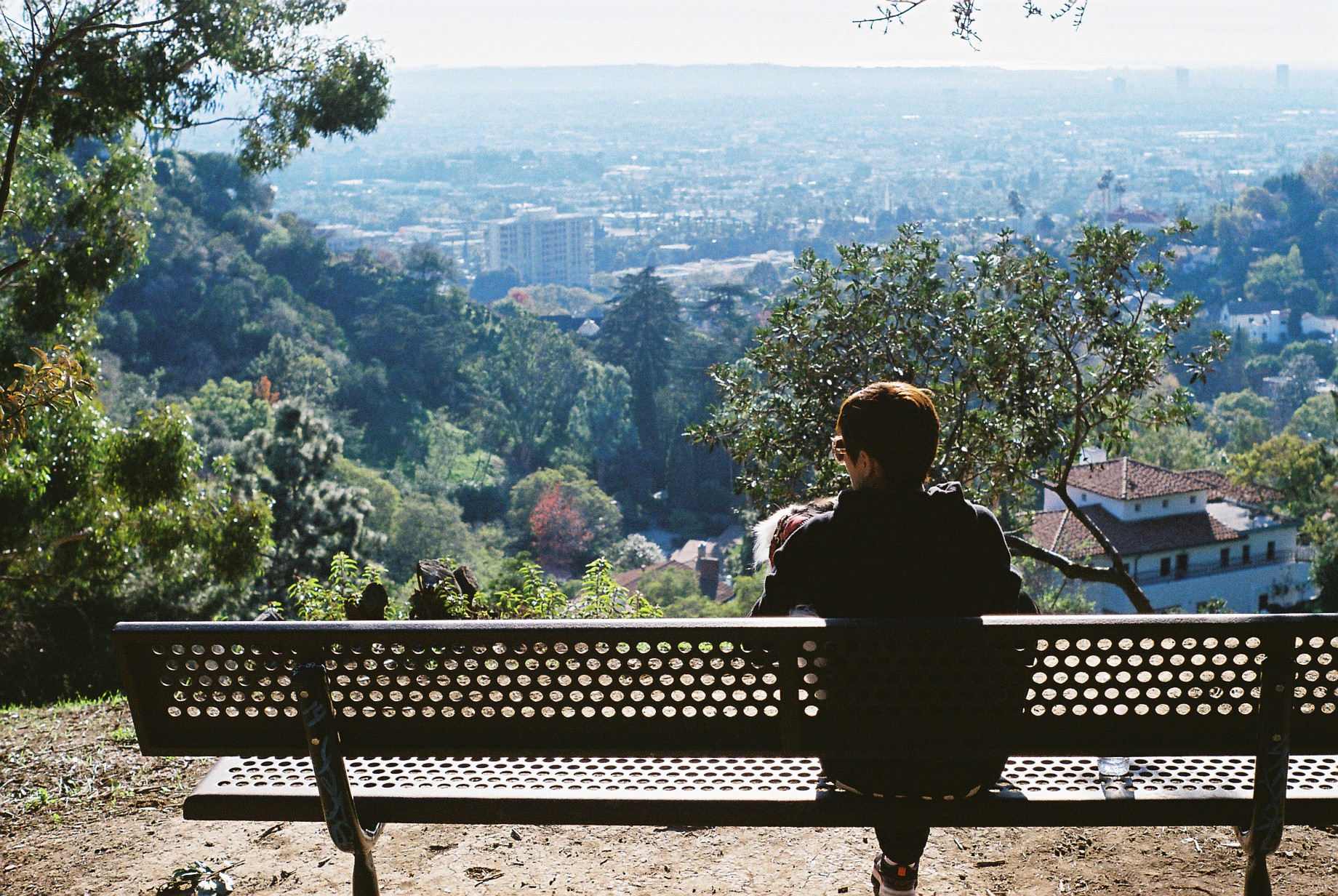 This is where I buy lottery tickets and scratchers on Hollywood Boulevard.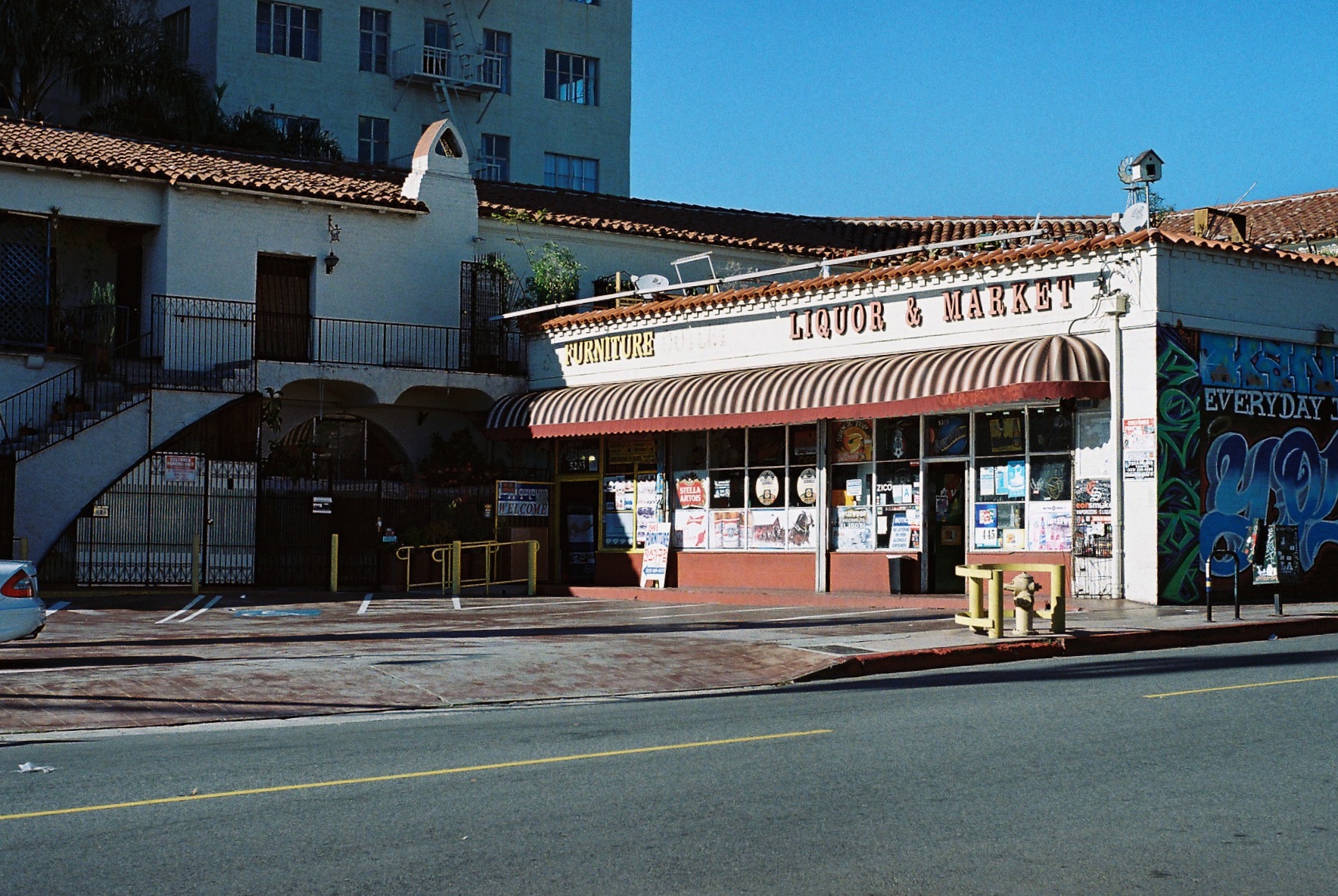 Stylish grandpa on Hollywood Blvd.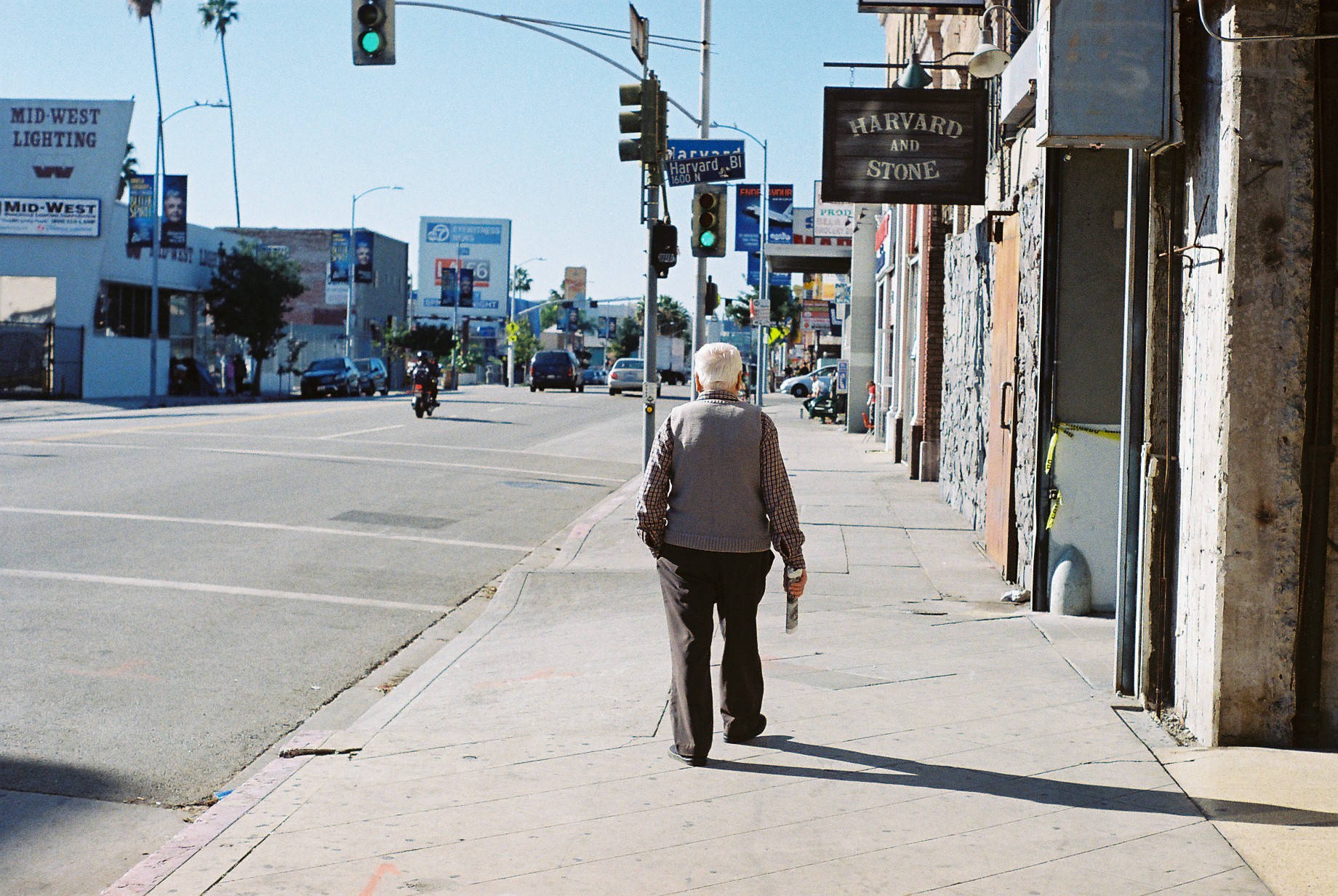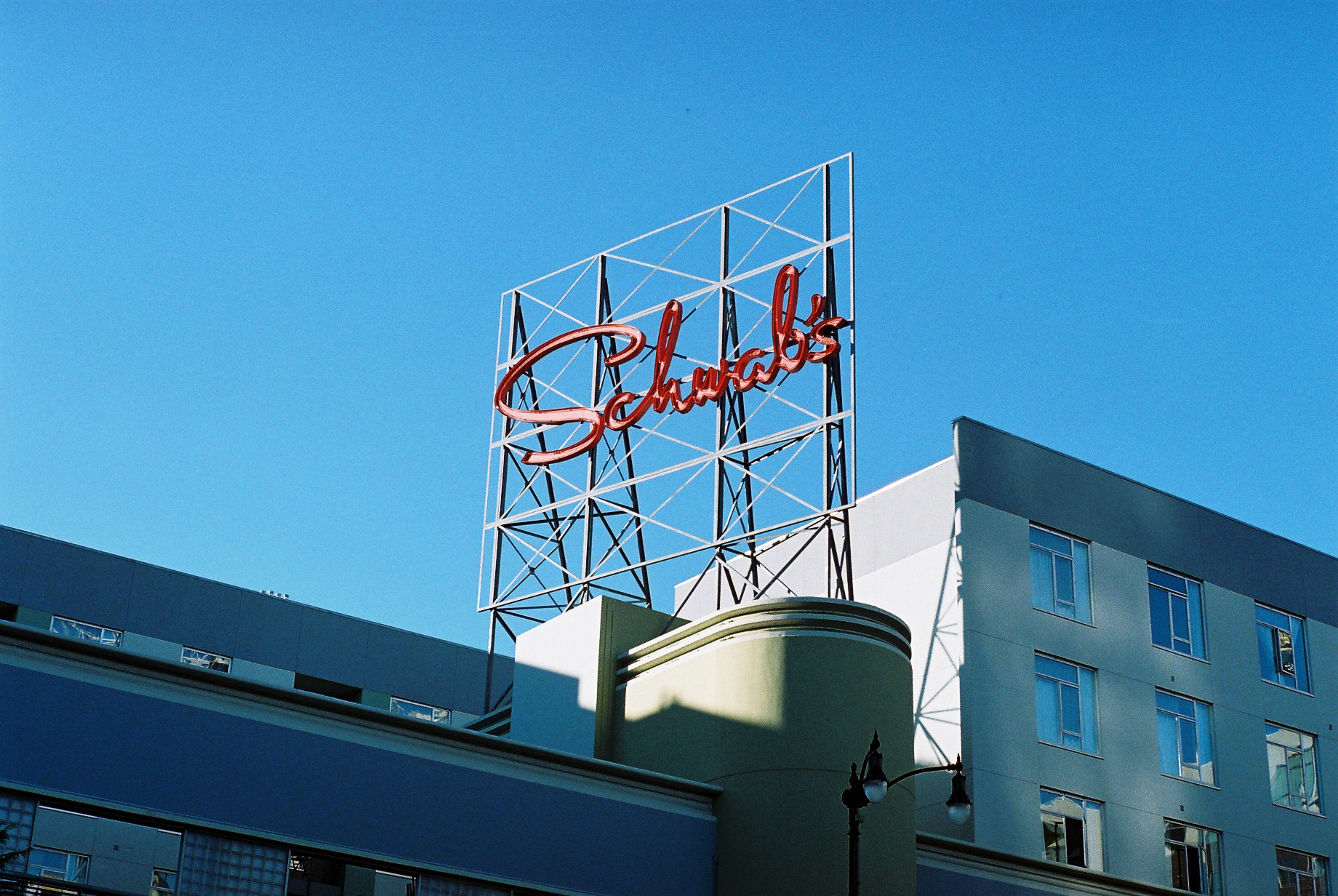 I somehow only spend time on Hollywood Blvd according to my pictures.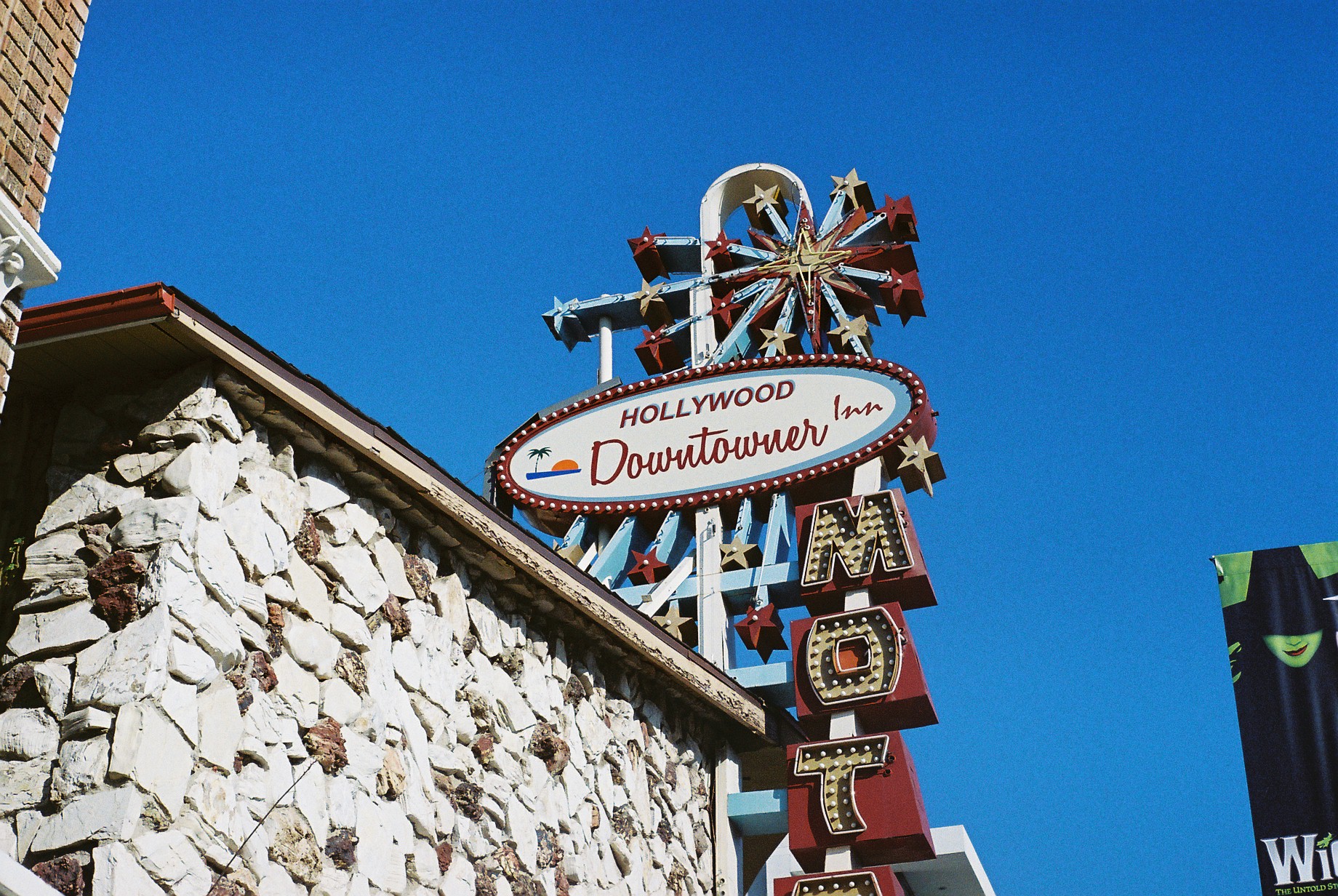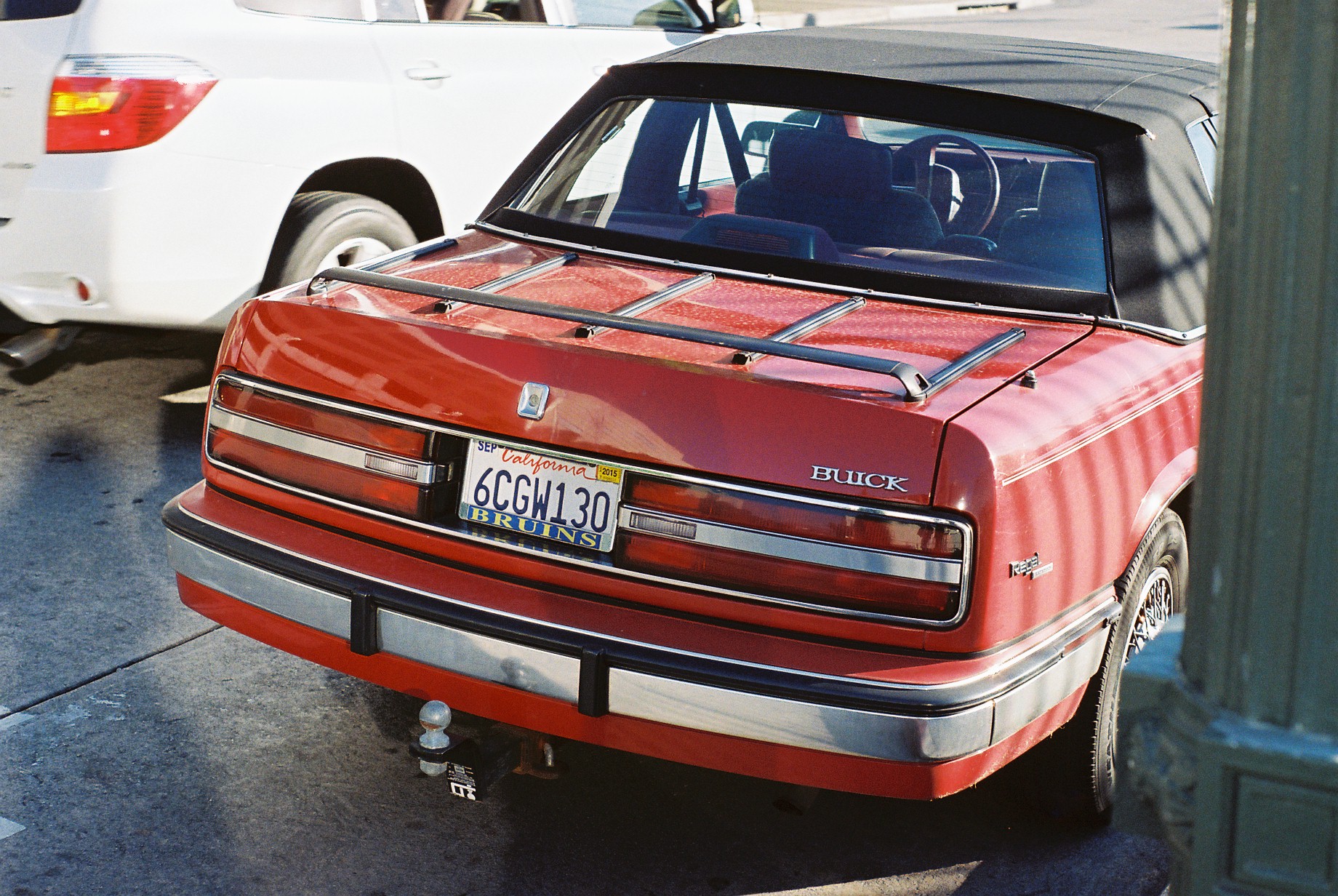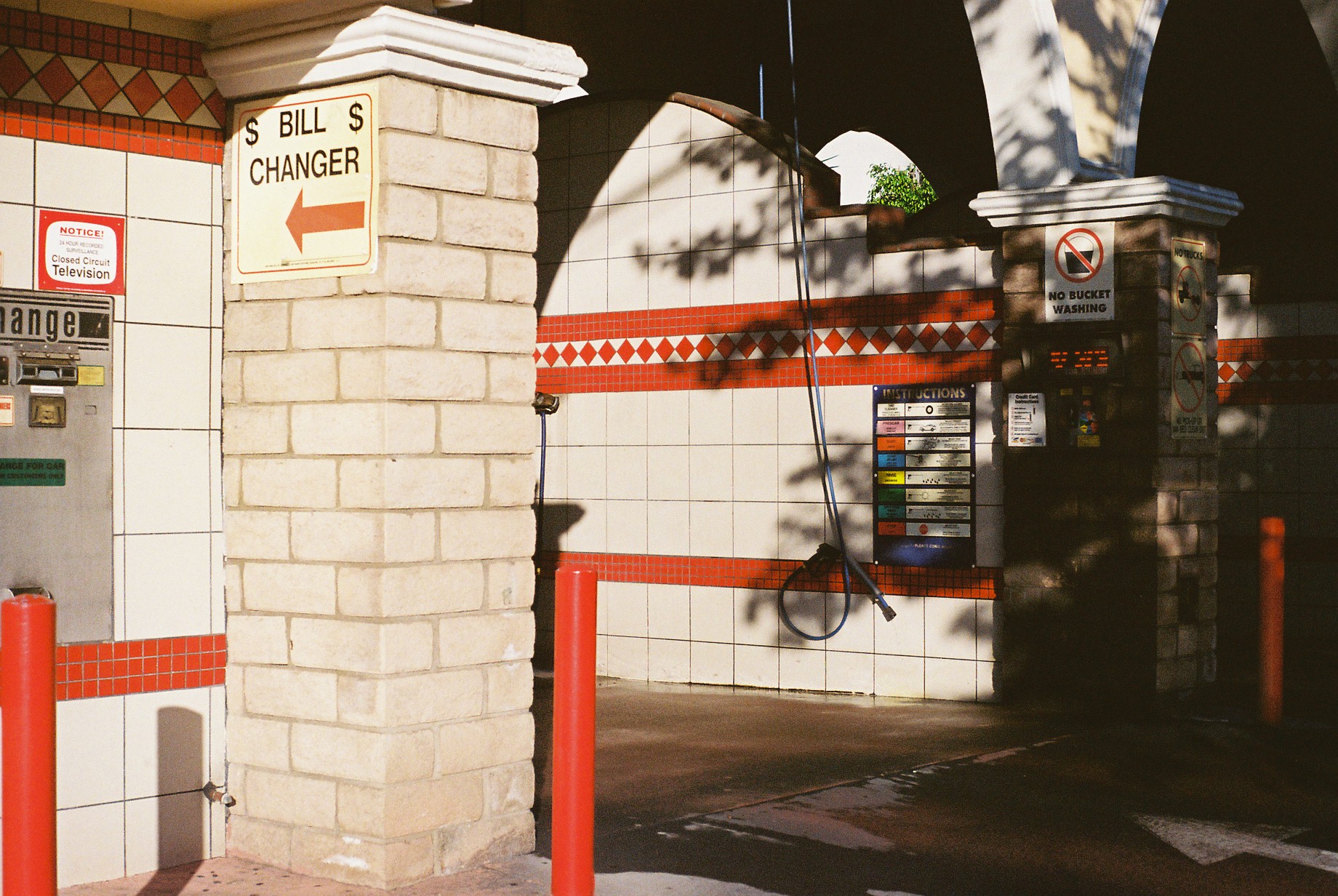 Venice Beach. Freak spotting.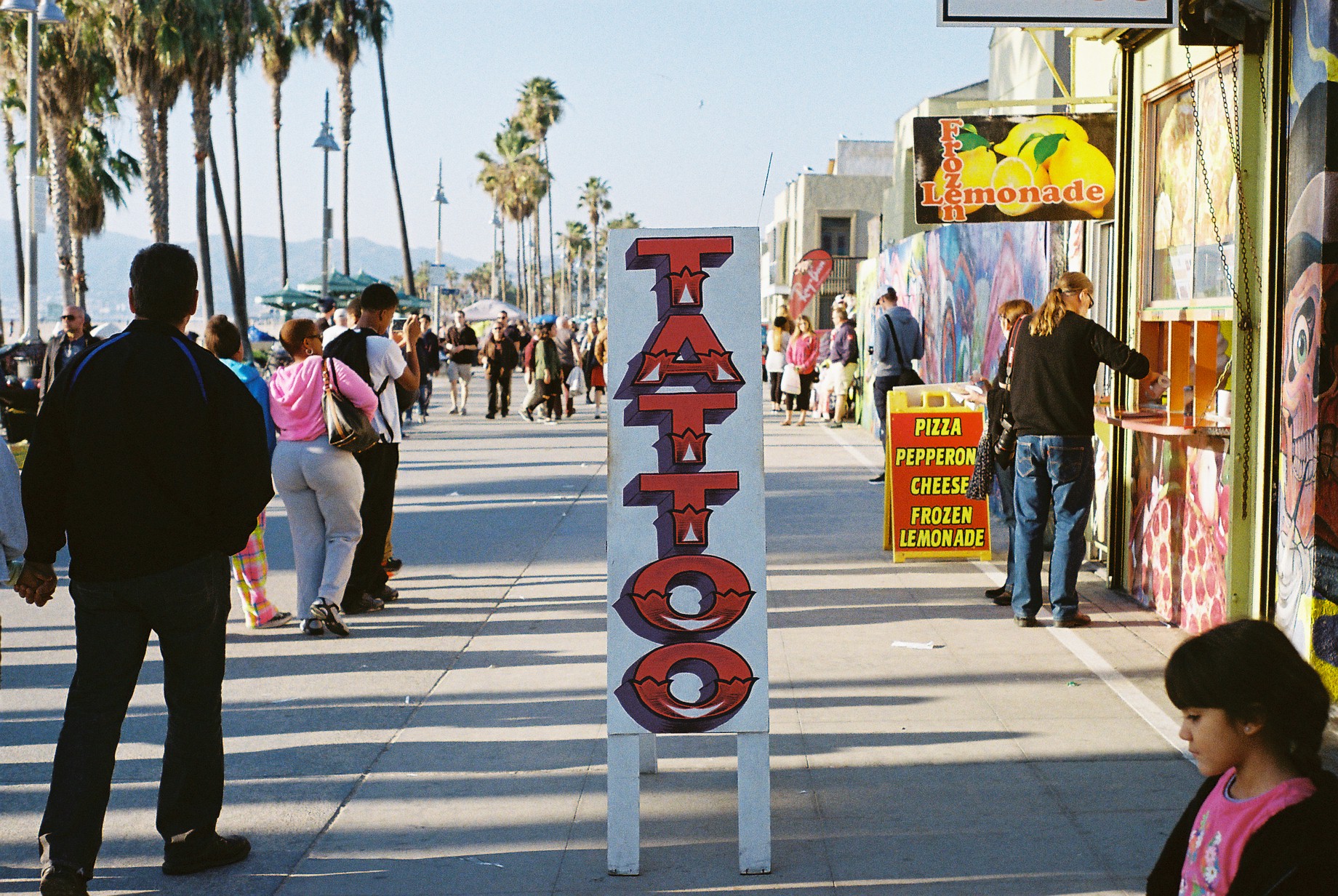 Badass ponytail, and also a nice view.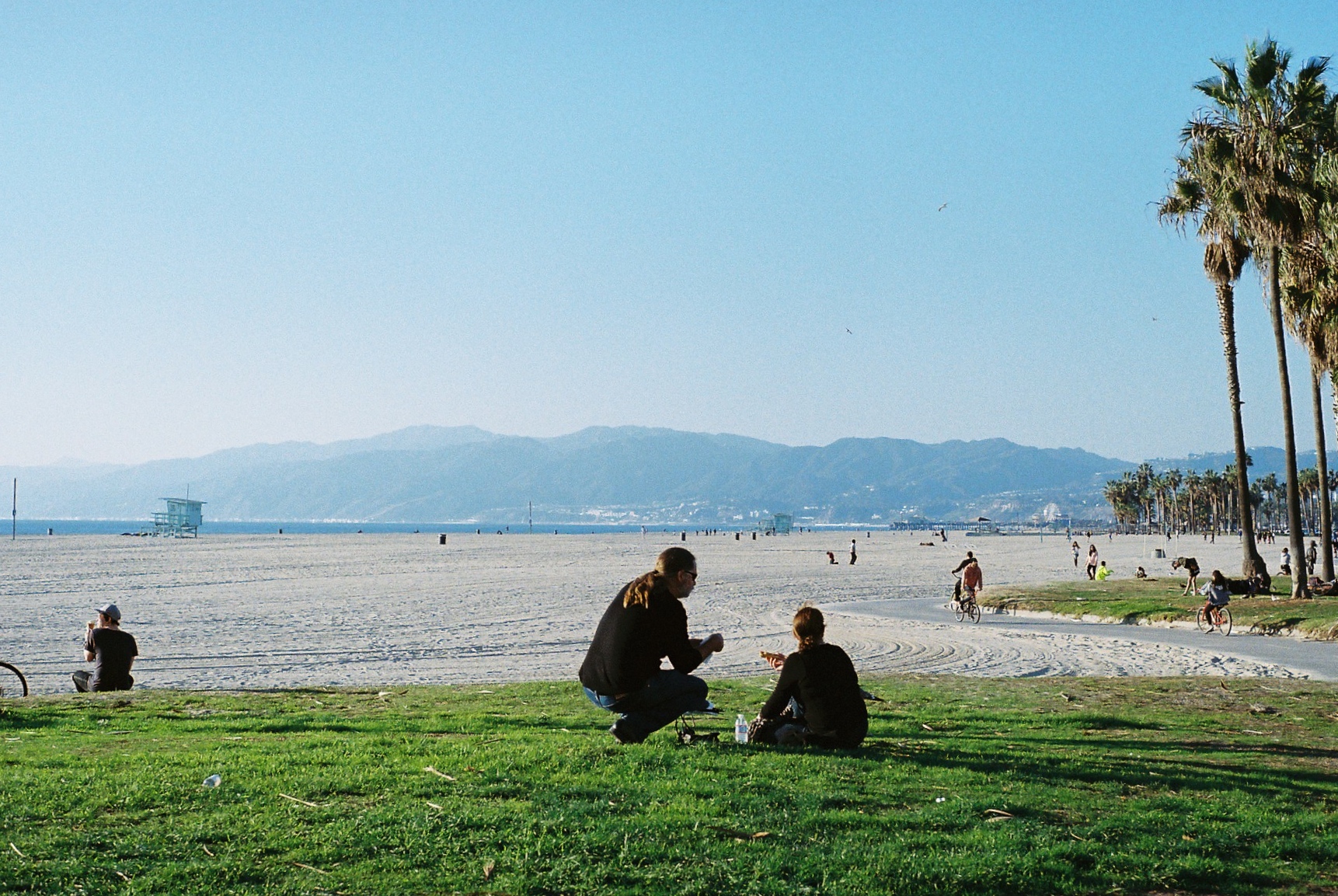 Someone buy me this house on Venice.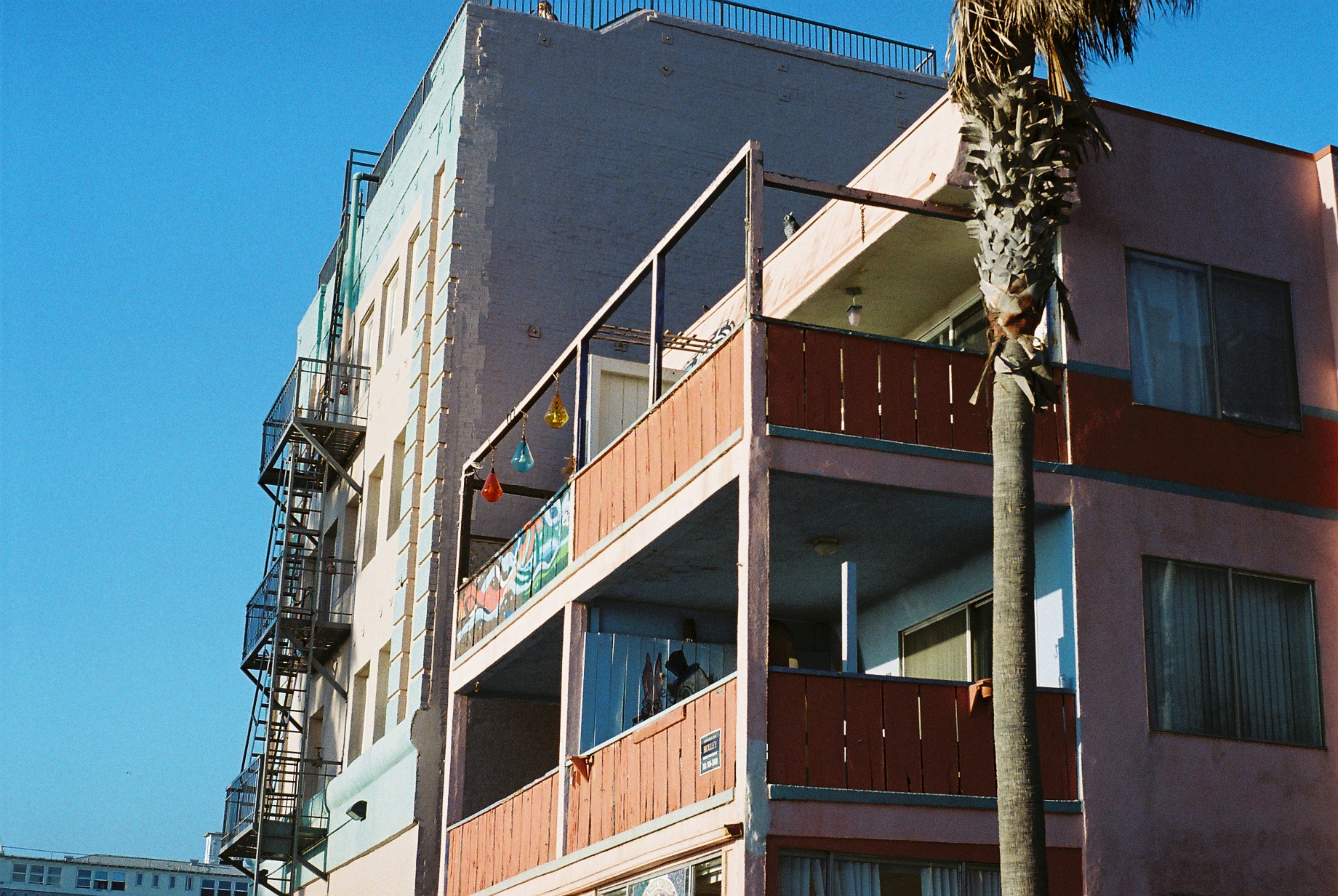 As a tourist, one has to take a picture of this lifeguard thing. I've seen it in The OC.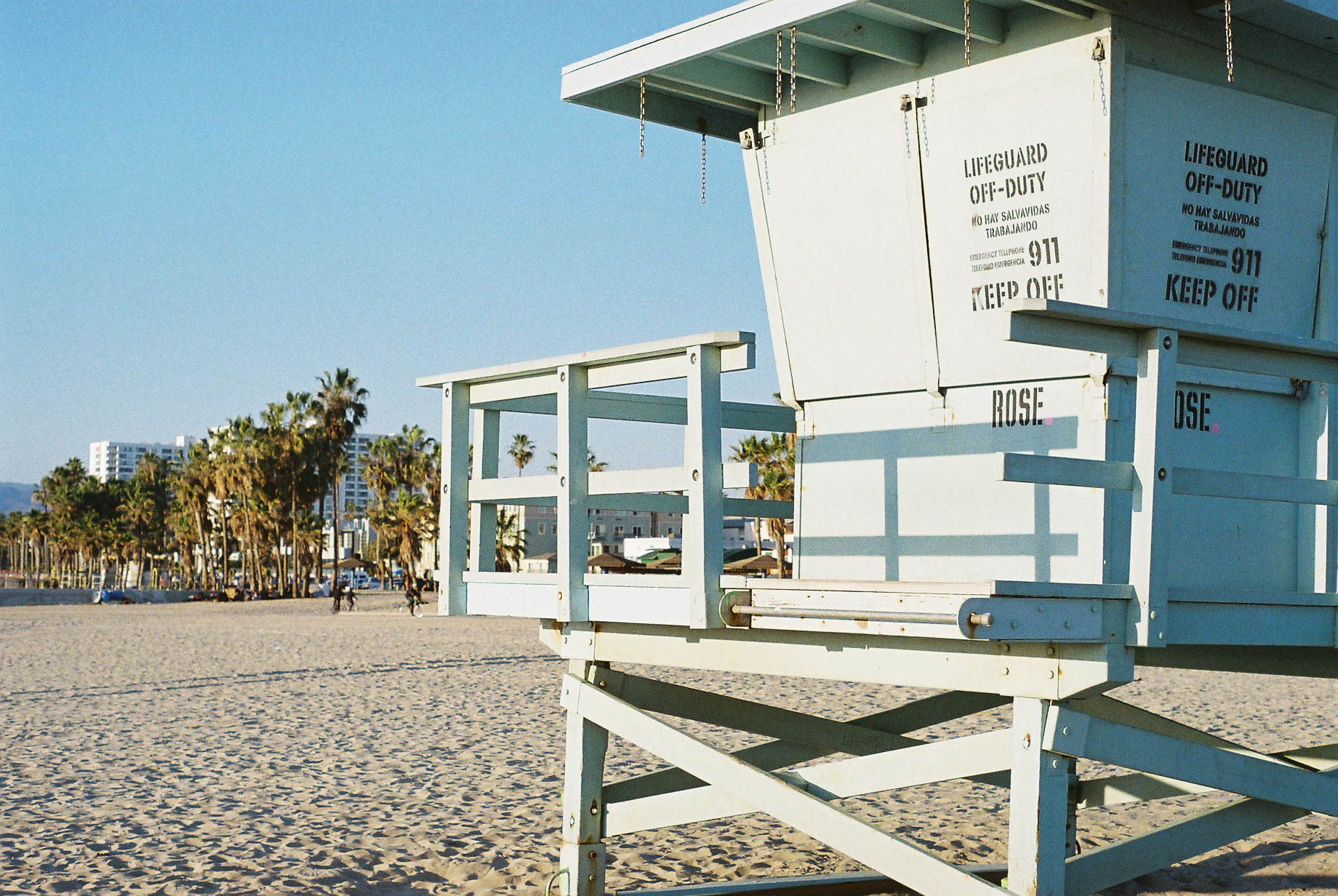 London resident and everybody's favorite photographer Violette.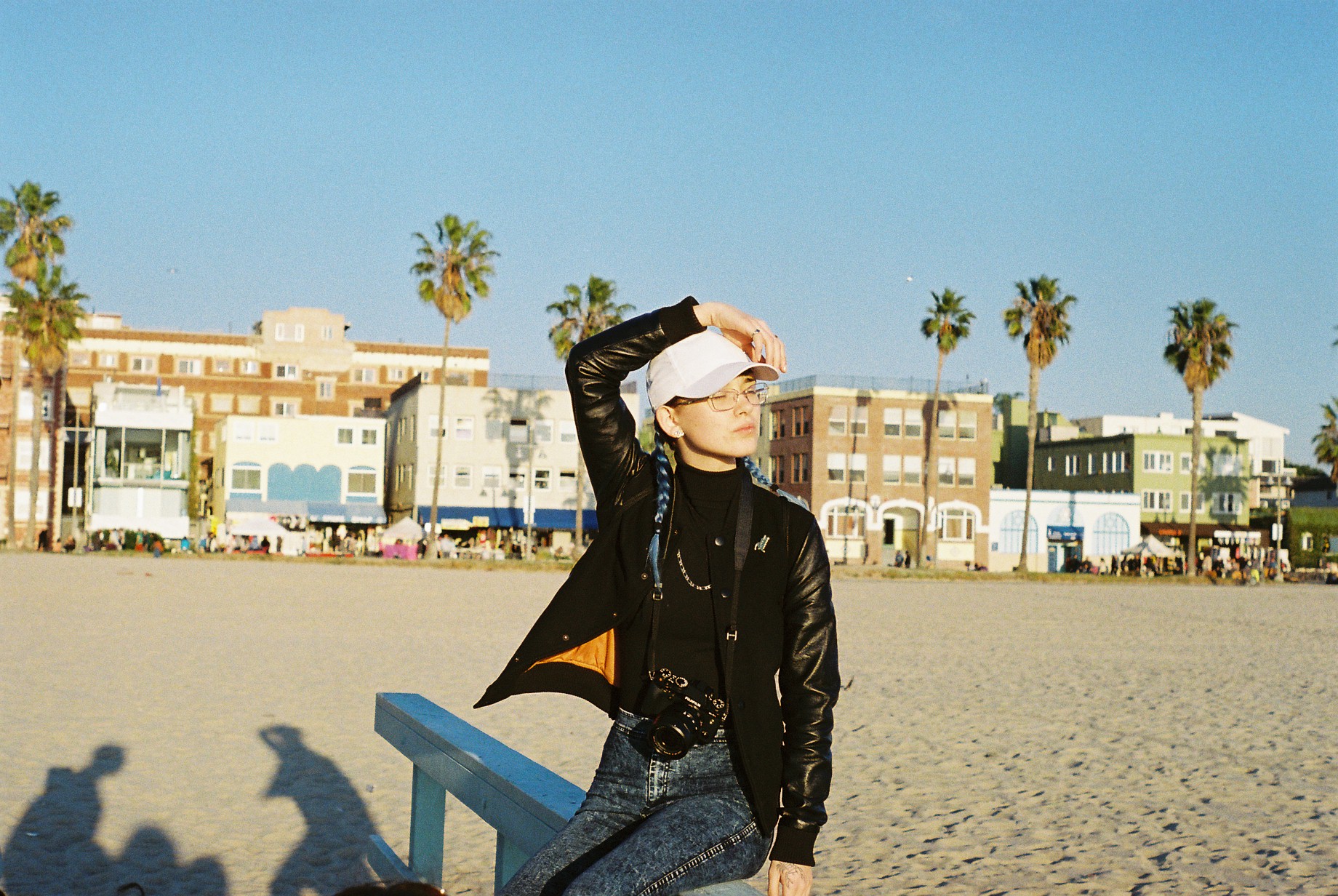 London's finest Glam Cam.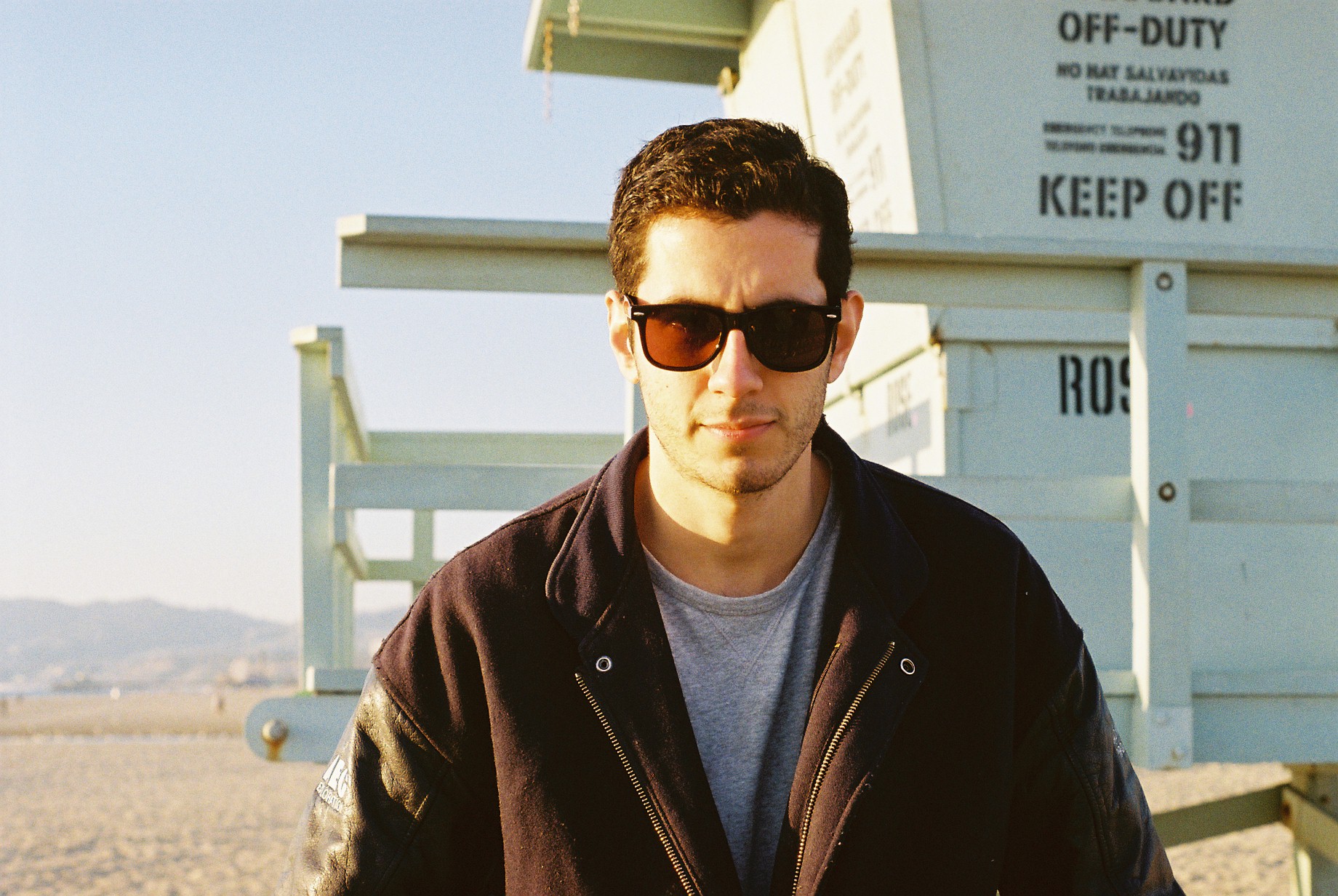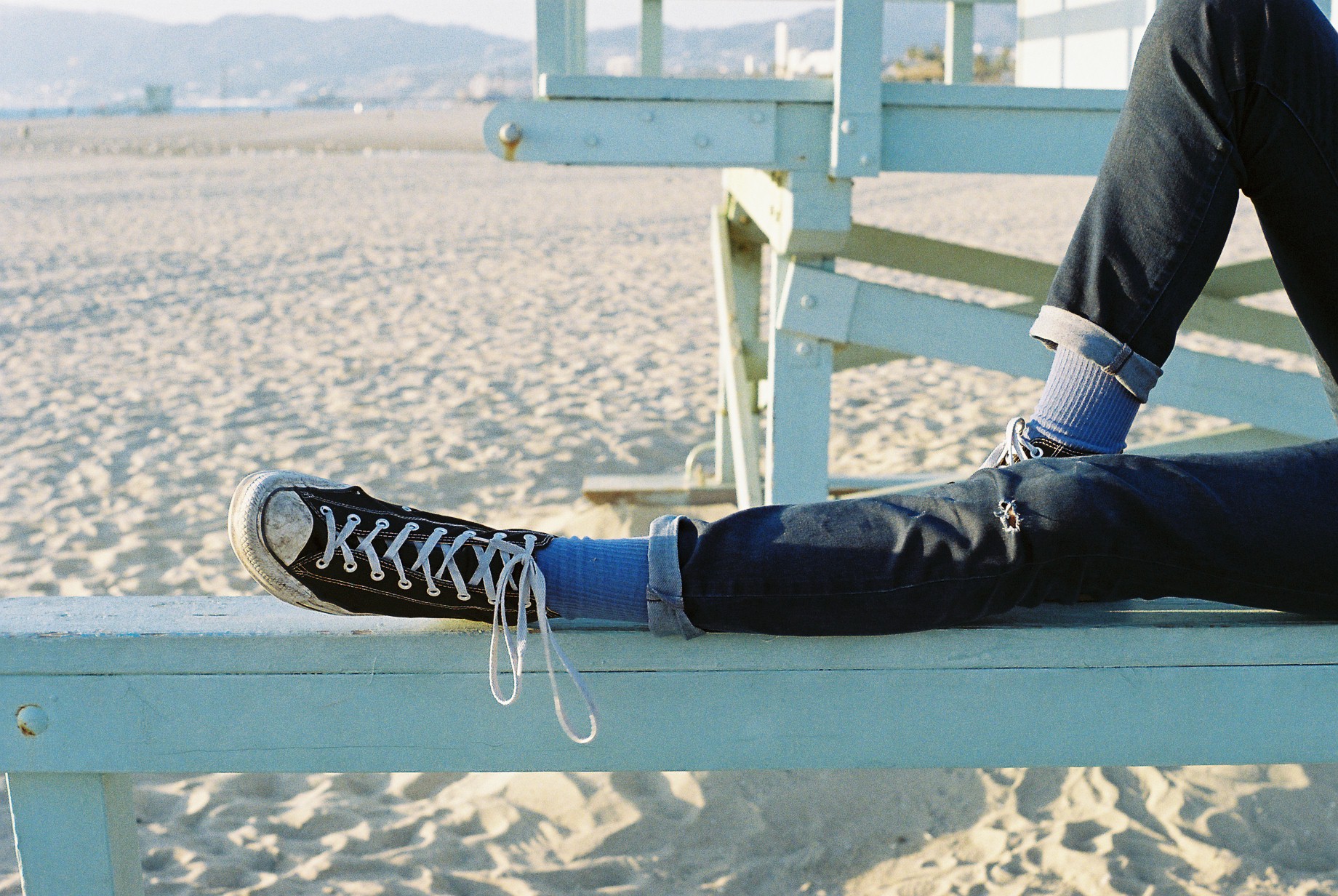 This is a reminder that I want to buy some high top red Converse.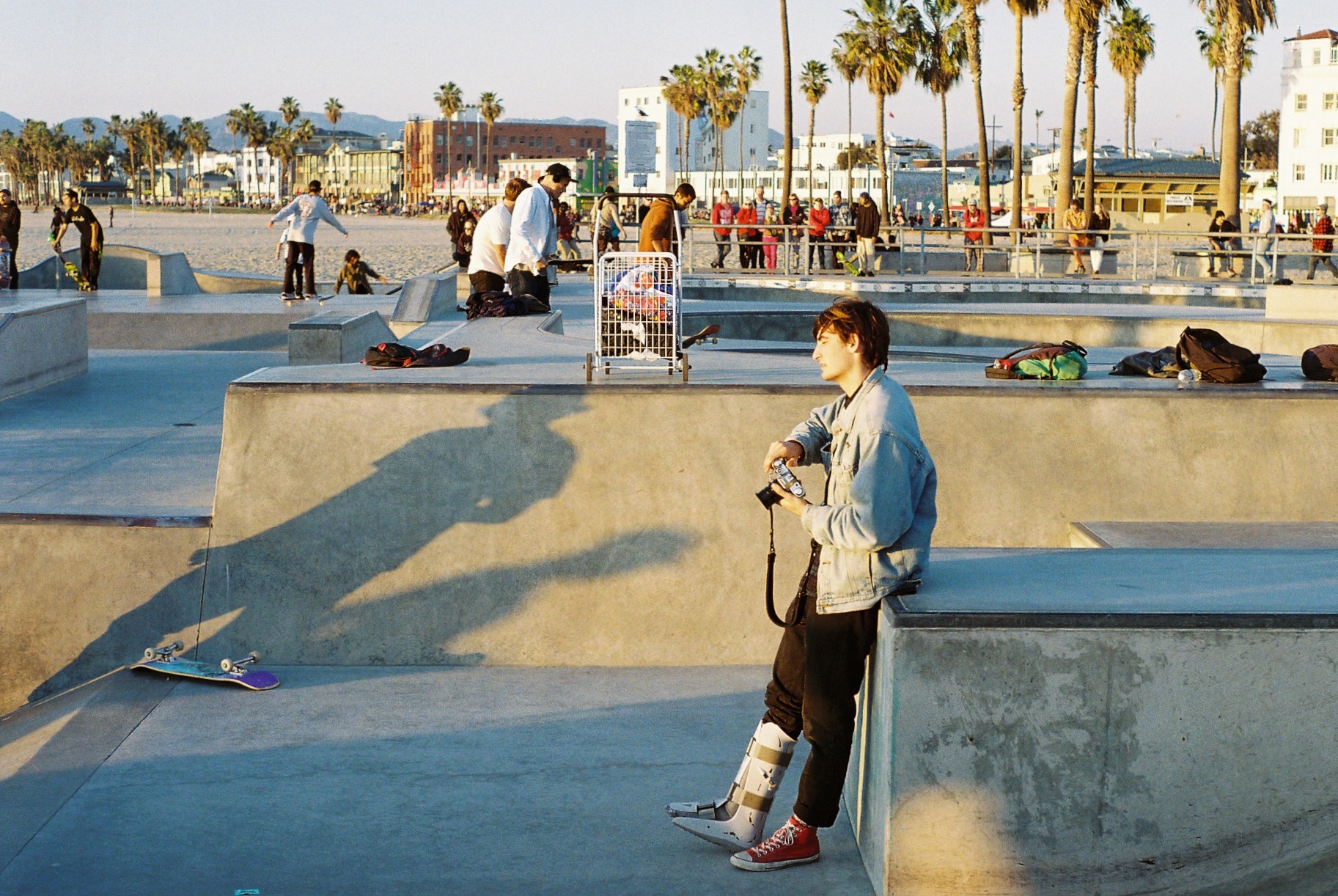 Venice Beach.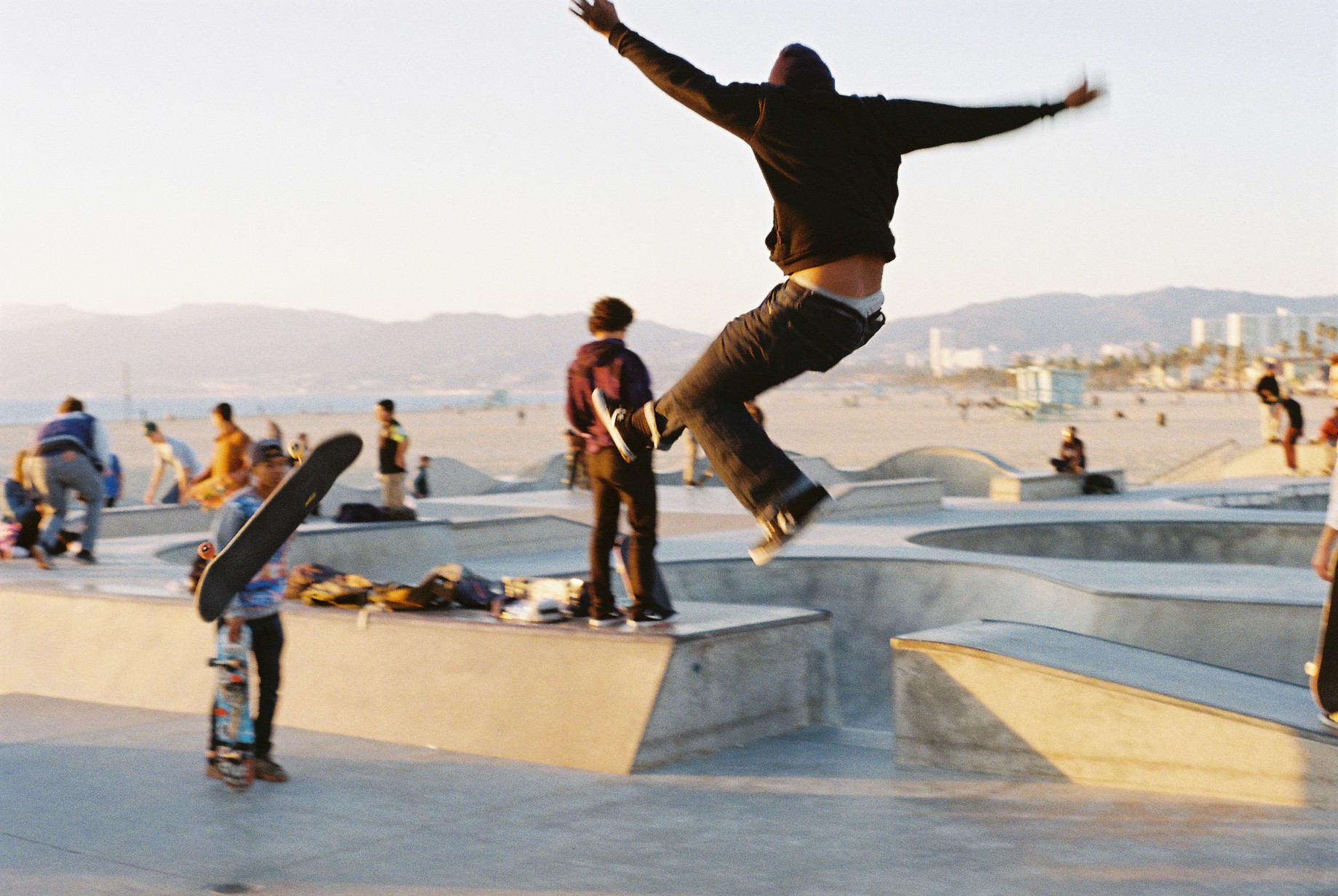 Very disturbing and also very entertaining.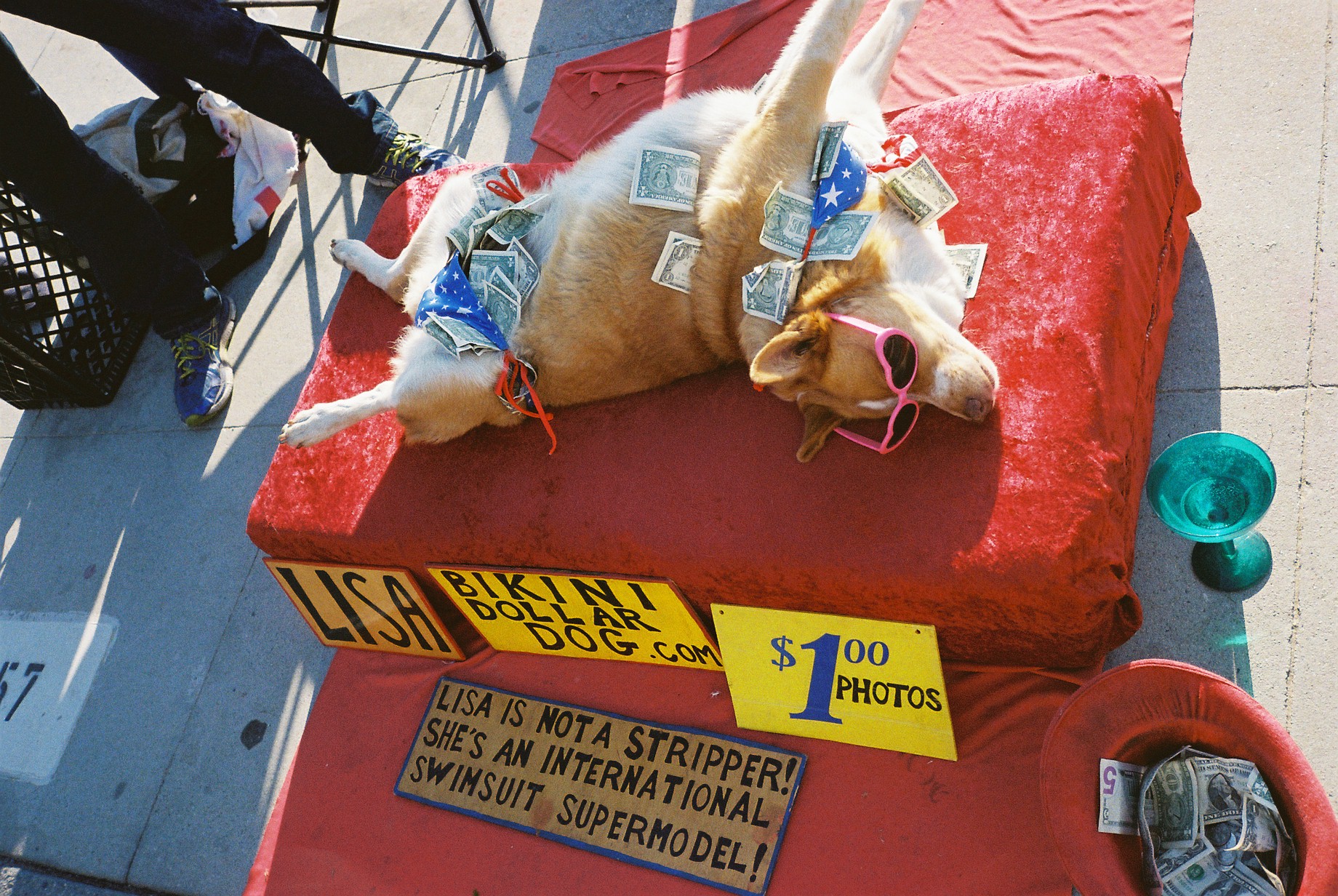 The road back to San Diego, a road where I forced my friend to listen to the Marshall Tucker Band.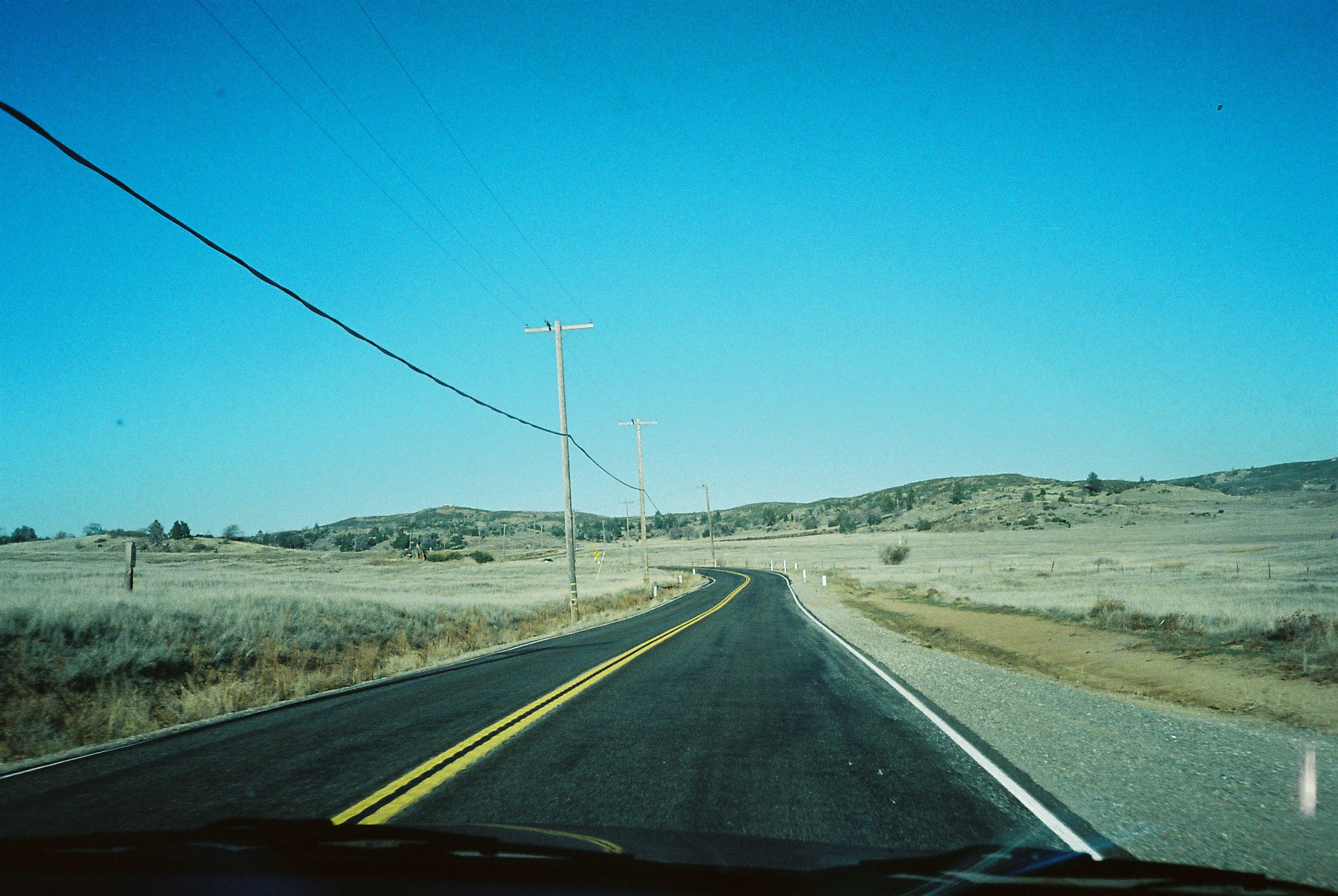 The best Barnes & Noble in Studio City. Located in an old cinema.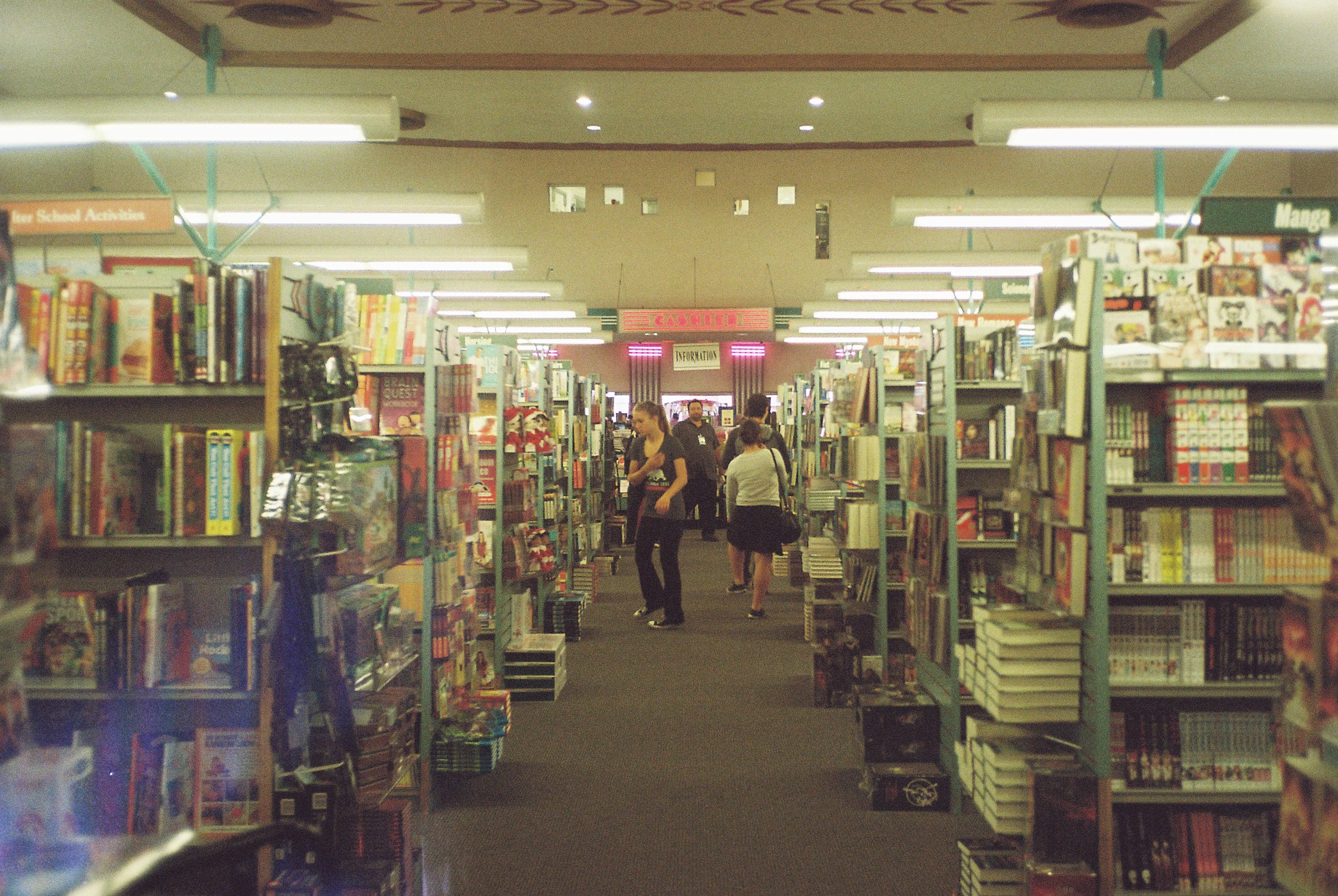 The interior in these council thrift shops is always very on point.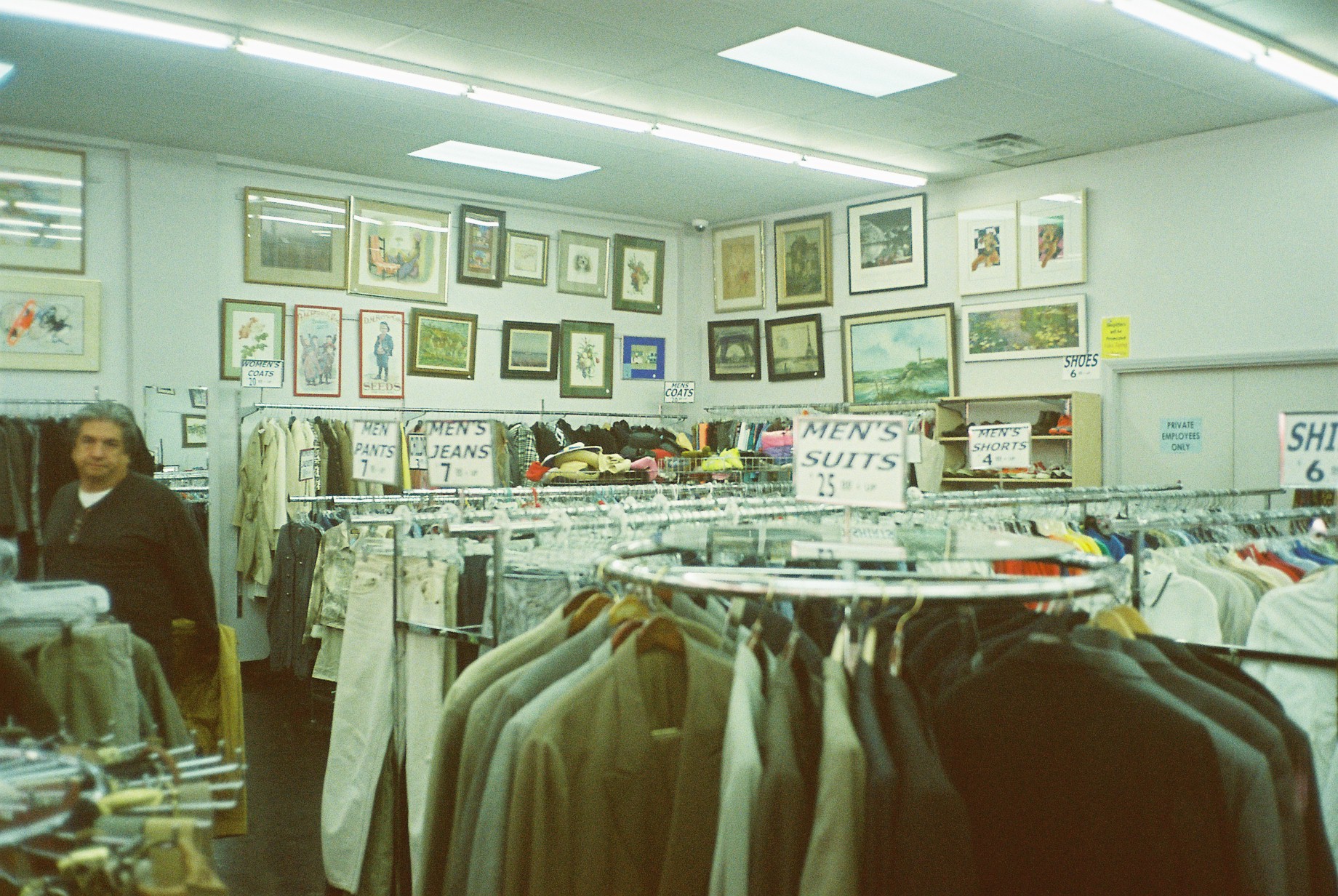 Another nice view on Hollywood Blvd.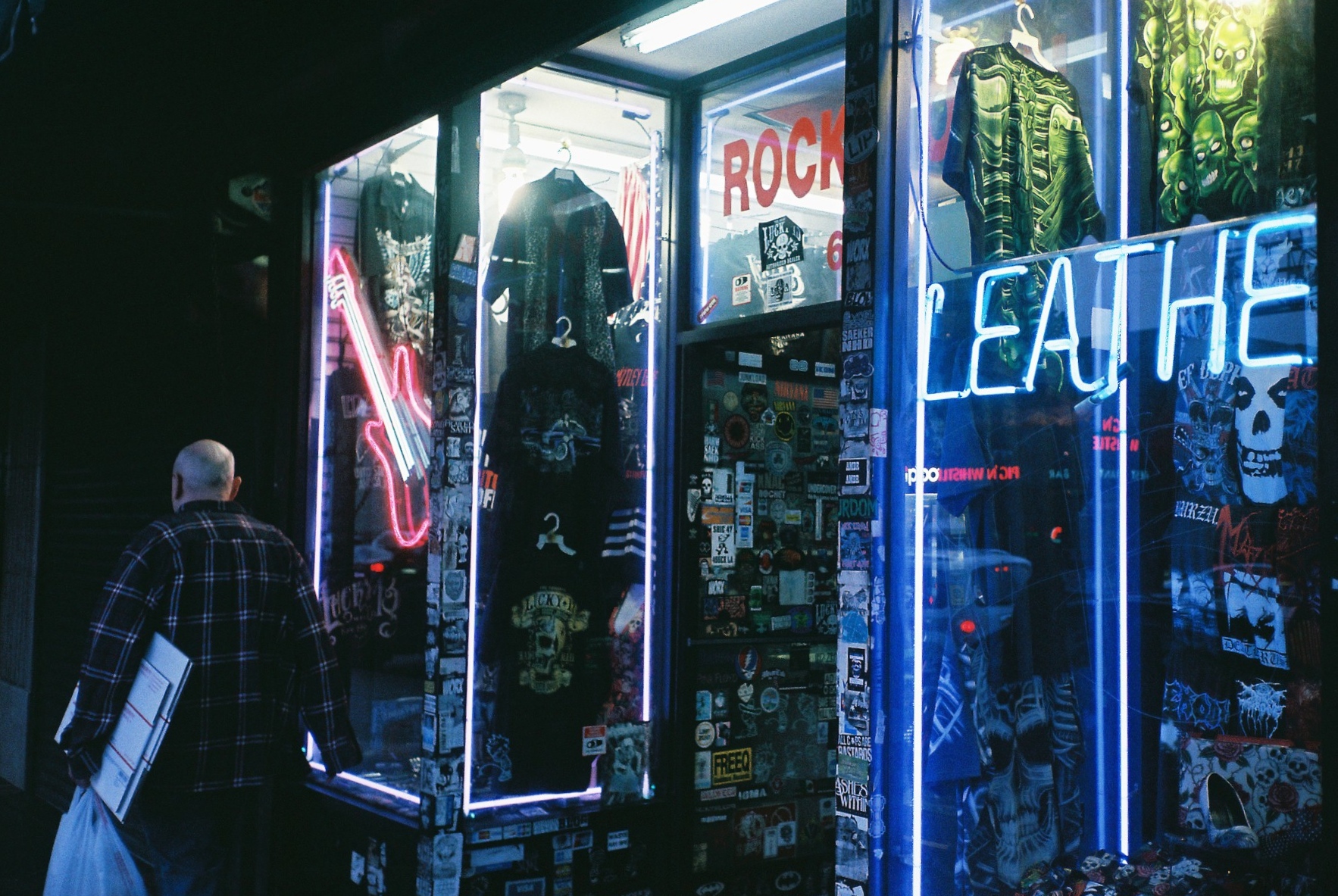 This guy started the evening dressed as santa Clause. Cha Cha Lounge, Silver Lake. I honestly like his terrible tattoo placement.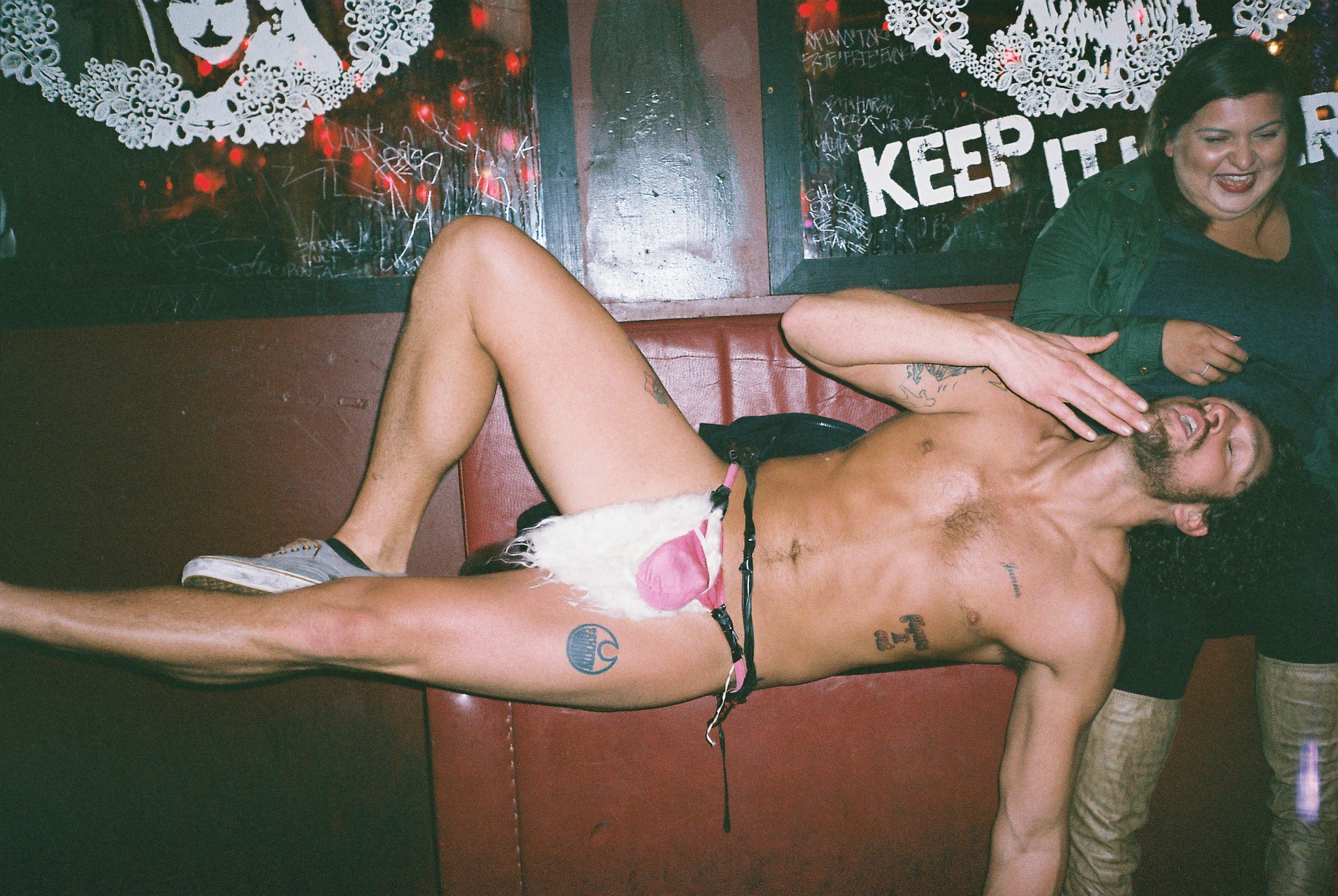 This was the second time I ran out of money in 2014. At the Rainbow Bar & Grill with everybody's favorite person, Scotty from The Hundreds. We won 40 dollars and I ran into Angelyne in the ladies restroom. Her boobs are next level.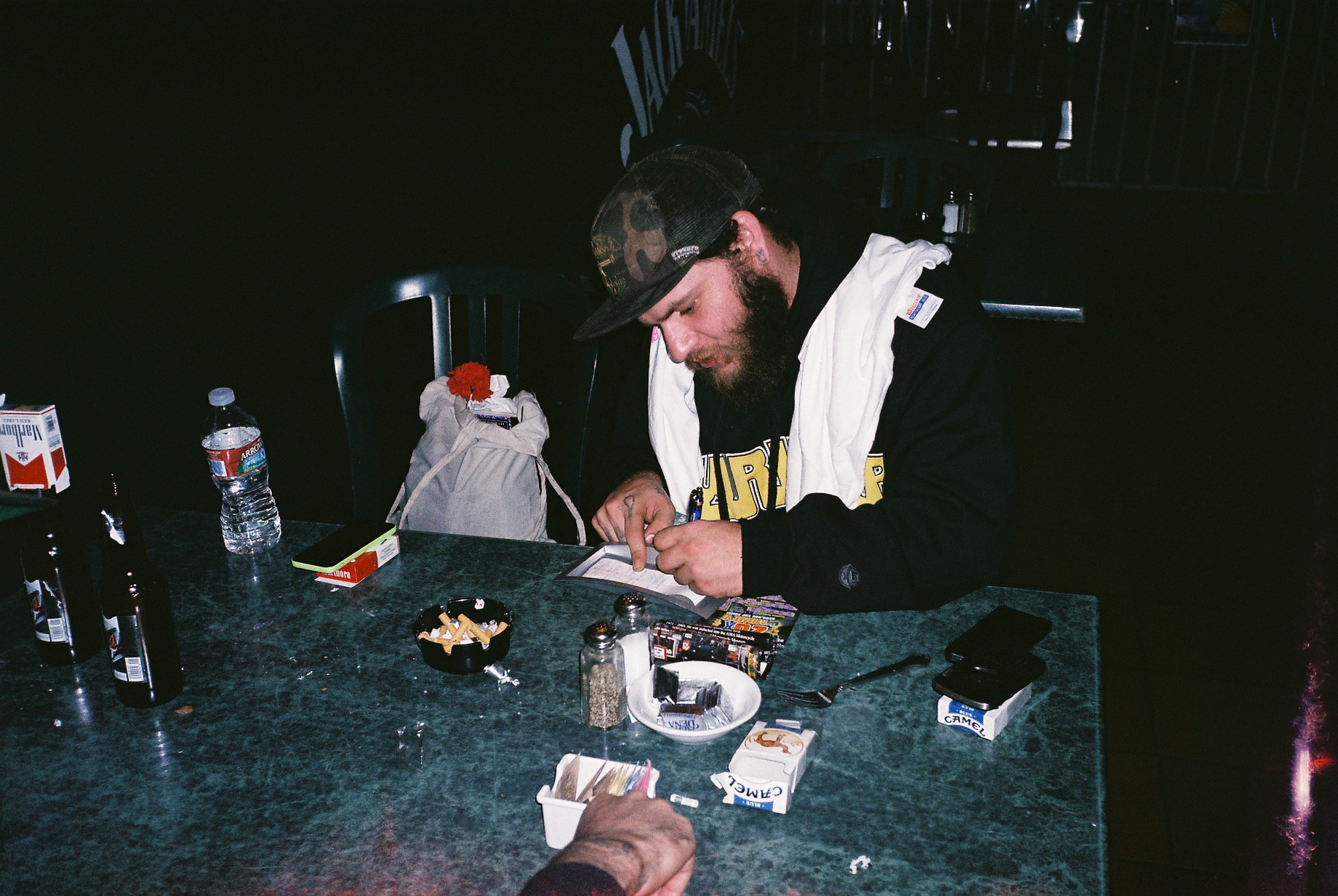 This is where Marissa Cooper hangs out.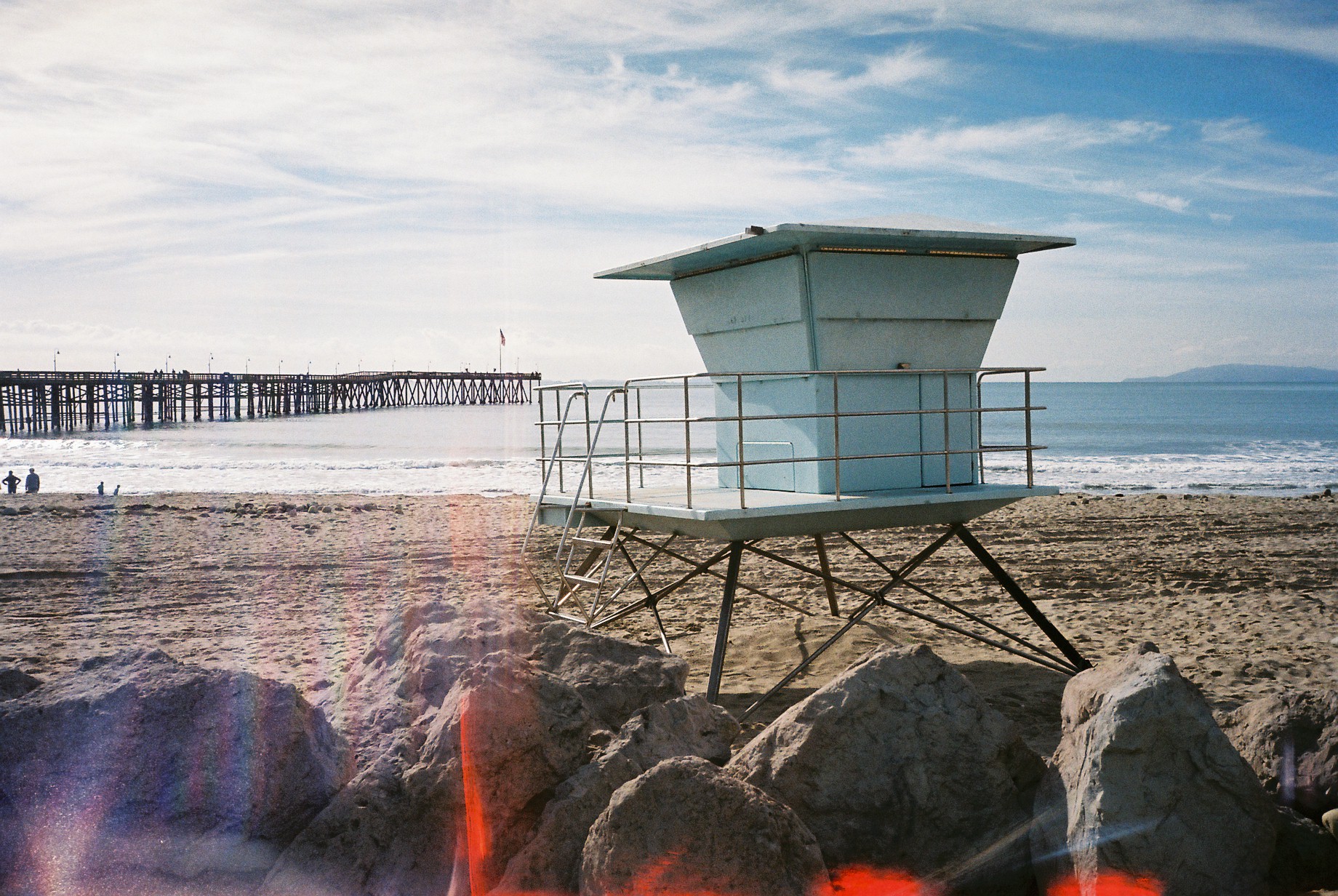 I want this pick up truck to go with my apartment in Venice.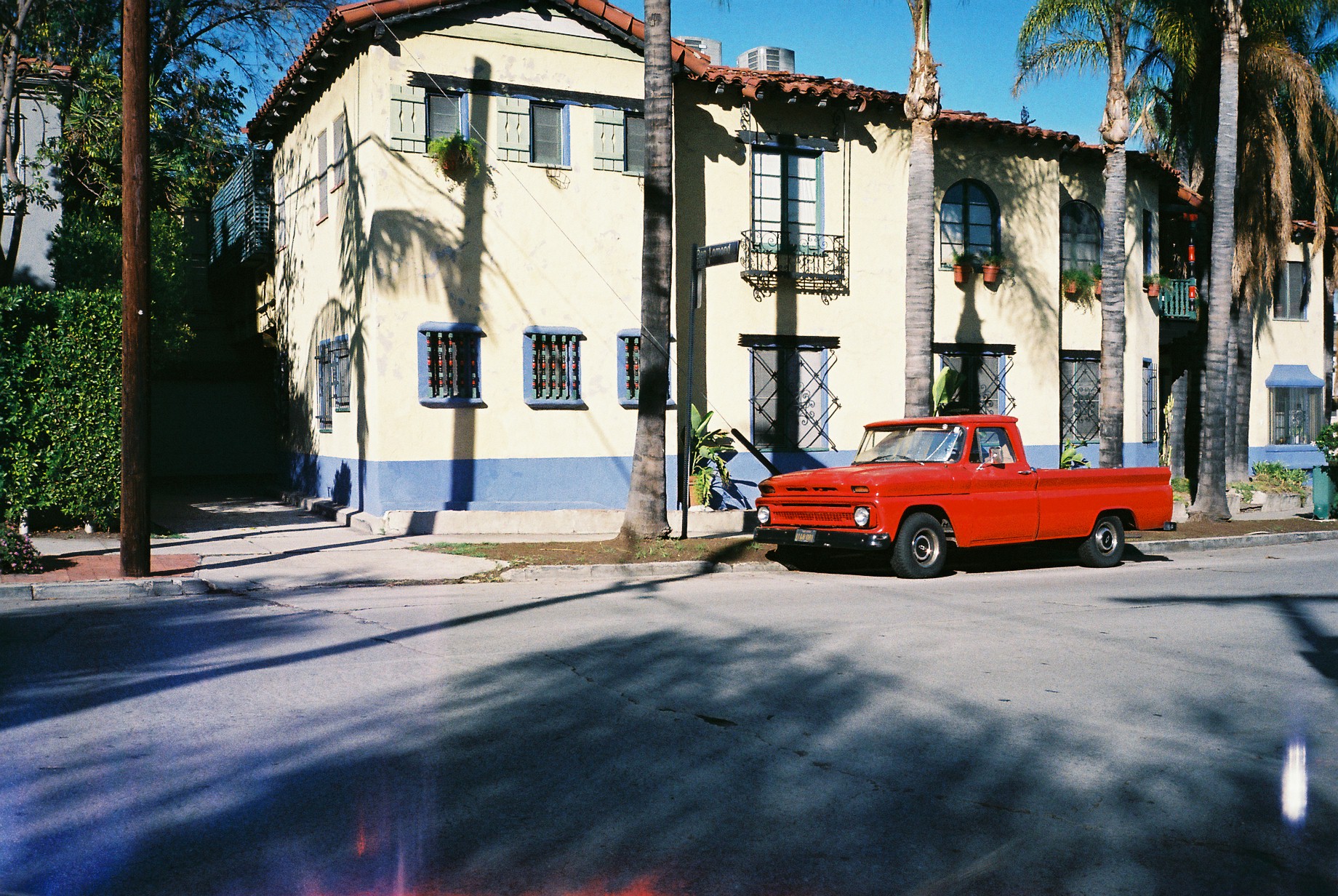 Any liquor sign, is a sign.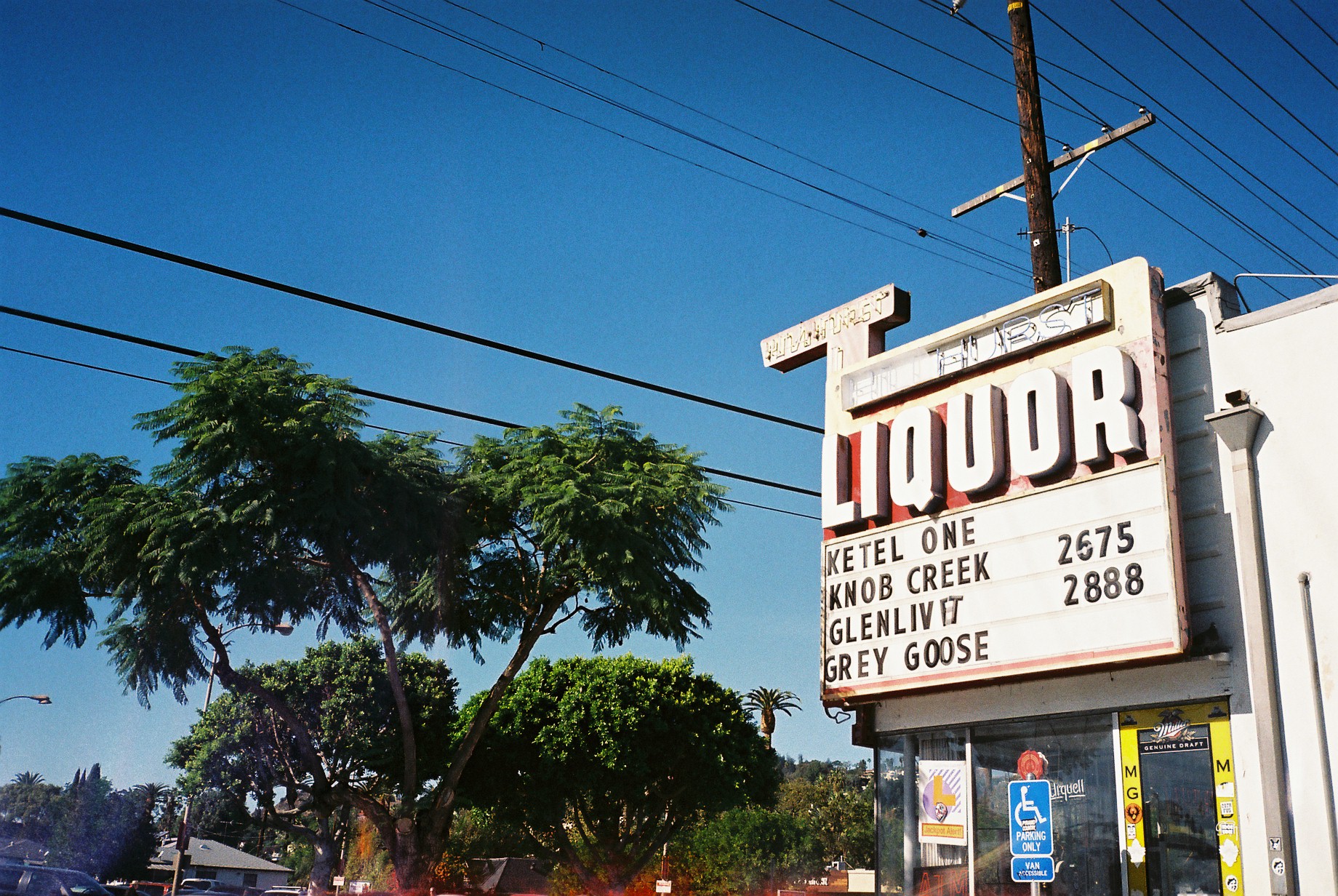 Puddle of mud. (ha-ha)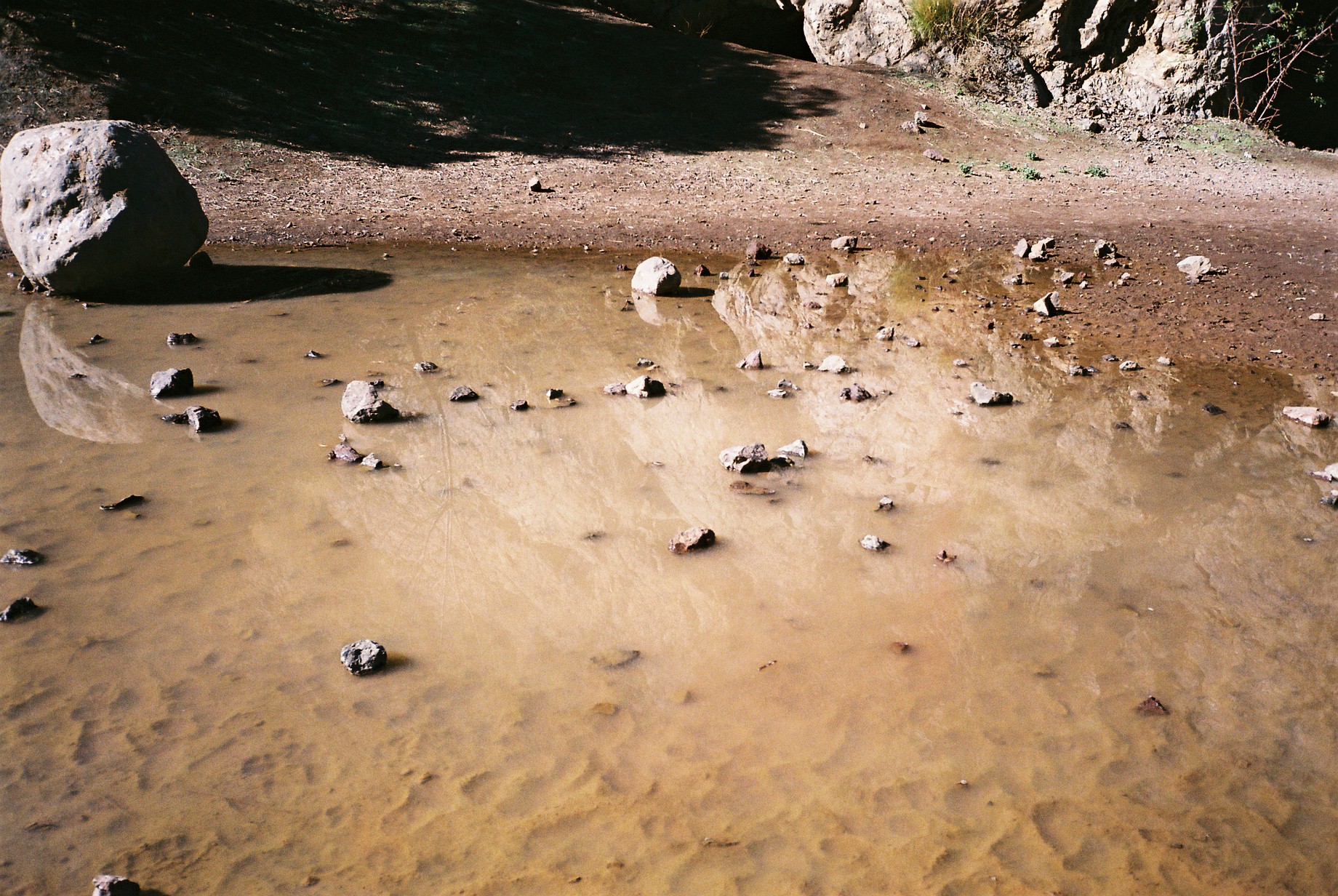 This is where stoners go, "There's so many shades of green, dude."