One of the things I love is the ability to network in real life. Sure, through social media it is always amazing when you sit back and look at how two people link up for a project. But when I had the chance to shoot with Michelle Maturo's friend Samantha a.k.a. Slam Dat, it came in the old fashioned form of a friend I already knew hitting me up to tell me she had a cool girlfriend that wanted to shoot with me. I know Michelle has great taste and would never steer me wrong, so I said sure. I had Samantha meet me at studio to start off our day of shooting before heading to downtown to the location I had rented out. We decided to kill some time and shoot some flicks. When she started pulling out her wardrobe, I noticed real quickly in regards to her clothing choices that she has a fun sense of style. I quickly figured it would look great in pictures so she threw on this fun one piece along with some jean shorts and Timberlands. I think the Timbs are what made this outfit that much more superb to me. We snapped away. When putting this Test Shot segment together, I figured I would run this set. Something about it grabbed me a little bit more than the other sets. So for now, check out these images below as well as my interview with Slam Dat.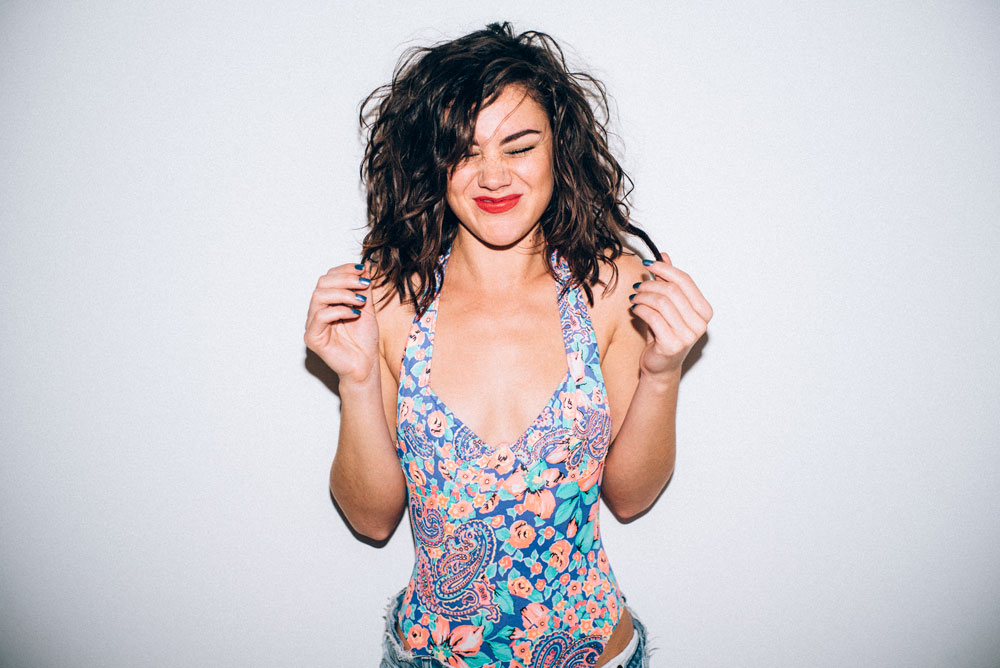 Before I start with my traditional questions I have to ask why the nick name "Slam Dat"?
It's so ridiculous. The real story is I hadn't gotten laid in 6 months and my friends and I were out and so wasted. They were trying to get me to talk to guys and calling me Slam saying, "It's because her names Sam and she's a slut!" And the nickname stuck. I then added "Dat" because I lived in New Orleans and everyone was always screaming, "Who dat?!"  And so I'd answer "Slam Dat, duh."
Makes sense now. And how many years young are you?
I'm 23.
I am sure people are going to be wondering from your photos what your ethnicity is. So why not help them out with an answer?
Italian and Irish.
Good mix. Where were you born?
West Palm Beach,Florida. But I grew up in N.Y. and lived in New Orleans for a few years.
Where do you currently live at the moment?
Now I live in Los Angeles.
Give us some of your likes in life.
I like reading, cooking, the beach, movies, but mostly like music. It's my life and passion.
Any dislikes?
I dislike birthday dinners, cold weather, and cilantro.
What do you want to be when you grow up?
As far as when I grow up, I want my music to take off. I'm working on putting out songs that come from me and that aren't pushed in any direction I don't want them to go. Music of mine comes from my heart and soul. I write and sing my own songs and am trying to create my own beats as well.
That is awesome to hear. Always rad when people do what they love with a passion and are hands on. Do you have any influences?
My biggest influences are Portishead, Aaliyah, and Cocorosie.
Not bad choices to be influenced by. What is your favorite type of food?
My favorite food is Italian. Anything with bread and cheese.
Do you have a favorite place you have traveled to?
My favorite place to travel is back to N.Y. for the summer. I go almost every summer and it's the highlight of my year.
I definitely can understand that. Is there a place you want to visit before you die?
I'd love to go to Iceland before I die.
What is your current form of employment at this time?
I'm a dancer.
On that note, what is your favorite type of music?
My favorite type of music is R&B and hip-hop!