I love it when a plan comes together. That is such a awesome saying, but since I don't really plan stuff, I am just happy when a great shoot comes together. Such was my time taking photos with Monica Alvarez. She was another great addition to my recent N.Y. trip. Our mutual friend Kirill was the link for us meeting each other. After some initial e-mails, we set up to shoot at my friends Louis's loft in SoHo. There had been reports of snowfall coming, and before we knew it, it was here. Being that I love spontaneous moments, I suggested to her we shoot some stuff out on his fire escape and capture this moment. Lucky for me, Monica was with it. She is the type of person it's just fun to shoot with. With a willingness to try to create a different image, she made this shoot something else and I thank her for that. Sometimes being around a person like her makes you remember why you truly love doing what you do. In my case, it is taking photos with people who purely love to create. So check out her interview below as well as some more images.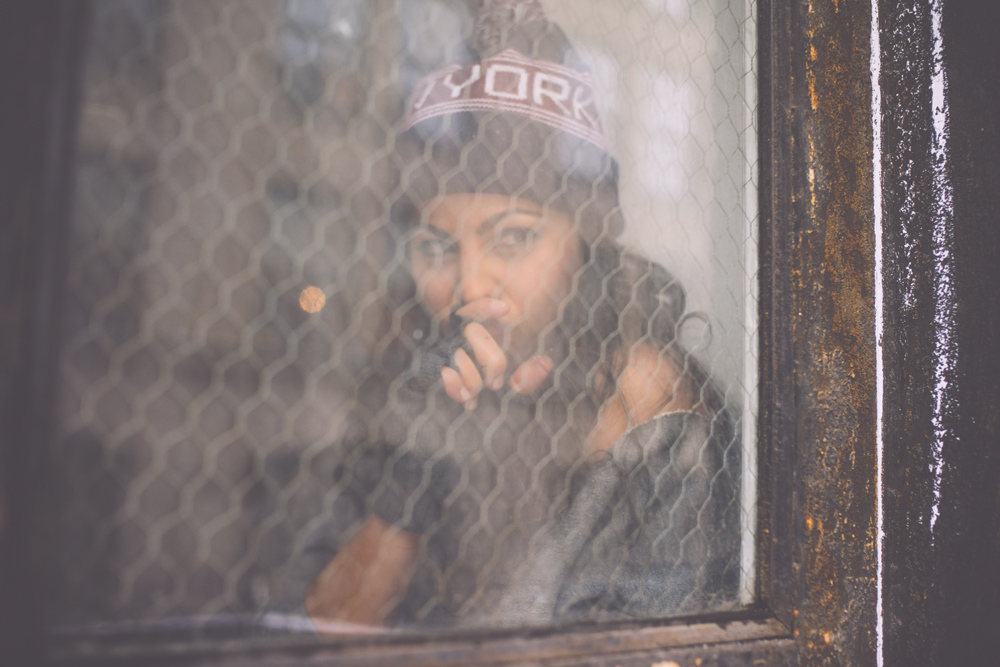 Alright Monica let's start this.  How young are you?
28
And what is your ethnicity?
Sicilian and Spanish (from Spain).
Good combo. Where were you born?
New York.
And where do you currently live?
Queens, NY.
Shout out to Action Bronson. What are some of your likes in life?
Sneakers and heels–ok all shoes!
Any dislikes?
Flying in airplanes–that is one of my biggest fears!
What do you want to be when you grow up?
My dream job would be hosting a show in entertainment or travel.
Influences?
I am influenced by my daily surroundings, great leaders, great voices, great artists. The list never ends.
Do you have a favorite food?
Hard to pick just one! I would say a good steak and pizza, of course!
Name your favorite place you have traveled to.
The island of Anguilla.
Is there a place you want to visit before you die?
The pyramids of Egypt!
What is your current form of employment?
Model / Actor and I also bartend in a nightclub on the weekends.
What is your favorite type of music?
I really do love all music, but if i had to choose just one: Hip Hop.
What do you love most about N.Y.?
The diversity of people, talent, experience, energy, and the food.
Lastly, how would you describe shooting on a fire escape in the snow half naked?
Exciting, memorable, and one hell of a rush! I live for stuff like that.