Welcome to this week's test shot. Today, I am going to feature a model from the U.K. by the name of Mercedes Edison. I had a chance to meet her while on a trip to New York a few months back. While going through the photos we did, I felt this set was a good choice to use for her feature. If you are familiar with this beauty from across the pond, then you know she is no stranger to showing off her body for the sake of photography. With that in mind, I felt it would be fun to create imagery that was a bit different with her. So since we were shooting in SoHo, I figured, – why not just hit the streets and see what we get? Enjoy the final results and interview below.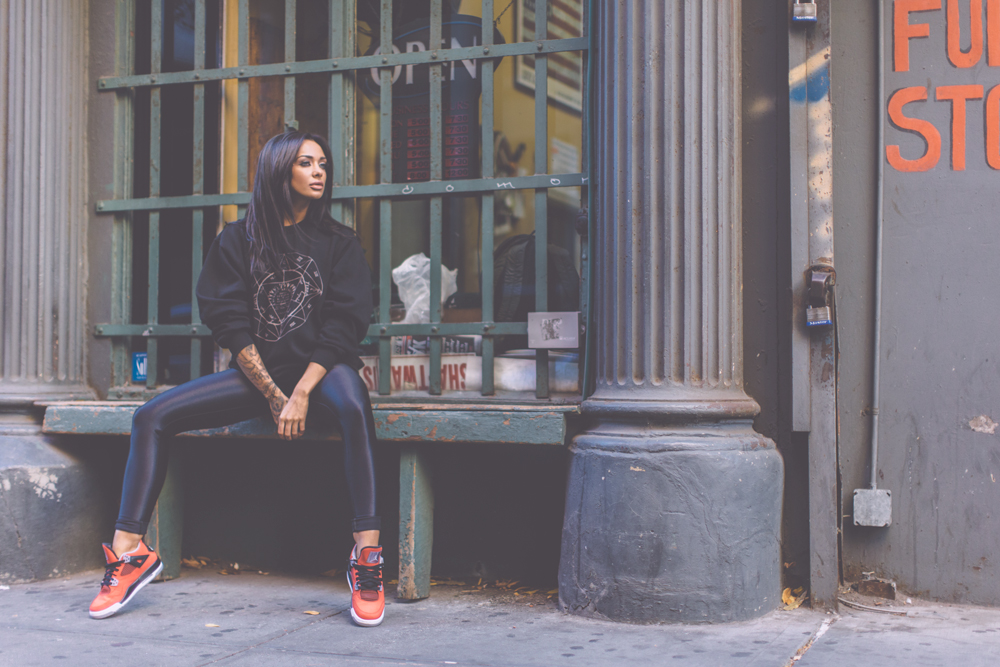 What's up Mercedes. Lets start this off with how young are you?
22.
And what is your ethnicity?
English/Sicilian.
Where were you born?
England, Liverpool, where all the best people are from! Haha.
Is that so? Well where do you currently live now?
Currently in New York, NY.
What are some of your likes in life?
Unicorns, my little pony, pussycats, and basically anything childish! Haha. Dr. Pepper, cheese, and drinking tea. Lots and lots of it. Oh and trainers! I have a sick trainer collection.
Any dislikes?
Cleaning up all the dog crap that my puppies are creating right now. That got on my last nerve this morning, haha. And snow! New York, where's the sun?!
What do you want to be when you grow up?
Haha, this is a funny question as I'm already grown up. I guess to grow up for my good sometimes. At the moment I'm doing a lot of things – learning how to DJ, play the piano, and sing. I want to be someone in the music industry. I want to be a full time legend!
Sounds like you got your work cut out for you. Just remember legends never die. Who are some of your influences?
For my music, I'm really loving Like Mike and Dimitri Vegas. They inspire me a lot when it comes to my DJ style. Rihanna is really doing it for me with the sex appeal she oozes and how she is so creative on stage. She's a huge influence to me.
Do you have a favorite type of food?
I literally have chicken with everything! But that's because I'm a fitness freak. I have to say my absolute fav is McDonald's, we all love McDonald's!! But I only indulge once in a while!
Name your favorite place you have traveled to.
It has to be America. I friggin' love it here! Every state I go to I say, "Ok, I wanna live here," and each state I visit just gets better and better. It's the place where dreams are made..
Name a place you want to visit before you die.
It has to be Asia. The culture facinates me. I am definitely going to travel all of Asia at some point.
What is your current form of employment?
I'm self-employed, because I can only handle being bossed around by one person, and that's myself!!
Spoken like a boss. Do you have a favorite type of music?
I'm a lover of music, and all music! But I mostly listen to Deep House and House for when I'm partying and going off the rails! RnB and Hip Hop for when I feel like shaking my booty and becoming all gangster.
What is about the states that makes you want to stay here?
Like I said, it's the place that makes your dreams become a reality. I just love love love it here. I love how different the culture is every state you go. From Cali, to New York, to Carolina – each state has something which makes me fall in love with it.
What do you miss about back home?
The FOOD! I miss Walkers Pickled Onion Crisps [chips], and Galaxy chocolate! Spaghetti Hoops and original Lucozade [an energy drink]! I miss having a roast dinner on Sundays and a good brew made by me mum! The simple things. I always miss my Day1s, but whenever I'm home, we party so much that it's enough for a lifetime! My family also. My sister who is a mini-me. But I never go too long without visiting home.
How do people's personalities compare in the states to back home?
I find that Americans are so dramatic! Haha… Sorry but you guys are! But I love that, it makes me laugh. I think the people don't get our English dry since of humor also.
What is your favorite thing about modeling?
Modeling allows me to express myself, as the body is a piece of art that is a beautiful thing to show off and photograph. It allows me to become creative! I love to meet new people and see new places, which is a great benefit to modeling too.