Hello everyone. I know it's been a minute, but I am back again with a new Test Shot featuring Lindsey Bowyer. I wasn't too familiar with her until I was out at Tampa Pro earlier this year. Now, if you follow the Street League series, you know what I am getting at because she is one of the prominent girls for Monster. Given we had a lot of mutual friends at the contest, we got to talking  and I somehow convinced her that we should shoot when we are both back in California. I know I have my scheduling issues, but she is a busy woman herself. Aside from her own modeling career she keeps herself pretty busy between Street League and Monster events.
Around this time, I had come across an abandoned jail in Los Angeles. Now, there is a pattern I have noticed when a location such as this gets discovered—it becomes engulfed in graffiti (usually not the good kind). So we jumped on it while we had the chance. On the day we linked up LA had some bad rain, but I didn't mind too much considering the clouds act as a giant soft box, diffusing the harsh sunlight. We got a chance to make the most of the location, especially considering jumping walls and scaling fences in the rain were not the easiest for her and her stylist.
I am a fan of minimalism and I think with the setting and the lighting it all came together well. Not to mention working with Lindsey proved to be easygoing and fun, as most things in life should be. But it's always a great reminder when you get to do what you love with people who share the same mindset. So check out my interview with her below along with some of the photos we created!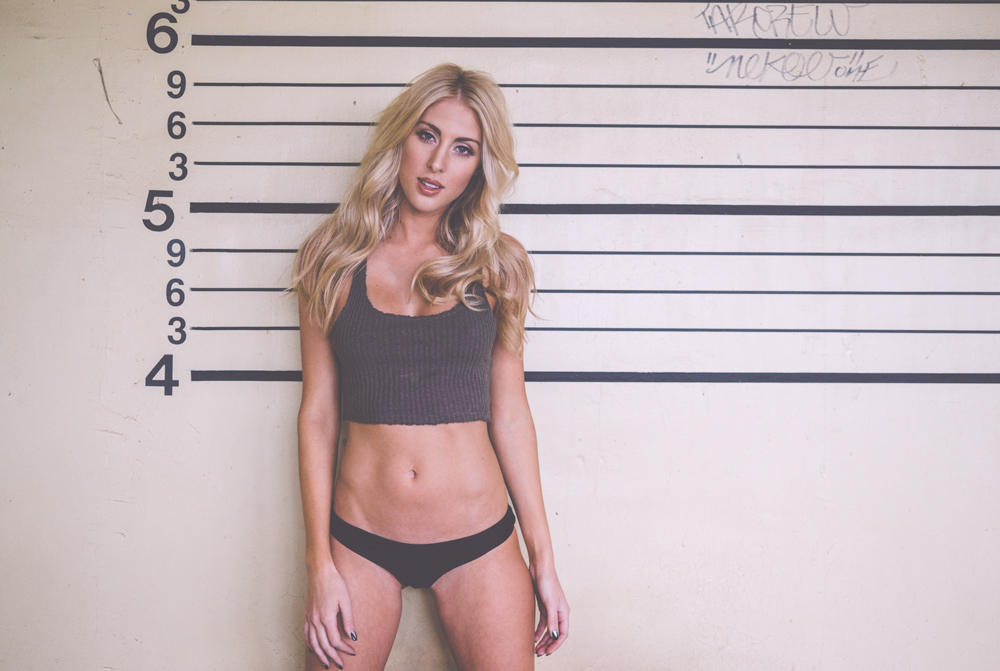 Lets get this started Lindsey. How old are you?
23.
What about your ethnicity?
Spanish, Irish, Yugoslavian. But I'm really just an American Mutt.
Nothing wrong with that. Where were you born?
Riverside, CA. Represent the 909.
And where do you currently live?
On the coast. Carlsbad, CA. and I LOVE it.
Small town by the beach—what's not to love? What are some of your likes in life?
I really just like helping people. I like doing things for others. That's who I am and what I do. Without all the materialistic shit, modeling, and social media, I'm just a pretty down to earth chick who likes helping others. But if we're talking about a general list here it is…The ocean, daisies, nice purses, wine, pizza, cleaning, family time, and the gym.
Any dislikes?
Arrogant people, messes, and bad eyebrows.
What do you want to be when you grow up?
Well, I would like to say I'm grown up, but I guess I'm not quite there yet. Once I'm finished with my modeling, I would like to open my own high end barber shop. Men's hair cuts are my favorite.
Give us some of your influences in life.
I'm heavily influenced by music, art, and fashion. Lately, I find myself on my phone scrolling though all types of different fashion blogs. Makes sense since I have a shopping problem.
What is your favorite food?
Sushi would have to be my hands down favorite. Get me some nigiri, a Sapporo, and some hot sake and I'm cool!
What is your favorite place you have traveled to?
So far my favorite place traveled would have to be New York. I just love the city, the food, and the shopping. The crew I traveled with definitely made it the best experience. Can't wait to go back again this year for Street League.
Where do you want to visit before you die?
The Maldives Islands. The water is so gorgeous there.
What is your current form of employment?
Currently I am traveling all over the U.S mainly modeling for Monster Energy. Not too bad of a gig!
Tell us your favorite type of music.
I would be lying if I said I didn't listen to rap music. Mainly rap/hip-hop. Dom Kennedy, Old Wiz Khalifa—like the Kush and Orange Juice days. I grew up a hip-hop dancer, so it's only right. But I do love myself some classic rock! Zepplin, Bob Dylan, Jimi Hendrix, etc.
What is it about Modeling that you love?
Getting paid to travel is probably the best part about being a model. Also, I love seeing the end results of a shoot. The final pics are always so rewarding! I definitely don't love putting makeup on and getting ready for a shoot though!
If you weren't doing this, what do you think you would be doing for work?
I would be using my cosmetology license that I put 1,200 hours of my life towards, doing hair in a salon near the beach.
What are the top 5 things about being a Monster girl at Street League?
Being a Monster Girl at Street League is hands down the best Monster gig. I get to travel to awesome places with the coolest people. To me, Street League and the skate industry are the best groups of people in the action sports industry. It's like one big family! When I get there, I don't even feel like I'm working, it's just like hanging out with my friends. We stay at the best hotels in rad cities, go to epic dinners, and throw some cool after parties. It's just an overall amazing experience and I definitely feel privileged to be a part of it.
Do you have any weird/funny stories?
Yeah, checkout my Snapchat Story, you can see it all there! Disclaimer: I'm typically drinking wine & doing inappropriate things with my hot friends.
Any last words?
Is this the part where I'm suppose to beg for my life?