If you've ever found yourself flipping through the channels as a brief respite from binge-worthy content on streaming platforms like HBO GO and Netflix, the dumbed-down embrace of reality television is often the best option when you just want to shut your brain down. For me, I'm a sucker for Shark Tank – in which wide-eyed entrepreneurs pitch their "once-in-a-lifetime" ideas to a group of rich men and women running the gamut from owners of an NBA franchise to some schmuck they call "Mr. Wonderful," who I like to imagine made his money selling doll furniture. One guy in particular, Daymond John, always appealed to me. While most of his fellow gurus earned their massive fortunes in the tech space, John had built the fashion empire known as FUBU. "Holy shit," I thought. "If he's sitting next to Mark Cuban who made enough money to own the Dallas Mavericks, Daymond must be swimming in it!" But as we all know, FUBU isn't exactly flying off the shelves these days. What exactly happened to the company before, during, and after its massive success?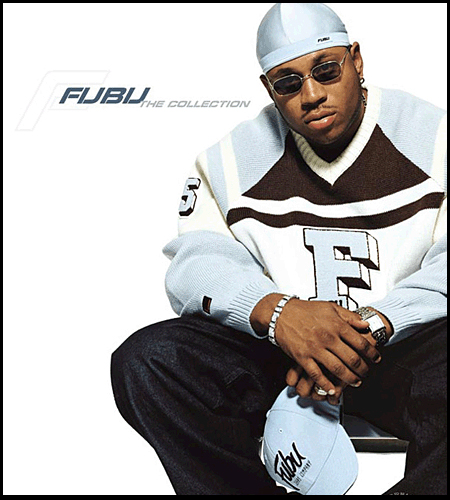 '90s FUBU advertisement with LL Cool J. Photo: styleblazer.com
Daymond John was raised in the Hollis neighborhood of Queens. He didn't come from a family with money. His parents divorced when he was 10 years old, and he would never see his father again after the separation. "We went from middle class to poor," he says. "I became the man of the house and started working at that age."
Prior to launching his own line, John still looked to fashion as a means to make money. According to the Washington Post, "Initially, it was through printed T-shirts, but not my own brand. I went and printed up some shirts when the Rodney King riots were happening in Los Angeles, with lines like 'What happened to poor Rodney King?' Then Mike Tyson got incarcerated, and we did the whole 'Free Mike Tyson' shirts. We would sell them at events and on street corners. It showed me something about the reason people buy clothes – that when there's an emotional slogan or an emotional connection, products sell quicker. That's when I started thinking about this concept of 'For Us, By Us.'"
On a 40-degree day, March 24, 1989, a then 20-year-old Daymond John hit the streets in Queens with his first batch of handmade, tie-top, wool beanies. At the same time, he had a regular job to pay the bills that he knew was an ends to a mean. "When you work at Red Lobster, you don't take your job home with you," John told Business Insider in 2015. "No one calls you up and says, 'I need more tartar sauce.'"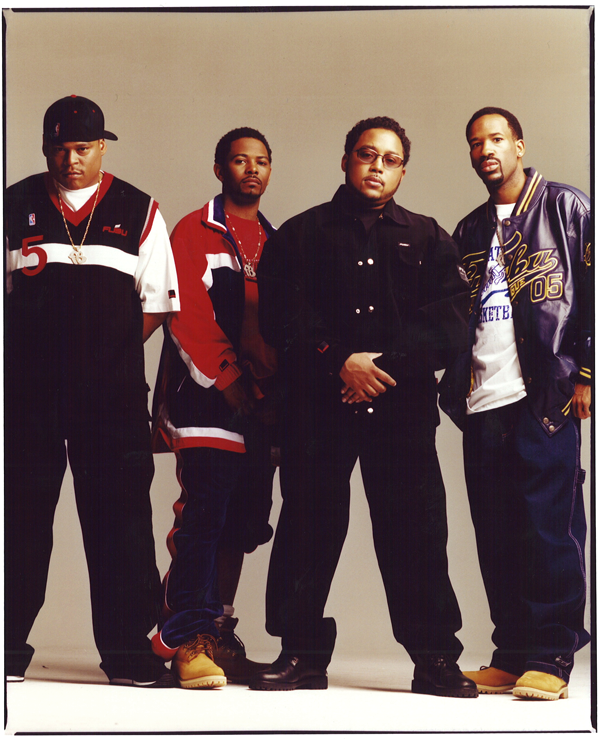 Left to right: Keith Perrin, Carl Brown, Daymond John, J. Alexander Martin. Photo: cnn.com
By the end of the day, he had sold out of the hats and turned a $800 USD profit. He knew he was on to something – although he didn't exactly have the capital to immediately capitalize on the momentum he had seemingly conjured out of thin air. "The next step could be how do I finance all of this?" he told CNN. "Do I sell one or two hats and then re-up? Do I take out a loan from a bank or do I get an angel investor? Do I just chug along at $50,000 a year, $100,000 a year? When do I go balls out? Quit the job. Mortgage the house. Sell the car. Do I do this at all?"
While those were all smart questions to ask, $800 USD dollars worth of sales didn't necessarily mean that he should quit everything. But that would soon change. According to CNBC, "During his off hours, however, John would hit music video sets and try to coax rappers to wear FUBU apparel in the shoot, a move that would ultimately pay off as millions of fans saw their favorite stars wearing FUBU clothing." John explains, "First it started with Brand Nubian in one of their videos, then Ol' Dirty Bastard wore it in a Mariah Carey video, then Busta Rhymes wore it on one of his videos, and LL Cool J decided to wear FUBU on the "Hey Lover" video with Boyz II Men. Our product was front and center on the biggest and most influential personalities for our core consumers."
As legend has it, John also used a bit of guerilla marketing in his attempt at reaching the top. "One of the most well-known hits we had with LL was during a Gap commercial," John remembers. "He was wearing a pair of Gap jeans and a Gap shirt, but he was somehow able to sport one of our hats during the commercial. Then during his thirty-second freestyle rap, he looks directly into the camera and says, 'For Us, By Us, on the low.' No one at Gap nor any of their ad execs thought anything of it. It wasn't until a month later that someone at the Gap found out, pulled the commercial, and fired a whole bunch of people after they had spent about $30 million running this campaign."
The infamous GAP commercial.
After an appearance at a trade show in Las Vegas, he and his partners – J. Alexander Martin, Carl Brown and Keith Perrin – had managed to sell $400,000 USD worth of clothes that didn't exist yet. Ultimately, his mother took out a second mortgage on her home after John was turned down by 27 banks for a business loan.
Soon after, his partners moved in, and they turned the home into a makeshift factory. "It was a typical Queens house, the kind you see on All in the Family." John remembers. "It had three levels: A basement, the first level with a dining room, living room and the kitchen, and then three bedrooms upstairs. After we took out the mortgage, we took all of the furniture out of the house, sold what we could, and the rest we burned in the backyard. We put all the raw materials down in the basement, and on the first floor, we converted the living room and put eight sewing machines there and we hired some seamstresses. In the dining room, we put a cutting table where we cut all the fabrics. The kitchen, well, the kitchen was still the kitchen."
By 1998, FUBU's reached its peak with sales over $350 million USD. John and his partners had used hip-hop culture and stars like LL Cool J – a fellow Queens native – to put FUBU's clothing in seemingly ever rap video at the time. John and crew thought to themselves, "we should put out a record too..."
FUBU released the compilation album The Good Life on September 25, 2001 which featured the likes of LL Cool J, Nate Dogg, and Keith Murray. It lost the company an estimated $5 million USD. "We didn't know our numbers, we didn't look at our numbers, we were spending money like drunken sailors, we were getting caught up," John told Fast Company. "What was the reason we were doing it? Did we get exposure? Yes, but from the business model, we died."
"Fatty Girl" was the lead single from FUBU's The Good Life album, prominently featuring the apparel in the music video directed by Hype Williams.
In a book he co-authored, The Brand Within, John explained that one of the major factors that led to the company's demise is that they had too much product. "Once you hit mark-down bins, it's tough to climb out, because you've lost the sense that your clothes are fresh and vibrant," he writes.
By 2003, FUBU left the U.S. market completely – except for its footwear division – and built business in Europe and Asia. Additionally, they acquired up and coming brands Heatherette, Drunkn Munky, Kappa USA, Coogi, and Crown Holder. Worldwide sales for those brands reached $200 million USD in 2009. Despite being absent from the marketplace, there was no catastrophic collapse or new people coming on board.
*NSYNC wearing FUBU when the brand went mainstream.
In 2009, John announced that FUBU would be making a comeback after a six-year hiatus with an aesthetic similar to "Carhartt meets Abercrombie." In speaking with WWD, John said that he wasn't "too worried about losing FUBU's brand identity" since the kids nowadays have "a three-year memory span, so most don't have a sense of the brand's roots."
***
This article was originally published on June 30, 2015 here on thehundreds.com.