There was a time when the name "Mossimo" was as ubiquitous with the notion of "cool" as Stussy was. While Stussy has continued to evolve and gather new fans decades after the brand first emerged from Irvine/Laguna Beach, CA, Mossimo has become a symbol for what happens when a label has soaring success, a rapid crash, and a rebirth and reentry into the marketplace via a "big box" retailer. How could two brands with similar roots be so different in 2015?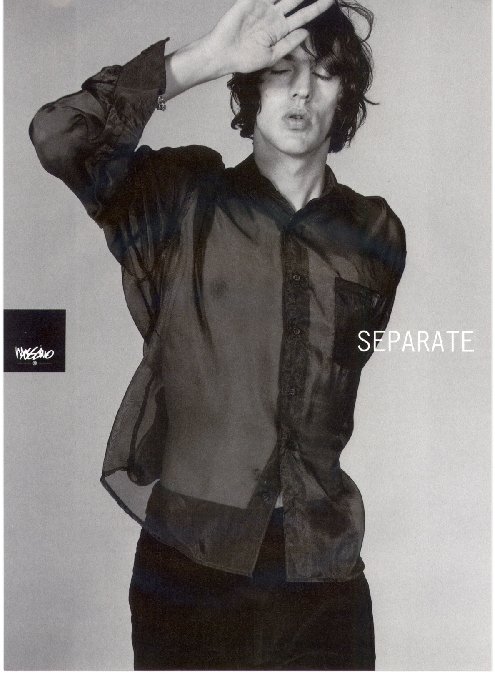 Richard Ashcroft of The Verve in an early '90s Mossimo ad. Photo: rock-the-world.com
Prior to launching the brand inspired by his own first name, Mossimo Giannulli dropped out of the University of Southern California in 1987 and borrowed $100,000 from his father (a landscape architect in Los Angeles). At his apartment on Balboa Island in Orange County, the roots for a beachwear brand began to be formed. During this same time, Shawn Stussy opened Stussy's first store in SoHo.
Much in the same way Stussy's hand drawn logo came to embody counterculture, so too did Mossimo's. Almost overnight, surf shops began to notice the emerging "activewear" trend. Mossimo's three-paneled, neon-colored beach volleyball shorts and T-shirts with an "M" signature were an instant hit. " From day one," Giannulli explained, "I have positioned this thing as a lifestyle company."
By 1991, Stussy was excelling because of a strategy that was previously unheard of at the time. With demand at an all time high—and sales reaching $24 million USD—Stussy relied on limiting how much product they sold and where consumers could even get it. While most contemporary brands like to increase the allure of their products by proclaiming that they are "limited," Stussy's strategy was not only unique, but it really worked. As The Los Angeles Times noted in 1992, "The techniques enable them to maintain the hype among the fashionable set in big cities far from the surf and sand that continue to influence the 37-year-old designer's casual lifestyle and comfortable clothes."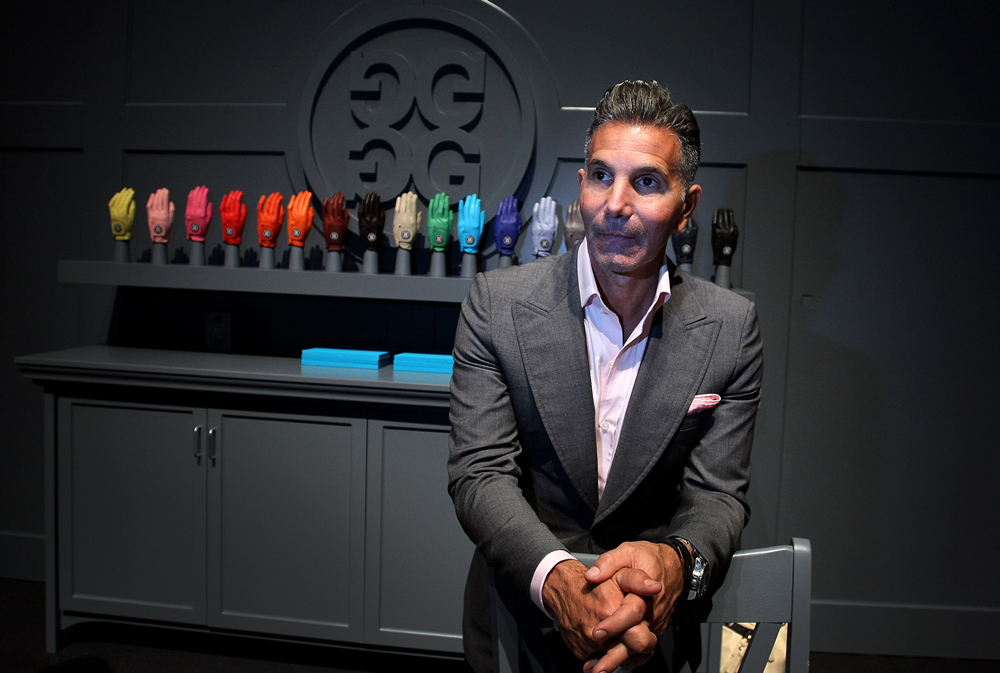 Mossimo himself in January 2012. Photo: Tracy Wilcox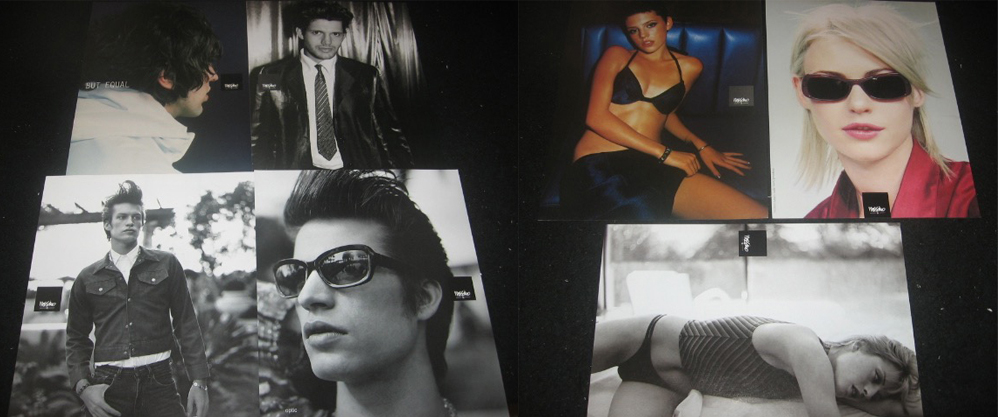 Photo: ebay.com
At the end of the first year operating underneath the Mossimo banner, Gianulli had $1 million USD in profits. The next year, he would make $4 million USD. Rather than merely play it safe, he continued to push the brand into new facets of production—including woven sweaters, knit shirts, and fleece sweatshirts—while also opting to sell his merchandise to larger stores rather than just mom and pop surf shops. While it was a gamble, it marked a huge step forward for the brand.
By 1992, Mossimo had 52 employees and $32 million USD in sales despite a grueling regional recession. By 1996, there were 300 employees. That same year, the company went public with an IPO. According to The Los Angeles Times, the stock rose "39% above its initial offering price and ended the day as the second-most-active issue on the New York Stock Exchange."
At just 32-years-old at the time, Giannulli became the youngest chairman of a company listed on the exchange. With 73% of the company's stock, the Mossimo founder was worth $275 million USD. "It was so amazing to see all these savvy institutional people responding to our story so strongly," Giannulli said. "Next to the birth of my child, it was the most incredible experience of my life."
Shawn Stussy's strategy was the polar opposite of Mossimo Giannulli's vision for his own brand. "We have no desire to get bigger," Stussy said, "no desire to open new accounts. And we feel we could continue doing business for many more years, sleep at night, enjoy kids growing up, and not be a victim of our business. You've got to look 10 or 20 years down the road, and nobody in America does. They just want the money now. They want instant gratification. But then they burn themselves out. This happens especially in the fashion industry."
As Mossimo expanded via the New York Stock Exchange, Stussy focused on adding to its existing boutique in SoHo with additions like the shop on La Brea Avenue in Los Angeles and a 200-square-foot shop located in Laguna Beach.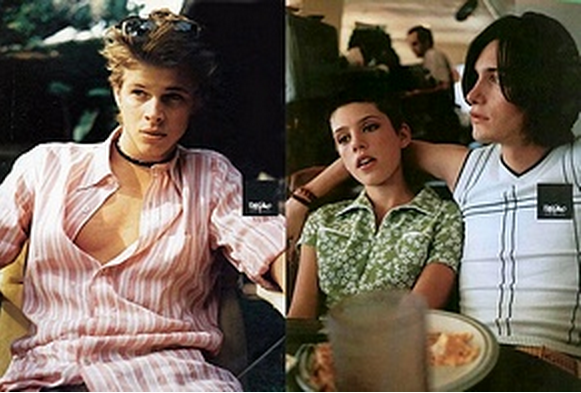 Mossimo Spring/Summer 1997. Photo: uomoclassico.com
In January 1996—with annual sales of $34 million USD—Shawn Stussy stepped down from the company that bore his name. "That was the lowest point in Stüssy's history," recalls David Sinatra, Stüssy's chief executive (and son of Stussy co-founder Frank Sinatra Jr.). The company's revenue had been reported at $35 million USD the previous year, and in 1996 it sank to $21 million USD.
At its peak, shares of Mossimo on the NYSE were $50 USD. By 1998, they were $4.75 USD and the company had lost $18.7 million USD the prior year. Giannulli's biggest misstep—according to fashion experts, retailers, Wall Street analysts, and competitors—was that he tried making the leap too quickly from a beachwear company to a top-drawer designer. "He enjoyed so much success so early that I honestly don't think he knew how long and how hard of a transition that is to make," said Sandy Potter, co-owner of Directives West in Los Angeles, which advises major department stores on California fashion trends. "I always believed he had the talent to make it happen, but that's the kind of thing that takes 10 years to accomplish, not two or three."
According to The Los Angeles Times, "In moving to the upscale market and expanding into women's wear, Giannulli walked away from the business that made him rich and famous. Starting with a line of neon-colored volleyball shorts and T-shirts, Giannulli's company grew from a garage operation in 1987 into a $72-million annual enterprise in eight years. When the company went public in February 1996, 60% of its sales stemmed from casual menswear such as shirts and shorts. Today, only 27% of sales are derived from casual clothing, the remainder coming from finer men's and women's wear sold primarily to department stores. The transition has left customers confused."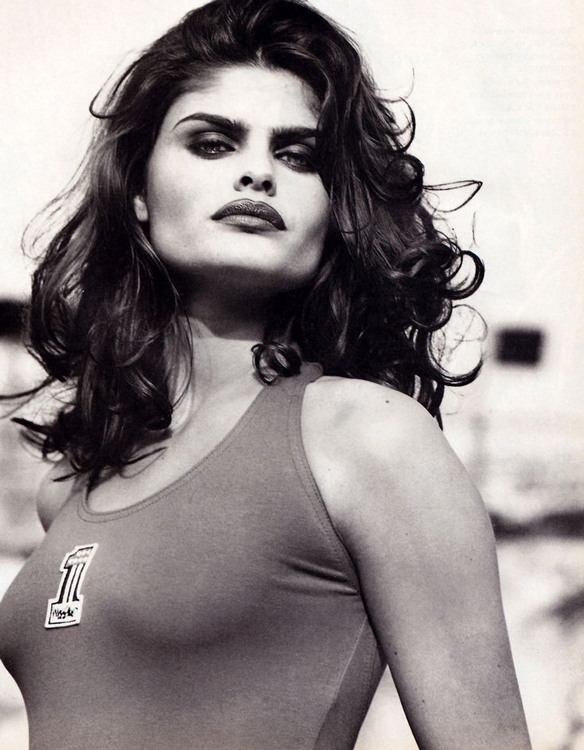 Photo: Brad Fierce for In Fashion magazine.
In March of 2000, Target Stores closed a deal with Giannulli and Mossimo Inc. for $27.8 million USD, with Giannulli himself earning $8.5 million in royalties in the first year of a three-year agreement. The agreement was both a reprieve for the struggling brand, as well as a chance for Target to be equated with something "hip" for a change.
With Mossimo now entrenched inside of Target, one of Stussy's original partners, Frank Sinatra Jr., flirted with the notion of being acquired by the OTB Group, which is the parent company of brands including Maison Margiela, Marni, and Diesel. It's unclear how close Stussy came to being sold. To this day, it remains an independent company.
According to Business of Fashion, "Sinatra characterizes Stüssy's third act as having a "brand-first, revenue second" philosophy, in order to avoid becoming "this big monstrosity that doesn't stand for anything."
In 2006, Mossimo was acquired by Iconix Brand Group who owns Joe Boxer underwear, Candie's shoes, and Badgley Mischka women's wear. The companies valued the cash-and-stock transaction at about $135 million USD. "Mossimo may not be the kind of brand it was 10 years ago when you could have called it a concept," retail consultant Kurt Barnard said. "But it still can make money—on the name and the fame."
***
This article was originally published on July 20, 2015 here on thehundreds.com.